How to come up with a brilliant mobile game idea? First things first, the creation of many masterpieces didn't take a whole team of developers, but a couple of talented specialists. Even more so, throughout the history of mobile gaming, there have been instances when all the credit belonged to the one person who had an inspiring idea, but no extensive experience. How could this happen? How to find the idea that inspires and makes you fall in love? That's what we intend to discuss in our short yet insightful article. We will try to lay out all the details plainly, give you some useful hints, and share our experience.
Many approaches can be implemented to generate a lucrative idea. Unfortunately, there is no panacea. Practice shows that a lot depends on personal perception, values, and, oddly enough, character, which could be the determining factor.
On our end, we can provide you with several working methods that may encourage some brainstorming or, at the very least, inspire you.
Follow the Mobile Gaming Market Trends
To develop a successful game, you should drill into the market trends. Analyze which mobile games top the charts, in which categories, and why. It will help with brainstorming, as well as determining users' preferences.
App Annie can help you with this: observe the top charts to know which games and categories are trending. Moreover, you can narrow down the search to a region by applying filters by country. Such a method may inspire you with new ideas, and if you keep following the trends for a more extended period, you may spot a particular pattern.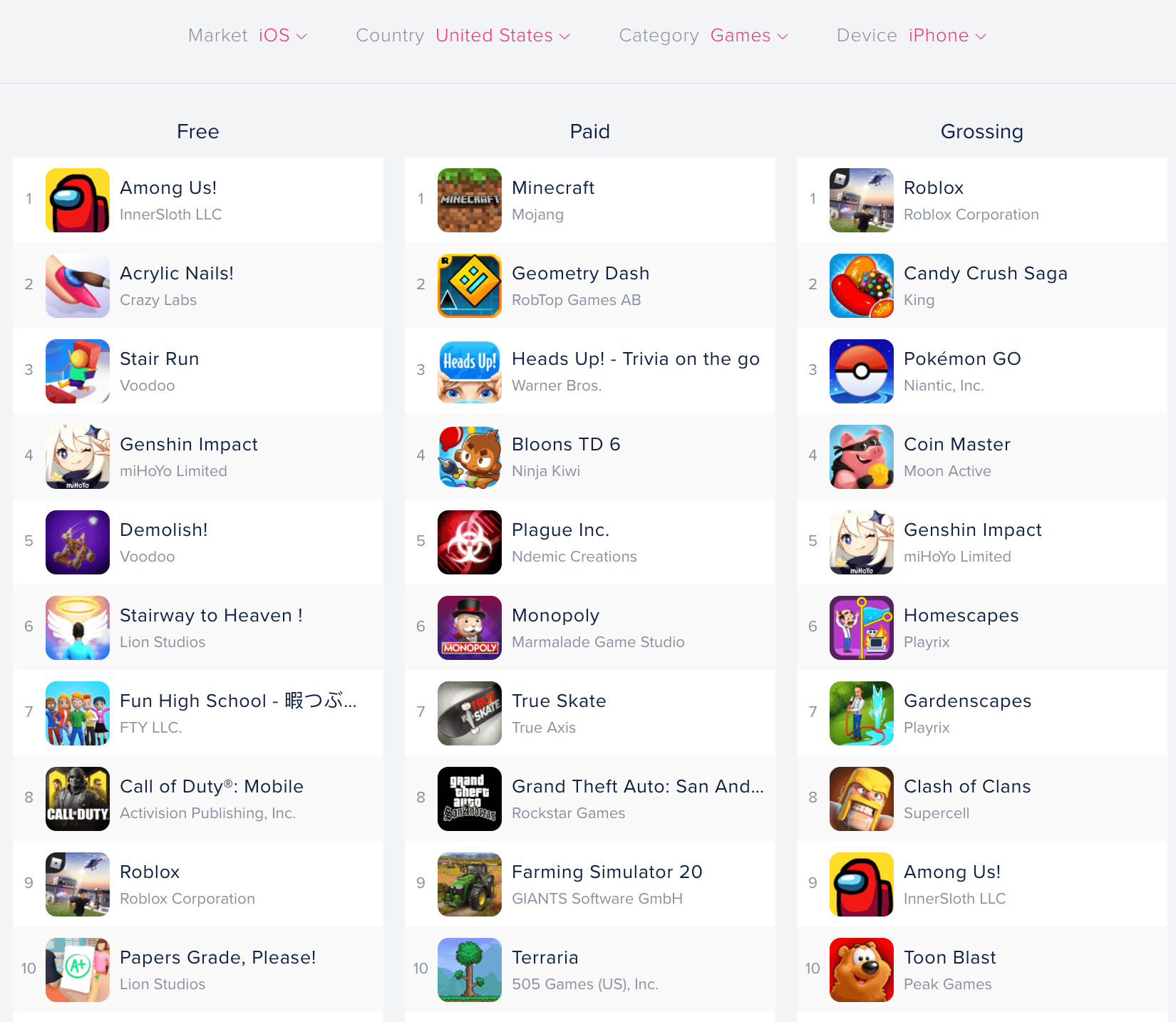 The top mobile games across countries, categories, and platforms by App Annie
Focus on the World Around
Many games were created based on this approach. One of the examples is a city-building simulator, SimCity.
In the beginning, the creator of SimCity, Will Wright, believed that only architects and constructors would be interested in the game. However, the sales exceeded 1 million copies at launch, which changed the nature of video games.
In order to awaken your creativity and start generating brilliant ideas for games, you should observe the world around you. Pay attention to details: your surroundings, people, and all the other little things that you may not usually notice. Ask yourself, "Can I implement this in my game? If yes, how?" Write down everything that comes to your mind. The answers may surprise you. Almost anything can trigger inspiration when you are fully aware of the processes around. You never know what can drive an idea for a new interesting gameplay concept.
You will find your creativity increased as you keep developing your powers of observation.
Read also: How to Make a Gaming App - A Step-by-Step Guide
Play Various Games
Games can transport us into another realm, allow us to become a hero that will save civilization, entertain, and challenge us. Games themselves are also one of the best sources of inspiration. It's pretty hard to generate a unique idea with such a diversity of games. But you could base your framework on an existing game and add something new and special that hasn't been implemented in the genre yet.
The ultimate advantage here is that you can quickly find the genre you like, as well as the existing games in it. Moreover, in times when you struggle with inspiration, you can find it in the already developed tools and even use them while developing your game. What is also important, based on the existing statistics of similar games, you can guess whether the potential users will like your idea or not.
It's essential to try playing games of different genres, not just your favorites. Try beginning with the classics, paving the way to indie-games, then to the more popular hits.
When playing, pay attention to all the details that make the game unique and attractive. Note down every function, effect, gaming mechanics, etc., that make the game stand out from the array of others.
SCAMPER Method
David Reichelt created a hit mobile game Color Switch which is the fastest game in the App Store history to reach 50 million downloads and was the #1 game in over 150 countries.
In an interview, when he was sharing how he came up with the game idea, he referred to the SCAMPER method from "Thinkertoys" by Michael Michalko. It's a list of transformations or approaches that can be implemented to change an existing object or idea in order to create something new. Each letter in the acronym stands for one or several ideas that trigger questions you are to ask yourself.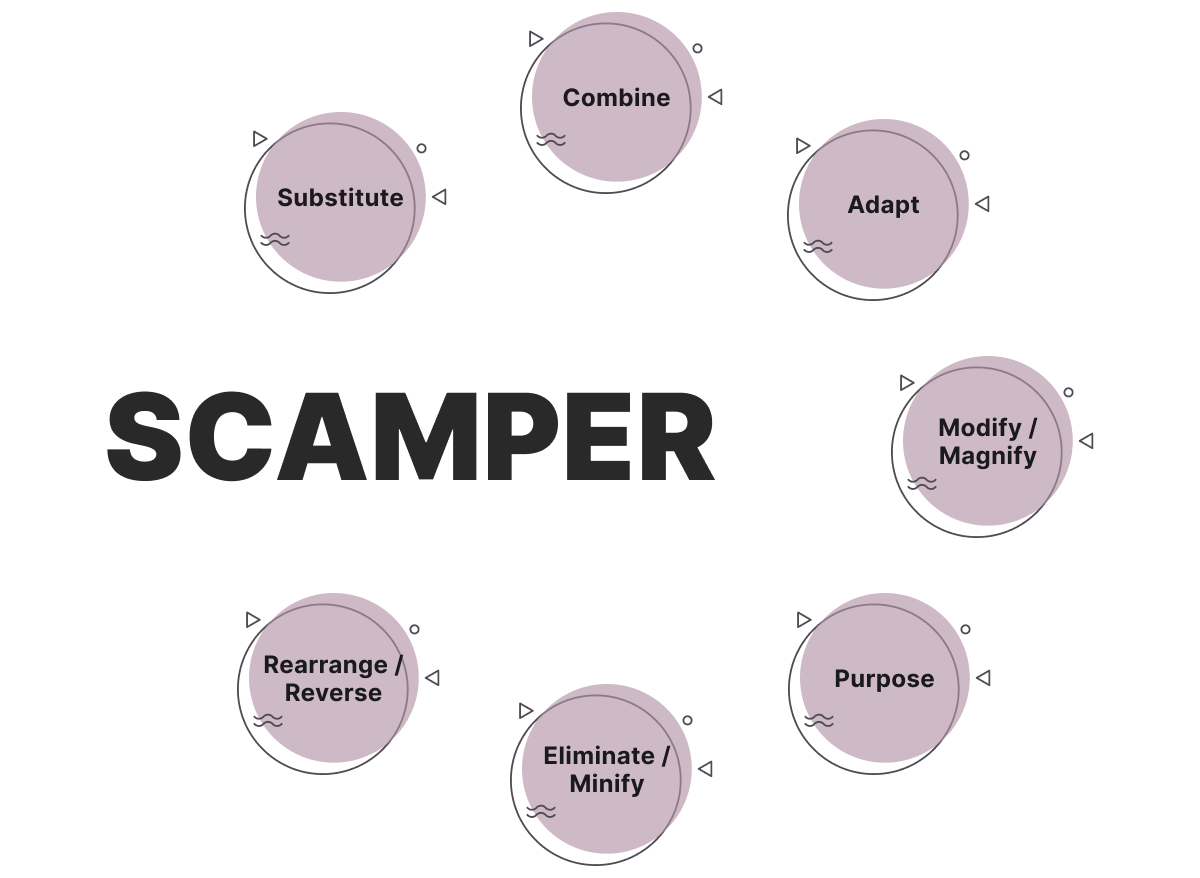 SCAMPER Method
To implement the SCAMPER technique, you need to analyze the idea and ask yourself whether you can substitute, combine, adapt, modify, etc. It's an innovative approach to the development of new mobile game ideas.
Read also: How to Come up with an App Idea and Make Sure It Is Valid
Ask Other People's Opinion
Sometimes, when you have an interesting idea, it won't hurt to ask what your family, friends, or colleagues think about it. Try starting a game-related conversation and touch upon some of the possible game concepts you have on your mind. Be curious and get to know what games people like to play. The more opinions, the better. They will help you see your idea from the outside. You even might get good advice that will complement your idea and make the game even more entertaining.
Become an Active Participant in Gaming Communities
Being active in gaming communities is another great way to generate ideas for a mobile game. Join gaming forums and spend a lot of time there. Visit various websites and learn what the hot topics among the developers and players are. You can find inspiration, receive advice and many useful reviews from gamers, as well as get acquainted with what drives and repels people.
Brainstorming
It may be useful to plan brainstorming sessions. Set up the timeframe of 20-25 minutes for one session and stop as soon as the timer goes off. Choose the most comfortable location and time of the day. This method works best when several people practice it together as it implies discussing ideas from multiple angles and stimulates comments and suggestions.
To start, one can turn to mind mapping. It's a visual method of brainstorming, where you use words, images, and colors to combine ideas that relate to a single topic. Such a technique allows us to quickly generate a plethora of gaming ideas. It's also an interesting way of managing a creative process.
To start mapping game ideas, you will need a sheet of paper, a pen, and several colored markers. Choose the type of game (arcade, platformer, puzzle, action, etc.), write it in the center of the paper, and circle it. Then, start writing down the main ideas, expressing each in one word; draw lines from the words to the game type written in the center. The ideas can represent a theme, function, background element, game mechanics, character, effect, or any other game detail. Try writing down and circling each idea in a different color. You can even draw the idea if you like.
Mind mapping allows you to combine ideas. In fact, our brain works more creatively with such nonlinear methods.
Also, there are paid and free programs to create a mind map. They allow creating one on your computer quickly. Moreover, there are dozens of applications like XMind (Android | iOS), Mindly (Android | iOS), and SimpleMind (Android | iOS), which you can download on your mobile. Many of them utilize cloud storage; therefore, maps can be saved and available from any device later. You can also collaborate with friends and teammates to make your mind map even better.
Monitor Movies, TV, Books, Music
You can find a great source of ideas in movies, TV shows, art, music, and books. What are your favorites? What are they about? It's a quest into other spheres for elements to base the game on. It can be literally anything. For example, a brilliant framework or a scene from a movie or a TV show, a wonderful work of art, a great song, or an album cover. Elements that seem to be hardly related to a game design may conceal concepts that enhance the process's appeal. They, in turn, can be rethought and processed as game mechanics. Inspiration is everywhere when you seek it.
Use Online Game Idea Generators
When you need some help in developing mobile game ideas, generators by BAFTA YGD or IndieGameDev can come in handy for an aha-moment. Some of the ideas may seem strange, but an idea generator is a great tool that can spark your creativity.
Just choose any random idea and transform it into a framework. You can also try to use different elements of every generated idea for a killer feature.
Combine Incompatible
It's believed that everything was created a long time ago, and all new is well overlooked or "reshaped" old. Do you not believe in the sudden moment of clarity? Are you skeptical about the possibility of creating a completely new and unique project? Then try the method described by Mark Green from Sony Worldwide Studios, which combines incompatible existing games or genres. Make up a list of successful projects and choose two at random or try blending two popular genres. Don't be afraid to play with what seems completely incompatible at first sight. Go beyond the stereotypes. But remember: you should be able to make the idea come true; otherwise, it will remain ink on paper.
Write Down All Your Ideas
Everything starts with an idea. Therefore, it's vital to track them. Use your notebook or a mobile app to make notes of any idea that comes to your mind. A notebook with mobile game ideas can help to flesh out the one worth your while among the many. As an extra perk, you will wind up with your own book of gaming ideas.
If you have an aptitude for a pen and a sheet of paper, invest in several pocket-sized notebooks and always keep one with you wherever you are. If paper is not your style, you can use notes on your smartphone to create an idea diary. Whichever approach you choose, keep in mind that it should be comfortable and accessible, tailored to your needs.
You will never know when you are to be blessed with a cool mobile game idea. But if you have a system for capturing them, you will never miss one.
Read also: The Best Programming Languages for Mobile Game Development
Read the Latest News and Reviews
Reading the latest news and game reviews can also help you develop gaming ideas. Online media like Gamasutra, PGBiz, 148Apps, Wired, Pocket Gamer are amazing resources that can help you stay up-to-date. When you have a deep understanding of what players like and dislike, you can generate new gaming ideas faster and create effective game mechanics. Try working out a habit of reading the news daily.
Conclusion
In conclusion, we would like to highlight that finding that one special idea isn't the crucial element. It's all in the implementation. Therefore, create prototypes, experiment, develop, risk, and, most importantly, don't give up. This is the only way to develop the game of your dreams. If you never try, you will never meet the genius that may live inside you, and you will never know what you are capable of when you have a chance to prove yourself. Limitations only exist in your mind.
And when you finally come up with a great mobile game idea, you can start the game development process by discussing your idea with our specialists. Reach out to Orangesoft for a free consultation today.