The education industry has been ripe for digitization. Over the last few years, the traditional model of face-to-face education is slowly but surely being replaced by eLearning apps and EdTech solutions.
In particular, the last few years have marked a milestone for education app development and set it up for growth — $1.72 trillion during 2022-2026.
Social distancing, lockdowns, and fewer entertainment options have contributed to this peak in digital education; specifically, the pandemic jolted companies and educational organizations into adopting mobile learning solutions offered by private content providers.
With this move toward mobile solutions, unique learning approaches and 24/7 availability also add extra points in favor of app-based education. Today, effective training can be done thanks to mobile-based learning.
If you're looking to jump into the education niche, you'd better be prepared for fierce competition. That's why we've prepared this comprehensive guide explaining how to create an educational app.
Types of Educational Apps
The modern educational apps market is rich and diverse. It's awash in various app types that cater to different target audiences like teachers or aspiring learners. Hence, you should assess the market scope before going into eLearning app development.
Language learning apps
Mastering a foreign language can be a challenging and time-consuming process. However, more and more people are turning to language learning apps to ease this process. This app category fared exceptionally well in 2022, with a 31% YoY growth as borders reopened.
Among other key market drivers is the influx of immigrants. Today, around 84.8 million U.S. citizens were born abroad, accounting for about a fifth of the world's migrants.
Further, the rapid adoption of virtual reality in language learning also prompts market maturity. For instance, blended reality amplifies immersive language learning, thus leading to faster academic progress.
Duolingo is the unanimous leader in the category, with more than 500 million total users and over 56 million monthly active users. In 2022, the app earned $369.5 million, marking a +47% YoY revenue growth. To generate revenue, Duolingo offers premium subscriptions, ads, and language proficiency tests.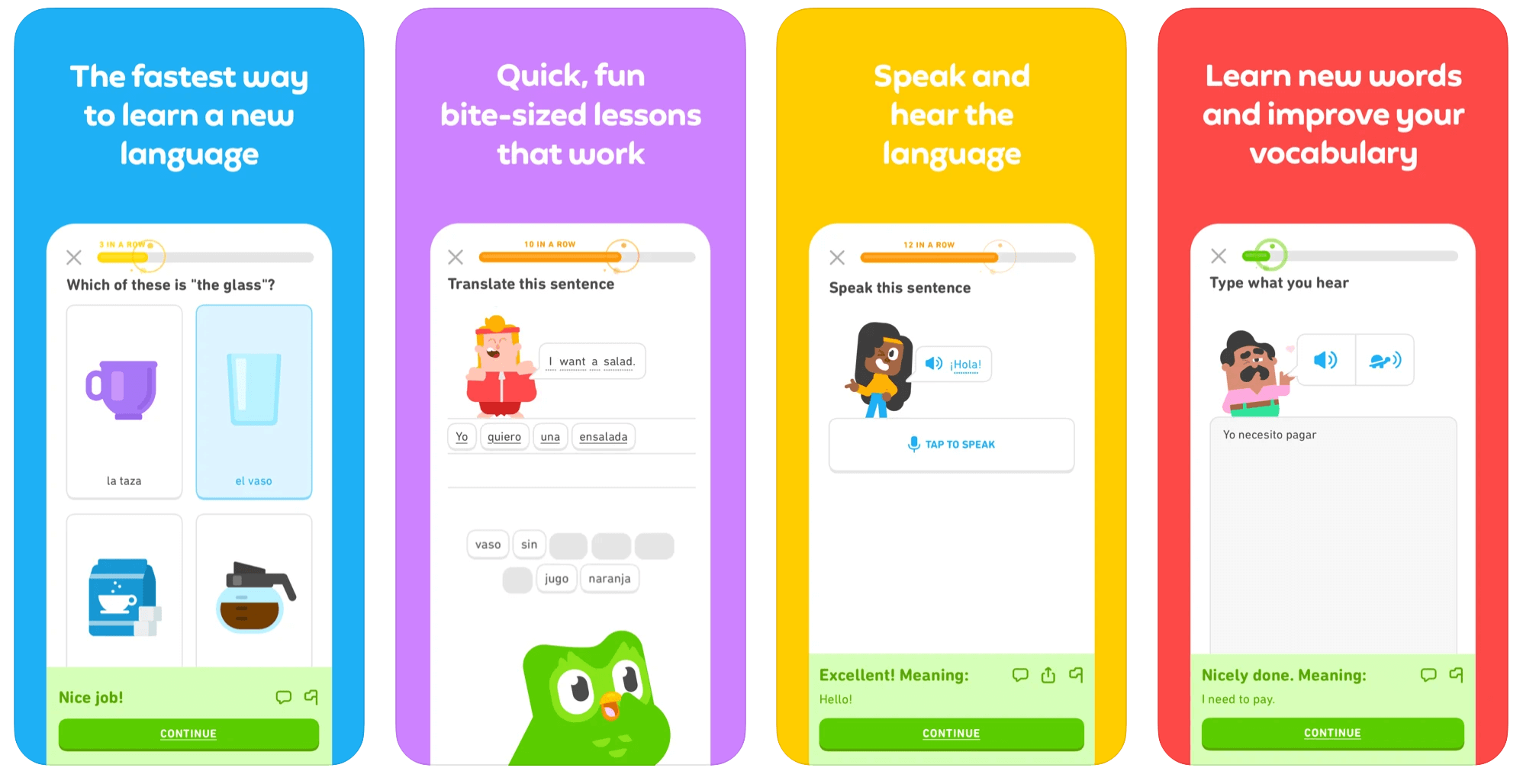 Duolingo mobile app
Learning management system (LMS) apps
LMS apps are commonly used in educational institutions to manage and track student progress. This app category also aims to facilitate the management of academic course delivery and training programs.
A typical LMS lets an organization create and track courses, manage enrollments, deliver course content, assess student progress, generate reports, and assist in employee training. By 2026, the global LMS market is expected to reach $37.9 billion.
Demand in this category is also evolving to include increased employee training. As millennials dominate the global workforce, LMSs are becoming a favored option since they allow for inclusive and flexible training sessions.
From 2021 to 2022, the demand for LMS platforms spiked due to the growing practice of bringing your own device (BYOD) among companies. The BYOD trend is set to stay with the rising popularity of post-pandemic hybrid work settings.
GoToTraining is a prominent example in this niche that aids in online training on the go. According to GoTo, their application hosts over 700,000 annual trainings with over three million annual attendees. To generate revenue, GoToTraining offers monthly subscriptions.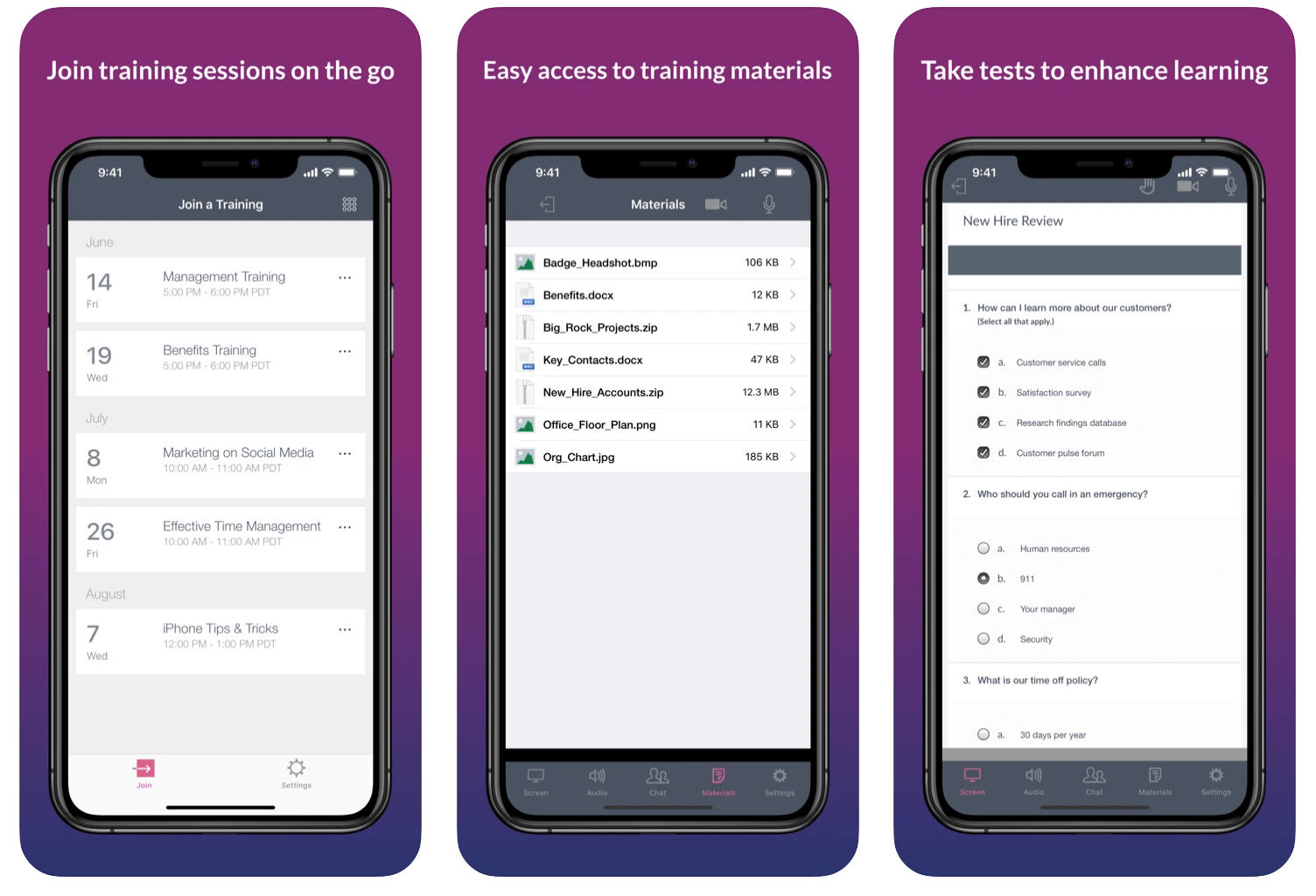 GoToTraining mobile app
Classroom education apps
This app type includes apps designed to be used in a classroom setting. Teachers can use them to help manage their classes by keeping track of student grades, homework assignments, and other important data. Students can also benefit from this app type by taking notes, studying for tests, and more.
GoGuardian is a great example of a classroom app that caters to students and teachers K-12. The app includes a suite of products for different user groups, including parents.
GoGuardian's solutions are now present in over 10,000 schools and are used by more than 25 million students and 500,000 educators. The GoGuardian technology is also available in 23 of the 25 largest districts in the U.S.
Online courses apps
Mobile learning platforms are a great way to pick up new skills or hone expertise. Online course apps may differ, but they typically all offer similar features, including access to high-quality course material and the ability to learn at your own pace.
Further, the emerging trend of skills development also drives the popularity of online upskilling, which keeps employees marketable amidst evolving economy and hiring patterns.
Coursera is usually featured among the top-list online learning apps that offer massive open online courses (MOOCs), specializations, and even degrees from universities. The company reported a 26% YoY revenue growth in 2022, with annual earnings of $523.8 million. Coursera's monetization model includes subscriptions and paid programs.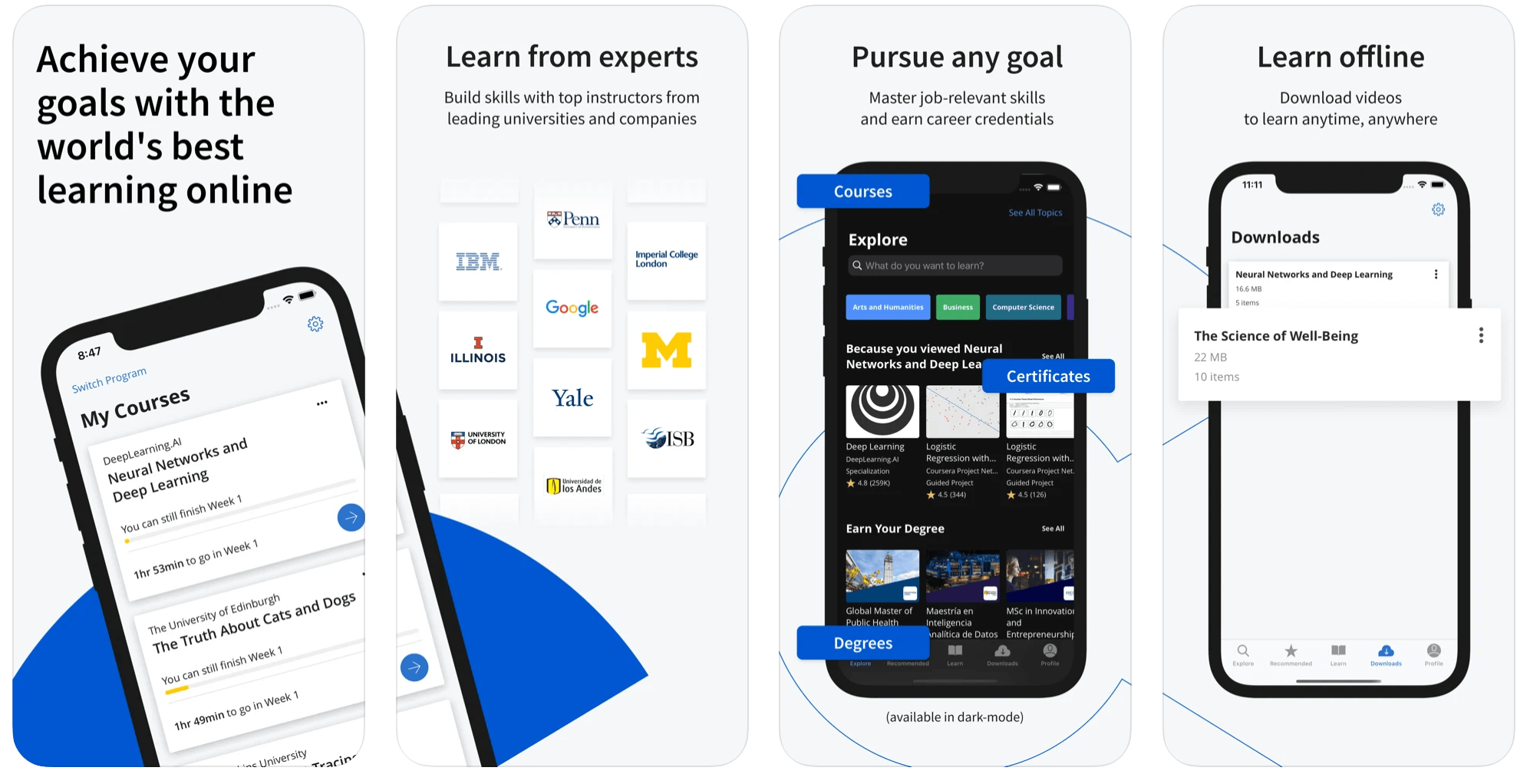 Coursera mobile app
Exam preparation apps
As the name implies, exam prep apps help students prepare and stay focused when studying for tests or exams. This app category can either provide academic support or assist users in a more effective studying process by tracking and monitoring their success and performance.
Generally, the U.S. test preparation market is predicted to grow to $10.72 billion by 2024. In this market, analytical tools for test preparations are a core market enabler.
BYJU'S Exam Prep is a comprehensive exam preparation app that offers a rich set of quizzes, tests, and others. It also has premade prep programs for several popular exams. The app has over 30 million registered users and offers a subscription plan to unlock premium features.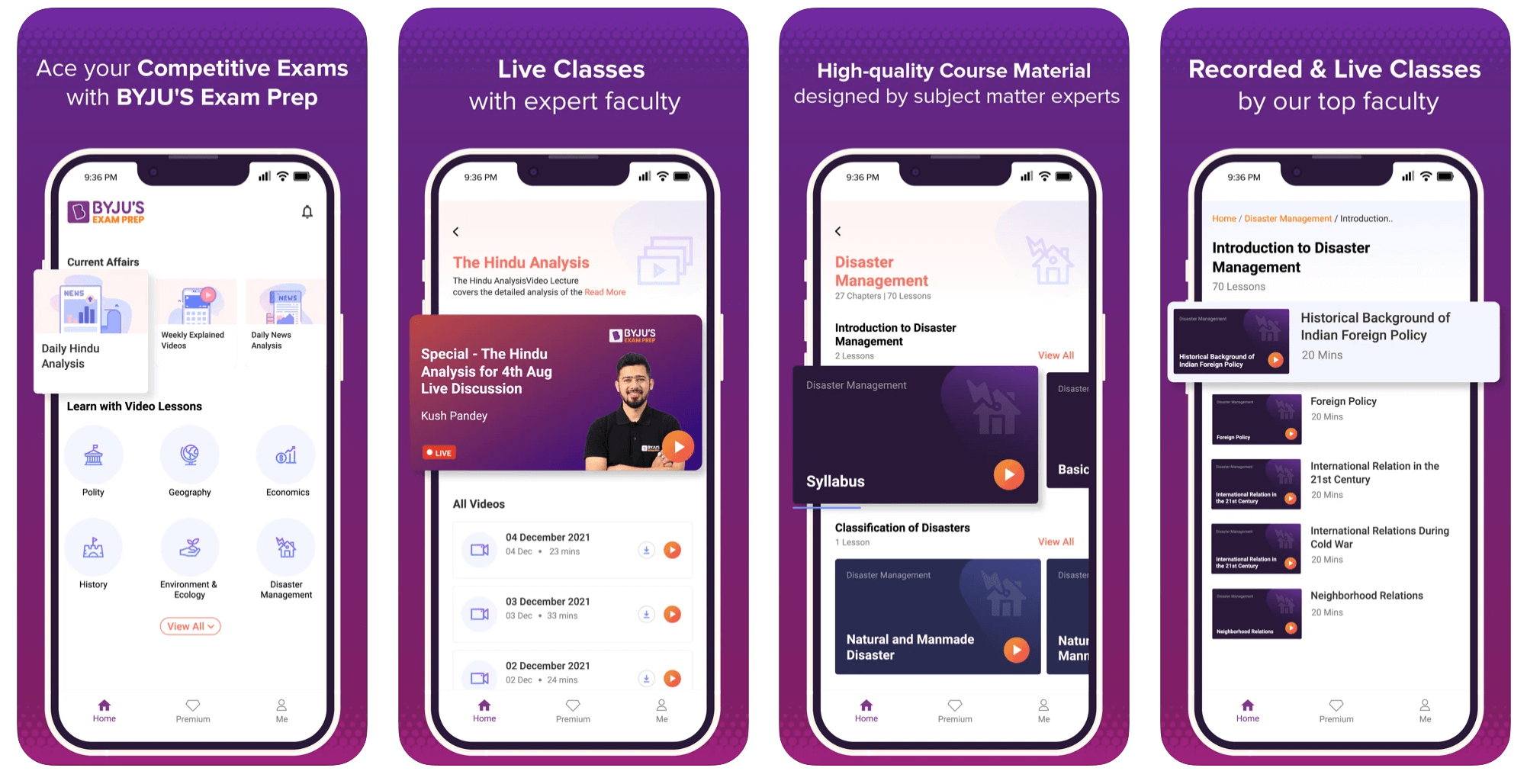 BYJU'S Exam Prep mobile app
Education apps for kids
Learning solutions for kids instill a love for learning through gamification mechanics and interactivity. Preschool mobile applications can also be used in classes to further aid in child development. Although most kids' education apps in the U.S. saw a decrease in revenue year-over-year in 2022 due to the impact of returning to in-person school, some managed to hit it big.
Kiddopia, an award-winning app for preschoolers, generated $22.7 million in revenue in 2022. With over 17 million users, Kiddopia offers a simple and fun way to practice math, science, and problem-solving skills for your child.
Users can try out the app over a 7-day trial period or purchase a subscription at $7.99 per month.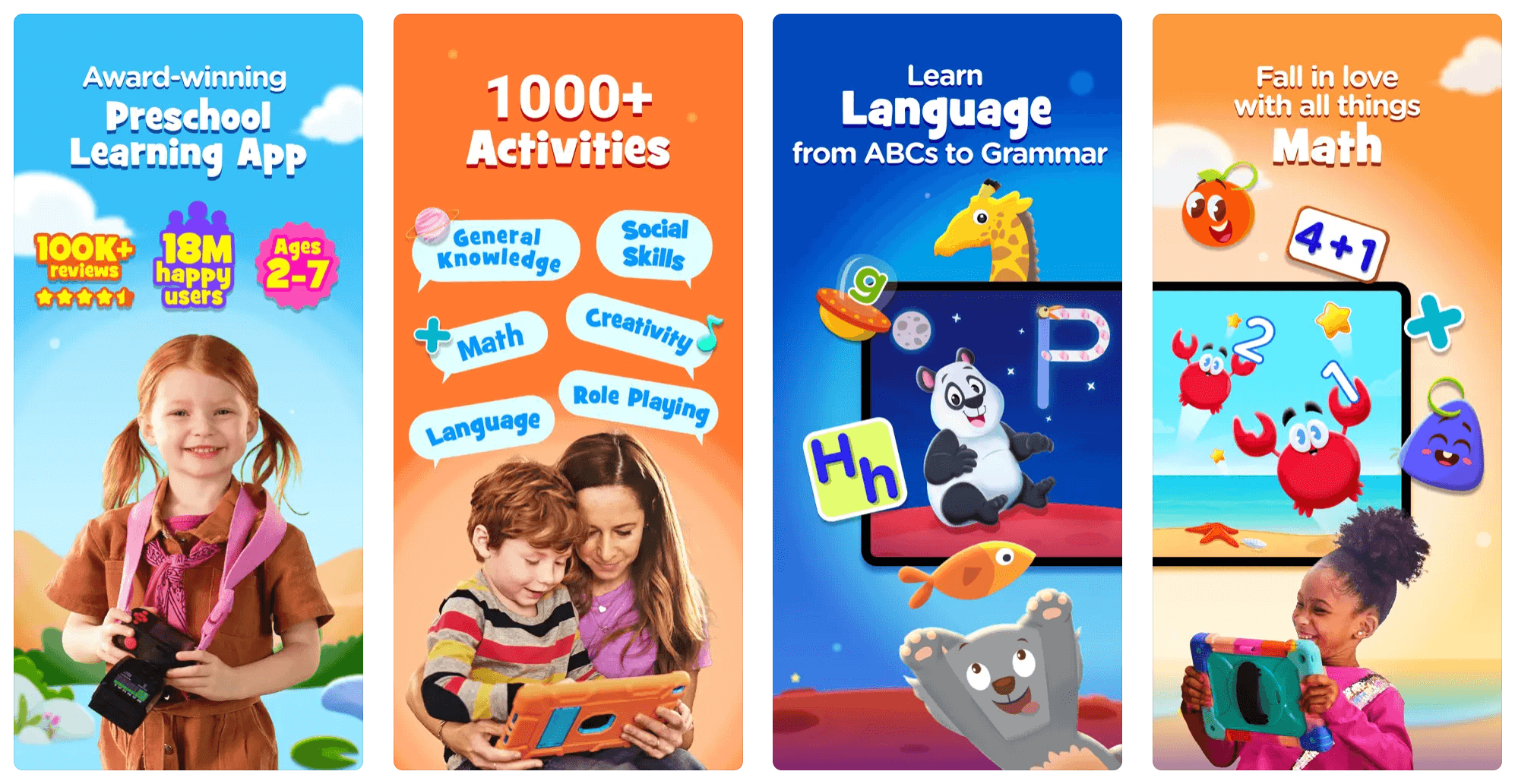 Kiddopia mobile app
Trends in eLearning App Development
In 2023, evolving technological advances are reshaping eLearning trends. Thus, eLearning apps are becoming edgier as companies vie for the users. We've curated a set of technologies that impact the current digital learning field.
Virtual and augmented reality (VR and AR)
The global VR and AR market is estimated to reach $451.5 billion by 2030, registering a CAGR of 38.5%. Extended reality is driving change across physical and online education, as well. For example, AR supports personalized learning by analyzing scannable content and visually placing learning material.
As for VR, it improves visualization and drives immersive experiences for learners. For example, the Merge EDU app relies on extended technologies so that users can learn STEM through 3D navigation and simulation.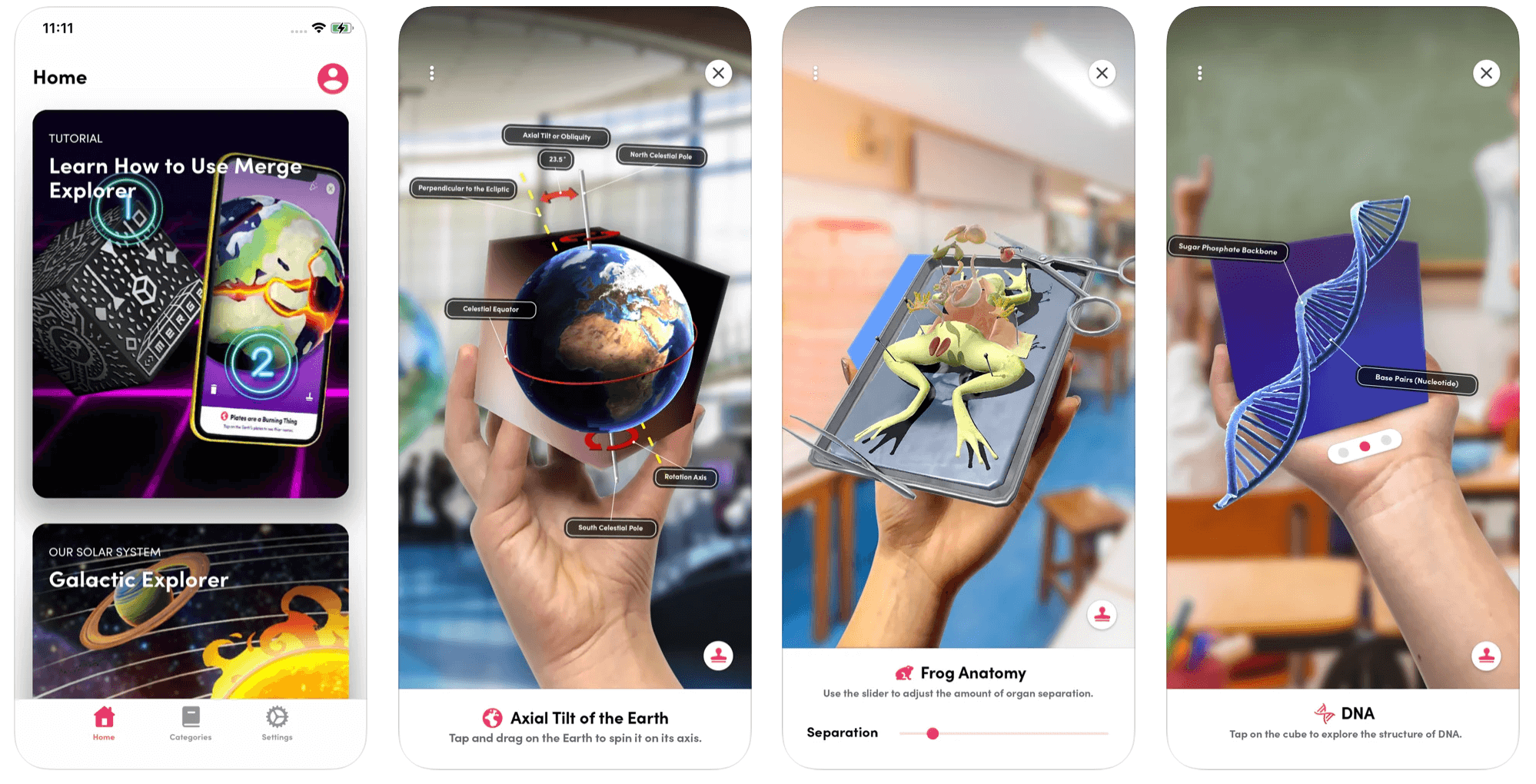 Merge Explorer mobile app
Artificial intelligence (AI)
Intelligent algorithms have taken over almost all spheres of our lives, including education. In 2022, the AI in education market size was valued at $2.1 million, with an estimated size of $25.8 million by 2030. In education apps, AI algorithms can automate record-keeping and grading, generate tailored recommendations, and answer questions through bots.
For example, ELSA Speak is an app that revolves around AI speech recognition. Based on the audio input, the app evaluates the user's English pronunciation and fluency and gives them immediate and detailed feedback.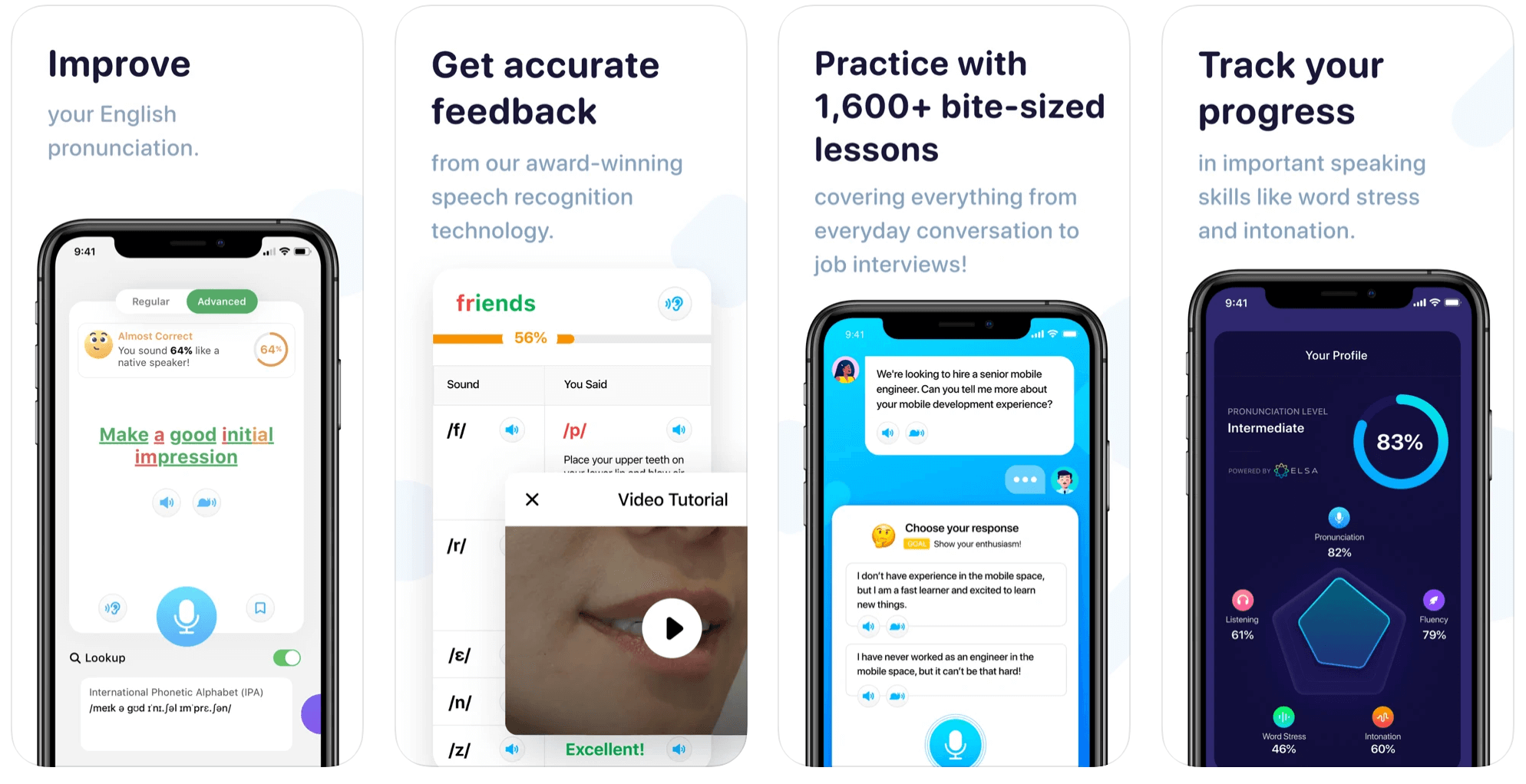 ELSA mobile app
Gamification
This technology allows app creators to make the tedious learning process hassle-free and entertaining. The importance of play in the educational process also has a scientific rationale; in this research paper, Pho and Dinscore support that brains make new synapses faster through game-based learning.
As for in-app education, levels, rewards, and progress bars boost motivation and encourage app users to progress faster. Also, leaderboards, countdowns, and other gamification elements can create a competitive environment that encourages users to continue learning.
For example, the Quizlet app helps students and teachers gamify content and make complex information more digestible. Its gamified study modes, such as Gravity and Match, introduce time or other limitations to spice up the learning process.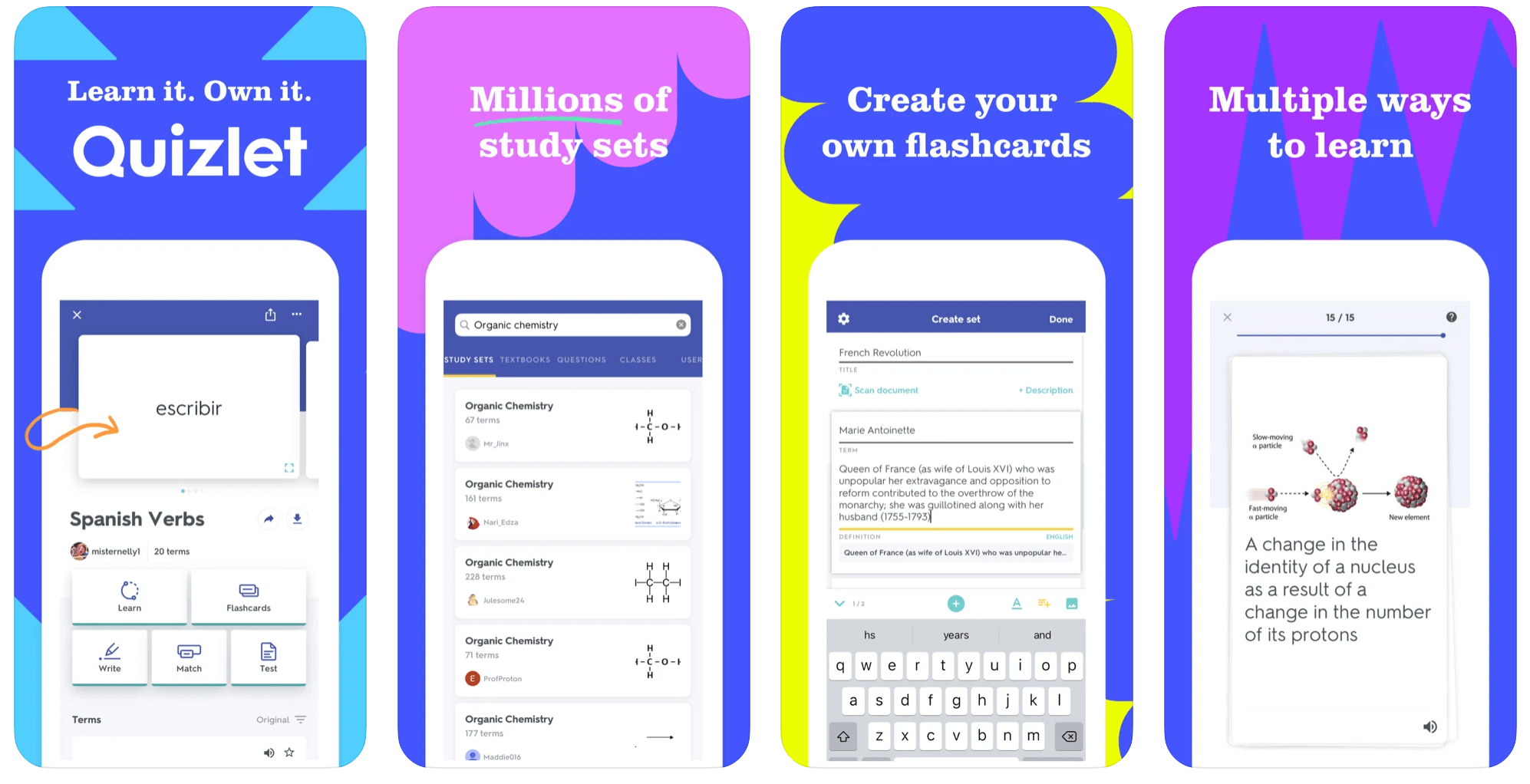 Quizlet mobile app
Microtraining
This training technique delivers knowledge in small bite-sized learning units so that users can better grasp new concepts. Microtraining (or microlearning) also makes information more digestible and engaging since smaller packages are easier to master. Duolingo, Word of the Day, and flashcard apps are great examples of the microtraining method.
Video streaming
The popularity of video streaming peaked in 2019 as the world entered into lockdowns due to the 2020 pandemic. During this time, eLearning applications were fast to accommodate this technology and help teachers expand their reach beyond classrooms. By 2028, the market is expected to hit $4.29 billion.
Among the key market drivers of video streaming is real-time interaction between the viewers and the streamer. As a result, the learning process becomes more personal and engaging.
Today, video conferencing facilitates remote studying and makes education accessible. In addition, standalone live class platforms such as Vimeo and Dacast are built around streaming and support multimodal learning.
Social functionality
Finally, digital education also benefits from social features that allow users to connect and engage with your app as well as share experiences with other users. For example, educational apps can have social media integrations to provide a faster sign-up process or enable users to share their progress online.
Moreover, customizable user profiles make learners identifiable and provide app owners with valuable user data. Live chat support and push notifications can also boost app engagement while adding a personal touch to each interaction.
Educational App Development: Step by Step
Now that you are privy to the fundamentals of developing an educational app, let's see what it takes to bring the one to life. The education app development lifecycle is similar to other software types and requires a consistent, iterative approach to deliver a successful solution.
Choose your niche
Pre-planning is the most critical stage before app development. Also known as ideation, this phase involves a detailed market and competitor analysis that helps you choose the right development direction.
Without this phase, you may end up with a product built for the wrong audience. Therefore, you should identify market opportunities to set up your project for success.
Shape the concept and define the features
During this stage, your app development team helps you polish the project scope and outline accurate project requirements. A team starts with high-level requirements and advances toward detailed specifications, including business requirements, user specifications, and system limitations. The result of this stage will be a list of must-have features and requirements that will be the future product's foundation.
Design compelling UI/UX
Then, a team of UI/UX designers wraps your system into an aesthetically-pleasing user interface. Along with the visual components, an effective app design is based on usability and convenience. Therefore, the main goal of this stage is to create a sleek design with easily discoverable components and a seamless user experience.
User experience also differs based on the age group and corresponding cognitive abilities. For example, learning apps for preschoolers require a significant amount of visual elements, extensive use of media, vivid colors, and gamified content. Animation is another salient design element that can drive educational value for any age and promote knowledge retention.
As the final step, your design team will present you with a design layout that includes a comprehensive design description for app developers.
Choose a development approach
Now, it's time to choose a viable tech stack that will help you make an educational app. The technological choice should be based on the application's specs, including its complexity and time to market. Moreover, core functionality, the number of platforms, and security measures are among other criteria that influence your final choice.
The project scope and a set of technologies impact your future team structure. Thus, you need to assemble developers with the right technological chops and cover the necessary software development team roles. Business analysts, project managers, and QA specialists also contribute to the successful delivery of your solution during this phase.
Estimate time and cost
Once all the building blocks are grouped, it's time to do the math. So, how much does it cost to make this educational app? There is no cut-and-dried formula. The cost comes down to the scope of your project and the number of features you need to develop.
At Orangesoft, we offer a variety of pricing models to address different client needs. When your budget and requirements aren't clear yet, we offer time and material options. In other cases, our collaboration can be based on a monthly fee or fixed-price approach; regardless of the model, you should make sure it fits your resources and project requirements.
Develop a minimum viable product (MVP)
There is no better way to test the waters than building an MVP, an early version of the product that consists of just the must-have features. With an MVP, the core set of functionalities must be enough for the end users to assess the viability of your solution.
Once your MVP is ready, it is available for the target audience to test out and provide feedback. After that, the development team enhances your solution and implements additional features as needed. Therefore, an MVP allows you to test your hypotheses without excessive development costs.
Improve and support your educational app
Once your solution is tested and deployed, it should be continuously supported by the maintenance team. Application maintenance is crucial for the app's well-being.
This ongoing task ensures your application is up to date and is always running to the best of its abilities. Maintenance activities also cover regular feature updates, emergency resolution, and audits for iOS and Android.
How to Build an Educational App: Core Features
Although each eLearning app is unique, there is still a combination of essential functionalities that most applications have. Below, we'll go over the basic features of an educational app. We have divided them into two categories based on the user group: students and teachers.
Essential Features for eLearning Apps for Students
Signup and login
These features make the user uniquely identifiable within your application, meaning users can set up their profiles and keep track of their progress. Ideally, your sign-up process should be one-step and use social media or email credentials.
User profile
A learner's account should feature basic user information and a profile picture. On their profile page, users should see personal and app-related information such as the number of purchased courses, billing details, etc.
Search bars and filters
Students should be able to easily discover educational content through the search tool. Keyword search and category browsing are among the most popular search options on eLearning apps. You might also want to include a recommendation engine to offer relevant courses and content to students.
Payment gateway
If your educational app is based on paid subscriptions or offers paid courses, you need to integrate a payment solution. Payment gateway integrations, like PayPal, facilitate easy and fast transactions.
Most mobile apps also set up Google Pay and Apple Pay integrations to make the payment process faster. In addition, wallets, credit cards, and other solutions further expand your payment options. However, payment details and credentials must be stored safely within the app regardless of the gateway.
Push notifications
Alerts and notifications are a go-to feature that re-engages users and allows app owners to establish two-way communication. Thus, notifications can inform the learners about updates or new challenges. Recommendations, new courses, or unlocked features can be made more visible through notifications.
Learning analytics
Moreover, learning apps demonstrate the learning progress by listing active and completed courses, badges, certificates, accomplishments, and goals. Ideally, this functionality should manifest as a comprehensive dashboard.
Learning materials
Typically, EdTech applications categorize learning materials by relevance, topic, and other criteria. There may be theoretical courses, interactive text exercises, video and audio lessons, livestreaming lectures, and tests.
Cloud integration and cross-platform support
Since both learners and educators tend to use multiple devices for learning purposes, you have to make their user experience seamless. Therefore, all progress should be saved and synced via the cloud so that users can access the app from any device or platform.
Essential Features for eLearning Apps for Teachers
Signup and login
Just like learners, teachers must also be able to register on the system and access their profiles. An app profile should include basic profile information and a detailed dashboard with current tasks, their students, and other relevant information.
Admin panel
This feature keeps teachers updated on academic responsibilities, assignments, extracurricular activities, etc. It should also track attendance, grades, and student progress.
Notifications
Teachers can be notified about completed assignments, tests, and enrolled students.
Test making tools
Teachers should also be able to create online tests to check students' knowledge. Therefore, a customizable test maker is essential for this user group. Ideally, this feature should enable educators to distribute tests online, monitor the results, and automatically grade the tests.
Live sessions
The video-streaming feature allows the app to host interactive live lessons for the students to learn remotely. Your educational solution can also include a virtual classroom with instant chatting, video, and audio functionality.
How Much Does it Cost to Build an Educational App?
The question of cost is one of the most confusing ones regarding software development. Since there is no definitive answer, the total will depend on a few criteria. If you're looking to build an educational app, your development costs will be based on:
Application complexity (simple, medium, complex);
Platforms and devices;
Core features;
UX/UI design;
Functional costs (third-party integrations);
Dashboards and animation;
Innovative features (AI-based functionality), and more.
Based on our experience, it may take $50K to $300K to build a mobile application. The more sophisticated it is, the more investment the app needs.
To help cut costs, we always recommend building an MVP first. The MVP helps app owners drive down development costs while better understanding relevant features and user needs.
Need help with cost estimation? Send us your project details, and we'll give you an accurate estimate for free.
Monetization Models for eLearning Apps
Educational apps generate revenue through different monetization models based on the beneficiary. Here are the four most popular ways to cash in on your educational product. You can either go with a single model or combine several options to yield higher revenues.
Paid apps
With this model, users pay a one-time fee to download your app and access all of its functionality. In this case, the application doesn't charge any additional fees or offer in-app purchases. Thus, you get a single revenue stream that can be further extended with in-app ads.
Subscription
Here, the app publisher makes revenue by charging users a monthly or yearly fee for access to the app. This model also presupposes a free trial which allows users to explore the functionality and test the main features.
Freemium
Many app owners also like the appeal of a freemium strategy since it reels in more users and generates high incomes. Here, the app comes with a basic or limited set of features, and the full functionality is available for a paid premium.
In-app ads
In-app advertising is a business model relevant to all verticals. It helps app publishers to earn money by serving ads on their apps. This revenue option offers a wide range of ad formats, such as banner ads, reward adverts, and more, to benefit from the user base.
Related: How Do Free Apps Make Money - 9 Proven Monetization Strategies
How We Develop Educational Apps
Since 2011, our Orangesoft team has been delivering educational apps to global companies and app publishers. Over the years, we've established a calibrated process of app development where each stage and team delivers maximum value to the final product.
Our team is comfortable taking over end-to-end development or creating a UI/UX design only. We also take care of the back-end or provide a last-minute rescue for urgent projects. As a rule, it can take our team 3 to 15 months to deliver a high-quality eLearning solution. The exact timeline depends on the app's complexity and the number of development stages.
Our track record features a variety of educational apps. Uniword is a great example of a preschool educational app built and delivered by Orangesoft. This solution is packed with interactive educational games for kids and provides guided reading lessons and fun activities. Built for Android and iOS, Uniword scored over 200K downloads and continues to grow its audience by offering unique functionality and a kid-friendly user interface.
Let's Make a Difference Together
As knowledge is at its accessibility prime, educational apps have skyrocketed. Online courses, language learning apps, and other online learning opportunities supplement the education process, making it more personalized and interactive.
Mobile educational apps deliver superior availability and establish a systematic learning approach in a remote environment. Given the benefits, the downloads of eLearning apps will continue to grow, as demonstrated by the Research and Markets.
So, if you have been waiting for the perfect time to join the market, the time is now. Get in touch, and we'll help you create a competitive eLearning application.