It's always an adventure when launching a new product. Finally, you can jump at the exciting opportunity to execute the product idea you've probably cherished and nurtured for a long time. But to get that much-needed investment or a leg up in the competition, you have to put your idea or a feature into production as soon as possible.

However, the shortage of qualified talent, expensive labor markets, and the lack of in-house capacity might hamstring your venture in its earliest incarnation. And here's where offshore software development comes on stage to save the day.
What Is Offshore Development?
Offshore software development is a business process outsourcing method whereby a company sends some or all of its IT functions to a third-party vendor in an overseas region.
For this process, companies hire individual offshore developers for select tasks or recruit an entire development team through a dedicated company.
Offshore development companies, in turn, offer multiple engagement models such as dedicated teams, staff augmentation, and others to cover the multitude of talent needs of their clients.
Why Hire an Offshore Development Team?
Some of the most successful products, such as Whatsapp, GitHub, and Slack, are good examples of how offshore development can add well-timed traction to a rapidly growing startup. But a head start is not the only benefit that makes offshore development teams a lynchpin of market success.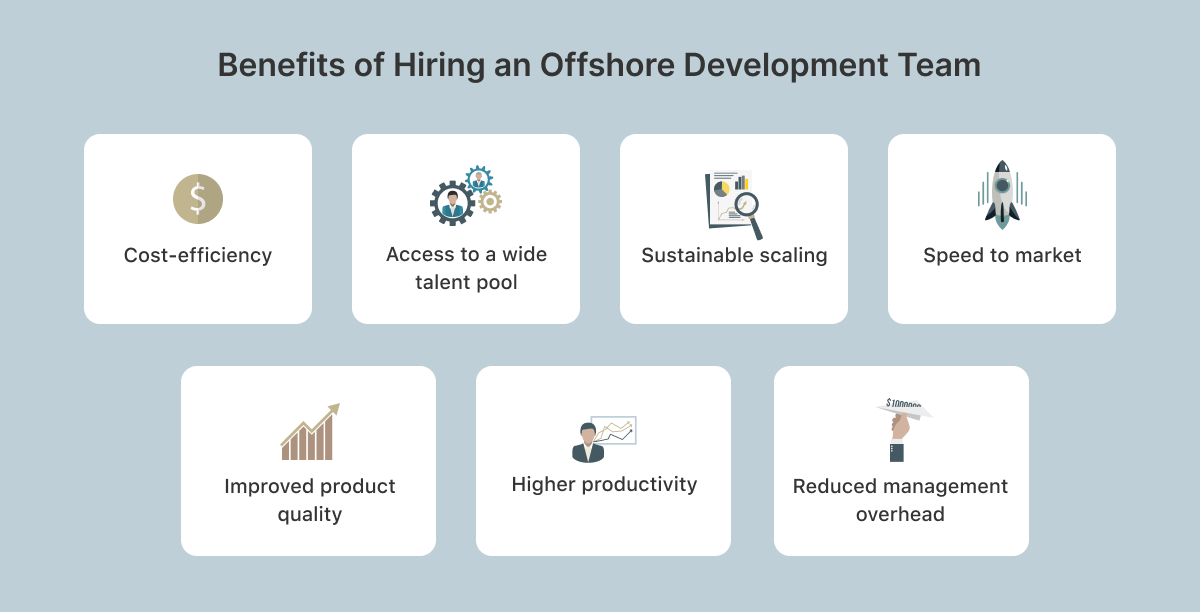 Cost-efficiency
Cost reduction has always been the primary driver behind the popularity of offshore software developers. Businesses can seize a 40% to 70% reduction in development costs by outsourcing software development to locations with more affordable rates. For example, hiring an Eastern European specialist can be much cheaper than landing the same specialist in the US.

Startups also experience lower production costs as they don't have to fork out overhead costs such as office rent, employee expenses, recruitment fees, etc. Instead, all your investment goes directly to implementing your product idea.

Moreover, companies can opt for as-needed services, which is a great option for businesses at the onset of their journeys. This way, you both keep your costs down and pay only for the services that you really need.
Access to a wide talent pool
Around 50% of companies report talent acquisition as a top internal challenge in meeting their strategic priorities. Hiring offshore developers allows businesses to broaden their recruiting horizon with qualified talent competent in the needed domain.
Companies can also tap into a niche or cross-functional development skills inaccessible in the local market. More importantly, startups get global technology exposure within their budgets.
Sustainable scaling
The average company spends around 45 days filling the talent gap, which wastes time and money on the wrong matches. For a new business, this delay can turn out to be disastrous. If you hit the market late, competitors and entry barriers exist to fend off.
Long and tiresome hiring cycles also rob you of the opportunity to ramp up or down your capacity based on your current needs. Things become even more challenging if we add the burden of employee turnover to the equation, as one resignation can blow project deadlines.
Conversely, an offshore software development company has a pool of pre-qualified candidates for its clients. As a result, offshore development slashes the time-to-hire, improves scalability, and allows your vendor to offer a backup candidate in days if something goes awry.
Speed to market
Venture capitalists have always relied on speed to market as one of the most important criteria for deciding on an investment opportunity. So, long production cycles and delayed launches can also prevent you from getting large investor bets.

Moreover, the longer you delay the launch, the more you delay getting feedback from the market. Hiring offshore software developers solves two problems at once. You both get access to fast-to-hire dedicated teams and kick-start your development process by having an agile pod of professionals on board.
Improved product quality
While software development might not always be your core business focus, offshore development companies are highly specialized and experienced in creating high-quality digital products. This means you have access to hire the right professionals with the right skills that bring unique expertise to your table and maximize the quality of your deliverables.
Remember, using experts mean faster launches, equating to money savings and the first-mover advantage.
Higher productivity and reduced management overhead
Offshore software development can be a smart move for companies that want to fend off administrative and management burdens. By outsourcing your project to an offshore development company, you can reduce or eliminate the need for in-house project managers and other management personnel.
Minimized administrative hassle allows you to focus on core business operations and reallocate resources to mission-critical areas.
When Should You Hire an Offshore Development Team?
Cooperation with offshore developers bears fruit for the majority of software development projects. But there are some cases when hiring offshore developers is even more vital to the success of your venture. So, let's weigh in on the indicators you can use to greenlight outsourcing for your businesses.
Startup development from scratch
If you want to transform your unique business idea or prototype into a successful product, it pays to remember you cannot do it alone. Landing an offshore team can be the key to supercharging your development project from ideation to launch.
An external dedicated development team can support you at all stages of project development and complete it faster and cheaper than a small in-house team.
The issue of limited knowledge and expertise in specific stages or areas of development is also solved through third-party technical expertise, which is particularly important for early-stage startups looking to build an MVP and progress to the next development stage.
Startups in growth-mode
A team of quality offshore developers is a success enabler for companies that have secured their funding and are expected to hit milestones laid out to investors.
When your production gains traction, a lack of resources can bring your project to a stall and hinder its sustainable growth. It makes third-party assistance a viable part of your growth strategy that helps you respond to demand fluctuations and avoid the fixed costs associated with full-time employees.
Maxed out capacities in house
Garden-variety businesses tend to make do with the leanest business models whereby employees wear multiple hats to keep the ball rolling. However, additional responsibilities pull your in-house team away from higher priorities and lead to sub-par product quality.
Outsourcing can ease the strain on your employees as well as add more workforce and ready infrastructure to your project.
Inability to deal with specialized tasks
You can also hire offshore developers when the task in question is beyond the technical expertise of your dev team. Whether it's web app development or some narrow skill like live streaming, outsourcing allows you to complete the ecosystem at less cost and with higher throughput.
Tight deadlines
Whether you've started on a tight deadline or battling scope creep, an offshore development partner will help you maintain your sanity. By outsourcing, you can bring in the expertise you need in no time and ensure quick turnaround times.
In this case, you don't have to go through the traditional hiring and onboarding process. Instead, you get a ready-to-go team or a solo developer that can jump straight into the project and accelerate its delivery.
Challenges of Offshore Software Development
The concept of outsourcing implies a third-party vendor plugging into your calibrated business routine, which, in most cases, creates a breeding ground for a company's growth. But the wrong choice of a tech partner can expose you to challenges that hurt your collaboration.
Time zone differences
Latin America, Eastern Europe, and Asia are among the go-to outsourcing destinations where companies hire offshore software developers. However, if your business is a long distance from those countries, you might not have enough overlapping hours to sync with your external team.
While different time zones might stand in the way of immediate feedback, you can still use it as an incredible, untapped advantage. This difference lets you tap into the "follow the sun" working model when your offshore team works during your nighttime.
This round-the-clock model speeds up product development and creates a constant workflow with increased response times.
Communication gap
Lack of constant interactions and face-to-face communication may negatively impact your production. To minimize communication gaps, you should have at least a few overlapping working hours and a pre-agreed communication schedule. You can also enhance collaboration visibility using a single project management software where your team logs in on project progress.
Cultural and language differences
Operating in different languages makes communicating nuanced needs or articulating problems challenging. Cultural differences can also crash projects due to different communication styles or business approaches.
To prevent this mishap, you should opt for approach-neutral vendors with a global mindset and a high English proficiency index. Or you can hire from a culture closer to yours.
Vendor selection
Finding a trustworthy and competent vendor with professional developers can become an uphill struggle. With many options, it's easy to get lost in diverse products and services or take a wrong turn. However, preliminary research on a vendor's capabilities, experience, and compatibility with your goals can help you make the right call.
Where Do You Find Offshore Development Teams?
Next, look at the main venues where you can find offshore software development teams.
Tech directories and listings
Many online directories, such as Clutch, Goodfirms, and DesignRush, have a global network of trusted partners in software development. These directories make it a breeze to choose a vendor based on the niche, service line, and pricing. They also feature portfolios and testimonials from former clients to make your choice even easier.
Professional networks
Almost every offshore outsourcing agency is logged into LinkedIn, the largest professional networking community. You can use it as a supplementary source to collect background information about the vendor, size up their experience, and even browse the accounts of the company's employees.
Freelance portals
You can also try your luck on freelance websites such as Upwork, TopTal, Dribbble, and others. These destinations host both freelance developers and professional agencies that can take over your development processes.
Conferences, hackathons, and meetups
Among other places, tech-related events are ripe with the best offshore developers. Although it's not a speed-dial option, you can spot a potential offshore partner for future projects there.
Locations Where You Can Find Offshore Development Teams
Below, you will find a list of the most popular outsourcing hubs in the world in terms of hiring costs, talent pools, favorable business environment, and flexible tax landscape.
Eastern Europe
Over the last decade, this region has become a digital heavyweight, with overseas businesses flocking to the location. As a result, countries like Poland, Romania, Hungary, and others are home to the brightest developer minds with diverse skills and global expertise.
The region is also one of the world's leading ICT (Information and Communications Technology) exporters. For example, the export of ICT services in Poland amounts to 14.4% of the total export of services, indicating a significant IT workforce concentrated there.
Hourly rates of offshore developers in Eastern Europe are what makes this region attractive for overseas companies. For example, it may cost you somewhere between $40-$70 per hour to hire a skilled developer from Poland.
Eastern Europe also competes on convenient time zones, flexible culture, and a high level of English proficiency. For example, Poland is located in the GMT +1 zone, which applies to the majority of Europe and offers a lot of overlapping hours for other locations.
Asia
Asian countries, including India, China, and others, have also established themselves as an attractive outsourcing hub. Many Asian destinations feature low-cost economies paired with large candidate pools that promise to deliver your projects at a fraction of the cost. For example, hiring a dedicated developer in India will cost around $20-$50 per hour.
However, these countries might not suffice the needs of your high-touch activities due to the time zone differences and cultural barriers. In this case, you might need to send your internal project manager on-site to supervise the project and communicate your vision to the vendor.
Latin America
Latin America has become a hotspot for businesses seeking external tech partners. US companies particularly favor the region due to its geographical proximity. Businesses are also keeping their eyes on Latin America as it offers an abundance of skilled developers at cost-efficient rates.
There, you may find a software developer for hire between the rates of $45-$70 per hour. Argentina, Mexico, Colombia, and Brazil are among the most in-demand outsourcing hubs in the LatAm region.
How to Hire Offshore Developers: Step by Step
Here's what an ideal collaboration workflow should look like when outsourcing your software development project.
Make sure you have detailed job descriptions
By this time, you should already have a baseline understanding of your software product and the technologies your product will be based on. Following those requirements, you should chalk out the skills your developers need to deliver the product. You then contact a selected vendor and share your project details with the agency.
To set up your collaboration for success, check whether the vendor has the necessary experience, skill sets, and accolades to take over your project. Size up their ranking on Clutch, go through their social media profiles and connect with former clients. You can also verify the code quality of your future team on GitHub or Stack Overflow.
Look into the workflow of your vendor
Trusted vendors can be seen from afar — they always provide a clear collaboration workflow and pricing strategy. Nevertheless, make sure to find out more about their collaboration options, flexibility of hiring, and overall business approach.
Discuss a variety of scenarios and solutions, communicating all concerns you may have, and see how the vendor addresses your questions.
Do not forget the non-disclosure agreement (NDA) that will guard your confidential material. Usually, a vendor offers an NDA even before the development process begins.
Decide on the communication channel and frequency of updates
To establish the most effective workflow, your vendor should also provide you with a project management tool that will act as a center of gravity for all communication between you and your team. Usually, outsourcing companies offer a few tried-and-true communication tools and a clear schedule for update sharing.
Tools like Jira, Clickup, and Slack are established standards in the project management world. These tools offer ample functionality for progress tracking, team discussions, and feedback sharing.
Sealing the deal
Signing an Agreement and Work Order is the final leg of the pre-development stage. The agreement reflects the agreed-upon service scope and acts as a safety net for both parties.
Ensure the agreement has no grey areas, lists a clear and defined scope of work, and sets out the payment terms. After that, your outsourced team is all set to bring your product vision into reality.
Why Choose Orangesoft as Your Offshore Development Team?
Orangesoft is a professional mobile app and web development company with 10+ years of commercial experience. We are a team of 60+ problem solvers that provide strategic consulting and software development services to startups.
Here is what makes us a great technology partner for your project:
An extensive candidate pool made up of qualified and vetted developers;
Over 300 successfully delivered projects across multiple domains;
Full-cycle software development expertise that drives your project from A to Z;
Calibrated workflows that put you at the center of all development processes;
Transparent pricing with non-binding sourcing and interviewing processes;
Ability to scale up and down your team on demand;
Post-release support, maintenance, and consulting services;
Working with us, you get a team committed to bringing your project across the goal line — on your terms and in line with your requirements.
Get Offshoring Right the First Time
Skilled software developers are a valuable asset for any budding startup or a maturing company. Scouting a development team in more affordable locations allows you to quickly build and deliver a high-quality product without sky-high costs.
But to hit it off with a vendor, you need to have a granular understanding of your project requirements and put effort into finding the right tech partner. Otherwise, you might have difficulties finding common ground with a vendor or finding the collaboration challenging due to your incompatibility.
Orangesoft supports your growth intentions with on-demand developer talent that does the heavy lifting of software development. We make finding the best-fit team of offshore developers from Poland for any project easy and safe. Contact us and get your project started.