Over the last few years, companies have doubled their digital initiatives. By 2026, global spending on digital transformation is projected to reach $3.4 trillion.
Pandemic-induced crisis, neck-breaking competition, and uncharted consumer behavior patterns all put companies in a bind. As a response to an evolving landscape, companies have turned to technology.
In particular, mobile applications are among the leading trailblazers of digitalization. In 2022, the global App Store and Google Play user spending hit $137 billion. By 2026, this figure is estimated to reach even higher at $233 billion.
If you're looking to join the lucrative niche of app development and reach more audiences, you need app developers. Today, we'll tell you what it takes to hire top-talent mobile app developers.
Why Hire an App Developer?
Drag-and-drop app makers may lure you into thinking that you don't have to hire app developers to create your mobile solution. However, if you are looking to build a custom solution tailored to your needs, hiring an experienced mobile app developer significantly increases your chance of success.
Moreover, dedicated app programmers allow you to reap a host of other benefits unavailable for ready-made constructors, including:
Customization — every bespoke digital product is fine-tuned to the client's needs, be it system requirements, user interfaces, or functionality;
Cost-effectiveness — an accurate business fit increases your long-term profitability and promotes customer spending;
Rich technical expertise — experienced app engineers possess a solid set of tech skills, which allows them to choose the best combination of languages and tools for your application;
Better security — professional developers implement the best data security practices to keep your application stable;
No vendor lock-in — custom development is not limited to technologies, meaning you can migrate your application whenever necessary.
However, the number of benefits you'll receive varies based on the app development team you hire. So next, let's review the top engagement models that will help you hire the right mobile developers for your app's needs.
Three App Developer Hiring Models
Today, talent acquisition is not limited to traditional full-time in-house hiring. Remote hires, part-time contractors, or outsourced developers have greatly expanded recruitment efforts and talent pools. However, each of these options should be tied to your unique business plan and project characteristics.
In-house team
The time-tested practice of local talent sourcing allows you to hire a mobile app developer with an in-office presence. In this case, you get new hires on your payroll and take over all administrative tasks. On-site developers work directly for your company according to their responsibilities, and in-house hiring is also a long-term commitment.
If the project scope exceeds your team's expertise, you will need to provide training and upskilling in-house. In addition, local hiring requires a company to rent an office, purchase hardware and software licenses, and cover employee benefits. As for the timeframes, in-house recruitment may take up to a few months based on the talent rarity.
Also, the challenge of on-site sourcing is greatly influenced by global skill gaps. In 2023, most companies fret about the lack of qualified candidates, while 71% of CEOs anticipate talent shortages.
Pros:
Direct team management
Perfect cultural fit
Knowledge sharing
Easy communication
Deep knowledge of the project
Cons:
High costs of hiring
Long hiring process with high dropout rates
Administrative burden
Inflexibility
Freelance hiring
Hiring freelance app developers is another popular recruitment option. In this case, you turn to a self-employed specialist who takes gigs at multiple companies.
This collaboration option has gained popularity due to cheap app development costs and an unlimited pool of candidates. Usually, companies scour different online freelance sites like Upwork, Fiverr, Freelancer, and others.
However, this collaboration type is more suited for simple or short-term tasks with a limited budget and loose deadlines. A freelancer and a client can be divided by a communication gap with no binding contract or guarantees.
With freelance hiring, you shoulder all the risks and are fully responsible for the outcome. Also, a client takes over all management and monitoring processes.
Pros:
Cheaper compared to other options
Global hiring
No extra costs required
Cons:
Challenging management
Risk of low-quality output
No control over the process or deadlines
Low scalability potential after release
Possible language and cultural barriers
Outsource app developer
The business practice of outsourcing presupposes hiring a party outside the company to delegate both core and supplementary IT functions. An outsourcing vendor can either take over the end-to-end development process or take charge of specific tasks.
Within this engagement option, a company can hire a programmer according to their unique requirements with no administrative hassle or long recruitment process. Popular outsourcing destinations are also known for affordable development costs and favorable tax systems.
A lower level of responsibility and effort is another differentiator of outsourcing for companies. As a result, companies can land the right talent without traditional fixed-term employment depending on the specific collaboration.
In this case, a vendor is responsible for employing your team, including taxes, payroll, and benefits. The flexibility of this hiring method allows companies to build their workforce up or down based on the current demand. You can also delegate team management if needed or manage your outsourced team directly.
Pros:
Cheaper than an in-house team
Hiring flexibility
Quicker hiring process
No administrative burden
Clear guarantees and signed non-disclosure agreement
Project management can be included in the service
Project can be easily scaled
Cons:
Possible language barriers and time zones differences
Related: How To Outsource Mobile App Development
What to Consider When Hiring an App Developer
The process of securing the right talent includes many variables based on project specifics and business needs. Therefore, it's hard to give all-inclusive advice, yet we've collected our time-tested, step-by-step guidelines on how to hire mobile app developers.
Know your app requirements
First and foremost, you have to know your project. The clearer your development agenda is, the easier it will be to match with the right team.
The pre-development stage should include comprehensive research related to your app's target audience, competitors, and business model. You should also decide on the number of platforms and do some recon on your app development costs.
Although it's not required to have a fully-fledged requirements document, you'll still need some input for the vendor to estimate your project. When you shake hands with the vendor, the team will help you contextualize your product requirements and do deeper research.
Draw up a brief and plan an app development budget
Based on your requirements, write an app development brief that features high-level objectives, core features, and references for your project. It will act as a roadmap for your future developers and help them choose the right blend of technology and tools.
Your project description will also guide your team in calculating the cost of your mobile application development. The budget should be flexible yet well-defined to avoid going overboard.
Decide on a hiring option
Your collaboration option will largely depend on your financial resources. Following your estimate, choose in-house, freelance, or outsourcing hiring to meet your budget. No matter the engagement model, you should also check on the contractor to validate their experience.
Research well
When looking for an app developer, check their prior experience, certifications, and client testimonials. From this standpoint, outsourcing hiring is easier since you read through source reviews, review portfolios on official websites, and connect with previous clients.
Once you get in touch with your team of developers, make sure to fact-check the following:
Seniority level and hands-on commercial experience;
Technical skills and specialization that fit with your project;
Number of successfully completed app projects;
Awards and technical certifications;
Level of English or any other language of your choice;
Soft skills like communication and culture fit.
Get a project quote
Unless you're hiring app developers on-site, you'll need to put up your project for estimation. Keep in mind that project estimation is the least accurate at the pre-planning stage since your app developers don't have an accurate list of all requirements.
After you sign a non-disclosure agreement (NDA), your team can thoroughly analyze your project and assign a timeline to each milestone along with an accurate estimate. Freelancers don't usually have an NDA in place, so you'll have to request one or take their word on keeping your project details secure.
How to Find an App Developer
The hiring journey of each company is different. For example, 84% of companies rely on social media for sourcing, while others see job boards as the perfect place for talent hunting. Below, let's check out the most popular places with a development talent buildup.
Online platforms
Online directories have the largest saturation of mobile app developers for hire. Along with pinging an app developer on LinkedIn, you can browse through profiles on TopTal, Indeed, and Glassdoor.
The biggest con of these sourcing destinations is that you'll have to spend a lot of time combing through potential hires. App developers also tend to keep a low-key profile, meaning you may miss out on some high-quality candidates only because they have little to no media presence.
Leader matrix
This type of destination allows you to narrow down your vendor search. Thus, if you don't have the time or energy to browse through thousands of profiles, you can turn to vendor listings.
Coined by Clutch, a leader matrix ranks service providers in a particular market or location. Vendors with an impressive Clutch Rank tend to have more client reviews and significant experience, as well as industry recognition and broad market presence. Besides Clutch, you can also find other listings on Goodfirms, DesignRush and The Manifest.
Tech communities
You can also hire mobile application developers on professional online platforms. GitHub is the top seed among coding platforms. This repository hosts over 100 million professional and hobbyist developers who save and share their projects through code snippets.
You can scout on GitHub to find professionals with similar experience to your application's needs. Other top picks in this category include Stack Overflow, HackerNoon, Hashnode, and more.
Hackathons, forums, and others
Tech-related events are among other places with the highest density of bright minds. Besides talent sourcing, over 80% of Fortune 100 companies wield the sword of hackathons to drive innovation. As an employer, you can either host a tech event or visit it as an observer.
Both online and offline hackathons, as well as other coding challenges, allow you to assess first-hand your candidates' problem-solving skills, as well as test teamwork and stress resistance. You can also spend after-hours socializing with like-minded colleagues or hunting winners and finalists for your app project.
Referrals and networking
Referrals can go a long way when you need an app developer. Therefore, one of the most secure ways to find a vetted candidate is through employee referrals.
Referred developers tend to have higher retention rates and a proven track record of project success. So, if you've built up a great network, you can leverage your connections to find a quality hire.
How to Interview App Developers
The interviewing process is a decisive factor in your hiring lifecycle. To make your interviews effective, you can turn to a tech-savvy person with hands-on experience in app development.
Below, we've collected a list of essential questions to ask your tech partner — whether you're wanting to work with a freelancer or a dedicated team of developers.
Ask about their company
Where is your company located?
What is the tech stack of your company, and what are its flagship services?
Do you have domain expertise? What are your focus industries?
Can you relate to similar projects in your portfolio?
What are your engagement options?
Ask about their team
How many in-house employees do you have?
What is the team structure for my project?
How do you manage your development team?
Are your app developers vetted and certified? Do they have any achievements or awards?
What level of English proficiency does your team have?
Can I communicate directly with the team during the development process?
How do you allocate app developers for projects?
Ask about their previous projects
Who are your top clients?
Where can I find testimonials from your clients?
Can you relate to clients from a similar domain?
What level of involvement do you encourage in your clients?
Ask about their project flow
How are projects managed? Do you allow direct management for the client?
How are changes handled during the development process?
What are your communication practices and formats?
What communication tools do you use?
Is (particular time) suitable for our communication?
How will you keep me updated about progress and issues?
Ask about their development process
What app development methodologies and technologies does your team use?
Who creates an app design? Do you have a UX/UI developer?
How do you define a set of core features?
How do you conduct app testing?
What are security practices?
Do you help with app submission to the app store?
Do you provide post-launch maintenance?
Ask about legal issues
Who will own the source code once the app is deployed?
Can we sign the NDA before we proceed with the project details?
What are your payment terms and processes?
How to Hire App Developers
Let's say you want to do a background check and keep a low profile. What criteria should you take into consideration? And where can you source this information? Let's find out:
Go to their official website
Researching the official website of your vendor is the first thing that should come to your mind. Go to a search engine, type in the company's name, and hunt for the details you need. Here's where you should focus your research efforts:
Examining their portfolio and case studies — ideally, they should feature similar projects;
Checking out the team's size and structure — established providers tend to have a diverse team structure to cover the end-to-end development process;
Learning about their tech stack and development approach — the set of technologies should click with your project needs, and the development mindset should be comfortable for your business approach;
Looking into the company's culture — its needs and values should be consistent with your company.
Do additional research
Third-party review sites, listings, and social media are treasuries of real-world data about any brand and company. Scour the web to gather client testimonials, monitor brand reputation, and check how a company interacts with its followers on social media.
Trusted vendors are open about the company's news and update their social media profiles on a regular basis. Remember, a trusted company should be easily searchable online.
Related: 11 Tips on How to Choose the Best App Development Company
Challenges When Hiring Mobile App Developers
Attracting new talent is the front and center of any successful company. However, there are several factors to consider, from the cost of development to the time it takes to develop a quality app. Here are some of the challenges that may overshadow a fast and effective recruitment process:
Budget
Acquiring a new hire may require up to 40% of that person's base salary. According to Glassdoor, the median pay of an app developer stands at around $80,000 per year. If we do the math, you'll have to spend around 32K on hiring expenses. The latter may include the following expenditure items:
Sourcing and recruitment advertising costs;
Onboarding;
Referral bonus program costs;
Legally required benefits;
Insurance, etc.
Moreover, top players are now vying for the workforce, which leads to higher compensation requirements. According to statistics, the average developer salary has hit an all-time high over the last few years.
As a result, smaller companies turn out to be out of competition due to budget constraints. However, we still recommend avoiding low rates and a cheap workforce. While getting the most out of your investment is important, you should never sacrifice quality to save money.
And if you still think that your budget constraints get in the way of successful hiring, keep in mind the power outsourcing offers by providing access to vetted developers at affordable rates. Moreover, outsourcing vendors cover all hiring costs, which doubles your chances of acquiring a top programmer within a defined budget.
Time zone differences
Unless you're hiring a mobile developer on-site, asynchronous communication is a common pitfall of remote hiring. The difference between working hours may spook employers due to the limited availability of the hires, possible delays, and patchy communication.
Therefore, it's crucial to communicate your concerns about remote collaboration with potential hires. Being transparent about the overlapping working times, mandatory syncs, and a single team management channel will help you minimize the offsets of remote hiring. Also, make sure your candidate is based in the area with at least four overlapping work hours to establish a seamless project flow.
Limited talent pool
In 2022, the world has seen a talent shortage of unprecedented scale. According to a ManpowerGroup report, three of every four companies report labor shortages and ever-challenging hiring.
At the same time, IT and data roles top the list of most demanded positions. Therefore, you may face the challenge of finding the right team in your local job market.
If this is the case for you, we recommend expanding your recruiting efforts to other locations. Thus, you can hire an application developer in less competitive markets or hand over your hiring worries to a third-party company.
Security
Introducing an external party to the project inherently exposes your security vulnerabilities. Although you cannot avoid sharing sensitive information and data with your tech partner, you can make sure that your data is properly managed.
At the very beginning of your collaboration, you should sign an NDA to document your privacy and intellectual property policies. Along with the documentation, your vendor should regularly perform security and network audits in the workplace and employ a set of tools that prevent data leaks.
Cultural differences
Finally, a drift in mindsets can also compromise your tech collaboration. It's not just beliefs, holidays, and languages that draw a line between different countries. Cultural differences can also leave their mark on business practices, software development methodologies, and communication flow.
You also might share mutually exclusive project goals. Your hires can prioritize scheduling and lower costs while you focus on innovation and end value. Therefore, your vendor should be culturally adaptable and possess cultural intelligence to adjust to your business mindset and philosophy.
Costs When Hire a Mobile App Developer
App development costs are influenced by multiple factors. In particular, the mobile app developer's salary is among the biggest cost drivers that affect your final quote. The average programmer's compensation differs greatly by location, as you can see in the graphic below:
Average rate by location
According to Indeed, Australia tops the list of best-paid destinations for mobile app developers. Here, you can hire a programmer for around $138K per year. US-based specialists follow with around $134K of annual salary. Indian developers are traditionally the most affordable to hire at around $14K per year.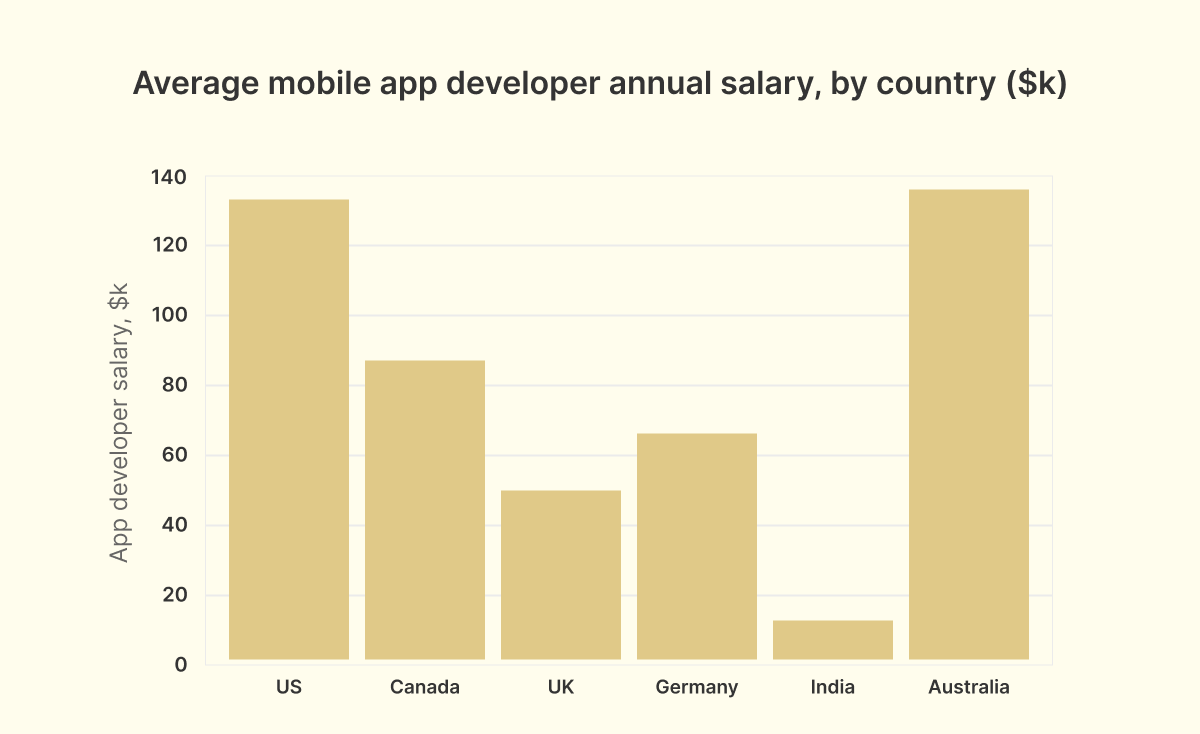 Average rate by technology
Median pay also depends on the technology your developers are working with. According to the aggregate data from Indeed and Glassdoor, Android app developers are paid slightly more than those building iOS applications, and the United States and Canada are among the top-dollar destinations for both technologies.
Therefore, salary trends are largely influenced by the differences in economies and the living standards of a given location. To display the variation, we created a quick reference table of rates by platform and location:
| Location | Average hourly wage – Android developers | Average hourly wage – iOS developers |
| --- | --- | --- |
| United States | $53/hour | $58/hour |
| United Kingdom | $42/hour | $41/hour |
| Canada | $40/hour | $43/hour |
| India | $2/hour | $2/hour |
| Poland | $30/hour | $20/hour |
Average rate by seniority level
Experience level is at the core of the estimating formula for an average developer's compensation. The more years a mobile programmer has under their belt, the higher their salary is.
Let's use Poland as an example. Here, we've converted Polish złoty (PLN) into USD; according to Salary Explorer, an entry-level iOS Developer is hired for around $1,100 per month, while developers with 10 to 20 years of experience are the most highly paid, ranging from $2,200 to $2,700 per month.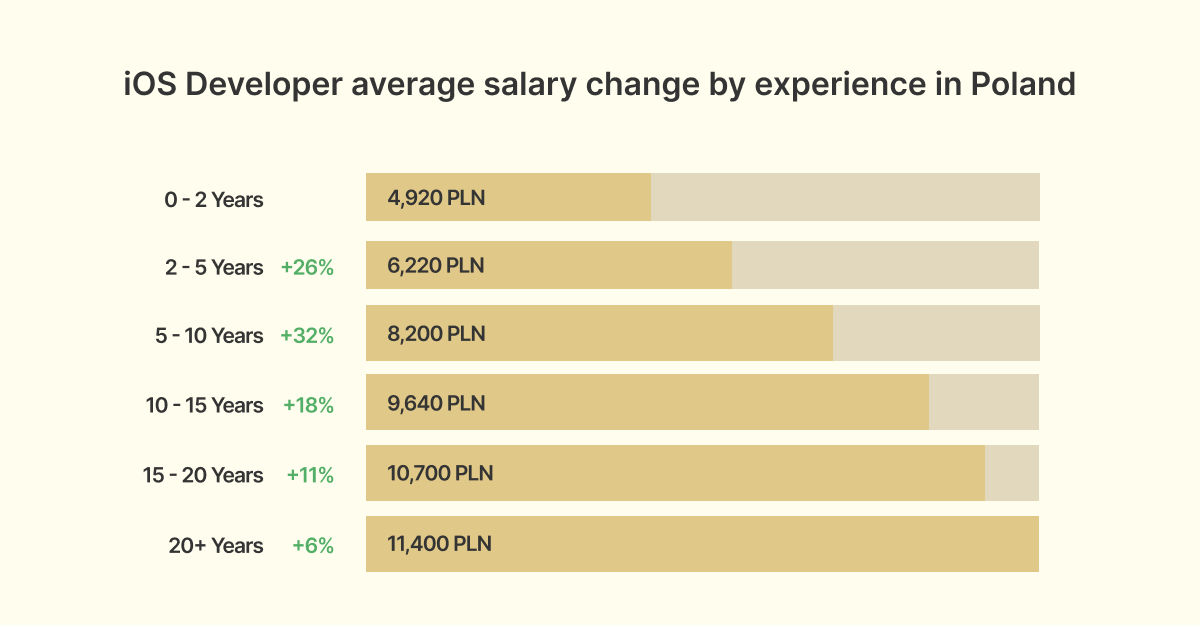 Kickstart Your Mobile App Development With Orangesoft
Building the right team is only half the battle when it comes to mobile app development. Commercial experience, domain knowledge, and technical proficiency are indications of result-driven developers that can bring your business idea into the digital space. However, with so many options, companies struggle to sift through countless resumes to get the best bid.
At Orangesoft, we help match your project requirements with the right mobile developers. As a team with 12 years of experience, we build feature-rich, dynamic, and groundbreaking mobile experiences. Get in touch to supercharge your project with top talent.