In the digital era, when smartphones have seemingly become an extension of the human body, mobile applications have taken a solid position in companies' business strategies. Today, an app no longer serves as a source of entertainment; it's a convenient tool that makes life easier.
Figures illustrate the demand much better than words. For example, an average US user has 80 applications on their smartphones, and the average person uses around ten apps per day and 30 per month.
COVID-19 and quarantine restrictions have accelerated mobile app usage worldwide. Both Google Play and App Store experienced an increased demand in 2020 and continued to grow their downloads in 2022, from 143 billion to 148 billion, respectively.
Moreover, 2022 marked the mobile economy's blossoming with a 10% increase in the average time spent on apps. Further, consumers spend around 4.9 hours scrolling through apps daily.
With the mobile-first market on the rise, a growing number of businesses are willing to expand their reach by creating a mobile app. The only remaining question is how to do it. Let's see how and where you can hire an app development partner.
In-house Department or Outsourcing App Development
When jumping into mobile application development, a company can take two paths: deploy its forces and set up an in-house department or outsource app development. The outcome is the same in both cases, but the scope of the resources involved varies significantly.
In-house app development requires significantly more resources, and this approach is similar resource-wise to launching a sub-branch. You have to set up a workspace, invest in equipment, recruit IT specialists and managers, and sort out work processes. All these activities require a hefty amount of money and time, potentially putting your core operations at risk.
Mobile app development outsourcing is a prudent way to pass the buck to a third-party vendor. With this approach, your responsibility ends as soon as you agree on the technical specifications. Here, another team or developer has to worry about smooth operation, adequate qualifications, and deadlines while you focus on what matters the most for your business.
Companies that outsource mobile app development only have to hire professionals and let them do their job without interrupting their daily business routine. Moreover, they can benefit from mobile development outsourcing by reducing development costs and time.
Benefits of Mobile App Development Outsourcing
Since we briefly touched on the benefits of outsourcing, let's dig deeper and learn why mobile app development outsourcing is the best option for any business:
Uninterrupted Workflow
Outsourcing app development ushers in an improved focus on core business activities. According to Deloitte, 65% of outsourcing vendors and buyers claim the ability to allocate more time to core business functions as the main outsourcing advantage.
When delegating mobile app development to a vendor, you won't have to sacrifice your corporate duties and meetings, while the quality of the product will remain high. Moreover, when you outsource app developers, in-house staff can focus on their main tasks and future strategies.
Talent and Expertise
With the increasing talent shortage, hiring a high-skilled IT specialist with narrow-field expertise is a real challenge. In the US, talent shortages have tripled in the last ten years, with 69% of employers struggling to fill vacancies. Typically, all the best candidates are already hired by mobile app outsourcing companies or tech giants like Facebook.
Those who still manage to find talent in the labor market may have to pay higher rates. Especially if we are talking about the US specialists, whose hourly rate is much higher than European, African, or Asian standards.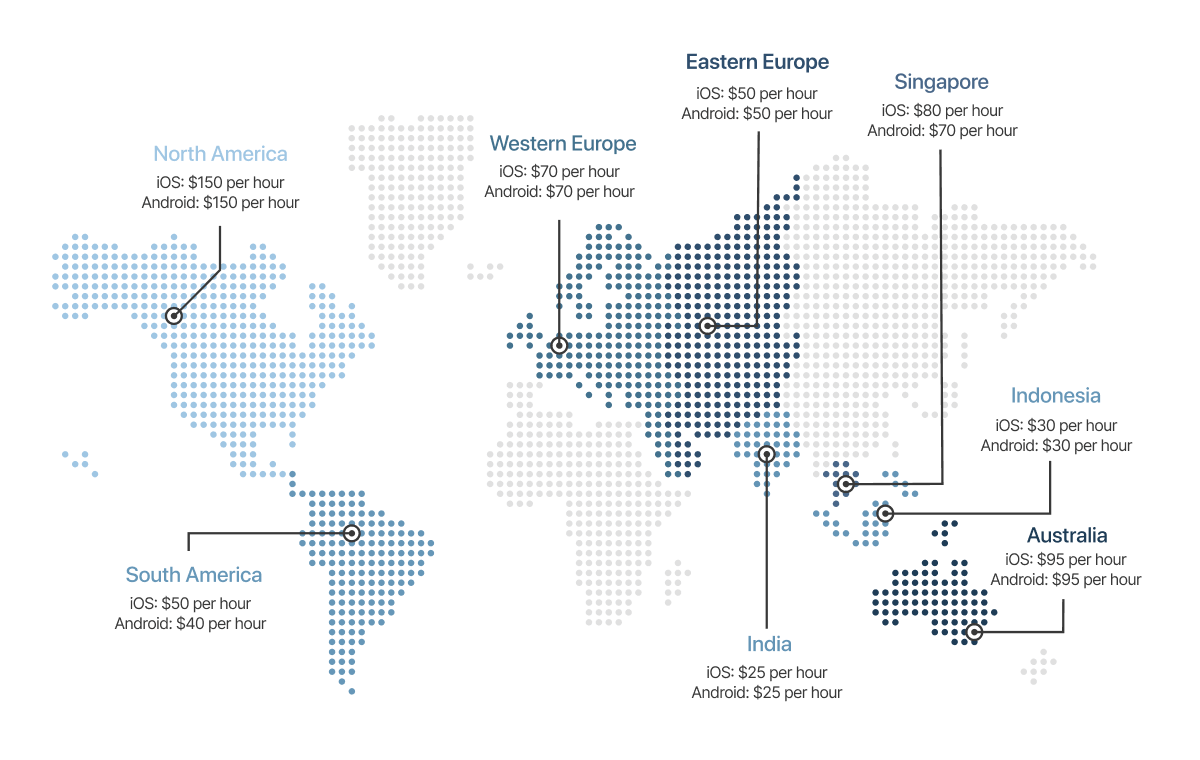 iOS and Android App Development Costs, Hourly Rates
Organizations that outsource mobile app development to freelancers or development agencies have access to a whole pool of experienced professionals at a relatively low price. Further, they can choose a ready-to-go team with expertise in the necessary field.
Cost-efficiency
Outsourcing happens to be more prudent than in-house app development in terms of spending because there is no need to:
Purchase equipment for new IT specialists;
Rent additional workspace;
Hire and train employees, including IT professionals' salaries and additional HR costs.
All these expenditure items add up in the long term, which is why sometimes executives don't always realize the scope of costs initially. However, when delegating app development, a business can find an option that fits its budget. For example, the cost of outsourced app development for one platform (iOS or Android) may range from $40,000 to $200,000+.
Time-saving
Outsourcing app development implies that a vendor jumps on your project immediately. In-house development, however, requires plenty of preparation. You have to allocate space and provide equipment, hire professionals and onboard them, and align the team so that it works efficiently; all this groundwork may take up to a few months.
With mobile app development outsourcing, all these steps are eliminated: you set up a goal, discuss the idea of a future application, agree on the technology stack, and select suitable vendors.
Related: What is IT Outsourcing? Benefits of IT Outsourcing
Risks of Mobile Application Development Outsourcing
It would be naive to believe there are no risks when outsourcing your app. Risks are always involved when a company deals with a third-party vendor. When outsourcing mobile app development, the risks include:
Possible Leaks of Sensitive Data
Data is power; any business must take all the necessary measures to protect data. When dealing with mobile app developers, you will have to grant them access to your data and reveal confidential information about you or your customers. To protect yourself, a non-disclosure agreement (NDA) should be signed during the initial stages.
Virtual Communication
Although virtual communication doesn't seem like such a big problem anymore due to the COVID-19 lockdown, this still poses problems. Video conferences don't allow you to build the same rapport as face-to-face meetings. Therefore, if your vendor isn't located in the same city, you should be ready for digital collaboration.
Time Zones Differences
Since many clients seek more cost-effective solutions, they choose offshore vendors who offer services at a more affordable price. As a result, you will have to adjust to different time zones.
For example, you may wake up when a developer is already finishing their workday. The key to overcoming this risk is to find a solution and overlapping hours that suit everyone.
Cultural Barriers
Cultural background informs the way we speak, eat, and, of course, work. Therefore, when dealing with vendors from a different culture, you'll need to be aware of cultural barriers.
The style of communication and business mindsets may differ. Here, try to find common ground and choose mobile developers with a global perspective.
What to Choose: App Development Companies or Freelancers?
The IT-outsourcing market is vibrant and filled with many vendors and individual developers. The market is continuously growing, which leads to further diversification.
What does this growth mean for a business that wants to outsource app development? It means they have various app development options, which makes their decision of who to work with complex.
Typically, the alternatives in focus include freelance talent and professional app development companies. Let's take a deeper look at each one.
Freelancer
Freelancers roam the outsourcing market on their own. Usually, they are specialists with narrow expertise who charge an hourly rate. Regarding cost, freelancers are typically cheaper than mobile app development agencies.
The expertise of freelancers is a controversial issue. On the one hand, there are many talented specialists out there. You've hit the jackpot if you find someone experienced in the field you need. On the other hand, a single app developer is unlikely to have the same skills and knowledge as a development team.
App Development Outsourcing Company
An app development agency is a professional organization that specializes in app development. This development option is usually considered the most reliable mobile app development outsourcing option, as agencies already have aligned app development teams with extensive expertise in various fields. These teams will consist of iOS and/or Android developers, QA engineers, UI/UX designers, a project manager, and a business analyst.
The advantage here is that there is no need for you to closely monitor the operations and the progress; the project manager will do this for you. Moreover, the ultimate advantage is that no time will be wasted on selecting the right team members, as the professionals already know how to work together.
It's vital to understand that this service comes at a higher cost than freelancers. However, with this price, a client also buys more protection and transfers all quality-related responsibilities to the vendor.
Let's summarize the main differences between these two options:
Development Agencies

Freelancers

Pros

An assembled team of professionals;
High-level organization and formalization;
Deep expertise in various fields.

Cheaper than most professional development agencies;
A pool of talent to choose from.

Cons

Higher cost;
Agencies can be less flexible in their work than freelancers.

Narrow expertise;
Fewer client protection measures;
A single specialist may be insufficient.
6-Step Guide to Outsourcing
Those who have never dealt with delegating IT duties to a third-party vendor usually wonder how to outsource app development. The number of details to consider may be confusing at first, so that's why we at Orangesoft have worked out the following guide:
Step 1. Identify the Project Requirements and the Budget
Everything starts with a goal, and application development outsourcing isn't an exception. The initial objective is to determine why your company needs an app.
You should answer what problems the app will solve and what value it will drive. For this, you need to examine your company's background and determine all the project details to exclude discrepancies in the future.
Budgeting is another core aspect that should be on the agenda from the beginning. Your app's budget may significantly limit the functionality or development outsourcing options.
Step 2. Pick the Right Development Option
Depending on the scope of your future application, some choices may not suit your project. For example:
To outsource app development for iOS, you should look for specialists with experience and a deep understanding of Swift or Java development languages.
If your budget is very tight, you may not be able to afford a software development agency and need to look for alternative development options.
If your app idea is complex and requires extensive customization, off-the-shelf solutions may not suffice your needs.
The ultimate goal is to choose the option that guarantees you receive a high-quality app within your set budget.
Step 3. Search for Developers
It's hardly possible to rely on Google search alone when searching for vetted specialists and long-term partners. You need to make sure that you are dealing with professionals. For the sake of convenience, you can turn to talent marketplaces.
For example, Upwork and TopTal are among the most popular freelancer platforms if you're seeking a freelancer. Using these platforms, you can learn about developers' expertise and check reviews from previous clients.
If you decide to search for agencies, Clutch is one of the best options. It offers more than 26,000 vendors specializing in mobile app development. Moreover, you can filter the search and find those who specialize in the platform you are interested in.
Besides expertise, you should assess the developers in terms of geography. This is because you will need to communicate closely, so time zones need to be on the checklist. According to this parameter, vendors can be divided into three groups:
Onshore – You share the same country;
Nearshore – You delegate the app development process to a vendor located in a country within the same continent;
Offshore – You outsource app development to a vendor located far away from your company's location, and the time difference may be up to eight to ten hours.

Examples of onshore, nearshore and offshore software development
While onshore vendors are the perfect choice in terms of communication, they are usually more expensive when it comes to prices. Offshore ones, on the contrary, offer affordable pricing but require some additional effort as you will have to adjust the time of virtual meetings.
Step 4. Evaluate the Developer's Expertise and Experience
There are several things to consider during an initial assessment of any development team, including:
Portfolio – Look at similar past projects. Their portfolio will show you real expertise in the field. At Orangesoft, we highlight practical experience over certificates since theoretical knowledge doesn't guarantee successful implementation.
Technology stack – Make sure that an individual specialist or a team has sufficient tech skills to implement the idea behind your application.
Reviews – Try reaching previous clients or surfing the net to find feedback about the work. You may find additional unbiased information about the vendor; for instance, the vendor is highly skilled but always misses deadlines.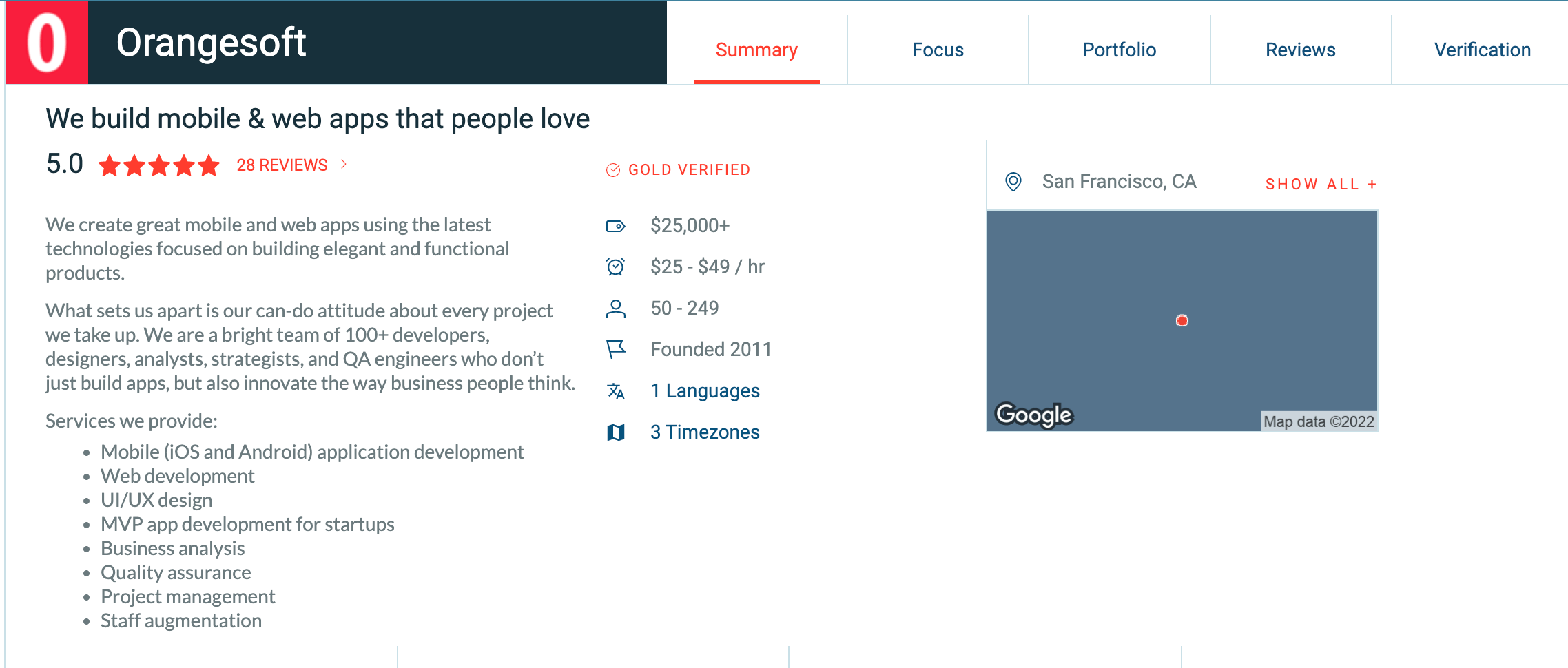 Choosing an app development company? Check
Clutch
for company reviews first!
Related: 11 Tips on How to Choose the Best App Development Company
Step 5. Select an Appropriate Service Model
Depending on the number of responsibilities and level of involvement, you can outsource mobile app development following three service models:
Dedicated team – In this model, a client shares responsibilities with an app development outsourcing company. The vendor provides a full-cycle team with a project manager and business analyst. The dedicated development team model ensures that the team fulfills the assigned tasks and is responsible for the quality, while the client is responsible for decision-making.
Project-based outsourcing – This is the most rigid model, as it is based on a fixed budget and pre-assigned requirements that cannot be altered during the project. With this model, the client provides technical specifications in the beginning and waits for the result at a set date.
Staff augmentation or extended team – This model means hiring additional specialists to supplement your in-house team of app developers. As the client is hiring specialists for specific tasks, they will be responsible for controlling the app development process, work time, vacations, and salaries.
Step 6. Choose a Payment Model
There are two widely-used payment models:
Fixed price – As the model's name implies, payment is a fixed cost based on the predetermined technical specification and project scope. It's usually used for relatively simple, small app developments, such as an MVP for a startup.
Time and material – This model is used when it's difficult to assess the amount of work or a client wants to adjust the app during the development without altering the contract. In such a case, the client pays as the process goes on, and the payment is based on the developers' agreed-upon hourly rates.
How to Reduce the Risks of Mobile App Development Outsourcing
Finding a reputable and trustworthy outsourcing vendor is the most challenging task when companies outsource mobile app development. However, you can make it less challenging by following the tips and tricks we've curated below; they will help you make an informed decision and set up your collaboration for success.
Validate the Company's Experience
The best way to validate a company's experience is to browse its official website. A mature vendor should have a proven track record of projects similar to yours.
Look through vendors' case studies, ask for references, and download the apps that the company has developed. If you cannot find similar projects on a vendor's website, contact the company directly and ask for additional information, as some projects may be under a confidentiality agreement.
Include a Money-back Guarantee Clause in the Contract
Even if you do preliminary research on the vendor, you cannot ensure it's reputable until you outsource mobile app development. Therefore, you should first delegate a small task to the company, such as an MVP or a prototype, or include a money-back guarantee clause. These efforts will help you establish trust with a new vendor and eliminate risk.
Sign an NDA and Outsourcing Contract
An NDA is a crucial legal framework used to protect sensitive and confidential information from being disclosed by a third party. Companies rely on NDAs to ensure that their app ideas will be kept confidential. An outsourcing contract, in turn, documents a detailed project scope, transfer of assets, data protection measures, and other core terms and conditions of your cooperation.
Agree on a Communication Channel
Nothing is more unsettling than tracking project updates across a zillion messengers, team management tools, and emails. To avoid communication gaps, ensure you and your vendor decide on a single, unified communication tool. It also helps to discuss reporting mechanisms, frequency of updates, and more.
How Much Does It Cost To Outsource App Development?
Numerous factors shape the outsourcing app development cost; the scope of the team, the technology stack, the functionality, and the design are taken into account. Therefore, a project should be fully assessed before a client can receive a quote.
Despite this, there are some established market trends. Mostly, these trends are driven by the geographical difference in salaries.
For example, a US-based Android developer gets $88K per year, while the average monthly salary of an Android developer in Poland is around $15K per year. With this taken into account, it's only logical that it's cheaper to outsource app development to Eastern Europe or other regions with comparatively lower salaries.
Is Outsourcing Mobile App Development Worth It?
We live in a time when apps are a must rather than a luxury. As a result, a business that offers an app is far more accessible than one that doesn't.
Why? Because consumers can learn about your product, make an order, or contact a support team with just a few clicks. All these deliver customer higher-quality service and make the brand stand out from the array of others.
For this and many other reasons, outsourcing app development is the preferable option. With outsourcing, you get a team of tech professionals with deep field expertise at a relatively low price that will dedicate their full attention to the project. At the same time, your employees keep focusing on their core activities.
Although finding the right vendor may seem like a challenge, we hope this article showed you that it doesn't have to be. To summarize, if you have a limited budget and a simple app, try freelancers or off-the-shelf solutions. However, if your project aims to make a difference and provide added value to a core product, it's better to deal with an app development company that allocates a team with sufficient skills and relevant experience.
We at Orangesoft offer all this and much more; book a free consultation to get an estimate. Don't let your competitors win over your customers. Instead, launch your app to reach them first by outsourcing your app's development.