The last few years have redefined the way companies do business. Due to the pandemic, remote work became a new normal and lost its negative stigma. By the end of 2022, 25% of all jobs in North America are expected to become remote.
At the same time, the tech industry is plagued by significant labor shortages exacerbated by accelerated digital transformation. According to Gartner, 64% of emerging technologies cannot be fully adopted due to talent gaps. The inability to secure the right talent has made companies turn to the business practice of IT outsourcing.
Today, we'll lay out the basics of IT outsourcing services and have a closer look at the benefits of outsourcing for your company.
What is IT Outsourcing?
According to Deloitte, 65% of successful organizations include outsourcers in their delivery model, with 54% of respondents farming out IT services. Outsourcing refers to the practice of hiring a third-party company to render services, build products, or perform specific tasks. An IT outsourcing vendor can take over some or all IT functions of a company, including infrastructure solutions, software development, and software maintenance.
Depending on the engagement model, outsourced talent may be hired on different bases, including long-term and short-term collaboration. Usually, an outsourcing vendor is put in control of talent sourcing, payrolls, and administrative tasks, while the company manages the team.
Let's have a closer look at the outsourcing models below.

Dedicated team model
When outsourcing IT, companies can hire remote teams on a long-term basis. In this case, a dedicated team model is a go-to option that allows a business to land IT talent exclusively for its project. Dedicated teams act as in-house developers and are hired for a full-time contract.
They report directly to the client, while an outsourcing vendor takes care of administrative tasks, HR, tax, and employee benefits. A dedicated outsourcing model bodes well for a long-run project with an evolving scope of tasks.
Related: What Is a Dedicated Development Team Model and When You Should Consider One?
Project-based outsourcing
This engagement model is input-free for the hiring company, while the vendor manages the end-to-end process of software development. The collaboration follows a predetermined set of specifications with the final product delivery at the end of the cooperation.
Project-based outsourcing tends to be stringent and has a well-defined timeline and deliverables. This engagement option works great for small, straightforward projects with little to no modifications.
Staff augmentation
This model of remote employment is associated with individual hiring. In this case, a company closes its internal talent gaps by recruiting one or a few specialists from an outsourcing partner company to perform specific tasks.
Outsourcing vendors are in charge of official employment and taxes, yet they are not responsible for the final result. Outstaffing is a viable solution when a business needs a flexible hiring option or seasonal talent. Companies can ramp the augmented IT workforce up or down with no administrative hassle.
Top Benefits of Outsourcing
According to Mordor Intelligence, the market for IT outsourcing services was estimated at over $526.6 billion in 2021. By 2027, its value is set to reach $682.3 billion. Application development and maintenance have become the top outsourced functions among companies. But what are the benefits of outsourcing?
Reduced costs
The pandemic fallout has led to a cost-innovation dichotomy and made companies park their in-house innovation programs. Instead, global businesses now choose outsourcing as a viable way to reduce development costs without compromising software quality. Thus, 63% of companies see outsourcing as a cost-cutting business practice.
The cost-cutting potential of this collaboration stems from two factors. First, companies farm out their tech functions to offshore regions. These tend to have lower developer rates compared with top-dollar regions such as the US or UK. In contrast, rates have a higher price tag in countries located near a first-world economy.
Second, outsourcing vendors take over a wide range of other expenses connected with employment. Thus, companies don't have to cover hiring, onboarding, training, and operational costs.
| Variable | Outsourcing vendor | Hiring company |
| --- | --- | --- |
| Hiring costs | ✔ | ✘ |
| Team salary | ✘ | ✔ |
| Hardware expenses | ✔ | ✘ |
| Technology training | ✔ | ✘ |
| Employee expenses (benefits, taxes, etc.) | ✔ | ✘ |
| Software licensing | ✔ | ✘ |
| Overhead | ✔ | ✘ |
Access to the global talent pool
As has been mentioned, skill shortages make companies send their IT functions to a third-party vendor. According to McKinsey's survey, 87% of respondents report a current skill scarcity or expect a talent shortage within a few years. At the same time, 53% of businesses struggle to recruit developers with the right skills.
To extend their hiring abilities, companies tap into the outsourcing market. Outsourcing doesn't limit the intellectual capital available to the company regardless of the technology and seniority level. Companies can also access niche or rare skills unavailable in their local hiring market.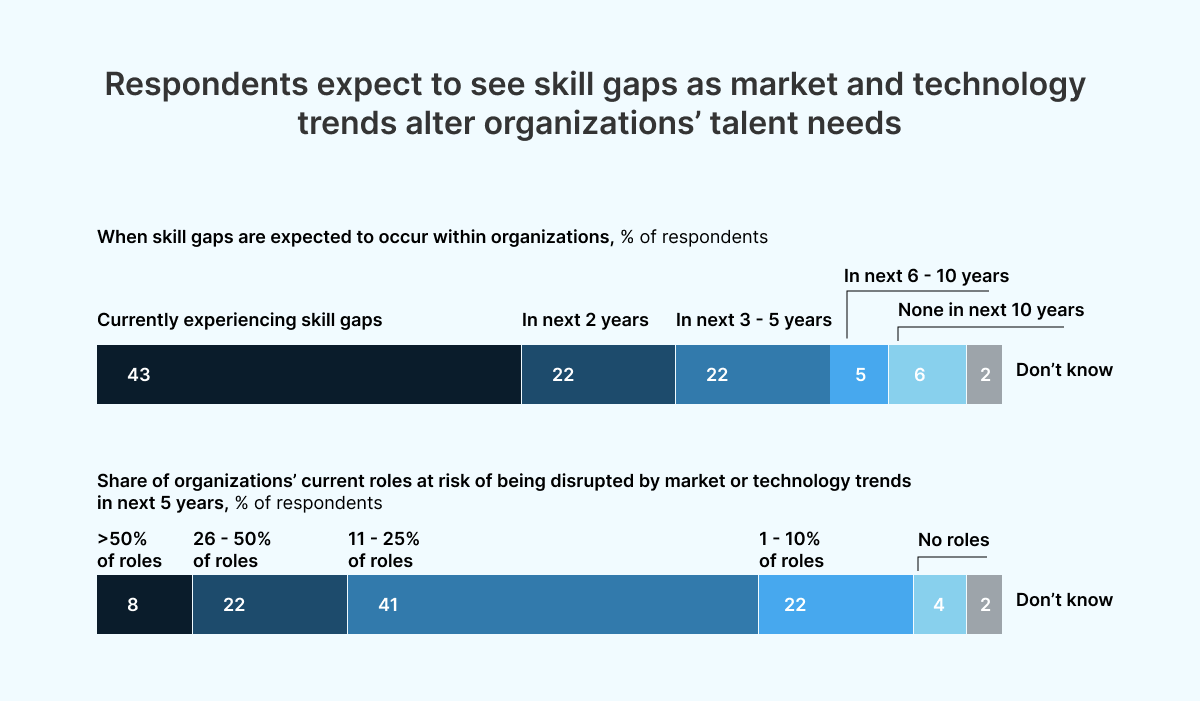 Significant time savings
The traditional IT hiring process may last up to a few months, not to mention the administrative burden it causes later. In some cases, the vacancy stays unfilled, which hampers the tech initiatives of the business. On the contrary, outsourcing vendors can match you with the right talent in a few weeks with no further training needed.
Thus, you only need to onboard the outsourced employee, and then you can get into the development process right away.
Ability to upscale fast
IT outsourcing is also a way to keep your business agile and up-to-date with evolving technology and business needs. Traditional hiring is not focused on scalability. Companies cannot simply hire and fire a worker on demand due to the patchwork of legal protections and internal policies. At the same time, business growth isn't always a steady curve. Your workload may differ by season or business objective.
Outsourcing offers businesses the ability to quickly build up a trained staff that is ready to support increased volumes. When peak times have passed, companies can scale down their outsourced workforce with no unemployment taxes or other termination hassles.
Reduced risks
Handing your IT operations over to an experienced vendor also helps minimize risks. In particular, outsourcing helps reduce internal operational risks connected with labor shortages and technology issues. Since vendors are in charge of updating software, your company won't have any security holes or tech inefficiencies.
Companies are also safe from system failure or disruptions that can freeze their in-house operations. Moreover, compliance is traditionally met by the vendor, eliminating the risk of penalties for companies.
Uninterrupted workflow
Staying focused on your core business tasks is another luxury given by IT company outsourcing. When companies move some activities to external providers, they can allocate more time and people to addressing mission-critical tasks and focusing on business growth. Outsourced IT also eliminates multitasking for your in-house team so that they can better contribute to their expertise areas.
Related: How To Outsource Mobile App Development
Risks of Outsourcing
Yet, it's not all rainbows and unicorns with outsourcing. Sometimes, poorly designed processes or inexperienced vendors can offset the potential benefits of your collaboration. Let's have a look at the main risks of outsourcing and how you can handle them to maximize the outsourced value.
Time differences
Having a different time zone than your outsourcing team can lead to communication blockers. Divided by time zones, it may be hard for you to establish real-time communication or schedule critical team meetings to catch up on the project's progress.
However, the time zone obstacle can be overcome by applying calibrated processes. A healthy dose of planning and cloud collaboration tools will help strike a balance between time zones. We also recommend choosing a vendor with a single shift that overlaps with yours (+5 to +10 hours) to facilitate real-time collaboration.
Language barriers
The linguistic divide is another pressure point in the life cycle of globalized outsourcing since the complexity of translation inherently hampers effective communication. A wrong tense, word order, and even one letter can send out the wrong signal and breed miscommunication.
To overcome the language barrier, take your time to communicate with the team before you kick off the development process. This way, you can make sure your team's language proficiency is no bottleneck to your cooperation.
Virtual communication
Regardless of the type of video conferencing and project management tool you use, it can take more effort to communicate remotely. Response delays, lost messages, and spotty connections may cause your team to fall behind.
To bridge this gap, agree on a single channel of communication that will store all critical updates and information about the project. Team communication apps like Jira also allow you to generate reports with all the versions, epics, sprints, and issues so you can get regular updates on the project with no meetups.
Cultural code
Cross-border collaboration also comes with cultural disparities, which can be reflected in different values in terms of time management, problem-solving, business processes, and even software methodologies.
To minimize the differences and ensure the right cultural fit, we recommend choosing an experienced partner with a rich portfolio of global clients. A face-to-face configuration meeting can also dispel your doubts and give a sneak peek at future collaboration.
Less control
Finally, outsourcing tends to get a bad rap due to less direct project control. Since the team isn't physically present on-site, a business owner gets fewer opportunities to check on progress. To keep this risk down, you should choose a contract that includes clear performance metrics and deliverables. Regular communication will also keep you on the same page with your development team.
Top Five Reasons to Outsource
Global companies externalize their tech functions for a whole lot of different reasons. Below, we've collected the top scenarios why you might want to delegate your software development project.

To reduce costs
The biggest benefit of outsourcing is its main incentive as well. Businesses farm out their technical initiatives to third-party companies to save money. There is a huge difference in the wage patterns based on geography, which allows companies to choose the location with the best price-value ratio. Besides lower labor costs, businesses benefit from a cheaper infrastructure and an advantageous tax system in the outsourcing location.
To access skills that are unavailable locally
Due to the tight labor market, recruiters experience a decreased volume of relevant applicants on-site. To ease this hiring pressure, companies outsource a part of their IT overseas to fill scarce talent resources. Outsourcing locations aren't typically limited to a pool of specialists, which allows businesses to attract much-needed developers on short notice.
To better use internal resources
Added in-house efficiency is also among the core reasons why businesses turn to outsourcing. Outsourcing saves you the time and resources that can be repurposed for other business aspects. Instead of dissolving into multiple tasks, your on-site team can better focus on their inherent core responsibilities. Alternatively, you can outsource to liberate inner resources for new purposes.
To accelerate business processes
Deploying qualified profiles to take over business operations also helps companies supercharge their growth. The outsourced deliverables get rendered faster, as do your in-house tasks. This translates into a breeding ground for speedy delivery from all business lines. An external expert eye also minimizes the chance of redevelopment, thus contributing to business resilience and reactivity.
To globalize
Finally, companies choose to outsource overseas because it allows them to expand their market reach. Global hiring helps increase your geographical footprint even with no physical presence or full-time dedication. A growing number of companies also set up global research and development (R&D) centers to penetrate a global market. By 2023, the R&D outsourcing services market will register a CAGR of over 8%.
The popularity of outsourcing as a globalization method is attested to the fact that companies don't need to spend on fare and relocation packages. In most cases, outsourcing also doesn't require the business to open up or rent new offices.
To Outsource or Not to Outsource?
In 2022, companies have to navigate the ever-changing business landscape with fierce competition and a lack of resources. An increasing rate of digital adoption also adds to the overall business pressure and encourages companies to maximize their IT spending. To bring down the costs of transformation, companies resort to outsourcing as a way of cost-effective hiring. IT outsourcing, in particular, allows businesses to thrive digitally with the least disruption and at affordable costs.
About Orangesoft
If you're wondering how to outsource IT, Orangesoft is always ready to walk you in. We offer augmented talent and agile pods to support your development processes. As an experienced outsourcing vendor, we connect businesses with vetted IT talent and assist in effective and seamless onboarding.
Building on its 11 years of hands-on experience, Orangesoft has established a diverse outsourcing system that relies on a variety of engagement models to support the needs of each client.
Contact us to share your outsourcing tech needs, and we'll match you with the right experts.