With the rise of remote work, staff augmentation has become a popular hiring strategy for companies looking to swiftly ramp up their internal IT workforce. This hiring model provides a unique opportunity for companies to get a pair of extra hands without the burden and expenses of long-term hiring.
The global talent shortage has also contributed to the popularity of staff augmentation. According to the US Bureau of Labor Statistics, the demand for technology specialists is expected to grow 25% by 2031, while the shortage of software engineers could exceed 1.2 million by 2026. Imagine how hard it is and will be to assemble a software development team on short notice. It can take months.
This talent shortage will likely make augmented staff and project outsourcing almost the sole source of skilled IT talent for companies. However, as beneficial and flexible team augmentation services are, many businesses still don't have a clear understanding of this hiring model. Today, we're here with this A to Z guide to help you wrap your head around the pros and cons of staff augmentation.
What Is Staff Augmentation?
Staff augmentation is one of the outsourcing models that allows you to permanently or temporarily extend your existing team of in-house software developers using skilled tech resources. Augmented developers or other specialists can become a part of your in-house team on a contractual basis to fill the expertise and skill gaps. Before adding specialists, you need to determine existing staff capabilities and define what skills or specialists are still required.
In other words, the following outsourcing method means that you only recruit staff for a specific project when there is a shortage of skills, reducing recruitment, payroll, and implementation costs. In addition, this approach is more flexible and scalable than hiring in-house developers since you can end augmented partnerships much easier than in-house contracts.
Further, while outstaffing, you shift the responsibility from your business to IT vendors, minimizing HR and employment formalities. Thus, creating more time for you to focus on your core business needs.
For example, imagine that you have a custom software solution that needs to be updated, but your team doesn't have the required specialists or skills to update the existing system. Instead of going through the conventional recruitment process, you can contact an IT staff augmentation vendor and find the right specialists for the job. You can save time and resources by bypassing recruitment stages like sourcing, interviewing, and onboarding.
The IT vendor will find the specialists required based on experience and/or previous work on similar projects. Then, the vendor will send over their CVs for you to review. Finally, you can interview the shortlisted candidates and sign a contract when you've decided on the right specialist.
The resource and staff augmentation approach best suits short-term projects that can be completed within less than two years. For instance, say you need to power up your team with an extra engineer while yours is on extended leave, or you need to find a developer with niche skills; this is where IT staff augmentation comes in handy.
Related: Mobile App Development Team: Structure, Roles and Hiring Models
Staff Augmentation vs. Project-based Outsourcing vs. In-house Team vs. Managed Services
Choosing an outsourcing business model isn't easy right off the bat. In this case, a "one-size-fits-all" option doesn't exist because you'll need to consider various factors, including:
The software development budget
Tech skills and project requirements
Time-to-market speed and deadlines
Staff augmentation
When opting for staff augmentation, you gain more control over the development process and your augmented team. You'll be the one who chooses the candidates and manages the software development processes and the development team, and you won't have to worry about administrative and organizational hassles. Basically, staff augmentation companies handle the admin burden while you get the opportunity to deal with your core responsibilities.
Managed services
Unlike staff augmentation, this hiring model implies long-term collaboration with a vendor whereby a vendor controls all or select expertise areas of a project. From assembling the team to running back-end operations and processes, a managed service provider allocates dedicated specialists that completely remove the burden of software development from you. This engagement option lends itself well to maintenance and support services.
Project-based outsourcing
Project-based outsourcing allows you to get all aspects of software development, from structuring a team to managing processes, off your hands. Further, there is no need to have in-house tech expertise or spend time on your remote development team. However, with project-based outsourcing, customers often don't know who is working on their project, what developers are currently doing, and which decisions are made throughout the development process.
In-house development team
By hiring an in-house team, you get total control over your project. As a rule, an in-house team shares your company's values and cares more about the outcome of a project.
But assembling an in-house team requires significant investments in terms of money and time. In case when your company isn't tech- or software-oriented, hiring in-house specialists may be an unjustified risk when a company is only building one project.
After reviewing the criteria above, it is critical to emphasize that every software development project is unique. That's why vendors offer several models that fit the needs of different projects.
If you aren't sure which outsourcing model would be suitable for your project, the best thing to do is to consult with your vendor. Describe your project, requirements, timeline, and budget constraints. And don't forget to mention whether you have an in-house team and the flexibility you'll require.
| Criteria | Staff Augmentation | Project-Based Outsourcing | Managed Services | In-house Team |
| --- | --- | --- | --- | --- |
| Team | Fully dedicated and exclusively recruited team | Selected from the service provider's employees | Fully dedicated and exclusively recruited team | Fully dedicated and exclusively recruited team |
| Tech stack selection | Client | Service provider | Service provider | Client |
| Office and workstations provided by | Service provider | Service provider | Service provider | Client |
| HR management | Service provider | Service provider | Service provider | Client |
| Payroll | Service provider | Service provider | Service provider | Client |
| Project management | Client | Service provider | Service provider | Client |
Benefits of Staff Augmentation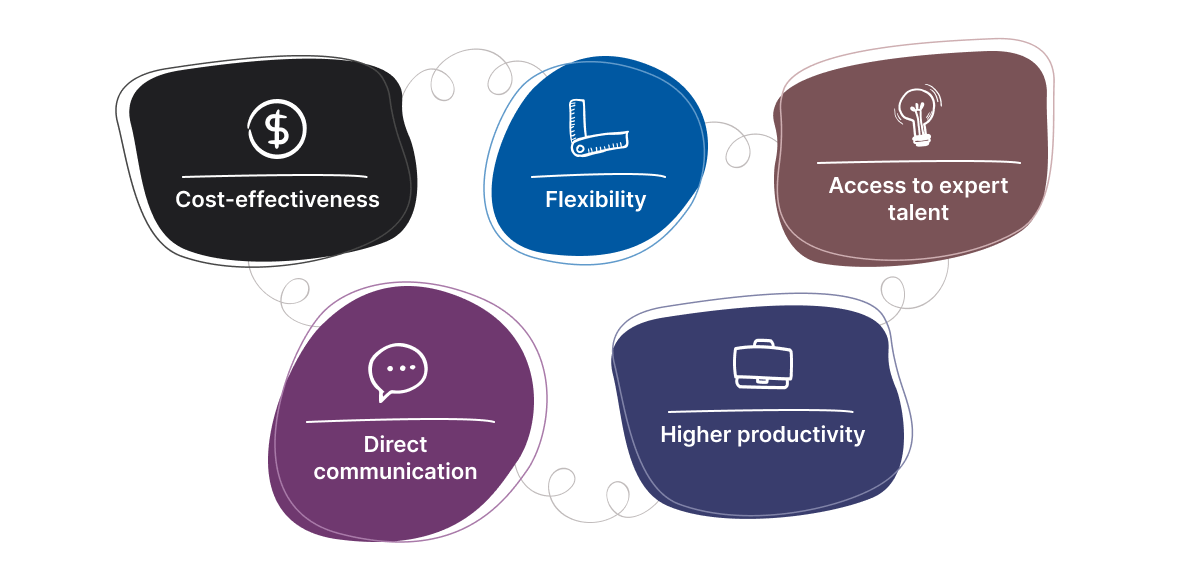 Benefits of Staff Augmentation
Cost-effectiveness
Outstaffing several specialists can be more affordable than assembling an in-house team. Many IT staff vendors are offering affordable rates worldwide. Specifically, the most popular staff augmentation hubs are Central and Eastern Europe, the Balkans, and India.
For instance, Eastern Europe has become a powerful IT hub due to a significant amount of qualified tech talent, low taxes, and government support for the IT sector. In Poland, it may cost you from $40 to $60 to hire a skilled developer.
In addition, you don't need to spend your time and money on hiring and administrative issues since outstaffing takes these issues off your hands. From a cost perspective, augmenting IT staff is typically lower than maintaining an in-house development team since you need only to pay the IT staff vendor for hours worked.
Flexibility
Assembling an in-house team is time-consuming. Every time you need to hire a new team member, you have to go through all stages of the hiring process. Outstaffing can help you get the labor resources you need quicker.
Moreover, you can scale up or down anytime while outstaffing. You can make your team bigger or smaller depending on your business needs. Flexible hiring allows you to expand your business on a trial basis without hiring full-time specialists.
Access to expert talent
The IT staff augmentation market offers a vast pool of skilled engineers. As a result, you can get the right specialists in a few days, not months. In addition, staff augmentation provides unlimited hiring opportunities because you consider different specialists from all over the world. And even when you're struggling with hiring niche talent on-site, outstaffing can help you extend your reach to the global workforce.
Direct communication
When outsourcing software development, the vendor takes care of the project. However, when outstaffing, you will be the one to assign tasks, plan sprints, and fully control the development of your projects through project management tools like Jira, Trello, or Confluence. With this approach, tech specialists will report directly to you or your PM and always be in touch.
Higher productivity
A need to augment the development team often arises when your project requires more hands and heads, but you don't have enough time or budget to hire full-time specialists. Outstaffing additional specialists can lighten your team's workload.
Alternatively, staff augmentation means your team is entirely focused on your project. With this approach, your augmented team's efficiency can be higher than outsourcing teams' efficiency since project-based outsourcing teams may work on several projects simultaneously.
Challenges of Staff Augmentation

Challenges of Staff Augmentation
Time and language barriers
Since your staff augmentation partner can be located in any part of the world, several issues can break down communication. Luckily, the language barrier has generally become a problem of the past since a vast majority of IT specialists speak fluent English. However, time differences remain one of the most common communication-related issues when augmenting the dev team.
At Orangesoft, we've taken multiple steps to solve these common communication issues. For instance, thanks to the convenient location of our Eastern European hubs, we share overlapping office hours that facilitate communication. This approach has become a fairly common practice for other companies in the industry, too.
Security concerns
IT staff augmentation means sharing information with a third party and integrating them into your internal operations. The top security concern is a client's data, which can be at risk.
As a software development agency, we undertake periodic security audits to prevent all security threats and hazards. At Orangesoft, we follow all security protocols and sign NDAs to guarantee your total security.
Tech expertise and skills
If your augmented team's performance isn't living up to your expectations, it's time to reassess your development team and tech leads. In most cases, vendors don't assign a project manager, manage the development processes, or bear the responsibility for staff efficiency.
Staff Augmentation with Orangesoft
At Orangesoft, we provide a full cycle of app development services, and we are not limited to project-based outsourcing services.
We also provide flexible IT staff augmentation services regardless of how many specialists you need. You can hire our IT specialists, including software developers, UI/UX designers, QA engineers, Project Managers, and Business Analysts. Powering up your team with Orangsoft means that you get highly skilled tech professionals who will devote their time solely to your product.
Our augmented specialists will be indispensable parts of your development team, and you'll take care of all the management issues like planning, supervision, and other important activities. You'll be the one to manage your IT specialists, so they'll feel like part of your core team. In case an issue arises that you or your augmented team need to discuss, an Account Manager will help you facilitate the process.
Here's the process you'll experience when signing a staff augmentation contract with Orangesoft:

Staff Augmentation Process with Orangesoft
Reviewing your initial request
When we receive your request for staff augmentation services, our IT managers and BAs will carefully analyze it. Before requesting these services, there are a few basic questions you'll need to consider:
How many specialists do you need for your staff augmentation project?
What level of specialist do you need? Junior, middle, or senior?
When should the required specialists get started?
What is your project's deadline?
Is it a new or ongoing project?
Our managers will need 16 business hours to review your request and create a unique team augmentation strategy. Then, we will schedule a call with you or your representative to discuss all the details.
Choosing the specialists
After we have signed an NDA and reviewed your project's requirements and specifications, we can start finding specialists with the exact skills and experience needed. Then, we will send you the first CVs in two business days.
Interviewing IT specialists
After you approve the CVs, we'll arrange interviews with the selected specialists. As a rule, such interviews consist of two parts – one with a CTО and the other with a CEO or product owner. You only pay for the professionals you hire, no matter how many candidates you've interviewed.
Signing a contract
When all the interviews are carried out, we can sign a contract and start our staff augmentation project. Once everything is approved, you can integrate the selected specialists into your workflows and development processes. Also, we will assign an Account Manager who will work with your developers and help you build a productive relationship with your augmented team.
Recently, we've completed our staff augmentation project for one of the biggest tech companies. Initially, the client required three web and six mobile engineers to power up their existing development team.
The client was highly satisfied with our specialists and decided to extend the number of specialists involved as well as our agreement. As a result, the project was delivered on time and met its goals thanks to the developers' relevant expertise.
Contact us to learn more about our staff augmentation services, and our experts will help you find the right solution for your business.