Over the last few years, the world of eCommerce has got a major overhaul. In particular, the pandemic-induced online shopping craze has become the tipping point that placed eCommerce on par with brick-and-mortar stores.
By the same token, mobile devices have emerged as one of the main touchpoints between customers and retailers, inching closer to becoming a channel of choice for customers. By 2025, mCommerce is projected to take up to 67.6% of total eCommerce sales, which will account for 16.0% of total retail sales.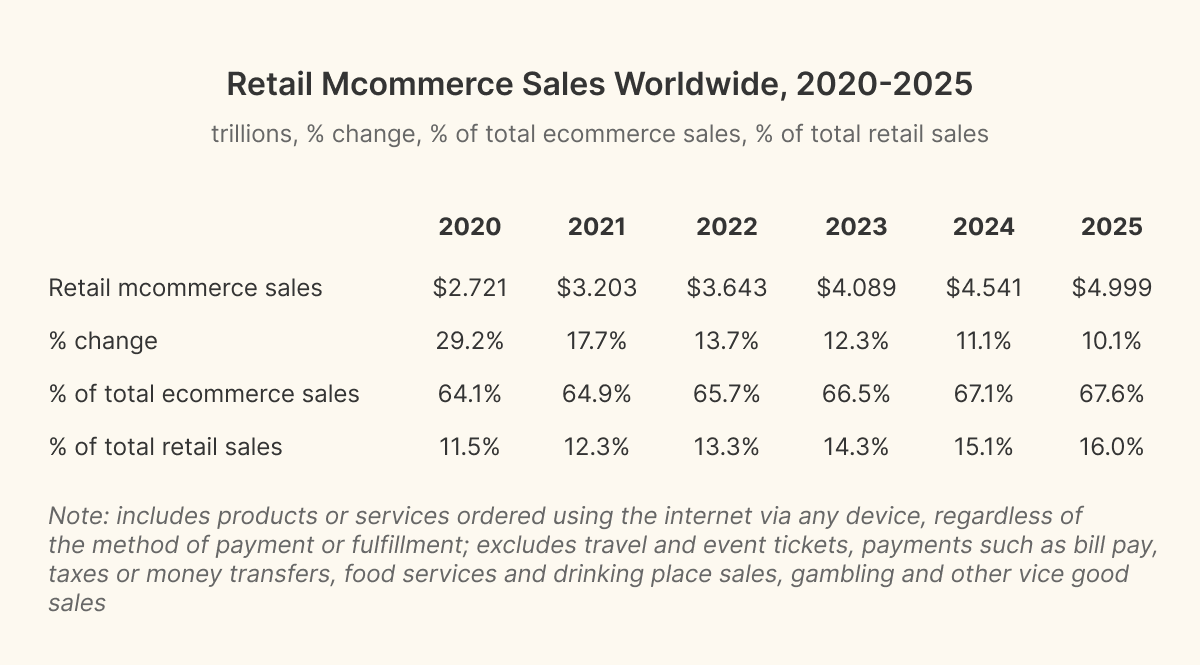 And although this growing tendency was somewhat lackluster in terms of mobile app downloads in 2022, eCommerce mobile apps followed suit, experiencing a 4% lift in installs in 2023 compared to their 2022 averages. Global mCommerce sessions also grew by 12% year-over-year.
Today, we'll look at the technical side of e-commerce application development. This blog post will tell you about the main features and trends of mobile eCommerce app development and how much it costs to create a mobile e-commerce app at Orangesoft.
What is Trending in mCommerce App Development Right Now?
Just like any digital product, eCommerce apps emulate general technology trends. At the moment, the powerful trinity of automation, immersiveness, and connectivity are riding the wave in mobile eCommerce. Those three technologies, in turn, manifest in a number of tech solutions being implemented in mobile shopping.
Augmented reality: Try before you buy
Unlike virtual reality, which sits solely in a virtual world, augmented reality (AR) enhances the real-world environment by overlaying digital images onto the physical world. eCommerce app development leverages augmented reality as a complementary technology that facilitates immersiveness and allows shoppers to try on the product virtually before purchasing it.
According to Insider Intelligence, 35 million users in the US regularly shop with augmented reality. IKEA Place, Amazon's Room Decorator, and Sephora's Virtual Artist are prominent examples of AR-based shopping solutions.
Big data
Big data is the lifeblood for most B2C businesses that need actionable customer insights to analyze user behavior and improve conversion rates. Big data and its analytics bolster personalized recommendations, dynamic pricing, demand forecasting, and trend predictions. Combined, these techniques put retailers on top of the supply chain management and allow them to sell effectively.
Geofencing
Geofencing is a popular technique that is expected to reach over $4.2 billion by 2028. Powered by radio frequency identification (RFID) or the Global Positioning System (GPS), geofencing enables retailers to send in-app notifications based on a customer location. Known as geo-targeted advertising, this technology promotes more granular marketing messages and enhances local spending.
Livestream shopping
Real-time shopping is another trend that is growing at a frenetic pace. By 2024, this trend is slated to be worth around $35 billion. Originally from China, livestream shopping has emerged globally as a combination of video, influencer moguls, and eCommerce.
Live shopping apps allow users to shop in real-time while still watching a live event or stream. The phenomenon is also based on enhanced interactivity since users can comment on and react to streams in real time. Brands can either host a live event on dedicated platforms like TalkShopLive or on their mobile apps or websites through built-in shopping capabilities.
Related: Guide on Livestream Shopping App Development
Chatbots
A virtual assistant experience has become a common add-on in the competitive retail landscape. Fueled by natural language processing, chatbots assist customers throughout the whole customer journey, thus reducing the time and effort of customer support.
Thanks to the robust data processing capabilities of artificial intelligence (AI) and machine learning (ML) algorithms, bots can almost immediately learn data about customers. Thus, they can anticipate the next question from a customer or the product they will order later. These insights can then help companies deliver a personalized shopping experience.
Whether it's complaint resolution, guided checkout, or assisted purchasing, chatbots promote speed, convenience, customization, and 24/7 accessibility for online shoppers. By 2024, consumer retail spending via chatbots worldwide is predicted to hit $142 billion — up from $2.8 billion in 2019.
Voice assistants
Unlike chatbots that are fully focused on text communication, voice assistants like Alexa or Siri embrace speech recognition, natural language processing, and speech synthesis to communicate with users based on the predefined scenario. This trend is majorly manifested in voice-enabled shopping applications that take in complex queries for better search results and conversational interactions. Thus, shoppers can find and buy items using only their voices.
In 2021, over 45 million US consumers used voice technology during their online shopping experience, boosting the global value of voice commerce transactions to an estimated $20 billion. Voice interaction can also cater to retail staff and enable faster inventory management and search through a hands-free experience.
Omnichannel shopping experience
The omnichannel strategy has become the top and center of retail practices as a result of the pandemic in-store limitations. Thus, around 60 to 70% of US consumers research and purchase both in-store and online across categories. So, it's only logical that mobile commerce app development is seamlessly integrated into a unified customer experience that blends physical and online channels to engage shoppers.
Mobile shopping applications now act as an important component of the whole shopping ecosystem that includes brick-and-mortar experience, social channels, marketplaces, and other distribution channels. From a technical standpoint, it means that mobile solutions should support cross-channel buying through data-management capabilities, process integration, and branded UIs.
One-click purchasing
Back in the day, it was Amazon that pioneered and patented the reinvented shopping cart form without the hassle of entering billing and address information over and over again. Today, users can place an order through one-click purchasing. This means that users enter their billing, shipping, and payment information just once and continue shopping without re-entering these details.
As the patent expired in the autumn of 2017, single-click checkout flows have become the go-to method for all retailers to alleviate cart abandonment and nurture convenience.
eCommerce Application Development Process: Step by Step
A successful mobile application cannot be strategized and developed overnight. That is why an e-commerce app development process should always follow a consistent pattern of logical steps.
Define the niche
First and foremost, you should choose one specific area that your application revolves around. From the end-user to the vertical, this choice will set the tone for everything that'll be added to your solution later.
eCommerce solutions can be divided by the following criteria:
Business-to-Business (B2B): refers to the digital exchanges between businesses.
Business-to-Consumer (B2C): a business sells items to individuals.
Consumer-to-Consumer (C2C): transactions are performed between consumers only.
Consumer-to-Business (C2B): individuals create value and offer it to businesses.
eCommerce also varies by industry. From retail to online marketing to digital advertising, your application can target different aspects of market relations.
Research competitors and target audience
Once you have a high-level idea of your future digital asset, you need to shape your vision. Competitor analysis will help you identify the top technologies, UX/UI trends, and revenue models fit for solutions like yours. You can also browse through customer reviews to pinpoint the strengths and weaknesses of present solutions.
Your application should also be geared towards a specific user group or target audience that is most relevant and loyal to your brand. You can identify your main user by analyzing your customer base, conducting market research, or analyzing competitors. Your development team will revisit your customer personas to align the application with the audience.
The result of these two stages is a general list of app requirements and business objectives that will lay the ground for the development process.
Gather a reliable team
An experienced team of vetted mobile developers is another piece of your puzzle. If you are building a shopping solution from scratch, the typical team structure will include the following specialists:
Business analyst: outlines business requirements and matches them with the software.
Project manager: supervises the entire development lifecycle and keeps the team on the same page.
iOS developers: software engineers with a deep understanding of iOS-specific technologies.
Android developers: programmers with a deep understanding of Android-specific technologies.
Back-end developers: specialists responsible for data storage and other server-side functionality.
Quality assurance team: improves the quality and performance of your application through tests, audits, and validations.
UX/UI designers: responsible for the look and feel of your solution as well as its usability and convenience.
You can hire software experts on-site or outsource your mobile development to an outsourcing vendor. The former is typically more expensive, while outsourcing offers a great price-value ratio without compromising software quality. As an alternative, you can also accept bids from freelancers, provided you have a specific and narrow development task in mind.
Shape the concept and define the feature set
During this step, you and your development team dive deep into your app idea. Business analysts contextualize your eCommerce solution within the business work frame, while tech professionals come up with the right combo of technologies to transform your idea into a full-fledged solution.
The result of this step is a set of must-have features that will become the backbone of your minimum viable product, or MVP. As for the nice-to-have functionality, your development team will add it closer to the end of the development process.
Design compelling UI/UX
With the user persona on hand, UI/UX designers will deliver a design layout that supports the customer journey on your application. Keeping mobile UX design as a baseline, UI/UX developers will add some must-have elements to make your eCommerce app experience usable, convenient, and consistent.
Although there are a whole lot of best design practices, here are some UI/UX staples present on top-grossing eCommerce mobile applications:
visual commerce (rich product description, image zooming, etc.),
custom branding,
easy-to-use navigation,
extensive search options and filtering,
one-click checkout,
thumb-oriented interaction, and others.
Choose the development approach
A software development approach defines how your software project will be managed. It echoes at all stages of mobile development, from feature selection to release speed to testing cycles. At Orangesoft, we handle mobile development through the prism of the Agile methodology.
Agile allows our team to maintain maximum flexibility, thus leaving enough space and time for changes or improvements. We also deliver your application in small increments so that you are aware of the result at each software development stage.
Develop and test MVP
Once your technical and business choices are made and validated, it's time to translate all the documentation into reality. Your mobile team should start small by creating a bare-bones product first. A minimum viable product contains only core features. These should be enough for the users to test your mobile solution.
Your MVP is then released to the public to gather feedback and plan additional improvements.
Improve and support your eCommerce mobile app
With user insights at its fingerprints, your mobile development team polishes the solution and dresses it up with nice-to-have features. When your application is ready, it gets released on the app store. However, your digital product should get regular updates and maintenance so that it remains at its prime regardless of growing traffic or platform versions.
Main Features to Include in an eCommerce App
Although each shopping solution offers its unique selling proposition, it still shares some basic features akin to other competitors. Below, we've collected the main features that make up the majority of apps in the niche. You can also consider including them in an MVP for the application.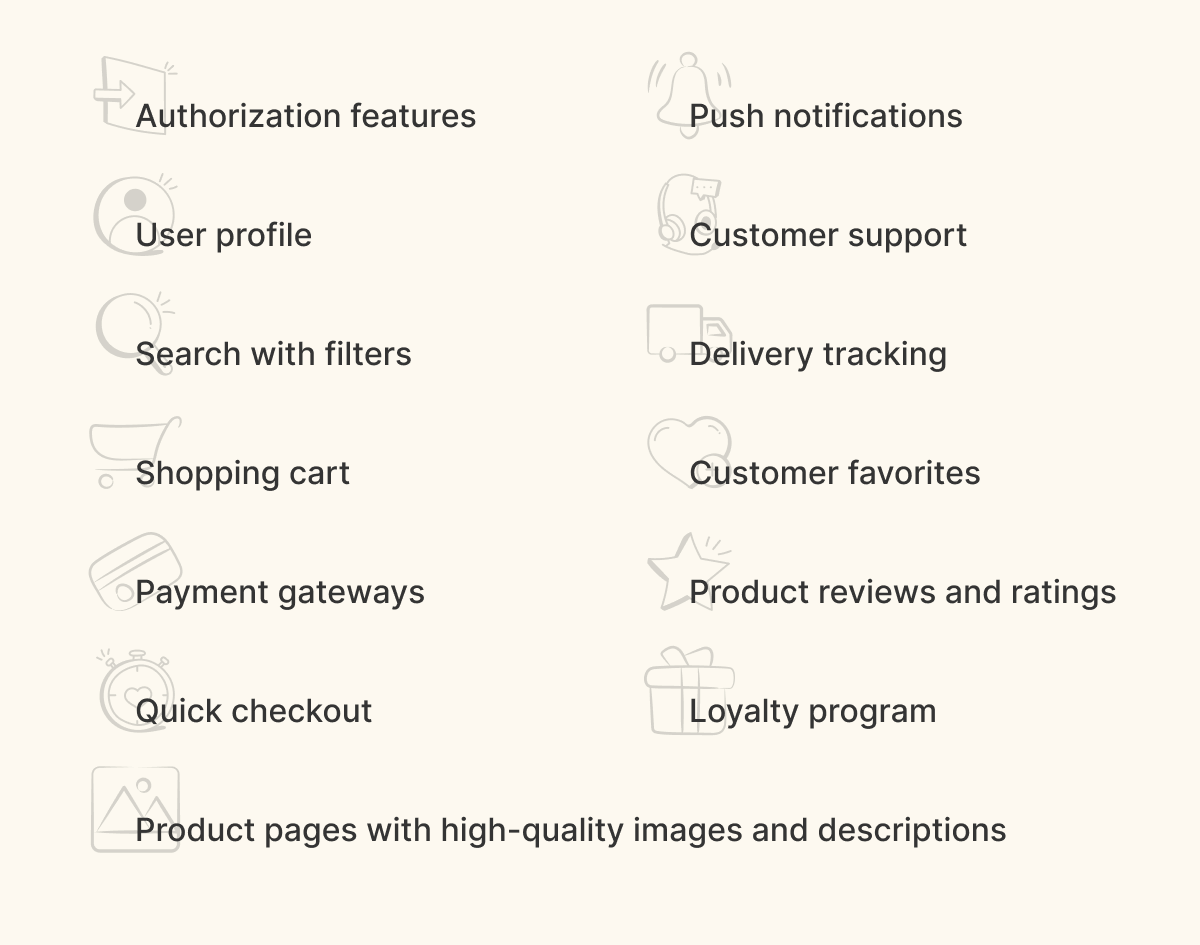 Core features of an eCommerce app MVP
Authorization features
Validating your user's identity is an essential feature for all eCommerce solutions that helps maximize security and keep hackers at bay. Users can sign up for your application through their email, phone number, or social media account.
You can also consider using two- or multi-factor authentication as a safety net for your customers. Both of these methods require the user to log in through two or more authentication methods (PIN, one-time password, a different device, etc.).
User profile
When the application can identify a customer, it means that business owners can acquire more insights to calibrate their recommendations and other marketing activities. Customers, on the other hand, can fill in the information once and save the details for future purchases. User profiles can include basic user information (email, given name and surname, shipping address, purchase history, etc.).
Search with filters
Product choice and discovery are the essences of mCommerce applications, thus making the search function paramount. Filtered search helps the user narrow the search results and make the array more relevant to the purchasing need. "Refine Result" checkboxes should be specific for each category and automatically update the available results.
Image search is also a go-to search option present in most popular applications, including ASOS, AliExpress, and others.
Shopping cart
Shopping cart pages should reinforce the purchasing intent by seamlessly guiding the customer to order checkout. As for the specific components, carts should offer a quick reminder of the product(s) added to the cart as well as prices and product information. To continue the purchase, users should have the option of choosing their preferred payment method as well as delivery and return details.
Payment gateways
Integration of one or a few payment services is essential to transfer the payment from the customer to the merchant's bank. From a tech perspective, payment gateways are initiated through API integrations that connect the business's checkout function to the payment system. PayPal, Amazon Pay, and 2Checkout are a few examples of popular options. Your eCommerce application should also support debit and credit card payments as well as mobile wallets, which are the leading payment methods, according to Statista.
Quick checkout
This step finalizes the purchasing process and typically consists of entering the delivery address and payment details. According to Shopify, 18% of users abandon their shopping cart due to a long and complicated checkout process. Therefore, making your checkout quick and easy will help you retain the customer.
Among the most popular checkout architectures is a one-page checkout that lists shipping, billing, and order summary. Two-step checkout is also widely used by retailers that split the process into two stages.
Push notifications
Push notifications are one of the main re-engagement channels for retailers that incentivize customers to make a purchase. Perfectly timed and personalized in-app push notifications can prevent cart abandonment, update ongoing deals, and send geo-based messages, among other features.
Another reason why your mCommerce app will benefit from the feature is its real-time nature. As a result, push notifications are more likely to get an instant reaction.
Customer support
Consistent delivery of exceptional and timely customer service is the pillar of a brand reputation for retailers. According to Hubspot Research, 93% of customers are likely to make repeat purchases with companies that offer excellent customer service. Live chat functionality is a popular software solution that can enable real-time customer support, thus improving communication and reducing response times.
You can also scale personalized conversations within a mobile app using chatbots or conversational AI that enable self-service for customers and handle repetitive queries. Some live chat software development kits, such as Sinch or Twilio, come with the chatbot feature.
Delivery tracking
This feature provides visibility into the delivery status for customers. If shipping is delayed for some reason, the customer gets real-time updates about the current shipment status and the reason for the delay.
Your mCommerce solution can get real-time shipping data from shipping APIs. These allow you to integrate real-time order tracking into your mobile app. The real-time data from the API can then be used to trigger a notification for the shopper.
Customer favorites
To boost sales, eCommerce solutions include a category of current top everyday products that customers are buying the most. This feature can also list frequently purchased products for an individual customer in their user account. A seller can see previously purchased products at any time to provide individual offers, discounts, and personalized recommendations.
Product pages with high-quality images and descriptions
Catchy descriptions with paired relevant images will help you showcase the products in a favorable light and increase conversions. Product descriptions should include size, color, price, shipping information, reviews, and other relevant information your shoppers need. Accurate and detailed product descriptions minimize the risk of customer complaints and returns.
High expectations for visual merchandising also necessitate uploading high-quality product images to mCommerce applications. Thus, shoppers expect anywhere between 5 and 8 product images.
Product reviews and ratings
Reviews and star ratings help your customers with product research and purchase decisions. They also enable an additional feedback channel for merchants and reduce the number of customer complaints.
Loyalty program
Brand loyalty is the ultimate destination of your eCommerce business. Therefore, incorporating a loyalty program into your customers' journeys is an important step toward brand equity. According to a report, 56.0% of loyalty program owners say that their existing rewards program increases sales, delivers great ROI, and is popular among customers.
Technically, you can either integrate an in-house loyalty program or farm out this task to an external vendor. The same report states that around 49% of loyalty programs are managed by a loyalty technology solution vendor, while over 50% of them are managed by in-house technology. However, make sure that your loyalty solution provides data processing capabilities and is ready to power new features later.
Things to Consider When Building a mCommerce App
There's a lot on the plate when it comes to mCommerce development. However, the holy trinity of scalability, security, and stability is what should be put at the top and center of your mind.
Data security
As the frequency and ingenuity of cyberattacks have risen, merchants have to put forward robust security measures so that their application is bulletproof. Not to mention that shoppers leave loads of sensitive data on the app, including card numbers, CVV codes, and other details.
Among the most common security measures for eCommerce are data encryption, security plugins, authentication, 2-step verification, SSL (Secure Sockets Layer) protocol, and others. Although no method can single-handedly beat a hacker, their combination will raise the overall security posture of your solution.
Moreover, an eCommerce solution may need to meet compliance regulations, which impose a set of specific data safety measures. These may include PCI-DSS requirements and guidelines from the International Organization for Standardization (ISO), General Data Protection Regulation (GDPR), California Consumer Privacy Act (CCPA), and others.
Stability
Bugs, glitches, and crashes are the common reasons for app failure and overall user frustration. To ensure the stability of your solution, the development team should run rigorous testing in different environments before releasing it to the app market. Otherwise, inadequate testing ushers in app stability issues.
Moreover, mobile developers should opt for a stable and time-tested infrastructure such as Swift and Kotlin when building their applications. Your tech team should also make sure that the solution works seamlessly across different devices without guzzling up excessive CPU or memory. Finally, clutter-free design is what keeps your solution lightning-fast on users' smartphones.
Scalability
Security and stability aren't enough to take your application to the top. Without scalability, your solution won't be able to accommodate new users or process a growing volume of transactions. Therefore, making your app's architecture scalable is key to long-term product success.
Making sure your app is scalable is the responsibility of your mobile app development team. Mobile coders and testers perform scalability and load testing, thus intentionally putting your app through multiple requests to measure its response and test its scaling boundaries. A mobile app architecture should also enable developers to easily add new functionality with no major disruptions.
How Much Does it Cost to Build an eCommerce App MVP?
App development pricing doesn't have a precise formula written in stone. The figure is dynamic and depends on a wide range of factors. Team location, app complexity, timelines, and engagement model are among the core cost drivers. With these factors in mind, we've provided a rough breakdown of MVP development costs at Orangesoft.
| Feature | Development time (hours) | Backend development (hours) | Approx. cost ($) |
| --- | --- | --- | --- |
| Sign in / Sign up | 42 | 32 | 3700 |
| Profile | 48 | 24 | 3600 |
| Home screen | 40 | 16 | 2800 |
| Search | 24 | 24 | 2400 |
| Filters | 32 | 16 | 24 |
| Catalog | 96 | 56 | 7600 |
| Reviews and ratings | 40 | 32 | 36 |
| Shopping cart | 56 | 32 | 4400 |
| Push notifications | 24 | 24 | 2400 |
| Customer support | 12 | 8 | 1000 |
| Delivery tracking | 16 | 16 | 1600 |
| Payment integration | 64 | 64 | 6400 |
| Loyalty program | 40 | 32 | 3600 |
| Admin panel | 190 | 110 | 15000 |
| Architecture | 32 | 32 | 3200 |
| Server interaction & API | 40 | | 2000 |
| Database | 32 | 24 | 2800 |
| Total | 828 | 542 | 68500 |
The approximate cost of building an MVP for an eCommerce app is around $69K. Keep in mind that this is a ballpark estimation for the development stage only, and it doesn't factor in your unique application needs but gives an overall understanding of the investment needed. Also, we've included a set of core features only. To develop your mobile app, you will also need a project manager, UI/UX designers, QA engineers and other specialists. Their services are priced separately and are not included in this estimate.
To reduce your development costs, our team applies an Agile methodology that divides the whole development process into short sprints. Each sprint is run with a specific set of deliverables in mind so that you have a fully workable app component at the end of each sprint. This way, the development process stays adaptable at any point and minimizes the risk of redevelopment or user dissatisfaction.
Building a mCommerce Application: the Orangesoft Way
As a mobile application development company, Orangesoft has successfully delivered over 300 custom projects. Our cross-domain expertise allows us to combine stable architecture with business value, thus making your application KPI-driven and goal-oriented.
Our mobile development team also delivers top-notch mCommerce applications that operate natively on Android and iOS.
During one of our latest eCommerce projects, our app development team designed and built a unique mobile solution tuned to the pharmaceutical industry. As an aggregator of pharmacy products, this mobile application allows the customer to:
Search, order, and book medicines directly in the app;
Compare prices in pharmacy chains and online pharmacies in the city;
Choose a convenient drug delivery option: pick-up or home delivery; and other features.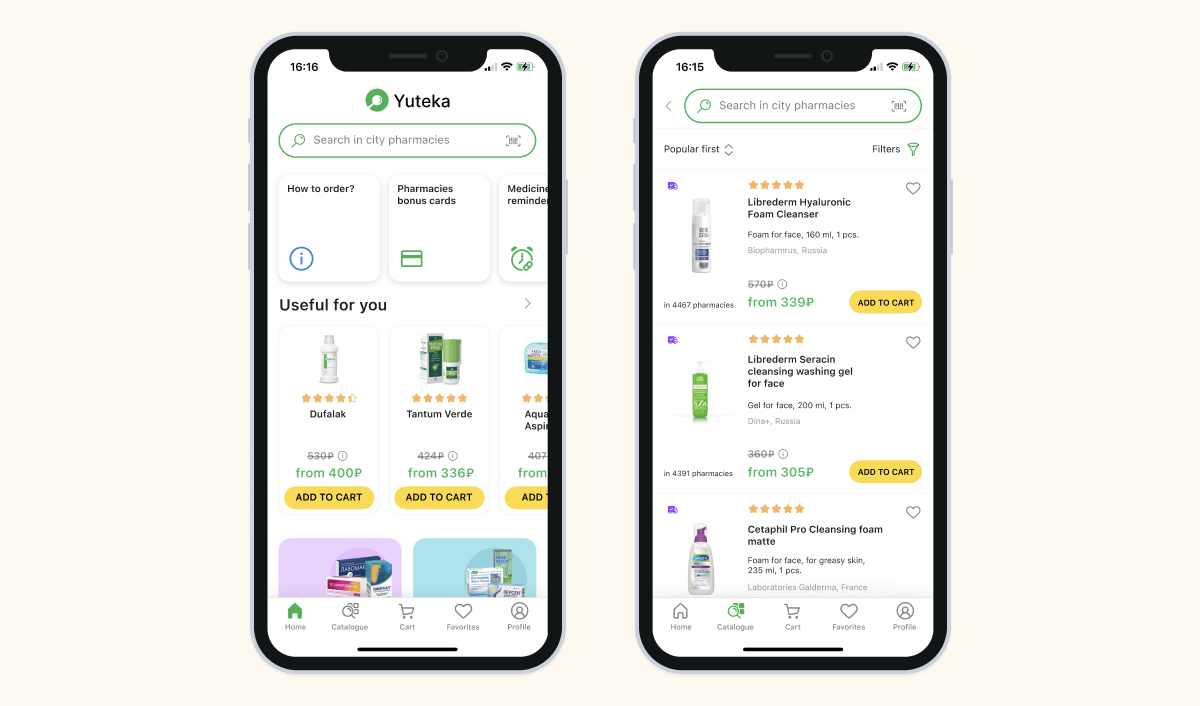 mCommerce app developed by Orangesoft
The application intuitively guides the user through the app flow with easy-to-use motions like swiping and tapping. Well-arranged categories, comprehensive product descriptions, and search filters reduce users' search effort and add to easier discoverability of items.
If you're looking to build a bespoke eCommerce solution aligned with your target market and individual business needs, drop us a line and we'll lead your project from ideation to delivery.
Discover the Value of mCommerce
The growing dominance of mobile retail skews global retail trends. The pent-up demand for shopping apps is bolstered by a rapidly increasing number of smartphone users along with the added convenience of on-the-go shopping. As both global retailers and SMEs translate their selling efforts into mobile, mCommerce shopping is likely to enter its full potential in the coming years.
Therefore, there has never been a better time to join the mobile craze and serve customers through their mobiles on their shopping journeys. Contact us, and we'll build a high-converting app together.