If technology is at your startup's core, you need a technical advisor who will take your project to the top — a Chief Technology Officer (CTO). This isn't just an employee but one of the key stakeholders who can help or hinder the development process.
A CTO is a professional who knows the latest technology trends, the overall market landscape, and competitors' activities. What's more, this visionary is objective-focused, innovative, and knows how to build a solution at the intersection of advanced technologies and market demands.
Further, their responsibilities aren't limited to theorizing; a CTO has both the strong tech expertise and the leadership skills to become the development tech team leader and guide them toward a goal.
Talent, deep professional expertise, vision, and persistence are just some of the traits to look for when choosing the right person to hire as your CTO. In this article, we will explain the importance of a CTO and what to pay attention to when recruiting one.
What Is a CTO?
A CTO is a C-level executive responsible for the technical side of a company's development. Depending on the company's specifics, a Chief Technology Officer manages hardware and/or software development and develops a tech strategy for a company. While CTOs aren't always involved in tech-related operational issues, their primary duties include the following:
Developing a compelling technology strategy and vision
Generating technological strategies that will help achieve business objectives and let the company stay ahead of competitors is the CTO's utmost responsibility. Besides a clear vision and enthusiasm, this C-level executive should be able to communicate the defined business goals and roadmap to a team in a way that evokes passion.
Establishing the product development process
A Chief Technology Officer is an expert who controls business goal achievements by implementing tech solutions. In other words, their job is to translate a business objective into a technical plan and ensure there are enough resources to achieve said goal. In addition, they should control the implementation, ensure the results align with the current trends and ultimate goal and share the workload with the tech team when necessary.
A CTO of a modern early-stage startup needs to be well-versed in DevOps and quality assurance (QA). As startups can initially hire a limited number of people, CTOs may fill some of those roles.
Constantly seeking innovation
Research and development are integral to the CTO's position. A digital business leader should be able to spot emerging trends, prove their worth to all stakeholders, and find ways to build cutting-edge solutions. However, their main focus is to improve a product with innovation and meet market demands through technologies.
Hiring key engineers and technical managers
People and soft skills are a must since a CTO should build a strong team consisting of skilled developers, designers, DevOps and QA engineers, and competent decision-makers who can lead a team in the short term.
The Chief Technology Officer has the most dynamic and far-reaching key performance indicators (KPIs) out of all C-level managers. The KPIs range from tech-related ones, like maintaining security issues or product and service innovation, to more business-specific metrics, including revenue and return on investments (ROI).
The CTO's KPIs can differ greatly by company. For instance, a product-focused CTO will likely measure cost savings, customer engagement, and delivery. At the same time, a CTO driving business development will be assessed in terms of sales and company growth.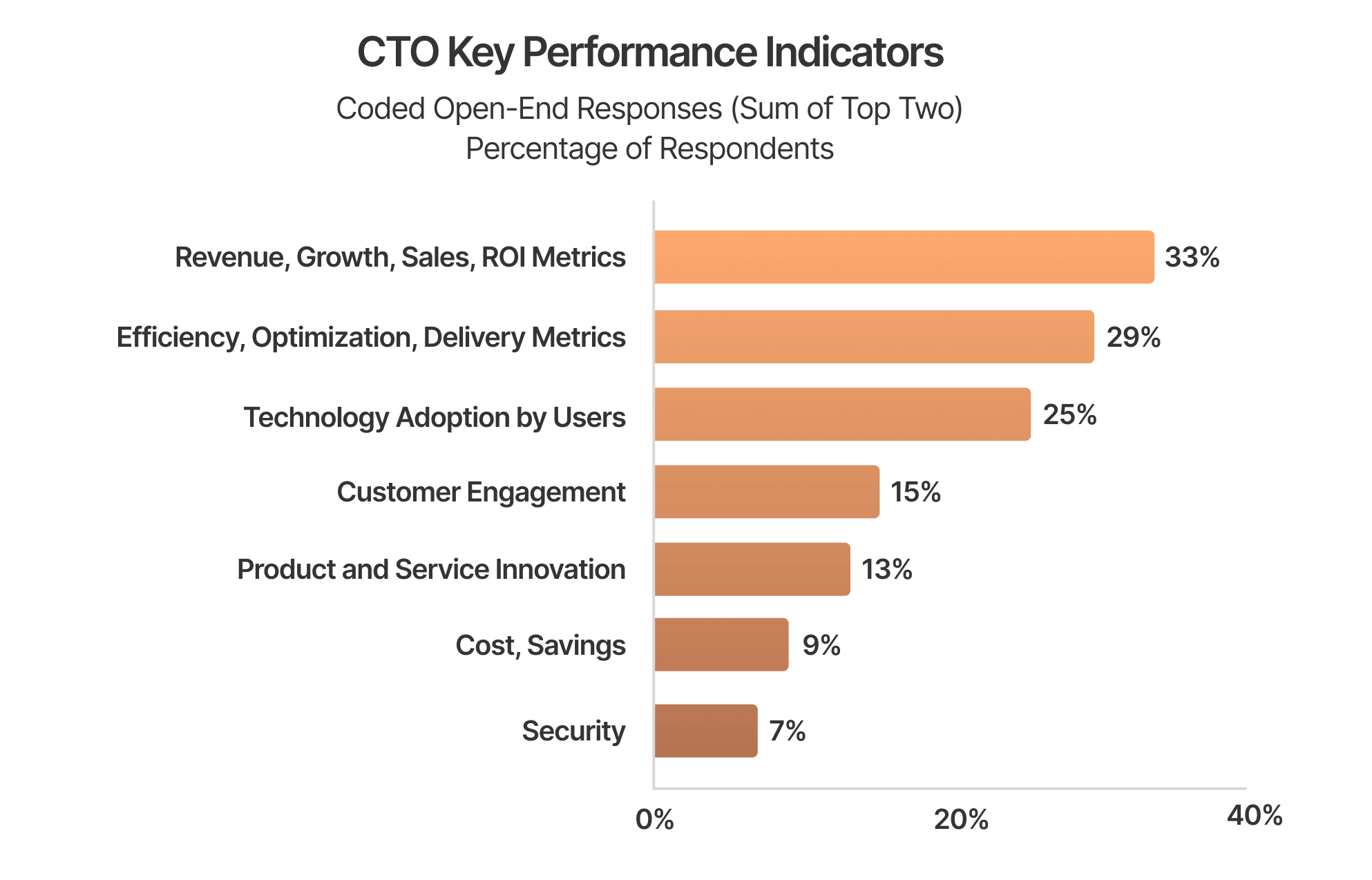 What is the Difference Between a CTO and CIO?
A CTO is sometimes called a Chief Information Officer (CIO), but the two roles differ. While a CTO's primary duties revolve around external customers, tech trends, and product engineering, a CIO is responsible for internal users, core systems and infrastructure, and business automation. To better understand these roles' differences, check out the table below:
| CTO | CIO |
| --- | --- |
| Designing | Implementing and operating |
| Externally and mission-focused | Internally and customer-focused |
| Future business needs | Immediate business needs |
| Manages learning process | Manages execution process |
| Unknown customers | Known customers |
| Roadmaps | Documentation |
| Long-term planning | Short-term planning |
| Focus on unanticipated successes | Focus on unanticipated failures |
| Emerging technologies | Proven technologies |
| Prototypes and disruptive innovation | Projects and sustaining innovation |
Is a CTO a Must, or Which Startups Can Do Without a CTO?
From the job title, it's clear that a CTO is a must for companies relying on technology, and technology is everywhere. Even if you plan to design sneakers, you will still need to build an IT infrastructure to effectively manage production, employees, and distribution channels.
The good news is that you can do without a CTO during the initial development stages of your business. While you are only testing hypotheses and investigating the market by releasing a small volume of products, a CTO won't drive any significant business effect by optimizing and digitizing your initial business processes. If you've already defined a successful product formula that the market seeks, then a CTO can help to scale your business.
If you are a tech startup and your product is an IT solution, a CTO is most likely already a part of your team and one of your co-founders. What should you do if that's not the case? We explain this in the next sections below.
How Can a CTO Help a Startup During Different Startup Stages?
Whether you are just starting or continuing your project, you can hire a CTO to help you solve different problems:
Idea
Staying on top of the latest trends and technological advancement, a CTO is a right specialist to assess an idea's viability and define the right tech stack for its development.
Development
A CTO can find the right team or do the coding alone when developing a minimum viable product (MVP). During this stage, the expert will ensure everything goes according to plan, including performance, timing, etc.
Product-market fit
After the MVP release, the CTO is primarily responsible for expanding existing functionality, adding new features, and improving the overall user experience. Moreover, the CTO must manage the growing development team and set up an effective workflow at this stage.
Scaling
During this phase, the main focus is retaining existing users and increasing market share. That's why a CTO monitors the market to ensure the company stays on top of tech trends and outperforms its competitors. The CTO's responsibilities here primarily focus on management.
Related: Full Guide on How to Build an MVP
We Are Founders of a Tech Startup, but We Aren't Technical Specialists — Are We Doomed?
If you have already spent two years and all your friends, family, and fools (FFF) investments on developing your product with freelancers or an outsourcing agency, the chances that you have problems are high. You can test initial hypotheses, launch an MVP, collect metrics, and experience a couple of pivots without technical expertise on board. However, developing an in-house team or building long-term relationships with an outsourcing company without a CTO will be a mistake.
In-house IT specialists require an experienced IT leader who can set up and manage their teamwork. By developing a product with an outsourcing company without a CTO, you risk getting a black box that may do what you expect but may conceal technical risks that will become apparent sooner or later.
Where and How Can You Find a Chief Technology Officer?
You should be ready to spend quite a lot of time before you land the right Chief Technology Officer. So how can you find a skilled CTO for your startup? You never know where an ideal candidate is, so we advise trying the following options:
Networking
Don't underestimate the power of social media. If you already have a vast professional network on Twitter or LinkedIn, you can make a post and ask people to share.
Hackathons, professional conferences and tech meetups
These events usually gather like-minded people that aim to make technological breakthroughs.
Business incubators and accelerators
Startup incubators like Y Combinator or 500 Startups don't only pave the way to investors, they are also a great place to find interested people with the right expertise. However, it may take you a while to get in the door.
Online communities
There are also online platforms dedicated to connecting entrepreneurs and tech professionals. CoFoundersLab, AngelList, Indie Hackers, and the co-founder subreddit are among them.
Freelance platforms
You can always look for a freelance CTO on sites like Upwork, Freelancer, or Toptal. The ultimate upside to using these platforms is that you can find real candidate ratings and reviews. But you should remember that working with a CTO requires a long-term perspective and full commitment, while freelancers may leave without warning or work on several projects simultaneously.
Job boards
You can search for tech talent on Glassdoor or Indeed, specifying the location if remote work isn't viable or desired. These job boards are a good option for finding a CTO since these sites aggregate resumes from numerous sources.
LinkedIn
On LinkedIn, you can post a vacancy and wait for applications or search for a tech consultant. An extensive network isn't a must, and a premium account has features that allow you to complete this task faster.
The stronger the CTO candidate is, the higher the salary will be. Depending on your current development stage, be ready to offer a CTO a fair share of options (if you already have sales or investments) or an equity share equal to other founders (if you are just starting). Whatever investment rounds await you, you won't regret diluting equity in favor of a CTO.
Remember to prepare yourself for competition. Like venture investors, CTOs carefully choose a startup to "invest" years of their lives, so choose an appropriate approach, prepare a pitch, and be ready to prove the promise of your project.
Before believing in an idea, a future CTO should understand it and see it with their own eyes. You have a lot to face together, so look for a like-minded partner that shares your values.
We Have a Talented Senior Developer on Our Team — Can They Become a CTO?
This type of promotion is a relatively frequent case that is generally acceptable. Lack of professional experience as a CTO will be compensated by engagement, fantastic awareness of the product's technical details, and well-established social connections with other team members. Let's look for a candidate for the CTO position inside your team by answering these simple questions:
You need a quick tech-related consultation. Which developer will you turn to?
Conduct one-to-one meetings with a team of developers. Who do they consider the most proficient, and whose advice do they heed?
Imagine you are to choose a company's CEO, but you can only select from the developers. Who will it be?
If someone is featured in the answers to all three questions, take a closer look at them. Seek advice from the most expert developers in the company and look at those who are a delight to be around and who will give clear, complete answers. The team must respect the new CTO and should perceive them as both a boss and a technical expert.
However, don't completely rely on internal resources; a CTO takes time to mature. According to STNEXT's CTO Survey 2021, a current CTO was often previously a Software Developer or Tech Lead. On average, they took on at least two different roles before transitioning to CTO.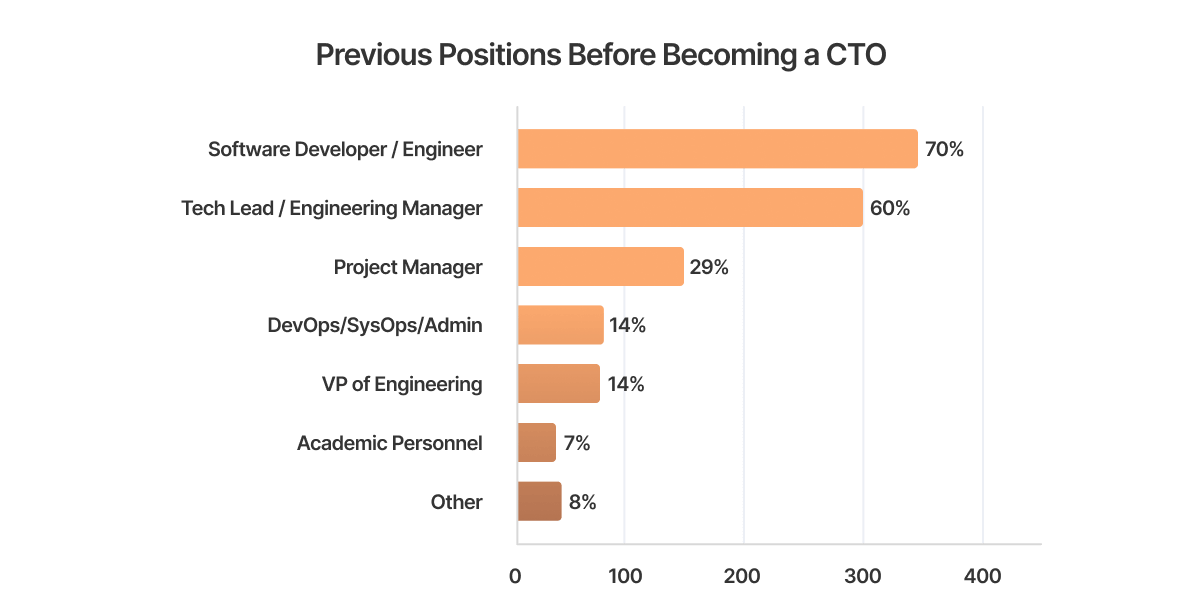 What Alternatives Are There to Having an In-House CTO?
If you're looking for an in-house CTO and are unwilling to spend half a year on the search, partnering with a tech agency is an option. An experienced team of professionals will become your fully-fledged technical partner who considers all your business needs and invests effort and people into your development.
By partnering with a tech agency, you get access to a wide pool of tech specialists along with a strong tech leader acting as an external CTO. In addition, CTOs from outsourcing companies have broad industry experience and have successfully completed many projects. This option is quite popular among startups since it's often even more time- and cost-effective than looking for a CTO.
We at Orangesoft work as an outsourced technology partner with global startups across different industries. And for many of them, outsourced CTO expertise is an optimal option as they don't have to hire a CTO and a development team on their payroll. To understand this idea better, check our client testimonials on Clutch.
What Makes a Great CTO?
Here is a list of hard and soft skills to look for when choosing a CTO:
Technical expertise
A CTO is an experienced tech specialist who evolved up to a Senior Developer or Tech Lead and hasn't stopped there. This specialist constantly expands their knowledge base and hones their technical skills, which allows them to make successful tech-related decisions.
Communication and leadership skills
A CTO's leadership experience is as important as hard skills and broad technical knowledge. For example, you don't expect a CTO to code but to know how to make your team write beautiful, easy-to-support code based on modern technologies that fit the product's objectives.
Project and team management skills
A CTO is the one responsible for project development. That's why the specialist must be excellent at project and time management. They should know how to allocate resources to achieve the desired results on time.
Passion
A CTO should have passion for your project. This burning flame will drive them to new achievements and help them not to give up even if everything goes wrong.
Remember, they are the captain of your ship. That's why they should be as enthusiastic about reaching the final destination as you are. Otherwise, you are investing in the Titanic.
I am a CEO and Proficient Enough in Technology to Take on a CTO Role When Necessary — Will This Save Us Money?
Unfortunately, you likely won't save much. While it's great that you understand IT and technology, as this skill will significantly help your business, you shouldn't take your personal resources as never-ending. For example, if you take on an additional CTO role, you will have to pay for your involvement in development team meetings with your absence from essential meetings or tasks.
Regular extra work may temporarily create an illusion that you can manage to combine two managerial positions at the same time. In reality, you will pay with reduced efficiency, lower decision-making quality, and inevitable burnout. You will become your company's bottleneck, hindering its development and losing precious time.
How Can Orangesoft Help Your Startup?
If you are looking for a CTO to guide your development process, Orangesoft is ready to help you elaborate your technical vision. We are a mature IT company with 12 years in custom software development and a cross-functional team of vetted tech experts.
Collaborating with us, you gain:
Deep software expertise across various domains
Technology-agnostic approach and a diverse tech stack
Business-led tech decisions based on your unique project requirements
A ballpark project estimate from our Sales team
An all-round consultation on your project from our tech experts
Signing non-disclosure agreements (NDAs) upon request
A balanced, self-managed team to take over your project from A to Z
Continuous testing and quality assurance at all stages
After-release support and consulting
Based on your needs, you can book a consultation with our senior software engineers or get professional advice from our CTO.
Conclusion
Tech startups can't do without a qualified CTO. It's a specialist role with many responsibilities, from hiring a dev team to maintaining operational issues.
You need a professional with a solid technical background and managerial and communication skills. Finding a CTO is a critical business decision, so make sure you choose the right path.