Nowadays, mobile presence is a precious commodity for businesses of all sizes. Along with expanded user reach and infinite branding possibilities, having a mobile application is commercially profitable. In 2022, in-app consumer spending reached $167 billion. So, it's no wonder that the mobile imperative is at the top of the mind for both established businesses and startups.
But while app development steals the show, the right process of app launching doesn't get enough coverage. Today, you'll find out how to launch an app to prepare it for a soft landing.
How to Launch an Application: Before the Launch
According to statistics, there are collectively over 5 million applications on Google Play and Apple's App Store. With so many mobile apps on the market, it's not hard to imagine the struggle of making your mobile app outshine competitors.
Surprisingly, a mobile app launch strategy is something that should be taken care of even before your application is ready to be released into the wild. Here's what you can do to give your app a head start.
Do market research
To outsmart your competitors, you should know the ins and outs of their products. By performing deep competitor analysis, you will size up the competition, including their core features, and gain actionable insights about your potential differentiators.
Moreover, competitor research will unveil the current market share of your competitors, pricing, and market gaps, as well as the strengths and weaknesses of competitive products.
To get the full breadth of view, your competitor research should revolve around a larger industry analysis. Industry research demonstrates how your app idea relates to general market trends and uncovers the current and historical industry trends.
Identify target audience and value proposition
According to Statista, most app categories struggle to retain users. Only 1.5% to 11.3% of individuals continue using an app 30 days after installation. Creating an app with the end user in mind will help your application win the hearts and minds of potential users with user-driven features and unmatched design usability.
User research can be conducted through surveys, product testing, feedback analysis, focus groups, and other methods. The result of this research is a user persona with demographics, needs, and preferences that will shape your mobile application both internally and externally.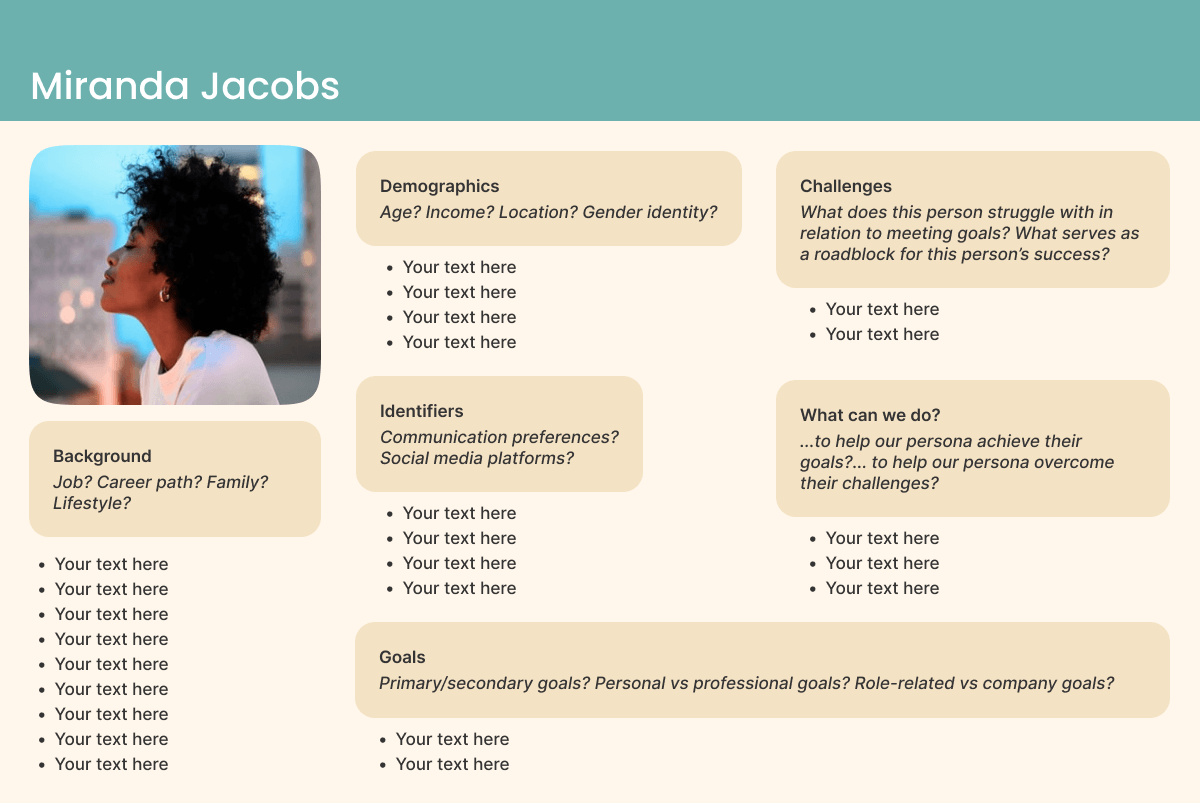 General buyer persona
Persona mapping flows into an app's value map, which in turn can be transformed into a unique selling proposition (USP) of your digital product. A USP is a short statement that communicates why users should download and use your application over competitors. Tinder, for example, was created to make dating easy for users, while the Uber app helps connect passengers with nearby drivers.
Define your success criteria
If you can't measure it, you can't manage it. Therefore, if you're aiming for a successful new app launch, you need to benchmark your app's launch success against specific criteria.
Here are some typical metrics to evaluate your app's performance in the early stages:
| App metric | KPI | Tracks |
| --- | --- | --- |
| Acquisition | New downloads | Number of downloads within a given period |
| Retention | Day X retention after app launch | The number of users who use your app for X days after its launch |
| Activation | Activation rate | Number of users who signed up to your app and started a free trial or any other milestone that allows users to extract value from the application |
| Uninstall | Churn rate | Number of users who deleted your app |
Choose a pricing model
An app's pricing strategy is how you can monetize the value and popularity of your application. The right monetization model should be identified in the early stages since it directly impacts your product's functionality, marketing strategy, and design. The choice depends on a wide range of factors, including competition, industry trends, target market, and others.
The top three monetization models include:
Free: your application can be downloaded from the app store for free and monetized through advertising or other monetization strategies.
Paid: users pay a download fee to get your application installed on their devices.
Freemium: your app is downloaded for free but with limited user functionality. To be able to enjoy the app's full functionality, users need to pay.
Ads, partnerships, affiliate marketing, and other strategies can be combined with any of these models and can rake in additional revenue.
Develop branded screenshots and visuals for marketing purposes
A branded set of visual materials is an essential prerequisite when launching a mobile app. Branded logos, icons, and screenshots will maximize your odds of getting media coverage and make your app easily distinguishable from competitors.
Moreover, graphics are a critical component of app store optimization, which we'll dwell on later.
Register your domain and launch a landing page
Creating a dedicated web presence gives an additional tailwind to your mobile app launch process and complements your social media efforts. Therefore, you should roll out your website even before your product arrives on the market. A website should include both a brief and extended description of your mobile product, screenshots, an app promo video, and testimonials.
To promote initial downloads and gain attention, you should also include a mailing list sign-up form that helps build a loyal user base and encourages customers to sign up for a download-alert email that lets them know when your mobile app goes to market.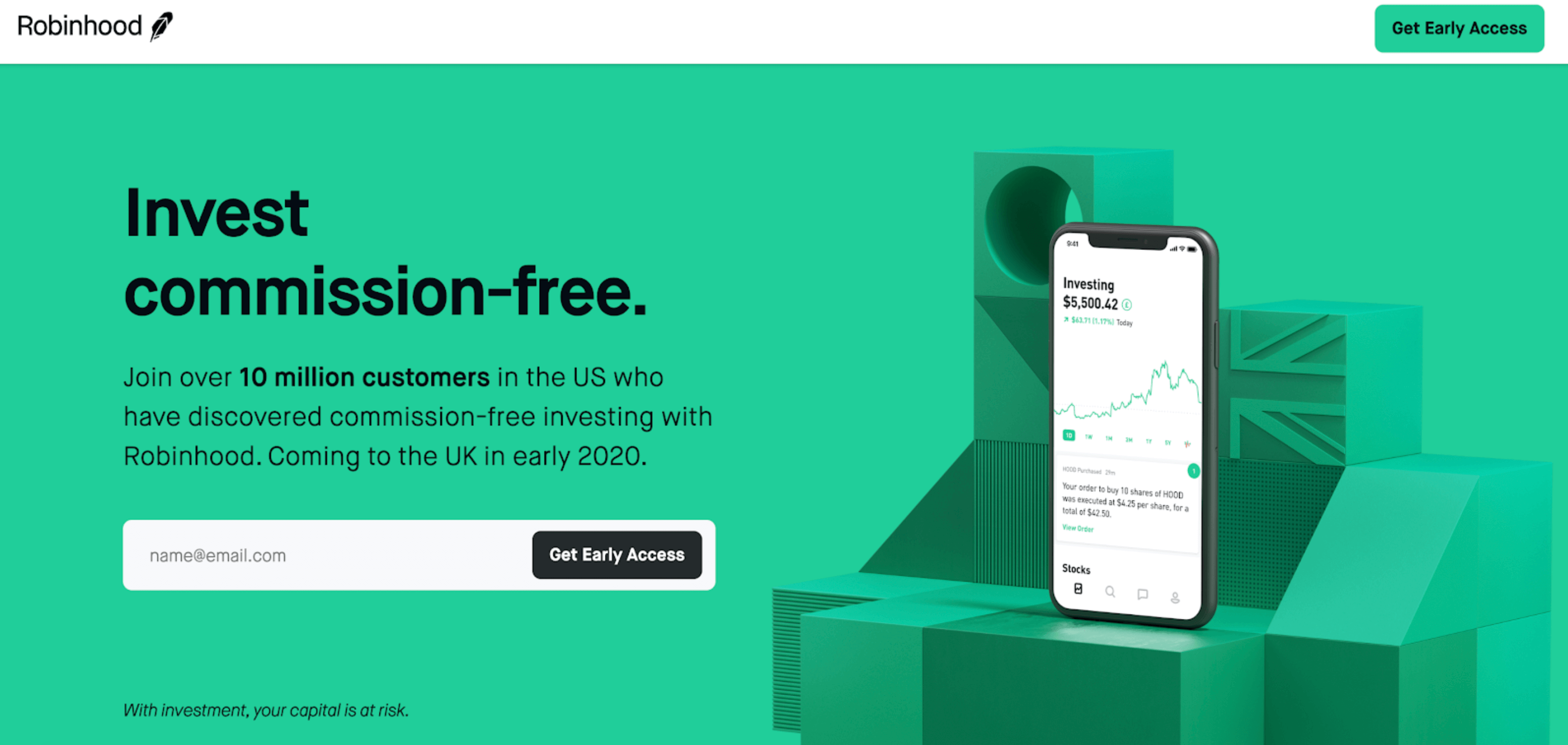 Robinhood app pre-launch landing page
Therefore, the primary goal of your website doesn't boil down to showcasing your application. Instead, capturing enough email subscribers is your ultimate goal since it will help you drive as many initial downloads and reviews as possible in the future.
Moreover, a website offers cost-effective marketing potential, especially if you tap into Google Analytics.
Build your social media presence
Social networks give your company an additional platform to spread the word about your product. This inherently builds up your user base and exposes your brand to a much wider audience. Also, you can claim social media handles early in development to gather feedback about upcoming features or design elements, generate interest, or even gain early sign-ups.
Your social media should also include an impactful bio that makes a good first impression and directs your social media traffic to your website. However, once your application launches, make sure to update your links in the bio to promote downloads on the app store.
Record a promo video
Promotional videos are usually short films that showcase your application in a succinct manner. These are easily digestible mediums that can be shared across marketing channels, including press releases, landing pages, and others. Promos demonstrate the features, advantages, and value of your digital product in a one-minute pitch.
For an example of a great mobile app demo, see the Revolut app demo, which shows how the app works and who it's meant for:
Participate in communities popular among your target audience
The old adage "be where your customers are" should also hold a special place in your app launch checklist. Dedicated spaces on Quora, themed subreddits, Discord channels, LinkedIn groups, and other venues will help you put together your understanding of the target audience and promote the application to receptive prospects.
Research app submission guidelines
An indispensable part of your mobile app launch is actually publishing your product on app stores. To greenlight your application, each app store reviews it for conformity with its guidelines. The App Store Review Guidelines and Google Play Developer Policy are the two main documents to study before submitting your application. Each lists submission criteria, including legal requirements, design standards, and other aspects.
Related: Why Google and Apple May Remove Your App and How to Deal With That? [+Free Pre-Publish Checklist]
Use app store optimization to get discovered
Even the greatest products may flop if they live at the bottom of app store rankings. App store optimization (ASO) will help your application score a top rank in the category, thus getting more downloads and exposure to the target user. Just like traditional SEO practices, ASO thrives on relevant keywords and quality images to rank higher in the app store.
Create a press kit
To make your app release newsworthy, you need to make sure all core information is readily available for media, influencers, and tech scions. A press kit is a set of promotional materials stacked up to highlight all the right differentiators of your product. A press kit may include visuals, contact information, social media links, promo videos, and other information needed to promote your application.
Pitch your app to journalists and bloggers
Media outreach is one of the trusted techniques to help your app gain more traction. Grab your press kit, make it more descriptive with a promo video, and send out your pitches to relevant reporters and bloggers. Keep in mind that your pitch should be hard-news style and include the core specs of your product.
You can also offer the press a free download of your mobile app to let them check out the interface and features of your app. Prowly, Newswire, and JustReachOut are popular media relations tools to find your perfect pitch.
Reach out to your business network
The power of personal and business connections is another trump card to get an extra buzz. You can connect with your business network and ask them to circulate the news about the upcoming release. It can be as simple as sharing your post or tweet on social media.
Develop your paid user acquisition strategy
Free marketing strategies are great, yet paid user acquisition improves your chances of getting more downloads. The most well-known method of paid user acquisition is through targeted ads on Google and social media channels like Facebook or YouTube.
Reach out to influencers or industry thought leaders
Influencer marketing is your shortcut to the target audience and elevated brand exposure. But instead of pitching to every big name on the internet, niche down to influencers, bloggers, or content creators who click with your target audience or industry.
The simplest way to reach your influencer is to connect with them through social media. Keep in mind that a compelling pitch should include a media kit and cover the specifics of your marketing campaign.
Launch an invite-only beta
Before you launch an app to the public, you can publish an exclusive beta launch. A beta version is mainly targeted at creating a sense of exclusivity around your app. It also helps test the application and collect feedback from real-world users so you can fix bugs and UX/UI issues before rolling out your application to all users. Evernote, Pinterest, Instagram, and other industry giants were first released as closed betas.
Tap into affiliate marketing
As an extension of your mobile app marketing strategy, you can recruit bloggers, influencers, and other industry leaders as your affiliates to promote your application on their own channels. An affiliate places a link to your application and earns a commission every time someone clicks on an affiliate's link and downloads your application.
Get early testimonials
The more positive testimonials your application gets, the more credibility it gains. Therefore, favorable public opinion is crucial even before your application sees its target audience. You can use your beta version to collect a few ponderable opinions from influencers, reporters, and industry experts.
Launch
Now, when your app is up and running, it's time to roll it out to the users. However, it's not enough to just release it into the wild and leave it as it is. So, let's also outline the steps you can take post-launch to pump up your first downloads.
Submit your app to the app store(s) of your choice
First things first, you need to publish your product on the app stores. Keep in mind that all guidelines should be attended to; otherwise, your app will be rejected. To stay on the safe side, you can plan your release a few weeks before the official release.
Reconnect with your mailing list
Once the app store greenlights your application, it's time to make a splash. Revisit your mailing list and notify your email subscribers about the app's release. You can include special deals, promo codes, and other incentives to thank your subscribers for their attention and loyalty.
Notify your press list and influencers
Ideally, you have already made some media connections at the pre-launch stage. Now, it's time to stay the course and win reporters and influencers over with an impressive press release so they can generate the story about your launch. Again, you can offer a free download and other goodies as an incentive to cover your release.
Monitor feedback and encourage reviews
Hassle-free releases are as common as unicorns. Therefore, you should track reviews and social signals to introduce bug fixes as soon as possible. Automated feedback tools make it easier to gather feedback and measure satisfaction. You should also encourage your users to leave reviews by offering a discount, free publicity, or an account upgrade.
Monitor app store rank and trends in download growth
An app store rating can either make or break your freshly baked solution. Mobile apps with a rating lower than four stars will typically not be featured on the store since a low rating is an indicator of poor user experience.
An app description, in-app purchases, user retention, and others have a say in ranking the app. So, while your app reaps its first downloads and reviews, focus on ranking factors to maximize exposure and place your app higher on the list.
Release your first update
A regular update cycle is key to keeping your customers satisfied with the user experience. The mileage can vary, yet your app should be regularly updated to keep up with market trends and platform updates. Therefore, release updates as soon as you accumulate enough bugs or crash reports.
Organize and prioritize customer requests
At least some of your reviews will contain suggestions on how to improve your application. Lighthouse users may propose new features or other valuable ideas that you may and should take into consideration. Prioritize suggestions based on their frequency, urgency, and business value.
Formulate a post-release product roadmap
As you can see, the development stage continues even after release. A post-release roadmap highlights new improvements, features, and bug fixes planned for the next release cycles. Release roadmaps usually cover between 3 and 6 months but can also be squeezed into shorter sprints.
Wrapping up
There's a lot that makes your application successful. From requirements gathering to stable infrastructure, each stage of the app lifecycle should be well-contextualized, planned, and mapped. Your application launch also shouldn't be left to chance, as there is a lot of prep work that gives your product a running start.
If you're still wondering how to launch an app, contact us for professional assistance. Let our app developers help your product hit the top charts.