Mobile applications have taken over almost every sphere of our lives. From finance management to e-learning apps, consumers rely heavily on mobile technology as a convenient means of getting all kinds of services on the go.
Global app spending attests to the growing dominance of mobile applications. In the first half of 2022, mobile users spent $65 billion, which is a 1% growth year-over-year. By 2026, global app spending is projected to hit $233 billion. But while some applications settle for less, other apps strike it rich with the consumer.
Today, we'll go over the hot list of top trending apps whose features and market positioning have secured them a warm spot in the hearts of users.
Top 28 Trending Apps in 2022
Below you will find a list of 28 popular mobile applications highlighted in the reports by SensorTower, Data.ai, and other leader matrixes. The insights obtained allowed us to present a breakdown of new trending apps that have gained a foothold in the app market.
Audible
A subsidiary of Amazon, the Audible app is a mobile extension of online audiobook and podcast service. The application allows users to purchase and stream audiobooks and other kinds of spoken word content with A-list celebs interpreting books.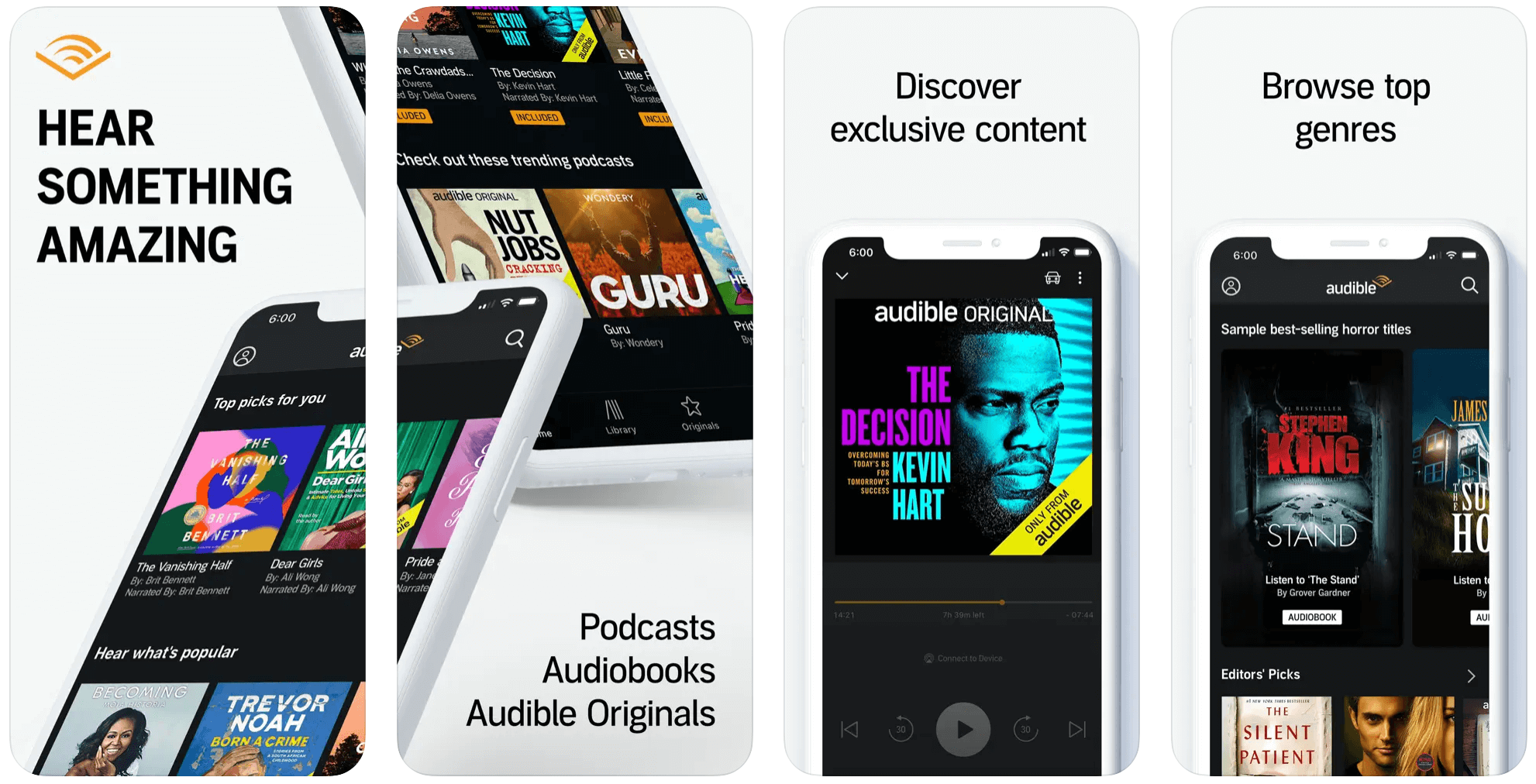 Along with affordable prices, here's what makes Audible a hit among other apps in the category:
Whispersync for Voice, which allows book lovers to switch seamlessly between reading and listening;
Gamified elements (badges) for completing reading goals;
Social media integration for sharing favorite picks.
Available on: App Store, Google Play.
Pricing: plans start at $7.95 per month.
BeReal
A new kid on the block, BeReal is a photo-sharing application launched in 2020 by a former employee of GoPro. Coined a Gen Z's favorite app, it encourages users to share photos once a day to show exactly what they're doing at this very minute. No filters or editing is allowed to make the experience more authentic.
BeReal's signature feature is a dual photo taken simultaneously with a front and back camera. The application also allows updates once a day to avoid the clutter of friends' pictures and mindless scrolls.
BeReal took off in 2022, with 41 million installs coming this year. Its monthly active users have grown 315% in the first quarter of 2022.
Available on: App Store, Google Play.
Pricing: free.
Bumble
A leader among dating applications, the Bumble app allows users to find a potential match by swiping. Unlike other solutions in the niche, Bumble doesn't limit the search by geography and distance. Daters can also add a "virtual dating" badge to their profile to show that they want to date over video calls.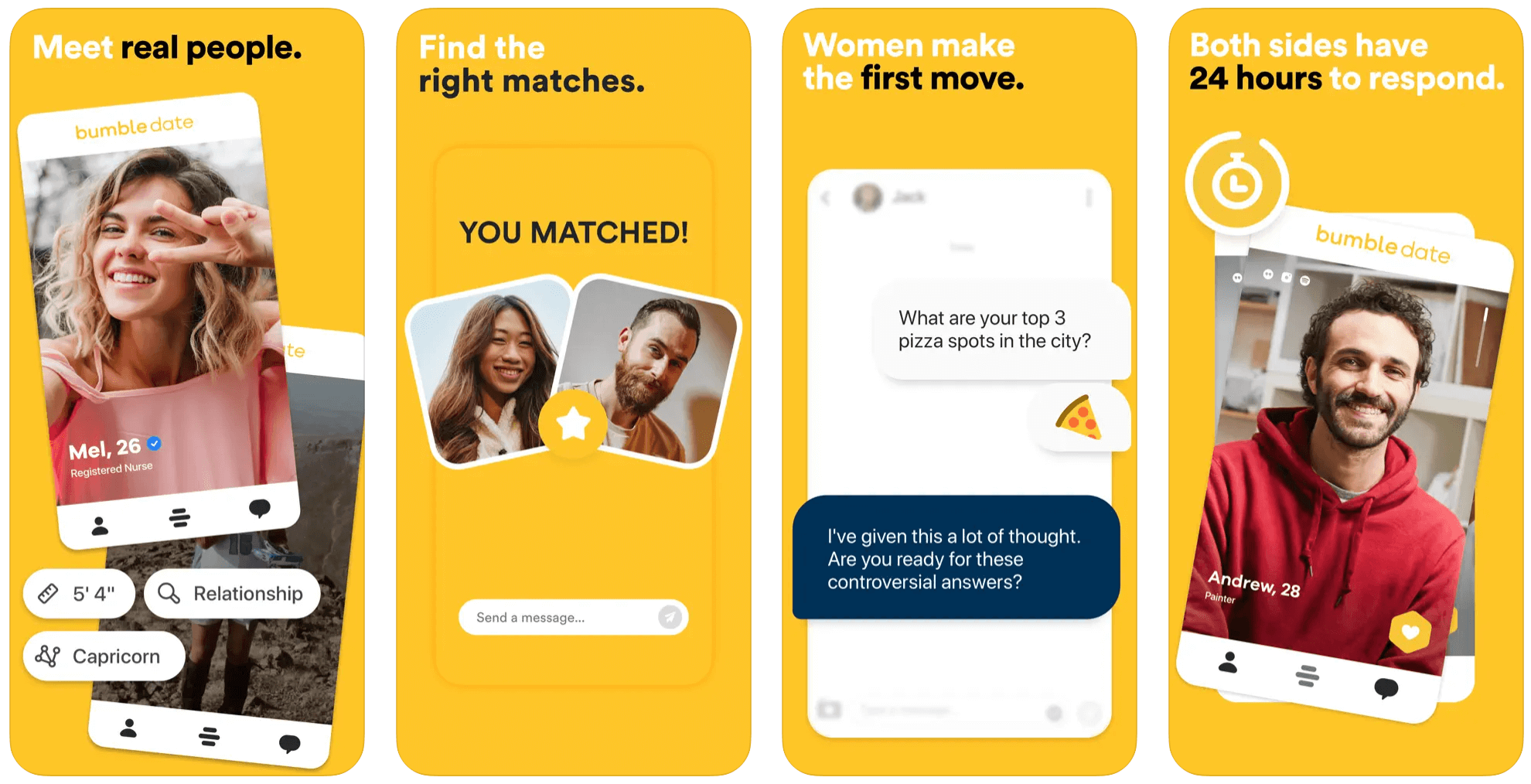 The year 2022 has been successful for Bumble App so far, with revenue growth of 33.2% compared to 2021. The application raked in almost $170 million in the second quarter of 2022.
Here are some differentiating features of this dating application:
Swipes and SuperSwipes to indicate interest in a user;
Advanced filtering to find the right match;
Bumble Profile Badges to show others your non-negotiables (including the newest Reproductive Rights badge);
Night In' feature to play games over one-on-one video chats;
Only women can message first.
Available on: App Store, Google Play.
Pricing: Free, with premium plans available to unlock additional features such as backtracking on swipes and unlimited connections.
CapCut
This Chinese feature-packed video editor app gives users access to advanced editing features, fonts, effects, and everything they need to capture the moment. Formerly known as Viamaker, CapCut shares the same parent company as TikTok; hence TikTok users can both edit and export their CapCut videos directly to TikTok.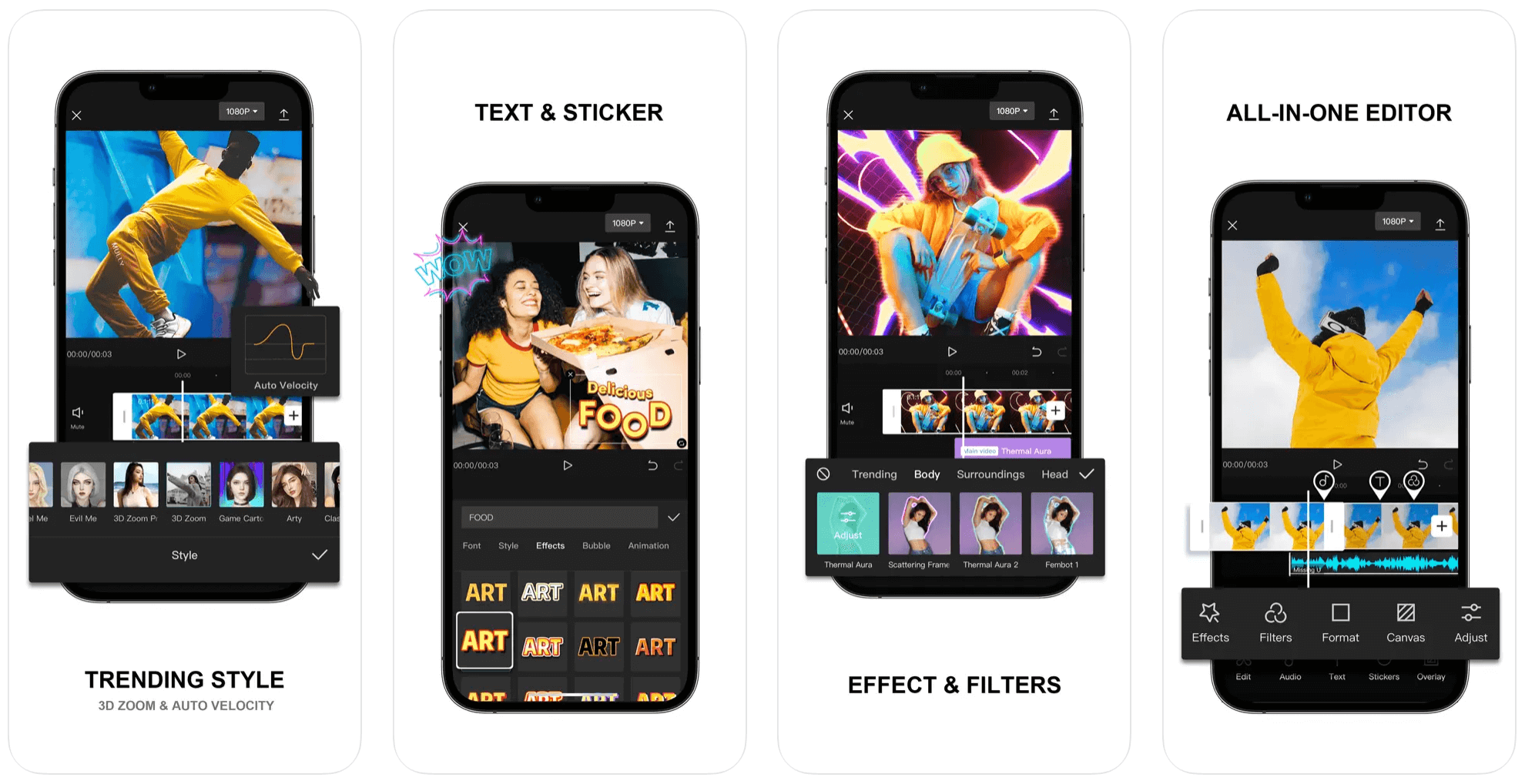 The number of app installs on the App Store surpassed 30 million in the second quarter of 2022, which ranks CapCut second among other trending apps. On Google Play, the app ranked ninth with around 60 million installs.
Available on: App Store, Google Play.
Pricing: free, with additional cloud space available for a one-time, monthly, or annual subscription.
DAZN
A livestreaming sports app, DAZN gives access to an ever-growing archive of on-demand boxing, documentaries, shows, and other sports events. Launched in 2016, the application now covers over 200 countries with a streaming platform initially focused on boxing.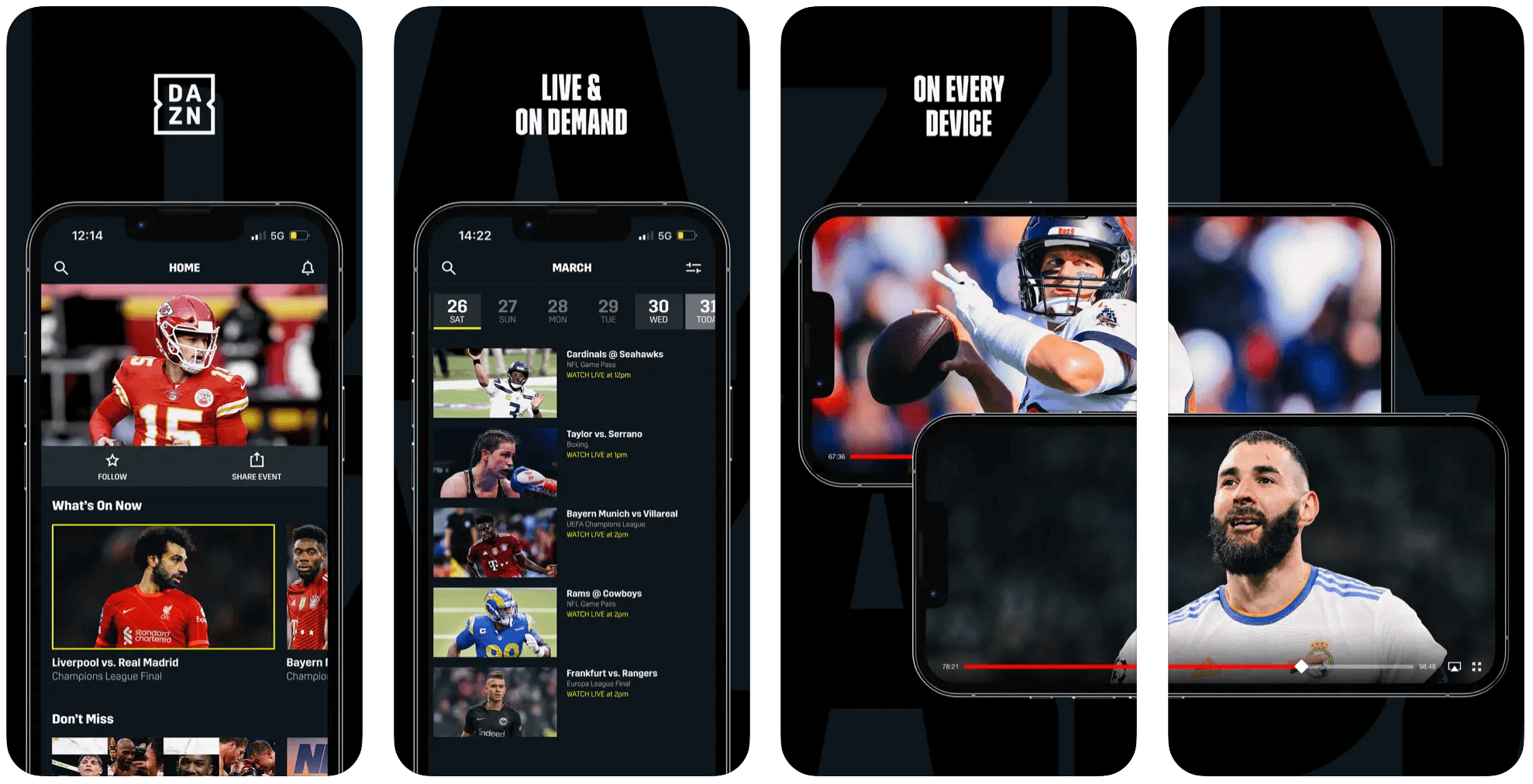 The core features of DAZN include:
Live streaming up to HD;
On-demand video streaming;
Compatibility with connected devices, including Apple TV, gaming consoles, and others;
Simultaneous video streaming on two devices.
Available on: App Store, Google Play.
Pricing: free, price point for in-app purchases varies by market.
Disney+
The streaming haven to Disney, Marvel, and other top publishers, Disney+ is the world-known exclusive streaming platform. The service has gained dominance in the market thanks to its famous owner company and exclusive partnerships.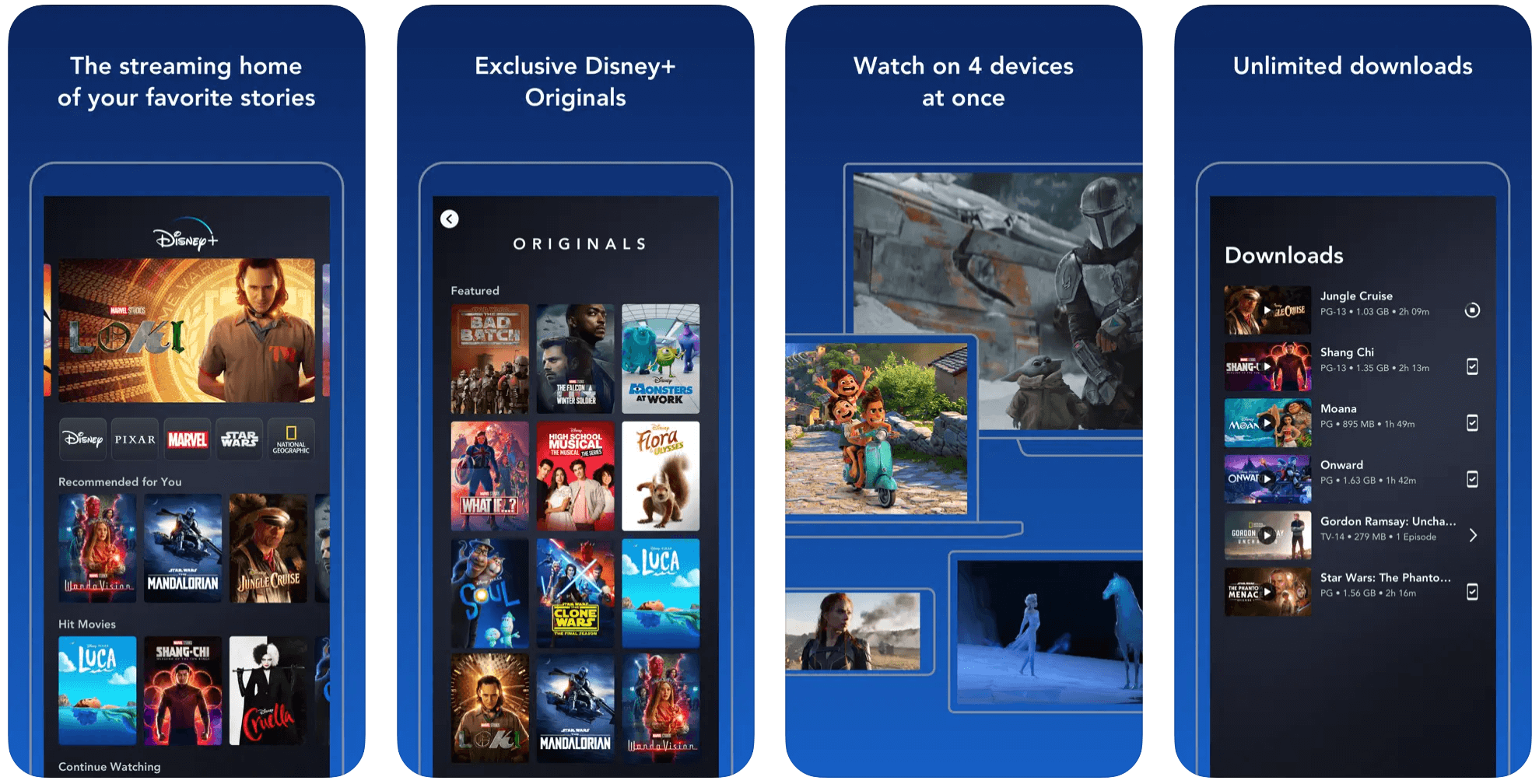 Among the core features of Disney+ are:
Unlimited downloads on up to 10 devices;
Free 4K UHD streaming with Dolby Vision and Dolby Atmos support;
A parental controls system;
Simultaneous streaming on up to 4 screens;
Group watch for virtual viewing parties.
In the third quarter of 2022, Disney Plus added 14.4 million subscribers, with a total number of paid subscriptions soaring to 152 million. In 2021, the number was lower — 116 million paid subscribers.
Available on: App Store, Google Play.
Pricing: Plans start at $7.99 per month.
Google One
As our data needs grow, cloud storage apps like Google One help us take care of our files and important documentation. Google One backs up important phone data using free 15 GB of storage offered with every Google account. The service was launched in 2018 as an alternative to a Google Drive subscription that also includes additional perks.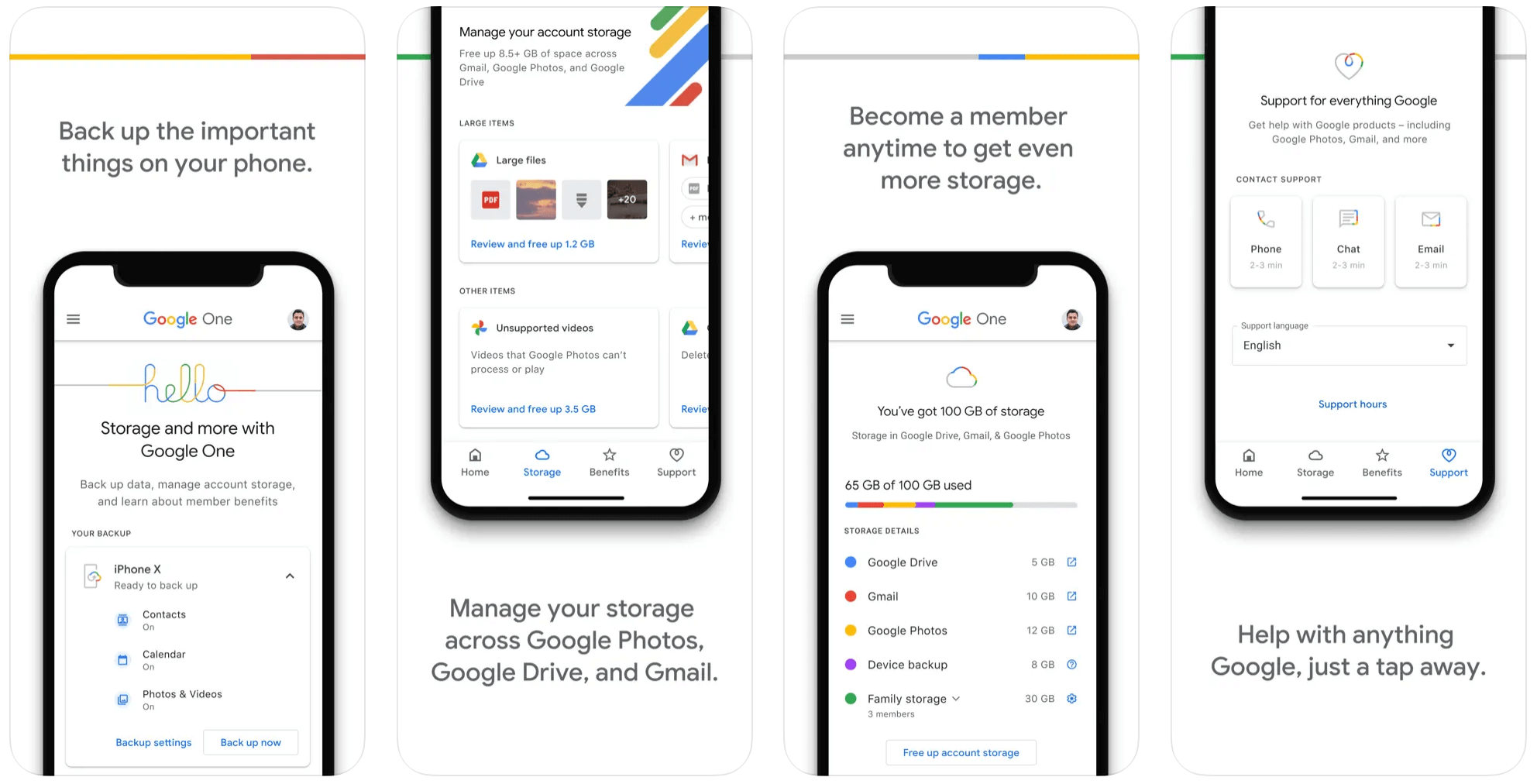 Thus, Google One users can get 24/7 assistance and share their storage allotment with up to five family members. The storage covers Google services, including Gmail, Google Drive, and Google Photos.
In 2021, Google One saw a 123% year-over-year increase, raking in $1 billion in consumer spending.
Available on: App Store, Google Play.
Pricing: paid plans start from $1.99 per month.
HBO Max
A portable addition to the main HBO content, this premium streaming app invites the user into the world of gripping blockbuster movies, popular TV shows, and premieres. The unique selling point of the app is its varied content library that combines classic HBO shows with a trove of popular WarnerBros-made movies and Max Originals.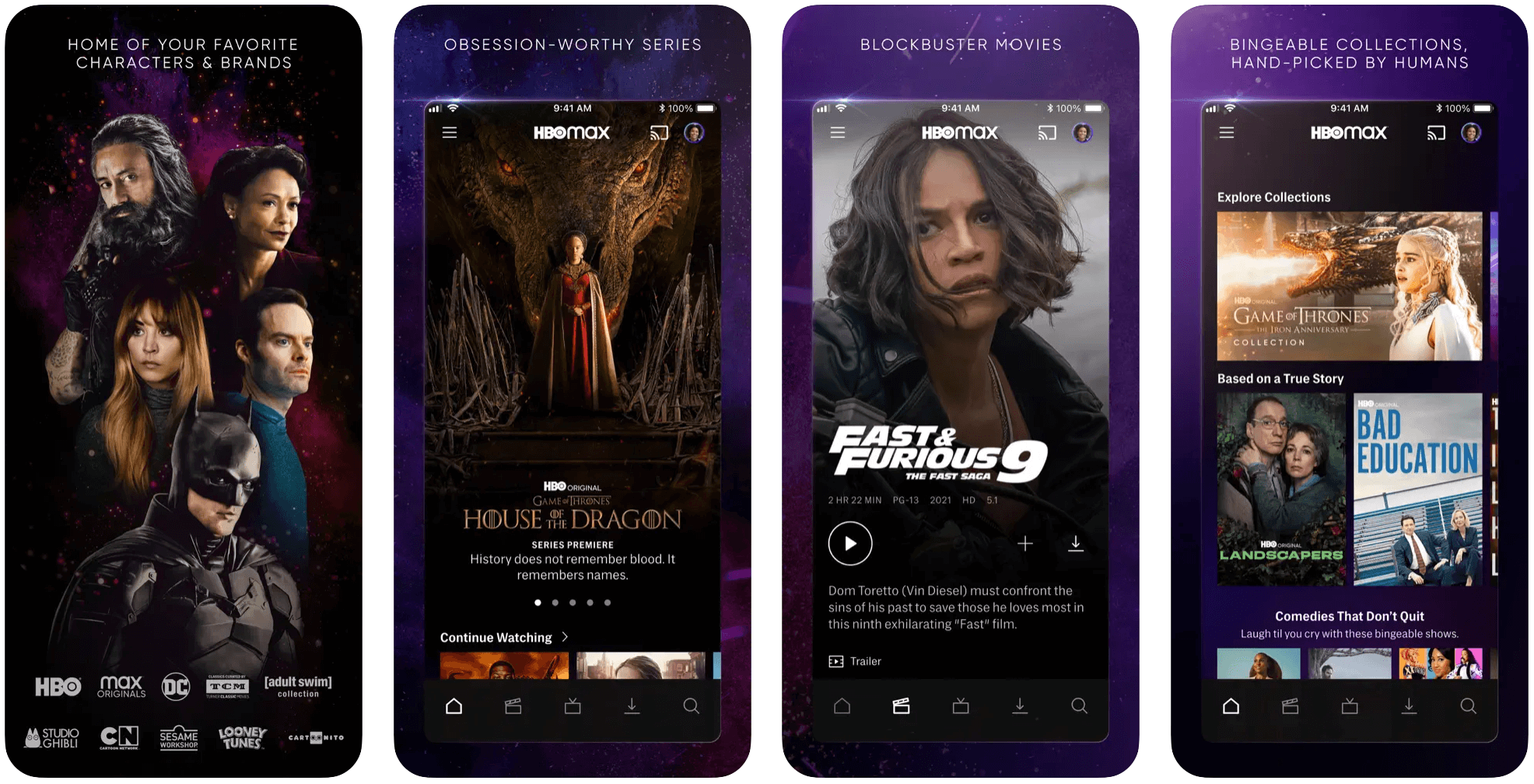 The mix of core features is similar to other competing streaming services:
The lineup of on-demand movies;
Paid HD streaming;
Advanced sorting by type, genre, and others;
Offline downloads, playback;
Accessibility and parental control.
As a leading player in the market, the company reported an increase in the number of global direct-to-consumer subscribers across HBO, HBO Max, and Discovery+, thanks to the ad-supported tier. Thus, the total number of subscribers equaled 92.1 million in the second quarter of 2022.
Available on: App Store, Google Play.
Pricing: ad-free plan for $14.99 per month and an ad-friendly plan for $9.99 per month.
Hotstar
Also known as Disney+ Hotstar, this video-on-demand service operates in Central and Southeast Asia as well as targets overseas Indians in other regions. Being the largest streaming service in India, Hotstar's content library draws from Star India's television networks and mainly revolves around Indian sports, movies, and shows.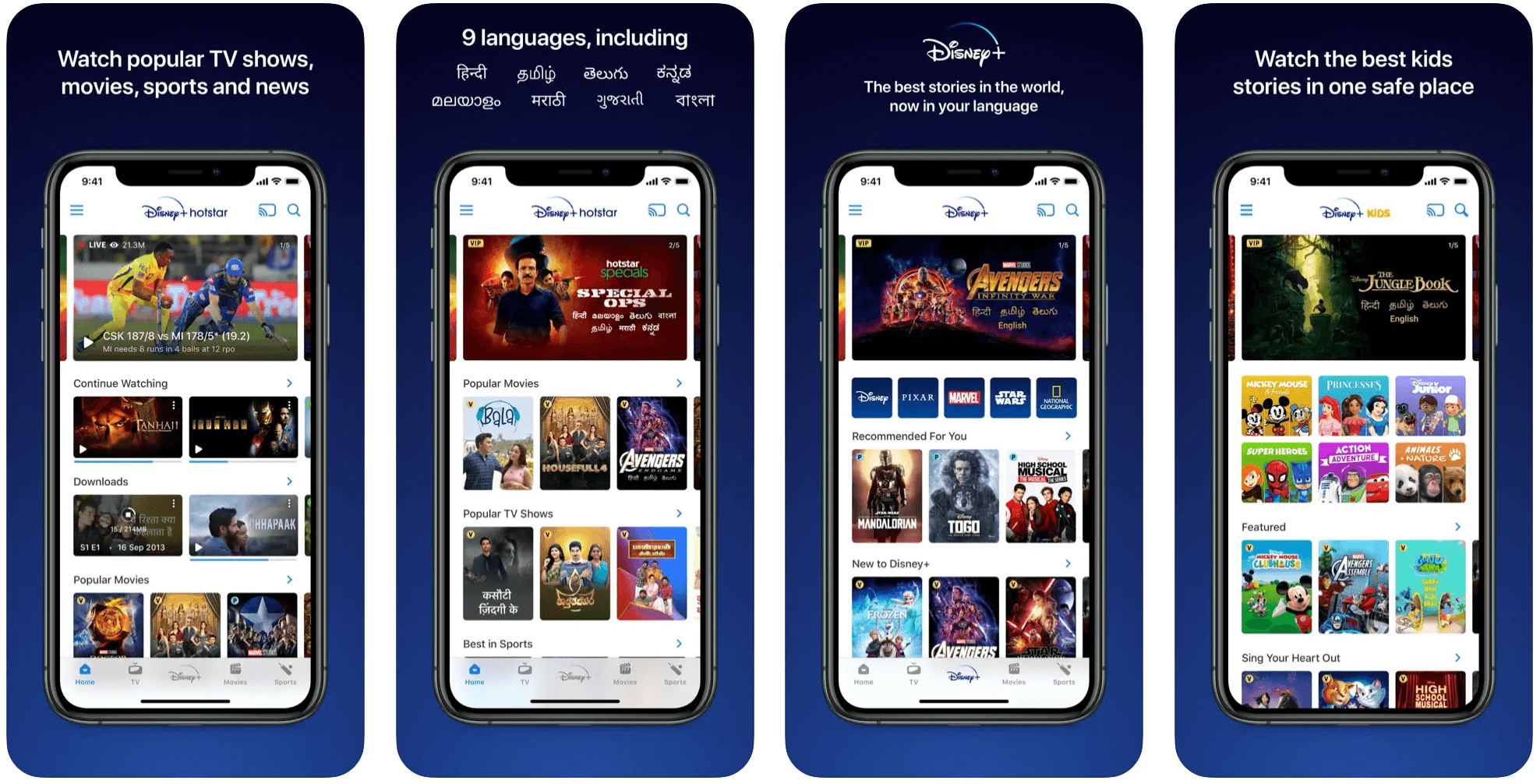 The core features resonate with other streaming apps and include simultaneous streaming, multi-platform compatibility, playback, and others.
Despite the loss of streaming rights to Indian Premiere League cricket, the app's subscription base swole to 58.4 million subscribers in July 2022 compared to 44.9 million in 2021.
Available on: App Store, Google Play.
Pricing: paid plans start at $2.16 (or 299 Rs) per month.
Instagram
This Meta-owned photo and video sharing app has come a long way since 2010. Once a 1:1 photo posting app, Instagram is now a full-fledged social networking service with a rich feature set of social, business, and creator tools.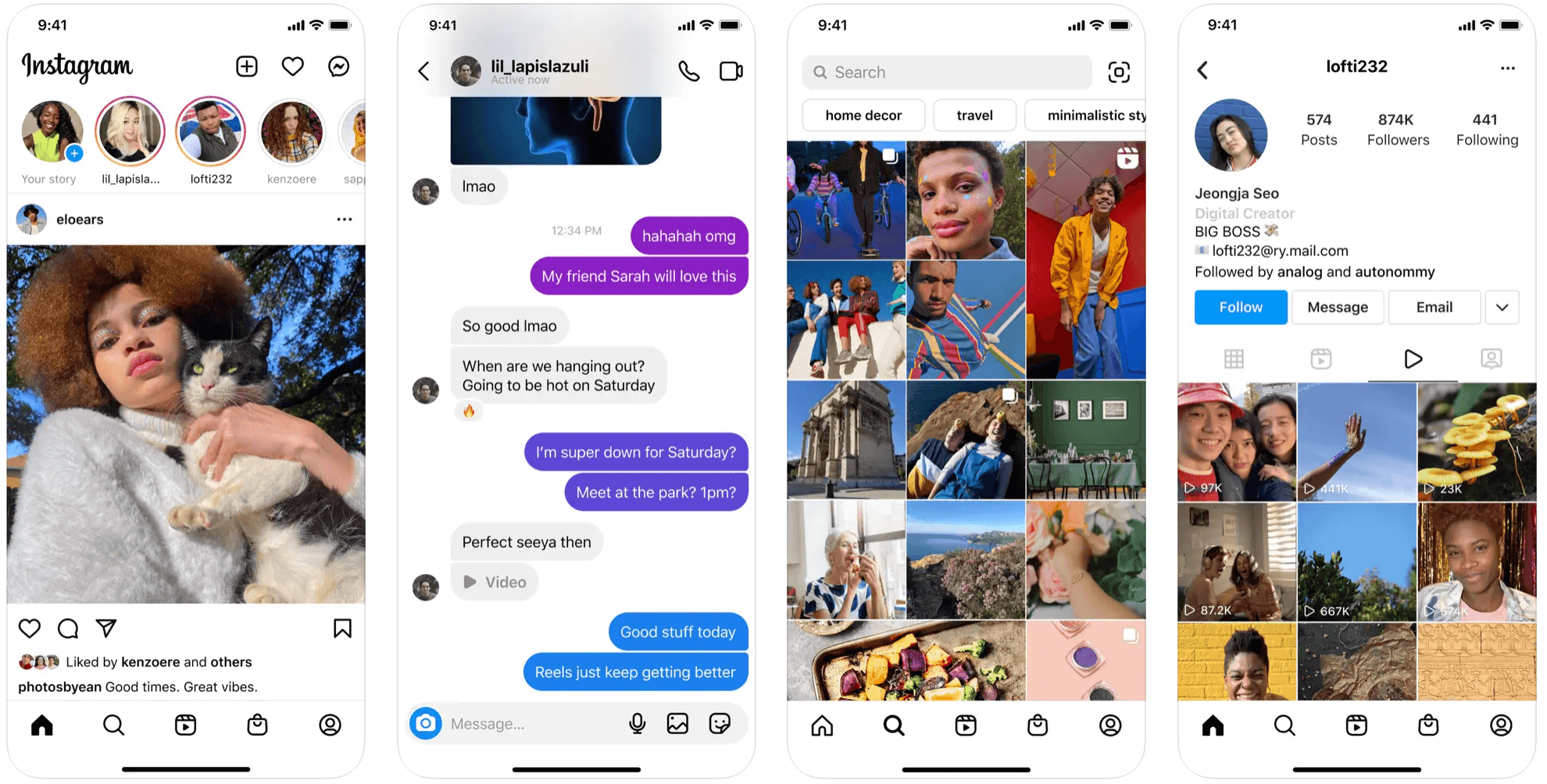 The toolset of Instagram is impressive and includes trendsetting features:
Reels, Stories, Highlights, and Boomerangs;
AR filters and effects;
Live streaming and Instagram video;
Instant messaging with vanish mode;
Emojis, stickers, quizzes, and others.
Each year, Instagram rolls out new features to match evolving user needs and make content more interactive. Since 2021, the platform has been headed towards mobile-first video content and four key areas, including Creators, Video, Shopping, and Messaging. The shift towards video-first content has paid off, with over $1 billion annual revenue run rate for ads on Reels in Q2 2022.
Moreover, Meta revealed its plans to introduce non-fungible tokens (NFTs) to the platform in the near term.
Available on: App Store, Google Play.
Pricing: free.
iQIYI
The Chinese counterpart of Netflix, iQIYI is a massively popular Chinese streaming service that offers the best and latest Asian drama, anime, shows, and other must-sees. The application is branded to be a user-friendly service with offline viewing, immersive viewing experience, cross-platform support, and subtitles.

Due to the cutthroat competition and dominance of Tencent and Alibaba, the service has had a hard time staying in the black. Since its 2018 debut, iQIYI has lost about 70% of its market value yet gained its first quarterly profit of over $169 million in 2022, thanks to a bigger focus on profitability.
Available on: App Store, Google Play.
Pricing: plans start from $5.99 per month.
LINE
An Asian communication app, the LINE app, stepped on the scene in 2011. Owned by LINE Corp, It aims to go beyond basic messengers to offer stickers, social games, video calling, and a wide array of value-added apps that integrate with the communication services. Launched as a messenger, LINE has also turned into an ecosystem of apps that includes everything from news and social feeds to banking services.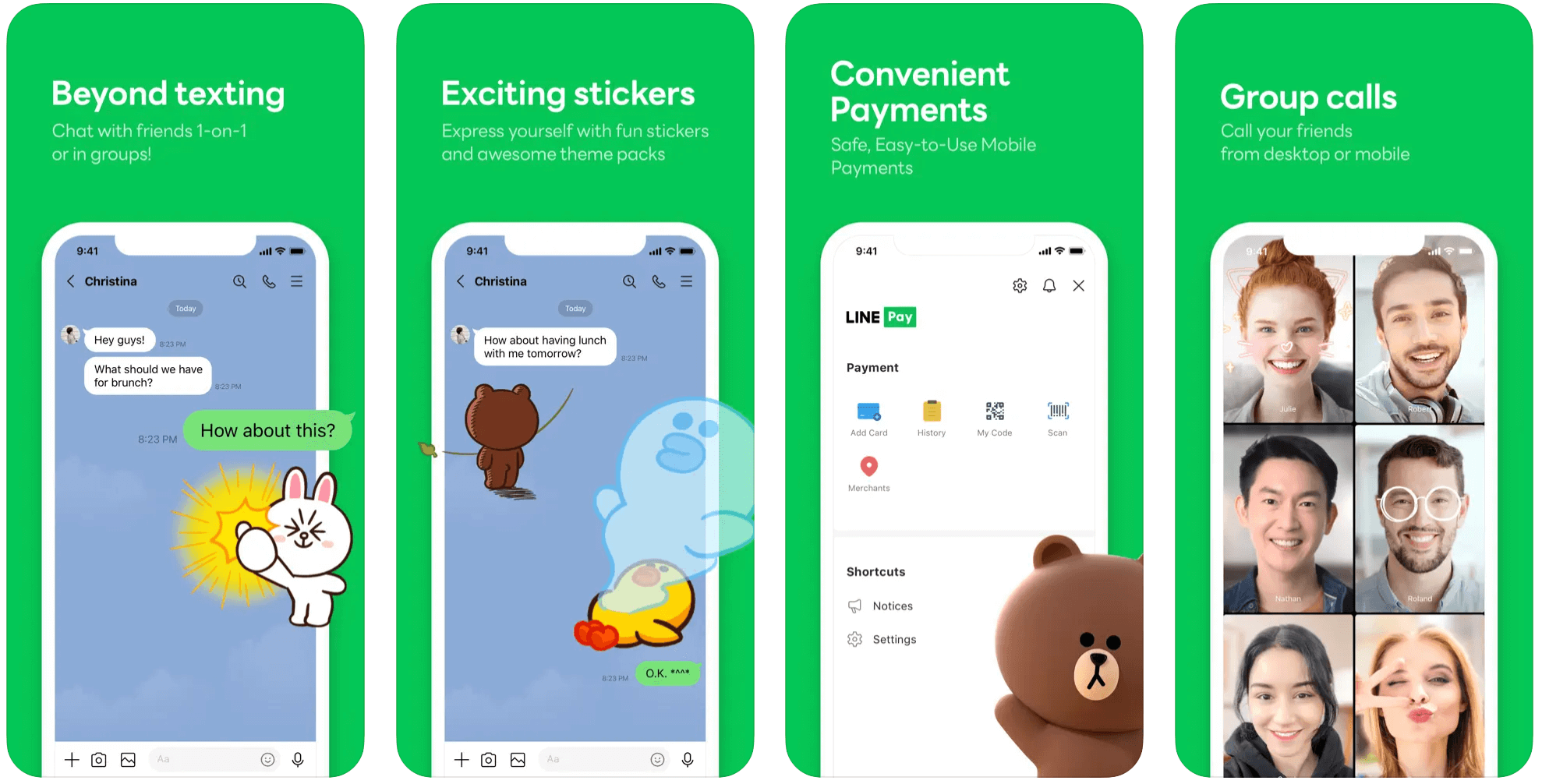 LINE has evolved into a leading communication app with 89 million monthly active users. Moreover, over 70% of Japan's entire population uses LINE.
Available on: App Store, Google Play.
Pricing: free.
LinkedIn
A mecca for all job seekers and professionals, LinkedIn is a business social network where users can find new job opportunities and grow their network. LinkedIn boasts a diverse set of features similar to traditional social networks yet is more focused on professional connections.
In 2022, LinkedIn introduced new updates to improve accessibility, enhance user service listings, and support creators, including real-time captions for live audio events, carousels, lead generation forms, creator analytics, learning pathfinder, and others. The platform has also rolled out newsletters to company pages with 150+ followers.
In 2022, LinkedIn saw record engagement among over 850 million members, which led to a revenue increase of 26% year-over-year.
Available on: App Store, Google Play.
Pricing: free, with multiple premium subscription plans.
LiveIn
A new trending app, LiveIn, hit the scene in February 2022, aiming to reinvent the social networking wheel. The app allows users to send image-based content (photos or drawings) directly to their contacts' home screen via a widget. Beyond the sharing feature, LiveIn also allows users to make new friends via the WORLD tab, like/comment on them, and follow anyone who interests them.
Shortly after its launch, the application took off quickly, partly thanks to viral TikTok videos demonstrating the app. In April 2022, the app topped the App Store and reached around 4 million monthly active users.
Available on: App Store, Google Play.
Pricing: free.
Meesho
Meesho App enables anyone to start their online business by reselling items for an open profit fee and by earning weekly bonuses. The platform also caters to small businesses that list their products for reselling. The application is a collection of catalogs with various items sold at a wholesale price.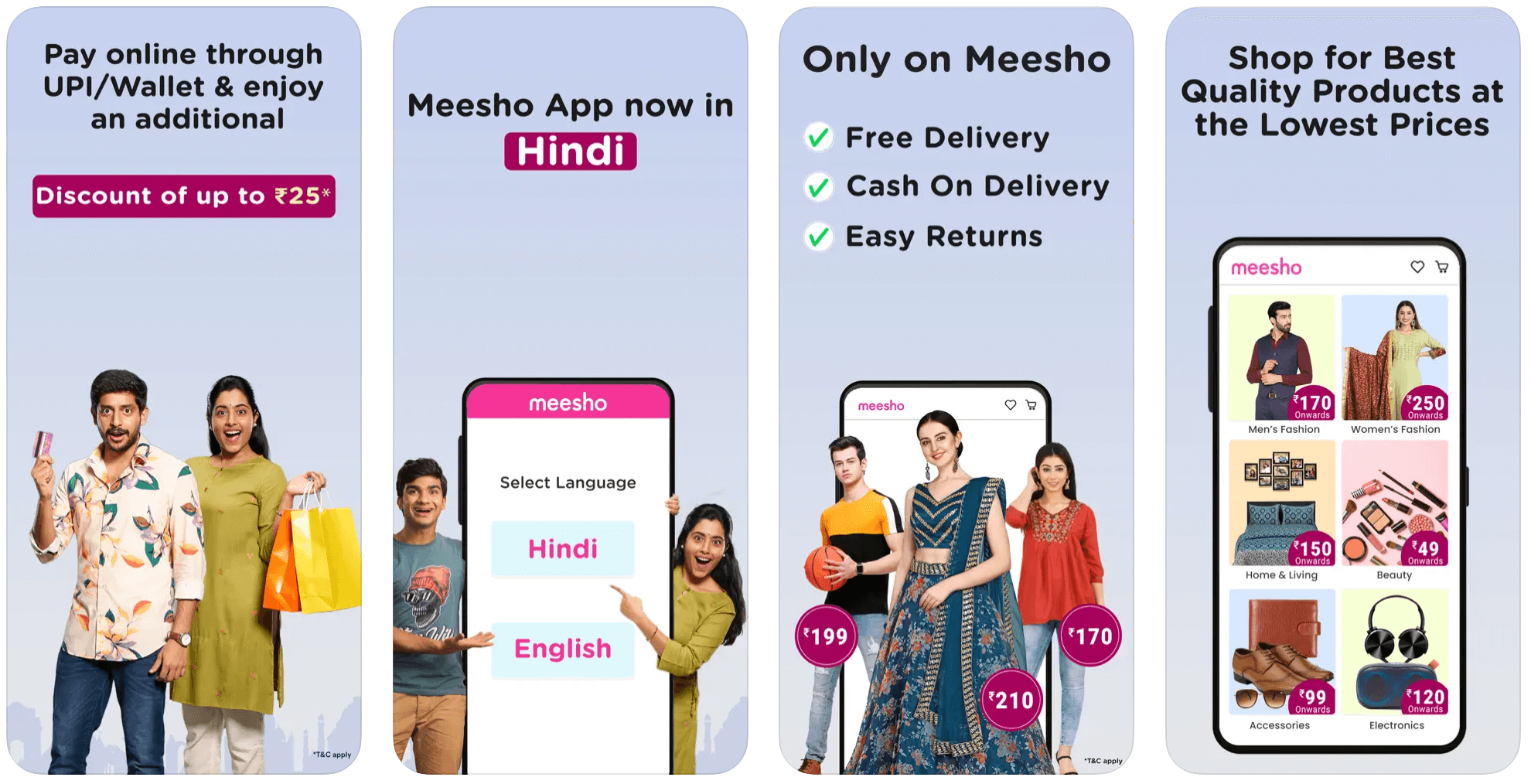 Users share images and descriptions of these products with their contacts via Whatsapp, Instagram, or any other social media and determine the reselling price for the product. Resellers then place the orders directly on the app, while Meesho handles the delivery.
In 2022, the application was revamped into an integrated solution where users can switch between the buyer and seller interfaces with a single click. The Meesho app now also offers advanced e-commerce features such as order processing and payment tracking that used to be on desktop only.
In March 2020, the application had 563 thousand users and 3.1 million orders. By the end of 2022, the service plans to reach 100 million users.
Available on: App Store, Google Play.
Pricing: free.
Netflix
A pioneer of video streaming, the Netflix app delivers a wide variety of top-selling TV shows, movies, and others directly into viewers' smartphones.
The Netflix app offers a whole range of the latest streaming features, including 3D surround sound format, HD quality, offline watching, and others. Netflix is an advocate of an AI-enabled experience and widely employs intelligence to personalize recommendations, create teasers, and offer playback and other features.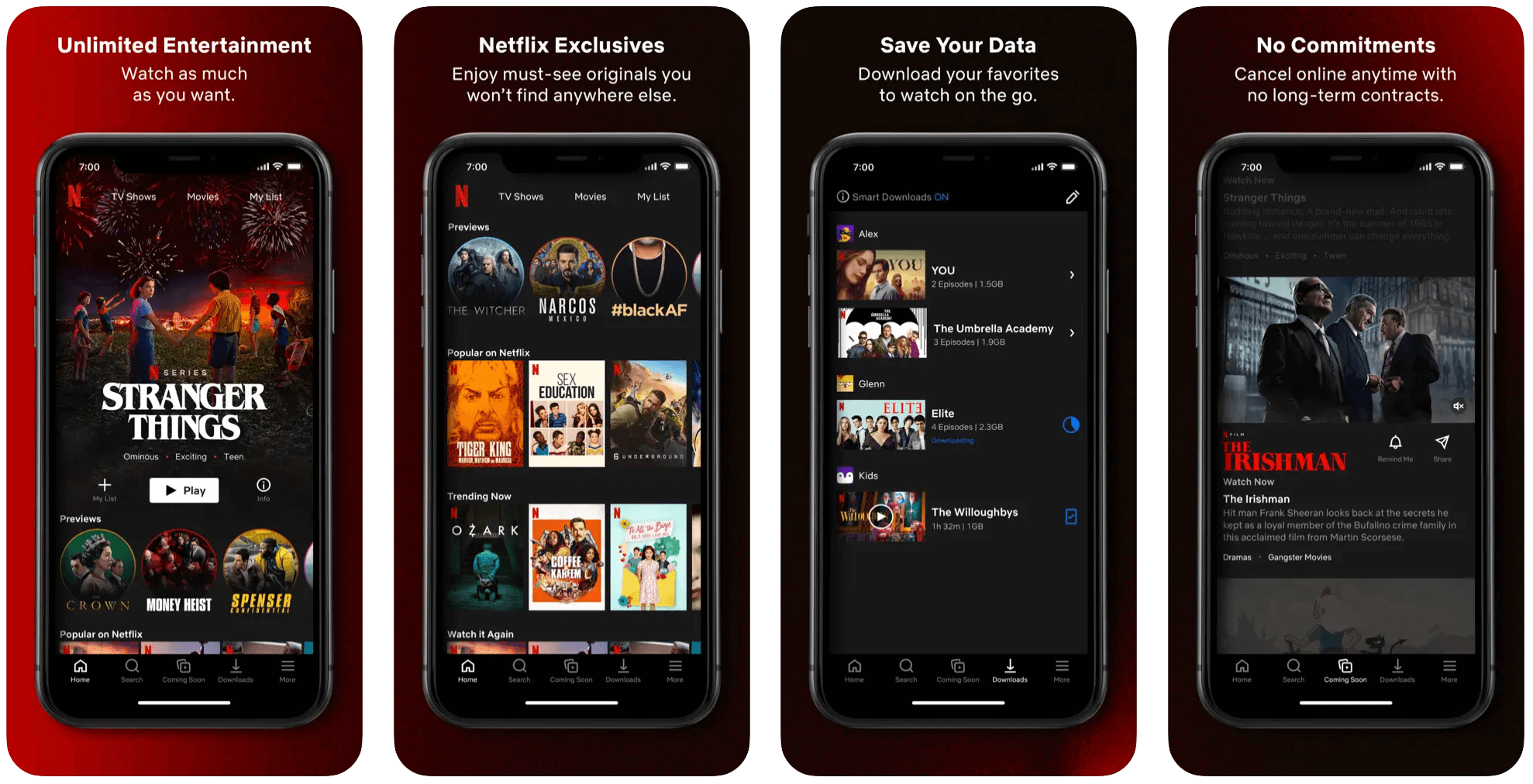 The resounding success of the app is an accumulation of various factors, including the binge-watching trend Netflix started, unmatched personalization, and partnerships with top content creators and distributors. Today, Netflix has 221 million paid memberships in over 190 countries with $7.97 million of quarterly revenue.
Available on: App Store, Google Play.
Pricing: paid subscription.
Pandora
If you're looking for a personalized listening experience, the Pandora app is a radio-like streaming application that combines the best of AM/FM and on-demand music streaming. As a radio service, the app enables each user to create a radio station based on an artist they enjoy. Once a user creates a radio station, Pandora selects songs and artists that resonate with that artist.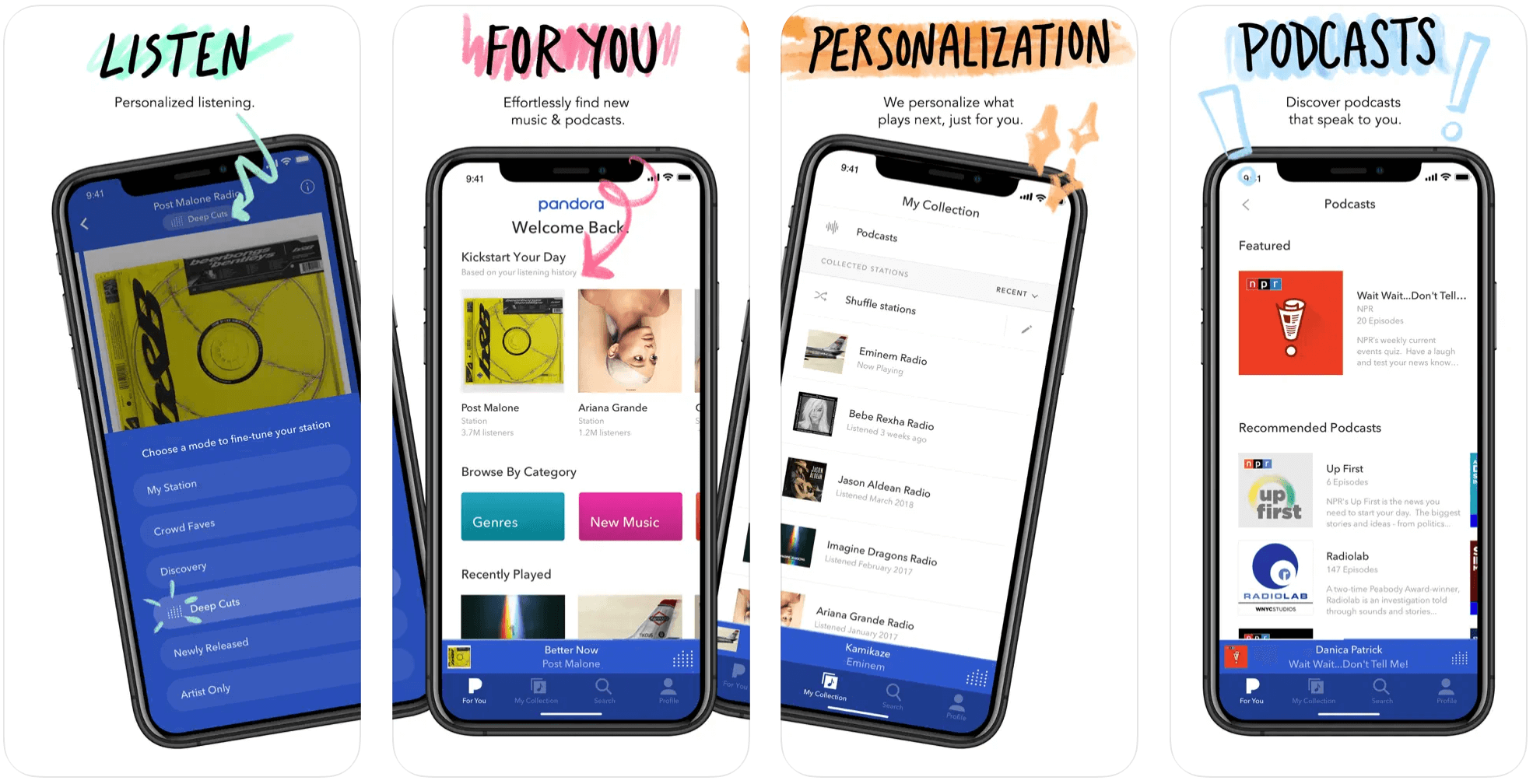 Besides music, Pandora also offers podcast and comedy listening experience, a digital audio advertising platform, and 2000+ integrations with other products such as Sirius XM content and Waze.
In 2021, Pandora had approximately 6.4 million subscribers. The total app revenue was $2.07 million in 2021, against $1.69 million in 2020.
Available on: App Store, Google Play.
Pricing: ad-supported radio tier and in two ad-free paid versions — Pandora Plus for $4.99/per month and Pandora Premium for $9.99 per month.
Piccoma
Piccoma is a Japanese webtoon manga service geared towards a mobile-first community of comic lovers. Launched in 2016, the application has made big inroads in Japan by pioneering widely-known systems such as the 'Wait, it's free' model, story sales, and full-color vertical scrolling. The application offers around 70,000 titles of manga, SMARTOON, novels, and audio.
In 2021, the application surpassed $1 billion in consumer spend and scored a 9.5 million monthly readership. The company now stands at the helm of the world's comic kingdom, with quarterly revenue of over $87 million in 2022.
Available on: App Store, Google Play.
Pricing: users are offered a few episodes in advance, which they can watch for a fee of 18 to 26 cents per episode or wait a week for the episode to be offered for free.
PictureThis
For those invigorated by nature, PictureThis offers an intelligent way to identify plants and flowers. The application allows users to take a picture of flora and submit it for classification by an AI-based image recognition algorithm.
Users can look into 17,000 local and 400,000 global species, including toxic plant identification and detailed plant care guides. They can also learn facts, care tips, diagnoses, typical pests, and treatments for plants, trees, and other flora. As an exclusive offering, subscribers can also request a professional consultation to get gardening advice.
Available on: App Store, Google Play.
Pricing: free, with paid plans starting from $2.99.
SHEIN
An ecommerce application, Shein is an on-the-go version of a Chinese online fast fashion retailer. The application has every feature a reputable shopping service has, including advanced catalog search, payment gateway, shopping cart, online live events, and others. Since Shein controls the entire production chain, the application can churn out hundreds of new items daily.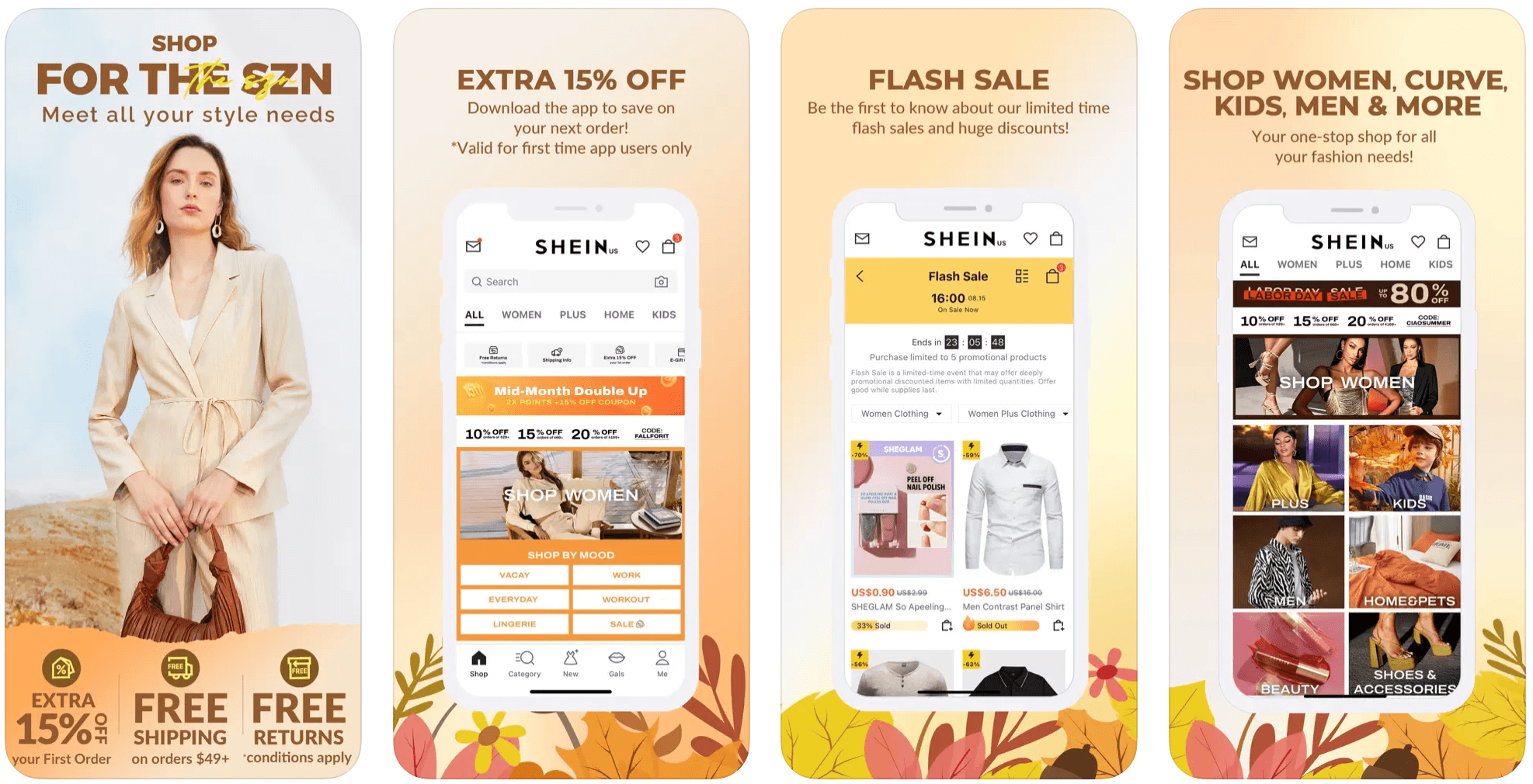 To win over shoppers, Shein combines influencer programs with serious social media advertising. To date, the application has reached 229.4 million downloads. In 2022, Shein saw around 6.8 million quarterly downloads, up 13% quarter-over-quarter, which allowed it to outperform Amazon.
Available on: App Store, Google Play.
Pricing: free.
Shopee
Shopee is the top ecommerce platform in Southeast Asia and Taiwan. This shopping giant was launched in 2015 and worked its way up to become one of the core market players. The service has gained popularity thanks to a wide range of innovations, including the star-studded 9.9 Super Shopping Day, Shopee's mobile wallet, Shopee BeautyCam, and branding initiatives.
Its live entertainment feature, Shopee Live, is among other pillars of the application and accounts for over a 200% uplift in time spent on the platform year-on-year in 2021.
The Shopee Feed adds a social element and allows users to share their purchasing experience with friends and the community. In 2022, the company plans to rely more on AI for more personalized live stream content and introduce sample-sized products.
In 2022, Shopee recorded $1.7 billion in quarterly revenue, toppling Alibaba Group.
Available on: App Store, and Google Play for the Asian market.
Pricing: free.
Snapchat
Hailed as the Gen Z darling, Snapchat is about to snatch a place among the top apps trending in the social network category with a projected 493.7 million users in 2022. The application was launched in 2011 as a mobile messaging application for sharing photos, videos, text, and drawings.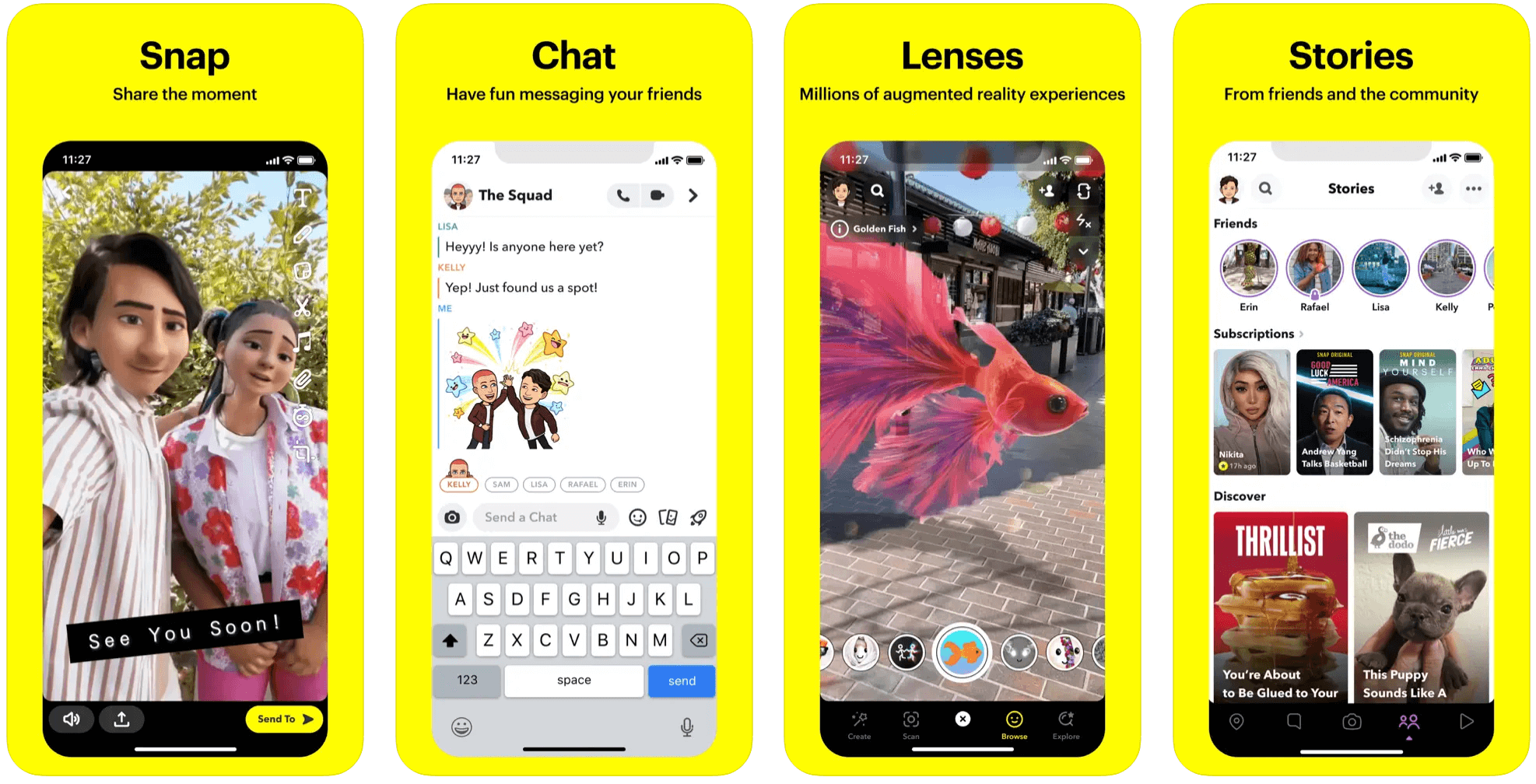 Users can also add filters, draw their own images, and use geofilters and other nifty features. One of the differentiating app features is the ability to video-chat similar to the Skype app. Other fundamental features of Snapchat include:
'Self-destructing' messages with varying time settings;
Snapchat Lenses for adding fun real-time special effects and sounds;
Snapchat Memories for uploading saved Snaps from the device;
Snapchat Discover and Live Stories;
AR-based Snapchat games.
In June 2022, Snapchat also introduced paid subscription plan, Snapchat+, which offers 11 exclusive features. Its launch has already reeled in millions of users and at least $7.3 million in in-app revenue.
Available on: App Store, Google Play.
Pricing: free, with paid subscription for $3.99 per month.
Spotify
Another streaming giant, Spotify, is a music and podcast streaming application with smart algorithms for granular recommendations. Along with easy music discovery, playlist curation, and friend's playlist following, users can also download playlists, listen to video podcasts, take part in Q&As and polls, share playlists called Blend, and voice-control their in-app experience Hey Spotify.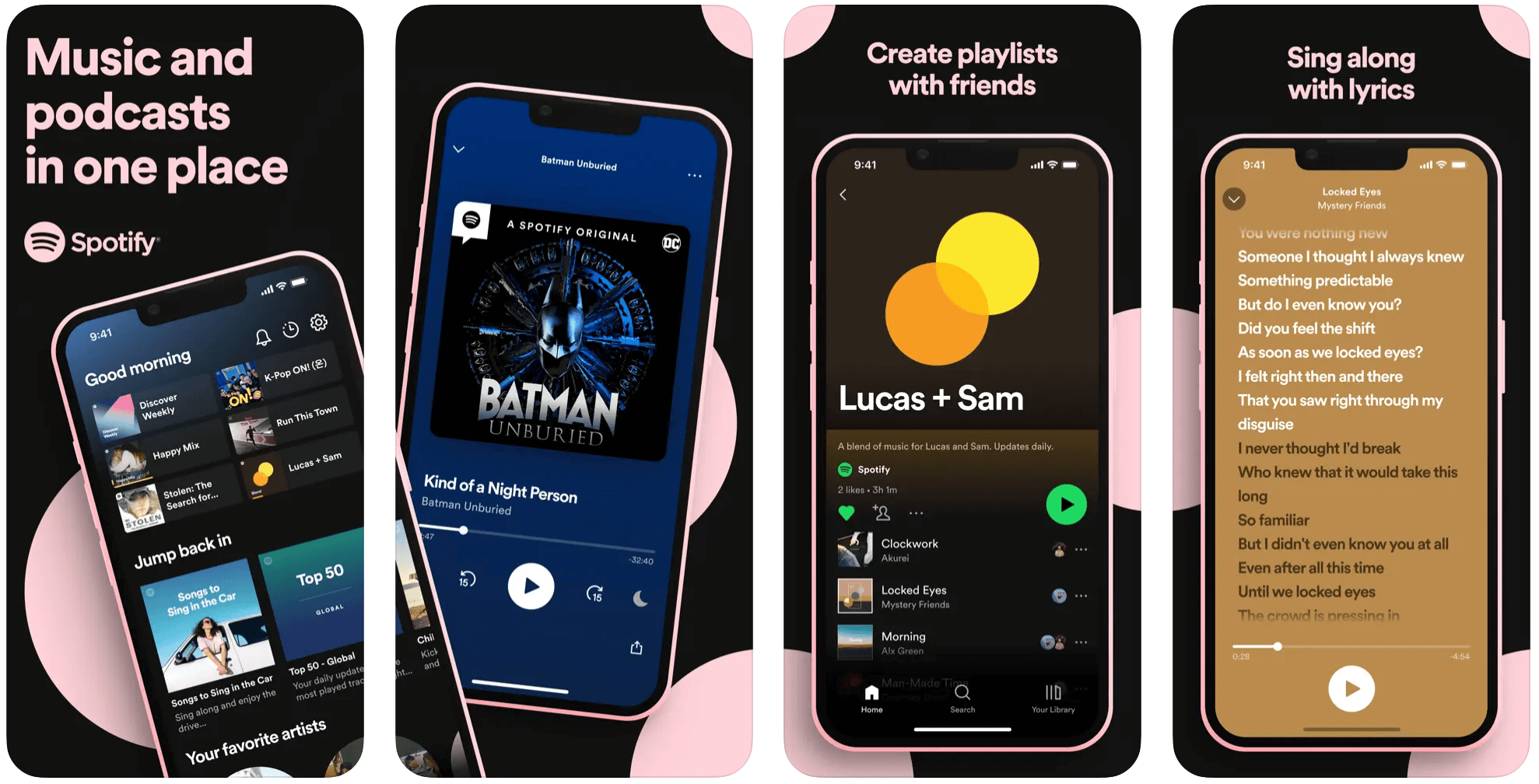 In 2022, the service keeps experimenting with new features, releasing beta in-app audio creation for creating reactions and Karaoke mode.
Thanks to a wide variety of features, Spotify continues to expand its reach with 433 million monthly active users in Q2 2022, compared with 365 million in Q2 2021.
Available on: App Store, Google Play.
Pricing: free, with a paid subscription starting from $9.99 per month.
Sweatcoin
Following the walk-to-earn model, Sweatcoin is a history-making fitness app that rewards users for completing their daily activity goals with in-app currency and rewards. Users can then spend their rewards on branded products, donate to charity or convert them into SWEAT tokens.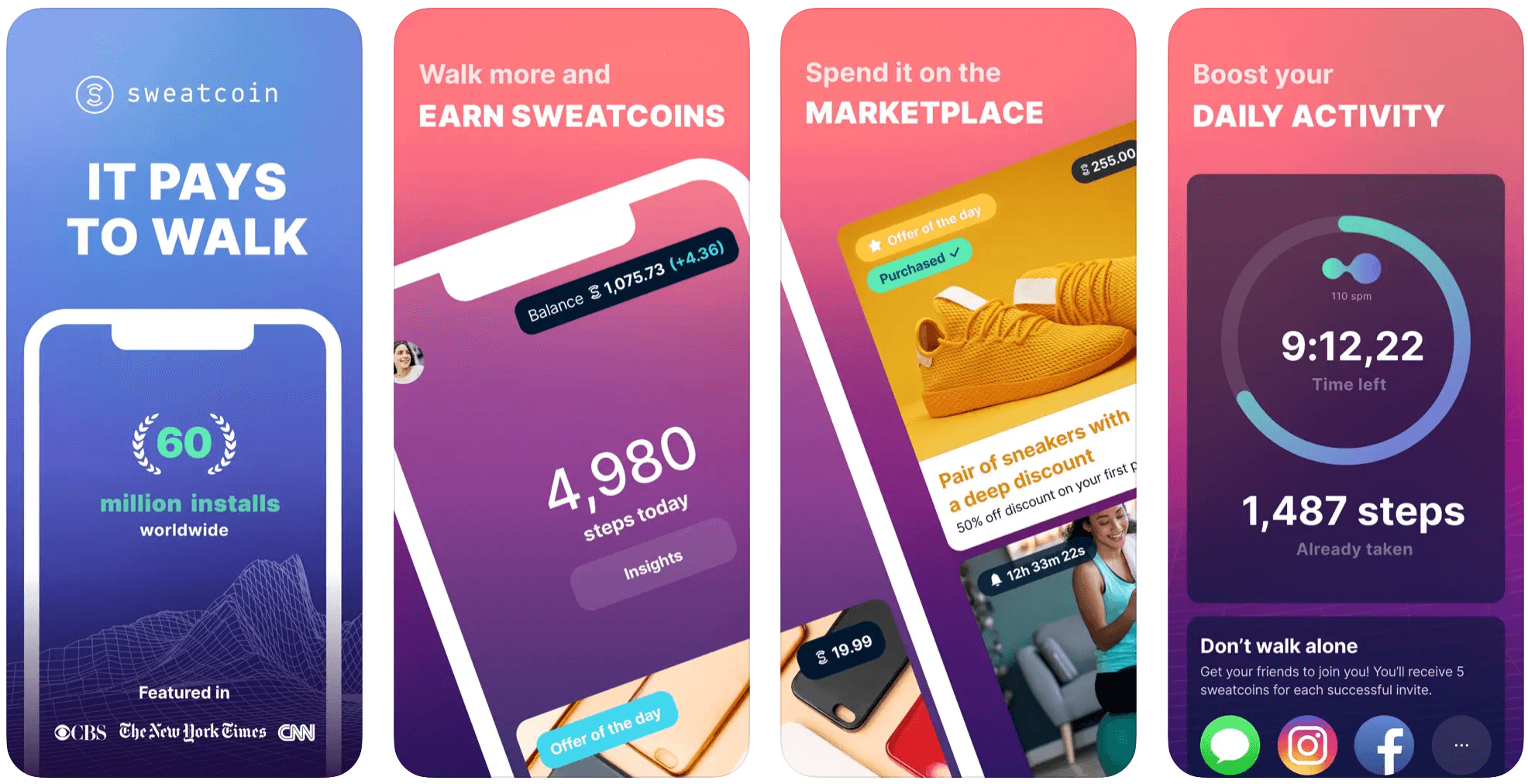 Thanks to 600+ partnerships, Sweatcoin offers trailblazing incentives for healthier living with the potential of becoming a prevention tool for sustained behavior change.
Since its 2015 launch, the application has welcomed over 100 million registered users.
Available on: App Store, Google Play.
Pricing: free.
Tencent Video
A Chinese juggernaut, Tencent Video is a leading video-streaming platform in the Chinese market owned by the Tencent company. A massive user base from other Tencent-owned platforms (WeChat, Qzone, and others) has given Tencent Video a head start.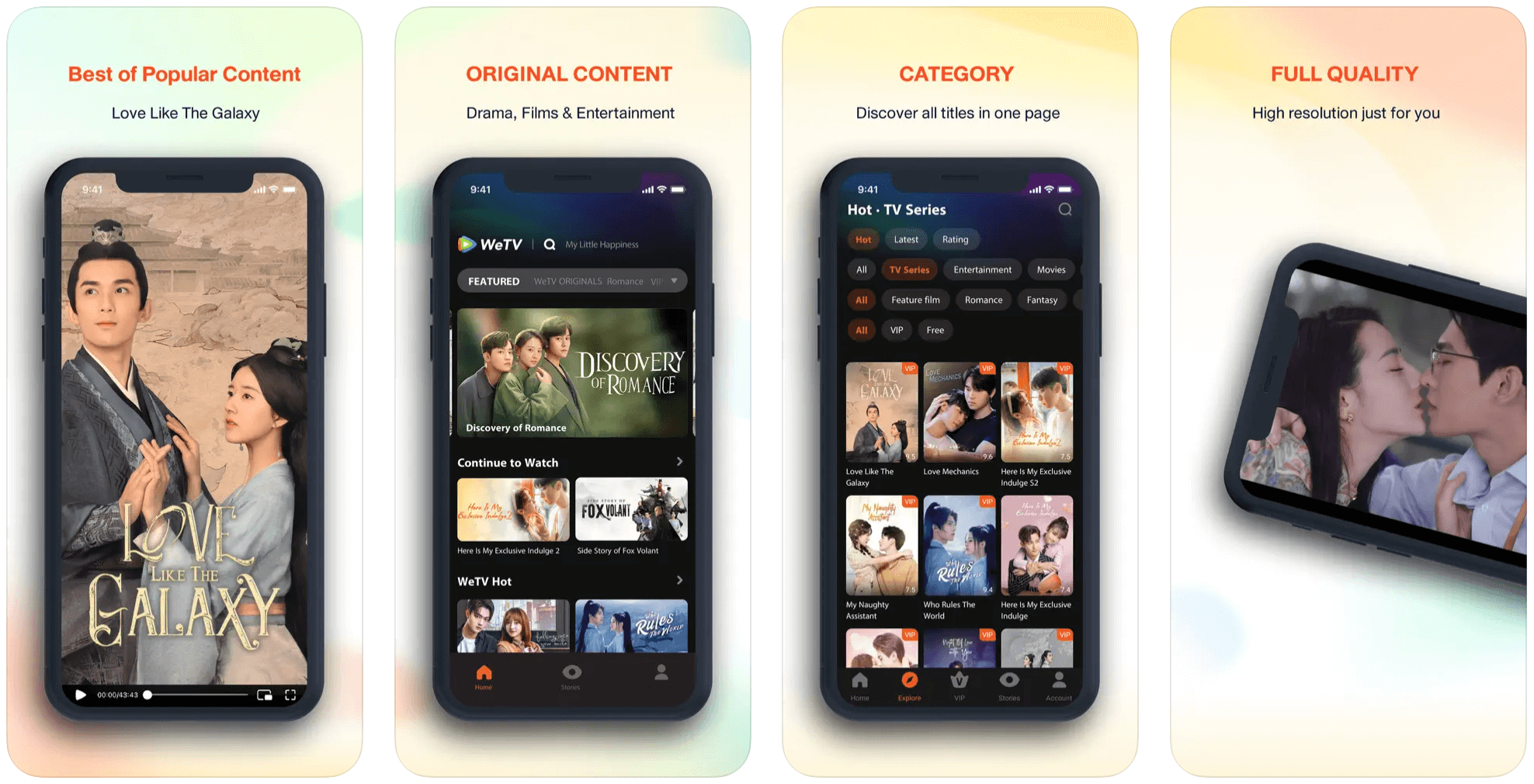 Tencent Video has become the largest distributor of British video content in China thanks to its distribution partnerships with the largest British content providers. It also has rights for streaming HBO shows and NBA games.
According to the company, 122 million subscribed users are hooked on Tencent's premium content. The number of daily active users on mobile has risen by 20% in July 2022 compared to June 2022.
Available on: App Store, Google Play.
Pricing: subscription plans start from $3.60 per month.
TikTok
The app with the major short-form video presence globally, TikTok, is a social media platform for creating and sharing short videos. Created in 2016, TikTok absorbed another video-sharing karaoke app, Musical.ly, which added to TikTok's following. The app has become widely known for all the trends and challenges which make up some of the platform's most popular videos.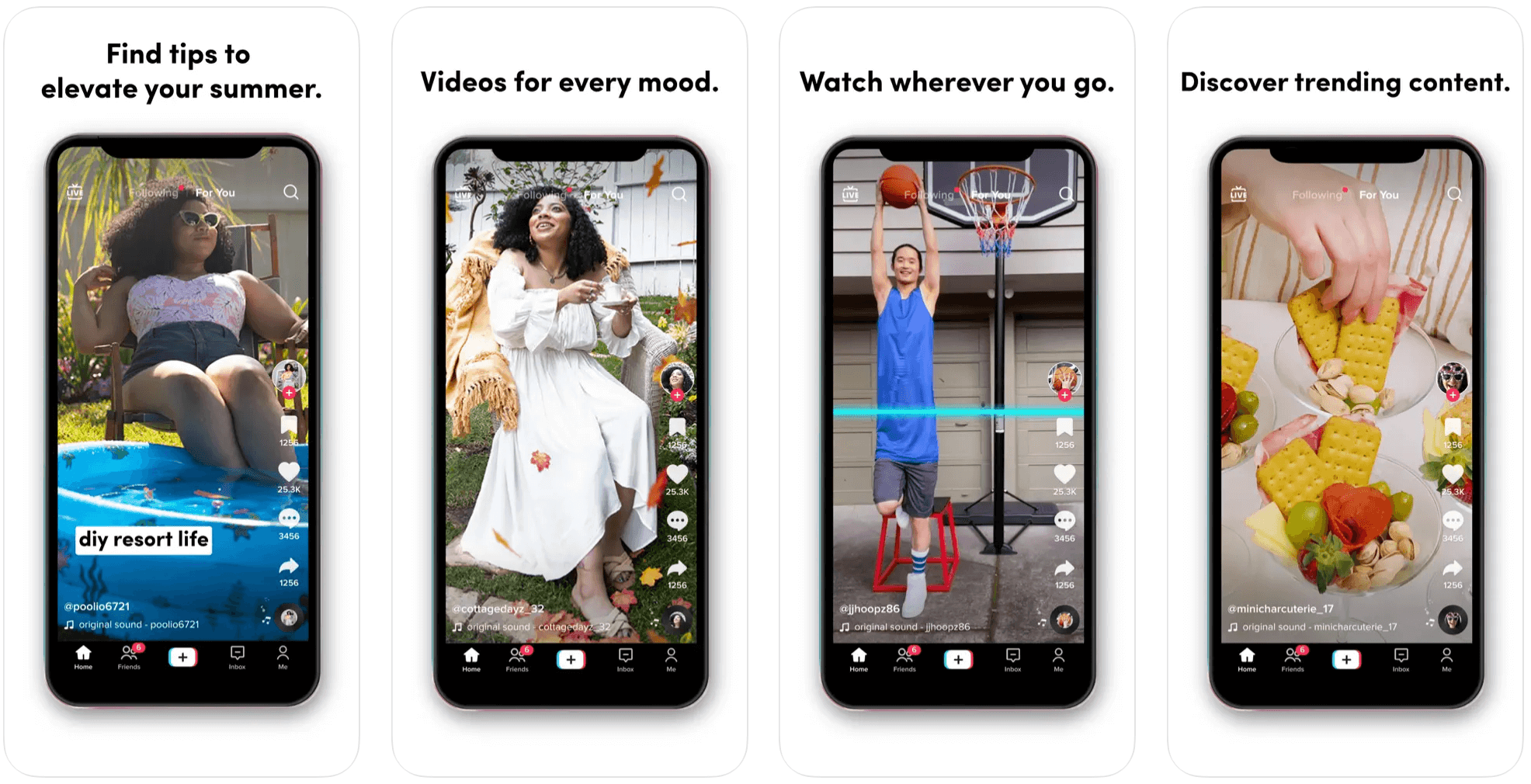 Thanks to TikTok's license agreement with labels and artists, users can integrate popular royalty-free tracks into their videos. TikTok is also famous for its unique algorithm that casts a wide net to determine which videos to show to users. Other differentiating features of TikTok include:
A wide range of creator tools, including filters and effects;
Reactions and duets for reacting to and building on existing videos;
Video live streaming where streamers can earn virtual gifts;
QR code scanners to find other accounts;
Geolocation for finding TikTokers in proximity.
As of September 2021, TikTok has amassed over 1 billion monthly active users.
Available on: App Store, Google Play.
Pricing: free.
Tinder
During the lockdown, Tinder emerged as one of the few places where people could charge up their social batteries. According to its owner company, Tinder's popularity remains resilient in 2022 as it's the top downloaded app in the dating niche, with over 500 million cumulative downloads worldwide. The revenue is also going up the curve — $795 million in Q2 2022, up 12% year-over-year.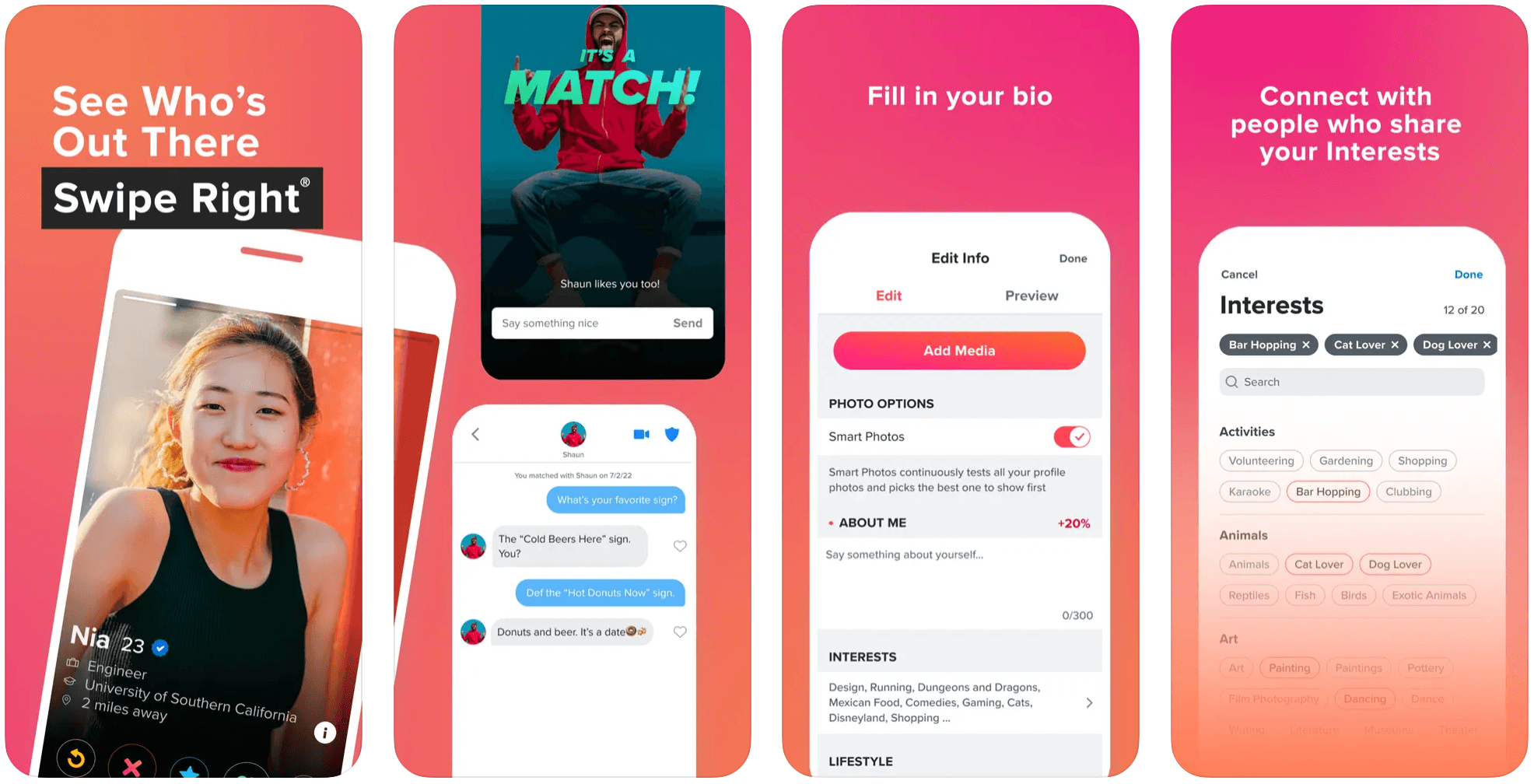 Tinder is a dating hub with a diverse selection of tools and features, including:
Swipes — Tinder was the first to create and popularize this iconic feature;
Match — indicate mutual interests;
Live chatting;
Filter-based search, and others.
Available on: App Store, Google Play.
Pricing: free with subscription plans varying by features.
Upside
Formerly known as GetUpside, Upside is an app that gives users cashback on grocery shopping, gas, convenience, and others. The application uses geolocation and user purchasing data to determine personalized offers closest to the user. Typically, each offer has time limits. To claim the offer, the user uploads the receipt into the application.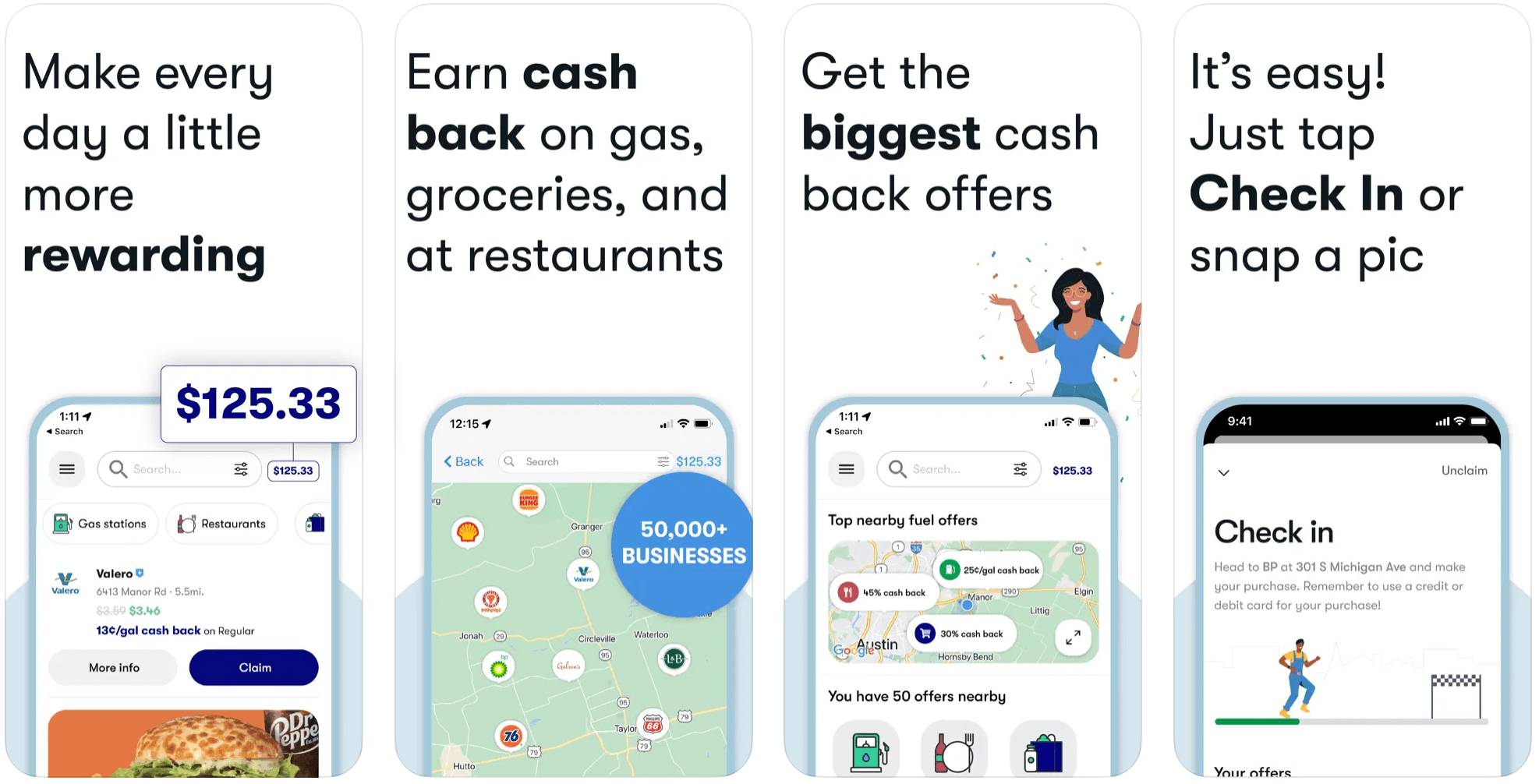 The application employs machine learning and data analysis to calculate the personalized gas price for each customer instead of offering generic rewards for the same amount. Amidst the rising gas prices, Uber and Lyft embedded Upside's AI discount technology to help drivers compensate for lost earnings.
In 2022, the application caters to 30 million users and covers over 45 thousand retail locations. Upside has racked up over $350 million in profits from its partnerships with merchants.
Available on: App Store, Google Play.
Pricing: free.
Hack Your Way to the Top
Top trending mobile apps vary by category and unique selling proposition. However, all of them share a commonality — a high-quality user experience accompanied by a set of tech-savvy and customer-driven features.
If you want your application to hit it off with the customer, Orangesoft knows how to tap into users' minds. We combine our decade-long mobile app development experience with your unique business targets to create a mobile application doomed to succeed. Contact us and tell us more about your project.