Healthcare App
Development Services
At Orangesoft, we create unique healthcare tech applications with memorable, interactive experiences that redefine industry standards and position your company as a health tech leader. Our healthcare mobile applications put humans at the true center of care, reduce clinical workloads, and support the operational flows of hospitals, pharmacies, labs, and other healthcare players. 
As a tech partner with over 12 years of experience, we are ready to tackle any challenge — no matter the complexity, tech limitations, or regulatory hurdles of your project. Leverage the transformative power of our mobile apps to enable better healthcare security and compliance, empower patients with enhanced access to services, and lower healthcare costs by raising the bar.
Tell us about your project
Unlock the value of mobile technology in healthcare
93%
of chronic disease patients use smartphones to manage their health
73%
reduction in resource strain achieved with telehealth applications
19%
reduction in ER and urgent care visits achieved with virtual care solutions
Healthcare app development services you can trust
Our healthcare app development company brings to your table the right mix of technical skills and creativity needed to challenge the conventional healthcare landscape. Whatever stage of the innovation journey you're at, we're here to help you.
Custom web and mobile application development
With over 300 projects in our portfolio, we know the recipe for building a successful web or mobile application with a lasting impact. Whatever your project needs and business goals are, we make your app come to life — just how you envision it.
Healthcare product development consulting
With your end goal in mind, our healthcare app development team helps you gain a crystal-clear vision of your product and identify the optimal tech implementation strategies you need to get your innovative idea off the ground.
Healthcare app modernization and support
The healthcare industry is constantly evolving, and your healthcare applications should too. Orangesoft keeps your applications up to date with the latest trends, technologies, and user expectations to help them gain a competitive edge and attract more users.
Security audits and testing
Your users want to know that their sensitive data is secure. Gain from our expertise as we audit your application for vulnerabilities and security gaps, integrate the latest data security safeguards into your product, and keep it in sync with regulatory requirements.
Address all aspects of care delivery with our healthcare software development expertise
Whatever solution you're building, our developers don't simply take your requirements and run with them. They dive into your project idea and business context to create well-researched, groundbreaking applications cut out for the behavioral and clinical space.
For patients and individuals
Our healthcare apps support the fundamental expectations every person has of the healthcare system: easy access, intuitive experience, and better health outcomes. We put security and compliance at the heart of patient-centered solutions so that you can build a trusted, long-term relationship with the users.
Telemedicine apps
Appointment scheduling apps
Fitness and wellness apps
Symptom tracking solutions
Mental health apps
Medication intake tracking apps
Personal emergency response systems
For healthcare professionals
With advanced analytics, telehealth capabilities, and business intelligence tools, our mobile applications promote new models of healthcare delivery, automate grunt tasks, and eliminate communication gaps between the two sides of care.
Appointment management apps
Telemedicine apps
Patient portals
Remote patient monitoring systems
Medical networking and education applications
For hospitals and clinics
We develop feature-rich, interoperable platforms that address the concerns and challenges of health facilities. Patient records processing, admin tasks, and connected healthcare management — our healthcare applications have it all.
EHR systems
Remote patient monitoring systems
Hospital management systems
Inventory management apps
Laboratory information management systems (LIMS)
Prescription management software
Medical device data collection platforms
Pharmacy management systems
Big-time features for big-time application success
We help you maximize the ROI and success of your products by integrating a set of standout app features that differentiate your product from the competition.
Health data tracking
Secure authentication
Video conferencing
Payments
Limited access and permissions
Predictive analytics and reporting
Secure chats
AI chatbots
Integration with wearables and medical devices
Appointment scheduling and reminders
Image and video recognition
PHI safeguards
Develop a healthcare app people trust
Partner with Orangesoft and benefit from our 12 years' experience and expertise to boost your healthcare digital solution.
Build a custom solution with us
Gear up your apps with the latest technologies to set a new standard for care
A pack of future-proof technologies baked into an application is an investment that never fails to pay off. We think beyond today so that we can create valuable outlier products. At Orangesoft, you can bring innovative health tech products to life.
Connected
We help you build compliant IoT solutions for healthcare that improve health monitoring, enable remote care, and allow you to keep tabs on patients beyond clinical settings.
Remote patient monitoring
Health and wellness tracking
Environmental monitoring
Intelligent
Our team integrates AI and data analytics capabilities into your app to simplify the lives of patients, doctors, and healthcare administrators — and keep your product on par with market trends.
Virtual assistants and chatbots
Remote care
Wearable device analytics
Back-office automation
Immersive
Gain from our expertise in AR and VR technologies to deliver distinctive healthcare solutions that improve the quality of care and provide next-level training for medical professionals.
Rehabilitation apps
Medical training applications
Visual simulation apps
VR therapy apps
Healthcare app development roadmap at Orangesoft
Ideate, build, grow, scale — we're here every step of the way, fast-tracking your journey to the top.
01. Discovery
Finding a product-market fit begins with an in-depth understanding of the market and the challenge you're trying to solve. That's why we lay a strong groundwork of market research and business analysis and then distill your product requirements to offer an optimal way to reach your goals.
02. Design
Our UX/UI team runs user research, maps user journeys, and lays out the structure of your product and expected user behavior. We then bring our findings together and create a prototype to give you a sneak peek at what your full-fledged product will look like.
03. Development
We build your product in small iterations, refining its functionality with each cycle. This approach allows us to stay flexible to changes and course-correct with every iteration based on users' feedback and analytics.
04. Testing and quality assurance
We stick with early testing and quality assurance to reduce maintenance costs, maximize deliverable quality, and streamline development. Our team also makes sure your product fully aligns with relevant regulations.
05. Launch, analyze, refine
Once your app is on its feet, we monitor its performance, analyze key product metrics, collect end-user feedback, and improve and maintain your product according to a roadmap. We constantly review the roadmap to make sure users get regular, high-value updates.
Tackling tech challenges on the way to better care
We know how complex and dynamic the healthcare innovation landscape can be. Our healthcare app development company helps you navigate the complexities by having all the right tools, skills, and expertise at your fingertips.
Security
Healthcare application development requires a robust blend of security safeguards to keep sensitive patient data under lock and key. Backed by data security standards and calibrated quality management practices, we ensure full-on security and privacy of PHI data.
Compliance
It may be challenging for your company to drive innovation in healthcare while keeping up with all the red tape. The healthcare applications we create meet the privacy and security requirements of applicable regulations, including HIPAA, PIPEDA, GDPR, HITECH, FDA, CCPA, ADA, and others.
Interoperability among systems
Our healthcare applications adapt to the standards and technologies of the target environment, enabling seamless data sharing with other healthcare systems. We overcome the interoperability challenge by putting HL7, FHIR, XDS/XDS-I, and other data exchange standards at the core of your applications.
Accessible design
Our team puts a special emphasis on making your application fully and equally inclusive and accessible for all people. Following ADA and WCAG accessibility standards, we create solutions that remove the barriers to healthcare and enable great user experience for everyone.
Featured projects
We've helped some of the most successful companies grow — now it's your turn.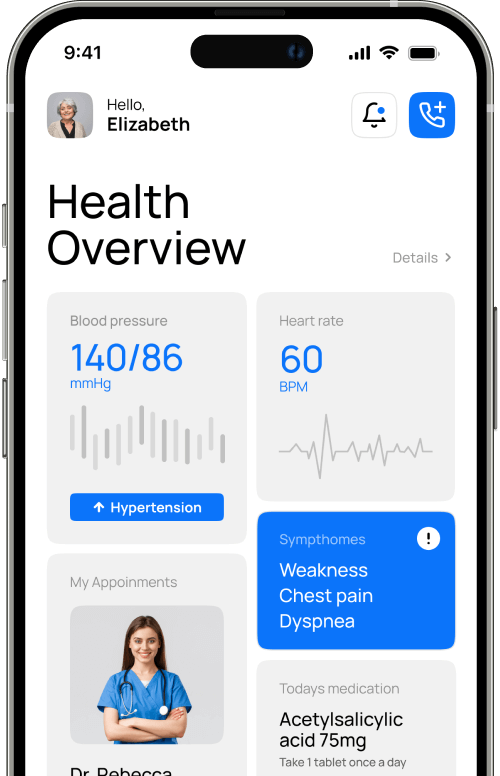 App for post-stroke rehabilitation
IOS, ANDROID, WEB, UI/UX
Challenge
The client wanted to build a digital platform aimed at improving post-stroke care accessibility, data accuracy, communication with healthcare providers, and patient engagement.
Solution
We developed a web platform for medical staff and a mobile app for patients to monitor the well-being of people after a heart attack. The app allows to take daily surveys, upload blood pressure readings regularly, and receive weekly calls from a clinical team to check their progress and provide coaching and education.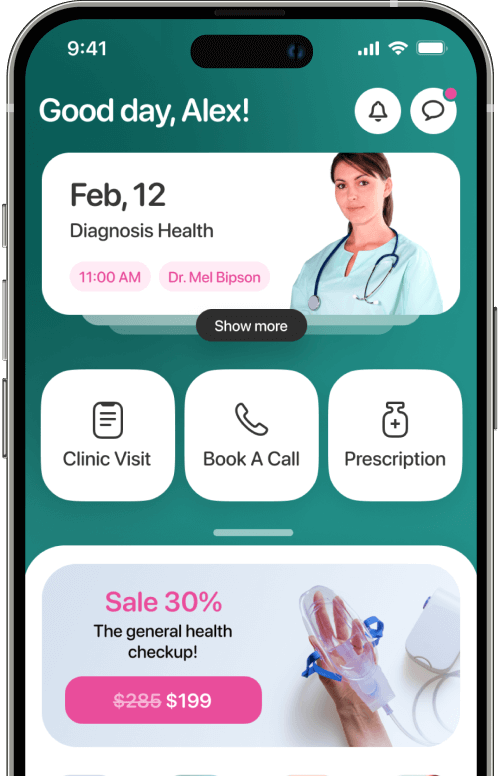 Digital healthcare platform
IOS, ANDROID, WEB, UI/UX
Challenge
Eliminate the need for traditional physical hospital infrastructure and minimize workforce requirements by creating a digital healthcare ecosystem that seamlessly connects patients and healthcare professionals using the latest medical and educational technologies.
Solution
We created a digital healthcare ecosystem connecting various types of healthcare providers and patients. It combines patient, doctor and pharmacy apps, AI solutions for test analysis, and integrations with remote control devices.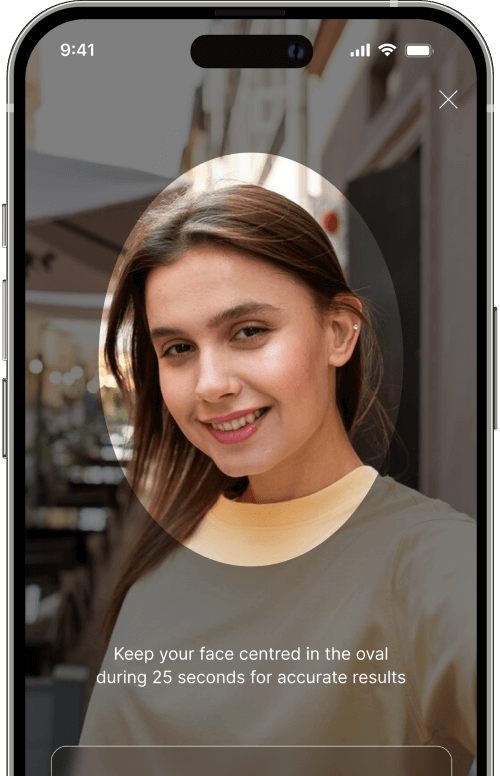 Heart rate monitoring app
IOS, UI/UX
Challenge
The client aimed to develop a mobile heart rate monitoring solution that follows strict accuracy standards and considers factors like motion artifacts, ambient light, and sensor limitations.
Solution
We created an app that accurately measures heart rate in real time using the iPhone camera and delivers personalized fitness recommendations to enhance heart health. With advanced algorithms and precise facial pulse recognition, it rivals hardware heart rate monitors, ensuring minimal delay for real-time monitoring.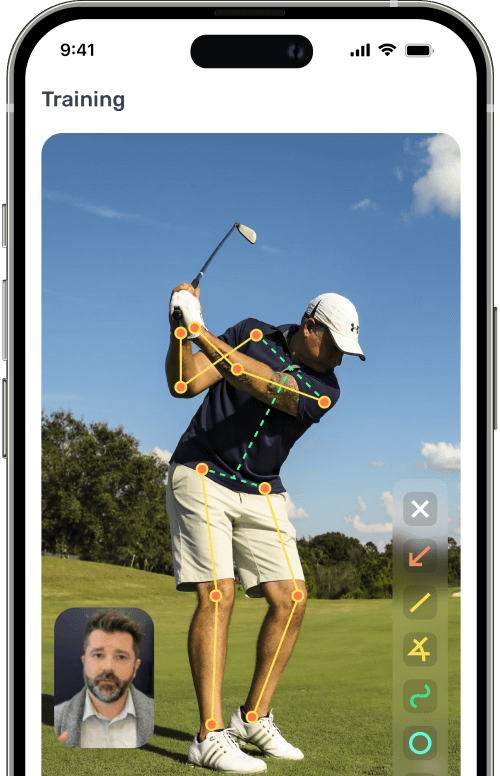 Mobile coaching platform
IOS, ANDROID, UI/UX
Challenge
The client had the idea to develop a unified and streamlined communication solution that enhances coaching efficiency, simplifies athlete management, and improves the work-life balance of coaches.
Solution
We delivered a go-to digital training and communication platform that allows coaches to create voice-overs for coaching notes, compare videos and images frame by frame, create drawings and audio comments, track athlete performance, and work or communicate remotely.
Healthcare app development partner that supercharges your growth
We are more than a dev unit. We are a team of problem solvers, lateral thinkers, and innovators united by a common goal — to build and grow your product.
Profound research over everything
Our team carefully analyzes the challenges you face, your business goals, and your competitors in order to identify an optimal solution for your needs. Profound research enables us to deliver reliable and secure healthcare applications that keep up with current market trends.
Scalable solutions
Our team delivers solutions not just for your company's current needs but also for those to come. Onboard more users, add new capabilities, and connect new services — our applications will follow.
Transparent collaboration
No keeping you in the dark — instead, a well-established, flexible product development process with clear deliverables and timelines. We constantly update you on the project's progress, follow documented processes, and make decisions that are visible to everyone involved.
Precisely compliant
We check all tools, technology, and third-party services for compliance before integrating them into your healthcare applications. Robust data encryption, regular backups, and unauthorized access prevention are weaved into your solutions by default.
Questions you might have
How much does it cost to develop a healthcare app?
Does every medical app need to be HIPAA compliant?
Do you provide security assurance and HIPAA compliance?
Which is the best platform for healthcare app development?
What are examples of successful healthcare apps?
What is the process of developing a healthcare app?
Let's discuss your project!