Voicelator
Services
iOS Development, UI/UX Design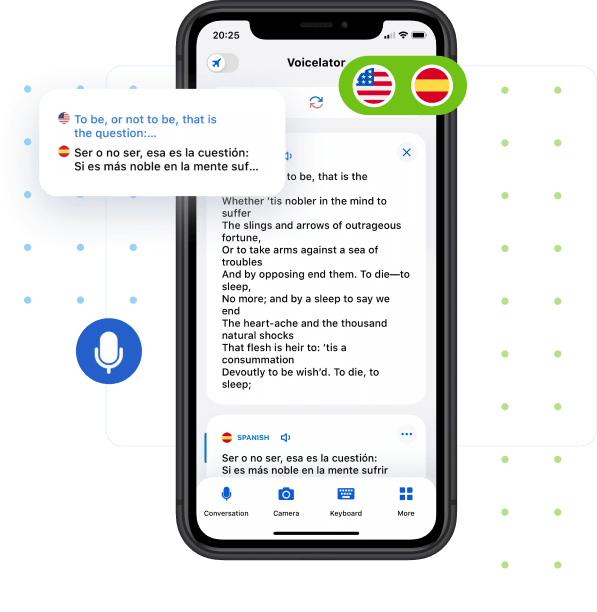 Voicelator
is a voice and text translator that allows users to eliminate language barriers and communicate while traveling around the world. The app delivers fast and accurate translations due to real-time voice recognition. Users can pronounce or type the text they want to translate, and Voicelator speaks or displays the text in the target language.
About the client
Mobyrix is a product IT company that offers its services in utilities, entertainment, health, and business.
Business challenge
Our team had to create an iOS app with an eye-catching design and unique features that allow users to do translations on the go in an online or offline mode, so they could communicate without any restrictions.
Delivered solution
We created an amazing app to translate on the go.
Features:
Translates voice and text in real-time
Saves translations in Favorites, which the users can view any time
Gives the users the ability to translate texts in offline mode
Translates to and from 100+ languages in any app that uses a keyboard
Translates texts in images by pointing the camera or importing photos from phone library
Allows sharing voice and text translation by email, messages, social media
Voice Translator

To implement voice translation, we used AVFoundation to view translations in full screen on the user's phone with no hindrance whatsoever. To allow users to receive translations in real-time immediately when they type in or voice out any language, we used Google API with recognition on neural networks. In addition to translations with AVFoundation, we implemented a voice playback feature with the opportunity to choose between male or female voices, which could make the user experience even more pleasant.

Text Translator

Our team used native technologies and Realm database to develop a text translator function that gives users the ability to translate between 100+ languages in online and offline modes easily.

Favorites

The app allows users to save the translations to Favourites and create their words database. Thus, app users can build up lists for future reference, ready for when they go on vacation, for example.
Technology stack
iOS SDK
/
RxSwift
/
RxRealm
/
Moya
/
MVVM
/
Firebase
/
AppsFlyer
/
Project Results
Our team developed a brand-new mobile app that gained over 100 thousand downloads and more than 2000 reviews in the App Store in just two months after release. Using the latest technologies and speech recognition software, Voicelator listens to the user's voice, converts the spoken text into the desired language in real-time, and displays it on the screen, making communication and translation seamless.

Work with us
We want to hear about your project!