Online dating has been around since the end of the 20th century. More recently, dating websites are being progressively replaced by dating applications, which is hardly surprising considering mobile and social networks' widespread adoption. As a result, the dating app market has been steadily growing; for instance:
Global dating app revenue

exceeded $4.2 billion

in 2021

—

a 95% increase in consumer

spending

since 2018 and a 30% increase since 2020

—

seeing a total of 260 million dating app downloads.

More people

joined the online dating community

in 2021 than in 2020, and eMarketer

forecasted

the number of US dating app users to reach 25.7 million by 2023.
With app revenue increasing due to a higher number of subscribers, the dating app business has become a profitable startup opportunity. To help you gain a deeper understanding of the industry's established trends, we have prepared an overview of the best dating apps in 2022.
Tinder
The king of all dating apps is Tinder. Tinder has surprised the industry with its simple yet highly appealing swiping functionality.
With a right swipe, a user likes another profile, and with a left swipe, they move on to the next profile. When two users like or "swipe right" on each other, they "match" and can start chatting. This easy-to-use "swipe" feature is likely why Tinder's has gained popularity among dating app users.
Since its release in 2012, Tinder has experienced significant growth. The app saw a record-breaking $1.7 billion in direct revenue in 2021, maintaining its lead thanks to a 22% rise over 2020.
This app's audience is also growing, with 75 million monthly active users as of Q1 2022. Most likely, many of its users belong to Gen Z given that Gen Z makes up one-third of Tinder's audience.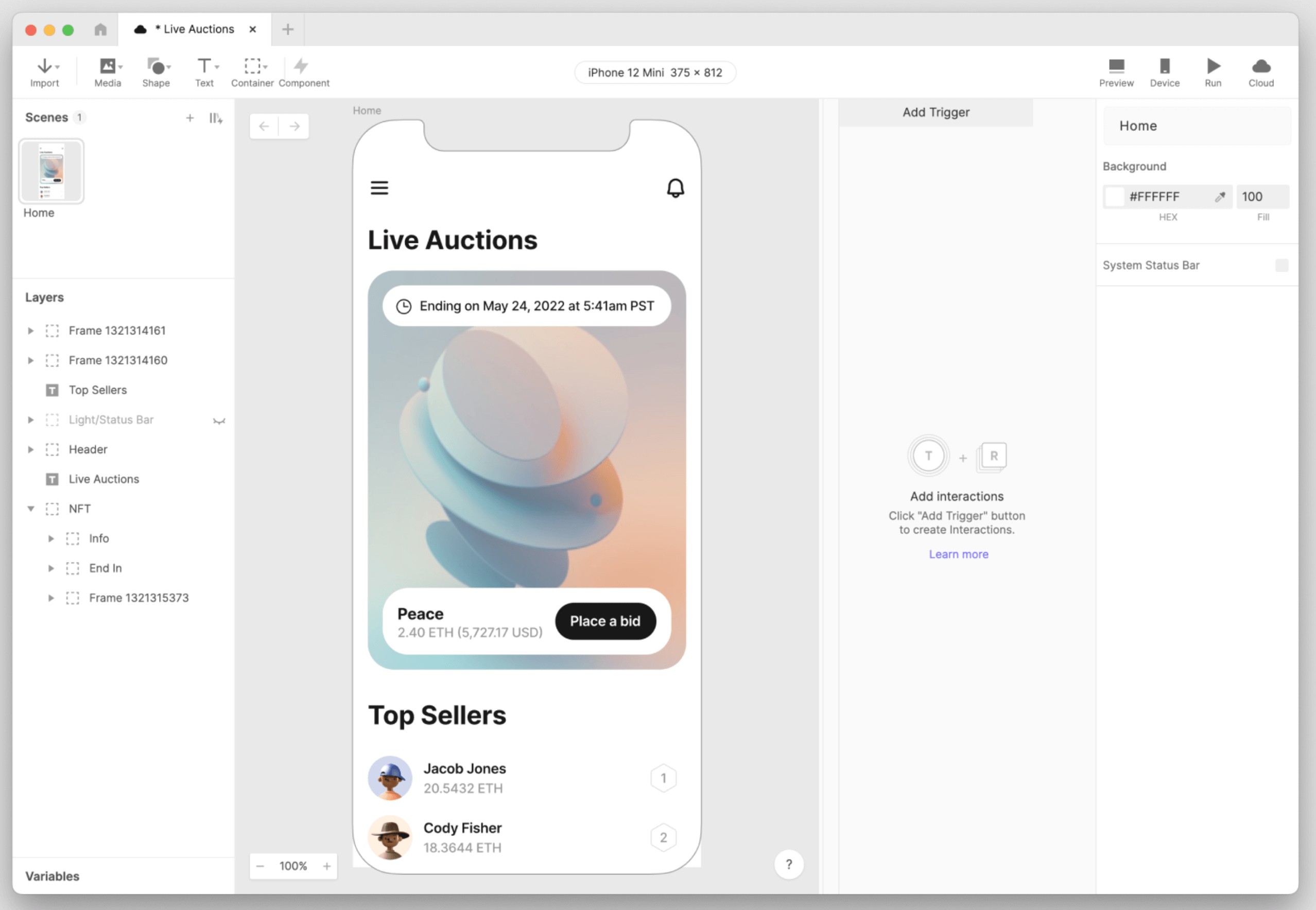 Main features:
Geolocation

Filterable search

Swipe functionality

Super Likes

Rewinds

—

taking back last Like or Nope

Matches

Chat

Push notifications

Profile boost and super boost

Privacy features

Photo verification

Video calls

Expl

ore area – a section that features various events and ways to discover matches by interests and dive into quick chats before a match is made.
Pricing:
Tinder is free to download and use, but you can pay to unlock extra features

or subscribe to one of Tinder's premium plans.

The prices are automatically adjusted according to the user's age.
Bumble
Bumble was built in 2014 by Tinder's co-founder Whitney Wolfe Herd and Badoo's founder Andrey Andreev to rock the dating market. The app implemented the same swipe system as Tinder; however, it only allows women to make the first move.
Further, if a woman doesn't respond within the first 24 hours, the match will disappear. Due to this functionality, should Bumble be on a list of the best dating apps for women? We think so!
Despite having quite a similar business model to the global market leader, Bumble shows outstanding performance. For instance, in 2021, the app saw a 30% increase in the number of paying users when compared to 2020. And the app's revenue exceeded $532 million, which is 42% higher than in 2020.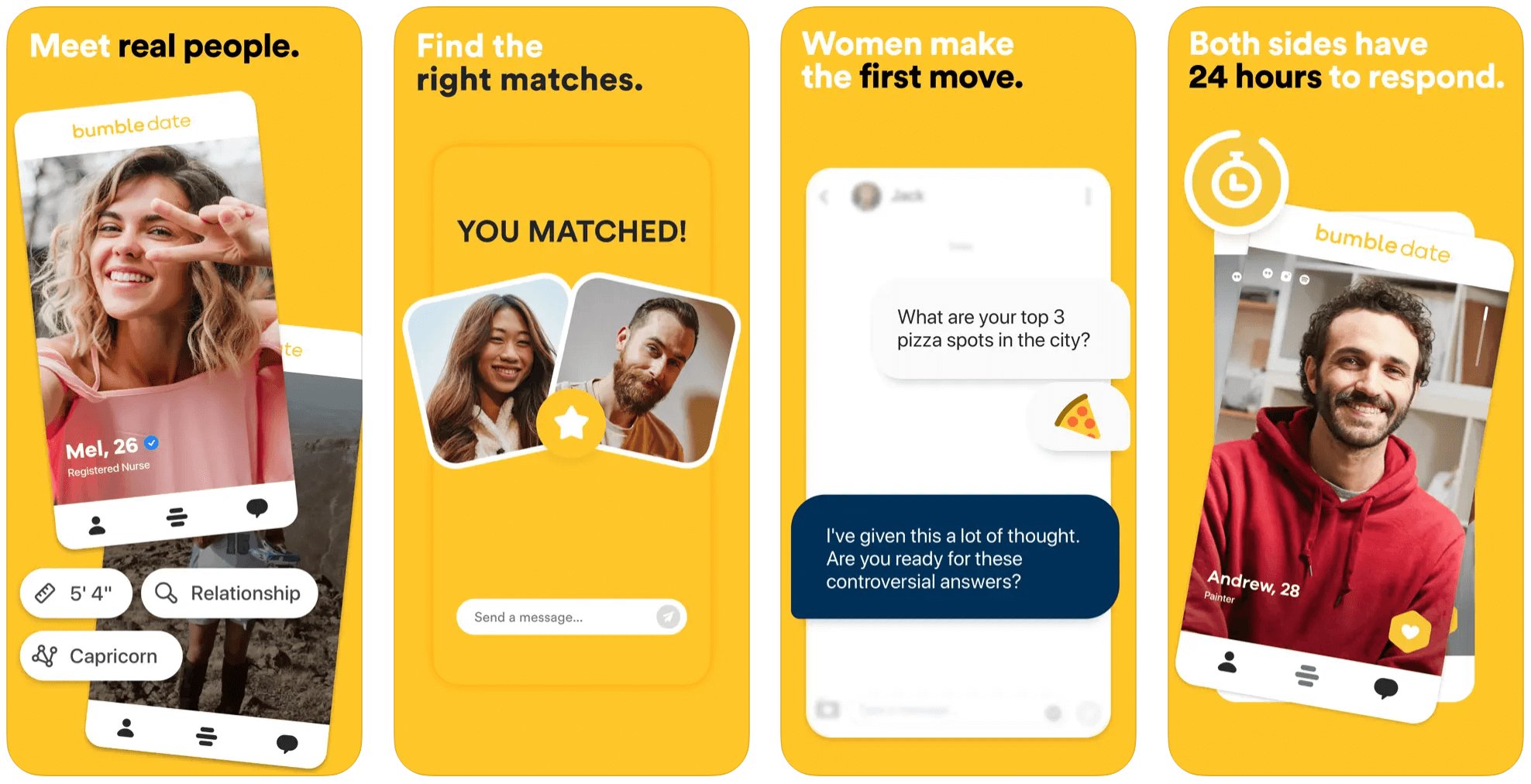 Main features:
Geolocation

Filterable search

Swipe and

SuperSwipe

functionality

Chat

Matches

Profile verification

Video calls

Profile boost
Spotlight

— opport

unity to advance the profile to the top of the stack for 30 minutes to be viewable by more people

BFF mode

–

helps

to search for friends (not solely romantic connections)

Bumble Bizz – a separate section of the dating app that focuses on making professional connections
Pricing:
Free to use and paid features can be tested via a free trial.
Match
The app is a 21st-century complement to an online dating website, Match.com, that was introduced back in 1995. The app focuses on users with a higher level of intent to enter into a serious relationship and its services and marketing are designed to reinforce that purpose.
This mobile analog has a majority of the initial platform's features. However, the Match app follows contemporary industry trends by adopting Tinder's swiping functionality.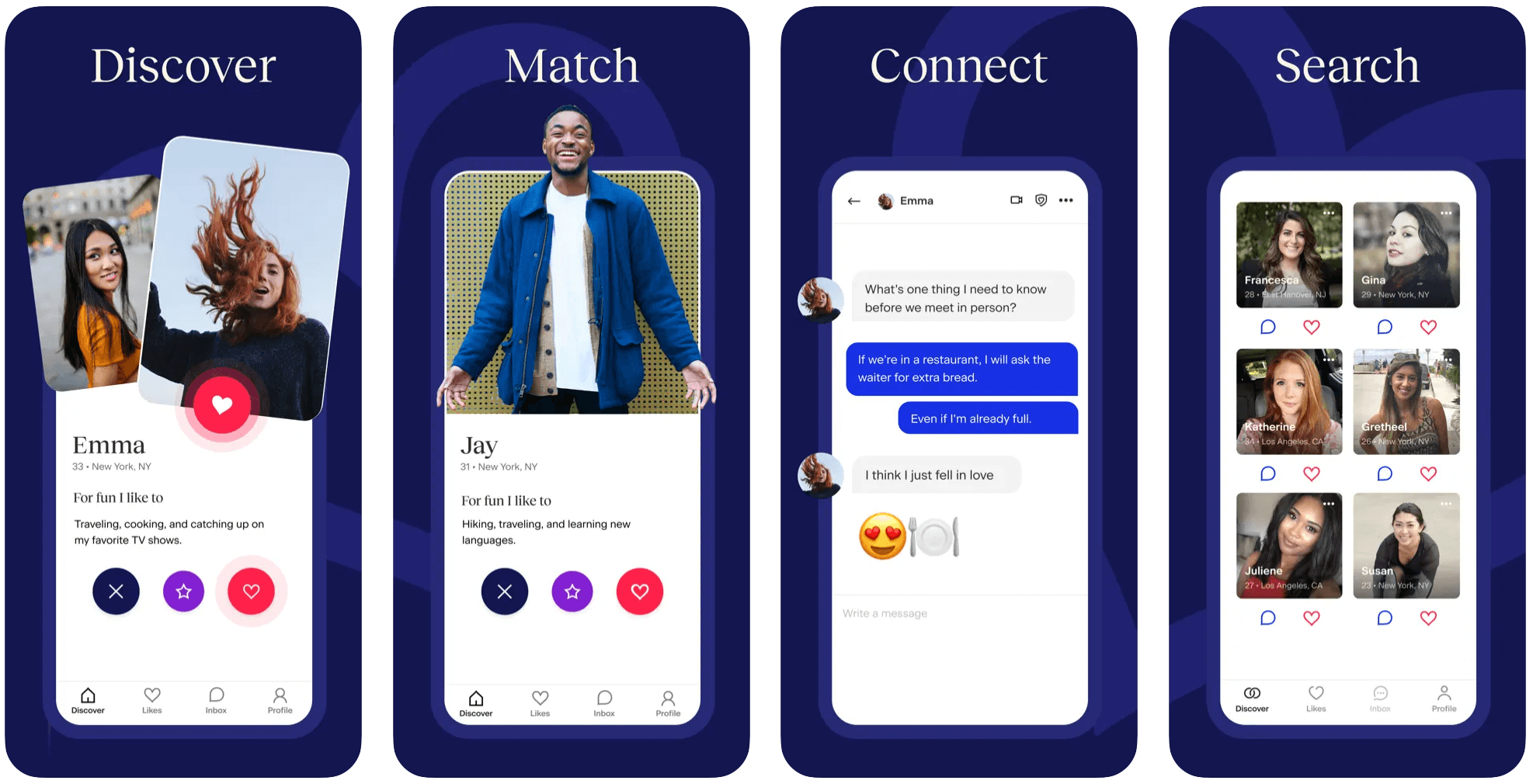 Main features:
Geolocation

Filterable search

Matches based on location and photos

Swipe functionality

Chat

Profile boost

Incognito mode

—

lets browsing Match in secret

Video calls

Date check-ins

Virtual events
Access to dating experts that may review your profile or help nail the first date
Pricing:
Free to use and also offers subscriptions starting from $7.99/month.
Hinge
"Designed to be deleted" is Hinge's slogan, and it precisely captures the app's intended purpose. To elaborate, the application aims to establish meaningful connections rather than casual meet-ups. However, this wasn't always the case.
It wasn't until 2017 that Hinge adopted their strategy to create long-term relationships, which was five years after the app's launch. Hinge's updated strategy stands out from the other brands in Match Group's portfolio. Match Group is a tech company that owns apps, including Tinder, Match, and other dating apps.
Although it may seem that many are no longer interested in commitment, the app statistics suggest otherwise. For instance, Hinge more than doubled total revenue in 2021 on a year-over-year basis to $197 million. Further, in January 2022, Hinge saw its monthly active users reach more than four times that of January 2019.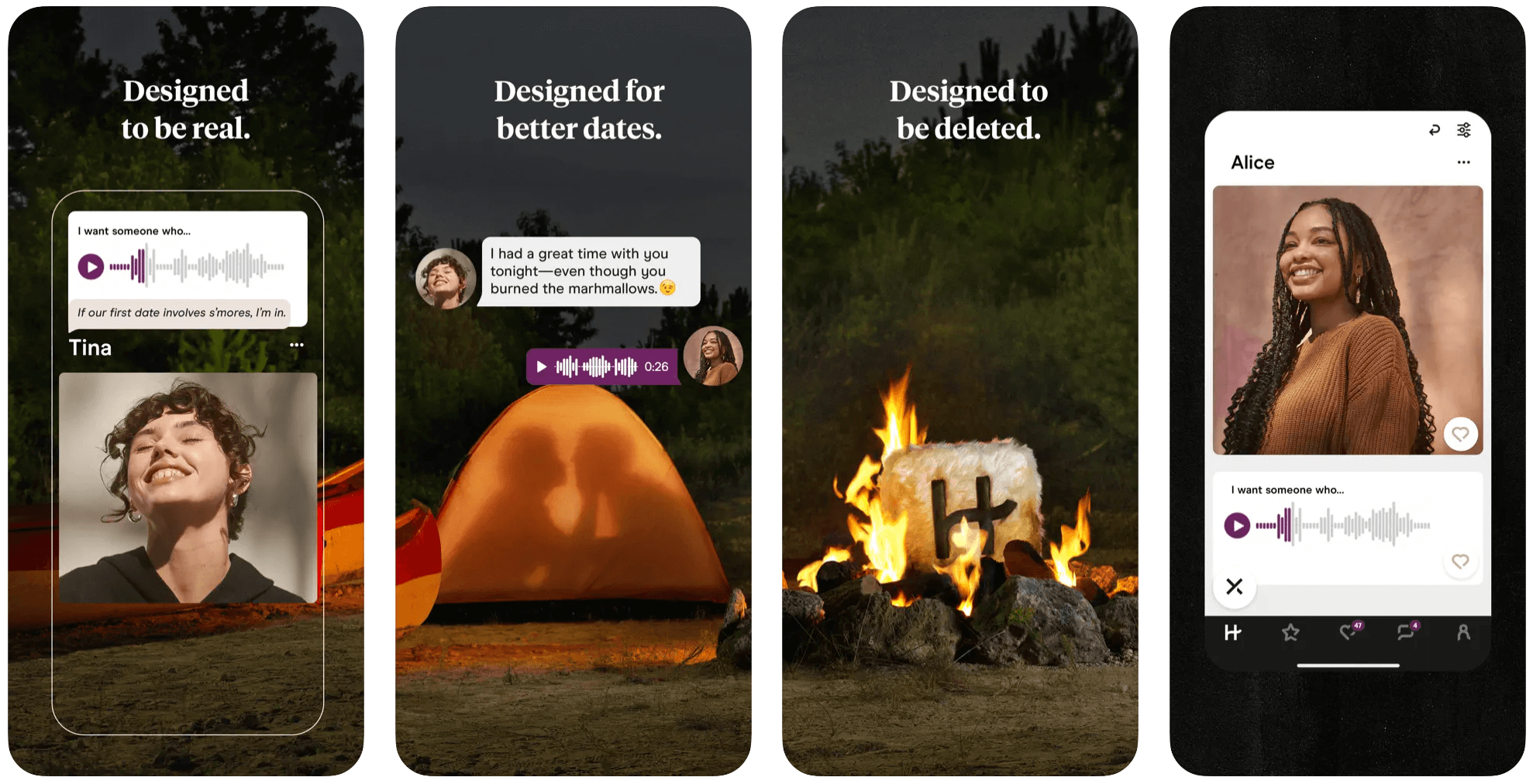 Main features:
Filterable search

Personalized matches based

on

user data

Filterable matches

Chat

Video calls

Profile boosts

Likes

Comments

We Met feature

–

lets users give feedback on their Hinge dates

Video Prompts, Voice Prompts, and Voice Notes – with these features, users can better showcase who they are through text, photos, video, and voice at different points in their dating journey.
Pricing:
Free to use and also offers subscriptions starting from $9.99/month.
Badoo
Badoo is another dating application that evolved from a website. Overall, the dating app is rather standard and offers users the majority of the common features, including swiping to match with another user.
This app was launched in 2006 by Russian entrepreneur Andrey Andreev, who later created Bumble when Badoo failed to expand in the US. Outside of the US, Badoo has gained a decent market share, specifically in South America and Europe.
Although Badoo is among the largest dating platforms globally, some believe the app has been losing active users over the past few years. Yet, this doesn't mean that the app is stagnating; as of May 2022, iOS users alone downloaded Badoo around 600,000 times, and Android reported two million Badoo downloads. Further, the app's revenue amounted to $232.8 million in 2021.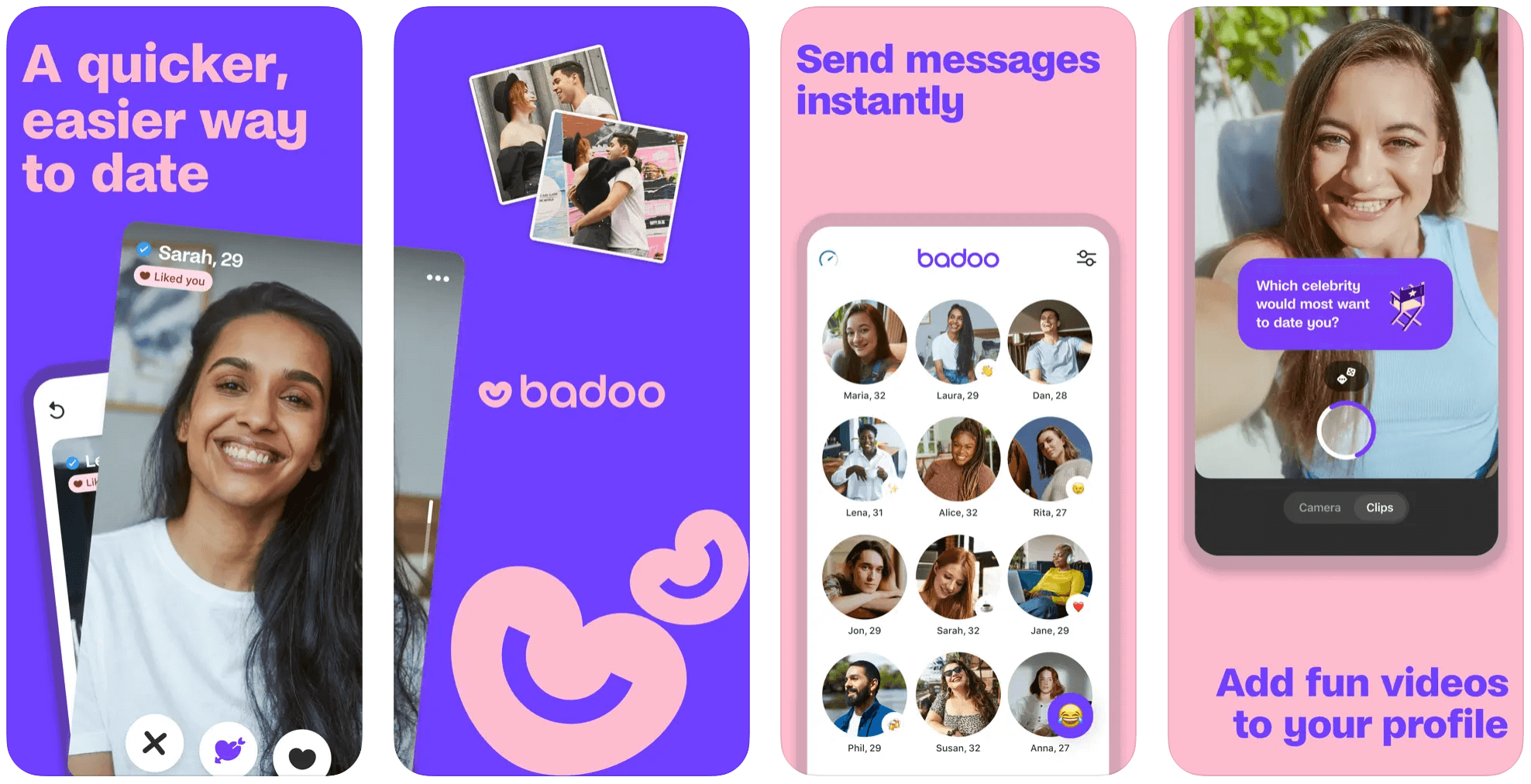 Main features:
Chat

Filterable search

Video calls

Matches

Geolocation

Swipe functionality

Automatic blurring of explicit photos
Pricing:
Free to use and al

so offers a subscription that costs from $0.79 per day to $59.99 for a lifetime.
OkCupid
OkCupid is another sibling of Tinder since it was acquired by Match Group in 2011. Like many apps on this list, the OkCupid app was initially a website that later found reincarnation in a mobile application.
The OkCupid team boasts their outstanding expertise in the niche. Specifically, OkCupid welcomes all users, regardless of their gender and sexual identity.
OkCupid co-founder Sam Yagan once said that the app is for ages 18 to 80. In reality, though, OkCupid's demographics vary from Yagan's statement. As of April 2020, the majority of the app's user base are Gen Z and millennials, according to Statista.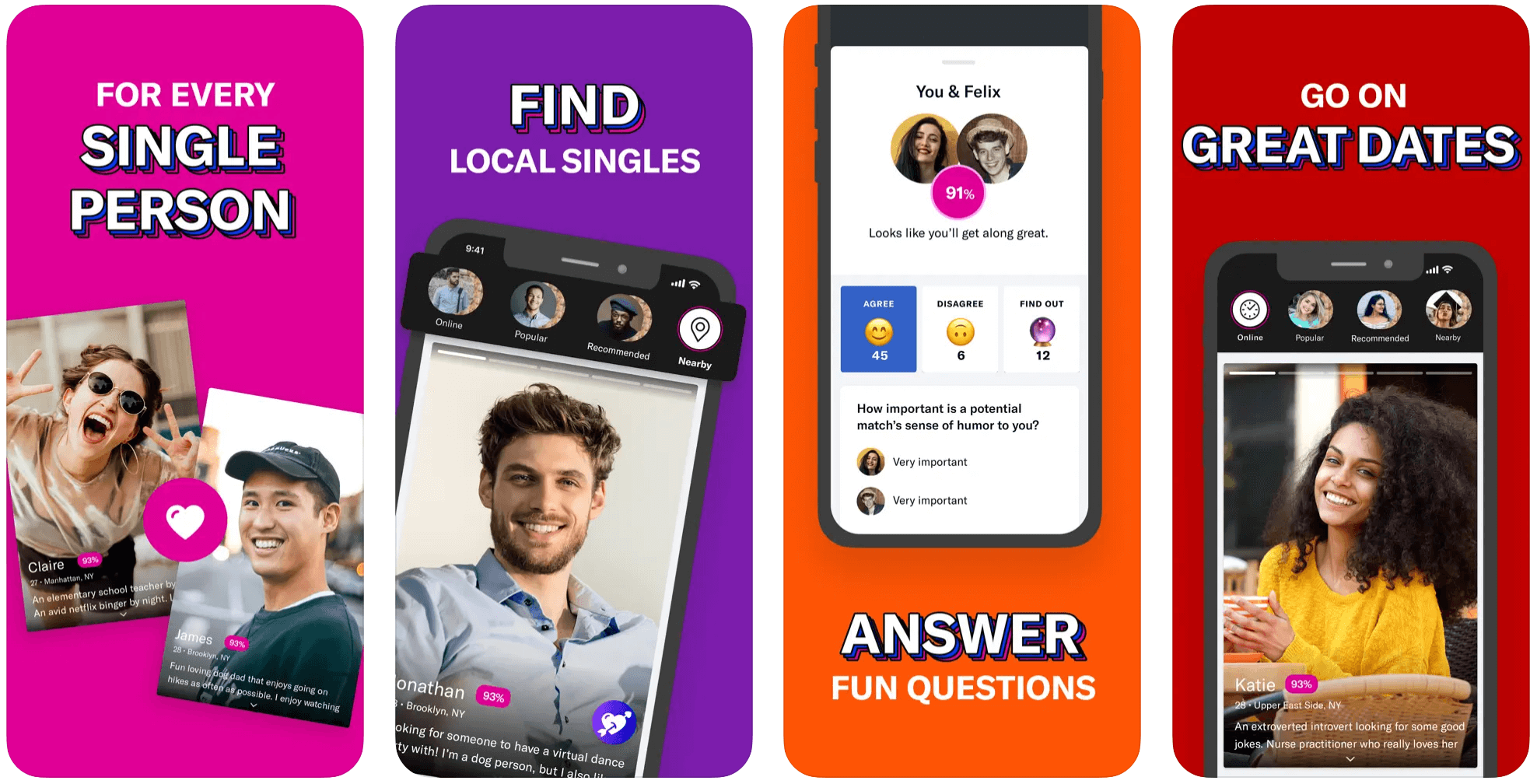 Main features:
Advanced personalization: matches are generated based on

personal preferences

Chat

SuperLikes

Profile boosts

Geolocation

Filterable search

Comments

Incognito mode to hide the user's activity

Cupid's Pick

– is a match that the OkCupid algorithm picked just for you
Pricing:
Free to use and also offers subscriptions starting from $5.99/month.
Grindr
Grindr is the pioneer among dating apps for the LGBTQ community. The geosocial mobile platform revolutionized the market in 2009.
Even now, Grindr is considered to be the largest dating platform for the LGBTQ community globally. The application offers standard dating app features, and its most unique feature is its enhanced safety for LGBTQ users.
Since it's the best dating app for the LGBTQ community, its outstanding reach and engagement are hardly surprising. For instance, 11 million users open and navigate around the application every month. The average amount of time users spend on the app each day hit 61 minutes and 80% of profiles on Grindr are under 35 years old.
Further, Grindr's revenue is also impressive. In 2021, the revenue exceeded $147 million, which is 30% higher than in 2020.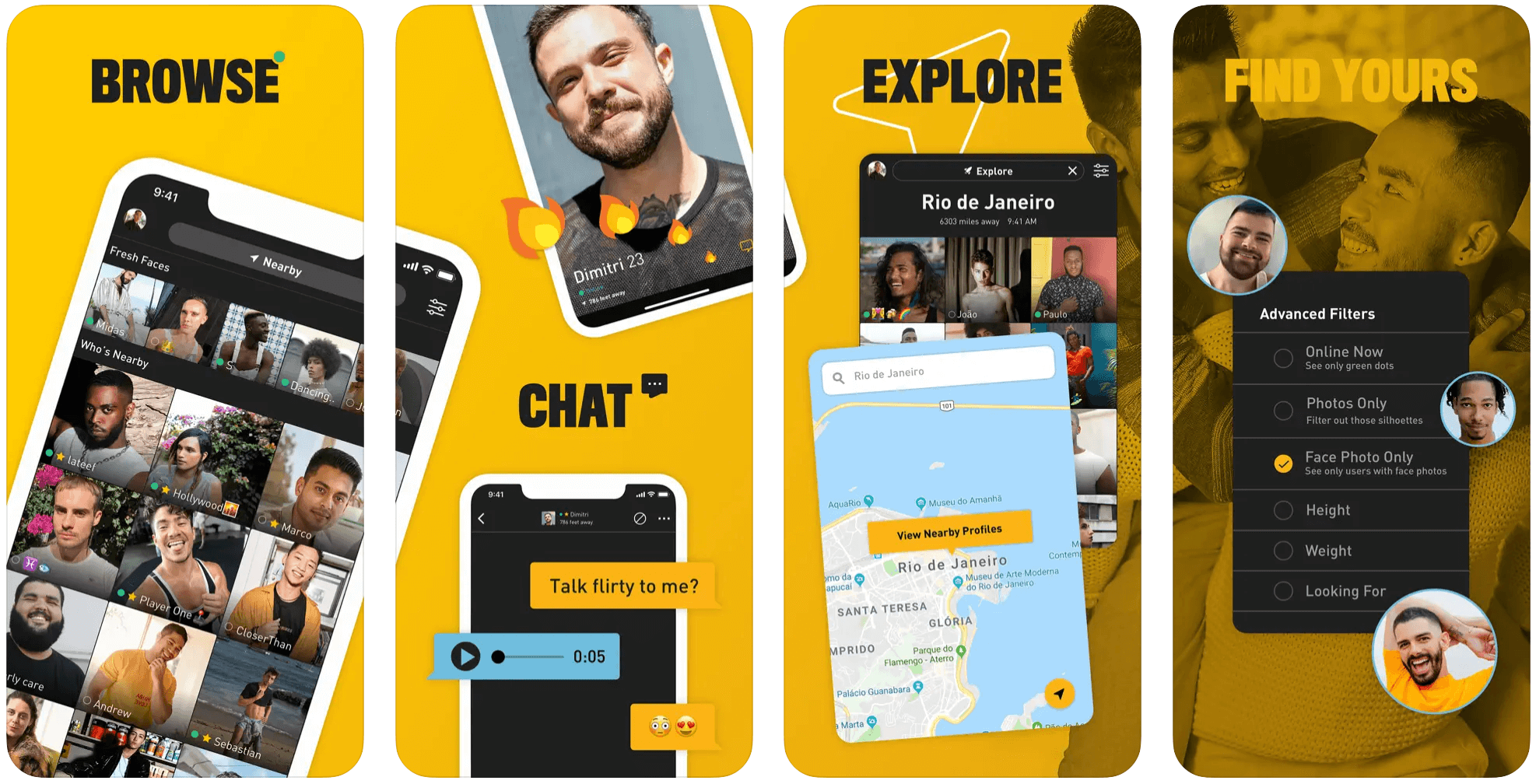 Main features:
Chat

Group chatting

Geolocation

Discreet app icon

Search with filters

Ability to favorite a profile

Expiring photos

— s

ending an unlimited number of photos that can be seen only once for 10 seconds

Incognito mode
Pricing:
Free to use and also offers a premium experience starting from $4.99/month.
Happn
Happn is a French-based dating app that was launched in 2013. Its business model slightly differs from the majority of market players. Instead of traditional matching with random people, the app tracks the user's geolocation to match the user with others who they have already met in the street.
According to the company's website, Happn now has 100 around million active users.
Main features:
Geolocation

Profile boost

Matches

Filtered search

Chat

Video calls

Invisible mode
Pricing:
Free to use and also offers subscriptions starting from $9.99/month.
Tantan
Founded in 2014, Tantan promotes casual dating, which isn't commonplace for the East. The application itself is a typical mobile dating platform that makes matches based on mutual likes.
Tantan's achievements are rather sizable on the global market. For example, the net revenue in 2021 exceeded $303 million from its 2.5 million paying users. Overall, Tantan has an impressive 25.6 million monthly active users registered users.
Considering this information, do we think Tantan is one of the best dating apps from China? We sure do.
Main features:
Chat

Swipe functionality

Matches

Likes and Super Likes

Filtered search

Q&A game where matched users both answer ten questions to learn more about each other

Geolocation
Pricing:
Free to use and also offers subscriptions starting from $4.58/month.
Plenty of Fish
Plenty of Fish (POF) was released in 2003, and the app helps singles find their perfect match. POF also belongs to the Match Group. This app stands out from others since it offers more free features and doesn't apply rigid limits for users on the free plan. Among its distinguishing features is the ability to both search profiles and receive algorithmic recommendations.
The Plenty of Fish dating app has over 150 million registered users and a daily average of 3 million active users.
Main features:
Speed video dating

Live streams

Chat

Matching

Sortable matches

Geolocation

Search

Likes
Pricing:
Free to use and also offers subscriptions starting from $9.99/month.
Azar
Azar is a dating app built and launched in Korea in 2014. It is a one-to-one video chatting app powered by real-time language translations that allow users to meet and interact with people across the globe in their native language.
Azar was launched in November 2013 on Google Play and June 2015 on the App Store, and as of February 5, 2022, the app has gathered 228 million cumulative downloads and more than $610 million in consumer spend.
In 2022, after Azar's parent company Hyperconnect was acquired by Match Group, the app was rebuilt to bring more thrill, surprises, and connections. Now it has a new and improved livestreaming experience that helps users find interesting communities and make new discoveries.
Main features:
Geolocation

Video chat

Gender and regional features

Chat

Text and voice translator

Livestreams

Built-in background options

Lounge to meet interesting people

Personalized avatars
Pricing:
Free with in-app purchases.
Download:
Pairs
Pairs is a Japanese deai-kei (dating) app launched in 2012. It's a well-known platform with over 10 million active users. The Pairs app was specifically designed to address social barriers generally associated with the use of dating services in East Asian countries.
According to Statista, it's the leading dating application in Japan, with $98.2 million in revenue.
Female users can use the app for free, while males must buy in-app coins or pay for a premium membership to send messages.
Main features:
Geolocation

Filters and customizable search

Swipe functionality

Chat

Profile boosts

Communities

Profile verification

User footprints
Pricing:
Free, with in-app purchases and membership fees for males starting from $11.75/month.
Download:
Tagged
Tagged was first created in 2004 as a web platform for connecting people for the purpose of friendship and dating. Seven years later, the mobile version of the platform was launched, and now Tagged has over 300 million users.
Though Tagged is mostly used within the US, the app supports 24 languages. So if users don't know English, they can still use the app and make connections.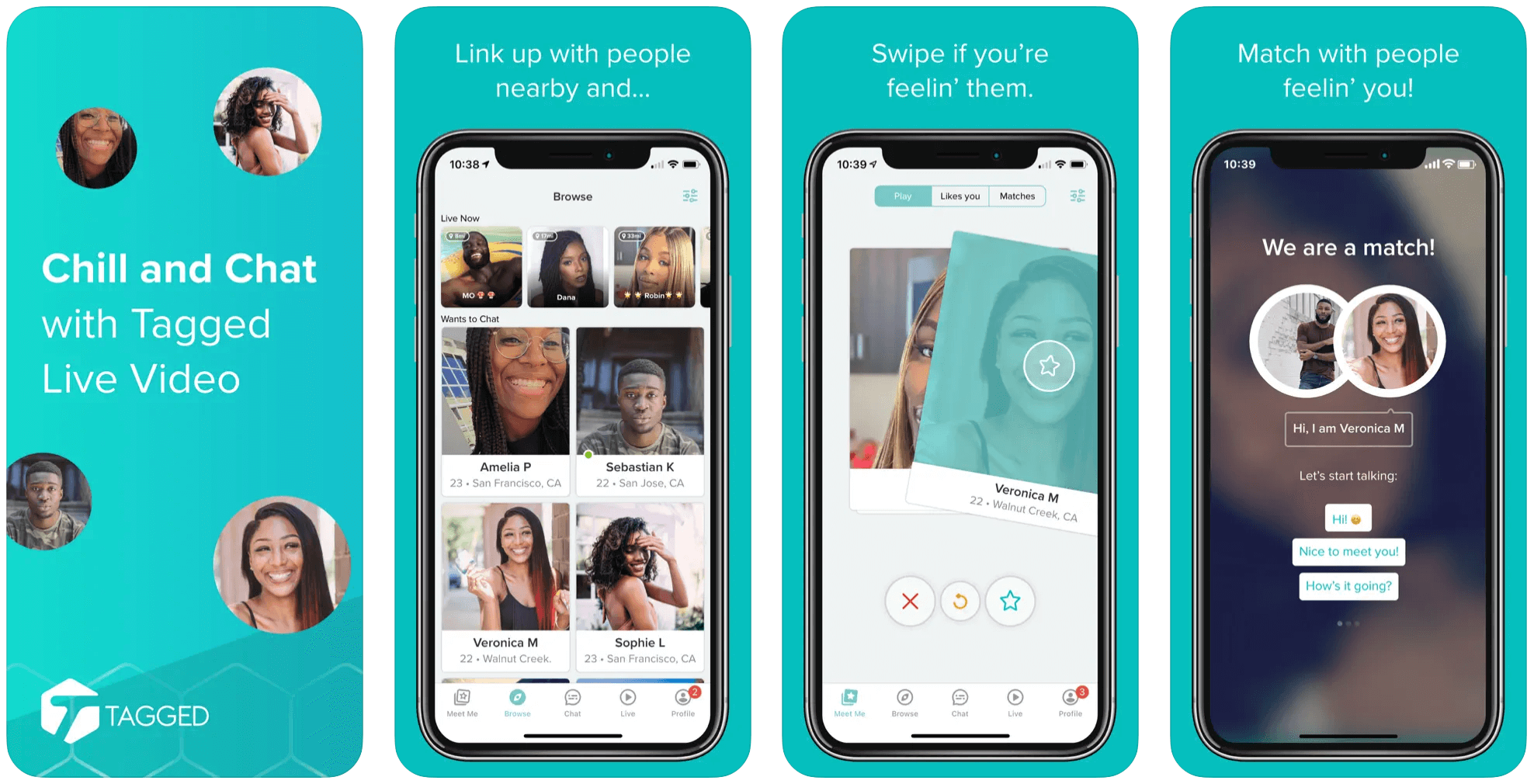 Main features:
Geolocation

Live stream

Chat

Search

Likes and comments on posts

Meet me for matches

User footprints
Pricing:
Free and also offers subscriptions starting from $3.99/month.
Download:
MeetMe
MeetMe can be traced back to 2005 when it was launched as a social media platform. It's a fun, friendly, and free way to find new people nearby who share the same interests and want to have a small-talk chat. It's more like a mobile bar or coffeehouse where users can make connections.
The app has more than 61 million active users. It comes with standard dating features like chat, search, and livestreaming. In 2020, MeetMe introduced the Blind Date game that can randomly pair users based on their preferences.
Main features:
Geolocation

Profile browse

Match and chat

Profile boosts

Search filters

Livestream service

Games

User footprints
Pricing:
Free to use and also offers subscriptions starting from $4.99/month.
Download:
Wrapping up
These applications are amazing examples of what is currently trending in the dating app niche. With the right marketing plan, unique ideas, and top-notch development, any application can undermine the market and become a competitor to these already-established brands.
Related: How to Create a Dating App: Trends, Features, and Costs
If you are eager to try making a dating app, let's pool our efforts. On our end, we guarantee a team of experienced professionals with a passion for app development. Contact us at Orangesoft today!