There are more than 5.7 million apps on both the App Store and Google Play. All of them potentially can generate millions of dollars, but only a small portion of apps do.
If you are considering creating an app to generate a source of revenue, there are many different variables you should take into account. However, keep in mind that if revenue is the only reason why you want to create an app, it may be better to reconsider.
While seeing successful apps can tempt you to build a similar product, it is unlikely that you'll be able to create another Uber or Instagram. Before developing an app, research further and focus on the features that make popular apps profitable.
Now that you have an idea and a general vision of your app, you may have one question that restrains you from throwing yourself into this risky adventure: "How much money will I make?" Your answer strongly depends on your business niche, app platform, monetization strategy, and the various other factors that we will discuss later in this article.
How Does the Platform Influence Potential Earnings?
Platform choice can have a significant impact on your earning potential due to differences in market shares, purchasing power, and overall platform popularity. According to Statcounter, iOS takes about 27% of the world market, whereas Android takes almost 73%. However, the picture changes dramatically if you look at each region separately.
For example, users from countries like the USA, Canada, Australia, Japan, and Scandinavian countries prefer iOS while users from Eastern Europe, some Western European countries, South America, Africa, and most Asian countries tend to choose Android devices. When creating an app, these regional preferences are vital to the implementation of your monetization model.
According to Sensor Tower, in the App Store, the highest growth rates are expected in Africa, Middle East, Latin America, and Europe. These statistics indicate that you should consider these regions for your target audience if you're interested in an iOS app.
When looking at the growth rates for Google Play, it is predicted that the highest growth rates will be seen in Africa, Latin America, Europe, and Australia.
Beyond revenue predictions, another factor that should be taken into account is the purchasing power of users. According to Slickdeals, iPhone owners have a higher income than Android users, which results in the App Store users spending 2 times more money than the Google Play users.
Now, let's convert the stats above into money. According to Sensor Tower, the App Store will see a compound annual growth rate (CAGR) of 21% through 2025, reaching $185 billion annually and user spending on Google Play is projected to experience a 17% CAGR, hitting $85 billion annually within the next five years.
From the downloads perspective, the Apple App Store loses to Google Play Market. In the first half of 2021, App Store's app installs accounted for 16.3 billion, whereas there are 53.2 billion installs in Google Play, which is almost 3.5 times bigger.
From the factors that we explored in this section of the article, it seems like Apple can guarantee you more paying users due to its strong presence in high-revenue markets, while Google can give you wider market coverage and downloads.
Choose one or more of these platforms wisely because the income from your app depends on your decision.
What Are the Types of Revenue Models?
In addition to choosing the app's platform, it is important to consider the monetization model that you will use. The good news is that you don't need to reinvent the wheel; since there are millions of apps, the best-working monetization models are already known and tested.
By starting with known models, you can use other successful companies' experiences when deciding on the best monetization model for your app. After you get started with the known models, you can also experiment further with different models if you wanted.
To better understand the most common revenue models, let's first classify all models into three categories:
Free apps: This category of apps doesn't have any paid content. Free apps can be downloaded and used for free.
Partially free apps (Freemium): This is currently the most popular monetization model. Freemium apps can be downloaded for free, but the app limits users' functionality. To be able to enjoy the app's full functionality, the user will need to pay.
Paid apps: Paid apps require payment to be able to download the app unless there is a free trial period. However, after the trial period is over, the user will need to pay to continue using the app.
Now, let's see how you can make money using each of the payment models.
Free Apps
Yes, free apps can generate money. How is that possible? The answer is in-app advertising, also known as affiliate marketing.
You earn money based on the users' interactions with the advertisements displayed in the app. Remember, to make a good profit from your free app, you need to have a lot of downloads.
The most popular affiliate marketing campaign types include:
Cost per click (CPC): You get paid for each click on the ads displayed in your app. However, one click is nothing, so these campaigns' revenue is calculated on a cost per mille (thousand) basis.
Cost per view (CPW): The more times users watch the ads, the more money you get. This type of campaign typically uses video ads.
Cost per install (CPI): You get paid when users of your app install an advertised app.
The key benefit of the free apps monetization strategy is that there is a great variety of ad formats, so you can choose the one that best suits your needs.

Ad Formats in Mobile Applications
As you can see, there are a lot of options to choose from. To start with, you can choose an ad format based on criteria that bother you the most, whether it's price or level of user engagement. There is only one drawback to this approach. Unlike other monetization strategies, because of their nature, ads need to be tested and analyzed constantly, which leads to more frequent changes in terms of formats and placements.
Related: How Do Free Apps Make Money – 9 Proven Monetization Strategies
Partially Free Apps (Freemium)
The freemium monetization model is a good alternative to choose if you are not into the idea of using ads in your app, and users like it when they can explore the content before spending any money.
Using the freemium model means using in-app purchases or in-app subscriptions. With this model, the app can sell additional content, including extra lives in games, virtual currency, ads removing options, premium content, etc.
There are some disadvantages to this monetization strategy that you should be aware of. According to AppsFlyer's research, the majority of the app's users won't make an in-app purchase, as they have chosen to only enjoy the app's free content.
However, you shouldn't be afraid to use this model if you give your users content that has real value. By doing so, you gain their loyalty that can be converted into paying customers.
In this case, we believe that the best way to show users all the benefits of your app is to offer them a trial period. This way, you can prove that your product is worth their time and money.
Here, a disadvantage is that you need to keep in mind that you won't get the exact amount of money that you charge for your in-app offers. This is because both Apple and Google's app stores charge a fee between 15% and 30% on each transaction. The goal here is to find the right balance between how much money you can allocate to service fees and how much money your users are willing to pay for additional content.
Paid Apps
Paid apps charge a one-time download fee, allowing users to purchase an app with all its features. It is considered the oldest and most straightforward monetization strategy. In the early days of app stores, paid apps were the dominating monetization strategy.
Today, the statistics say otherwise, as users prefer free and freemium apps. The increase in demand for free and freemium apps pushes developers towards using these monetization models rather than the paid app model.
Free and Paid App Distribution for Android and iOS. Source:
Statista
With the paid app monetization model, revenue is strictly connected to new users. If constantly growing a new user base isn't a problem for you, then go ahead, use the paid app model, and set a price for your app.
If you still doubt that you can make a significant profit on your mobile app, just look at these numbers. In the first half of 2021, users spent $64.9 billion on Apple's App Store and Google Play Store, which is a 24.8% increase from H1 2020. When looking further into these figures, the main source of 2021's app revenue comes from in-app subscriptions.
Which Mobile Apps Categories Generate the Most Money?
During the COVID-19 pandemic, home quarantine measures were introduced to flatten the curve and restrain the spread. People had to stay at home where the smartphone was the portal to the outside world. And in the next few years, we expect mobile to take over even a greater share of our lives. Time spent in main "at-home" app categories is expected to exceed 1.3 trillion hours on Android phones alone in 2021.
Regarding potential earnings, by 2025, more App Store revenue will come from apps than mobile games. The continued growth of subscription monetization will help spending in non-game apps reach $107 billion on Apple's App Store in 2025.
Game apps will continue to take a higher share on Google Play than the App Store, with its projected 71% share in 2025 compared to 42% on the App Store.
Game Apps
The global mobile games market is rapidly developing, making up 72% of all app store spend. Consumer spending in the games market has reached $100 billion in 2020 and is expected to reach new heights in 2021, surpassing $120 billion.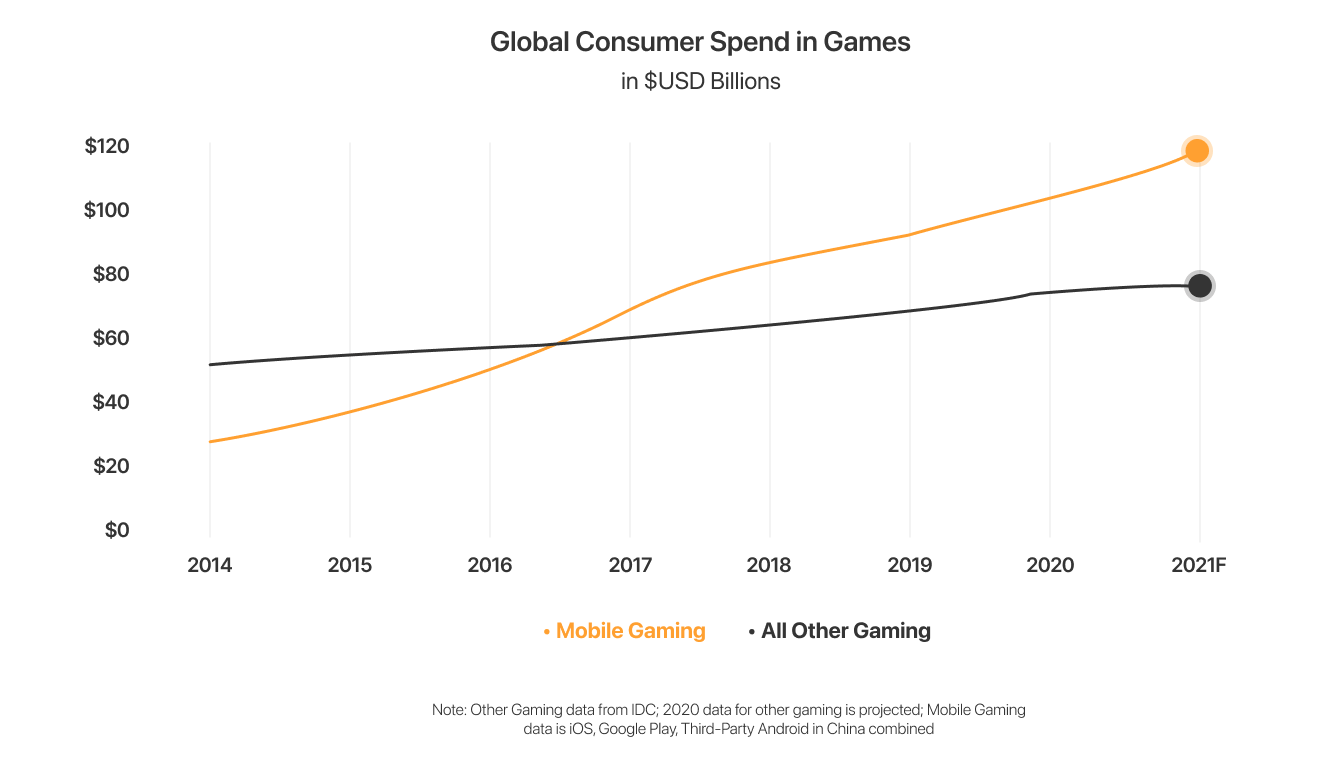 Global Consumer Spend in Games. Source:
App Annie
So, how do games make money? The monetization strategy in game apps usually depends on the game genre. For example, hyper-casual games are usually free and don't demand a strong skill set. For hyper-casual games, their main source of revenue is ads.
Paper.io is an example of implementing rewarding ads in order to get an extra life and continue playing the game. Paper.io's estimated revenue is about $5K per month.
Related: How to Make a Gaming App - A Step-by-Step Guide
For other genres like simulation and casual games, which require a higher level of engagement and skill set, in-app purchases are used as the main form of monetization. Examples of this monetization model include Honor of Kings, which earned more than $1.5 billion in H1 2021, and Tencent's PUBG Mobile, which approached $1.5 billion in the first half of 2021.
Both PUBG Mobile and Honor of Kings are free to download, but the real money is made through in-app purchases. For example, in Honor of Kings, users can pay to upgrade their characters, costumes, and weapons, and that brings in significant revenue when you consider the game's audience of 100 million active users daily.
Dating Apps
The popularity of online dating among users will continue to rise in the upcoming years. As for revenues, consumers spent over $3 billion on dating apps in 2020, seeing a total of 560 million dating app downloads.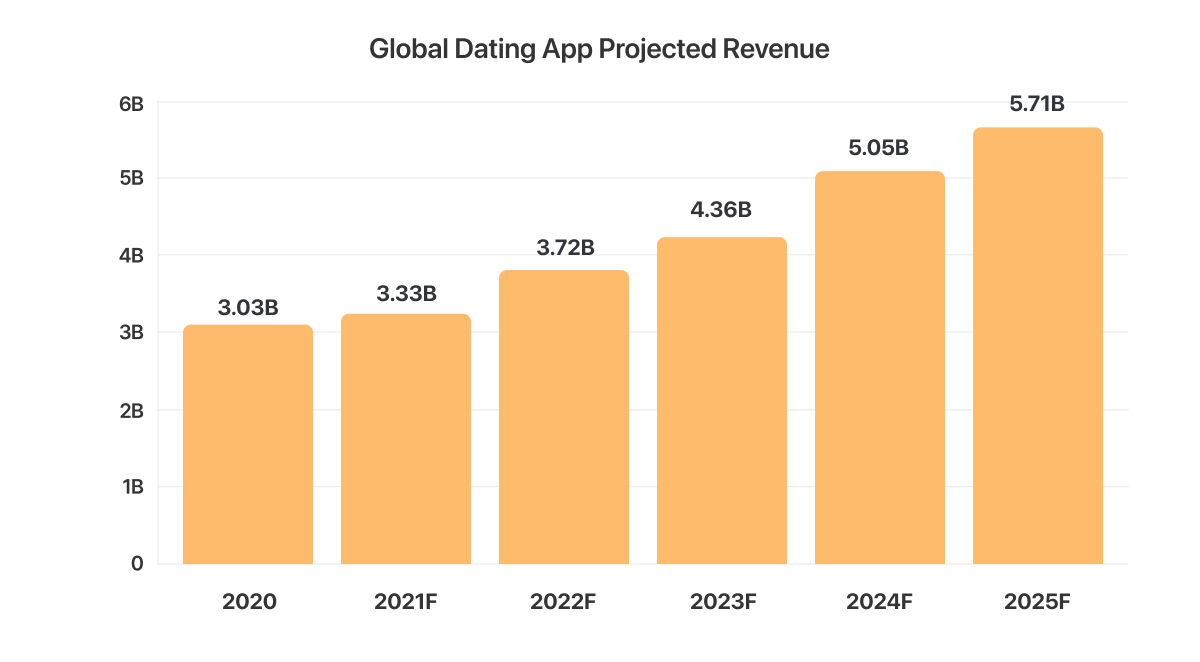 The most popular monetization strategy used in dating apps is in-app purchases, specifically in-app subscriptions. A great example of a subscription-based app is Tinder, which has generated $1.4 billion across both stores, making Tinder the most lucrative non-gaming app in 2020. Here, Tinder is free to download, but it makes money by offering premium features, including extra likes or unlimited swipes on a monthly or yearly subscription basis.
Bumble, a close competitor to Tinder, is the second-highest-grossing dating app with more than 100 million users and $542.2 million in revenue in 2020. Compared to Tinder, Bumble is more female-friendly, centered around women initiating conversations.
While Bumble has a smaller user base, it exhibits higher quality profiles and focuses on serious relationships rather than just hookups. Bumble adopted its monetization model from Tinder, offering premium features via subscriptions to its users.
Related: How to Create a Dating App: Trends, Features and Costs
With dating apps, the subscription model is not the only possible revenue stream. For instance, MeetMe uses in-app advertising in order to have a constant money flow, as the majority of dating app users prefer not to spend money on premium features.
Further, MeetMe offers its users an alternative to in-app purchases in the form of rewarded video ads. By watching a video, users gain the ability to boost their profile. This approach allows MeetMe to earn $4 million in revenue and 300K downloads per month.
Entertainment Apps
More and more people choose streaming services for their entertainment needs instead of paying for cable. Thanks to their more direct and personalized distribution over cable, these apps are prospering. Consumers in the US will have an average of 9.5 video streaming apps installed on their phones in 2021 — up 85% from 2019 as they seek more content options during the COVID-19 pandemic.
Two of the top-grossing entertainment apps in the first half of 2020 are TikTok and YouTube. Both apps have different monetization strategies, and yet, they remain the top leaders of this niche.
YouTube has generated $564.7 million globally in H1 2021 while offering the majority of its content for free. How is this possible? YouTube generates revenue via sharing in-app ads and offering subscriptions to its audience of 2.3 billion users per month.
TikTok, on the contrary, uses a combination of ads and in-app purchases, allowing users to spend real money purchasing TikTok coins to send virtual gifts to other users. Such a strategy helped TikTok to become one of the top-grossing apps in the first half of 2021, generating $920 million in revenue.
Video and audio streaming apps are also popular in the entertainment category. Like YouTube, the majority of video and audio streaming apps like Netflix and Pandora earn revenue by using subscriptions and ads, generating ~$19 million and ~$21 million per month, respectively.
Health and Fitness Apps
Amidst COVID-19 lockdowns, at-home fitness apps set new records for consumer spend and saw remarkable revenue growth in 2020. For example, Peloton's global revenue almost doubled from just under 734 million U.S. dollars in 2019 to over 1.46 billion U.S. dollars in 2020. Home fitness is expected to continue to grow throughout 2021 as companies adopt long-term work from home strategies and consumers change their mobile habits. According to the report by Reports and Data, the global fitness app market is expected to reach $14.64 billion by 2027.
The leaders in the health and fitness category also include Strava, with around $5 million in user spending per month, and Calm, a meditation application with more than $6 million in gross revenue per month. Both of these apps operate on a subscription-based model, allowing users to unlock additional premium features and offer in-app purchases, which allow users to pay for services and products related to sports and meditation.
Another popular app comes from personal trainer Kayla Itsines, and Itsines's Sweat app is a great example for new app developers. Right after its release in late 2015, Sweat gained a stunning user base, which converted into $100 million in yearly revenue.
Itsines created a Bikini Body Guide (BBG) community converting online fans into paying customers. How? By providing users with 28-minute workouts, yoga videos, and meal plans on a monthly or yearly basis.
Related: How to Develop a Telemedicine App: Trends, Features and Costs
Miscellaneous Apps
On a smaller scale, other app categories can also generate a significant amount of money. For example, educational apps can offer you not only a profitable market but also a chance to make a positive impact.
Babbel is a good example of a lucrative language learning app, offering 10- to 15-minute lessons crafted by language experts and native speakers. This app makes its impact by focusing on conversational training rather than excessive vocabulary.
For revenue, Babbel uses a subscription-based model and doesn't have any in-app ads that distract users from learning like other educational apps. Babbel's monetization strategy has resulted in $150 million in revenue per year.
In 2021, educational apps are expected to see a 4-year CAGR of 62%, fueled by the continued growth in collaboration and video conferencing apps.
Related: How to Create an Educational App in 2022
All the apps mentioned above show a huge difference in revenue potential based on category. Currently, the most profitable app category is games due to higher consumer spending.
Additionally, video and audio streaming apps, as well as dating apps, are the most lucrative categories. Plus, the booming health and fitness app category also shows an impressive revenue potential. However, you shouldn't forget that there is plenty of room for prosperity in other app categories, too.
Remarkably, all the top-grossing apps operate on a subscription-based model that encourages users to switch to a premium mode to experience the app's full potential. This monetization strategy is especially beneficial for apps with dynamic content like games and streaming apps.
Related: What Types of Apps Make The Most Money
Is it Profitable to Develop Apps for Other Smart Devices?
It is not a surprise that apps can be found on other smart devices nowadays. Thanks to the growing popularity of the Internet of Things (IoT) and connected devices, the wearable technology market reached $70 billion in revenue in 2019. Currently, wearable devices are especially popular in the wellness and healthcare industry, as they offer real-time information about a user's overall health, including data on blood pressure, glucose levels, quality and quantity of sleep, steps taken, and other information about day-to-day activities.

The market of wearable devices is segmented into eyewear, headwear, bodywear, wristwear, footwear, and other wear. If you have any thoughts about choosing this market, you'd better take a closer look at the eyewear and headwear product segments because they are predicted to thrive in the next few years.
Another kind of smart device that is increasing in popularity is smart TVs. Because of the rising trend of video streaming media, the amount of smart TV consumers has been increasing, too.
By 2027, it is reported that the Smart TV market is going to be worth $316 billion. The most popular apps used on Smart TVs are ones that already have a large user base like Netflix, Hulu, and YouTube.
Finally, rapid AI development gave birth to virtual assistants, like Alexa and Google Assistant, that can play music, read out the news, and tell you the weather. It is expected that the smart speaker global market could earn over $35.5 billion by 2025.
As you can see, apps don't have to be strictly tailored to mobile phones, and you should keep smart and wearable devices in mind when designing your app. Diversifying your app can be beneficial both in terms of exposure and additional revenue streams.
Key Takeaways
"How much money can apps generate?" is a question that might not have a definite answer, but the statistics on different apps' revenue can help give you a general understanding. For example, games and entertainment apps have the potential to be billion-dollar earners. And there is also significant earning potential in less complex apps and smart devices.
Based on our research, we've seen that the majority of the industry giants prefer a subscription-based monetization model, and this model is often combined with other streams of revenue. So, don't forget about other smart devices when designing your app.
There are endless possibilities to make a profit out of mobile apps. Doing your research on platform differences, revenue models, and the most popular app categories can help you develop the ideal monetization model that fits with your app idea.
Orangesoft's mission is to help businesses grow with the help of our mobile app development expertise. If you're stuck wondering how you can create a cost-efficient mobile app, contact us for a free consultation.
This article was originally published on Clutch