Fitness has always been the core building block for our health and wellness. The pandemic has further stressed the importance of regular physical activity. Similarly, global downloads of fitness apps have skyrocketed from 1.97 billion in 2019 to 2.48 billion in 2021.

And although the big moment of mobile fitness apps has become history, the prospects for this category are still bright even in the post-pandemic era. The global fitness app market size was estimated at $1.3 billion in 2022 and is expected to grow at a CAGR of 17.6% from 2023 to 2030.
Given this information, no wonder forward-looking business owners are tapping into fitness application development to get their share of the market. In this article, you'll learn how to create a fitness app and the estimates for building one with Orangesoft.
The State of the Fitness App Market in 2023
During the pandemic, fitness apps became more integrated into our daily routine as people aimed to enrich their lives at home. This quickly incited irreversible, long-lasting changes that added a digital coat to the global fitness market. The below figures attest to the rising dominance of digital fitness solutions like fitness apps:
Along with the pandemic shift, the rising penetration of smart devices and wearables, AI-driven personalization, and on-demand fitness solutions are the main factors that spearhead digital fitness experiences.
Leading Types of Fitness Apps
If you are looking to create your own fitness app, you should be aware of the diversity in this niche. Be it a meditation app or a workout plan app, each type has its differentiators and a set of signature features.
Activity tracking apps
These mobile apps promote healthier and more active life by tracking users' daily activity. Activity tracking apps track and calculate the users' daily steps, exercise information, calories burned, sleep data, and more. These apps can log user activity by leveraging:
Geolocation – measures the distance, speed, and pace and monitors routes;
Accelerometer – counts the number of steps and tracks the rhythm of your steps as you walk or run.
Most activity tracking apps support wearable devices such as Apple Watch or Android Wear. ASICS RunKeeper is a popular example in this category. Created for runners, the RunKeeper app can track running, walking, swimming, and more.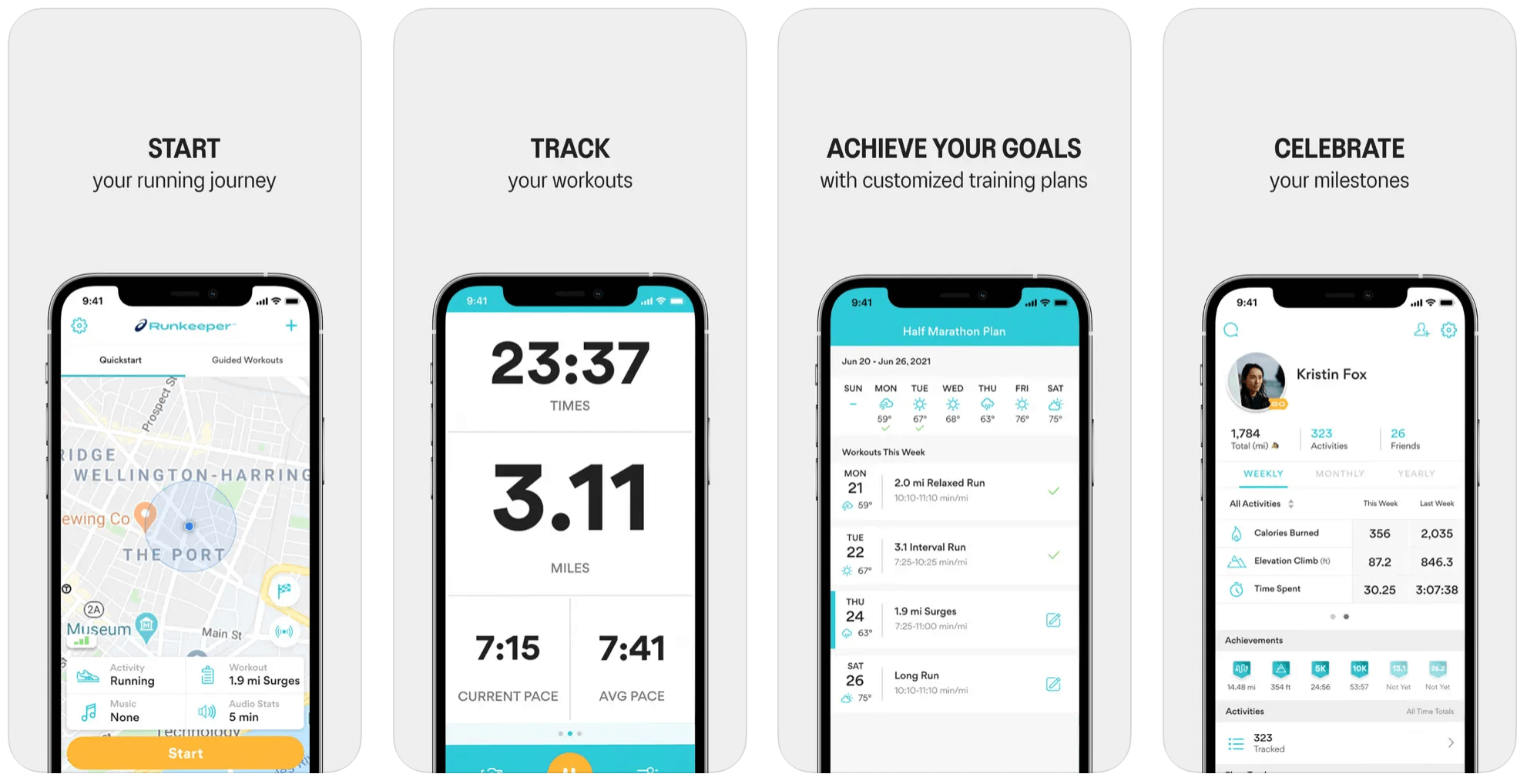 ASICS RunKeeper app
Workout apps
Workout application development refers to apps that provide personalized workouts, video tutorials, and other on-demand workout activities. Workout apps can integrate with trackers, smartwatches, smart scales, and other smart devices to give fitness enthusiasts a holistic overview of their progress. The set of core features for workout apps is similar to other fitness apps, including:
Gamification elements – badges, rewards, leaderboards, and progress bars motivate users to exercise;
Calorie and water tracker – some workout apps track calorie and water intake;
Personalization – personalized workouts are tailored to specific fitness goals, calories burned, and experience levels;
Social sharing – users can share their daily fitness progress.
An example of a workout out is Planet Fitness, which raked in the most downloads among workout apps in the US; specifically, in 2022, Planet Fitness nabbed over 18 million downloads.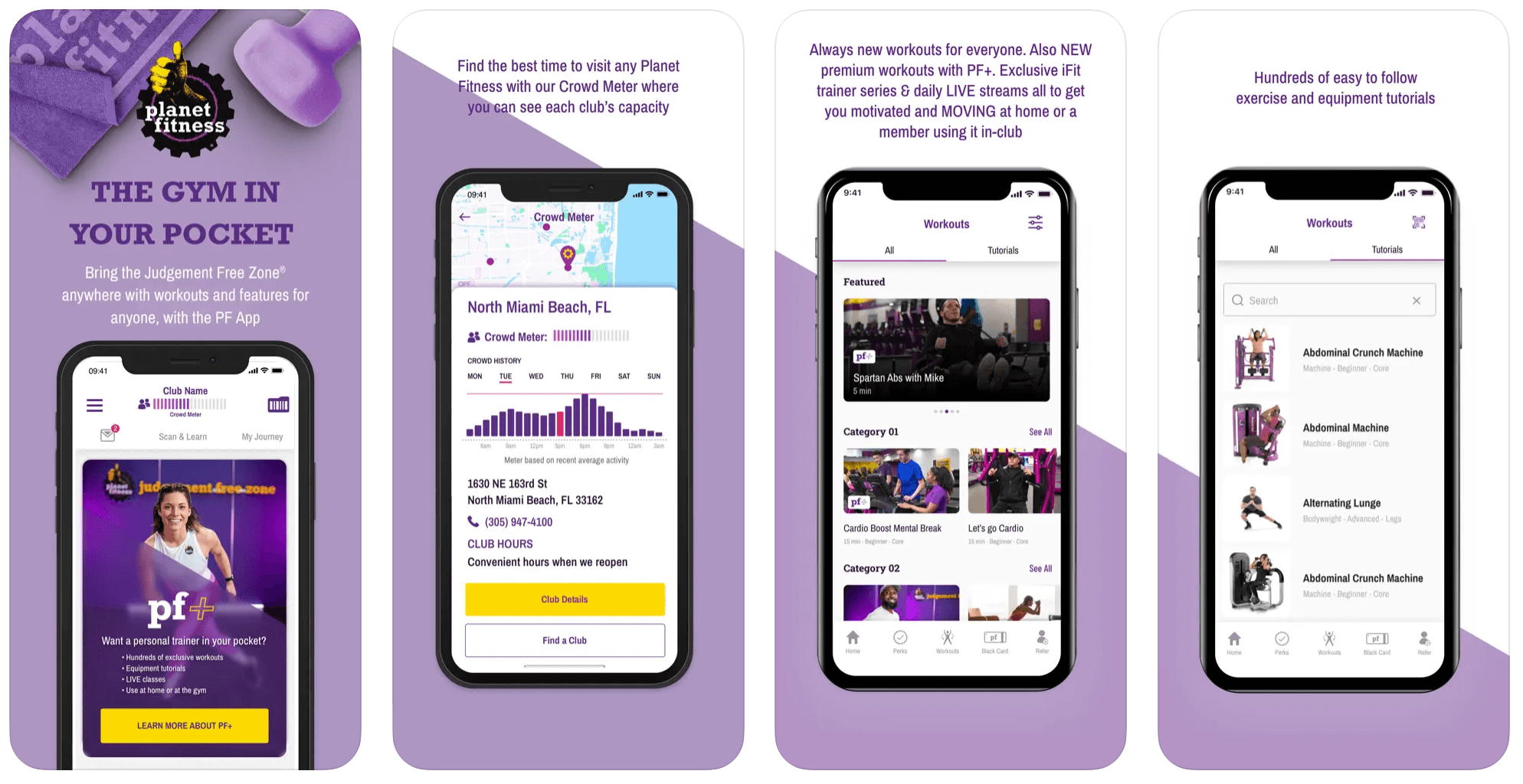 Planet Fitness app
Smart coach apps
The smart coach fitness app idea leverages AI-powered computer vision to make exercising safe and injury-free. Smart coach solutions use real-time pose tracking and estimation to analyze users' movements and give feedback on their exercise technique. Some smart fitness applications can also detect equipment and recommend the right weight when using equipment like dumbbells and barbells.
Smart coaches rely on motion tracking, 3D pose estimation, and machine learning algorithms to monitor your posture during exercise and identify the equipment. Tempo is a prominent example of AI-based health and fitness apps. Its in-app 3D sensors count reps, correct form, and recommend weights to users during 2,000+ guided workouts.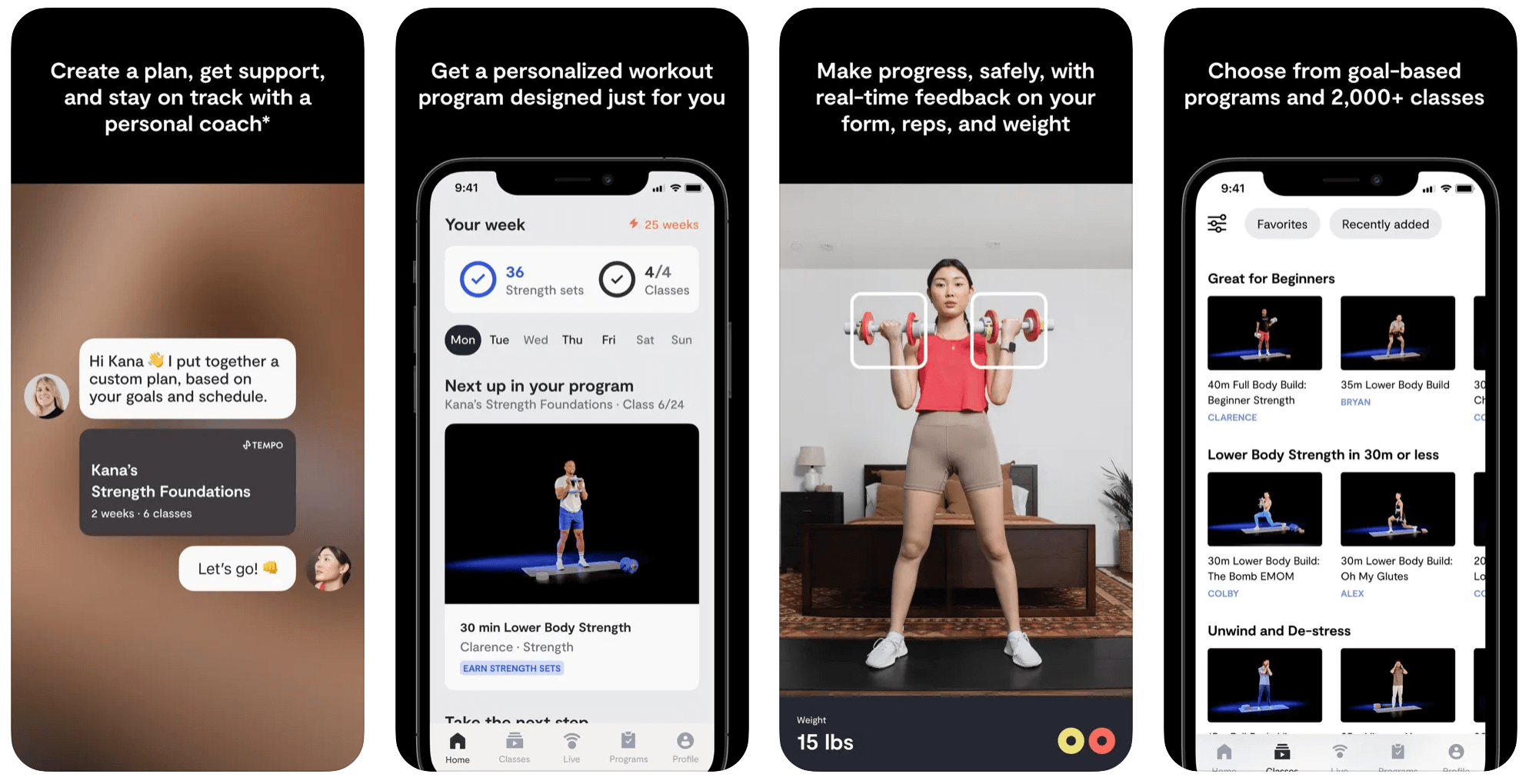 Tempo app
Diet and nutrition apps
Along with mobile exercise guides, the weight loss segment is among the most commercially viable fitness app type. This is because nutrition apps help people live healthier lifestyles by providing insights into a balanced diet.
Further, they allow users to log consumed calories, track weight, and provide free recipe ideas. Diet and nutrition apps track eating habits with the help of the following app features:
Food database – allows users to log food intake easily;
Barcode scanning – provides information about a particular product's nutritional makeup;
Food logger – tracks meals and food intake;
Meal planner – helps decide meals in advance;
Calorie calculator – estimates the number of calories;
Water consumption – tracks water intake per day;
Shopping list organizer – helps plan the items to shop for;
Recommended recipes and others.
Currently, MyFitnessPal is the leading nutrition and diet app worldwide. Packed with food analysis, calorie goals, and macros by meal, this diet app assists users in their journey toward a healthier lifestyle.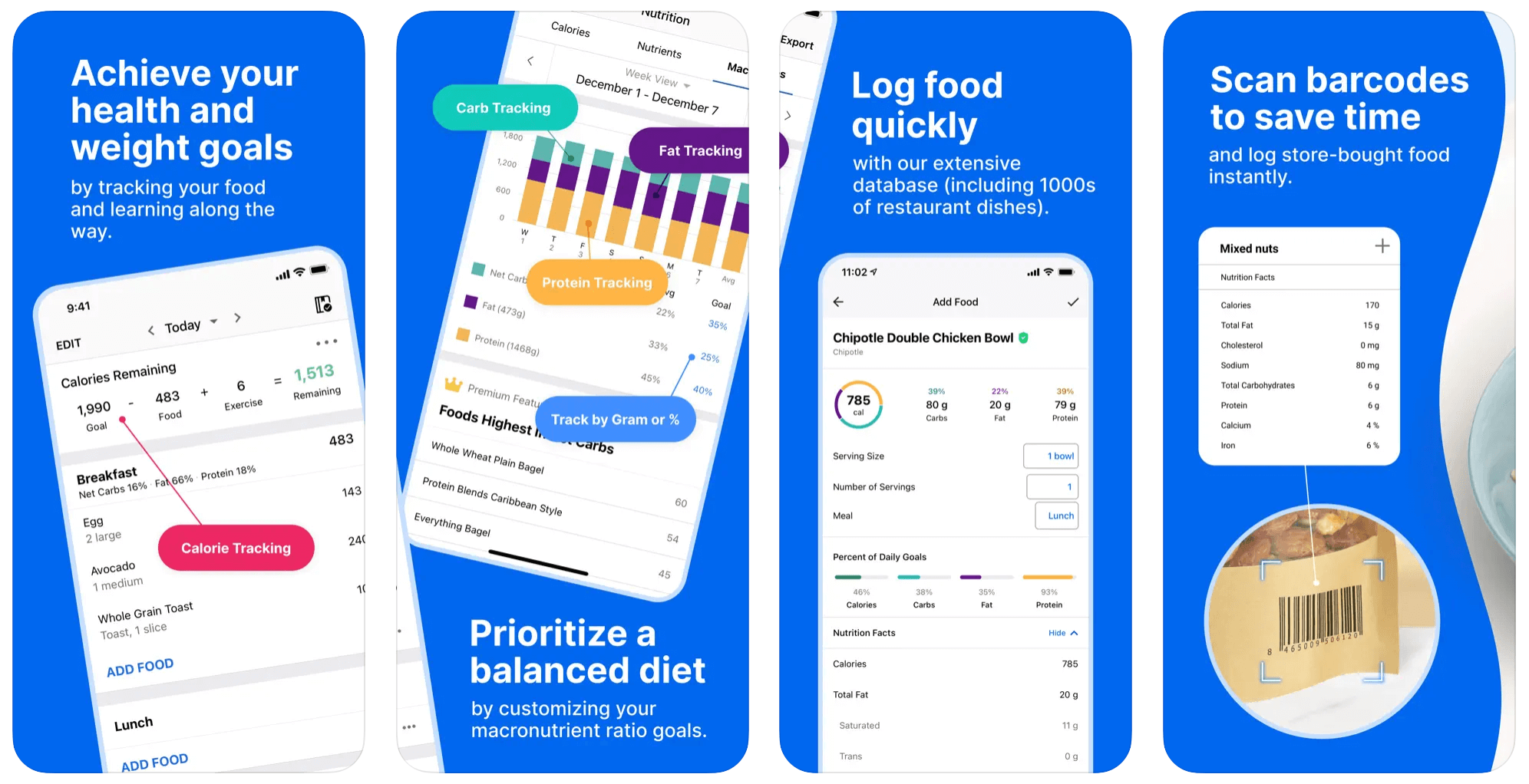 MyFitnessPal app
Meditation apps
The global meditation apps market was valued at $1.1 billion in 2021 and is projected to reach $6.8 billion by 2030. This app category owes some of its popularity to growing stress worldwide; for instance, around 87% of US adults feel overwhelmed due to prolonged stress and economic crises.
These wellness app solutions help users find peace of mind through guided meditations, focused deep breathing, and other techniques. Meditation or mindfulness apps are a great supplement to mindfulness exercises and help users combat anxiety and sleep problems through mood trackers, meditation timers, and sleep stories. Mindfulness app features may include but are not limited to:
Wearable integration – connecting to wearables to gather sleep data;
Gamification – rewarding the user's progress with bonus points;
Recommendations – suggesting meditations and practices based on the user's interests;
Geolocation – finding fellow users in the same area or surfacing geo-based content;
Live streaming – streaming meditation classes and audio content.
The mobile meditation and mental wellness app Calm tops the meditation app niche. In 2022, the Calm app totaled around 8.8 million downloads in the United States.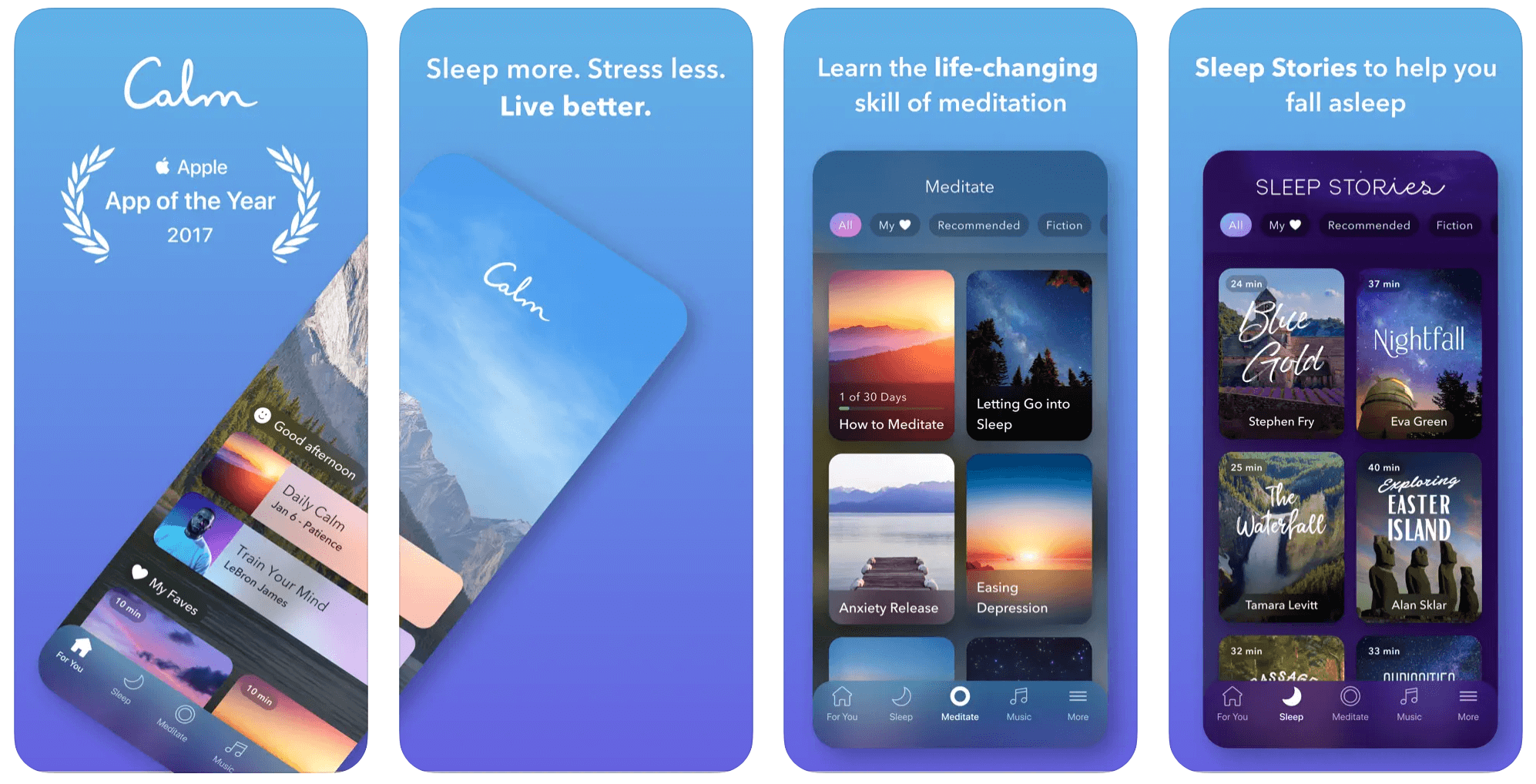 Calm app
Yoga apps
These mobile solutions offer on-demand yoga sessions and practices to beginners and longtime yogis. Yoga apps usually include audio-guided yoga sessions, structured yoga training plans, and pose reference guides. The feature set in yoga apps is similar to meditation apps, including live-streaming, geolocation, gamified elements, and personalized recommendations.
Yoga-Go is among the most popular yoga apps. This app delivers simple home-based yoga and pilates workouts that help users get toned and regulate their emotions.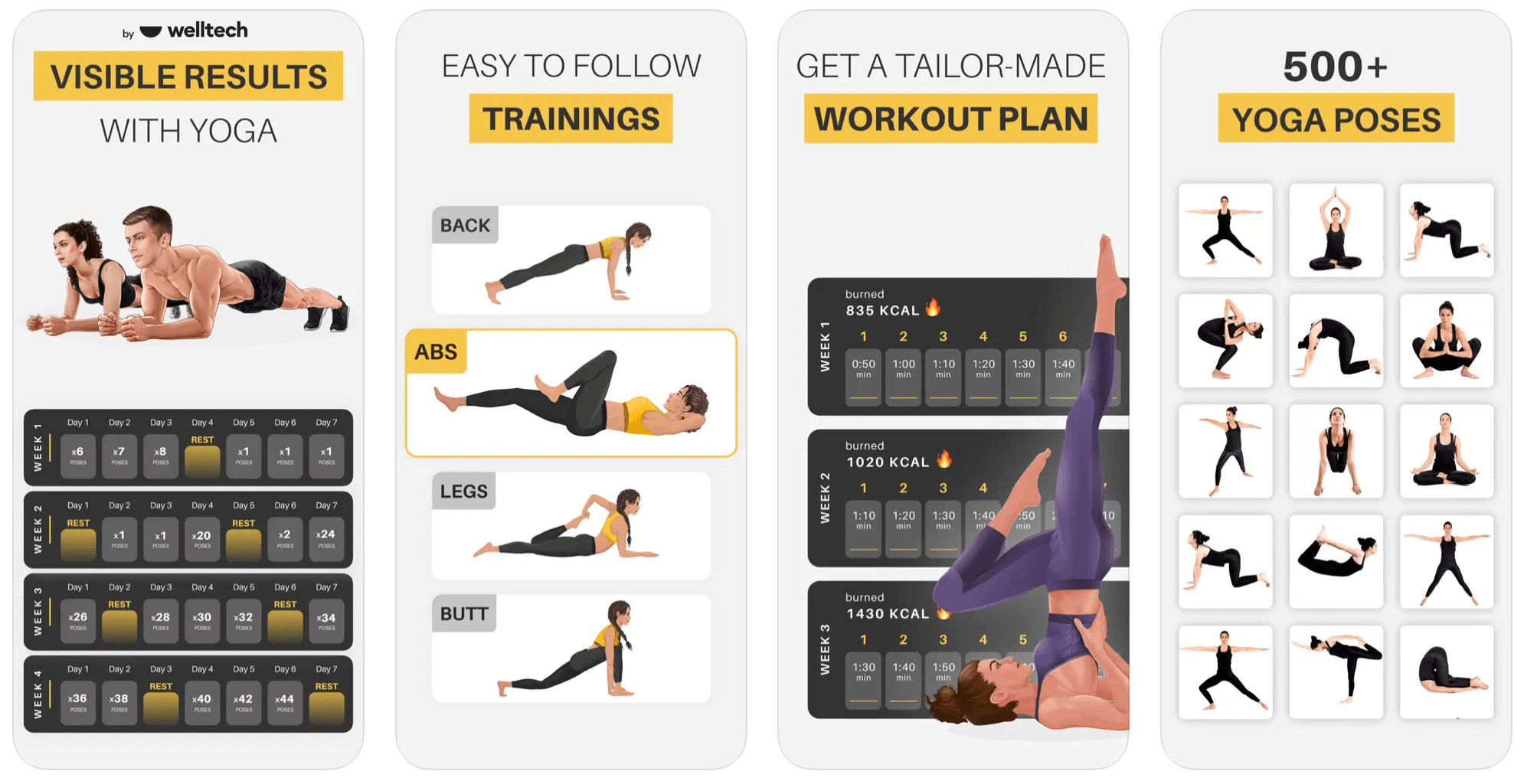 Yoga-Go app
Move-to-earn apps
Following the crypto craze, move-to-earn apps reward users for exercising and are usually premised on the blockchain. These game-like apps pay users in crypto or tokens for working out.
Then, rewards can then be used to make in-app purchases. Users can also trade their rewards on exchanges or use them to invest in other cryptocurrencies.
Among the main fitness app features of the category are blockchain and gamification. Some move-to-earn apps also rely on immersive technologies to add a digital experience.
DEFY is one of the trailblazers among location-based move-to-earn games. Fuelled by augmented reality, the app immerses users into a virtual metaverse world where users join a revolution to fight against an evil tech corporation. Players reap FCOIN rewards as they complete in-game tasks.
Related: 8 Fitness App Ideas Booming in 2023
Step-by-Step Fitness App Development Process
Developing a fitness application isn't as tricky as it may sound. However, your fitness app development team should still find the right mix of preliminary analysis, solid architectures, and interactive interfaces to create a successful workout app. Next, we'll explain each step you need to take when developing your fitness app.
Define the niche
Since fitness app development takes different shapes, you should first narrow down your fitness app idea. Whether it's guided meditations or on-demand workouts, each of these applications has unique features that impact the whole app development process.
Find a burning problem to solve, check the niche for profitability, and skim through the top-grossing apps in the niche. With these insights, you are better equipped to make the right decision.
Research competitors and target audience
In-depth market research is a paramount step in your fitness app's development. By analyzing current market trends and competitors, you build a better understanding of key market players, core fitness app features, and common mistakes and problems.
Before starting development, you should also shape your vision of the end user. Analyze your competitors' user base, conduct interviews, and create detailed user personas with specific needs, problems, and interests. Competitor data and customer insights will make sure that your fitness app targets the right app users with the right features.
Gather a reliable team
Hiring vetted app developers is key if you want to build a successful health and fitness app. Make sure that your tech partner has a proven track record on similar projects and shares your business vision.
You can either secure your fitness app development team on-site or outsource the end-to-end process to a vendor. Both hiring models have their benefits, yet outsourced development is unmatched in terms of affordability, quality, and hiring speed.
Shape the concept and define the feature set
Now that you have your team on board, it's time to peel back your business idea and transform it into a validated concept. Your development team will add another dimension to your business analysis and enrich it with new actionable insights.
At this stage, your initial research is complemented by the vision of your development team. Together, you'll form and solidify core app features, user personas, and customer journey maps. Then, based on this collaboration, you'll further shape your value proposition.
Finally, the whole research process is transformed into a short brief that summarizes competitor analysis and audience research. This step also outlines the main objectives of your solution.
Design compelling UI/UX
Now that the pre-planning stage is done, it's time to shape the look and feel of your digital product. Based on user personas and market analysis, your UI/UX designers will create a few prototypes and test them with a focus group of target users.
A prototype is a preliminary version of your app's interface that has no code yet mimics the user flow of the future solution. The prototype version that collects the most positive feedback becomes the final draft of your future interface. Then, the final layout screens are sent to the development team.
Overall, your interface design should be highly intuitive and stripped of all the unnecessary things and screens, like a long log-in process. For instance, an app should throw the user straight into the workout and support the user flow with registration, onboarding, schedule, goals, and other essential screens.
Choose the development approach
During this stage, developers pick the right technology stack to transform your product idea into a full-fledged fitness app. The choice of your tech stack is based on your company's tech maturity, app requirements, and cost expectations. The development team plans the overcoming process of app creation and documents all milestones in the following materials:
Technical design document – a detailed plan that outlines system architecture, business logic, interfaces, and everything needed for developers to make a fitness app;
Product roadmap – a shared source of truth with short and long-term goals, timelines, and costs;
Technical requirements document – a complete description of system requirements.
Develop and test the MVP
A minimum viable product (MVP) is the first version of your fitness app. It is made of core app features only, thus allowing you to test your product hypothesis without spending time and effort on the whole feature set.
During this stage, the QA team validates your MVP and ensures it's up to initial business and fits the tech requirements. Once your MVP is ready, developers roll it out on Google Play Store or App Store to collect real-user feedback.
Improve and support your mobile fitness app
The final stage of the development process is adding nice-to-have features to your MVP. The completed solution is then checked for bugs and inconsistencies and released to the audience.
However, to keep the bar high and ensure long-term app success, you should regularly update and maintain your product. Long-term application support will keep your solution in tune with new platform versions, evolving user needs, and high competition.
You should also keep tabs on your product's performance from a built-in mobile analytics tool such as Firebase or Mixpanel and monitor user reviews for bug reports and update ideas.
Basic Features for Fitness App Development
Although all wellness apps are different, they share some basic features like user login and payment gateways. You'll find the set of core features below:
Authorization features
Your applications should enable users to sign up or log in via multiple options, including social sign-up, email, and phone registration. The sign-up process can be followed by a quick onboarding that takes your user through the main functionalities of your application. The application can also send in-app prompts when users first sign up to the platform.
User profile
Profiles store user data on age, height, weight, fitness level, and other inputs. The app can then use this information to generate a personalized workout plan. Users can also track their progress via a profile and view a history of completed exercises.
Workout menu
The main methods of exercise demonstrations are via photos, 3D animated models, videos, and descriptions. Other menu sections differ by app type. For example, workout apps can show the number of calories burned, app duration, and intensity, while yoga applications are more focused on proper techniques and detailed descriptions.
Notifications and reminders
Positive and non-intrusive notifications motivate users to re-engage with your application, check out a new workout, or reap a reward. The app can gently remind users about upcoming training sessions and expert live streams as well as update them if other community members react to their progress. You can also enable users to start a workout right from notifications.
Statistics
Tracking user progress adds more motivation and accountability to users' fitness journeys.
Therefore, your application should visualize users' fitness goals and achieve milestones through charts, diagrams, progress bars, animated statistics, and other visual elements.
User activity tracking
Your app can gather user activity data from multiple sources. Specifically, in-built smartphone sensors such as accelerometers and GPS can pull the number of steps and share the data with the app.
Wearables are another source of activity data that can measure sleep quality, heart rate, fat-burning duration, and daily activity intensity. However, you need to add third-party APIs to connect your app with a wearable.
Third-party device connectivity
You can also connect your solution to other devices. Connecting third-party devices helps the application better understand the user's lifestyle, eating habits, and activity levels. Using third-party APIs, your application can connect to various trackers, smartwatches, smart scales, and other devices to gather different activity- or body-related data.
Fitness database
If your fitness app fails to provide diverse workout options, exercises, or food items, the user will quickly switch to another solution. Instead, let them choose the type of activity they want to engage in by embedding a comprehensive fitness database. A collection of exercises will help the user to train each muscle group, while a wide array of meal options provides a more varied diet.
Additional Features for Your Fitness Application
Your basic features will benefit from other, more complex functionality that will add more interactivity, engagement, and personalization options to the app. These additional features include:
Live streaming
Along with on-demand workouts, your application can stream live sessions hosted by fitness influencers, yoga gurus, or nutrition experts. In this case, you need to choose a reliable content delivery network, hosting option, and storage provider.
Social sharing
Sharing workout progress with friends is the best way to stay accountable. Social media integration will enable users to share their fitness breakthroughs with the social media network of their choice. This feature can also provide additional coverage of your application, provided the app's link is automatically inserted into a shared post.
Community and leaderboards
Leaderboards enhance engagement through social comparison. For example, they rank users according to their fitness success, calories burned, and distance walked.
To rank, users get points after completing an activity or reaching a specific milestone. You can also add gamification elements such as badges or rewards to spur competition.
Barcode scanner
Nutrition and diet apps usually include barcode scanners. These allow the user to scan the barcodes of food items and see their nutritional value.
Scanners also help add the products to the daily diet with a smartphone's camera. Sometimes, app creators also include machine learning recognition to identify fruits and veggies without barcodes.
Geolocation
Locating the user is one of the crucial features for activity monitoring fitness applications. Apps can display a map with a routing overlay or show the number of completed steps and distance.
Educational content
Wellness apps can also include dieting tips, exercise videos, or other tips on staying fit and healthy. In addition, educational material can be personalized to the user's goals and achievements and come in different forms like podcasts, videos, or blogs.
Goal setting
Apps that tackle physical activity often include goal setting to help users plan their workouts. Goals can be set by time frame, difficulty, weight loss, etc. Customized goal-setting will help adjust objectives based on the day of the week or nutrient ratio.
How Much Does it Cost to Create a Fitness App?
The cost of creating your own workout app varies based on the app's complexity, the number of features, and other cost drivers. Below, our team has prepared a ballpark MVP estimate of the cost for each activity, including a basic set of features and no add-ons.
| Feature | Development time, hours | Backend development time, hours | Approx. cost, $ |
| --- | --- | --- | --- |
| Sign in / Sign up | 42 | 32 | 3700 |
| Adding personal info | 32 | 16 | 2400 |
| Profile | 56 | 18 | 3700 |
| Home screen | 72 | 32 | 5200 |
| Workouts | 96 | 56 | 7600 |
| Nutrition | 96 | 40 | 6800 |
| Dashboards / reports | 96 | 72 | 8400 |
| Notifications | 24 | 20 | 2200 |
| Subscriptions | 56 | 56 | 5600 |
| Architecture | 56 | 32 | 4400 |
| Server interaction & API | 46 | – | 2300 |
| Database | 24 | 16 | 2000 |
| Admin panel | 156 | 110 | 13300 |
| Total | 852 | 500 | 67600 |
Based on our estimates, developing a fitness app will cost you around $67,600.
Keep in mind that our estimation lists only the costs related to the development stage. To plan, design, and test a full-fledged product, you will also need a team of business analysts, Q&A specialists, designers, and other specialists. These activities are priced separately and aren't included in the estimation above.
The prices above are based on two platforms. You can contact us to get a consultation and request project cost estimation for one platform.
Monetizing Fitness Apps
Like any other mobile solution, wellness apps can and should be monetized. Below, you'll find the most popular monetization strategies.
Paid apps
With this model, users pay to download and install your application. Paid apps charge a fixed download fee, starting at $0.99. The paid model is viable only when the cost is small and your brand already has a large following.
However, emerging brands and startups tend to avoid this monetization option. For instance, in 2022, only 3.7% of apps on the Google Play Store required an upfront payment for downloading their app.
In-app purchases
This business strategy involves selling physical or virtual goods within your app. These can include branded gym gear, sports nutrition, and other items. Users can also unlock additional training plans or nutrition tips for a one-time fee.
Ads
In this case, you are paid to display ads within your application. In-app ads can include banners, out-stream ads, and native ads that should be embedded into the user's experience seamlessly.
However, video ads can adversely impact the user experience. For example, video ads in meditation or yoga apps may cause problems since these practices shouldn't be interrupted.
Freemium apps
The freemium model allows users to download and use your application for free. However, some features, like advanced fitness plans or ad-free content, are locked. To unlock features, users are charged a recurring subscription fee.
Sponsored content
This monetization model means you've partnered with sports brands, nutrition brands, gyms, or influencers. In this case, the brand's promotional media, offers, or deals are placed on your app. For this option, an advertiser pays for sponsored content, and you share it on the app.
The Bottom Line
The boom in home workouts and healthier lifestyles has opened new doors for business owners. Being a lucrative niche, fitness app development brims with monetization potential and is a high-demand product among customers.
However, creating a wellness application can be challenging due to the number of features, technology choices, and design requirements. At Orangesoft, we are always ready to take care of your business idea and transform it into a successful application. Reach out to secure an experienced app development team for your project.