2022 was a period of high volatility for the business world, and now, the baton of economic turbulence has been passed to 2023. The mobile app ecosystem, however, was among the few sectors that got off lightly. The mobile app store spending on iOS and Android platforms slightly declined to $167 billion, a 2% year-over-year downswing.
This downturn was partially offset by a skyrocketing number of new app downloads. In 2022, new apps were downloaded 255 billion times, translating into 11% year-over-year growth. This figure means that users are still open to new experiences and services.
Individual categories set new milestones for what is financially possible in the market. According to the State of Mobile 2023 report, six app categories have snatched leadership in terms of consumer spending. Video streaming, dating, short video and video sharing, book, music, and audio apps were the highest-ranking categories, seizing over 50% of consumer spending.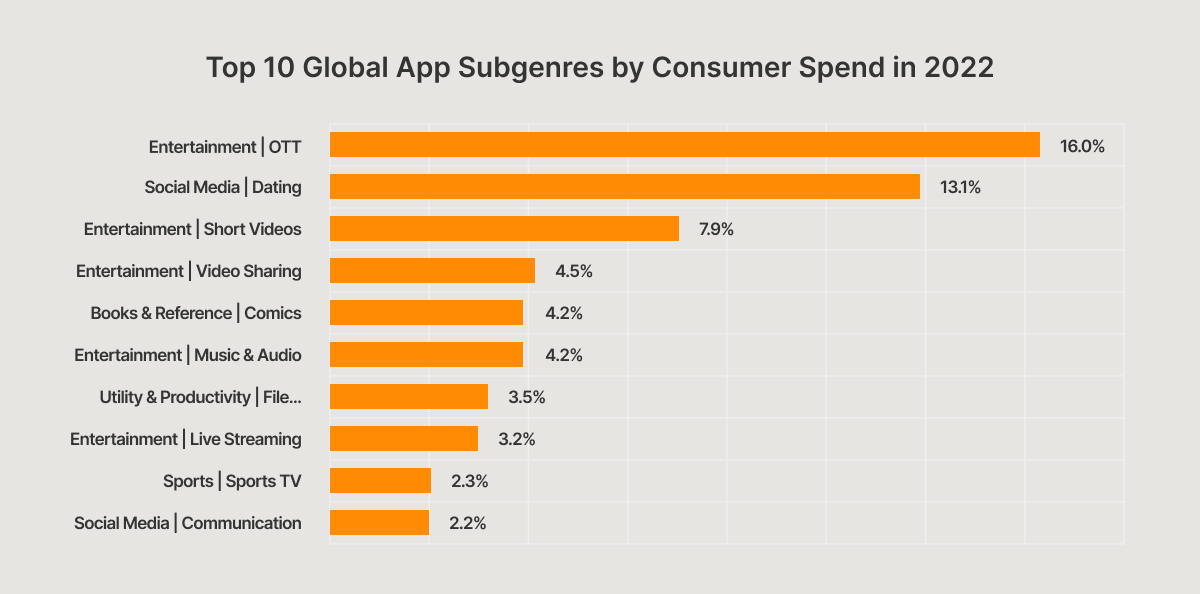 Of all apps, 224 earned $100 million in global consumer spending, while only four reached $1 billion. The number of apps earning $10 million has decreased slightly, from 1428 in 2021 to 1419 in 2022. However, the global app market is set to bounce back as consumers are about to spend more in app stores at the beginning of 2023 than in any other quarter — around $33.9 billion.
As for the monetization approach, in-app purchases, subscriptions, and ads account for the majority of mobile app earnings. In 2023, ad spend is slated to hit $362 billion.
With that said, we will now drill down into the most profitable app categories with the highest earning opportunities so that you're better aware of mobile app earning potential by category.
Related: How Much Money Can You Earn With an App?
5 Most Successful Mobile App Types That Generate Revenue for Businesses
In 2022, the daily time spent on mobile climbed to five hours; the following mobile app types have learned how to capitalize on this increase:
Game Apps
Games have always won the hearts and minds of app users by offering an exciting retreat from the real world. Over the last few years, the gaming app market has been invigorated with console-like graphics, gameplay experiences, and new titles.
Mobile game consumer spending has been growing steadily since 2018. However, in 2022, consumer spending on mobile gaming dropped by 5% to $110 billion.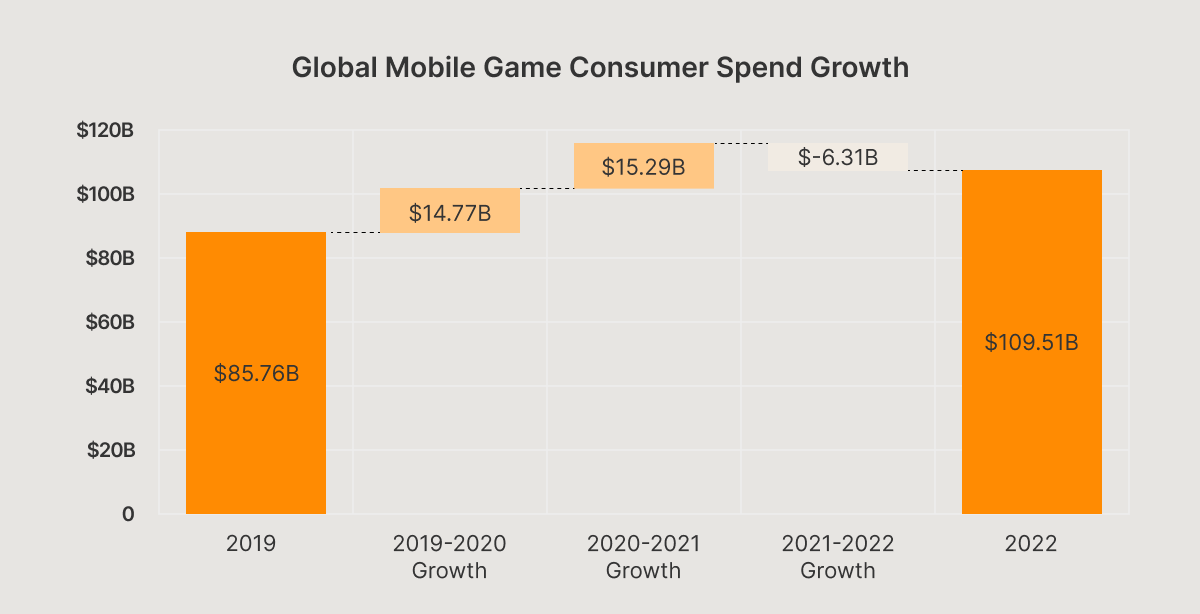 At the same time, downloads of the category surged to almost 90 billion.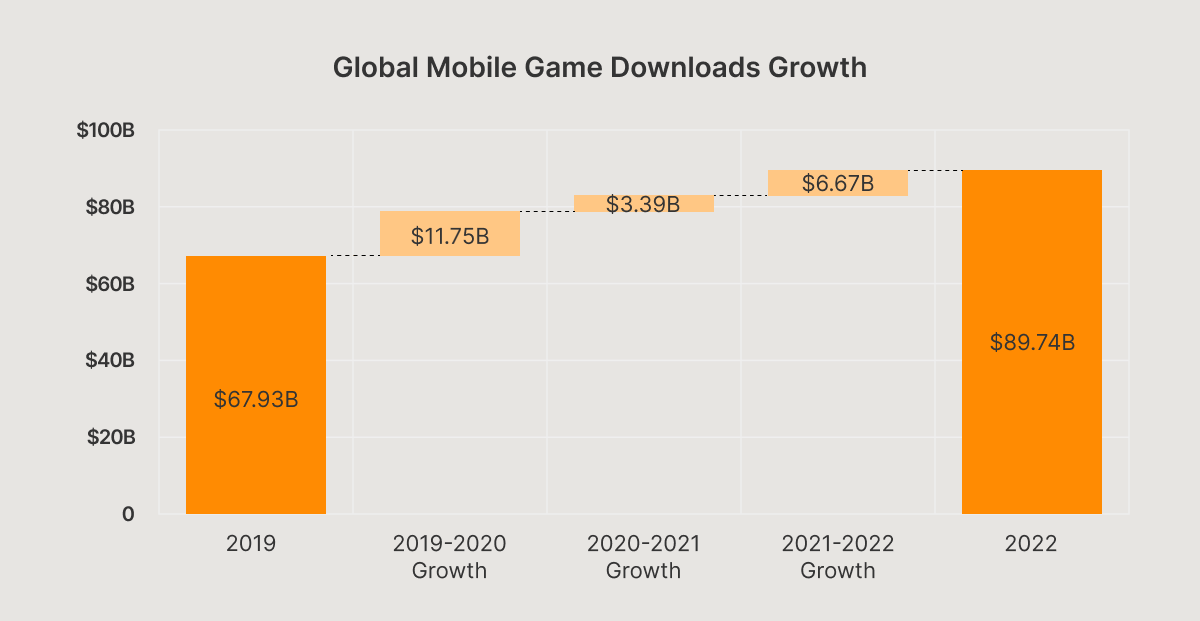 Here's which game genres brought the big bucks in 2022:
Role-playing games (RPGs) (the MMORPG and Team Battle subgenres) — spending inside these games stood at $25.5 billion, chief among them Genshin Impact, Pokemon Go, Lineage W, and Monster Strike.
Strategy (4X march-battle games) — this genre grossed $12.1 billion from in-app purchases in 2022, with top-performing Clash of Clans and Three Kingdoms Tactics.
Match — consumer spending for this category equaled $8.7 billion in 2022. Candy Crush Saga and Homescapes were among the most successful games in the category.
Let's highlight the most successful apps in the category.
Honor of Kings
Billed as the world's most-played game in the genre, Honor of Kings delivers the ultimate competitive experience to over 100 million mobile users. Originally, Honour of Kings appeared after Chinese gaming giant Tencent failed to convince League of Legends' publishers to create a mobile version of the PC game. Today, this game makes it easy for players to set up competitions with colleagues in a multiplayer online battle arena.
This app uses the freemium model with in-app purchases. In 2022, the game raked in over $2.2 billion in global in-app revenues, making it one of the most bankable mobile games ever. Honor of Kings also recorded over 280 million downloads worldwide since its launch in late 2015.
Genshin Impact
One of the year's biggest blockbusters, Genshin Impact, is an open-world action RPG that landed in the mainstream. This mobile gacha game is based on a free-to-play mechanism with premium add-ons. The game rang out the year with $4 billion in global revenue, while installs hit 126.4 million on mobile globally.
Candy Crush Saga
Candy Crush Saga is a popular match-three puzzle game. The game's goal is to score as many points as possible by matching rows of candy. This game is free to play, but users can purchase gold bars to buy moves, lives, and more. According to some estimates, the game accounts for over $600 million of revenue in the United States.
Social Apps
In 2022, there were over 4.26 billion social media users worldwide, equating to over half of the global population. This number is poised to grow to almost six billion by 2027.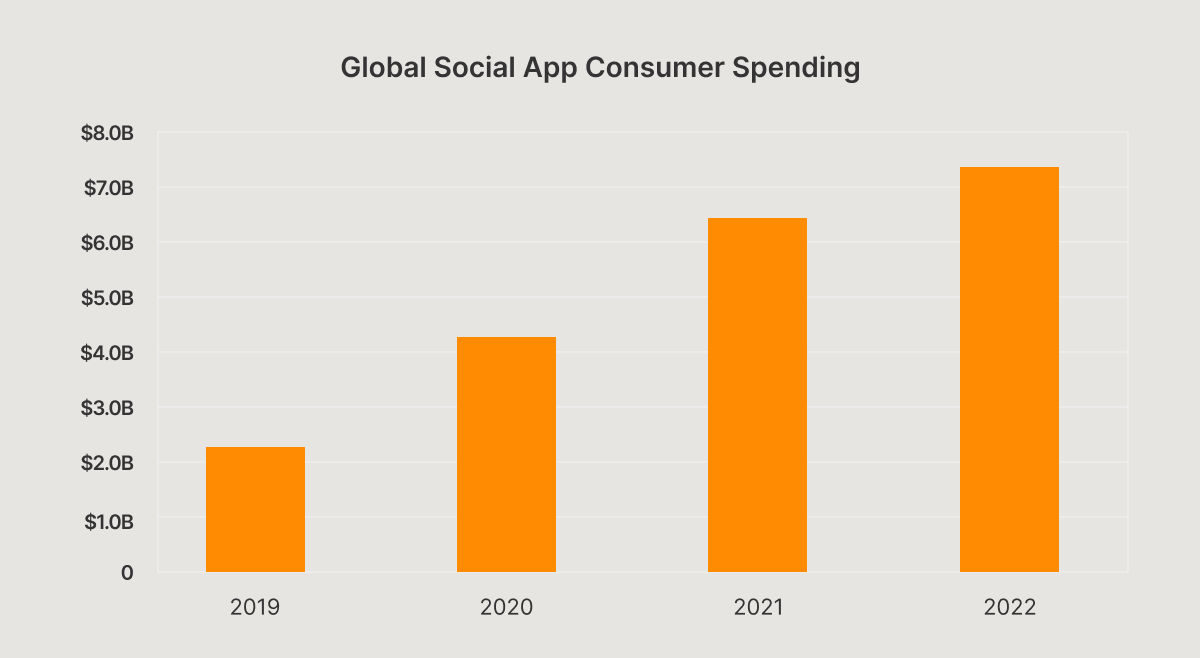 The US market accounts for over a fourth of social app consumer spending, generating over $2 billion from worldwide spending of over $7 billion. The popularity and growth of this category are also the direct result of new app installs surging 15% year-over-year, including a 25% growth in China.

2022 also marked the ascent of new markets outside the big three (US, China, and Japan). Spending in those markets climbed to almost 40%, compared to 30% in 2019. Overall, global spending on social apps increased three times from 2019 to 2022.
As for microtrends, live video streaming apps and short video apps are the two types of social apps that make the most money. Also, new media-sharing networks such as BeReal and LiveIn made a powerful step to claim victory in the category, although their prospects are still unclear.
That said, here are the social media apps with the largest mobile app revenue.
TikTok
Built as a short-form video-sharing platform, TikTok has morphed into a full-blown video service with content for every user type. TikTok's business model leans on ad revenue and in-app gift purchases (through in-app currency) as the primary revenue source.
In 2022, TikTok became the second non-gaming app to amass $6 billion in all-time consumer spending. Its cumulative number of app downloads is also impressive — over 3.5 billion.
Bigo Live
Bigo Live is a live streaming app that allows users to watch live streams, connect with other users, and launch streams. Being used for casual communications, Bigo Live taps into the latest technologies, including augmented reality and artificial intelligence, to offer unmatched streaming services.
This leading livestreaming platform generates the majority of its revenue through in-app purchases. Bigo Live holds great potential for toppling its competitors, with the average monthly active users rising to 36.8 million and annual revenue of $1.997 billion.
Twitch
Being one of the trending video streaming platforms, Twitch serves a wide array of content genres, with the most focus on game broadcasting and esports streaming. In 2022, Twitch made an estimated $2.8 billion in revenue through in-app purchase revenues worldwide.
Its revenue-sharing model for broadcasters also adds to the piggy bank, bringing many talented gamers to the platform. In 2022, the average number of concurrent viewers stood at 2.58 million.
Entertainment Apps
Over-the-top (OTT) services and content-based platforms also ruled in 2022. The entertainment app category now accounts for a growing consumer spending that is on track to a quarterly amount of $1 billion.
The US, Chinese, and Korean markets stand behind this spending growth, having one of the most saturated OTT landscapes. For instance, spending on entertainment apps in the US hit a record $4 billion in 2022, more than double the amount in 2019.
Conversely, European markets became more concentrated between 2020 and 2022 due to Disney+'s regional launch. Nevertheless, this experience shows how these markets are still open to new OTT experiences.
Also, OTT apps now tend to attract impressive amounts of ad dollars. According to the State of OTT Advertising in the U.S. 2023 report, almost 15% of total digital ad spending occurs on OTT platforms, including Hulu, Pluto TV, Tubi, Peacock, and Paramount+.
So, what apps make the most money? It's a no-brainer.
YouTube
YouTube continues to take the reins of consumer spending worldwide. YouTube generates revenue through advertising and monthly subscriptions such as YouTube Premium. In 2022, its short-video feature, YouTube Shorts, collected 50 billion daily views, while its cumulative consumer spending exceeded $5 billion over the past ten years. Although YouTube's quarterly ads revenue has declined by 7.8%, its ads branch is still going strong, reeling in over $29.24 billion of revenue in 2022.
Disney+
Home to popular entertainment services from Pixar and more, Disney+ is available in 59 countries. The geographical span translates into 12.1 million subscribers, with a total number of paid subscriptions generating 164.2 million in revenue in 2022. Moreover, exclusive releases and the global audience place it among the most profitable mobile apps in the entertainment category.
HBO Max
A bright spot in the Warner Bros. Discovery portfolio, HBO Max also enjoys the limelight of having among the largest profits thanks to the re-launch of HBO Max on Amazon Channels. HBO, HBO Max, and Discovery+ ended the year positively, with 96.1 million subscribers worldwide. However, full-year total revenues were slightly down compared to 2021, equalling $33.8 billion in 2022.
Dating and Social Discovery Apps
2022 was a strong year for dating applications. Globally, consumer spending on dating apps reached 12% year-over-year and 91% compared to pre-pandemic spending, coming near a record $6 billion. Canada, Mexico, India, and the UK saw the largest growth rates. Markets seeing the strongest year-over-year growth in 2022 include Canada, Mexico, India, and the UK.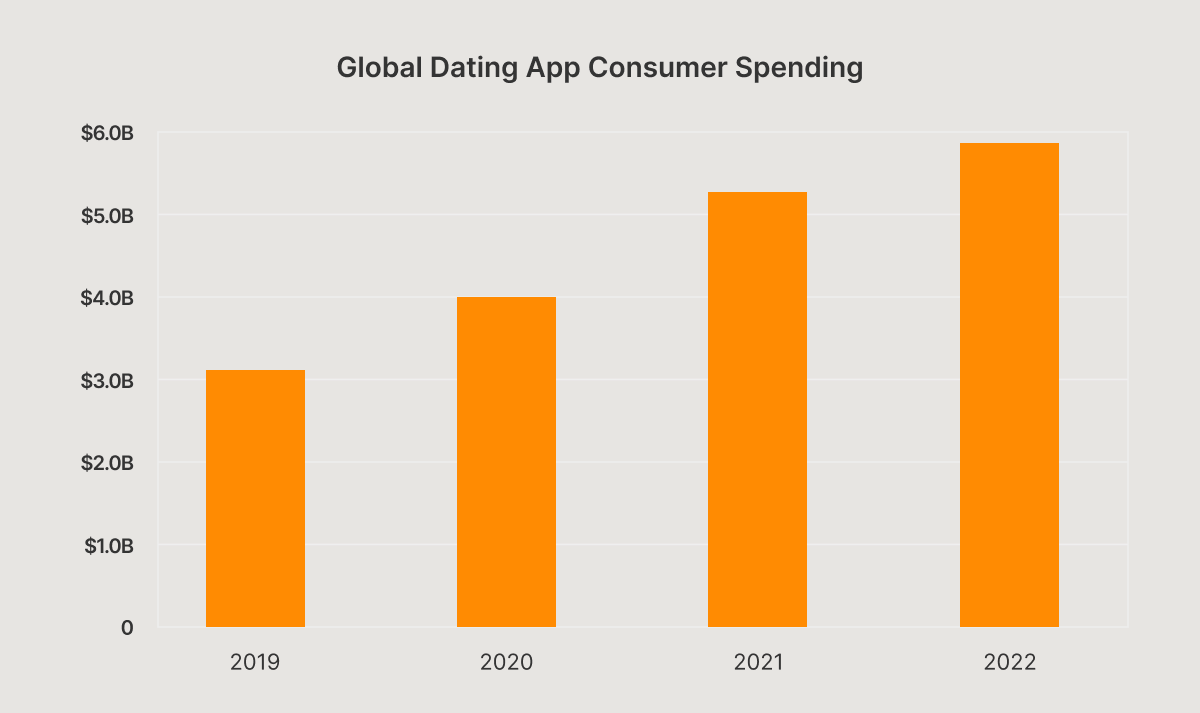 Global downloads of these apps also set a record in 2022, with 1.9 billion first-time installations. The top three dating apps, Tinder, Bumble, and Hinge, have remained unchanged since 2021, while Wizz topped the ladder as the most popular social discovery app in 2022.
Now, let's look at app revenue in this category using the top-grossing dating apps as examples.
Tinder
In 2022, Tinder dominated consumer spending, with a mind-boggling $1.79 billion in direct revenue. This ascent is also driven by a 10% year-over-year increase in payers to 10.9 million.
These encouraging statistics prove that Tinder's free-to-use model clicks with its diverse audience, offering extra features such as Boosts and Super Likes, in-app subscriptions, and purchases. Tinder also adjusts pricing based on users' age, which is innovative for dating applications.
Related: How to Create a Dating App: Trends, Features and Costs
Bumble
Just like other competitors, Bumble helps users create connections with like-minded individuals. Bumble's monetization model is akin to Tinder, with premium add-on features called Spotlight and Boost. In 2022, Bumble's revenue stood at $694.3 million, while its number of paying users increased by 10% to 3.2 million.
Hinge
Creeping up on its competitors is Hinge, which focuses on meaningful connections as opposed to casual meet-ups. Like other leaders, Hinge relies on paid subscriptions as its primary source of revenue. In 2022, its direct revenue increased 44% year-over-year to $284 million.
Books and References
Perhaps the most surprising category in the list is books and references. This category, driven by audio entertainment apps, commanded the global top in 2022 with $1.9 billion in consumer spending.
This category's take-off began in 2021 when the revenue of the global book and reference app market increased by almost $2 billion to 7.3 billion dollars. By 2026, the revenue of this category is projected to go beyond $13 billion.
As for microtrends, webtoons, web novels, and audiobooks attracted the majority of readers. For example, the global webtoon market size was valued at $3.7 billion in 2021 and is slated to surpass $56 billion by 2030, growing at a CAGR of 36.8% from 2022 to 2030.
Audible
Audible is an Amazon company that offers a trove of audiobooks and podcast services. As one of the biggest audiobook subscription services, Audible whets users' interest through exclusive content, podcasts, sleep tracks, and even meditation courses.
To access the titles, users sign up for paid membership plans. In 2023, Audible also plans to launch ad-supported access to select titles for non-members.
Piccoma
Piccoma is a bestseller app whose content revolves around manga. This webtoon app took a top slot in the market with quarterly revenue of over $87 million in 2022.
For the monetization model, authors on Piccoma offer two to three episodes in advance, which the readers can watch for a fee of around $0.18 to $0.26 per episode or wait a week for the chapter to be offered for free.
Good Novel
Good Novel is a digital reading platform and a community with a vast collection of popular web novels and books. The platform welcomes aspiring writers and allows them to apply for a contract after writing over 5,000 words. Readers, in turn, have access to freshly-baked content and can become VIP members by purchasing a set of coins to unlock paid chapters.
Summing Up
The rationale and statistics prove that the last year was lucrative for the mobile app scene despite the global snafus. Entertainment and gaming apps snatched the leading positions, with social and digital books catching up. Video-streaming services also pared well in 2022, thus enjoying increased consumer spending and higher revenues.
However, only a few mobile applications make it to the top of the heap and rake in unbelievable revenues; even the most popular mobile app categories don't inherently have a giant user base and a wealth of in-app purchases.
Therefore, before building your mobile solution, you must factor in far more criteria than the trending app types. So whether it's a fitness app or a livestreaming platform, a successful project requires meticulous planning, analysis, and a winning tech stack to score the optimal product-market fit.
We at Orangesoft offer a full cycle of tailored app development services to take your project from an app idea to a release. Hit us up, and we'll rock app markets together.