A lot has changed in the past 10-20 years. The most ambitious and adventurous companies have proposed to the world alternative ways of communicating, dating, shopping, interacting with the media content, etc. We are living in the era of AR, VR, AI, Big Data, and even more incredible things are waiting for us around the corner.
The last decade shows that online dating services have become an essential part of our everyday lives. People may like it or not, but these services provide more opportunities to find one's significant other. In this fast-paced world, so many of us don't have the time to keep meeting new people in order to find "the one." However, with online dating, the whole world is now open to us at any time.
How the Coronavirus Has Changed Online Dating
Stanford sociological survey of 2019 revealed that about 39% of couples meet online, compared to 22% in 2009.
According to Statista, at the beginning of 2019, approximately 47% of online American users met online or at least knew someone who started to date after an online meeting. Moreover, by the end of 2019, around 77% of adult online American users went on a date with a person they had met on the dating website or app. This is more than 30 million people in the US alone!
But what is most important about this trend is how people find each other doesn't influence the future of their relationship. The relationship's success is determined by the initial personal meetings.
Even though online dating is very popular nowadays, the growth rate of the dating apps market was relatively slow compared to previous years. eMarketer experts had to change their forecasts for 2019 from 9.8% growth to 5.3%, which is only one-sixth of the growth rate in 2016.
US Smartphone Dating App Users. Source:
eMarketer
The events of 2020 have caused irreversible consequences, and we can observe how fast the world is changing now. COVID-19 has influenced all spheres of life, especially those where in-person contact is required. Quarantine has set up new rules. It is no surprise that the world of dating has changed significantly.
Online dating is not only a source of new acquaintances now but also a kind of psychological and emotional escape from not-so-friendly reality. After COVID-19 broke out, the engagement numbers showed dramatic growth. The popularity of online dating jumped by 82% worldwide at the beginning of March.
Here are some numbers that display how quarantine influenced the crucial engagement metrics of dating apps:
Related: Top 10 Dating Apps of 2022
The increase of online communication during social distancing has been dramatic, and companies realized the necessity to up their game in response to the pandemic. Online messaging can't replace real-life communication. That's why dating platforms started to implement video and audio technologies.
Soon after the quarantine started, a popular dating app Hinge launched a Date From Home feature that lets users join a video chat if both agree. Hinge founder and CEO, Justin McLeod, explained: "At this time, technology is helping us bridge the gap between the isolation we're experiencing and the connection we're craving. Video and phone calls are currently a safe way to date someone you're interested in, and I believe digital dates, as a precursor to meeting in person, will be a trend that stays with us beyond the current climate."
Another popular dating app, The PlentyOfFish, rolled out an innovative feature LIVE! that is meant to live stream with potential matches. During the live streaming, members can also play NextDate. It's a kind of speed dating that allows users 90 seconds live video chat with other users, and the ability to move to a private video chat.
Live streaming seems incredibly popular. Based on the reports, 67% of worldwide users stream live video, and 70% of them do so at least once a day.
The luckiest dating player is Bumble. The company somehow predicted the future trend and introduced in-app video calls in 2019. Bumble's VP of Strategy Priti Joshi admitted that during the first week after the declaration of national emergency in the USA, the popularity of video calls increased by up to 93%. The average duration of calls is approximately 30 minutes now, which is a really good number for a dating app.
And what about the dating giant Tinder? For some reason, Tinder wasn't as flexible as others. The company announced a one-to-one video chat only on May 5, 2020. Tinder didn't reveal the details, but they are planning to launch a new feature later this year. In July 2020, they started to test the new feature on some users from the U.S., Brazil, Australia, Spain, Italy, France, Vietnam, Indonesia, Korea, Taiwan, Thailand, Peru, and Chile.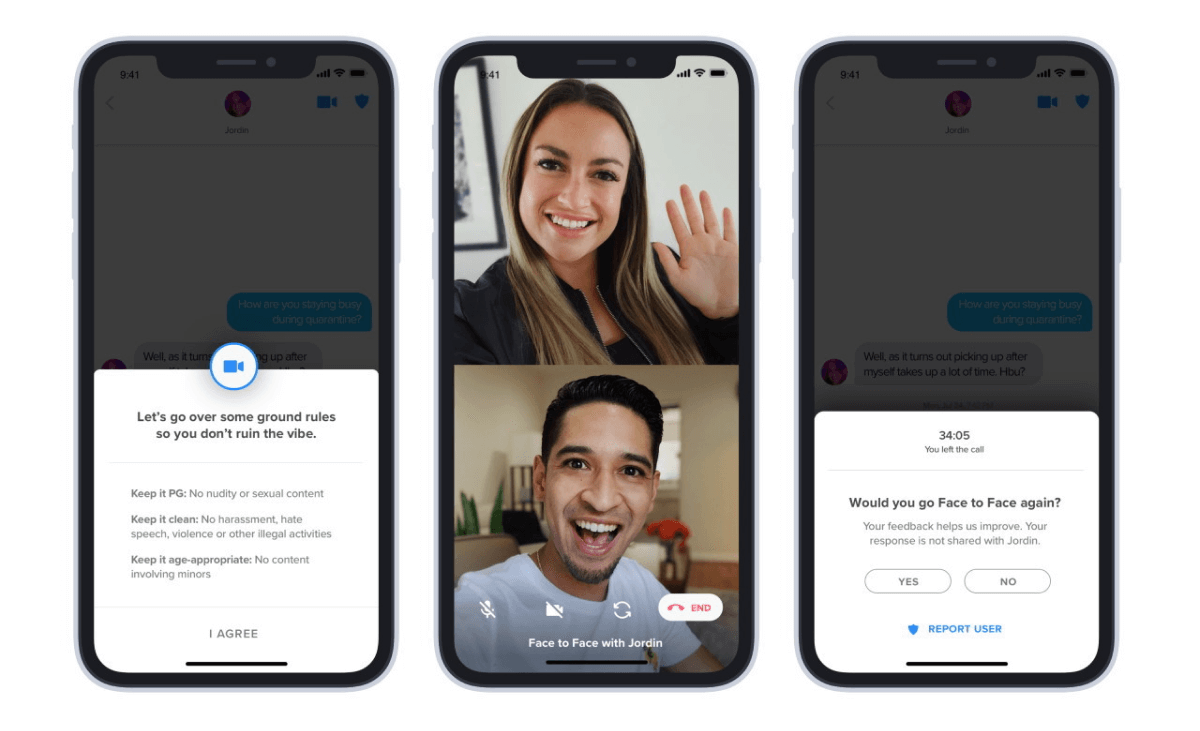 Face to Face Video Chat by Tinder
Now that you have some idea about the online dating market, it's time to take a closer look at launching your own mobile dating app.
Market and Competitors Research
Starting a business in the dating app industry doesn't differ all that much from starting any other kind of business.
First, you should analyze the market carefully and get a clear understanding of its current situation, perspectives, and problem areas.
Because the dating market is so dense, it's not enough to create just another app with a modern design. In-depth research will help to find an attractive niche and opportunities to make money. By studying the key players and keeping in mind the current trends, you'll find what could be unique about your product. It could be some kind of modern matching algorithm, in-app dating ideas, a specific interest that would match up the couples, or other out-of-the-box ideas that no one has ever thought of.
Along with the app's competitive advantages, keep in mind the portrait of your future user:
Personal demographics,

Education and career background,

Typical everyday routine,

Possible hobbies and interests,

Fears and pains.
The more detailed description you will prepare, the more relevant and successful your product will be.
MVP for a Dating App
Your idea will influence the set of your app's features a lot. Nevertheless, there are some core modules you can't go on without. Let's consider the possible basic functions for a minimum viable product (MVP).
Related: Full Guide on How to Build an MVP
1. Sign Up/Sign In
For the first version, we suggest using phone registration and authorization. It's easy to implement, everyone has a mobile number, and this type of account creation helps to verify the user. Usually, instead of creating passwords, we use Twilio, which sends the code via a text message.
In the future versions, you can add some additional verification steps like photo or video proof.
You can also use Google and Apple accounts for registration and authorization. This is also convenient for users.
The main thought here is to start with only one way of creating an account. Later you can add as many options as you want.
2. Onboarding
This is an essential part of any application. Using the most appealing, colorful images, you will introduce your product to the users and highlight its advantages.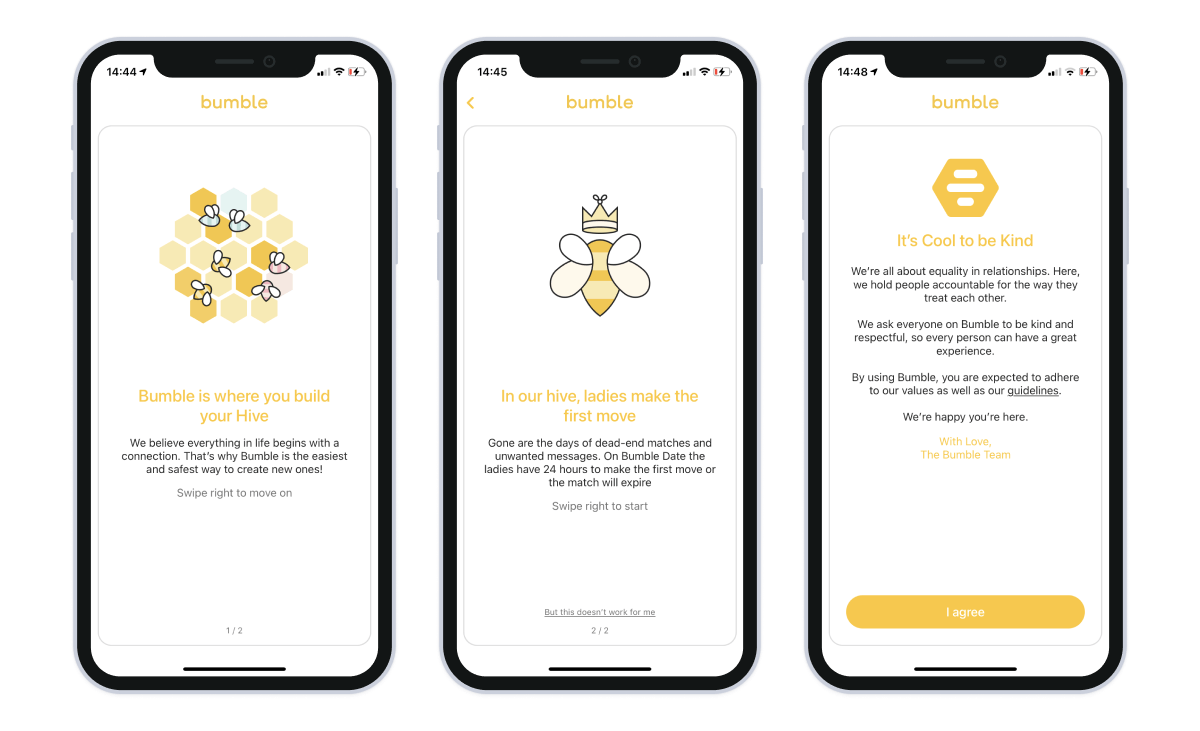 Onboarding in Bumble Dating App
3. Geolocation
Another essential feature of the dating app. Having access to the users' current location, you can suggest the most relevant matches. Besides, geolocation is the clearest matching algorithm.
Make sure you provide the users with a clear explanation of the geolocation request. If you don't prove the need for your request fully, Apple and Google may reject the application during the publishing process.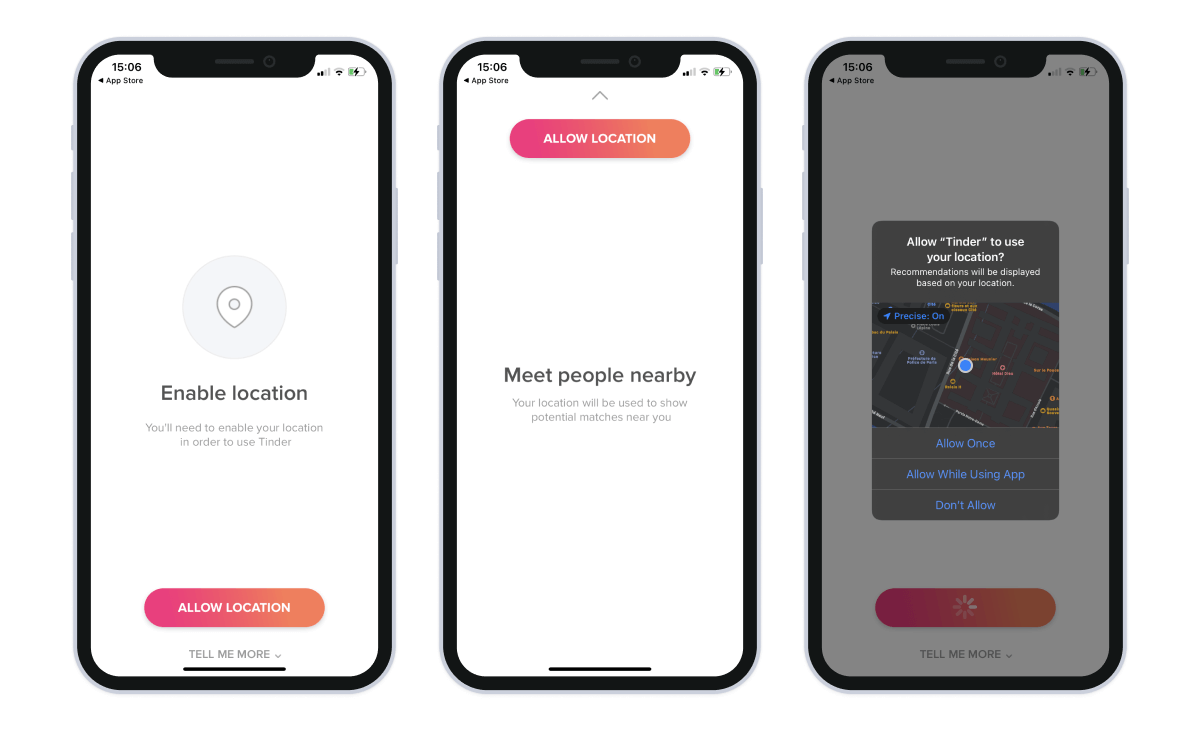 Geolocation Settings in Tinder
4. Personal Profile
This section contains the basic info about the user:
Photos,

Name,

Gender,

Age,

Location,

Hobbies,

Goal of using the app,

About me.
Besides, here the user can add the info about their preferences for the future partner:
5. Other Users' Profiles
That's the screen that is shown during the matching process. There you can find the basic info about the potential match:
Photos,

Name,

Age,

Location,

Other personal information.
When we are talking about applications where the users can create their own content, Google and Apple both strictly require the developers to implement the possibility to block the user and to report any violations. So, you also have to think about including such features in the other users' profiles.
6. Browsing People
That's the functionality everyone downloads a dating app for. Here the users can look for the possible matches and like or dislike them with swipes or just by hitting the buttons.
7. Messaging
No one can imagine a dating app without a chat. You can start with a simple in-built messenger and upgrade it in your future versions.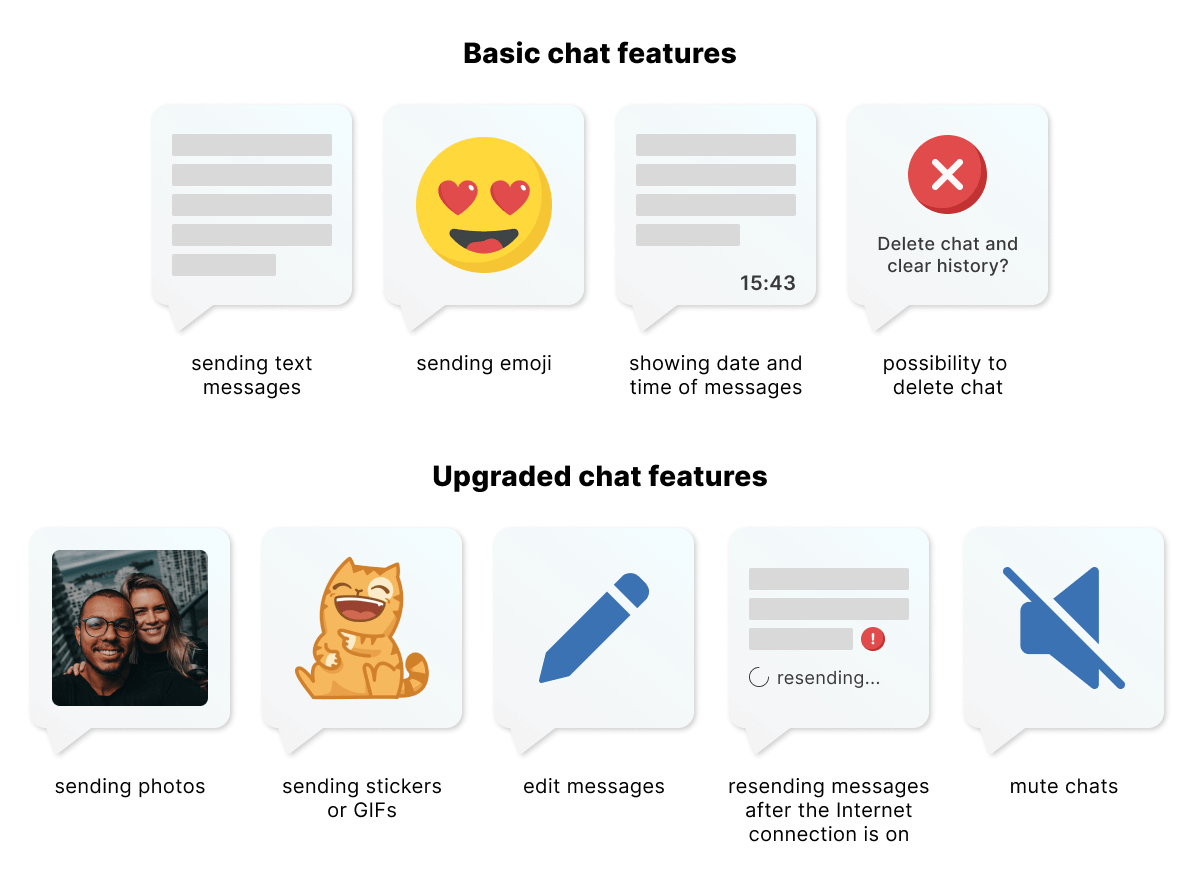 Dating Apps' Chat Features
Considering the current quarantine obstacles, you may also implement audio or video calls in the first version if they correlate with your business idea.
8. Settings
This is also an essential part of any application. Normally, users can find the information about the application, contacts, Privacy Policy, and User Agreement in Settings, as well as some privacy options like access to the location, push notifications, visibility, and subscription settings.
9. Push Notifications
Sending the notifications about new messages, matches, or other activities in the app is a powerful tool to boost the users' engagement. The list of possible push events will depend on the final functionality.
10. Analytics
Don't forget to add an analytics solution (e.g., Firebase) to track some basic metrics like the number of active users, session length, session interval, crucial screens visits, etc. This data will help you to study users' behavior and detect some weak points in the application.
Features Set for the Admin Panel
When you create a product like a dating app, you certainly need the management system. Based on the functionality described above, we propose the following features for the admin panel:
1. User Management
With this module, you can see the list of registered users, their basic information, and activity. Here you can block or delete them.
2. Reports Management
Here you can see the list of users' reports about violations and respond properly.
UI/UX Design of a Dating App
The success of any product consists of many factors and details. And the way your app will look plays a big part. To win your future users' hearts, show them a really great UI/UX design.
There are no specific rules for dating applications design. Just think about a friendly, easy-to-use, and secure interface with attention to details. In the end, your app should provide a topnotch intuitive experience.
Choosing the Matching Algorithm
The matching algorithm is a core feature and a key to a dating app's success. A properly designed algorithm guarantees a higher rate of relevant matches.
Let's have a look at some of the most popular matching algorithms, so you can choose any of them as a basis, or invent your own.
Matching Algorithm
Description

Location-based matching

The easiest algorithm. The app uses the data about users' current location, their distance preferences, some basic settings like age and gender, and forms the list of potential matches.

Calculation-based matching

This algorithm is used to evaluate the results of questionnaires. When preparing the list of potential matches, it takes into account not only distance preferences but also the percentage of coinciding answers and skipped questions.

Preference-based matching

This type of

algorithm

takes

into account users' activity on social networks. Such an approach dramatically raises the accuracy of the matching process as it analyses the preferred posts, comments, groups, and other social activity.

AI-based matching

The most modern and accurate type of algorithm. The Artificial Intelligence (AI) approach allows us to take into account many different factors and the analysis of Big Data. It can process information about hobbies, interests, age, social activity, behavior.
Keep in mind that the research shows that mutual interests, hobbies and views play a significant role during matching. 64% of dating apps users say they are looking for someone they have something in common with, and 49% say they are looking for someone with physical characteristics they are attracted to.
Technology Stack for a Dating App
The tech stack depends on the project specifics and the company's and developers' preferences. However, there will likely be some of the following:
Mobile Development: Kotlin for Android, iOS for Swift
Admin Panel Development: Node.js, React.js
Database: PostgreSQL, MongoDB
Cloud Storage: Amazon S3
Backend Development: PHP, Symfony, Laravel
General Utilities: Firebase, Google Analytics, Twilio, Google Maps.
Dating App Development Cost
After going through all of the above steps, we are ready to show you a minimum estimation of the mobile, backend, and admin panel development. Don't forget that the final estimation can be provided only based on the detailed final design and requirements. Even though these numbers are still provisional, they will show you the possible minimum budget for a dating app.
| Stages | Development | Testing | Bug fixing | Communication | Management | Total, hours | Days |
| --- | --- | --- | --- | --- | --- | --- | --- |
| Discovery | | | | | | | |
| UI/UX Design | 120 | | | 18 | | 138 | 17 |
| Business Analysis | 160 | | | 40 | | 200 | 17 |
| Tech Team | 8 | | | 2 | | 10 | 1 |
| Project Manager | | | | | 29 | 29 | 2 |
| Development | | | | | | | |
| iOS | 466 | 70 | 70 | | 91 | 697 | 58 |
| Android | 466 | 70 | 70 | | 91 | 697 | 58 |
| Server & API | 458 | 69 | 92 | 93 | 107 | 818 | 68 |
| Admin Panel | 112 | 17 | 22 | 23 | 26 | 200 | 17 |
| Total, MVP 1.0 | 1,502 | 226 | 254 | 116 | 315 | 2,412 | 201 |
The dating app MVP could take approximately 2400 hours, which is about 12 weeks of development.
Related: How Much Does it Cost to Develop an App
How to Monetize a Dating App
Often businesses launch the MVP of an application without any kind of monetization, just to validate the main idea of the product and attract the users. If everything goes smoothly, you can then implement various monetization strategies. At the end of the day, it is all about the money.
When we are talking about dating applications, owners can consider some of the following business models.
Premium Accounts
That's the first idea that comes to mind. Premium account gives the users access to some additional tempting options, like:
Who looks through your profile,

Who likes you,

More matches per day,

Advanced filter for searching,

Free of ads usage, etc.
The most challenging thing here is to form a really valuable proposal for your target audience.
The minimum estimation of development: 48 hours per platform.
In-app Purchases
The users of dating applications are not generally into purchasing, but you could propose such special extras, like:
Themed emojis,

Special compliments,

Different types of reactions,

Virtual gifts, etc.
The minimum estimation of development: 32 hours per platform.
Partnership
This is an interesting idea that could spice up your product. Partnered up with local businesses, you could create an interesting offer for the users:
In-app flower order,

In-app taxi order,

In-app restaurant search, etc.
The estimation of this functionality will depend on the complexity of integration with the partners.
The minimum estimation of one app integration: 16 hours per platform.
Ads
This is an easy and clear way to earn money quickly. You can implement banner, native, or video ads. However, do make sure it doesn't annoy your users.
The minimum estimation of development: 20 hours.
Related: How Much Money Can You Earn With an App?
Our Experience
Orangesoft's portfolio contains several dating applications. A unique dating application with a matching algorithm powered by artificial intelligence is among them. The app is designed in the most simple and intuitive way to highlight its main perk — a smart chat-bot that asks the users a wide range of questions while they are using the app. Based on the answers, the algorithm proposes new matches, and people are able to look for different types of relationships: love, dating, business, or friendship.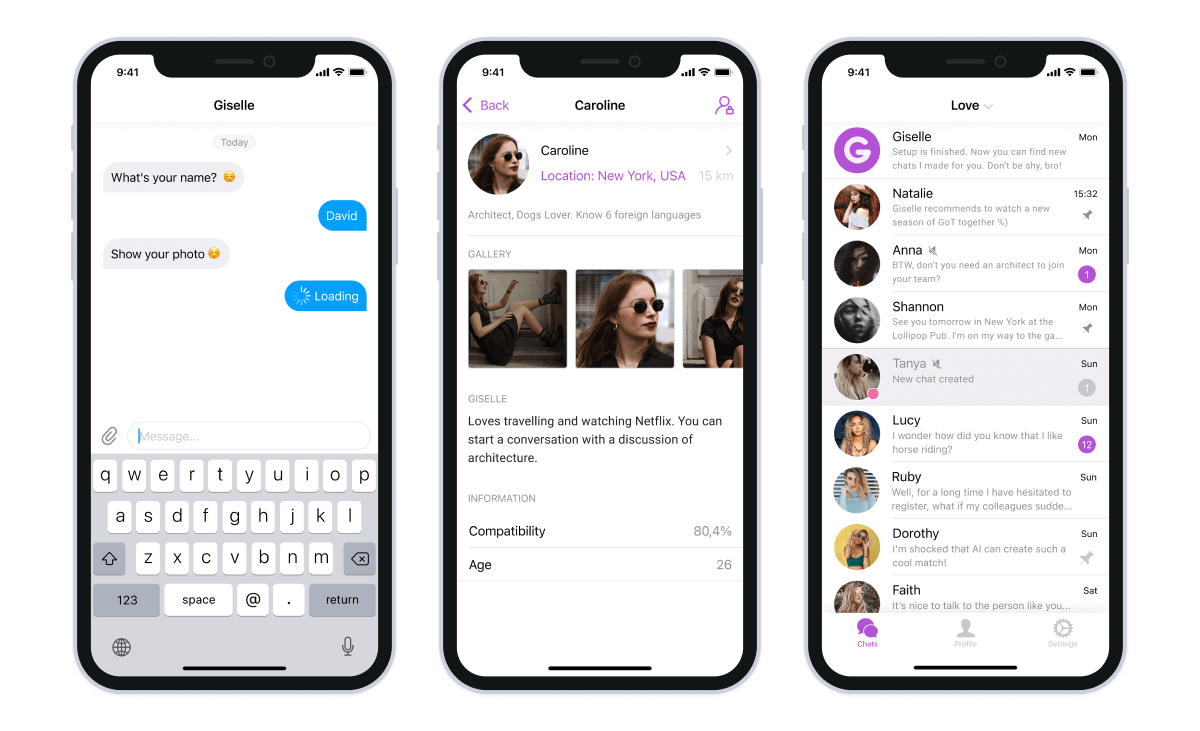 Dating App Developed by Orangesoft
To Sum Up
Based on Statista's prognosis, the number of dating apps users will increase from 30,4 million to 35,4 million in 2024 only in the USA. The market is expected to grow at a compound annual growth rate (CAGR) of 8.75% until 2024.
For sure, the current events may cause some challenges in the long run. The biggest challenge is the decrease in users' willingness to pay. COVID-19 caused a high unemployment rate and companies' shutdown. No one knows when the situation is going to stabilize.
On the other hand, people are eager to establish deep, emotional relationships now more than ever. Even if they are not going to pay for the current premium features of dating applications, businesses will provide new features that will be more attractive to the post-pandemic user.
All in all, the current situation could be an opportunity to grow for the most adventurous companies as the dating industry will never be the same, and is open for innovations.
We hope that our extensive guide on dating app development and its costs has helped you to understand how to create your own app that will become the next Tinder. The only thing left is to find an experienced development team ready to turn your idea into reality. So what are you waiting for? Tell us your idea and our specialist will consult you and estimate your project at no charge.