A lot has changed in the past 10-20 years. The most ambitious and adventurous companies have proposed alternative ways of communicating, dating, shopping, interacting with media content, etc. We are living in the era of AR, VR, AI, Big Data, and even more incredible things are waiting for us around the corner.
The last decade shows that online dating services have become an essential part of our everyday lives. People may like it or not, but these services provide more opportunities to find a significant other.
In this fast-paced world, so many of us don't have the time to keep meeting new people in order to find "the one." However, with online dating, the whole world is now open to us at any time
How COVID-19 Changed Dating Apps
When the lockdowns hit, tapping on screens was the only option to mingle with someone new while confined indoors. Since then, it has been an upward trajectory for dating apps, driven by the influx of new users.
For example, for Tinder, the most popular dating app in the world, 2020 was the year of an all-time high growth, and its users also set records for app usage in early 2021. Hinge, another top dating app, tripled its revenue from 2019 to 2020 and doubled in 2021.
During the pandemic, online dating has evolved not only as a source of new acquaintances but also as a psychological and emotional escape from not-so-friendly reality. Although the pandemic-induced popularity of dating apps has slightly waned in 2022, online dating remains a favored option for virtual socializing.
Here are some numbers that display the current stand of dating apps: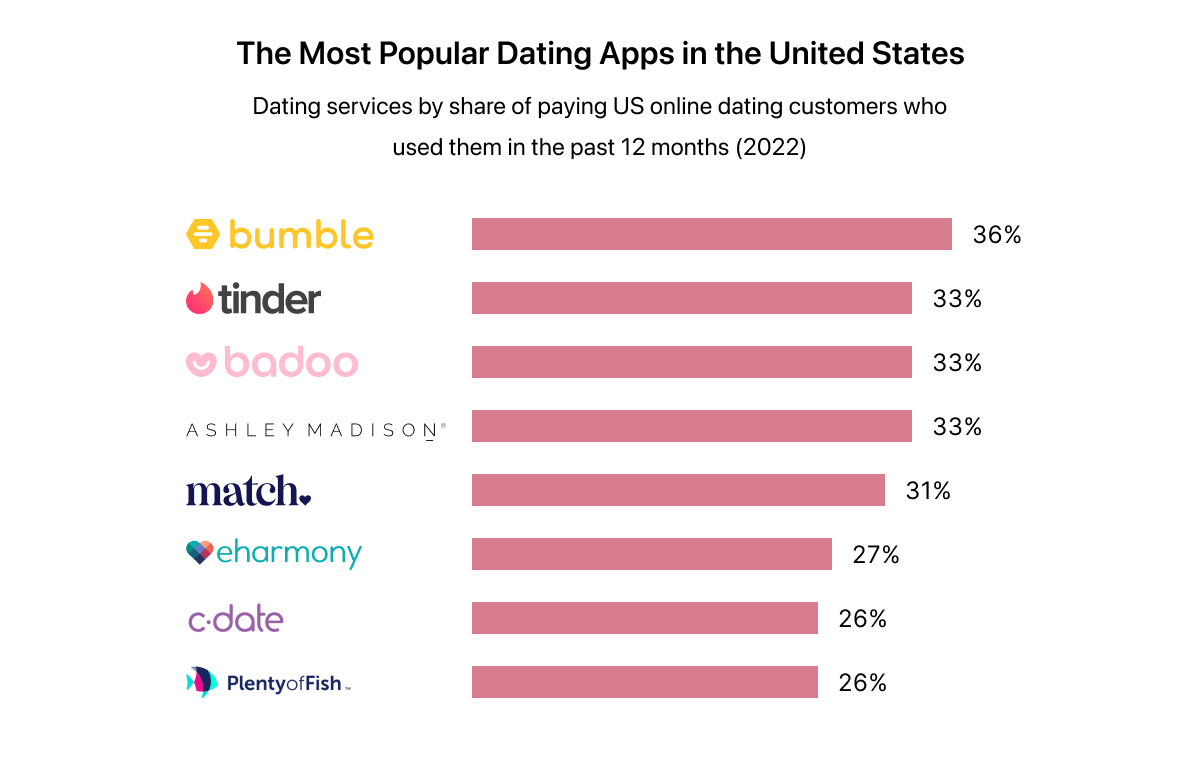 Top US dating apps by share of paying users. Source:
Statista
However, despite the increase of online communication during social distancing, companies realized the necessity to up their game in response to people growing weary of virtual dating. Thus, dating platforms started to implement new video and audio technologies. Now, a new crop of dating apps has followed suit.
Plenty of Fish (POF) rolled out an innovative "LIVE!" feature to live stream with potential matches. During the live streaming, members can also play the NextDate game: a speed dating feature that allows users 90 seconds of live video chat with other users and the ability to move to a private video chat if they click with their date.
Livestreaming has given way to a new breed of dating apps that revolve around live-video chatting. Apps like Clover, POF, and Zoosk let you stream to the entire community, not just your own matches.
Along with the live-streaming trend, the dating app market has witnessed the advent of solutions that bring virtual communication to real life. New dating apps like Thursday and POM are testing in-person events in London and New York, striving to battle the dating app fatigue.
Over the last few years, the metaverse has emerged as a brand-new venue for dating. Users can log into a virtual world from anywhere and start meeting people through a VR-first experience.
Match Group announced its plans to launch Single Town, a virtual space where singles can meet and connect privately, represented by avatars. Although the company subsequently put its plan on hold in 2022, the VR-based dating app development idea has seeded the new frontier in the dating app space.
Now that you have a better idea about the online dating app market, it's time to take a closer look at launching your mobile dating app.
Market and Competitors Research
Starting a business in the dating app industry doesn't differ all that much from starting any other business. However, keep in mind that it's not enough to build a dating app like Tinder; you need to create your own dating solution with a unique selling proposition.
First, you should analyze the market carefully and get a clear understanding of its current situation, perspectives, and problem areas. Remember, because the dating app market is so dense, it's not enough to create another app with a modern design. In-depth research will help to find an attractive niche and opportunities to monetize your dating app.
You'll find what could be unique about your product by studying the key players and current trends. This unique selling point may be a modern matching algorithm, in-app dating ideas, a specific interest that matches users, or an out-of-the-box idea that no one has ever thought of.
Along with the app's competitive advantages, keep in mind the portrait of your future user, including:
Personal demographics;

Education and career background;

Typical everyday routine;

Possible hobbies and interests;

Fears and pain points.
The more detailed your vision is, the more relevant and successful your product will be.
Related: Best Dating Apps of 2022
MVP for a Dating App
Your mobile app development idea will influence the set of basic features included in the application. Although each dating app is unique, there are some core modules you can't go without. So let's consider the possible basic functions for a minimum viable product (MVP).
1. Sign Up/Sign In
For the first version, we suggest using phone registration and authorization. It's easy to implement as everyone has a mobile number, and this type of account creation helps to verify the user. Usually, instead of creating passwords, we use Twilio, which sends the code via a text message.
In future versions, you can add additional verification steps like photo or video proof if needed. You can also use Google and Apple accounts for registration and authorization since this is often convenient for users.
The main point is starting with a single account creation method. Later, you can add as many sign-up/sign-in options as you want.
2. Onboarding
Onboarding is an essential part of any application. Using appealing and colorful images, you can introduce your product to users and highlight its advantages.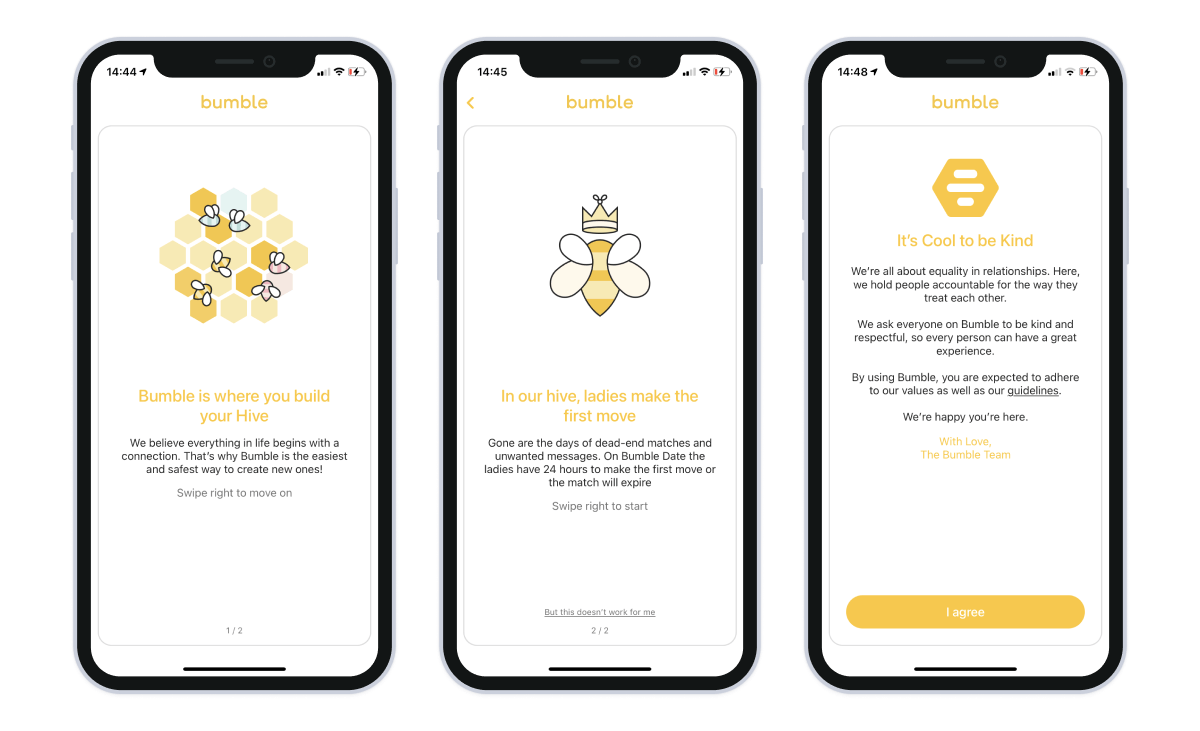 Onboarding in Bumble
3. Geolocation
Another essential feature of dating apps is location-based matching. To suggest the most relevant matches distance-wise, having access to users' current locations is required.
Ensure you provide the users with a clear explanation of this geolocation request. If you don't prove the need for your request, Apple and Google may reject the application during the publishing process.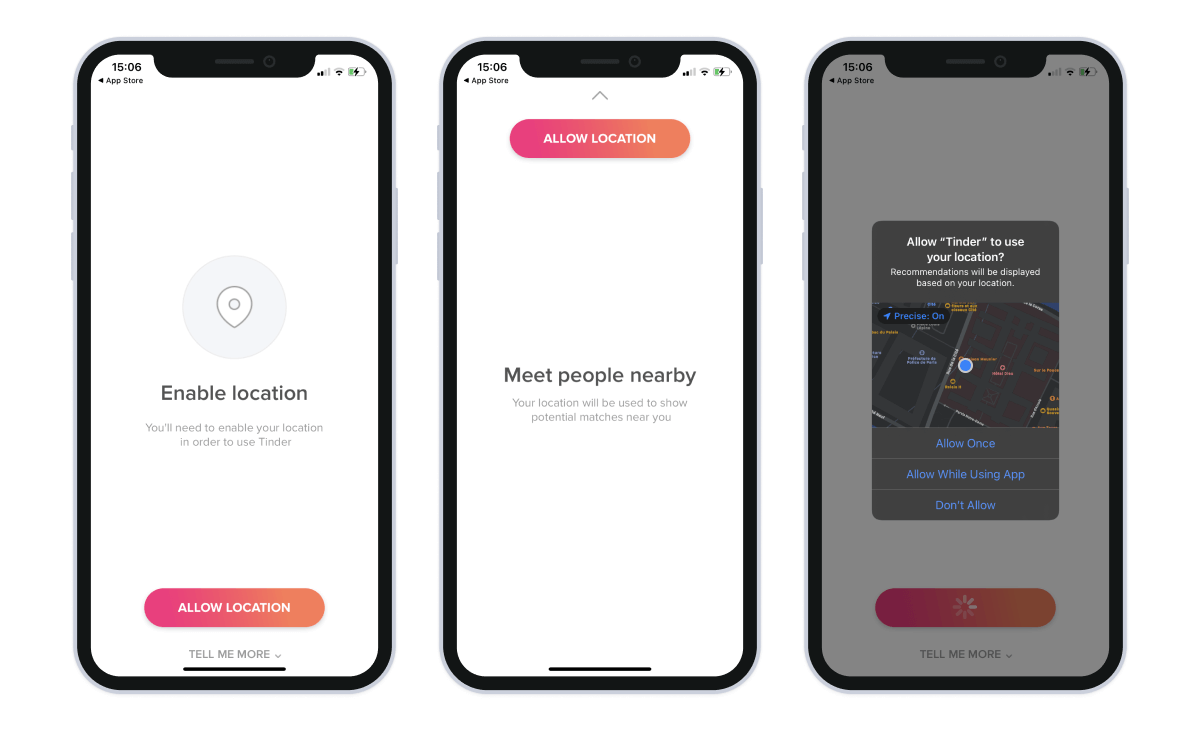 Geolocation Settings in Tinder
4. Personal Profile
This section contains the basic info about the user:
Photos

Name

Gender

Age

Location

Hobbies

Their goal for using the app

About Me
Additionally, the user can add info about their preferences for the future partner:
5. Other Users' Profiles
This is the screen that is shown during the matching process. On another user's profile, you should find the following basic info about the potential match:
Photos

Name

Age

Location

Other personal information
Google and Apple require developers to implement user blocking and violation reporting features for applications that allow users to create content. So, you also have to think about including such features in the other users' profiles.
6. Browsing
Browsing is the functionality everyone downloads a dating app for. Here, the users can look through the user base, search for potential matches, and like or dislike them by swiping or hitting buttons.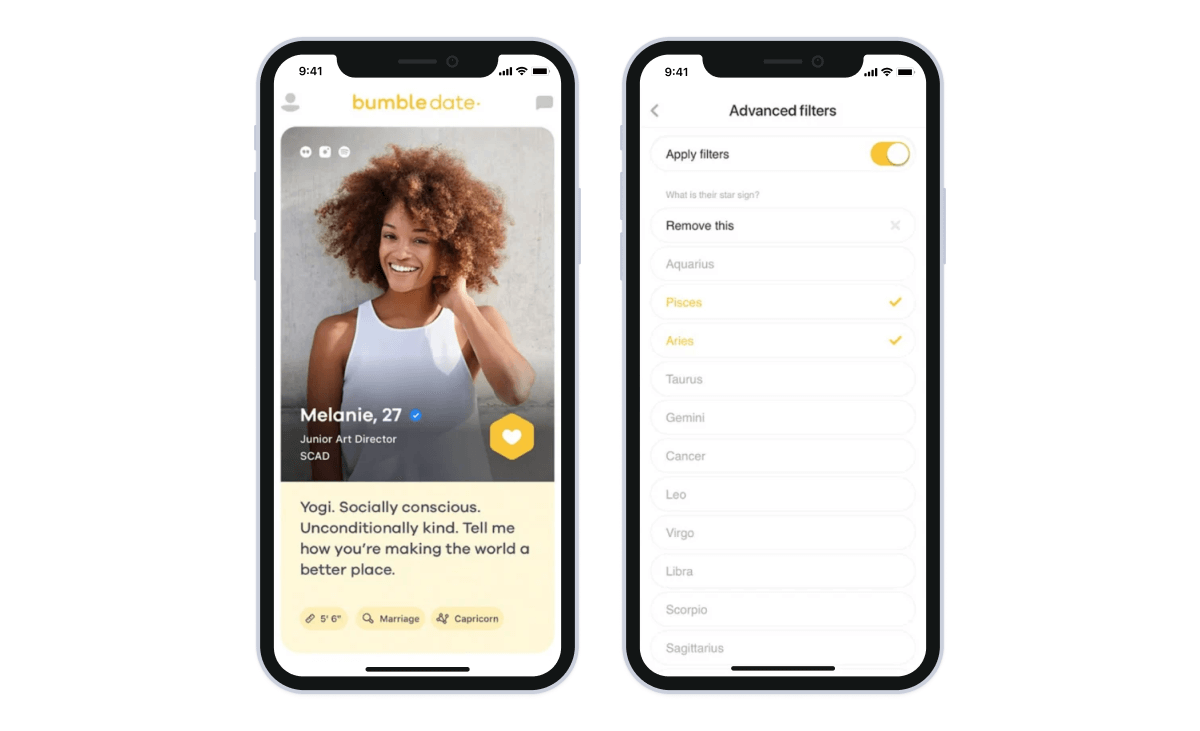 Browsing and filtering features in Bumble
7. Messaging
No one can imagine a dating app without a chat. You can start with a simple in-built messenger and upgrade it in future versions.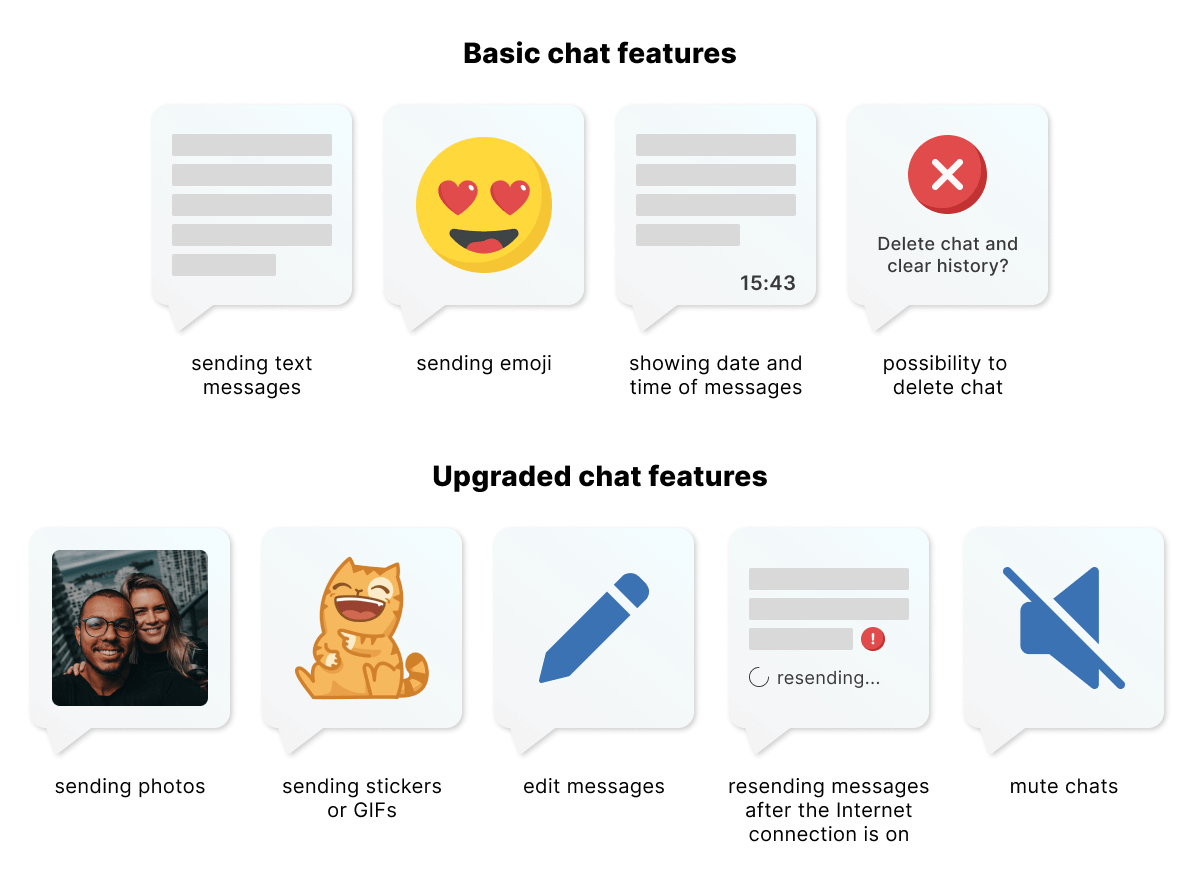 Dating Apps' Chat Features
Considering the current dating app trends, you might also want to implement audio or video calls in the first version if they correlate with your business idea.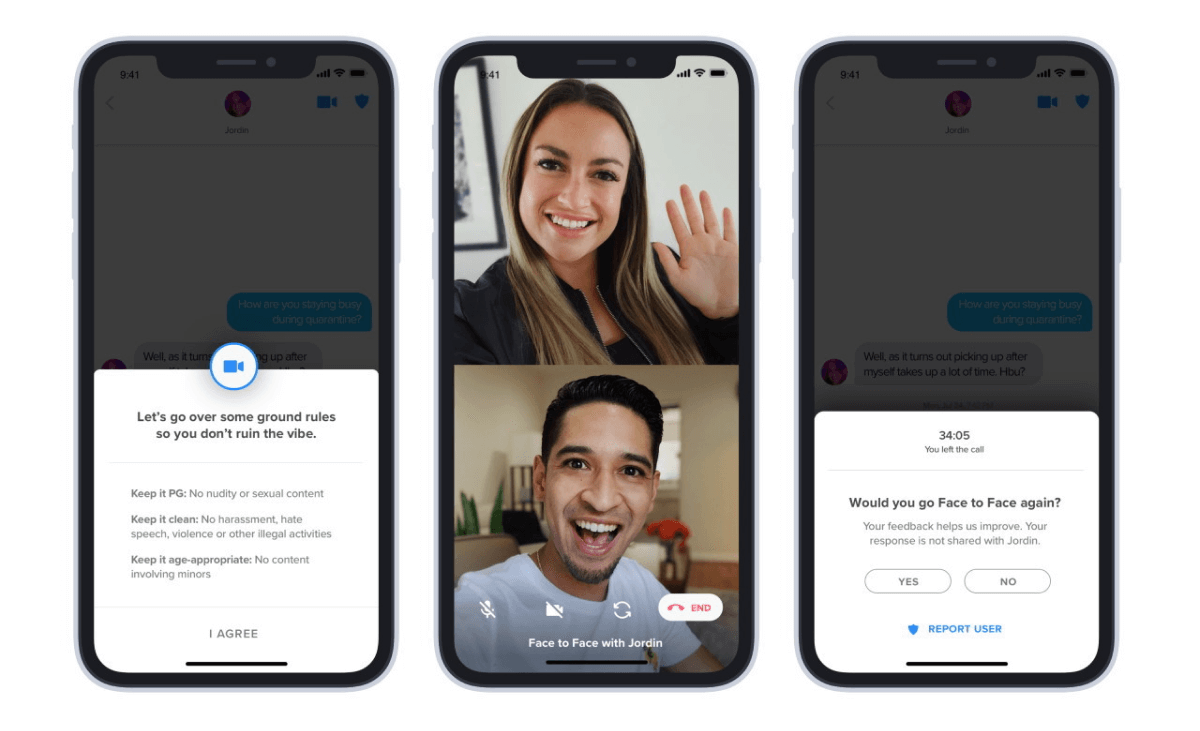 Face to Face Video Chat by Tinder
8. Settings
Settings should also be among the main features of your dating app. Typically, users can find information about the application, contacts, Privacy Policy, and User Agreement in an app's "Settings" section. Further, they should be able to locate privacy options like location access, push notifications, visibility, and subscription settings.
9. Push Notifications
Sending notifications about new messages, matches, or other activities in the app is a powerful tool to boost users' engagement. The list of possible push events will depend on the final functionality.
10. Analytics
Don't forget to add an analytics solution (e.g., Firebase) to track basic metrics like the number of active users, session length, session interval, crucial screen visits, etc. This data will help you to study users' behavior and detect some weak points in the application.
Feature Set for the Admin Panel
When you create a dating app, you certainly need a management system. Based on the functionality described above, we propose the following features for the admin panel:
1. User Management
With this module, you can see the registered users' list, as well as their basic information and activity. Here, you can block or delete them from the app.
2. Reports Management
In this section, you can see the list of users' reports about violations and address the issues.
UI/UX Design of a Dating App
The success of any product is at the mercy of multiple factors and details, and your app's appearance plays a big part. So to win your future users' hearts, show them a great UI/UX design.
There are no specific rules for the dating app design. Think about a user-friendly, easy-to-use, secure interface while focusing on detail. In the end, your app should provide a top-notch intuitive experience.
Choosing the Matching Algorithm
The matching algorithm is a core feature and is key to a dating app's success. A properly-designed algorithm guarantees a higher rate of relevant matches.
In the table below, let's look at some of the most popular matching algorithms, so you can choose any of them as a basis or invent your own.
Matching Algorithm
Description

Location-based matching

This is the easiest algorithm. Here, the app uses the data about the user's current location, distance preferences, and basic preference settings like age and gender to form a list of potential matches.

Calculation-based matching

This algorithm is used to evaluate the results of questionnaires. When preparing the list of potential matches, it considers distance preferences and the percentage of coinciding answers and skipped questions.

Preference-based matching

This type of

algorithm

takes

into account users' activity on social networks. Such an approach dramatically raises the accuracy of the matching process as it analyses the preferred posts, comments, groups, and other social activities.

AI-based matching

This is the most modern and accurate type of algorithm. The Artificial Intelligence (AI) approach allows us to consider many different factors in combination with Big Data analysis. For example, this matching algorithm can process information about hobbies, interests, age, social activity, and behavior.
Research supports that mutual interests, hobbies, and views play a significant role during matching. 64% of dating app users say they are looking for someone they have something in common with, and 49% are looking for someone with their preferred physical characteristics.
Technology Stack for a Dating App
The tech stack depends on the project specifics and the preferences of dating app developers and app owners. However, there are staple programming languages, frameworks, and technologies present in most dating apps:
Mobile development: Kotlin for Android, iOS for Swift
Admin panel development: Node.js, React.js
Database: PostgreSQL, MongoDB
Cloud storage: Amazon S3
Backend development: PHP, Symfony, Laravel
General utilities: Firebase, Google Analytics, Twilio, Google Maps.
Dating App Development Cost
Our sales team has prepared a ballpark estimate of an MVP with an illustration of the cost for each activity. This estimation lists only core features with no additional functionality.
| | | | |
| --- | --- | --- | --- |
| Features | Development time (hours) | Backend development time (hours) | Approx. cost ($) |
| Sign in / Sign up | 28 | 30 | 2900 |
| Create account | 64 | 28 | 4600 |
| Profile | 56 | 18 | 3700 |
| Other users' profiles | 24 | 16 | 2000 |
| Searching and matching | 96 | 64 | 8000 |
| Onboarding | 32 | – | 1600 |
| Geolocation | 16 | 10 | 1300 |
| Messaging | 160 | 120 | 14000 |
| Settings | 48 | 32 | 4000 |
| Push notifications | 24 | 20 | 2200 |
| Analytics | 32 | 28 | 3000 |
| Report users | 26 | 16 | 2100 |
| Architecture | 32 | 32 | 3200 |
| Server interaction & API | 32 | – | 1600 |
| Database | 16 | 16 | 1600 |
| Admin panel | 124 | 96 | 11000 |
| Total | 810 | 526 | 66800 |
The approximate cost of building an MVP for a dating app is around $67K. Keep in mind that this is a ballpark estimation for the development stage only, and it doesn't factor in your unique application needs but gives an overall understanding of the investment needed. Also, we've included a set of core features only. To develop your mobile app, you will also need a project manager, UI/UX designers, QA engineers and other specialists. Their services are priced separately and are not included in this estimate.
How to Monetize a Dating App
Often, businesses launch the app's MVP to validate the main idea of the product and attract users without any monetization strategy in mind. If everything goes smoothly, then you can implement various monetization strategies. For dating applications, owners can consider the following business models:
Premium Accounts
This model is often the first idea that comes to mind. Premium account gives the users access to some additional tempting options, like:
Who looks through your profile;

Who likes you;

More matches per day;

Advanced filter for searching;

Free of ads usage, etc.
The most challenging part here is forming a valuable proposal for your target audience.
Development time estimation: 48 hours minimum per platform.
In-app Purchases
The users of dating applications are not generally into purchasing, but you can offer more special extras for purchase, like:
Themed emojis;

Special compliments;

Different types of reactions;

Virtual gifts, etc.
Development time estimation: 32 hours minimum per platform.
Partnership
This model is an exciting idea that can spice up your product. Partnered up with local businesses, you could create an interesting offer for the users, including:
In-app flower orders;

In-app taxi orders;

In-app restaurant searches, etc.
Estimating this functionality will depend on the complexity of integration with the partners.
Development time estimation: 16 hours minimum per platform.
Ads
This model is a straightforward way to earn money quickly. You can implement banner, native, or video ads. However, with this approach, you want to ensure the ads' content, frequency, and location don't frustrate your users.
Development time estimation: 20 hours minimum per platform.
Related: How Much Money Can You Earn With an App?
Dating App Development Challenges
With the right combination of great features, an engaging interface, and an accurate algorithm, it seems easy to develop a dating app. However, dating app development goes hand in hand with common challenges that can bog down your product when left unaddressed.
Data Security
The very nature of dating apps is for users to find the best matches based on personal information. To make the algorithm more precise, dating apps collect a wealth of user data – from age to location.
The sheer amount of data collected raises worries about data security. At least 57% of online daters are concerned about data collection by apps and sites. According to Kaspersky, the main pitfalls associated with dating app security include the following:
Password mailed in plain text (like Mamba and Badoo do);

Users placing sensitive information about themselves into the public domain;

Enabled screenshots of private conversations between singles;

Mandatory profile photo required by dating apps;

And mandatory geolocation access.
Although you cannot make a dating app without user data, you can at least do the utmost to ensure the safety of user data on your side. For example, your dating app can have a Screenshot Block feature that forbids users from taking screenshots like Badoo.
Other must-have data security features for dating apps include the following:
Data encryption;

Multi-factor authentication;

Photo-blurring option;

And optional access to geolocation data and other features.
User Safety
While dating apps are a modern way to find true love, it's also the ground zero for scams and romance frauds. Therefore, while making a dating app, consider features that will safeguard users and keep scammers at bay. Here's how you can help users put themselves out there without putting them at risk:
Profile verification

Block and report features

Selfie confirmation

AI-based image analysis to flag unsolicited photos
You can also go the extra mile and enable the user to share a match's profile with a friend when users go on an in-person date.
Marketing
The dating app development market is not saturated but is dominated by frontrunners such as Tinder and Hinge. Therefore, you need an application with a twist to stand out among the rest.
Thursday is a prominent example of thinking out of the box. This dating app is a unique platform that is live only once a week – every Thursday. On all other days, users are encouraged to focus on other things. This approach has earned Thursday $3.5 million in seed investments.
Along with the unique selling proposition, you should also focus on standard pre-launch and launch campaigns that will get your app more traction. These might include:
Branded visuals and a press kit;

Landing page;

Omnichannel media presence;

App store optimization;

Referrals and partnerships;

Email campaigns, and others.
Make sure you factor in the marketing investment, be it time or employee compensation.
Our Experience
Orangesoft has quite a few dating applications in its portfolio. One of the prominent projects in the category is a unique dating application with an AI-based matching algorithm. The app is designed with simplicity and end users in mind.
Its interface revolves around its main perk – a smart chatbot. The virtual assistant engages the user in a conversational exchange. Then, based on the user's answers, the algorithm matches the single with other users for dating, business, or friendship tête-à-têtes.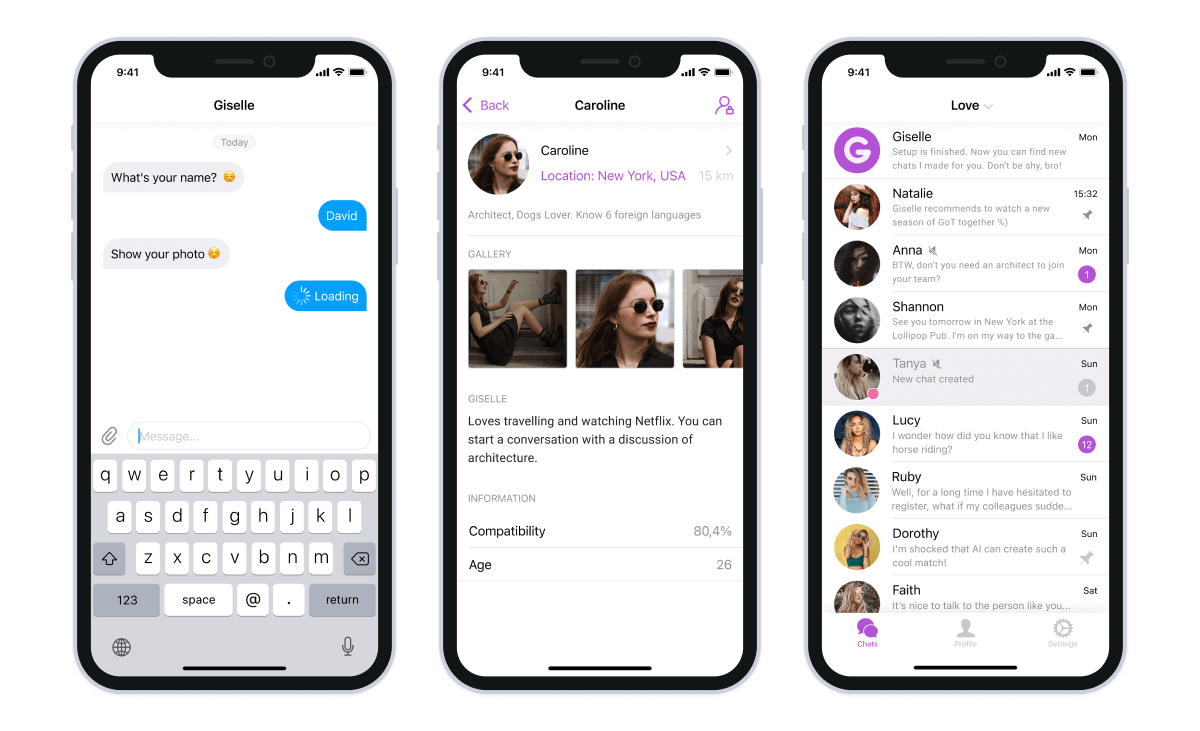 Dating App Developed by Orangesoft
To Sum Up
According to Statista, the number of dating app users will increase from 44.2 million in 2020 to 53.3 million in 2025 in the US only. The market is expected to grow at a compound annual growth rate (CAGR) of 5.5% from 2022 to 2030.
The upcoming years are likely to put a strain on the revenues of companies and shrink customer spending. However, people are eager to establish deep, emotional relationships now more than ever.
So even if users aren't paying for current premium features, businesses can continue to provide new features that will be more relevant to evolving user needs. Plus, the current monetization situation could be an opportunity to grow more adventurous companies as the dating industry will never be the same and is open for innovations.
We hope our extensive guide on dating app development and its costs has helped you understand how to create your own app that will hopefully become the next Tinder. The only thing left is to find an experienced development team ready to turn your idea into reality.
So, what are you waiting for? Share your idea, consult with our specialists, and get an estimate for your project at no charge.