Android system ranks the first among mobile operating systems due to its vast user base of 2.8 billion people. As of the first quarter of 2021, Android users were able to choose between 3.48 million apps, making Google Play the app store with the biggest number of available apps.
Based on the vast majority of existing smartphones, Android is often considered to be the best OS when it comes to building custom mobile apps. Since Android is considered a highly customizable operating system with a vast global support community, many developers prefer Android. With the growth of Android frameworks and libraries for developers, it can be difficult to choose which frameworks and libraries to use in a project. In this article, we will help you to choose an Android framework and library for your app development projects.
The Android Software Development Kit (SDK) is a set of tools for developing applications for the Android platform, including:
Required libraries

Debugger

Emulator

Relevant documentation for Android application interfaces (APIs)

Sample source code

Tutorials for the Android OS
When a new version of Android is released, developers need to download and install the corresponding SDK for the new version so they can write programs using the latest tools.
A framework is a software platform that defines the structure of a software system. Frameworks facilitate the development and integration of various components of a large software project. Simply, a framework is a working environment that helps developers create a software product swiftly and efficiently without being distracted by details.
SDKs and frameworks are closely correlated with each other. When developing Android apps, the SDK provides the necessary tools, and the framework provides the platform for application development.
A library in programming is a collection of subroutines or objects used for development. In other words, each library is a set of classes, components, or modules used for different tasks.
Programs have many standard elements, such as buttons, video players, queries, and so on. There is no need to write them from scratch because libraries are portable sets of verified code that someone has already written. These are ready-made solutions that programmers can add to their programs and insert in various projects using unique algorithms.
We'll walk you through the best Android frameworks and libraries that we frequently use here at Orangesoft.
Open-source Frameworks
There is a common belief that you should pay for quality. However, we here at Orangesoft usually work with free environments and open-source libraries that have a good reputation in the developer community.
Realm
Realm database can save you several weeks of app development because it's a robust open-source Android platform for mobile databases. The Realm database is an alternative to SQLite and Core Data. Due to its design, the Realm database is much faster than ORM and SQLite.
AndroidAnnotations
AndroidAnnotations is an open-source framework that speeds up Android development. This framework allows you to concentrate on what's really important. By simplifying your code, AndroidAnnotations facilitates your code's maintenance.
The advantages of AndroidAnnotations include:
Code shortening - you no longer need to search views by ID and define listeners for them separately;

Implemented work with threads;

Convenient and concise storage of the activity/fragment state;

Simple work with ListView adapters;
Moxy
Moxy is a library that helps to use the model–view–presenter (MVP) pattern when you make an Android application that eliminates lifecycle and boilerplate code problems. Below, we have shared a graphic that shows how Moxy works: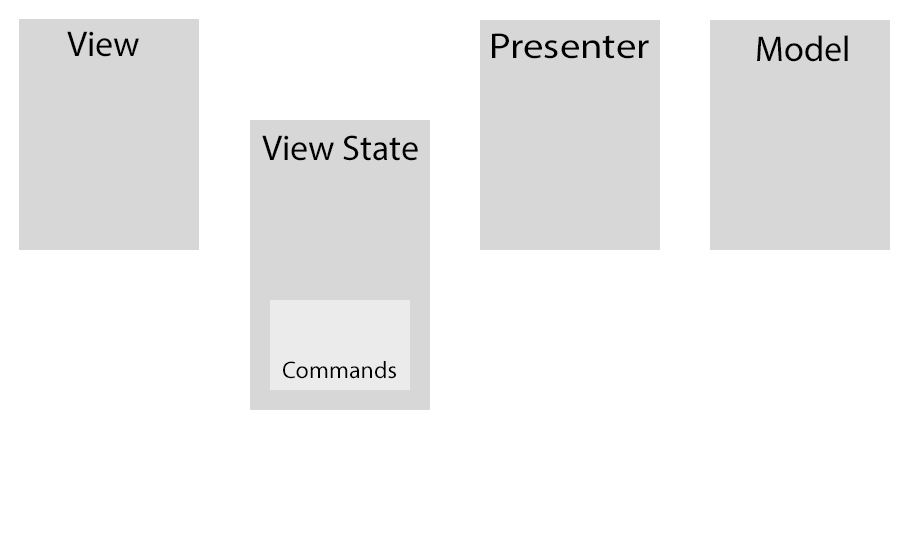 How Moxy works
What Is MVP?
MVP is a way to divide the responsibilities of application code into three components:
Model provides the data for Presenter.
View performs two functions. First, View reacts to commands from the user (or from UI elements), passing these events to Presenter and, second, changes the GUI on Presenter's request.
Presenter acts as a link between Model and View. Presenter gets events from View, processes them (using or not using Model), and commands View about how it should change itself.
The solution in Moxy is a slight variation to the MVP pattern. In Moxy, there is another component called ViewState that sits between View and Presenter. Here, ViewState is responsible for ensuring that each View always looks precisely as Presenter wants it to.
Further, the ViewState contains a command queue that was passed from Presenter to View. When a "new" View joins Presenter, the ViewState automatically applies all Presenter's previous commands to "new" View.
Firebase Crashlytics
Firebase Crashlytics, often referred to as Crashlytics, is a lightweight, real-time crash reporter that helps you track, prioritize, and fix stability issues that deteriorate app quality. Crashlytics is easy to implement, and it doesn't slow down or overwhelm your app with unnecessary data. Crashlytics offers support for crashes and errors, and this leads us to believe that Crashlytics should be the foundation for all Android apps.
Paid Frameworks
Unfortunately, not all outstanding frameworks are available for free. The paid platforms that Orangesoft regularly uses are designed for app analytics. Even though Google Analytics is free, we think that it's more beneficial when used for websites and that there are better analytics environments for mobile apps.
Flurry Analytics
Yahoo's Flurry Analytics provides the tools and resources for an in-depth understanding of a user's actions in the app. You can configure advanced analysis of compound events using metrics, segments, and sequences to better track your users' habits and performance using Flurry Analytics.
Mixpanel
Mixpanel is a business analytics service. It tracks user interactions with web and mobile applications and provides tools for targeted communication with users. Mixpanel offers basic functionality for free, but after your audience exceeds 1000 monthly tracked users, you'll need to upgrade to a premium version. Unlike Google Analytics, Mixpanel tracks events instead of page views.
Libraries
Android Jetpack
Android Jetpack, also known as Jetpack, is a set of libraries, tools and guides that help make app building quick and easy. These components help you follow best practices, release you from writing boilerplate code, and simplify complex tasks so that you can focus on the code you care about.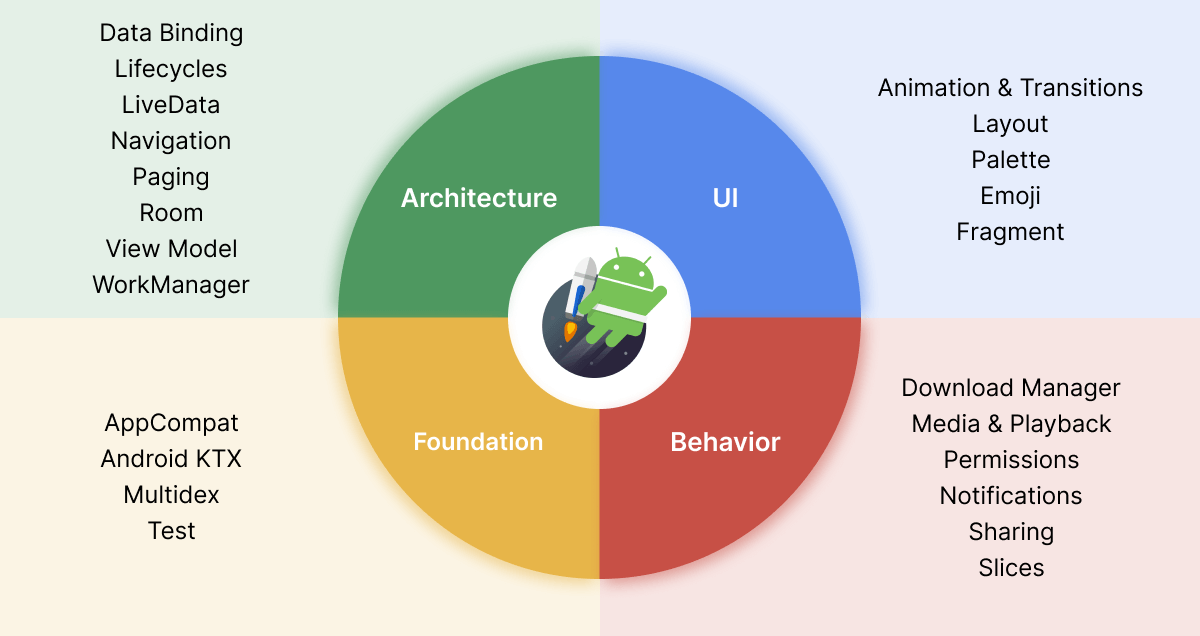 Android Jetpack Components
Jetpack includes the Androidx package libraries, unbundled from the platform APIs. That means that Jetpack offers backward compatibility and is updated more frequently than the Android platform, making sure you always have access to the latest versions of the Jetpack components.
Reactive Programming
ReactiveX
ReactiveX is a combination of the best ideas from the Observer pattern, the Iterator pattern, and functional programming. RxJava is an open-source Java implementation of ReactiveX. The basic building blocks of reactive code are "Observables" and "Subscribers."
RxAndroid is an extension of RxJava that allows the scheduler to run code in the main and additional threads of the Android app. RxAndroid also enables the transfer of results from additional threads to the main one for aggregation and interaction with the user interface.
Dependency Injector Library
Dagger 2
Dagger 2 is a library that helps the developer implement the dependency injection pattern, a "specific form of Inversion of Control (IoC)." When applied to dependency management, the process of providing an external dependency to a software component is a specific form of IoC. In full accordance with the principle of a single responsibility, the object gives the responsibility of building the dependencies it requires to an external, specially designed general mechanism, which Dagger 2 can create.
Koin
Koin is a pragmatic, lightweight dependency injection framework for Kotlin developers. It is written in pure Kotlin using functional resolution only. Koin involves no proxy, no code generation, and no reflection.
Networking
Retrofit 2
Retrofit 2 is a type-safe HTTP client for Android and Java. It is an indispensable tool for working with APIs in client-server applications. Previously, if you wanted to make a network request, you had to run the AsyncTask class and then use HttpsUrlConnection to retrieve data, which didn't work well while working with APIs that return a large amount of data. Now, Retrofit 2 solves this problem.
Database Helpers
Room
Room is a library that helps you save data in Android apps. Room is part of the latest Android Architecture Components, a collection of libraries from Google that supports robust application architecture. Room is offered as an alternative to Realm, ORMLite, and GreenDao.
Room is a high-level interface for low-level SQLite bindings built into Android. It does most of its work at compile-time, creating an API on top of the built-in SQLite API, so you don't need to work with Cursor or ContentResolver classes.
Image Loading
Glide
Glide is a fast and efficient open-source media management and image loading framework for Android that wraps media decoding, memory and disk caching, and resource pooling into a simple and easy-to-use interface. Glide supports fetching, decoding, and displaying of videos, images, and animated GIFs.
Picasso
Picasso lets you easily upload images to your app, often in a single line of code!
If you need a smaller app with fewer features when uploading an image, then it's better to use Picasso. However, if you want customization, animated GIFs support, and more efficient memory management, you should use Glide as your image loading library.
Features
Glide
Picasso
Size and Method Count
Has a

3.5 times

bigger .jar size and

2678

methods.
Has a

3.5 times

smaller .jar size and

849

methods.
Disk Caching

Glide downloads the image from the given URL, resizes it to the size of the image view and stores it to the disk cache.

Picasso downloads the image and stores the full-size image in the cache.
Memory
More memory efficient.
Less memory efficient.
Image Load Time
Loads slower from remote URLs but faster from cache.
Loads faster from remote URLs but slower from cache.
Other Features
Animated GIF support; Thumbnail support; Configurations & customization
As you can see, there are lots of Android app development frameworks and libraries that can help you create apps much faster and cheaper than you probably expected. Knowing the best libraries and frameworks available out there can help us improve the quality of our apps and make us produce more in less time.