Rapid technological advancements, smartphones, and the Internet have changed the way people interact with healthcare services. Telehealth has already passed the initial stage of evolution and entered the active development phase. Currently, the global telehealth and telemedicine market is expected to grow 26.6% annually until 2027, with an estimated market value of $285.7 billion.
The pandemic has accelerated technology adoption, and as stated by data.ai, the demand for telehealth apps increased by 65% during this time. In mid-2020, 52% of healthcare visits happened virtually, but this figure had since dropped down to 38% in 2022. Although it has significantly declined, it remains higher than it was before the pandemic.
Moreover, other market drivers advance the new normal in healthcare:
The necessity to expand healthcare access to remote areas
The increasing number of chronic diseases
An insufficient number of doctors
Technological advancements
Rising adoption of telecommunications
With all the above factors in mind, it's no surprise that more and more telemedicine apps are appearing. Having extensive expertise and experience in the mobile app development field, we have reviewed the best medical apps in 2023.
Telehealth by SimplePractice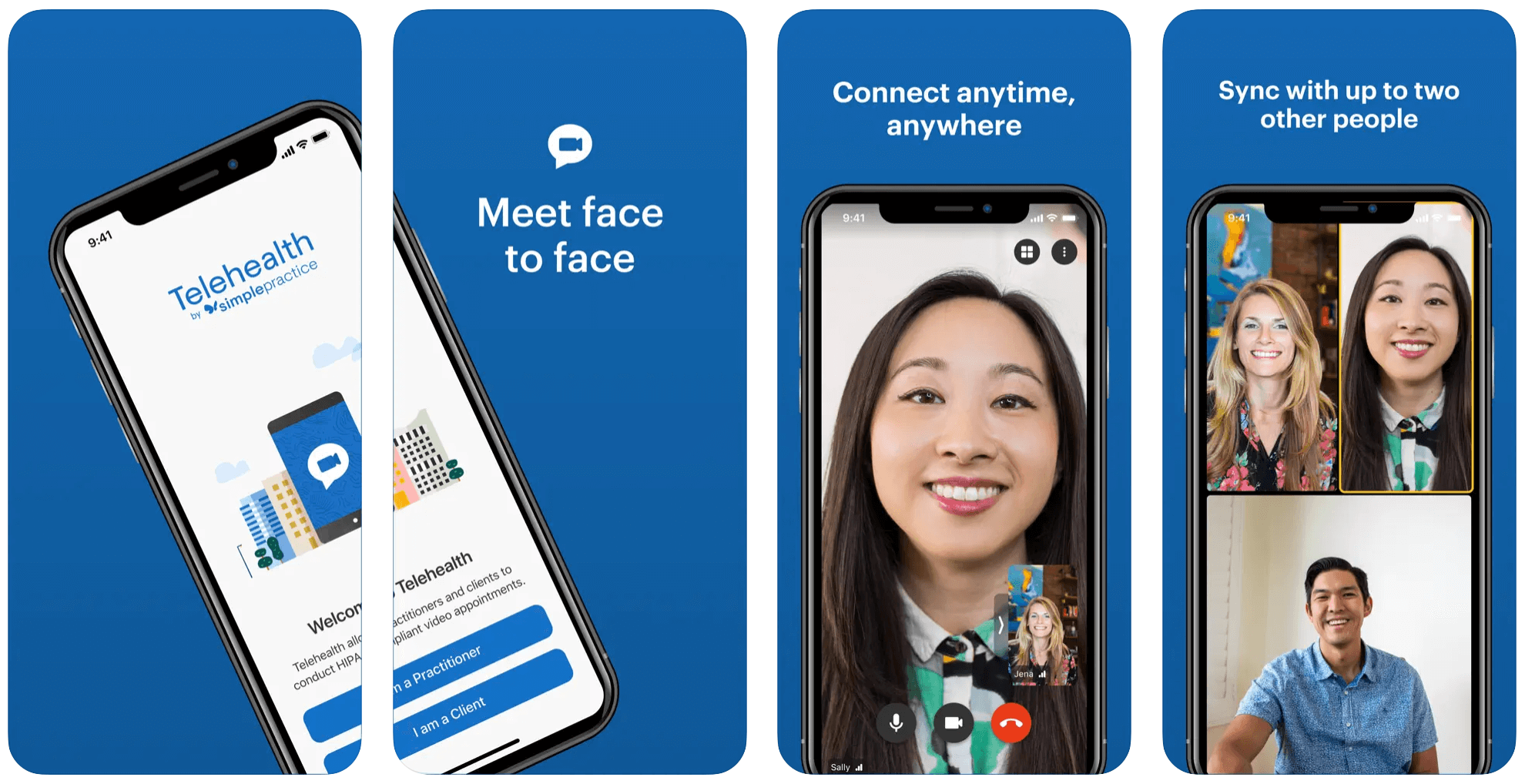 A well-known doctor-on-demand solution, SimplePractice supports telehealth by offering HIPAA-compliant video appointments and allowing providers and patients to connect on the go. Telehealth services by SimplePractice provide the following capabilities:
Video conferencing
Appointment scheduling
Secure chatting
Document management
Billing
File sharing
Access to a library of diagnosis and treatment plans
Initially, the platform was launched in 2018 by CEO Howard Spector, who always tried to identify and cover gaps in therapists' work. The Telehealth app prospered, especially during the coronavirus pandemic, when it saw a significant spike in new users in March 2020. Today, the platform caters to over 160,000 practitioners with a generated $9.5 billion of revenue.
Healow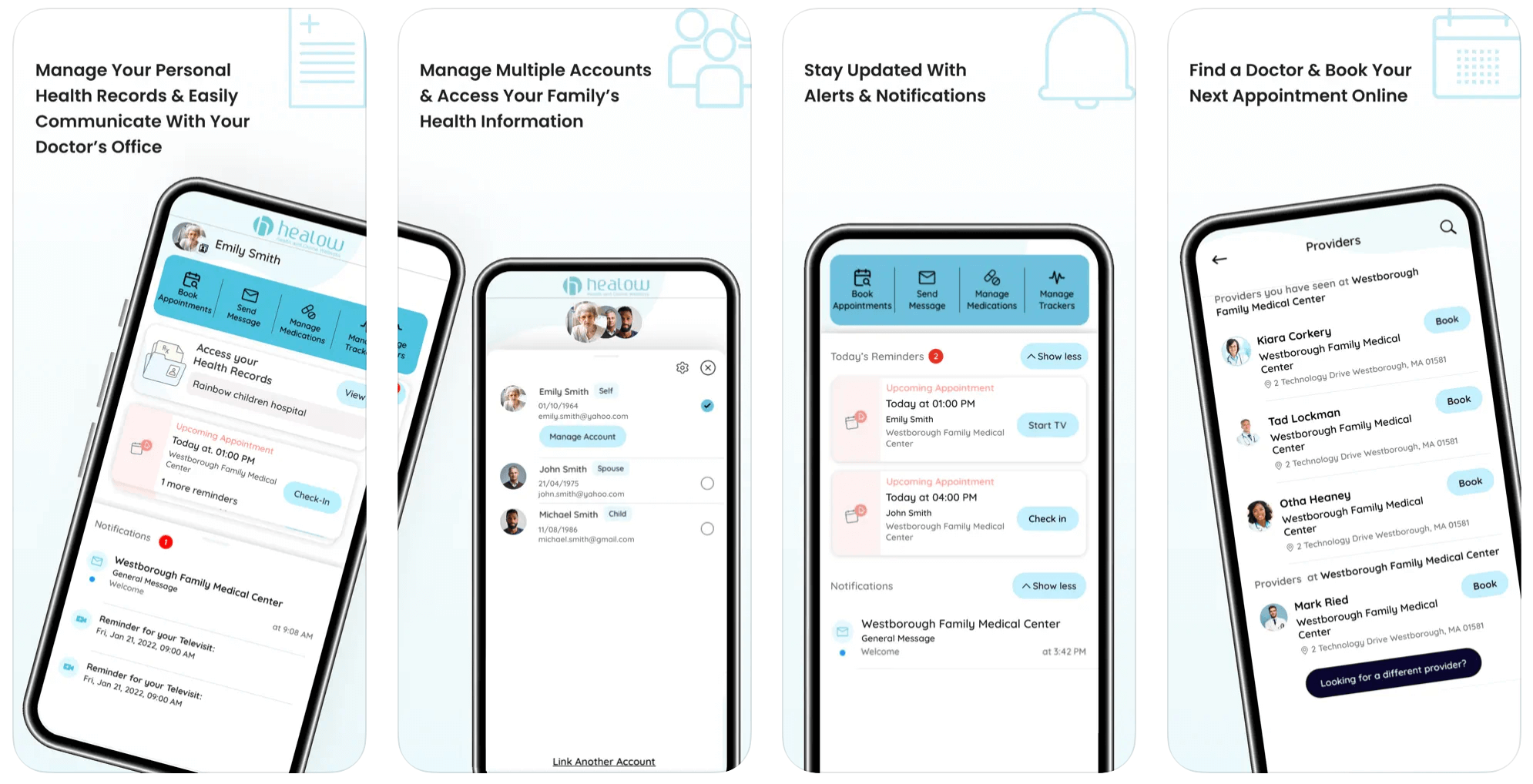 Healow was launched in June 2017 by eClinicalWorks. The telemedicine app offers more than just a vast range of specialized doctors. The app's main features are:
Online appointment booking
On-demand video/audio calls
Activity tracking and health data collection
Ability to access, store, and update personal medical records
Ability to share accounts with family members
The platform currently offers its 67 million users more than 50,000 providers. Healow's features and accessibility likely are why the application is among the top medical apps on the current market.
Teladoc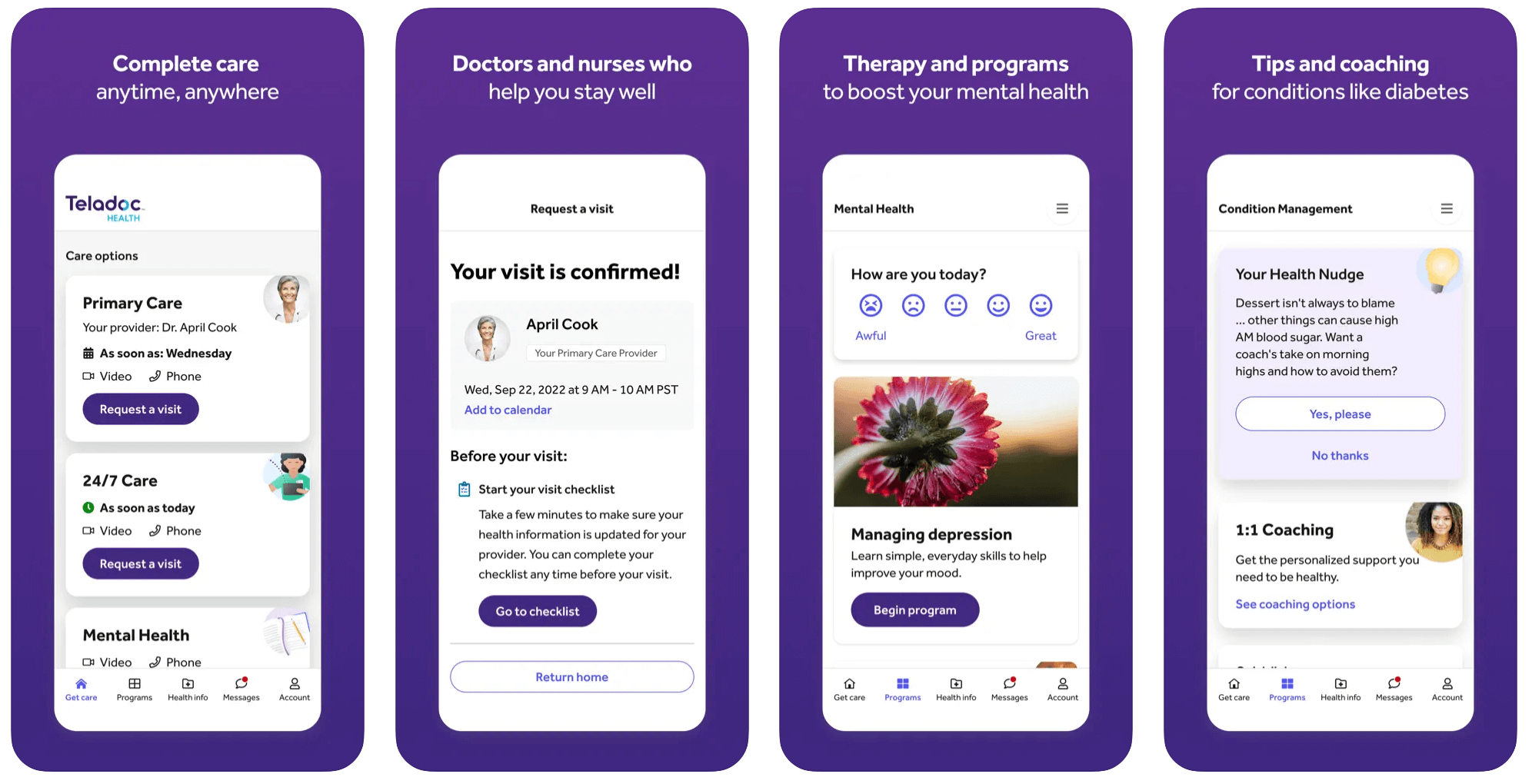 Teladoc has acquired twelve organizations since 2008 and specializes in a wide variety of spheres from routine care and mental health to dermatology, nutrition, caregiving, and more. The Teladoc app's functionality revolves around connecting its users with specialists to receive care by offering the following features:
ePrescriptions
Video conferencing
Billing
Integration with Apple's HealthKit
Teladoc has been among the leaders in the industry before COVID-19 shook the world. In 2022, the app has hosted 18.5 million virtual visits, which is among the highest telehealth appointment volumes in the industry. In 2022, the company reported an 18% year-over-year growth to $2.4 billion.
Sydney Care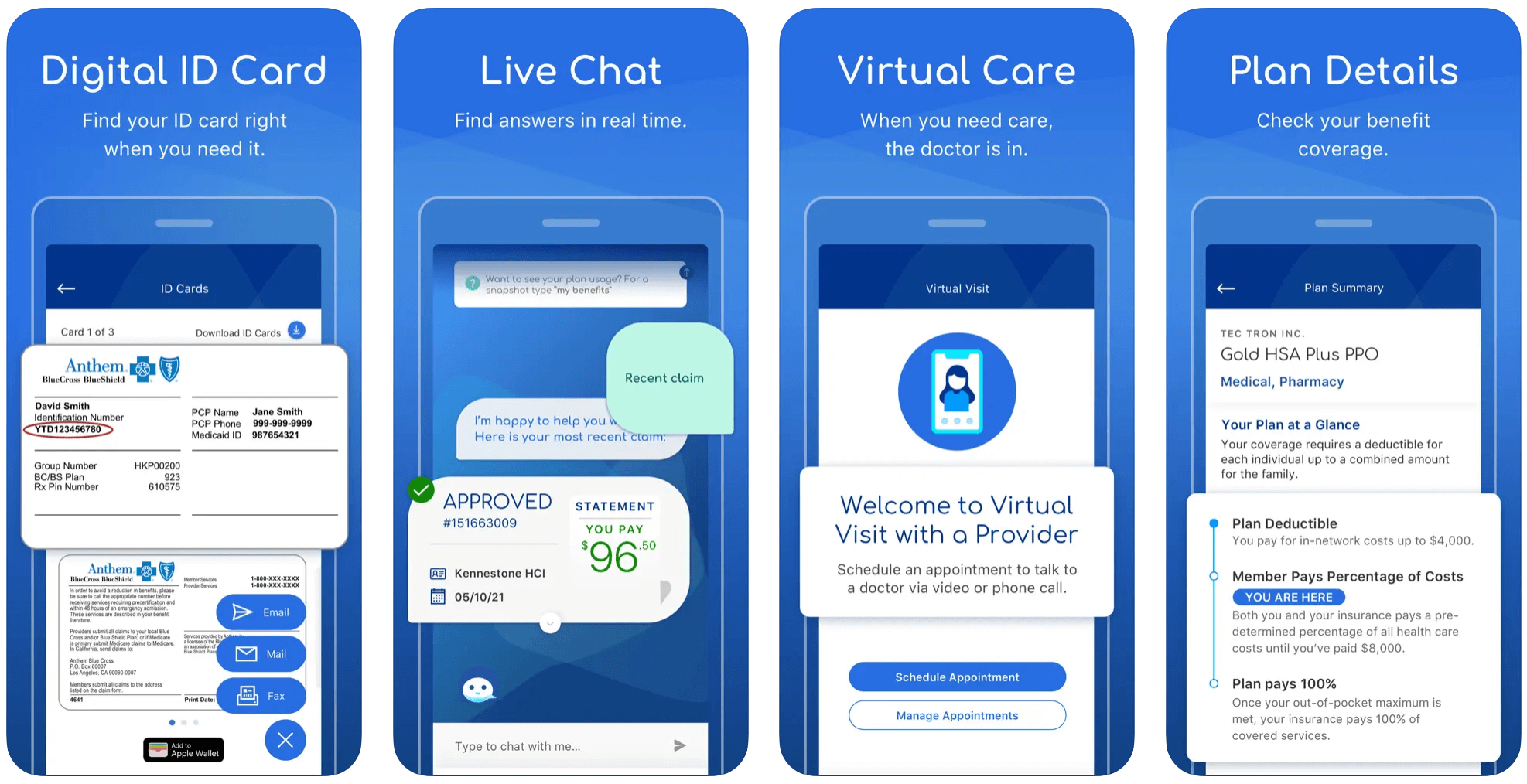 Launched in 2019, the Sydney Health app is a hub for personalized healthcare and wellness. The app offers the following features:
Health Score
Member Selected Goals
Goals Dashboard
Care Gap Alerts
Device/Tracker Integration
Monetary Incentives (as available)
Pharmacy
Interactive chat feature
My Family Health Records (Electronic Medical Records)
In 2023, the app launched its new Nutrition Tracker tool that relies on artificial intelligence to recognize foods in photographs.
Today, the Sydney app is one of the most popular telemedicine apps in Australia, with over 12 million connected users.
Doximity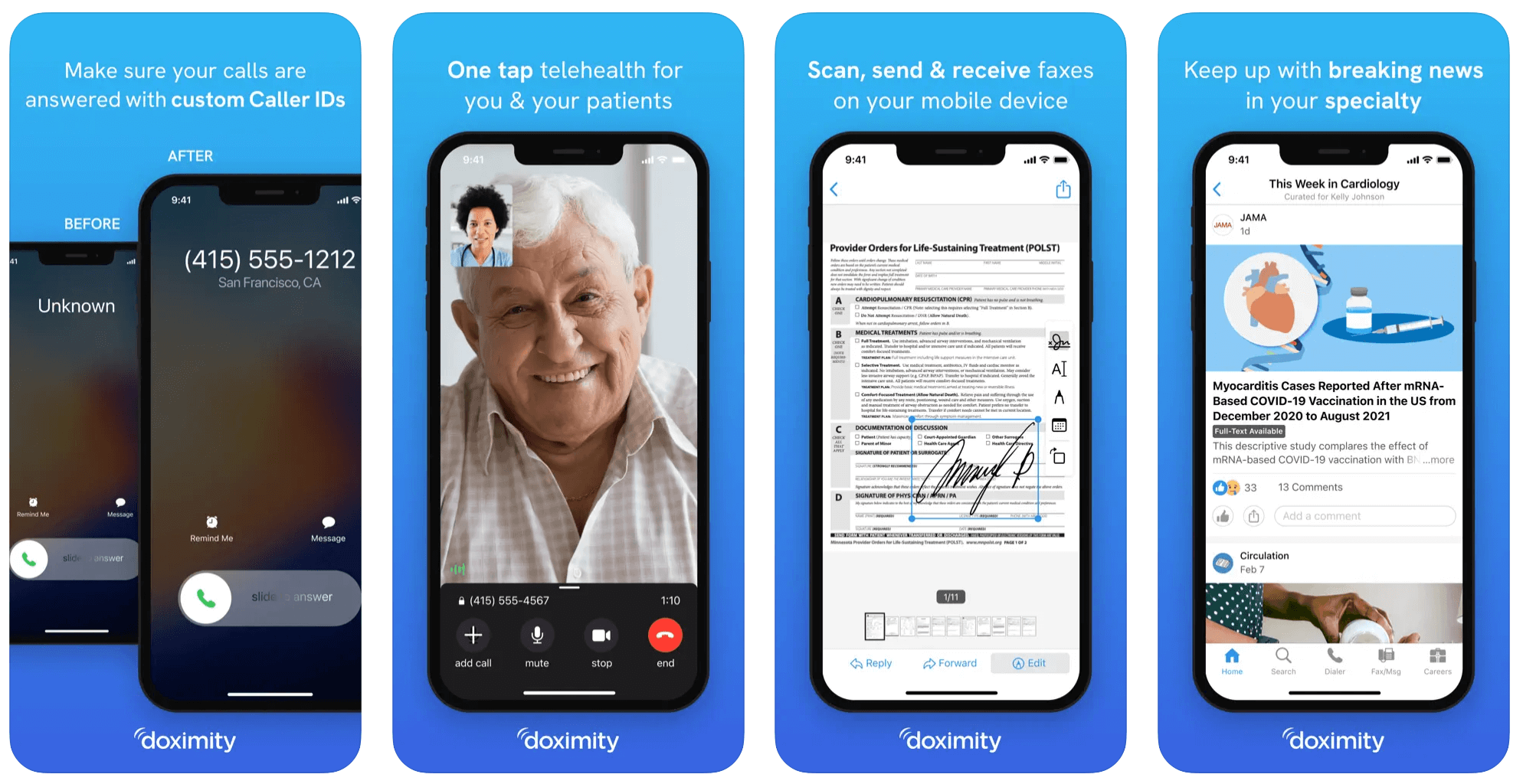 Doximity is a virtual care app that has been in the market since 2011 and has established a vast community of professionals. Over 80% of doctors and 50% of nurse practitioners and physician assistants have been verified by the platform. The app's features include:
Secured voice and video calls
Customized caller ID
One-click calls where patients can join a call by clicking a link sent via text
A tailored newsfeed
Seamless in-app faxing
User-friendly clinicians' search
In 2022, the company clocked annual revenue of $344 million, up 22% year-over-year.
MDLIVE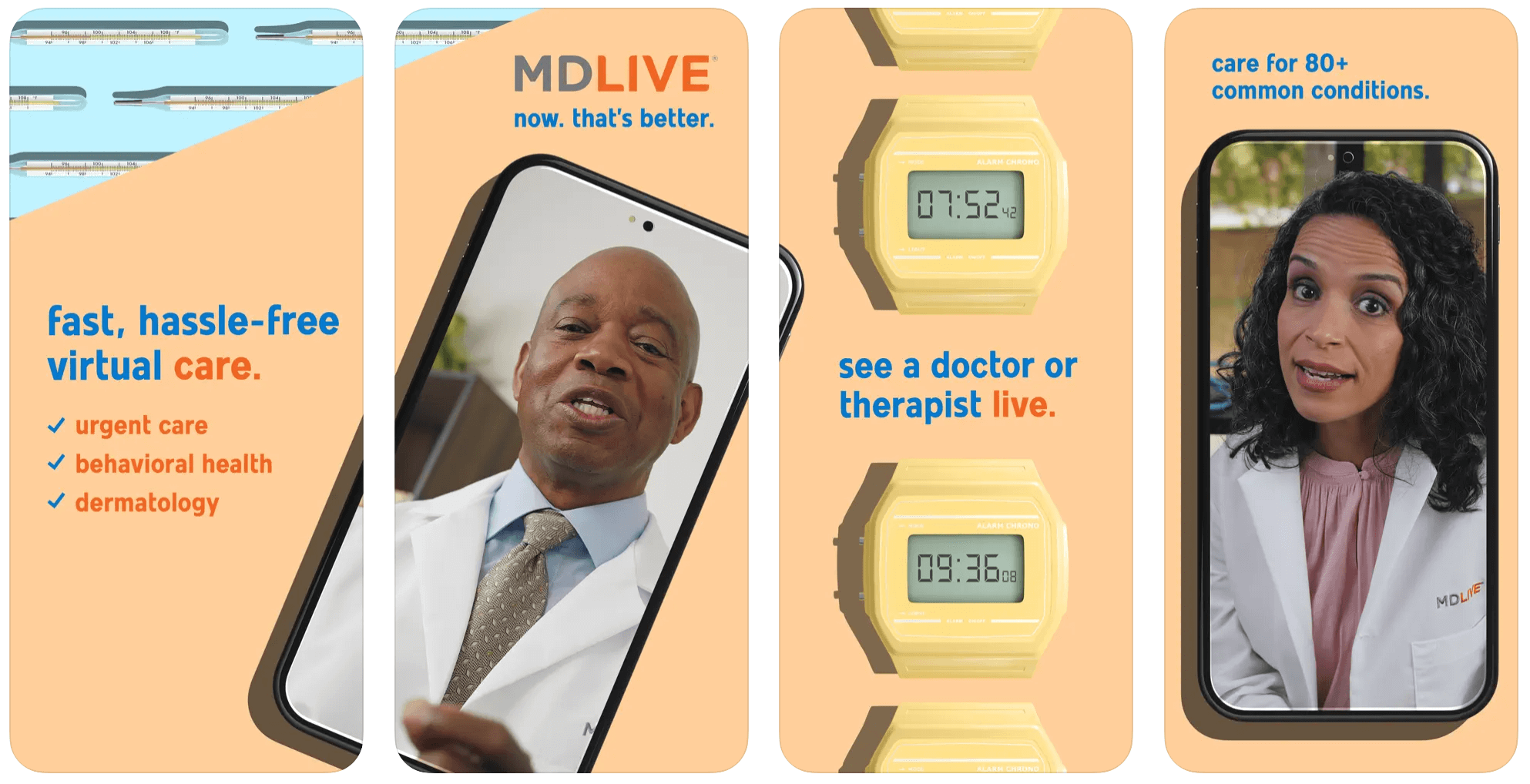 Fifteen years of service have made MDLIVE one of the best telemedicine apps available. The virtual care platform offers access to board-certified physicians in three key areas — behavioral health, primary care, and dermatology.
MDLIVE's functionality includes:
Appointments scheduling
Video conferencing
Physician directories
ePrescriptions
Billing
In 2021, the platform reported strong growth, with over 62 million people having access to MDLIVE as a covered benefit through their health insurance.
Talkspace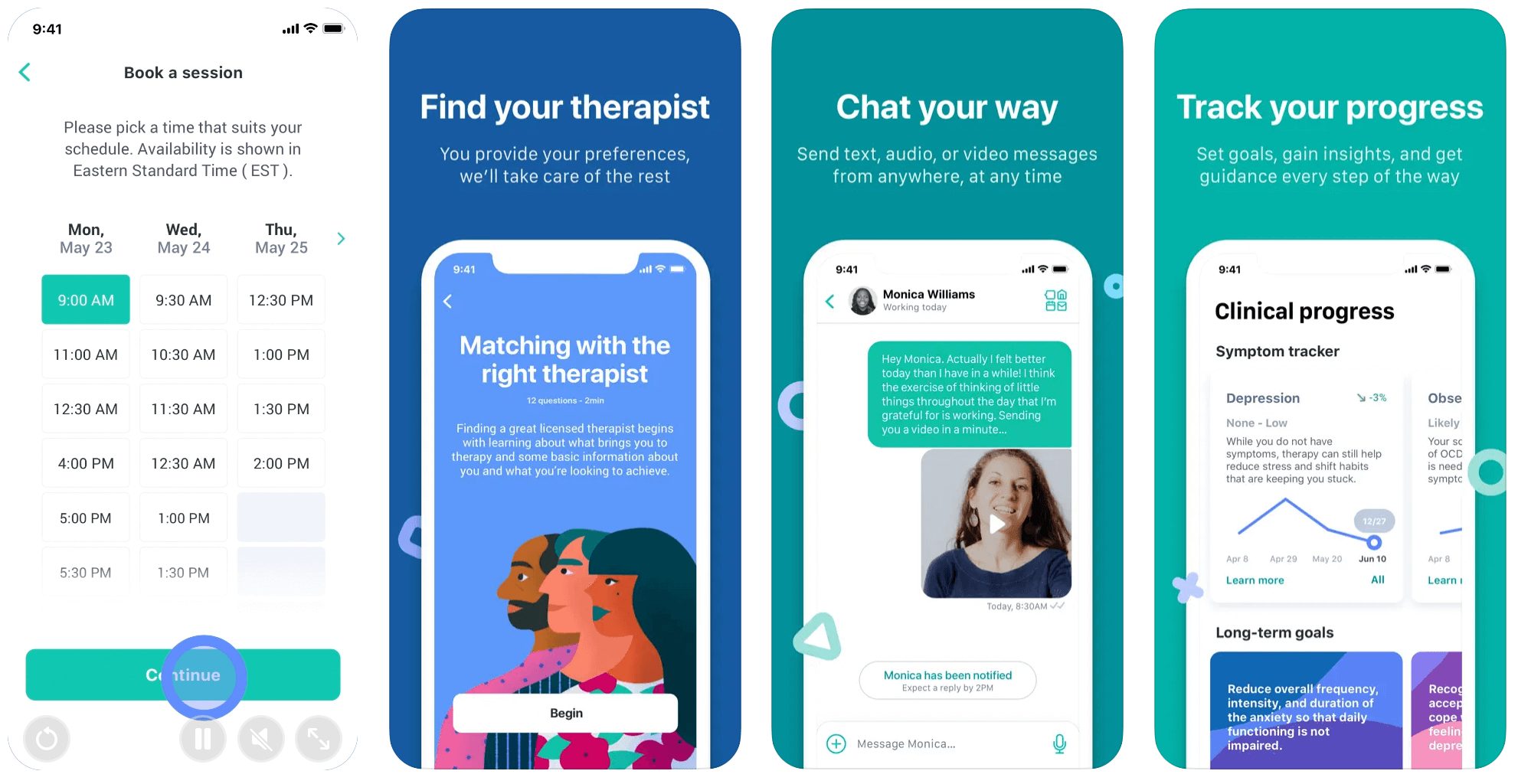 Talkspace is a telehealth service that specializes in mental health care and offers the following capabilities:
Chat
Video and voice calls
User-friendly therapists' search
AI-based assessments
Billing
ePrescriptions
The application has over 39 million lives covered by employer or healthcare insurance, with around 46,000 active members.
In 2022, Talkspace's revenue grew 5% to $120 million, driven by a 65.5% growth in B2B revenue.
Doctor On Demand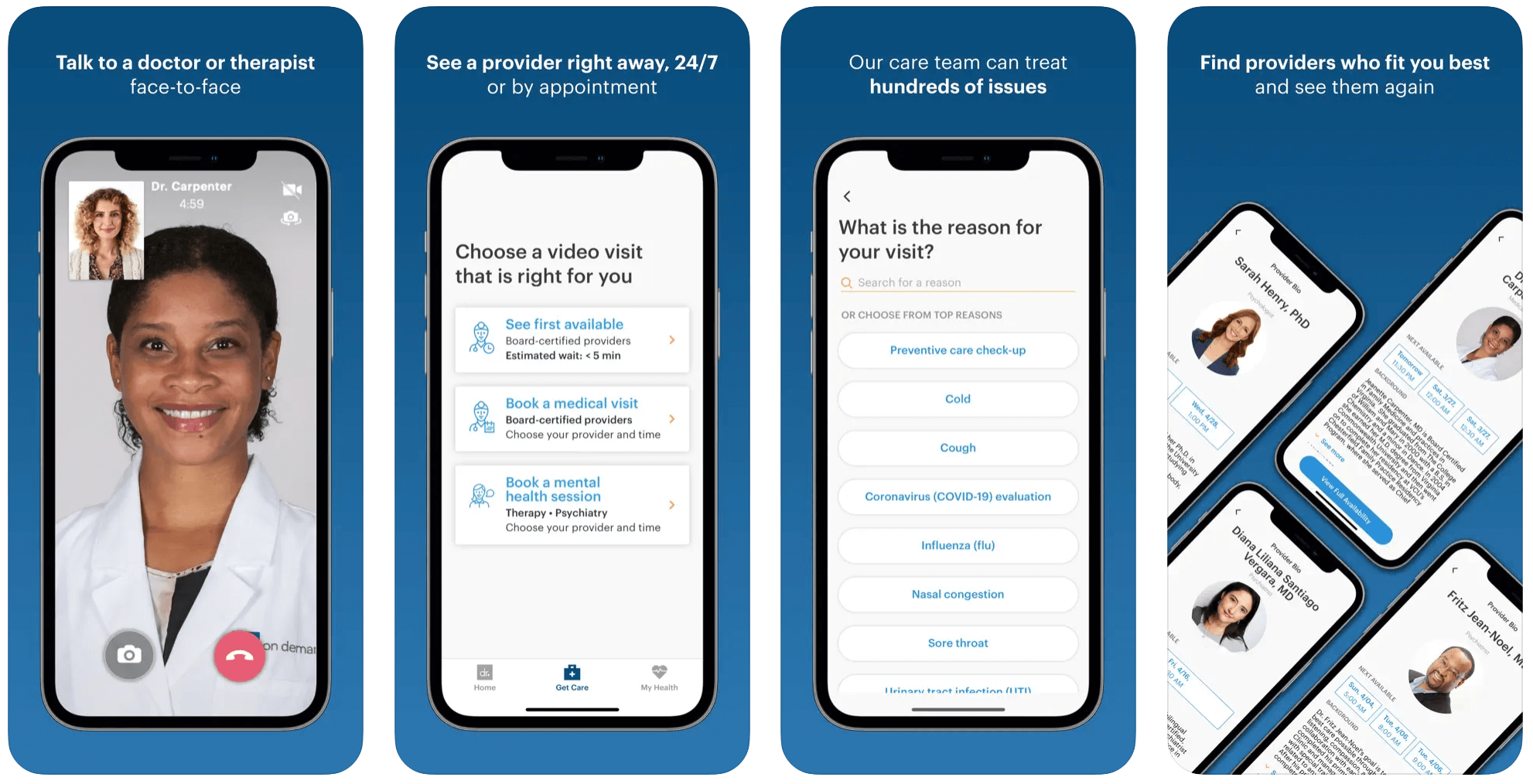 Founded in 2013, Doctor On Demand offers a wide variety of virtual healthcare services, including urgent care, mental health, behavioral health care, preventive health care, and chronic care. The platform provides:
Video-conferencing
Integration with Apple's HealthKit
ePrescriptions and eNotes
Access to patients' medical history
Medical data sharing
The health platform currently covers over 98 million lives, with a total of more than 3 million telehealth visits. To date, Doctor On Demand has raised $236 million in investment and combined with Grand Rounds Health to form a rebranded company.
LiveHealth Online Mobile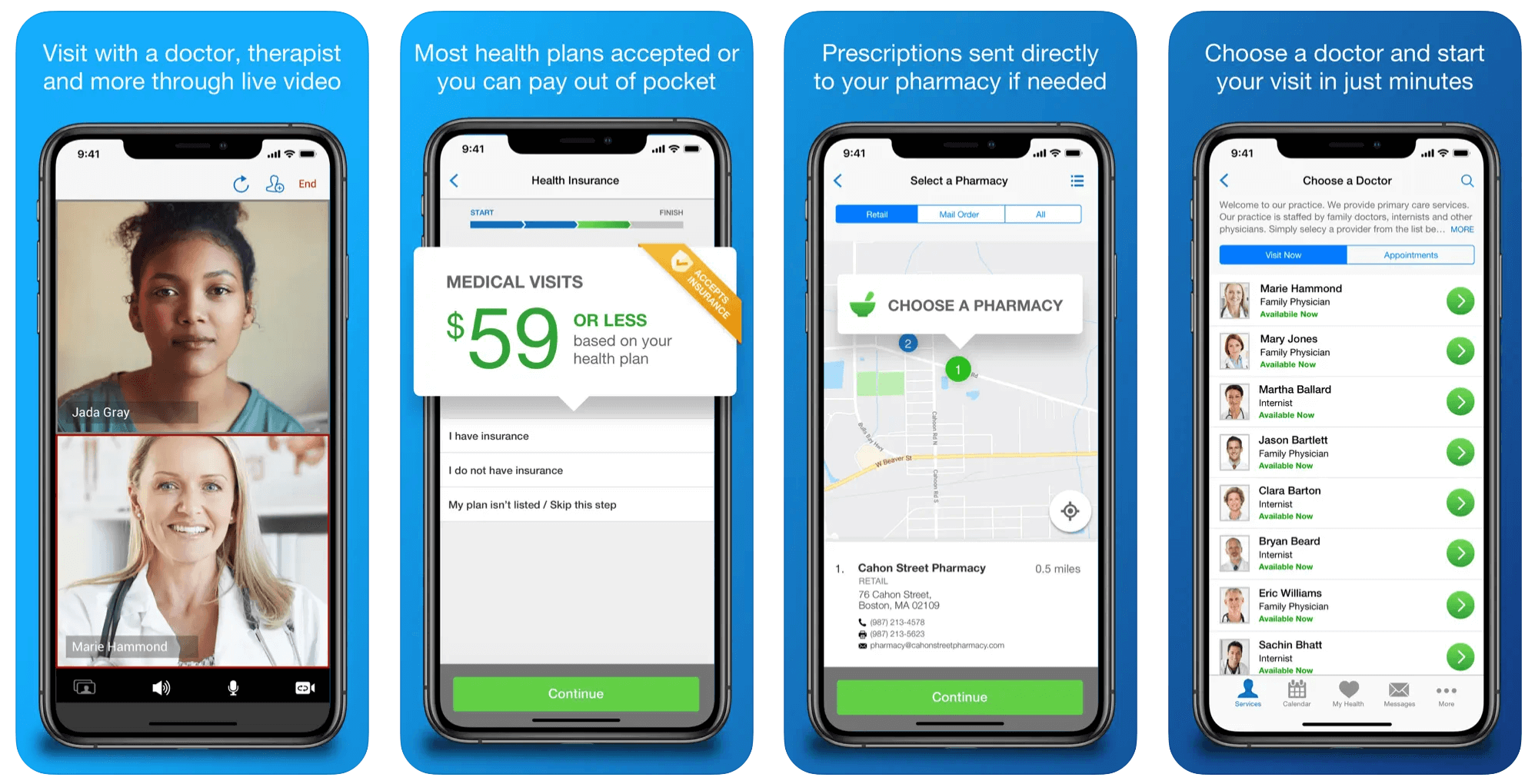 This telemedicine solution has been operating for eleven years and specializes in the following categories — medical, allergy, psychology, and psychiatry. LiveHealth Online Mobile provides the following features:
User-friendly doctor's search
Ranking system for healthcare specialists
Appointment scheduling
Secured video calls
Physiatrician's directories
ePrescriptions
LiveHealth Online Mobile is a complement to a telemedicine platform. The company is considered to be among the best telemedicine providers on the market. In 2022, the app ranked highest in telehealth satisfaction among direct-to-consumer brands.
Amwell: Doctor Visits 24/7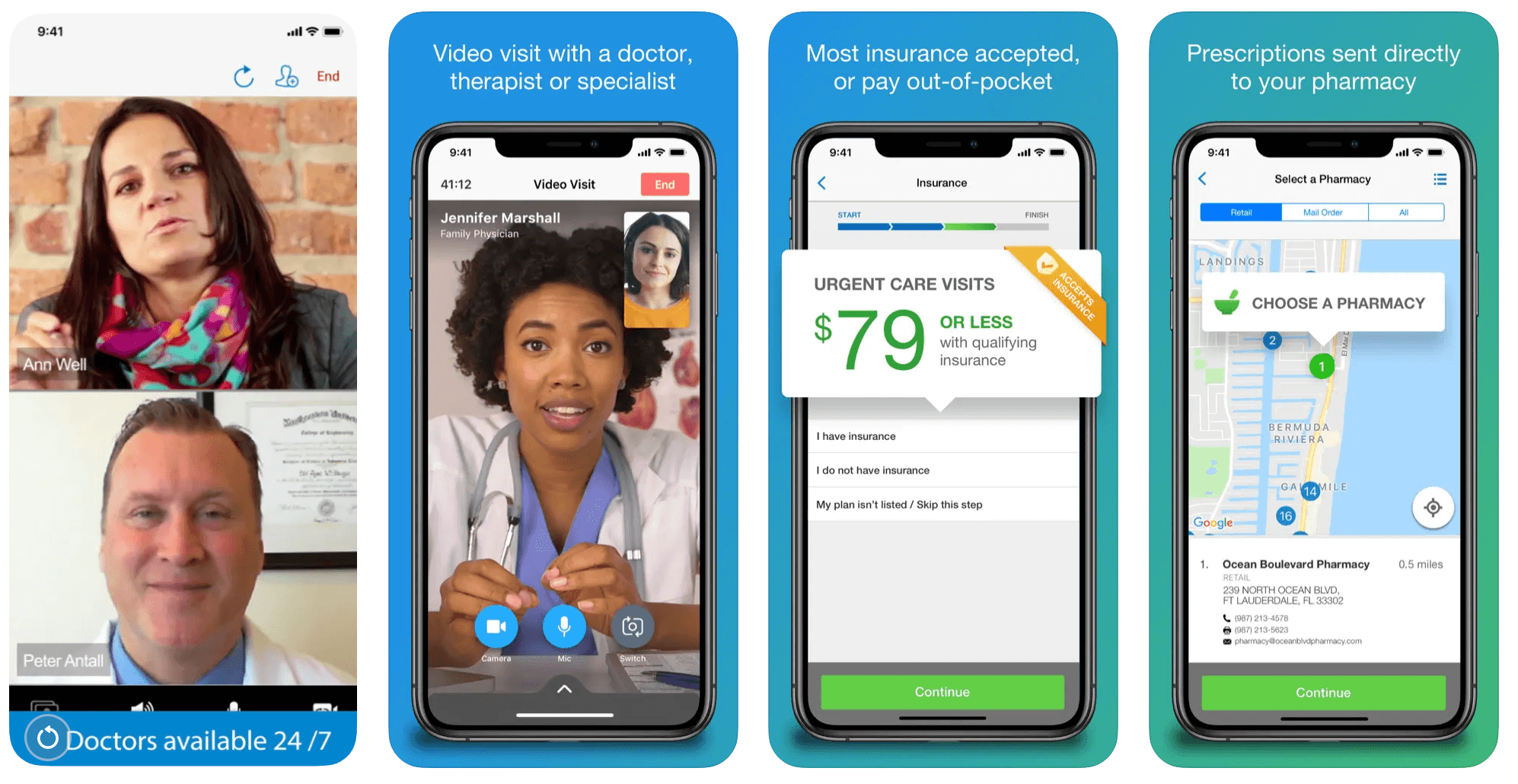 This app offers users expertise in urgent care, therapy, psychiatry, nutrition, and lactation consulting as well as the following features:
In-app specialist search that includes specified individual rates and experience
Scheduling
ePrescriptions
Video conferencing
Billing
Physician directories and recommendations
Integration with Apple's HealthKit
Amwell: Doctor Visits 24/7 is the first telehealth service granted accreditation from the American Telemedicine Association. The company recorded a revenue of $277.2 million in 2022, a 10% growth compared to 2021.
Walmart Health Virtual Care (former MeMD)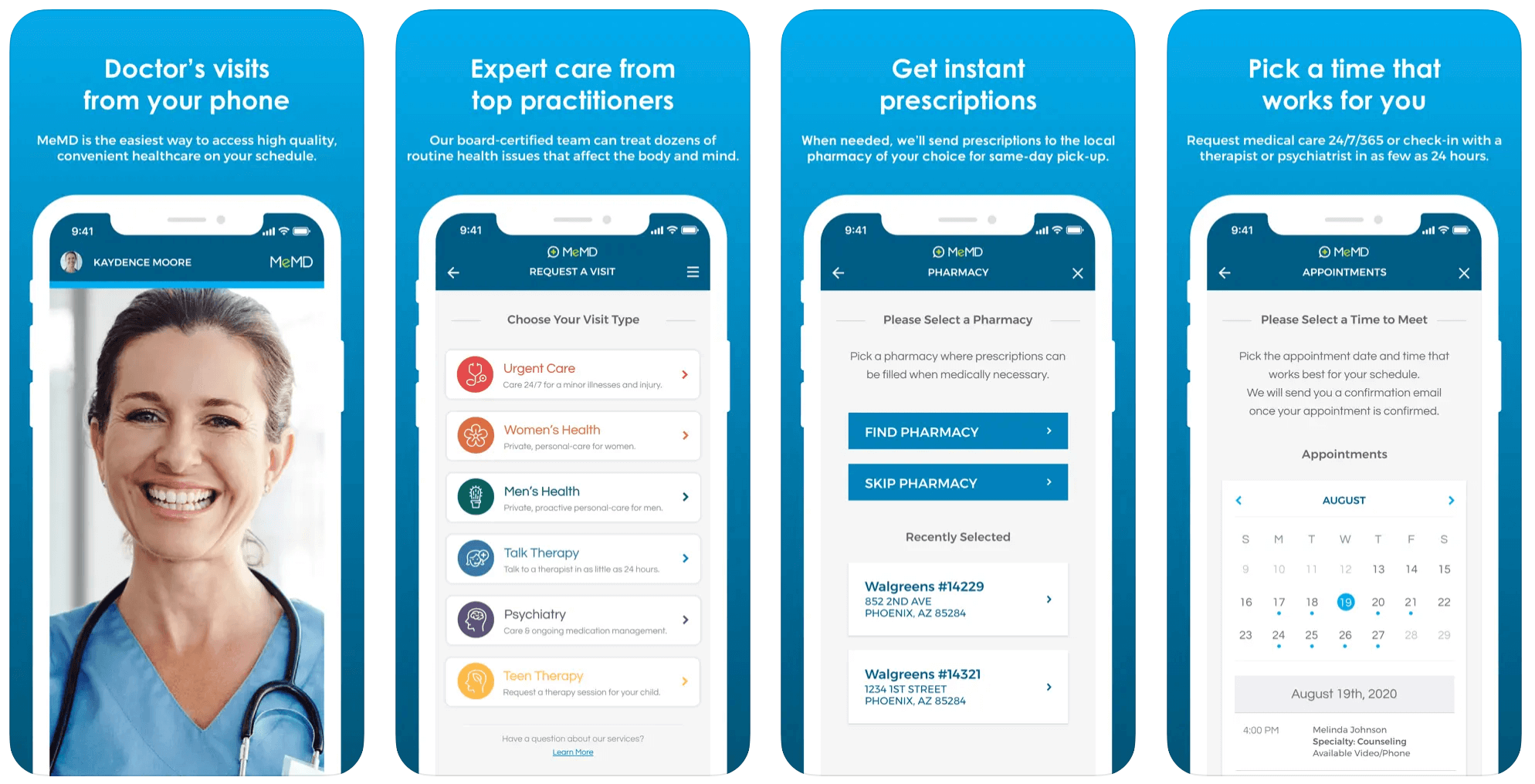 MeMD, now officially known as Walmart Health Virtual Care app, was launched in 2010 and now spans a wide range of digital health services — from mental health to urgent care and diabetes management.
The core features of MeMD include:
Real-time video or phone visits
ePrescriptions
Location-based pharmacy search
Intelligent referrals for specialists
Imaging and lab integration
In 2022, Walmart Health Virtual Care delivered medical and mental health visits to 5 million members nationwide over computers, phones, and mobile devices.
HealthTap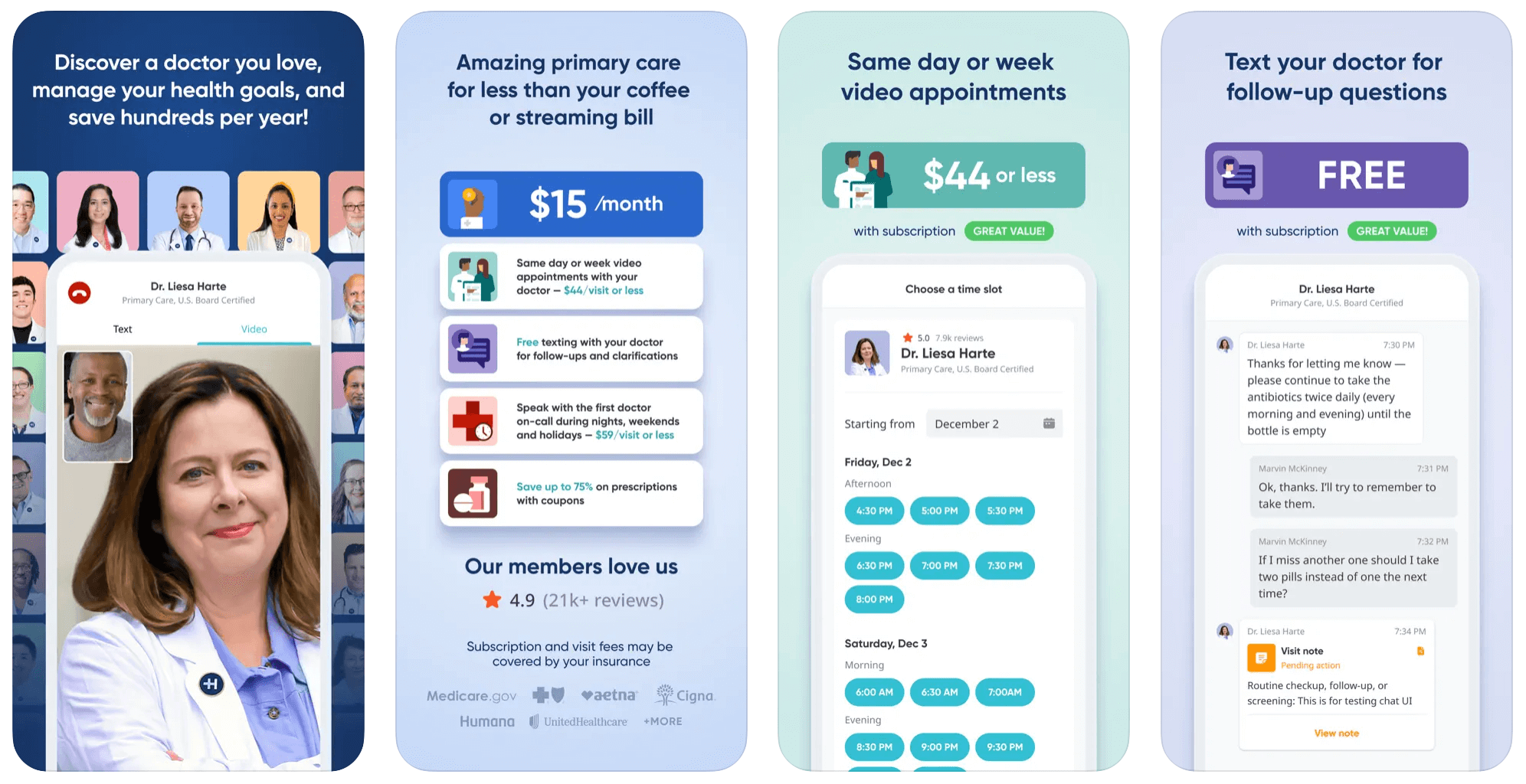 HealthTap provides access to a wide range of virtual healthcare services, including chronic care, senior health, mental & behavioral health, and others. The functionality is as diverse as its treatment options:
Doctor-trained AI symptom checker
Doctor-assisted chatbot
Video visit experience and chatting
Primary Care visit scheduling
Appointment reminders
Lab tests
In 2022, the company has also partnered with Samsung to bring virtual healthcare to Samsung smart TVs.
One Medical
Another specimen among the best telehealth apps, One Medical is a virtual care solution targeted at primary care, clinical services, and senior care. The platform is an employee benefit at 8,000+ companies, including Google, Nasdaq, and more. Its core features include:
In-app prescription requests and renewals
In-app messaging and video chats
Online and offline appointment management
ePrescriptions
In 2022, One Medical's net revenue amounted to over $1 billion, a 68% year-over-year increase. The platform now caters to 796,000 members, including both consumers and enterprises.
K Health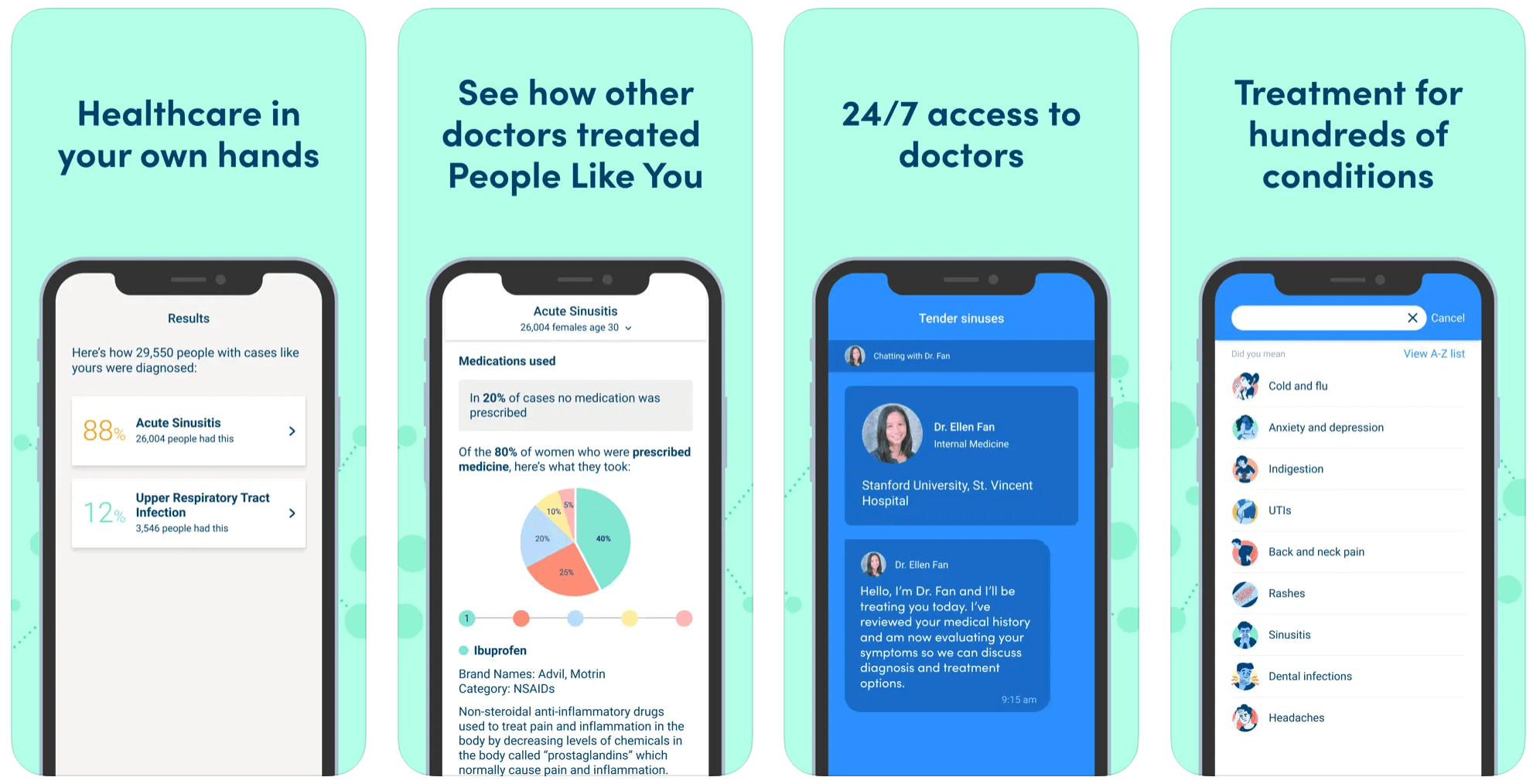 Launched in 2018, K Health offers board-certified clinicians who offer advisory on urgent care, primary care, and mental health conditions through text-based clinician visits. The company also launched K for Parents to provide personalized care for kids. The feature set is the same for both services:
Telemedicine features
Smart symptom checker
On-the-go prescriptions and refills
Appointment scheduling
Reminders and notifications
Currently, K-Health lists over 100 certified doctors who have provided custom treatment plans for 6+ million users. The company says it now has more than 4 million users in the U.S.
Babylon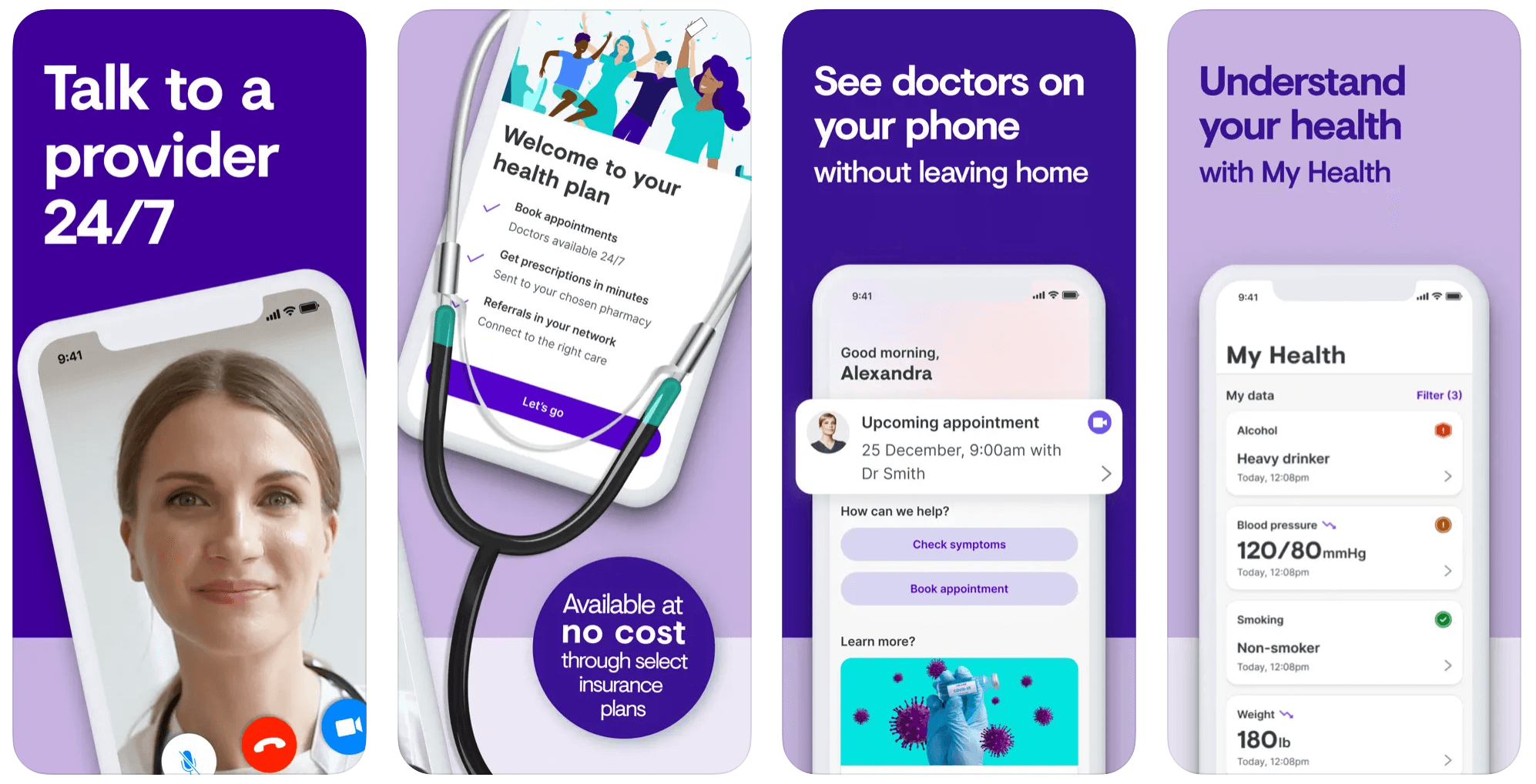 Founded in 2013, Babylon is another telehealth platform that offers online medical services for 16 countries across a wide range of specialties. The app relies heavily on AI-based capabilities and augments its services with:
AI-based symptom checker
Digital Twin to track health
Activity and mood tracking
Video consultations
Appointment management
In 2022, the application has seen a 3.5x of year-over-year growth and garnered over $1 billion, exceeding guidance.
Firefly Health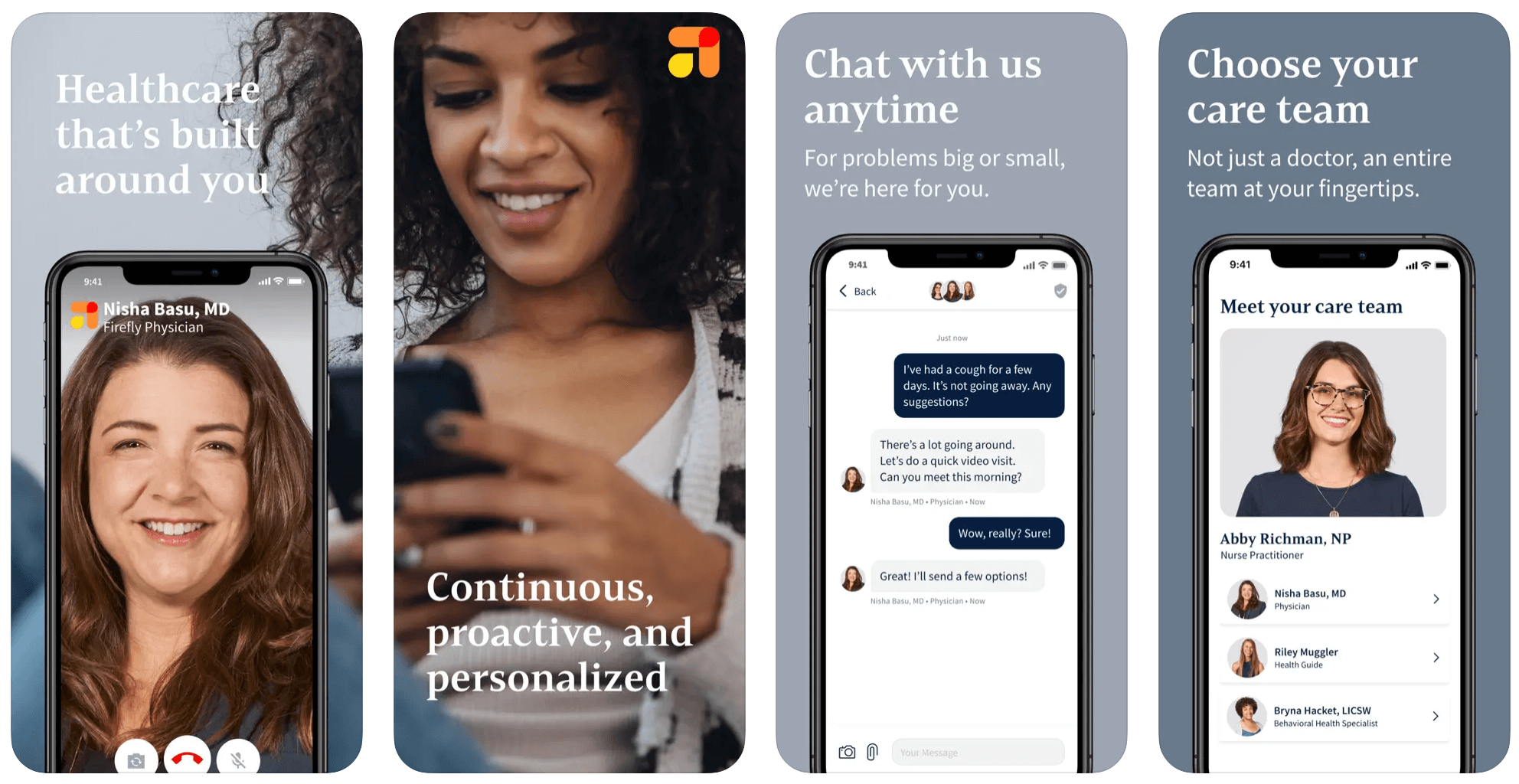 From health plans to on-demand virtual care, Firefly Health offers convenient and affordable primary care services for chronic conditions, women's health, behavioral health, and other treatments. Once you become a FireFly member, the platform sends you a few essentials to track your vitals. The app complements the experience with the following features:
In-app messaging
Video consultations
Quick prescription refills
Health Plan management
Firefly Health keeps its provider panels to about 5,000 patients per physician, with 25% of members engaging with the service weekly. Patients get their own healthcare team, including a primary care provider, nurse practitioner, and health guide.
PlushCare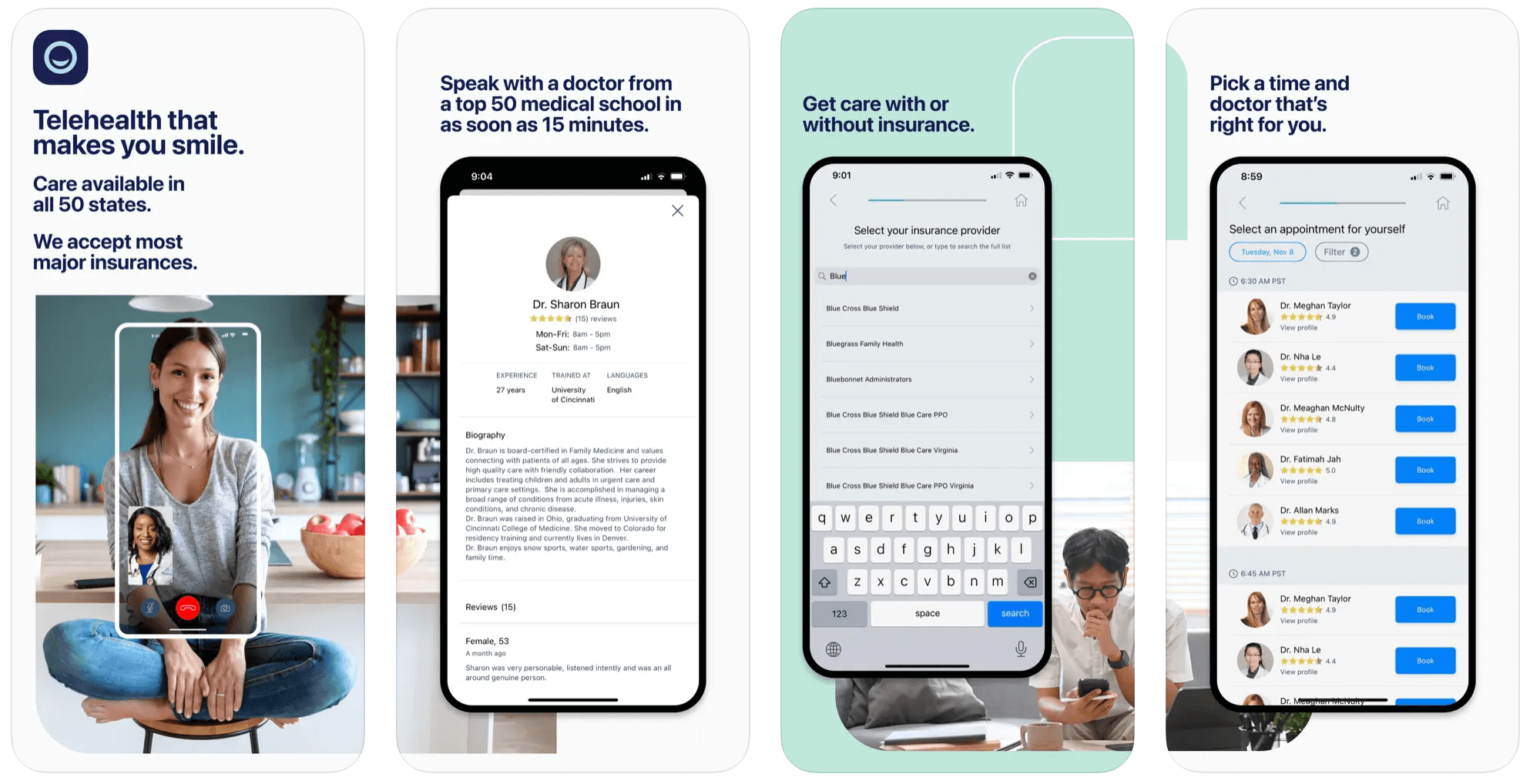 Available in 50 states, PlushCare ranks high among the best telemedicine apps. The application provides access to board-certified doctors, nurses, and therapists with specialties in urgent care, mental health, and others to treat 3,500+ conditions.
The platform delivers seamless patient care through:
Telehealth features
Appointment management
Online prescriptions
Insurer, labs, and pharmacy integrations
PlushCare has provided services to over 550,000 patients. In 2021, the platform was acquired by Accolade, a wellness provider, in a $450M stock and cash deal.
Maven Clinic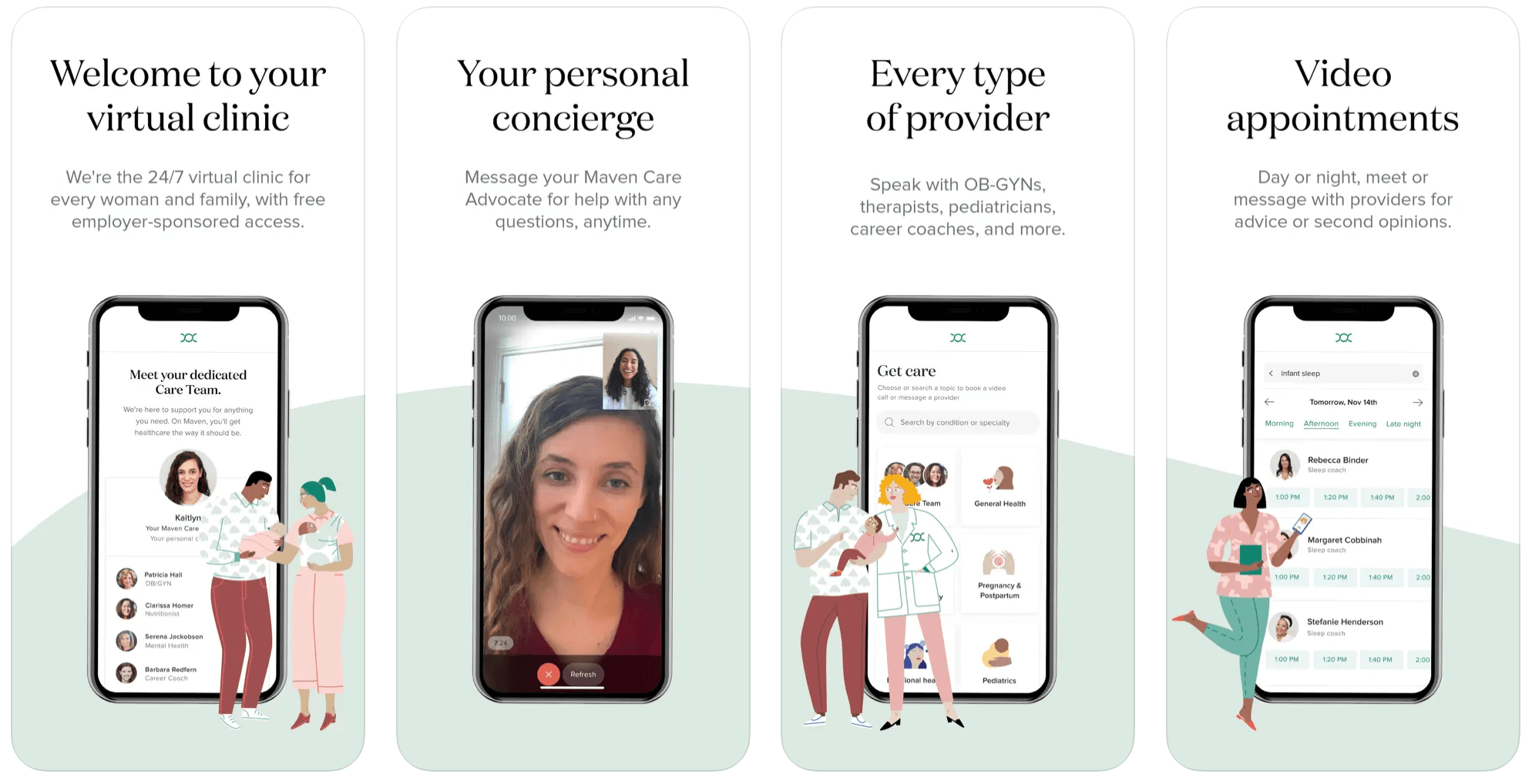 Maven's virtual care model revolves around women and families, specifically targeting fertility, pregnancy, and postpartum care. The application offers 24/7 virtual care with access to 1,700+ doctors and care providers with 20+ health and wellness specialties. The platform includes the following features:
Video appointments
Provider-led online classes
Community support
Appointment scheduling
Weekly action plans
Knowledge base
According to executives, the platform has supported more than 15 million women and families to date.
98point6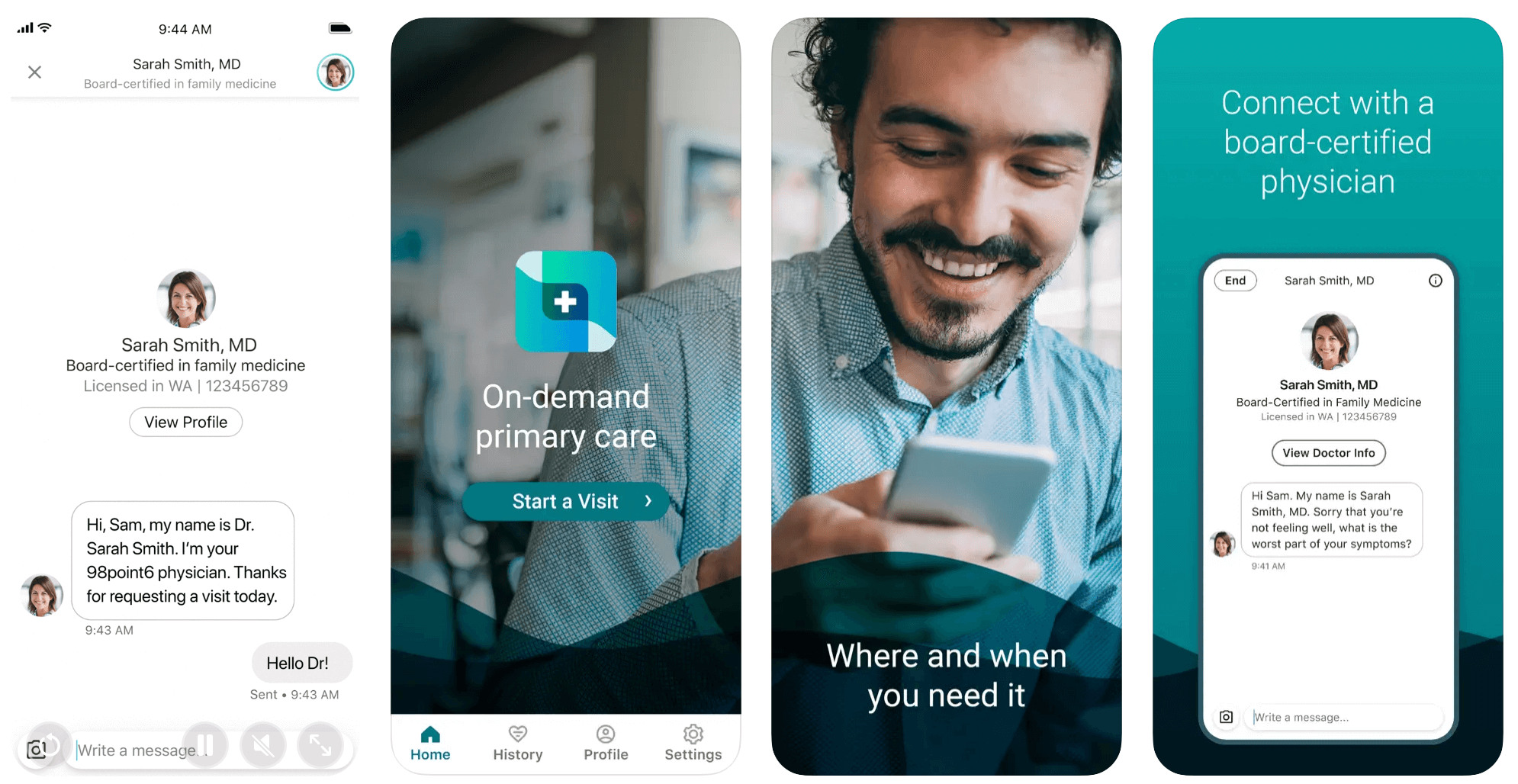 Founded in 2015, 98point6 is a provider of simple, on-demand text-based care for behavioral health and primary medical services. The app's feature set includes:
Automated assistant
In-app messaging and video
ePrescription and lab orders, and others
The platform now has more than 240 commercial partnerships, accounting for three million members.
Ro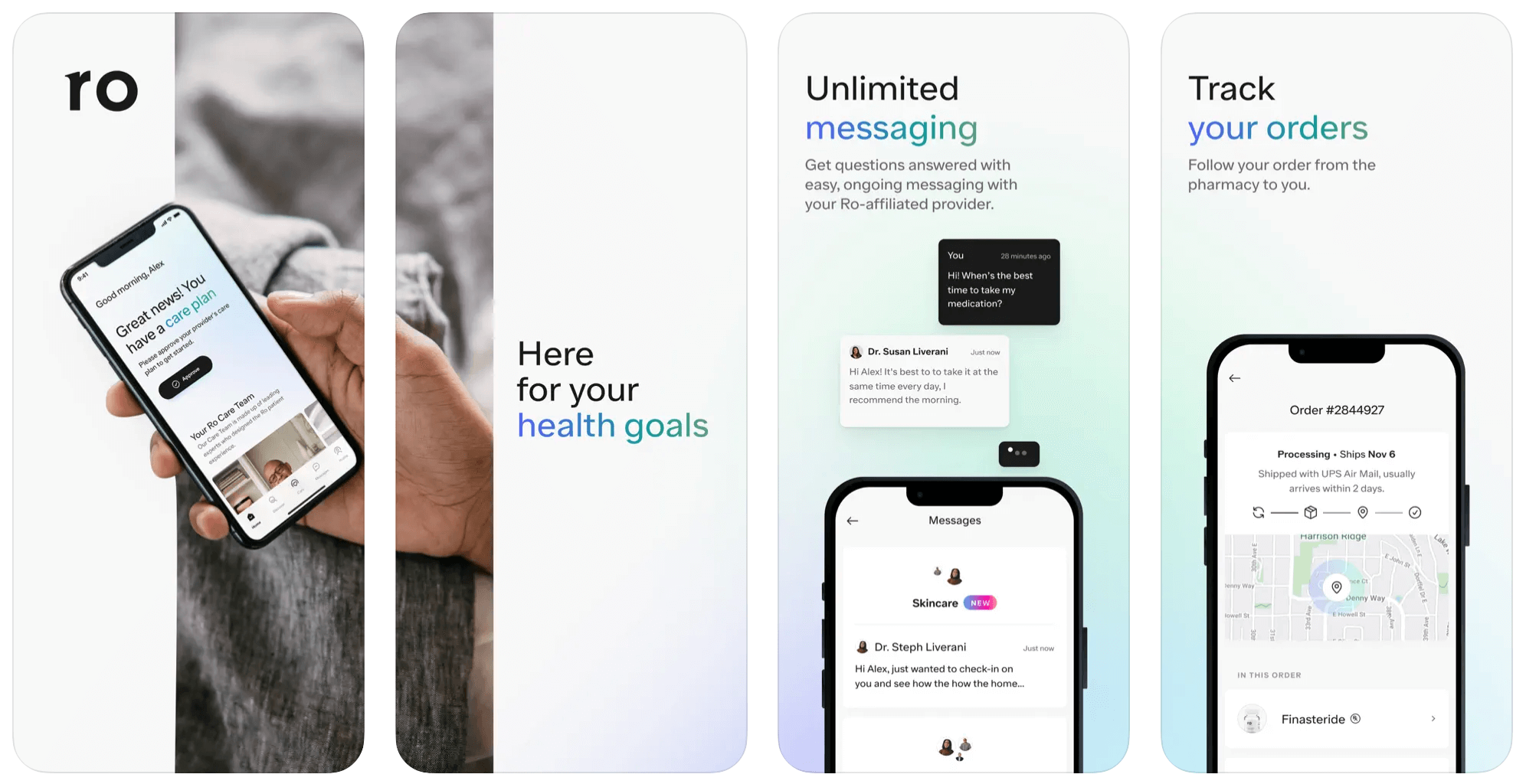 Ro is a personalized, end-to-end telehealth platform that covers the entire patient care lifecycle — from diagnosis to medication delivery and ongoing care. The application helps take care of women's and men's health and wellness with the help of branded medication and care products.
The set of features is quite typical for the category:
In-app messaging
Video consultation
Real-time order tracking
Smart analysis and diagnosis
Initially, the application was launched as Roman, which branched into multiple offerings. According to its co-founder, non-Roman revenue is growing faster than Roman, reportedly 150% year over year.
Related: How to Develop a Telemedicine App: Trends, Features and Costs
Wrapping up
Telemedicine apps are great examples of doctor apps to follow if you want to enter the telemedicine app market. As you see from our list of leaders, virtual health services are a profitable niche to enter that gains traction each year. At Orangesoft, we are eager to help you conquer the industry by sharing our expertise and knowledge in the field of telehealth app development. Feel free to contact us for more information.