Rapid technological advancements, smartphones, and the Internet have changed the way people interact with healthcare services. Telehealth has already passed the initial stage of evolution and entered the active development phase. Currently, the global telehealth and telemedicine market is expected to grow 37.7% annually until 2025, when it is estimated to exceed $191 billion in market value.
The projected market increase is driven by several factors, with COVID-19 having a significant influence. The pandemic has accelerated technology adoption, and as stated by AppAnnie, the demand for telehealth apps increased by 65% during this time.
Seemingly, the lockdown due to the COVID-19 pandemic has only boosted this industry's established trends, given that telehealth services were increasing before the pandemic. The main drivers of this market's growth include:
The population constantly rising

The necessity to expand healthcare access to remote areas

The increasing number of chronic diseases

An insufficient number of doctors

Technological advancements

Rising adoption of telecommunications
With all the above factors in mind, it's no surprise that more and more telemedicine apps are appearing. Having extensive expertise and experience in the mobile app development field, we have reviewed the best medical apps in 2022.
Related: How to Develop a Telemedicine App: Trends, Features and Costs
Telehealth by SimplePractice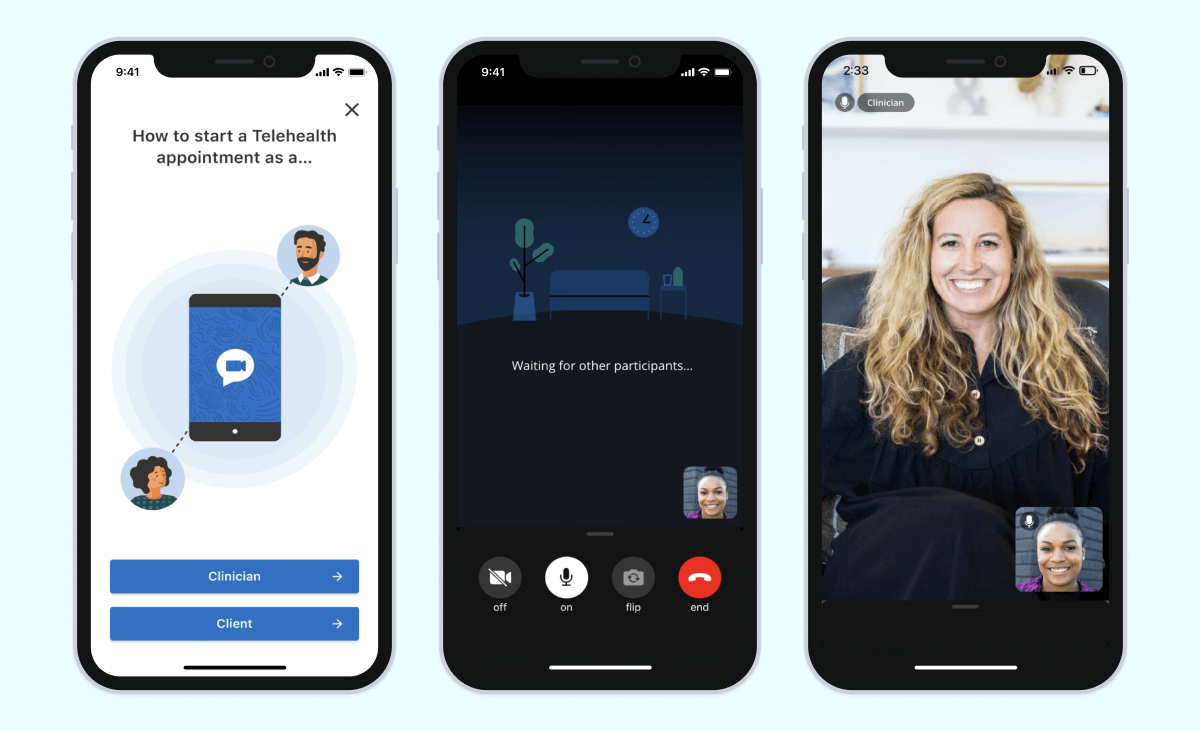 Telehealth complements simplepractice.com by offering HIPAA-compliant video appointments and allowing therapists to connect with clients on-the-go. Telehealth by SimplePractice provides the following capabilities:
Video conferencing

Appointment scheduling

Secure chatting

Document management

Billing

File sharing

Access to a library of diagnosis and treatment plans
Initially, the platform was launched in 2018 by CEO Howard Spector, who always tried to identify and cover gaps in therapists' work. The Telehealth app prospered, especially during the coronavirus pandemic, where it saw a significant spike in new users in March 2020. The app also saw a rise in the number of minutes users spent on Telehealth, increasing from five million in January 2020 to 144 million in April 2020.
Pricing:
For providers: Telehealth offers a 30-day free trial. Rates start at $39/month for solo practitioners and $98/month for group practices of two or more clinicians

For patients: Rates depend on the patient's provider
Related: HIPAA Compliance for Healthcare Applications
Healow
Healow was launched in June 2017 by eClinicalWorks. The telemedicine app offers more than just a vast range of specialized doctors. The app's main features are:
Online appointments

On-demand video/audio calls

Activity tracking and health data collection

Ability to access, store, and update personal medical records

Ability to share accounts with family members
The platform currently offers its users more than 100,000 providers to choose from that provide service in over 50,000 locations across the US. Healow's features and accessibility likely are why the application is among the top medical apps on the current market.
Pricing:
For providers: Healow offers two payment models where rates start at $50 for 250 minutes/month or $2/televisit

For patients: Rates depend on the patient's provider
Teladoc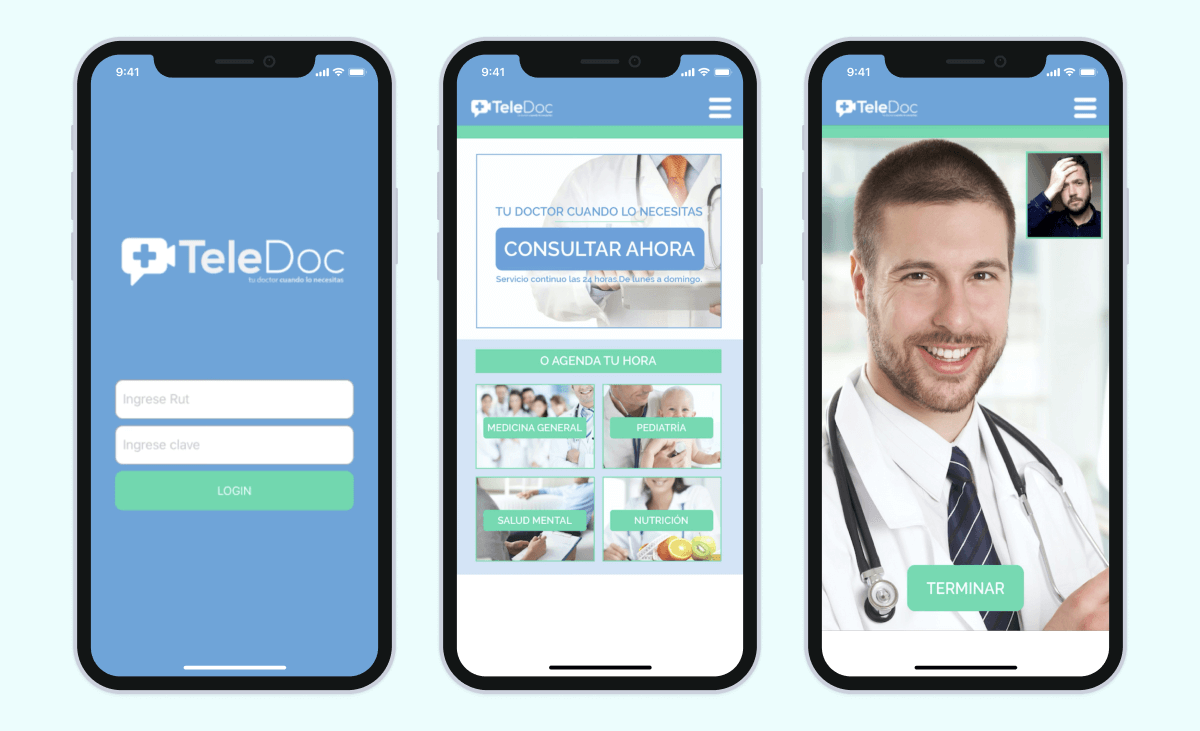 Teladoc has acquired twelve organizations since 2008 and specializes in a wide variety of spheres from routine care and mental health to dermatology, nutrition, caregiving, and more. The Teladoc app's functionality revolves around connecting its users with specialists to receive care by offering the following features:
ePrescriptions

Video conferencing

Billing

Integration with Apple's HealthKit
Teladoc has been among leaders in the industry before COVID-19 shook the world. In particular, the app has hosted 15 million virtual visits since 2005, which is among the highest telehealth appointment volumes in the industry.
At the beginning of March 2020, the app saw a 50% increase in daily virtual medical visits around the US. The company acknowledged the revenue growth by 79% YoY for the first three quarters of 2020. The total revenue for 2020 is expected to range between $1,005-$1,015 million.
Pricing for patients: Everyday care starts at $49/visit. Rates vary and are determined by the patient's insurance plan.
Sydney Care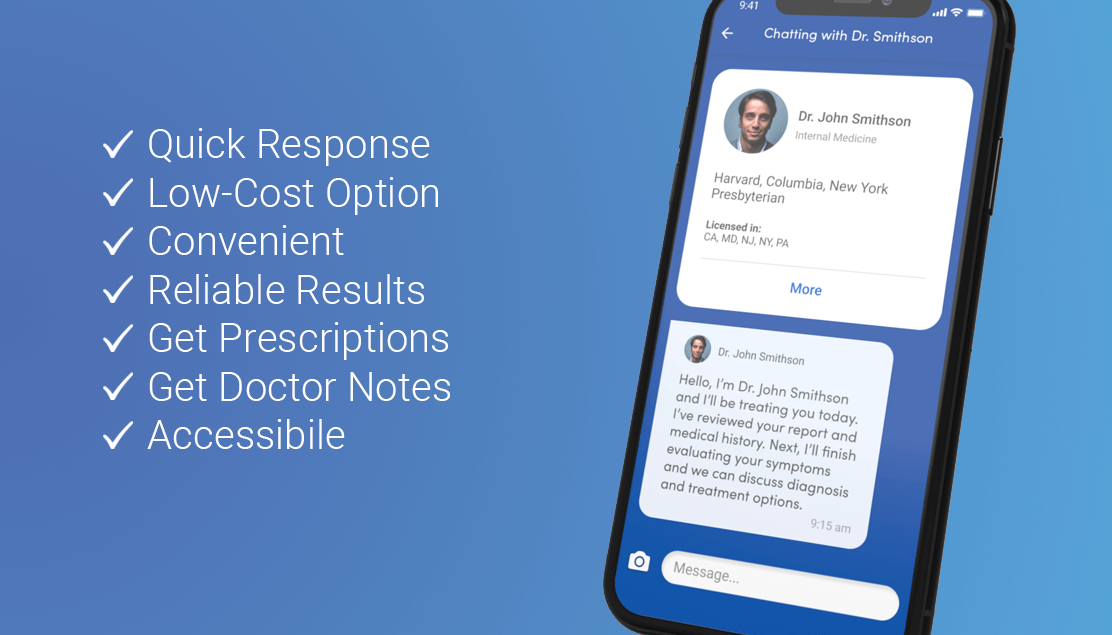 The Sydney Care app was launched in 2019 and offers the following features:
Chat

Video conferencing

ePrescriptions

OTC recommendations

AI-based recovery time estimator

AI-based symptom checker
The application strives to adhere to a customer-first policy by satisfying current consumer needs. In particular, Sydney Care quickly adapted the symptom analyzer when COVID-19 hit to offer companies daily "COVID-19 Check-Ins," a survey feature that assesses their employee's health status. Moreover, this app facilitates users to find COVID-19 testing locations.
Pricing for patients: The standard rate for a virtual text visit is $19, and a virtual video visit costs $59. Pricing may vary depending on the user's insurance coverage.
Doximity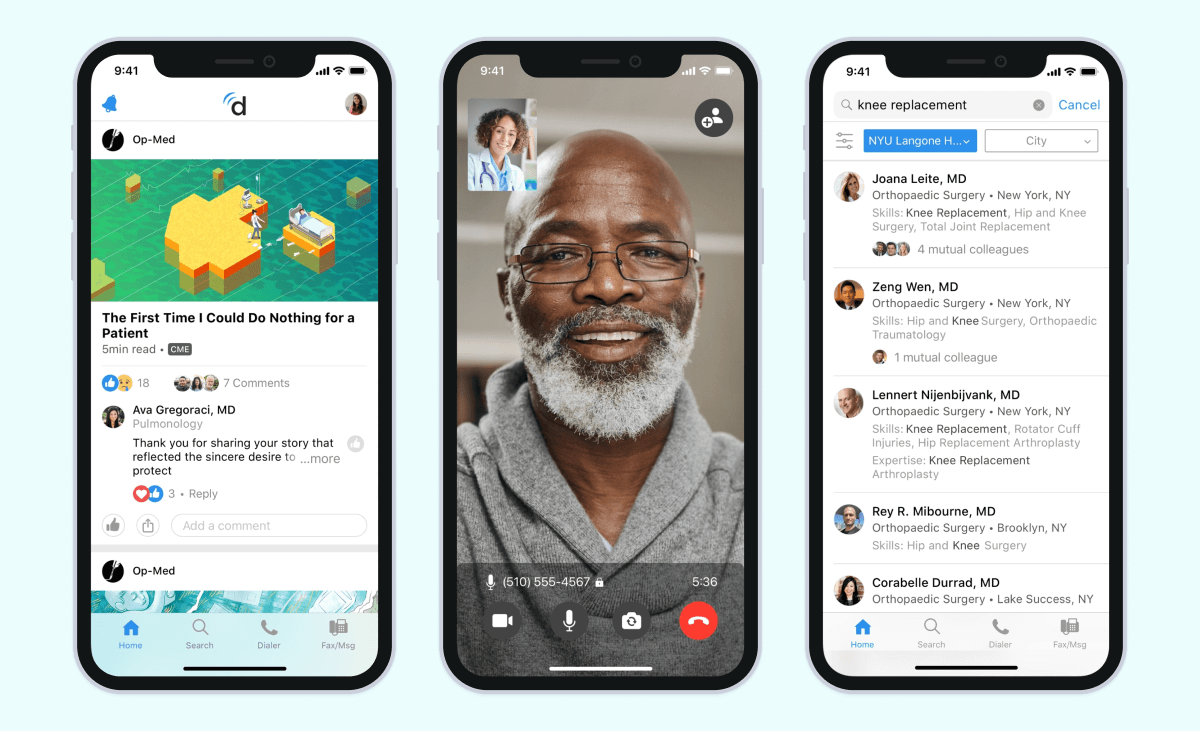 Doximity is an app that has been in the market since 2011 and has established a vast community of professionals: among their healthcare providers, 75% of doctors and 45% of nurse practitioners and physician assistants have been verified by the platform. The app's features include:
Secured voice and video calls

Customized caller ID

One-click calls where patients can join a call by clicking a link sent via text

A tailored newsfeed

Seamless in-app faxing

User-friendly clinicians' search
Doximity was popular even before the pandemic, with around a million calls a month. During the pandemic, the same number of calls were received daily.
Pricing:
For providers: Free for physicians, allied health professionals, and medical students; for individual clinicians and small practices, rates start at $19.99/month

For patients: Rates depend on the patient's provider
MDLIVE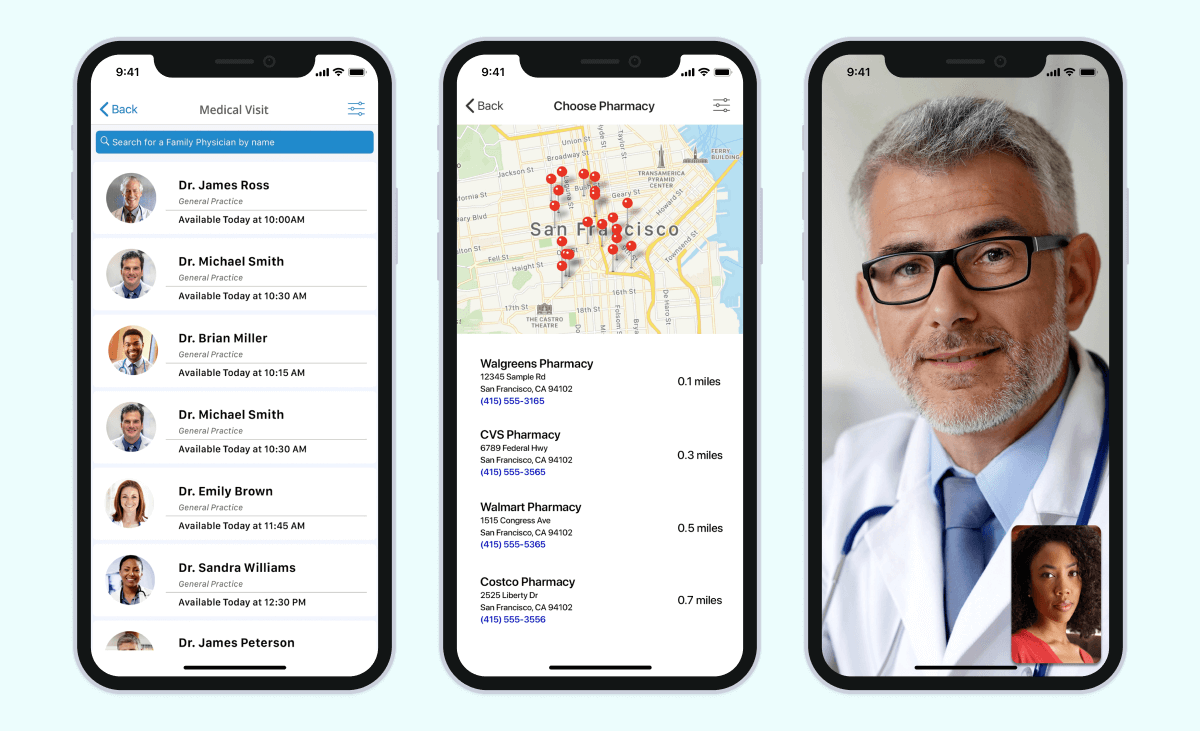 Fifteen years of service have made MDLIVE one of the best telemedicine apps available. The platform offers access to board-certified physicians in three key areas - behavioral health, primary care, and dermatology. MDLIVE's functionality includes:
Appointments scheduling

Video conferencing

Physician directories

ePrescriptions

Billing
Although MDLIVE has been steadily increasing the number of visits by over 45% annually since 2015, it has seen a significant spike in activity in 2020. In particular, the scope of online visits has risen by more than 95%, and the rate of total bookings has increased by more than 300% in the first half of 2020.
Pricing for patients: Medical consultations can cost up to $284/visit and depend on insurance.
Talkspace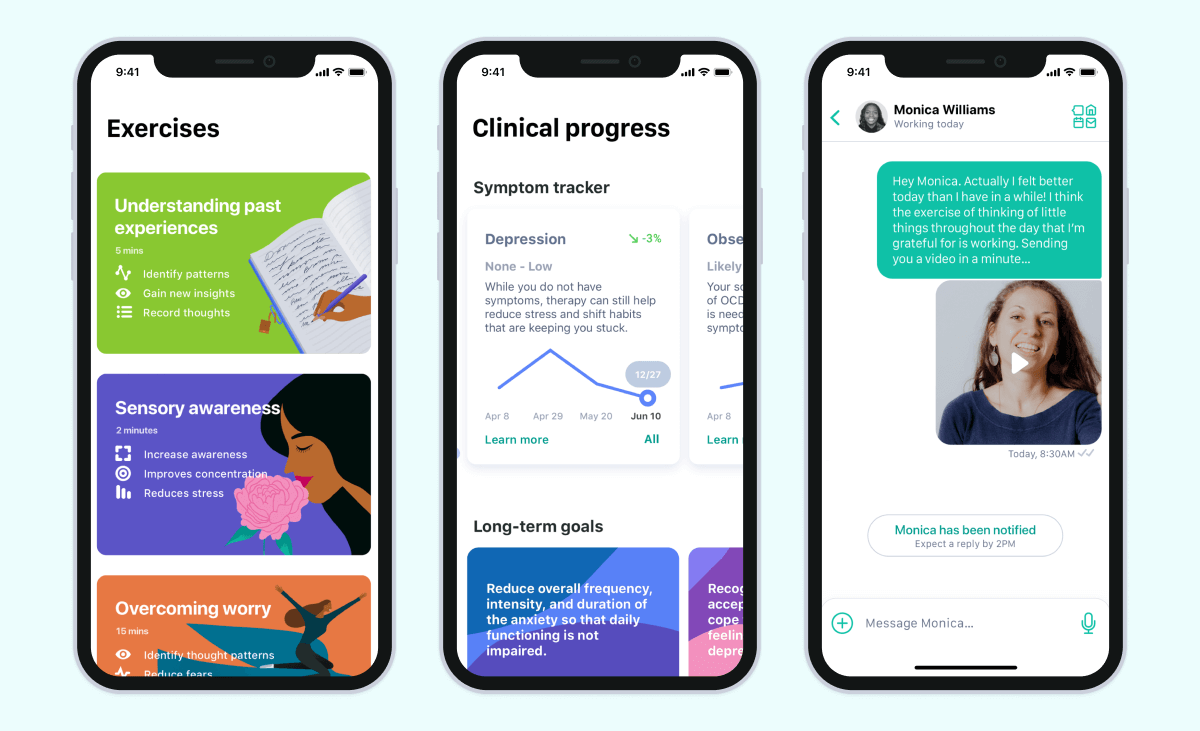 Talkspace is a telehealth service that specializes in mental health care and offers the following capabilities:
Chat

Video and voice calls

User-friendly therapists' search

AI-based assessments

Billing

ePrescriptions
The application has accumulated more than one million users since 2012. During the pandemic, the number of visitors increased; in particular, since mid-March 2020, Talkspace has seen its traffic double.
Pricing for patients: Subscriptions start at $65/week
Doctor On Demand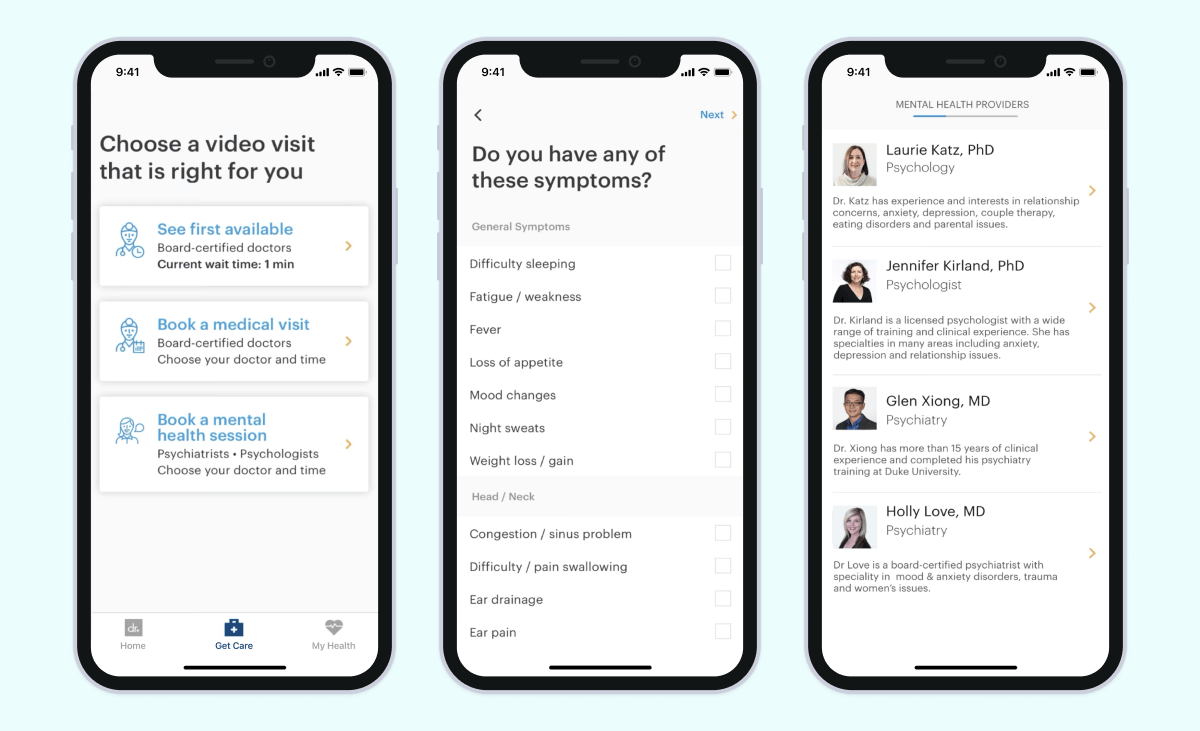 Founded in 2013, Doctor On Demand offers a wide variety of virtual healthcare services, including urgent care, behavioral health care, preventive health care, and chronic care. The platform provides:
Video-conferencing

Integration with Apple's HealthKit

ePrescriptions and eNotes

Access to patients' medical history

Medical data sharing
The company has seen more traffic due to the pandemic, and its number of appointments exceeded three million as of the first half of 2020. Further, Doctor On Demand estimates that their primary care services generated most of their revenue in 2020.
Pricing for patients: For therapy appointments, rates start at $129/session; for psychiatry appointments, rates start at $299/session.
LiveHealth Online Mobile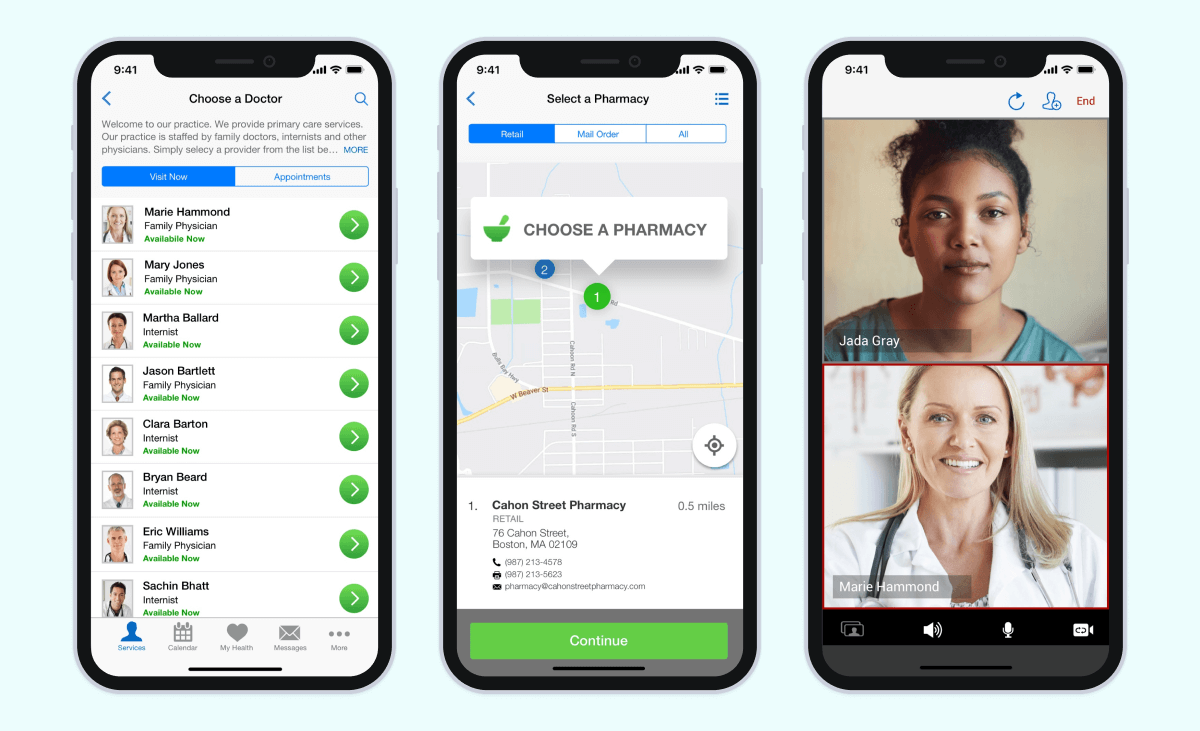 This telemedicine solution has been operating for seven years and specializes in the following categories - medical, allergy, psychology, and psychiatry. LiveHealth Online Mobile provides the following features:
User-friendly doctor's search

Ranking system for healthcare specialists

Appointment scheduling

Secured video calls

Physiatrician's directories

ePrescriptions
LiveHealth Online Mobile is a complement to a telemedicine platform. The company is considered to be among the best telemedicine providers on the market. As for Q1 2020, the app was among the US top 10 telehealth apps by Quarter on Quarter (QoQ) growth in downloads.
Pricing for patients: Varies according to the patient's health plan, starting at $59/visit without insurance.
Amwell: Doctor Visits 24/7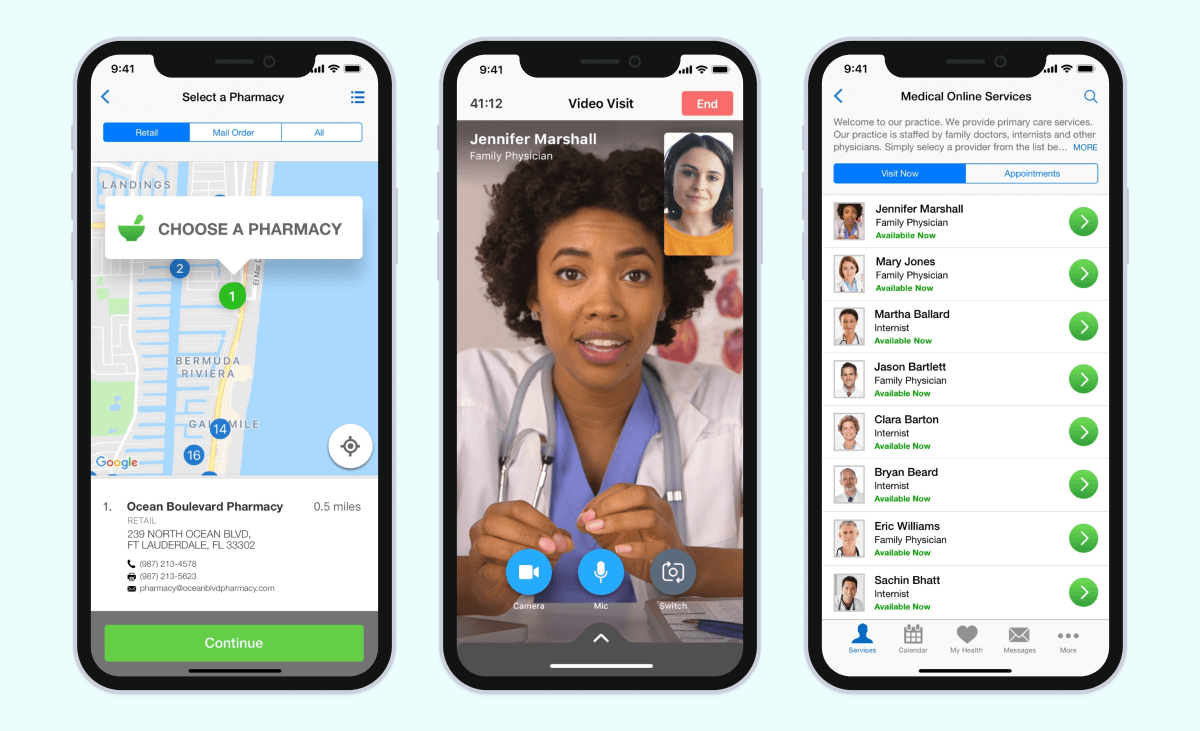 This app offers users expertise in urgent care, therapy, psychiatry, nutrition, and lactation consulting as well as the following features:
In-app specialist search that includes specified individual rates and experience

Scheduling

ePrescriptions

Video conferencing

Billing

Physician directories and recommendations

Integration with Apple's HealthKit
Amwell: Doctor Visits 24/7 is the first telehealth service granted accreditation from the American Telemedicine Association. This app has seen an increase in the volume of visits by 200% during the pandemic.
Pricing for patients: Rates start at $69/visit.
Wrapping up
These solutions are great examples of doctor apps to follow if you want to enter the telemedicine app market. At Orangesoft, we are eager to help you conquer the industry by sharing our expertise and knowledge in the field of telehealth app development. Feel free to contact us for more information.