The healthcare industry has always been one of the most conservative fields, agnostic to innovation. However, over the last few years, we have all reimagined care delivery and dived headfirst into technology-enabled healthcare services and, namely, telemedicine software development.
Telehealth apps became a staple during the pandemic, with their usage increasing 38 times from the pre-pandemic baseline. And although the popularity of telehealth app development has slightly dimmed once the pandemic abated, around a third of the US population still uses telemedicine services at least once a year.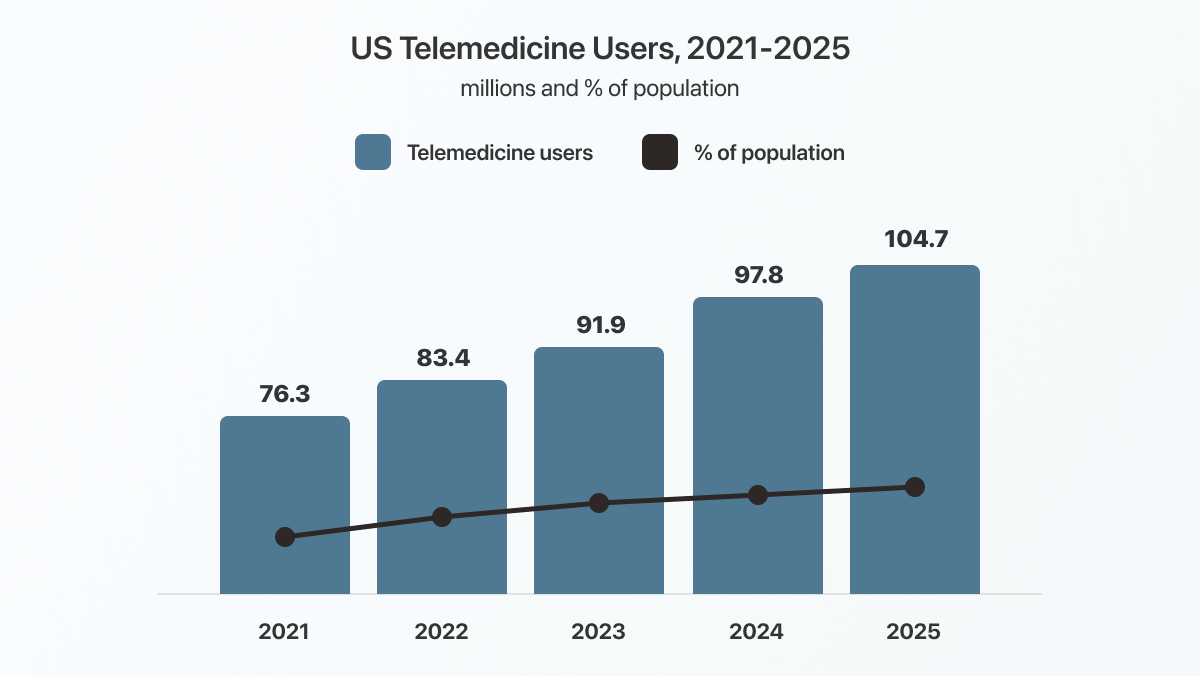 The statistics attest to the solid foothold of telemedicine apps.
The global telehealth market is likely to grow from $142.96 billion in 2023 to over $504 billion by 2030.
Around 50% of executives think that at least a quarter of all outpatient care, preventive care, long-term care, and well-being services could move to virtual delivery by 2040.
In the US, over 38% of patients have received virtual care in 2022, while 76% of virtual care recipients would prefer to visit telemedicine apps in the future.
Amwell, a leading doctor-on-demand platform, recorded a total revenue of $62.4 million in the third quarter of 2023.
Global digital health reached $3.4 billion in Q1'23, with the US accounting for 68% of the global digital health funding.
Why have telemedicine applications shown such tremendous growth? COVID is not the only reason. Here are the most influential factors behind virtual care's popularity:
Fast-growing penetration of smartphones.
In 2022, the number of smartphone users globally reached over 6.6 billion, meaning that over 83% of the world's population owns a smartphone.
Shortage of healthcare professionals.
By 2035, the global labor gaps in healthcare will reach 13 million from 7 million today.
Technological innovation.
The global healthcare IT market stood at around $319 billion in 2022 and is projected to grow to over $857 billion by 2030.
Lack of qualified doctors in rural areas.
The AAMC states that 20% of Americans live in rural communities where the ratio of physicians to patients is one to 2,500, meaning that around 60 million people have regular healthcare access problems.
Increased number of chronic diseases.
Chronic diseases affect around 133 million Americans, which translates into over 40% of the total population of this country.
The cost-saving potential of telemedicine apps.
Doctor-on-demand solutions can save consumers as much as $141 per visit compared to an in-person urgent care visit and $120 on a specialist visit.
Now that we have covered telemedicine apps' history, let's dive deeper into their development and how they can support traditional clinical pathways.
Benefits of Telemedicine App Development
If you are still not sure why this industry is so promising, take a look at the benefits that both doctors and patients get.
Advantages of telemedicine apps for patients
Around 90% of patients say telehealth services would help them plan an appointment with a doctor, manage prescriptions and refills, and follow regimen recommendations. So let's see what else a telehealth app has in store for customers.
Less Time and Lower Costs
Many people don't have time to see their doctor during regular business hours. Conversely, virtual visits are easier to fit into busy schedules as patients can connect with doctors whenever they want, from the comfort of their homes or on the go. Additionally, doctor-on-demand solutions eliminate the costs associated with traditional in-person appointments such as traveling.
Easy Access to Healthcare
Doctor-on-demand solutions make healthcare services more accessible for the elderly, individuals with limited mobility, children, and those who live in remote areas. Providers can also develop a telemedicine app to bridge healthcare gaps and improve accessibility to specialty care providers.
Preventive Care
The possibility of tracking health remotely and getting an online consultation motivates people to care for their health daily. A telemedicine app offers unmatched opportunities to enhance preventive care and adherence of individuals to a healthy lifestyle. Close monitoring and short waiting periods also help detect early-stage diseases and improve patient outcomes.
Lower Risk of Illness
As hospitals and doctor's offices are the ground zero for spreading illnesses, there is a high risk of getting an infection during in-person visits. It is especially dangerous during the pandemic and for those with weak immune systems. Virtual doctor-on-demand services help decrease the risk of catching an illness as patients have less exposure to others.
Advantages of telemedicine apps for healthcare providers
Developing a telemedicine app helps healthcare providers streamline workflows, seamlessly exchange health data, and improve patient satisfaction. Let's review why.
Lower Costs
Telemedicine allows providers to reduce operational costs by cutting the salary costs of the front desk staff, rent, and losses associated with no-shows. This saved money can be put towards innovations.
According to khealth, a telemedicine platform consultation is usually less expensive than in-person visits or calls. For example, the average cost of a telehealth visit for an acute respiratory infection was $79 compared to $146 for an in-person visit.
Also, as telehealth apps help prevent health problems, they generate cost savings by keeping individuals away from more costly care settings such as emergency rooms. For example, MDLIVE, a leading telemedicine application, accounts for around $370 million in savings for clients in urgent care.
Improved Work Efficiency
Implementing telemedicine can significantly improve clinical workflow efficiency by establishing a unified data flow. By integrating with electronic health records, telehealth apps create a more consistent experience for physicians and help professionals establish a complete image of a patient's medical history. Thus, doctors have quicker access to health records and can use the data for better analysis and decision-making.
Additional Revenue
By reducing the overload of hospitals and the number of no-shows, providers can attract more online and offline patients. Via a telehealth app, a healthcare practitioner can easily enlarge the catchment area of their hospital and increase the number of patients.
Higher Patient Satisfaction
Thanks to higher convenience and greater accessibility, a telehealth app tends to earn more approval than an in-person appointment. According to a 2022 study, 88% of patients agreed that a virtual consultation was more convenient than an in-person visit. This increased the patients' loyalty to the healthcare provider and improved the patient experience.
Now that you're fully aware of the unique advantages of telemedicine app development, let's see what you need to do before starting the app development process.
Market Research and Product Concept
Telemedicine app development is fast-growing, and you must conduct research before entering the market. Therefore, we advise you to study the leading products and find a niche that is still unoccupied by other companies.
For example, teleradiology was valued at $2.44 billion in 2022 and is anticipated to grow at a CAGR of 12.9% from 2022 to 2030. Also, telepsychiatry/behavioral health is anticipated to be the second-fastest growing segment, with a projected market value of over $21.36 billion by 2026. Think about these statistics because they might help spark your product idea.
When choosing your niche, don't forget to collect the following information about your potential users:
Demographics
Education and career background
Typical healthcare routine
Typical everyday routine
Collecting information may seem like a difficult task because you may feel that your product will suit everyone. But trust us, if you create an app for everyone, in the end, you won't satisfy anyone.
Trending Technologies for Telehealth App Development
After defining your niche and target audience, it's time to think about the telemedicine app features you will use with your product. As the top telemedicine companies have implemented the latest developments, you can't afford to release just another simple app.
So, what are the trendiest technologies for building a telemedicine platform?
Artificial intelligence (AI) and Machine Learning (ML)
We can't imagine the modern world and business without AI. It has penetrated almost every single part of our lives, especially telemedicine.
Look how useful AI/ML-based technologies can be:
By using accumulated knowledge, AI/ML apps can create individual care plans.
AI-based chatbots can decrease the waiting time for patients, solving the basic problems of a larger number of people.
AI/ML products can collect and process the anonymized data of millions of people so that medical professionals can improve the effectiveness of disease treatments.
Based on the collected data, AI/ML products can diagnose patients more quickly and accurately.
The collected and processed data can help prevent potential diseases.
Currently, 64 AI/ML-based medical devices and algorithms are approved by the US Food and Drug Administration. EyeArt is an example of an FDA-approved algorithm that relies on an AI-based device for diagnosing eye disease. The algorithm processes the photos of the retina and states whether there are any signs of diabetic retinopathy.
Internet of Medical Things (IoMT)
The win-win match of IoT and telemedicine has given birth to the Internet of Medical Things (IoMT). This means using medical devices like EKG monitors, along with mobile apps, to track health conditions.
Devices in IoMT include wearables, remote patient monitoring, medication-tracking systems, and other medical devices. It leads to a more accurate diagnosis, complete health data, and higher quality care.
The remote cancer monitoring system (CYCORE) is an excellent example of connected care enabled by virtual monitoring. The focus group of head and neck cancer patients used a Bluetooth-enabled weight scale and blood pressure cuff and tracked their symptoms in the app. The data was collected and sent to the doctors so they could correct the treatment plan daily, making the process much easier both for patients and doctors.
The importance of IoMT has significantly increased due to COVID-19, as it revealed the importance of remote monitoring. It's no surprise that the global IoMT market is expected to grow from $71.84 billion in 2020 to over $446.50 billion in 2028.
Extended Reality (XR)
XR is another trendy innovation that is rapidly gaining popularity and compasses Augmented Reality (AR), Mixed Reality (MR), and Virtual Reality (VR). These technologies have also influenced telemedicine app development, making XR more immersive.
Now, VR is widely used by clinics to provide remote healthcare. There are even several fully XR clinics like XRHealth. Using VR helps to deal with pain, different types of physical injuries, and stress, and it can help patients overcome respiratory issues caused by COVID-19.
Also, the combination of AR and AI could be very effective in the treatment and monitoring during the pandemic when it is crucial to decrease the number of in-person contacts. Medical personnel and patients can avoid in-person contact by using the XR sets, while AI-based products help guarantee constant access to the patients' health indicators and report when something goes wrong.
Further, XR not only provides more opportunities for remote care but also for education. For example, AR glasses give surgeons and doctors vital guidance during different procedures, surgeries, and exams. Specifically, doctors can use this technology to access holographic images of a patient or facilitate a full body scan to pinpoint ailments.
Blockchain
Since virtual care means a constant online exchange of electronic health records between a patient and a doctor, the risk of a data breach is high. This is where blockchain comes in to help.
Blockchain means a mutually-agreed decentralized and anonymous interaction between parties. It allows physicians to gain access to their patients' complete medical history. Additionally, physicians can store more medical records and information using securely encrypted fragmented systems.
The mandatory validation of each transaction between parties decreases the number of inaccurate claims allowed into the system. As a result, false claims and insurance fraud cases also get significantly reduced.
Despite the apparent efficiency, blockchain is still not too popular. It can be easily explained by the cost, the necessity of high-level knowledge, standardization, and a lack of regulation.
Challenges in Telemedicine App Development
Now that you have chosen the technology that will contribute to your product, let's talk about the challenges that you have to take into account.
Challenge 1. Insurance Coverage
There is no unified insurance policy in the US. Video visits are paid for in all 50 states and the District of Columbia, store-and-forward communications are covered in 25 states, and telephone calls are covered in 34 state Medicaid programs. Nevertheless, insurance companies are aware of the trends, and some giants like Aetna, Anthem, Cigna, and UnitedHealthcare are temporarily covering or waiving telemedicine costs.
Challenge 2. Lack of In-Person Contact
Yes, this can be both a positive and negative factor. Some healthcare providers worry about possible misunderstandings and patient mismanagement that can occur due to online care. Doctors have to trust the data that patients provide them with, and if there are some inaccuracies or gaps, the diagnosis and treatment may be compromised.
Challenge 3. Compliance with Healthcare Authorities and Data Security
If your application will collect, store, and process personal data like medical records, insurance or billing information, or any other individual and identifying information, your product must be compliant with HIPAA (Health Insurance Portability and Accountability Act), GDPR (General Data Protection Regulation), and other regulations.
HIPAA-compliant solutions must meet a specific set of rules that imposes certain data security and privacy measures, including:
The login controls, monitoring process, and storage of data should all be synchronized;
A HIPAA-compliant product must have no scope of data leakage or unauthorized access by any third parties;
The usage of AWSCloudTrail and AWS CloudWatch tools to help your telehealth app development meet the regulations;
There should be SSL-enabled endpoints to provide the best solution to secure the data in the transfer process;
A HIPAA-compliant app must encrypt data;
A compliant telehealth platform should use only secure API frameworks and libraries;
And the telemedicine app development is only complete when the data on your telehealth app is HIPPA compliant. It prevents data breaches and makes data exchange more reliable.
These are just a few examples of security measures you need to implement into your telemedicine app. To achieve full compliance, we recommend contacting a vendor with expertise and experience in building compliant mobile apps.
Related: HIPAA Compliance for Healthcare Applications
Challenge 4. UI/UX Design
Usually, telemedicine applications are full of miscellaneous functions with less than satisfactory UI/UX. While mobile apps from e-commerce or social media have plenty of UX patterns, digital healthcare products don't. So, creating a user-friendly and intuitive interface can be difficult.
MVP for a Telemedicine App
Finally, we have reached one of the most interesting parts of telemedicine app development – defining the features of our potential product. Please, keep in mind the following are not mandatory instructions and that you can play with the features depending on your product idea.
Let's take this product idea as an example: a telemedicine platform for doctors and patients to organize video and text consultations.
Our potential MVP will consist of three parts, including:
Android and iOS mobile applications;
Backend;
Admin panel.
The interface and set of functionalities will vary depending on the user type. Hence, we'll have to build different features for patients and doctors.
The key features for doctors and patients could look like this:
Sign Up/Sign In
Signing up is the first step that will introduce your app to the users, so it should be quick and simple. We suggest implementing a phone sign-in/sign-up in the first version as it helps to make the process easier and confirm identity at the same time.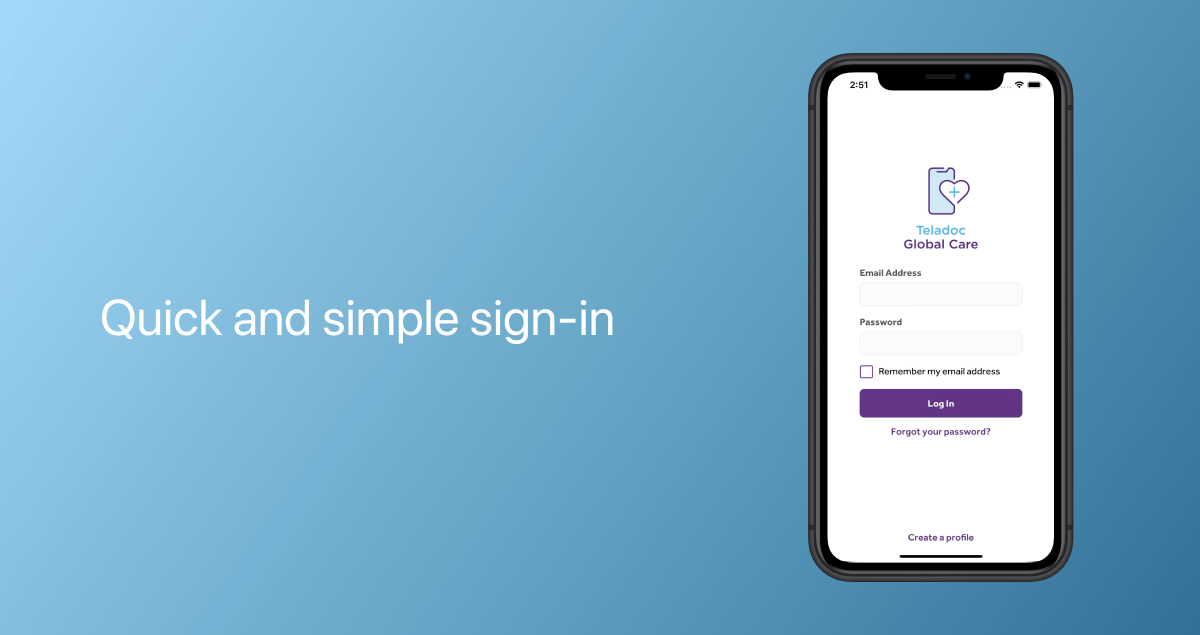 Personal Information
Right after the sign-up process, the user should choose whether they are a patient or a doctor. Depending on the answer, the profile creation will require different data. Consider collecting the following:
For patients: Collect name, age, gender, photo, location, and language.
For doctors: Collect name, age, gender, photo, location, language, area of expertise, license, intro, types of services available, and prices.
This information should be able to be edited in the app via the user's personal profile. Lastly, both doctors and patients should have the possibility to delete their accounts and download all the personal information that is stored in the mobile app.
Search for a Medical Specialist
A telehealth app should also have a convenient search engine so that patients can search for the right specialist based on their preferences. Search filters should include location, area of expertise, price, rating, language, and available time slots.
For more convenient search results, implement a search by category so that the users can organize information depending on the price or rating, etc.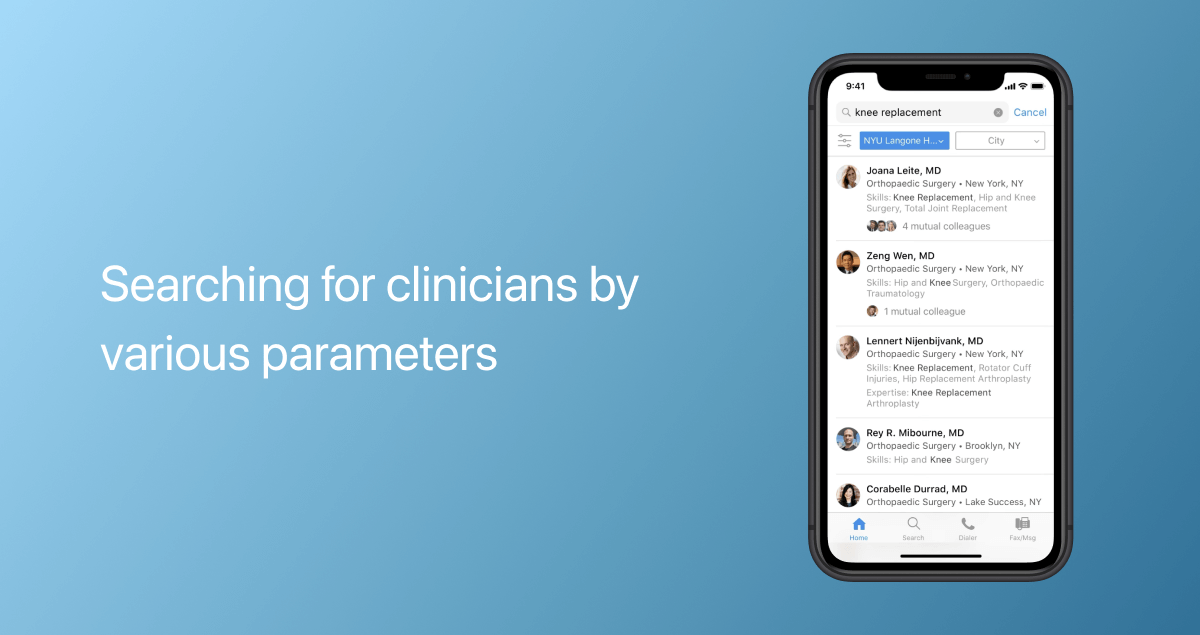 Doctor search feature in the
Doximity
app
Another feature you may want to consider is making it possible to save previous search parameters and track relevant doctors.
Doctors Profiles with Ratings and Reviews
The patients should be able to look through the detailed information about the doctors, along with other patients' reviews and the doctor's ratings.
The following options could be available:
Study the doctor's schedule;
Book a video appointment;
Send a message;
Leave a review;
Block and report.
Messaging
A telehealth app should also include a chatting feature that can be used not only for a quick consultation but also for sharing medical records, photos, laboratory results, and other important information. Messaging should also enable both parties to share media in both DICOM and non-DICOM formats.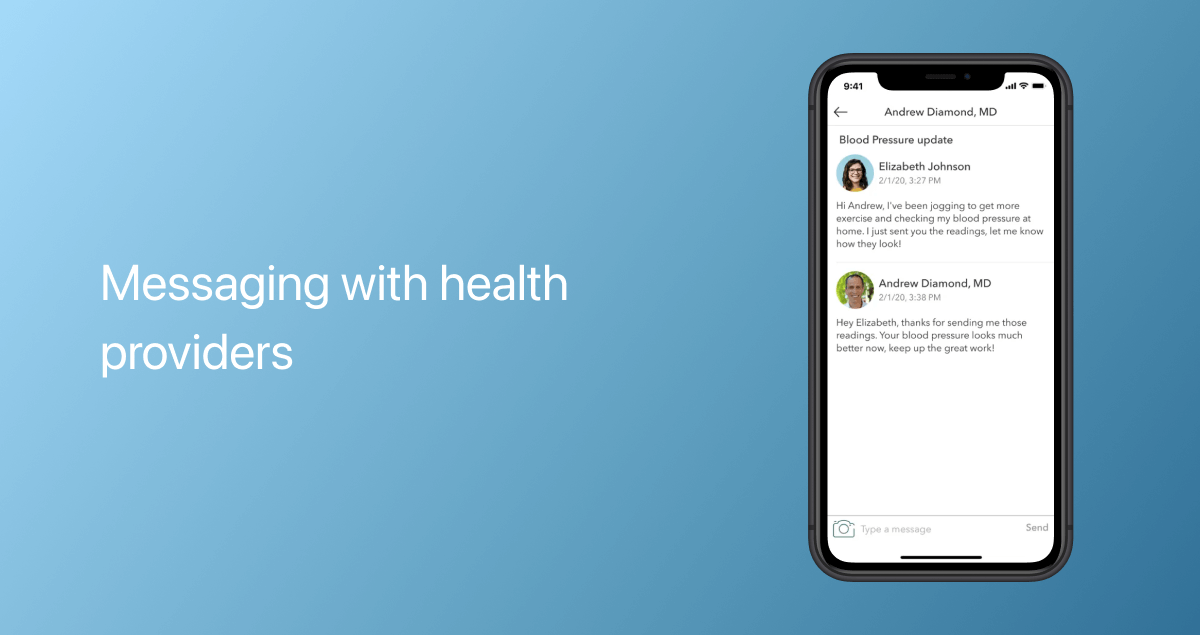 Video Calls
Video conferencing is among the core app features for a telemedicine platform. It serves as a point of contact between the physician and the patient and helps the former to diagnose and treat patients in a remote mode. Your telemedicine application should allow for HD video calls with clear audio.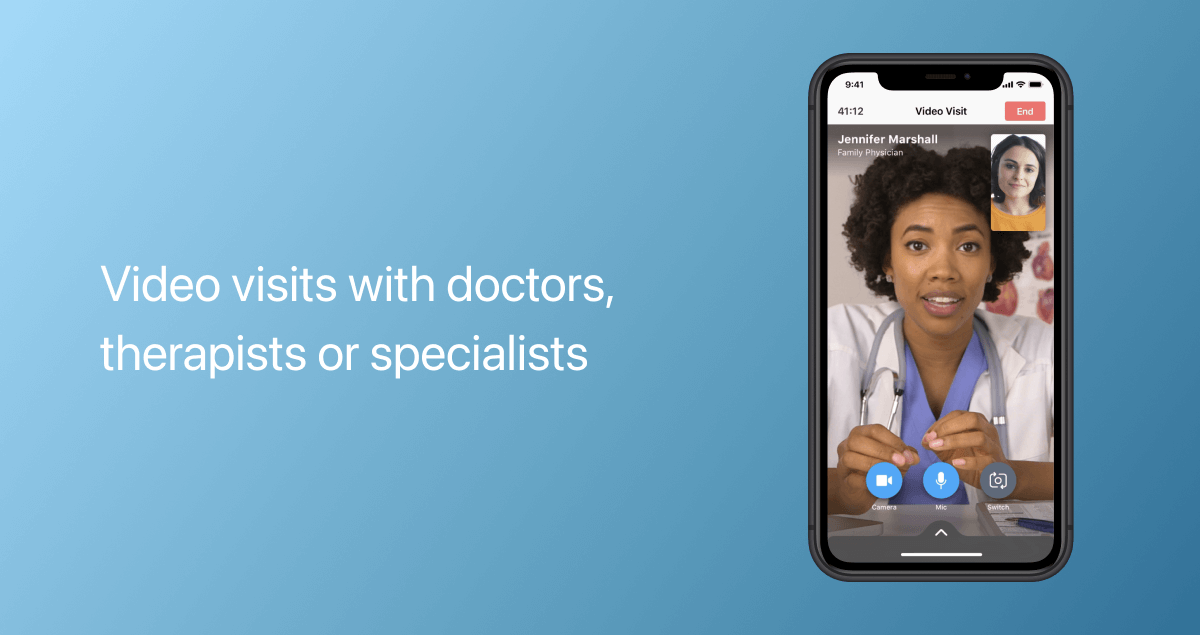 Video calling feature in the
Amwell
app
Scheduling and Appointment Management
Telemedicine app features usually include an appointment scheduler that helps both doctors and patients manage their appointment calendars. This feature comes in different formats for each role, including:
For patients: Self-scheduling, the list of consultations (completed, upcoming, canceled), and the option to cancel or reschedule the call.
For doctors: Calendar functionality to set free time slots for appointments, the list of consultations (completed, upcoming, canceled, paid/unpaid), and the options to approve, cancel, or reschedule appointments.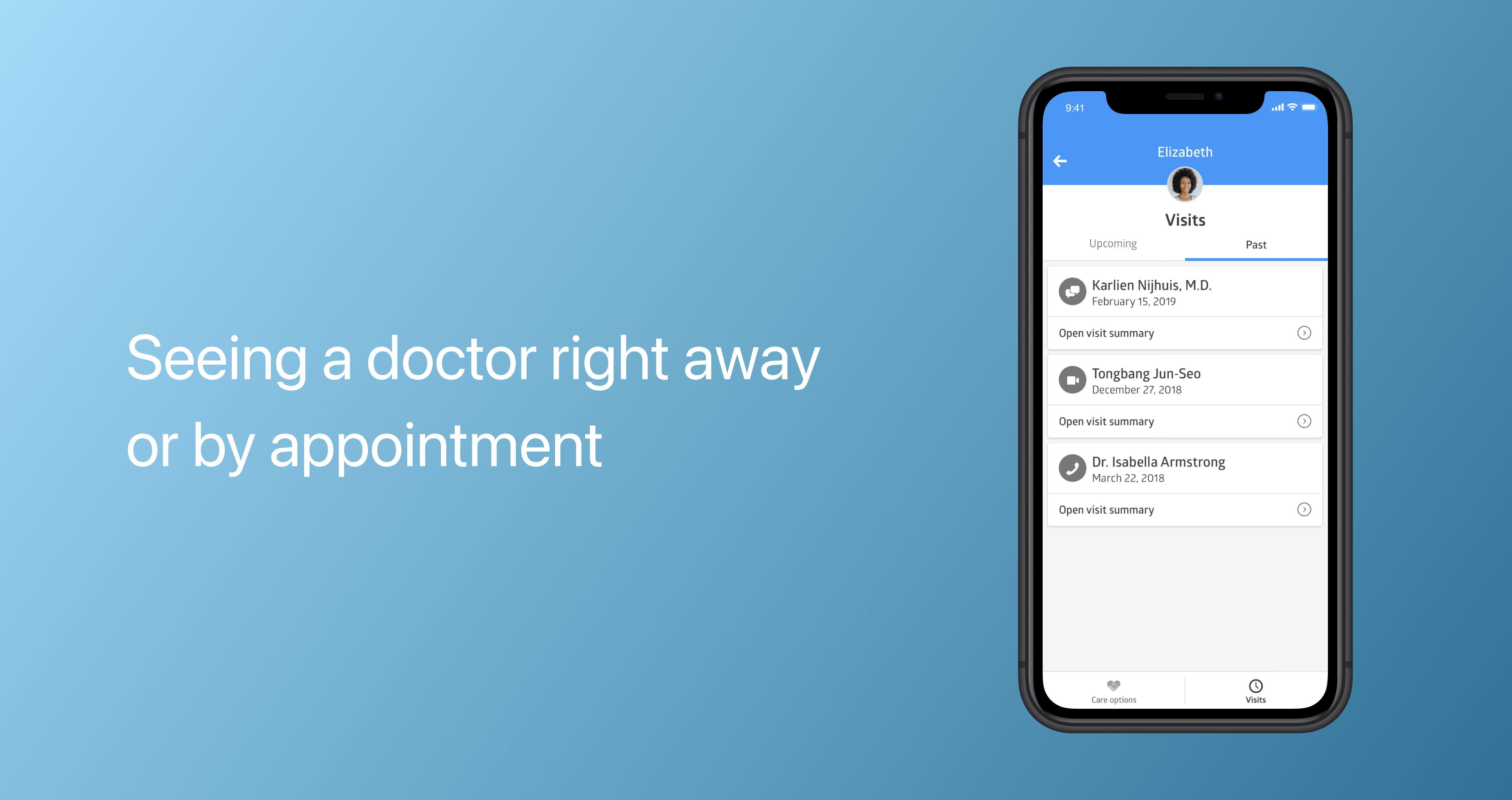 Payment gateway
The opportunity to pay medical bills from a telemedicine application is a must-have feature for telemedicine app development. Integrated payment systems allow app owners to automate invoices, manage bills, and ensure secure payment compliance. Further, the payment section should also allow users to track their transaction history, payment cards, and available subscriptions.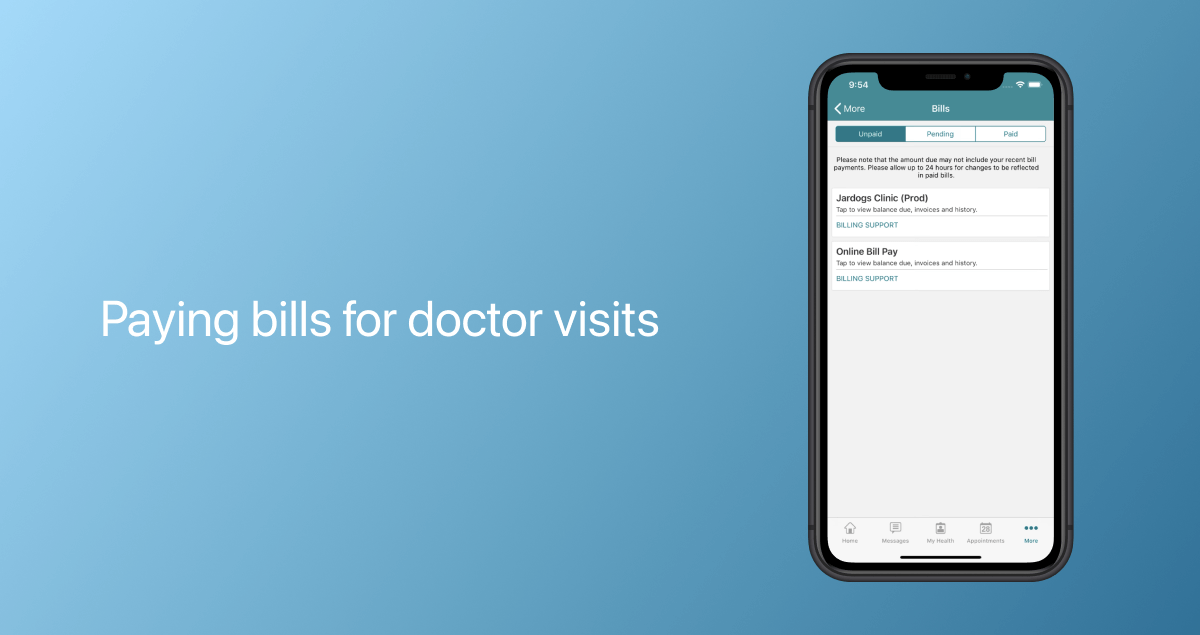 Push Notifications
Push notifications are an essential part of telemedicine apps, as they remind users about upcoming consultations, new messages, and new relevant doctors.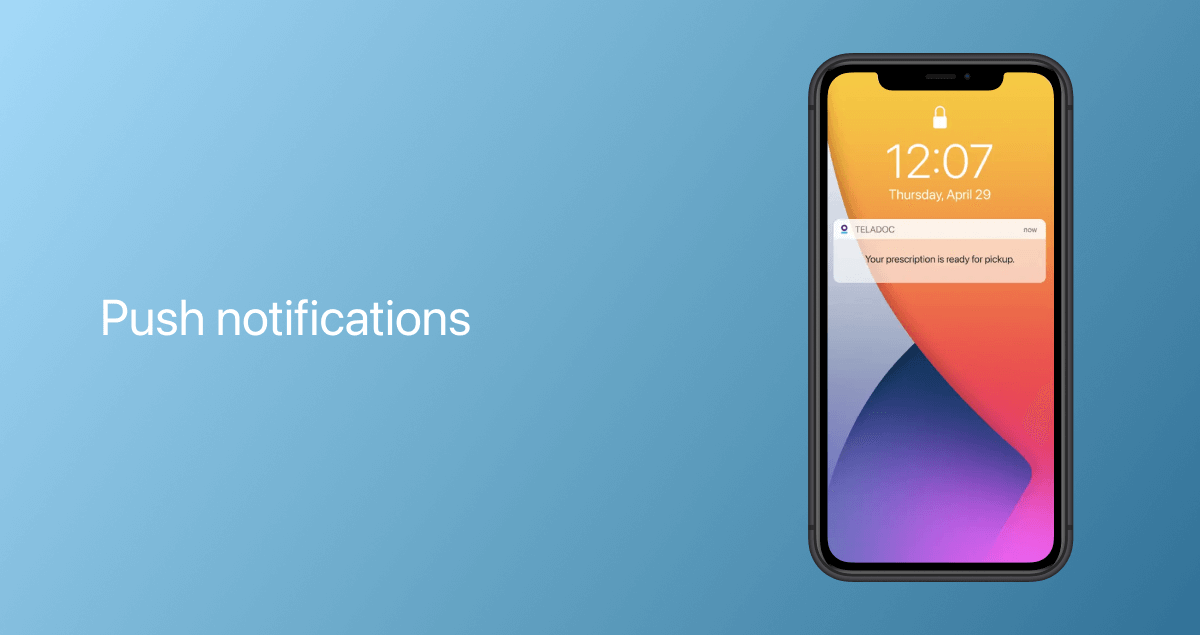 Push notifications in the
Teladoc
app
Additional Features for a Telemedicine App
To create a full-fledged mobile app, your app developers will enhance your MVP with extended functionality such as:
Multiple Profiles
Multi-profile records allow patients to manage and store all of their own and their family members' health data within one interface.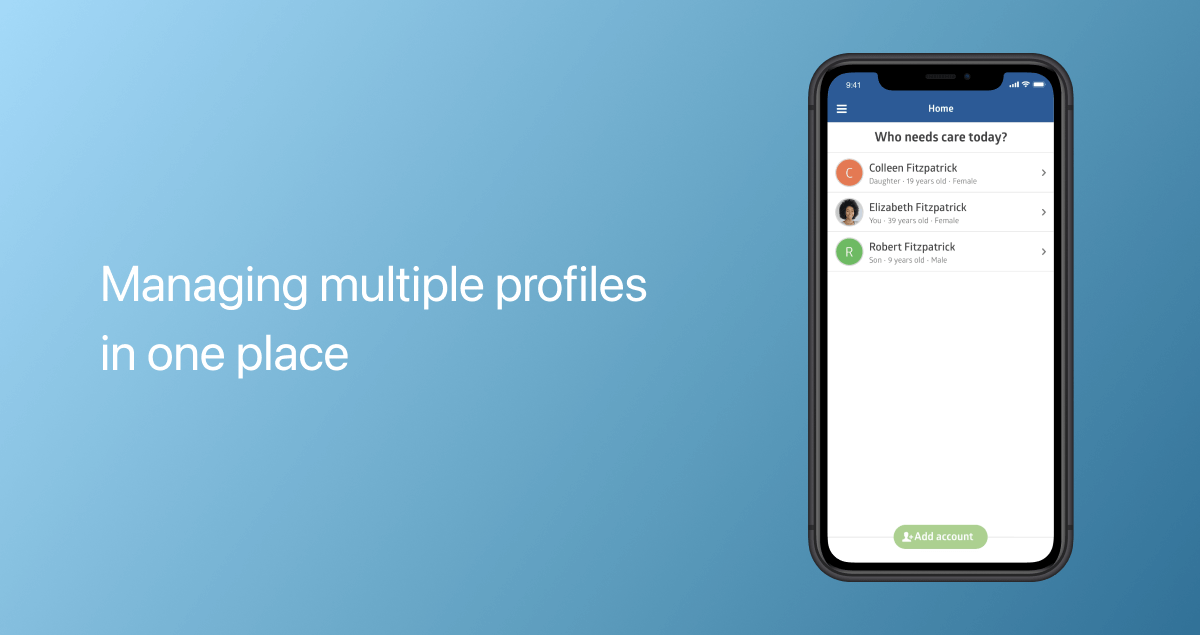 Electronic Prescriptions
To provide a full spectrum of medical services, apps can add functionality to send prescriptions online and get notifications when they need to prepare new ones. E-prescriptions can be sent to a patient as an SMS or email.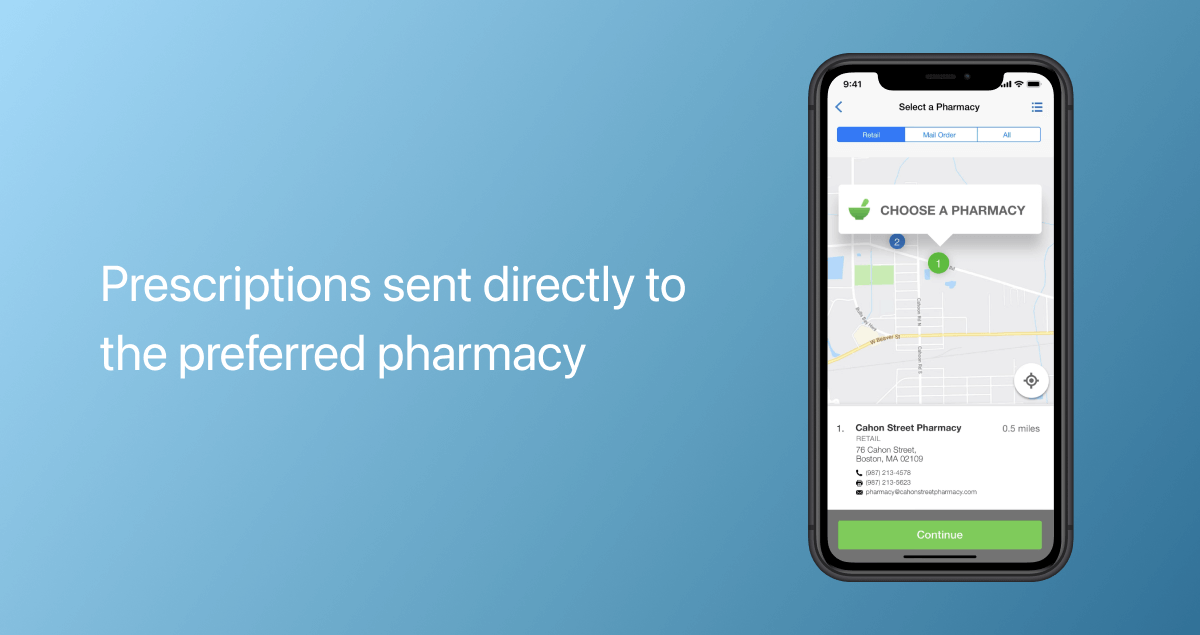 Medication Tracker
Tracking medicine intake can make treatments more effective. With this feature, doctors can surmise whether the patients adhere to their treatment plan. For patients, this feature helps create customizable reminders of when to take the medications and track intake with a logbook that can be shared with their doctor.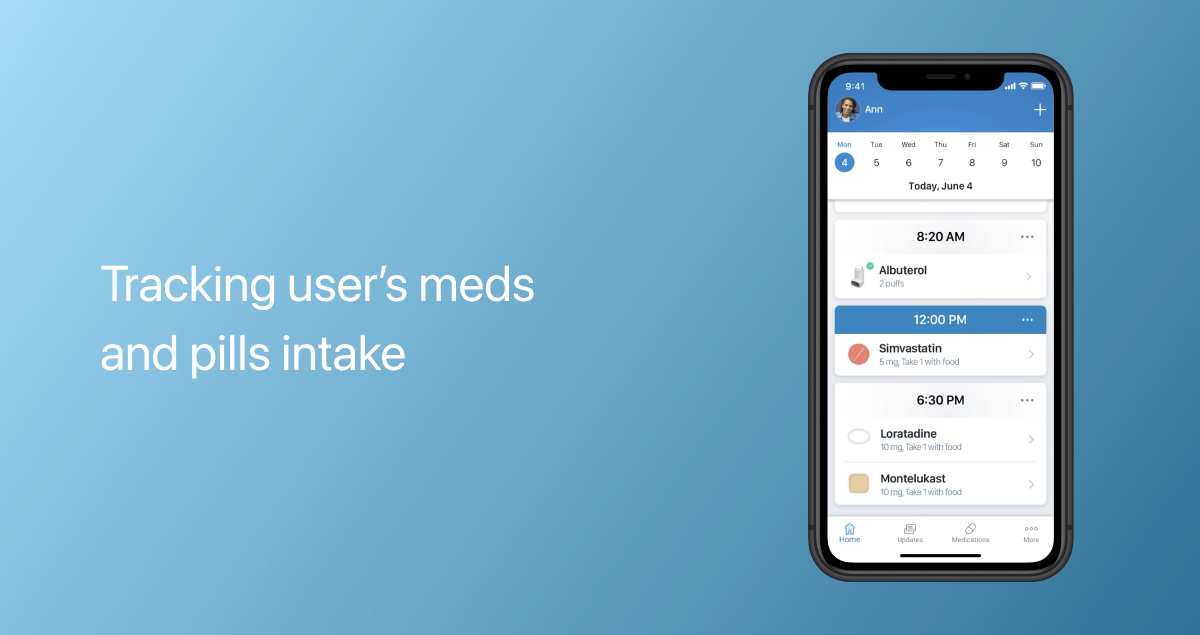 Medication tracking feature in
Medisafe
app
Documents and Photo Storage
This feature allows both patients and doctors to have on-demand access to important medical records and share them easily between themselves.
Symptoms Tracker
This functionality is helpful when it comes to remote diagnosis as it can help the doctors to notice health complications and gain a fuller picture of the current well-being.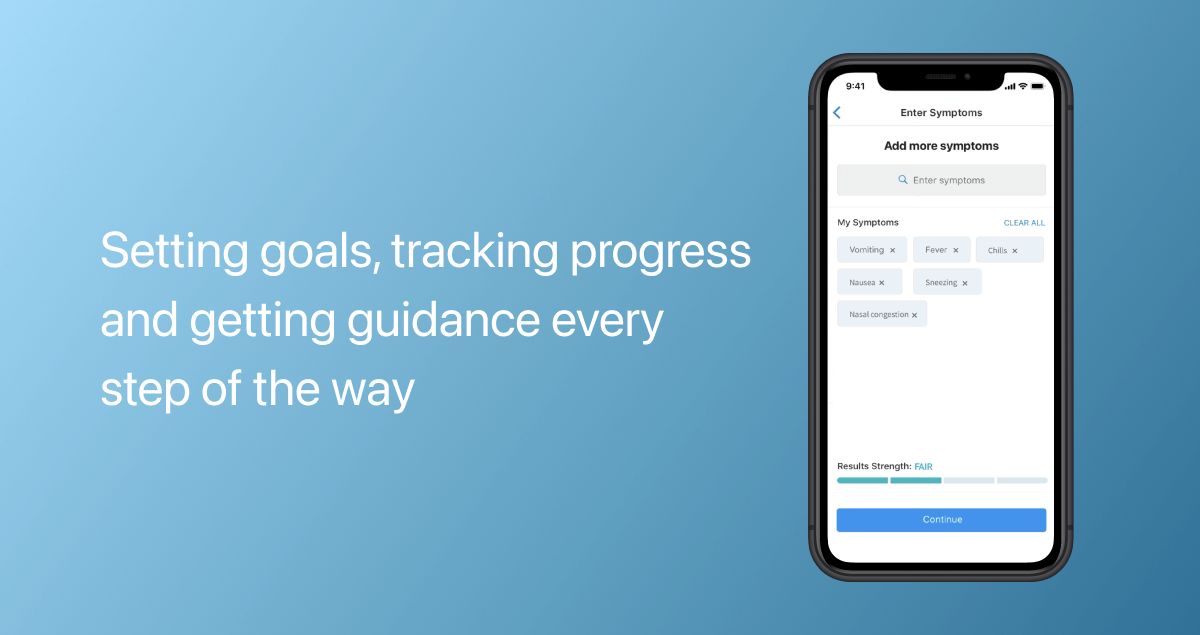 Symptoms tracking feature in
WebMD
app
Dashboard with Health Analytics
This feature goes both ways and allows both patients and doctors to monitor healthcare KPIs.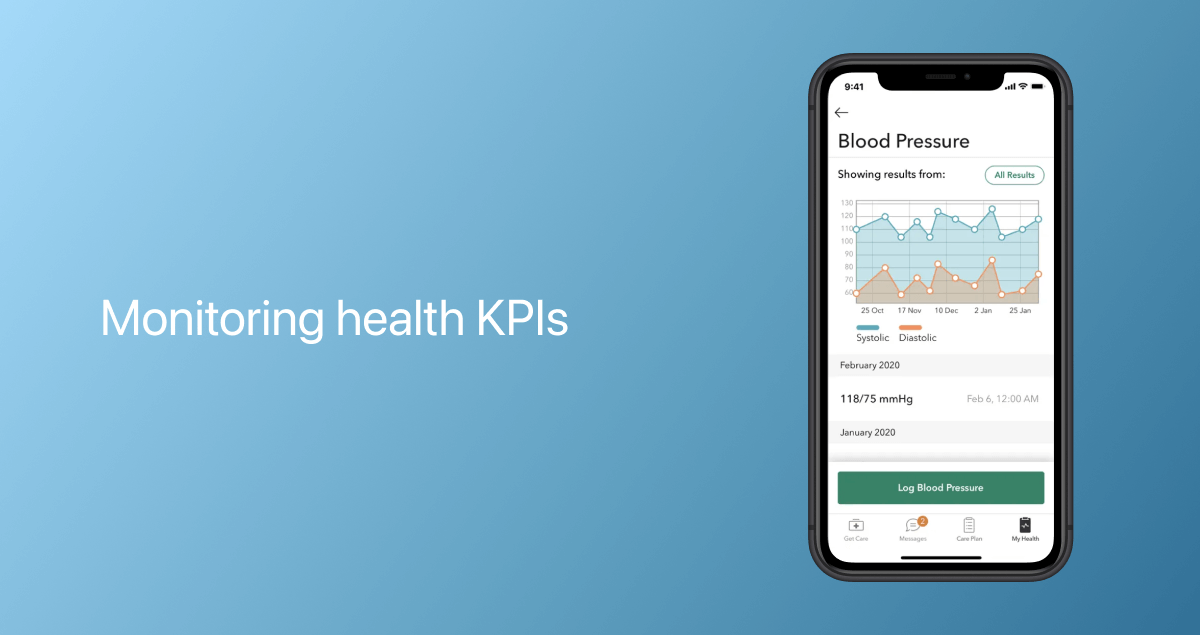 If you decide to create a telemedicine app, you should also think about a basic admin management system with the following features:
Users Management – Here, you can easily find all the users registered in the app, see their basic personal information, and be able to block or delete users.
Reports Management – In this section, you can have easy access to all users' reports about violations.
Technology Stack for a Telehealth App
The tech stack depends on the project's specifics and the company's and developers' preferences. Here is a traditional list of technologies that will help you make a telemedicine app:
Mobile development: Kotlin for Android, iOS for Swift
Admin panel development: React.js
Database: PostgreSQL, MongoDB
Cloud storage: Amazon S3
Backend development: Node.js
General utilities: Firebase, Google Analytics, Stripe, Twilio, Google Maps
How Much Does it Cost to Develop a Telemedicine App?
After going through all of the above steps, we are ready to show you a minimum estimation of the mobile (Android and iOS platforms), backend, and admin panel development. Our estimates are based on the average hourly rate of $50/hour.
Features
Development time, hours
Backend development time, hours
Approx. cost, $

Patient

Sign in / Sign up
42
32
3700
Personal information
32
16
2400
Filters
32
32
3200
Doctors' profiles with ratings and reviews
32
24
2800
Messaging
120
96
10800
Video calling
148
40
9400
Scheduling and appointment management
50
32
4100
Personal profile
48
24
3600
Payment integration
64
64
6400
Notifications
24
24
2400

Doctor

Sign in / Sign up
42
32
3700
Personal information
56
32
4400
Personal profile
64
32
4800
Appointments screen
96
40
6800
Messaging
16
16
1600
Video calling
16
16
1600
Notifications
24
24
2400

General

Architecture
32
32
3200
Server interaction & API
32
–
1600
Database
24
16
2000
Admin panel
156
110
13300
Total
1150
734
94200
Based on our estimates, developing a telemedicine app will cost you around $94,200.
Keep in mind that our estimation lists only the costs related to the development stage. To plan, design, and test a full-fledged product, you will also need a team of business analysts, Q&A specialists, designers, and other specialists. These activities are priced separately and aren't included in the estimation above.
The prices above are based on two platforms. You can contact us to get a consultation and request project cost estimation for one platform.
Monetizing a Telemedicine App
So, you've invested an impressive amount of money, and you are hoping to make a return someday. Here are the most efficient ways to turn a profit in the telemedicine industry.
Subscription
This is a common business model for a mobile app based on renewed membership plans both for patients and doctors. Subscription plans could be monthly, semi-annual, or annual. You can also include a free trial to demonstrate the value of your product.
With this monetization approach, the minimum development estimation is 28 hours per platform.
Paid Consultations
In this case, the doctors set the prices for their services. Pricing may vary depending on the qualifications, specialization, and the type and time of consultation. You may charge a specific fee for every payment.
With this monetization approach, the minimum development estimation is 28 hours per platform.
Freemium
That's another popular method of monetization. It means that you define some basic set of free features, while the extended set of functions will be available only within the paid plans. This model allows the users to discover the app's value first and then opt for a paid plan.
With this monetization approach, the minimum development estimation is 48 hours per platform.
Ad Campaigns
This is certainly not a user-friendly way of generating income, but it is an effective one. The challenge is to implement the most subtle advertising so that it won't interrupt the user experience.
With this monetization approach, the minimum development estimation is 20 hours per platform.
Sponsorship
You can collaborate with relevant companies to provide the maximum value for the users. Sponsorship can mean the placement of the company's logo or special offers somewhere in the app. Make sure to be meticulous during the evaluation process.
With this monetization approach, the minimum development estimation is 16 hours per platform.
There is no universal advice about what type of monetization model to choose. Your decision will highly depend on the product idea and your future audience. However, keep in mind that your app will only bring you profit if it is valuable to your users.
How to Develop a Telehealth App: Final Thoughts
It is hard to discuss all the aspects of the telemedicine industry in just one article. However, it is difficult to ignore this field since telemedicine app development provides many opportunities for growth, niche discovery, and the implementation of the latest technologies.
We truly believe that doctor-on-demand solutions are becoming our new normal. Excitingly, in the long term, these apps will improve the quality of healthcare services and, as a result, the population's health.
So, are you interested in this industry as much as we are? We hope this breakdown of the fascinating world of telemedicine has spawned fresh ideas on how to conquer the market.
If so, we are ready to help you with your mobile telemedicine app idea. Share your vision with us, and our specialist will help you transform it into a successful app solution.