The COVID-19 pandemic has changed every aspect of our daily lives. With tons of restrictions and a new normal, people had to get accustomed to a new "remote-first" lifestyle and look for new ways of doing everyday tasks. This search gave rise to new industries like connected fitness, which supports top-quality in-home workouts with the latest technologies.
In 2020, home fitness companies featured a 194% sales growth, while gym sales were down by 39%, according to Bloomberg Second Measure. As the pandemic abated, the demand for remote workouts has plummeted yet remained strong. 
In 2023, 44.5 million US adults will use a connected fitness platform at least once a month. As a key enabler, the fitness app market is also said to reach $ 15.96 billion in a global market by 2026, while the connected fitness market itself continues its winning streak at a CAGR of 4.2%.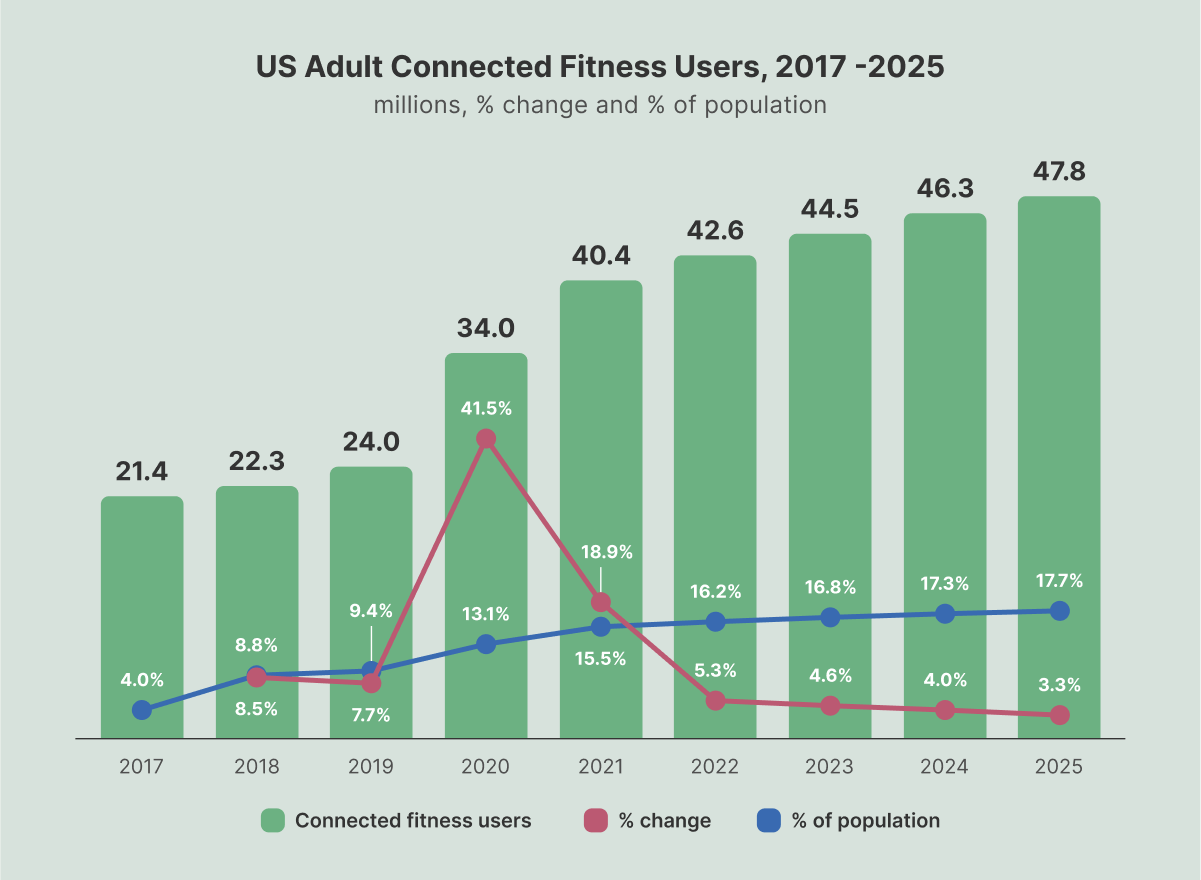 However, instead of being at variance, in-home fitness and gym workouts now come together to create an omnichannel offering, with 59% of fitness enthusiasts favoring a 60:40 split between gym and home workouts.
Overall, 2023 may become the year of connected fitness apps that create an integrated experience for health and fitness app users. This presents a radical change that could transform the fitness industry.
Top Five Trends to Watch in 2023
Let's find out what strategies are getting traction in the connected fitness market in 2023:
Open Ecosystems for a More Integrated Experience
The ingredients for connected fitness success are evolving, rotating from all-in-one Apple-like bundles to Android-similar ecosystems. Serving more exercisers over end-to-end integration, content and software developers will unite with equipment companies to create engaging fitness experiences.
It also means that new-age fitness equipment, connected devices, and apps will pursue an open platform approach, unlocking seamless data exchange for easy and accessible integrated workouts.
Technogym, an Italian-based gym equipment provider, has built a vast connected wellness ecosystem. Along with in-house content production, direct-to-consumer offerings, and commercial sales, the company created business management software for gyms. Also, users can log into the Technogym ecosystem on equipment in clubs or at home and via its digital app anywhere.
Meanwhile, the company's smart bike integrates with Zwift, Strava, ROUVY, and TrainingPeaks apps. Technogym also plans to collaborate with fitness trackers, content providers, and other third-party apps to grow the ecosystem.
This all-in approach helped Technogym clock in record revenue in 2022 — €721 million, +18% compared to €611 million in 2021. The company consolidated a presence in 85 thousand health clubs and 400 thousand homes, reaching 55 million people.
AI Technologies for Precise Workout Plans
When you're visiting a gym, a trainer assesses your strengths and weaknesses to adjust your workout plan and maximize your results. Thanks to AI and real-time feedback based on users' movements, connected fitness apps can also access your fitness. These apps analyze your data and generate an ideal workout plan to improve your fitness level.
For instance, Liteboxer offers a connected boxing experience that can adapt to your fitness goals, skill level, and even music taste. LED light pads connected with the Liteboxer mobile app can track your progress and sync with the rhythm of your favorite track. It engages the users and offers a satisfying workout experience.
Virtual and Augmented Reality for a Next-Level Experience
Have you watched Back to the Future III, where Doc tells the men in an 1885 saloon about life in the future and how people run for fun? Well, he's right. Today, we can say that running and working out can be real fun with VR and AR technologies.
Nowadays, you can combine playing video games with a full-body workout, and many VR technologies can help you get your body moving. For example, the Oculus Quest 2 headset can help you work out with virtual coaches, and the Oculus Move fitness tracking feature built into the Oculus platform can keep track of your moves, heart rates, and burned calories while playing video games.
META's Quest 2 VR headset is also among the leaders in the VR market, but TikTok owner ByteDance is likely to challenge this leadership with its own PICO headset targeted at the China market. In 2023, we'll likely see both PlayStation and Apple joining the market with their own VR headsets.
Unlike VR, AR doesn't create a completely new virtual environment, but it does allow users to interact with objects that aren't real. As a result, this technology can stimulate workouts and make training sessions more engaging.
Also, AR technologies can help you better visualize data. For example, when coupled with smart glasses like Solos Smartglasses, users can get all their necessary health stats like heart rate, or distance traveled on their glasses' screen.
You can even include a holographic trainer in your connected fitness app with AR technologies. Now, users don't have to look for video workouts or read instructions; they just need to launch an app and start a workout with a trainer right at home or in the gym.
Gamification for Compelling Exercising
Game-like mechanics contribute to a higher engagement among users, drive them to better fitness results, and add a coat of entertainment to traditional instructor-led workouts. Points, badges, and leaderboards are the baseline elements for gamified fitness.
Fitbit, Apple Watch, Strava, Zero, and Liteboxer are all infusing gamification to keep users returning to their offerings. Zwift, a fitness company born out of gaming, creates virtual, game-inspired worlds for runners and cyclists. The company now boasts a $1 billion market value and has recently nabbed $620 million from investors.
The Omnichannel Approach to Meet Diverse Needs
According to McKinsey, the number of consumers with hybrid fitness routines grew by 41% between 2020 and 2022. Consumers also reported hybrid trainings to return better results than isolated in-home or in-gym workouts.
LesMills states that now we've entered the era of omnifitness, where outstanding digital offerings can augment brick-and-mortar gyms to reel in more fans online, support brand affinity, and make users full members of the club.
Related: 8 Fitness App Ideas Booming in 2023
Rising Stars in the Connected Fitness Market
The connected fitness market offers far more than Peloton, Tonal, and Mirror. When considering that Peloton stock is dropping after their controversial cameo in the Sex and the City revival, it may be the ideal time for rising stars to get on the top of the connected fitness market. Let's take a look at these rising stars.
CLMBR
CLMBR is a connected vertical climbing machine with a large touch display and instructor-led classes. The device can fit any apartment thanks to its design and small footprint.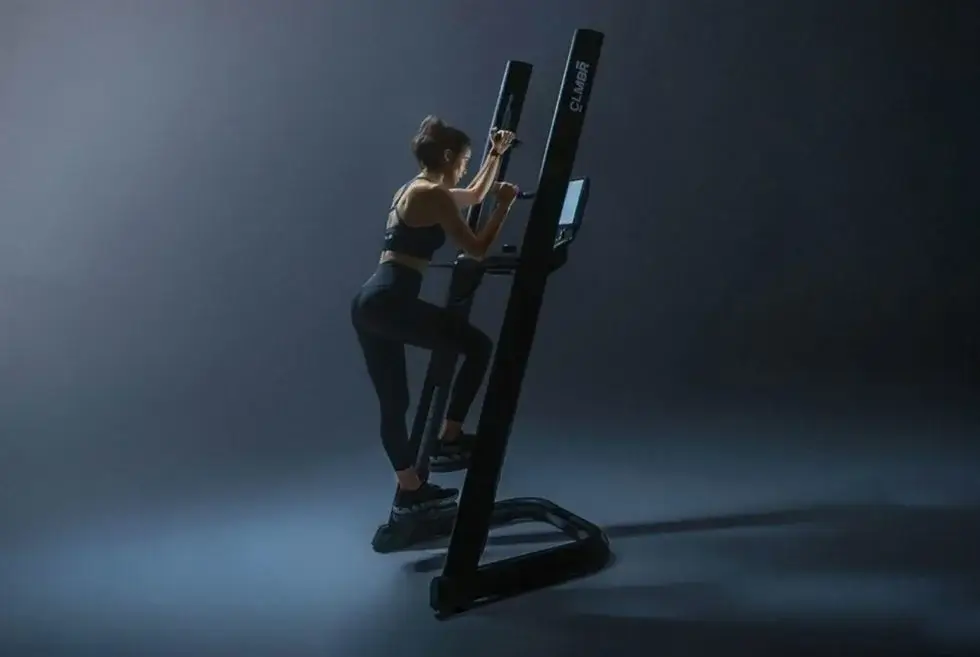 In addition, there are tons of pre-installed workout plans that can help burn 600+ calories in about 30 minutes. According to CLMBR, this machine can burn more than rowing, running, and cycling.
Also, you can create training plans, keep track of your progress, and get access to streamed classes via the CLMBR mobile app.
CLMBR is a cardio machine for full-body workouts that engage over 86% of the body's muscles. This vertical climber doesn't put too much tension on the joints when compared to conventional treadmills. Finally, with 24/7 access to classes, users can work out whenever they want.
Ergatta
Ergatta is a home-based connected rower. The rower presents full-body workouts coupled with a racing game. Ergatta can engage up to 86% of muscle groups and allows for cardio and strength training. Thanks to its ergonomic and "rich" design, the rower can fit any interior. According to its website, the device takes less floor than a small chair in the upright position.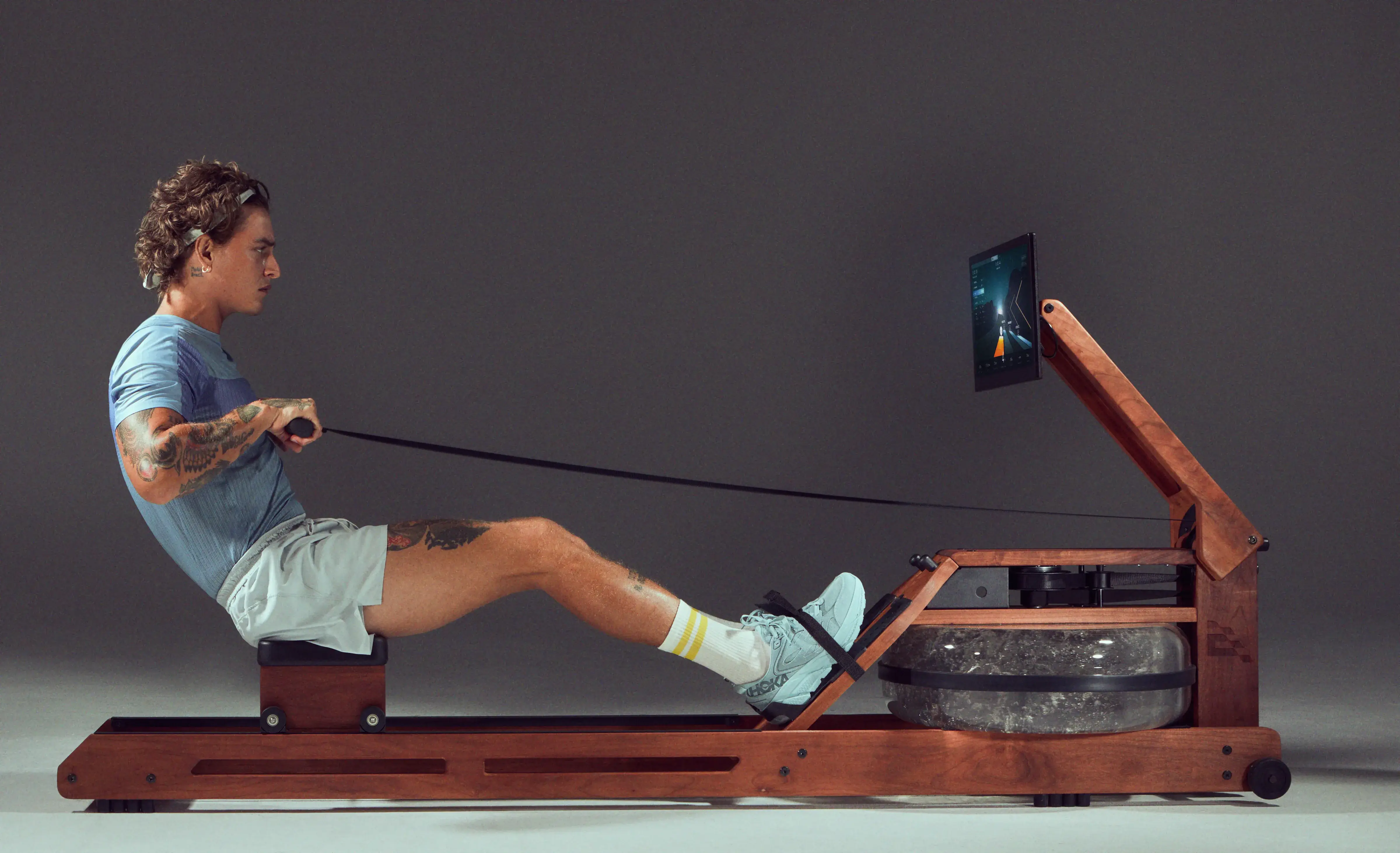 Ergatta takes advantage of gamification, presenting four ways to sweat on the rower. For example, while rowing, you're actively participating in a game and competing with other people.
Ergatta isn't just a video instructor telling you how to burn more calories; every ten workouts, the machine recalibrates to adapt to you. As you get better at rowing, the system recalibrates to maximize your results.
Ergatta companion mobile app allows you to track your workouts, training history, and progress on the go. It also allows you to plan and schedule your upcoming workouts in advance.
TrueBike
TrueBike by TrueKinetix is an indoor smart bike that duplicates your pedal forces stroke-for-stroke. In the TrueBike, a flywheel is replaced with a smart robot and strong motor that can fully simulate the right pedal force, calculated for your body weight and length.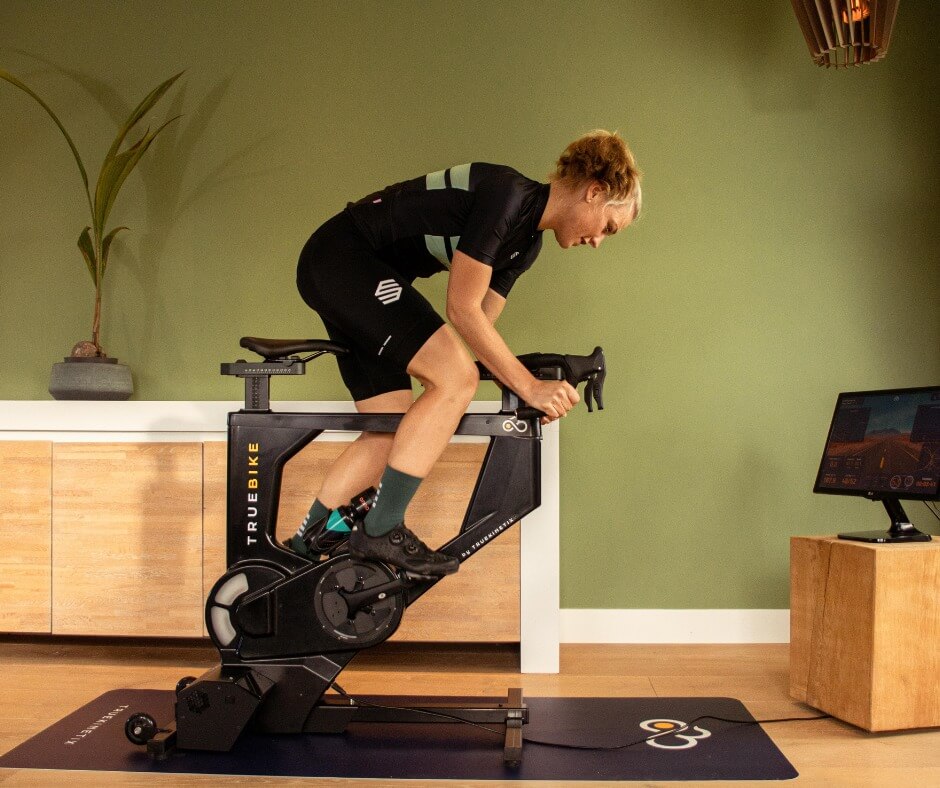 TrueBike looks like any other bike, but it runs on advanced algorithms to provide the proper resistance based on 10k+ measurements taken nearly every second, including rider weight, gear selection, pedal position, ride slope, road surface, and even virtual wind. Thanks to this design, TrueBike is capable of mimicking on-road rides.
On its screen, riders can get live feedback on speed, time, distance, elevation power, pedaling efficiency, and cadence. TrueBike comes loaded with workout programs, but you can also build your own or connect to other online programs via the TrueBike mobile app.
Forme Life
Forme Life isn't just a mirror; it's one of the top connected gyms, too. Women's Health named Forme Life's mirror as the "Best Home Studio" in its 2020 Fitness Awards.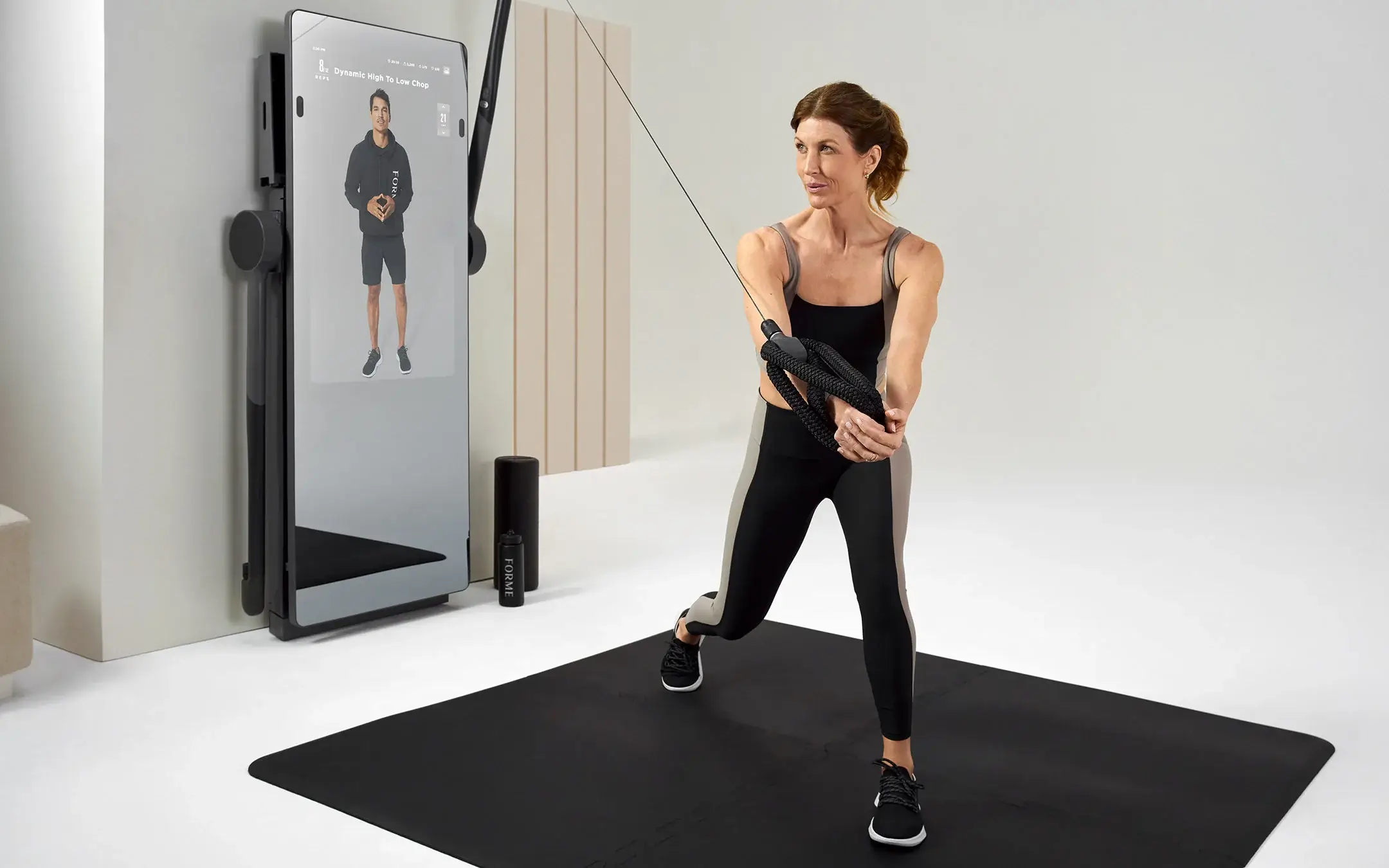 When turned off, Forme Life serves as a standing or wall-mounted mirror. This design was chosen because the mirror was designed for people that value elegance and minimalism.
When turned on, Forme Life transforms from decor into a powerful smart fitness studio. The mirror offers a 43-inch 4K UHD display with voice control and a touch screen. Instructors appear in the mirror, guide you through their workouts, and motivate you to exercise harder.
There are various live workouts and pre-loaded classes for all levels and disciplines to choose from, and you'll never get bored. Further, the Forme Life app can help you stay updated on the latest workouts and track your progress.
Forme Life is powered by machine learning and AI technologies, and the device can fine-tune workouts according to your fitness level. As your fitness improves, Forme Life adjusts its settings automatically to deliver the best results.
Equipped with stereoscopic cameras and human-like vision, the mirror can sense your movements and provide real-time feedback. If you want to have a live workout with a human instructor, Forme Life can also provide you with two-way live interaction like a Zoom or Skype call.
Treadly
Treadly is a foldable treadmill that lets you jog and walk at home. It can fit any room and interior. When not used, you can easily store it under a bed or couch. This treadmill feels lightweight and can be easily moved from one place to another via its wheels.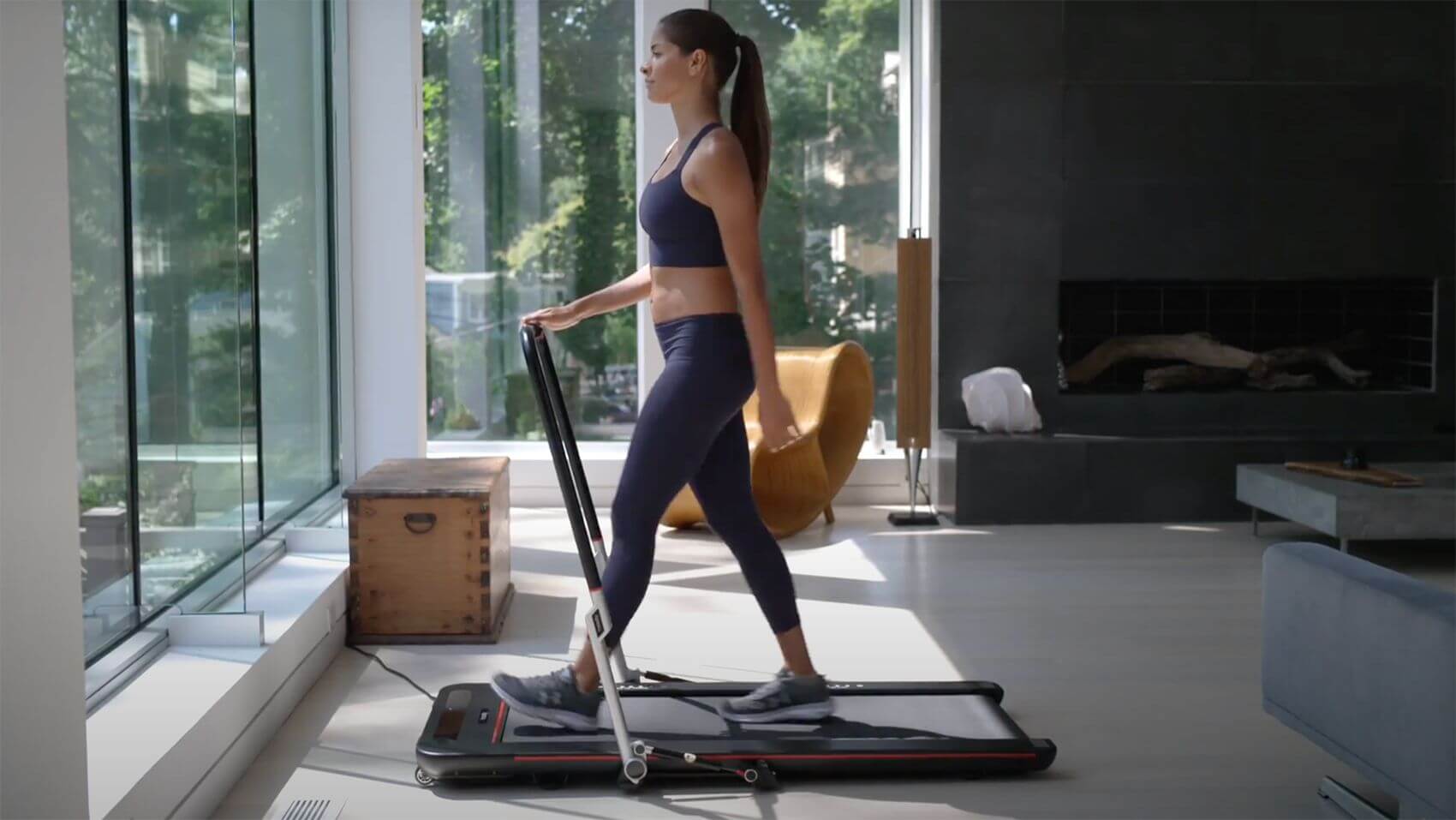 Treadly doesn't go too fast; its speed ranges from 1 to 5 mph. Treadly has different models that come with either a remote control or handrail. The machine can also be turned on and off and adjusted through Treadly's app.
With Bluetooth, you can connect your wearables for improved control over your workout. Additionally, if you don't like jogging alone, you can invite your friends or join a live video group. Treadly also plays your favorite audio thanks to a built-in Bluetooth speaker.
Huupe
Huupe, a smart basketball hoop startup, relies on a mixed product and business model that bundles hardware, software and media streaming. The company's physical core is a connected basketball hoop that collates data about the game. Combined with an app, the hoop can track all of your stats on the court.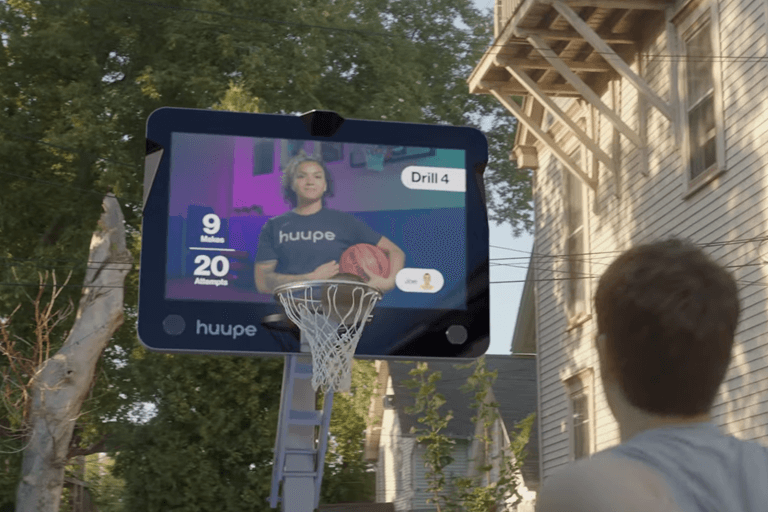 Behind the hoop, there's a backboard made from a video screen and augmented by computer vision. Users can watch basketball coaches, trainers and players in action on the video screen.
Paired together, computer vision and the content track people's play and make suggestions to improve their skills. Along with basketball coaches, Huupe's video screens can also stream a variety of other content based on the player's preferences — everything from HBO to Vimeo.
Kabata
Billed as the world's smartest dumbells, Kabata fitness equipment analyzes users' real-time metrics and preferences to serve strength training routines tailored to unique physical features. The dumbbells leverage haptics and rumble and vibrate to keep a user engaged in the workout.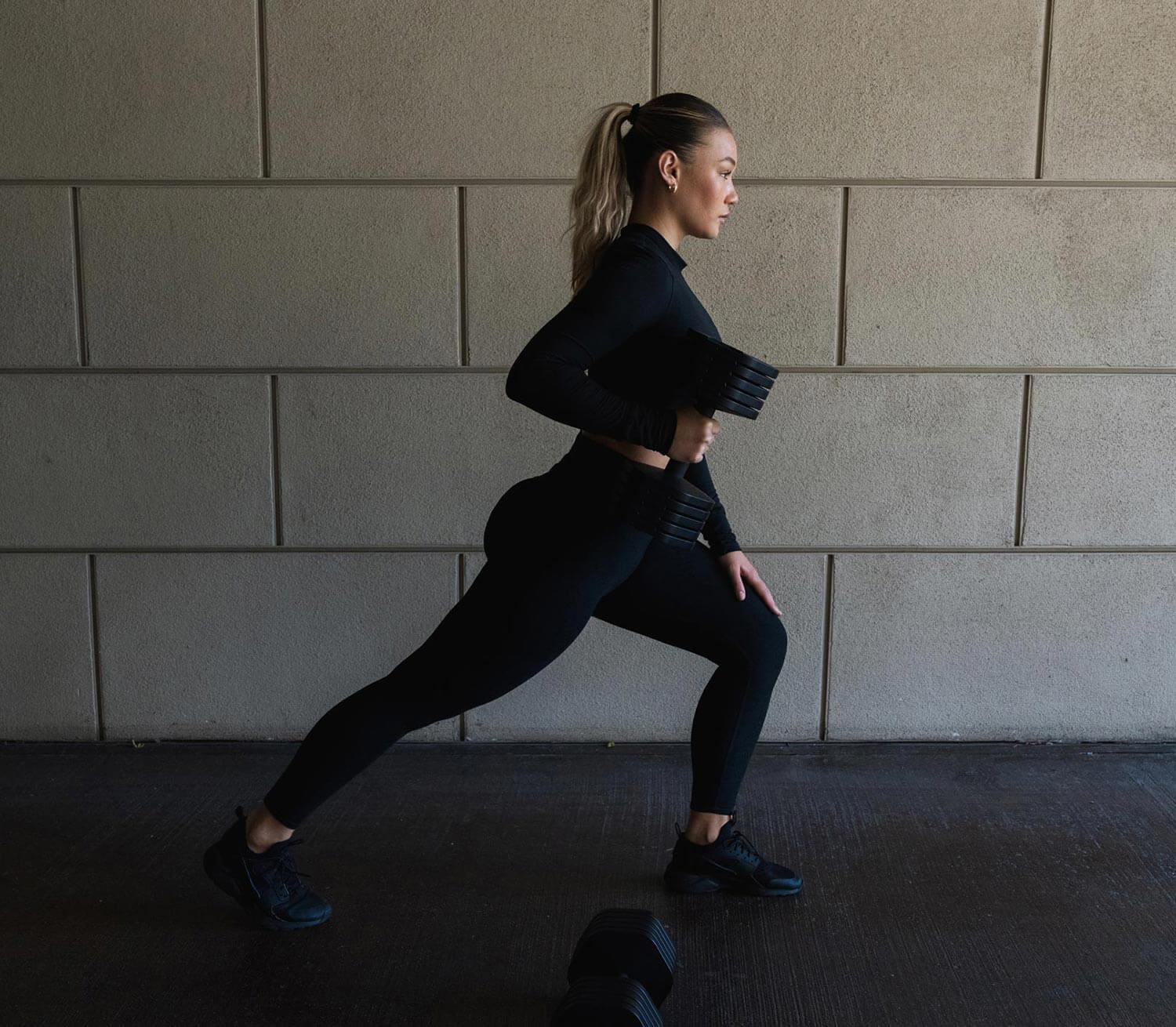 A gamified experience is also one of the core features of Kabata. Users can climb the live leaderboard to unlock rewards and level up. The Kabata application offers exercisers a like-minded community where users can interact with friends, compete, and showcase their achievements.
Flexia
Flexia is the first smart pilates reformer designed to bring pilates workouts to another level with innovative technology and tailored workouts. The reformer invites the pilates studio experience into people's homes without disrupting the experience.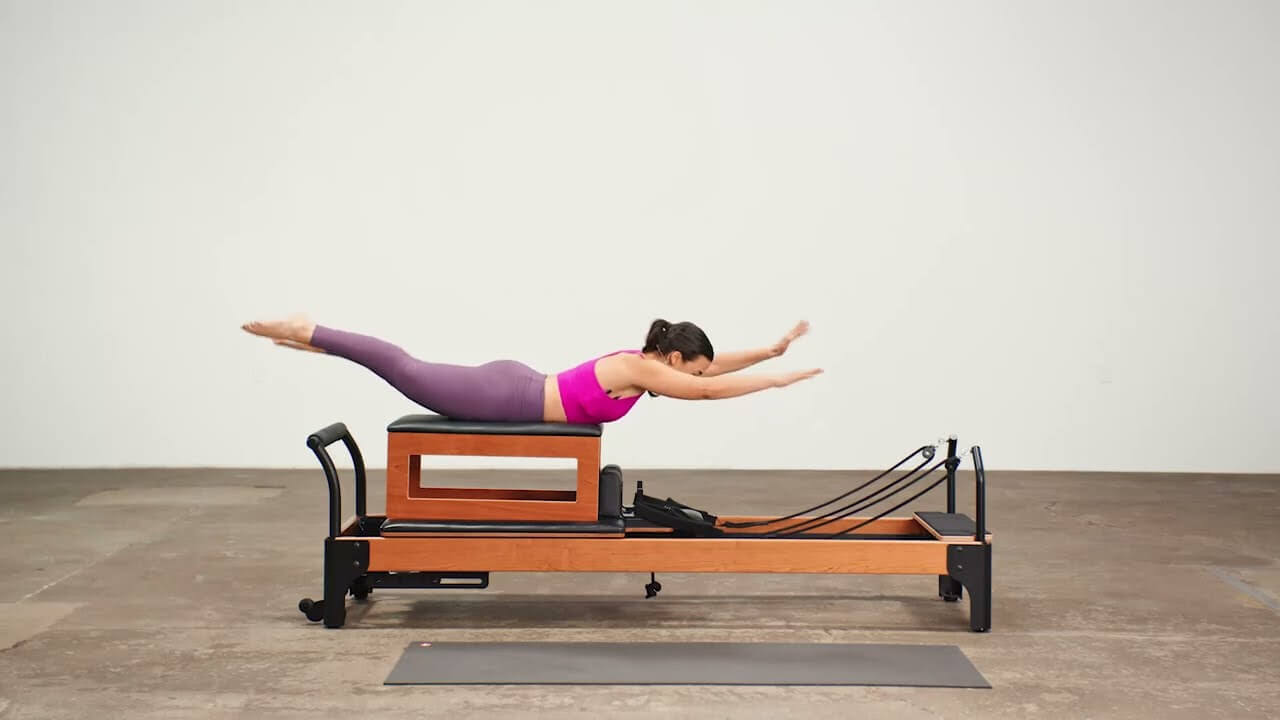 Users can choose classes based on their schedule, interests, and fitness goals. Exercisers can also gear up or down their workouts up or down to increase or decrease the intensity.
Equipped with multiple sensors, the Flexia Reformer employs AI to deliver real-time feedback and granular recommendations. Moreover, users can stream content from pilates experts via a dedicated online studio.
Related: How to Create a Fitness App: Main Steps, Features, and Cost
Summing Up
Connected fitness seems like the future of the fitness industry, but it cannot completely replace brick-and-mortar gyms or fitness studios. However, they allow people to keep fit during the current pandemic.
Connected fitness can help you broaden your target users, fulfill their needs, and offer an improved experience while helping people reach their fitness goals. IoT, AI, and VR also allow for a unique app solution and improved home-based fitness experience. Even when gyms are fully open, connected fitness remains.
At Orangesoft, we know how to bridge the gap between fitness hardware and software. Get in touch for a free estimate of your connected fitness project.