It's hardly possible to overestimate the significance of mobile app design. After all, a good application should boast an intuitive and visually attractive layout. Since aesthetic appeal and usability are among the top priorities for mobile app developers, designers work hard to deliver a one-of-a-kind user experience.
In order to succeed, they need a like-minded, loyal sidekick — an application design tool. Like in any relationship, the companions have to click; otherwise, long-term, efficient collaboration is not likely.
One can't choose the right mobile app design software if they have no clue about what the market has to offer. Since there are many app prototyping tools out there, we decided to make the designers' job easier and review the 25 best app design tools for mobile app development. Let's take a closer look at them.
Adobe After Effects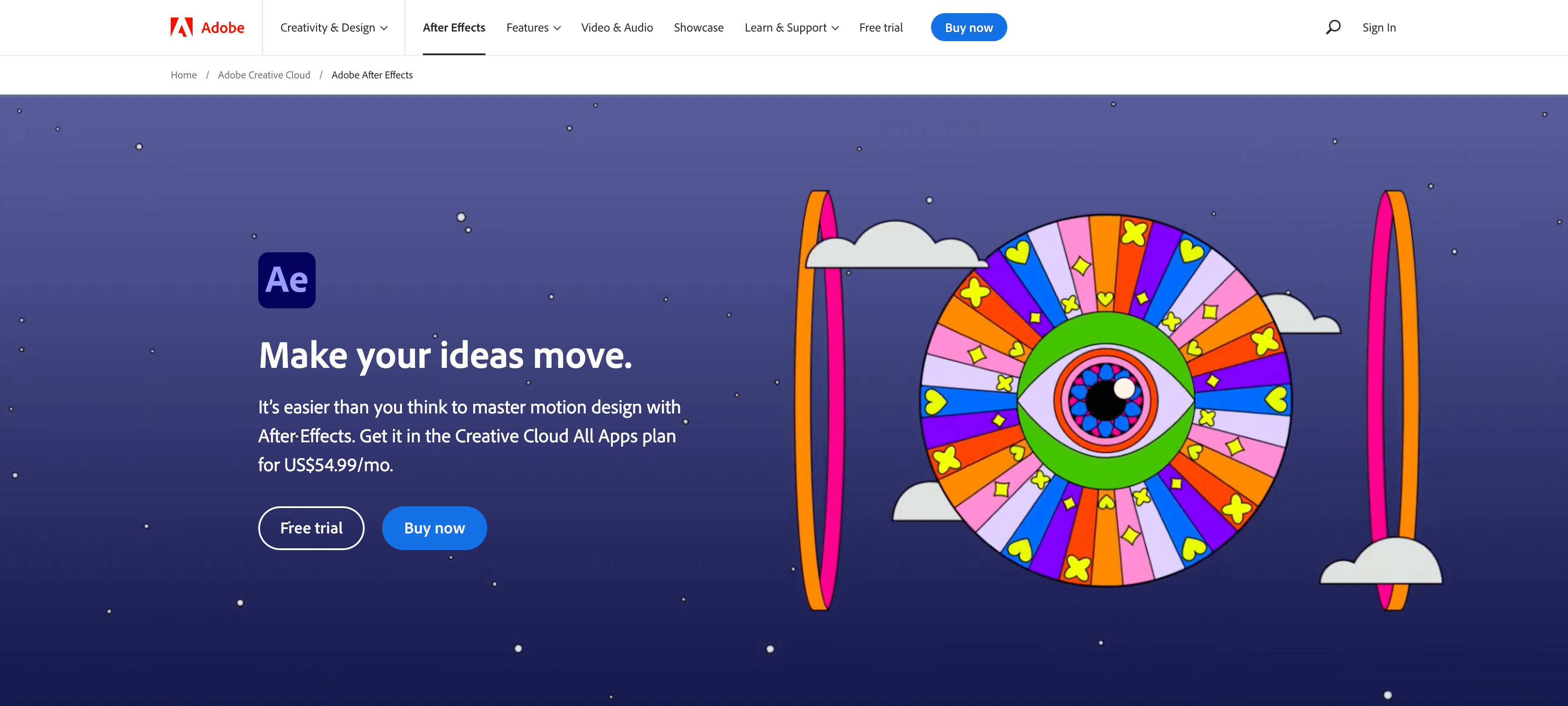 One of the best mobile app design tools, Adobe After Effects, is all about motion design and animations. Here, you can animate your mobile app design and work with video as well. What is really nice about the product is that you can use presets. Moreover, there are tons of effects to make your graphic design memorable.
Lately, Adobe has introduced a brand-new feature — integration with Cinema 4D — a much-requested addition for seamless work with native Cinema 4D files and 3D element manipulation.
What we love about this app design tool at Orangesoft is its LottieFiles plugin. Not only does the plugin allow you to create one-of-a-kind vector animations, but you can also easily test them "without writing a single line of code," as the LottieFiles itself states.
Platforms: macOS, Windows.
Pricing: $20.99/month.
Free trial: 7 days.
Adobe Illustrator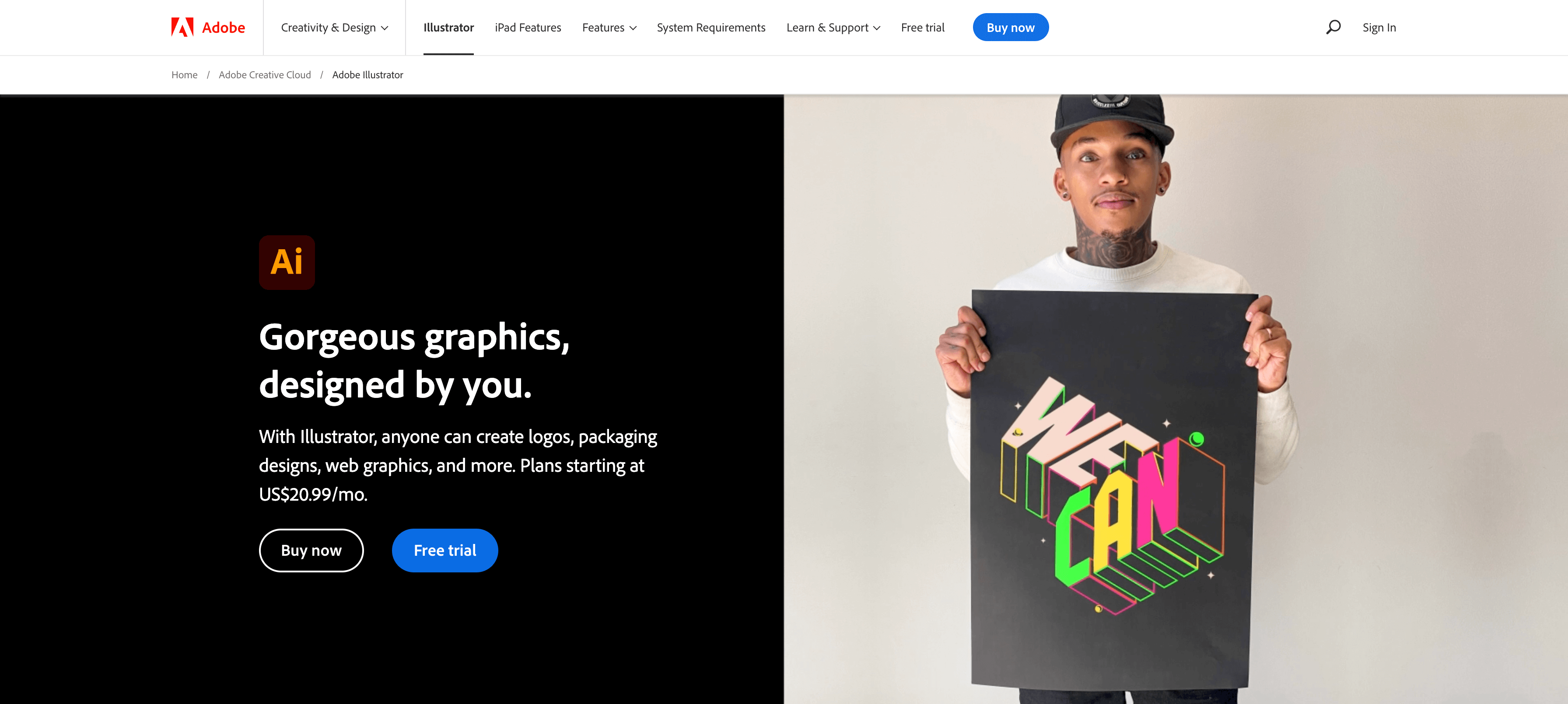 In 2022, Adobe worked hard on its design tools and made several releases. Just like its counterpart, Adobe Illustrator has improved its take on 3D modeling, allowing app design developers to modify object shapes using Taper and Twist. Adobe is also working hard to polish the design process on iPad, adopting device-specific improvements.
Platforms: macOS, Windows, iPadOS.
Pricing: $20.99/month.
Free trial: 7 days.
Adobe XD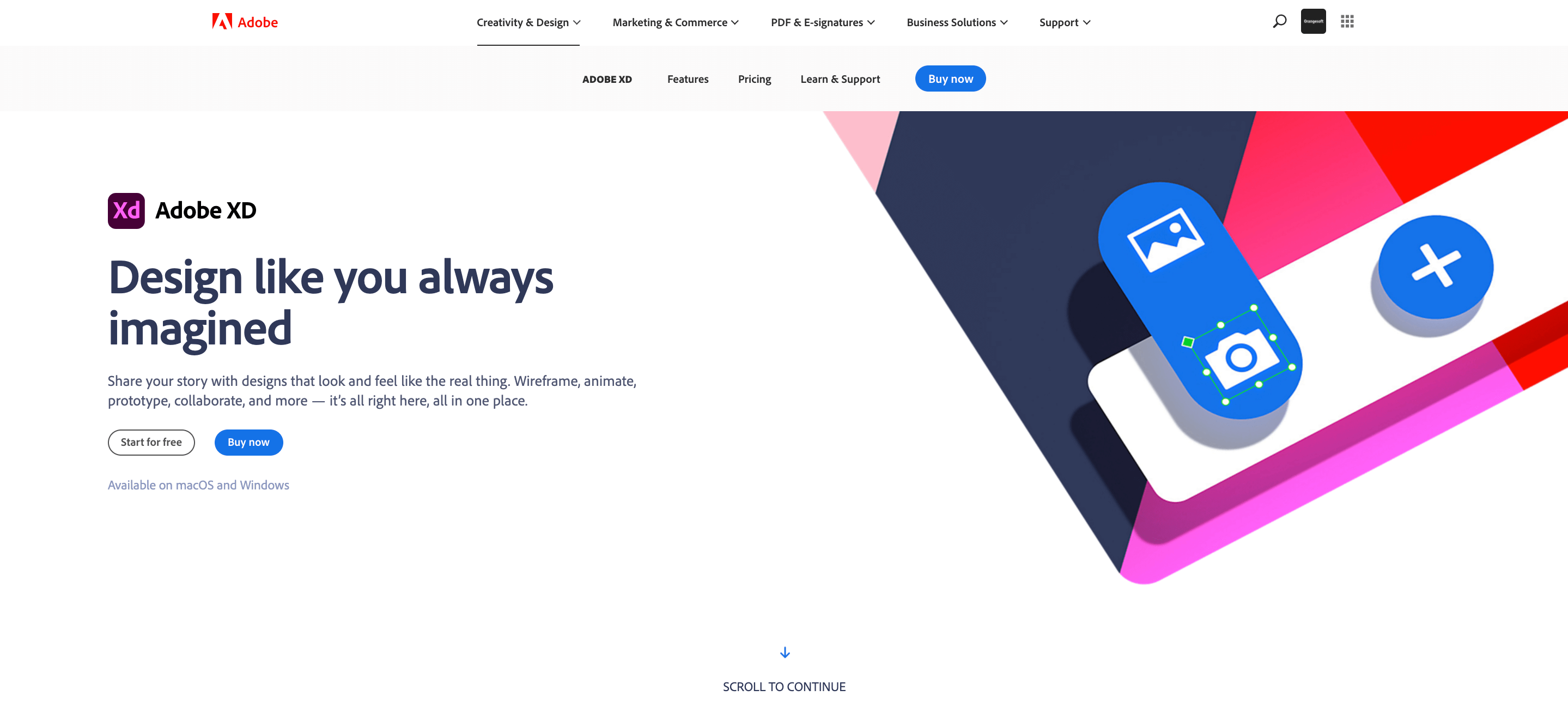 With Adobe XD, you can not only design but also prototype a mobile app. You can also work on the project with a team in real time and get feedback from team members.
In addition to that, now Adobe XD boasts 3D transforms (which allow creating realistic looks in 3D in a matter of seconds), automatically adjusts the height of text and gives a chance to change components within other elements. In 2022, Adobe XD welcomed new device presets, immersive experiences, new accessibility enhancements, and animation add-ons.
Platforms: macOS, Windows.
Pricing: Free. Paid plans start at $9.99/month.
Affinity Designer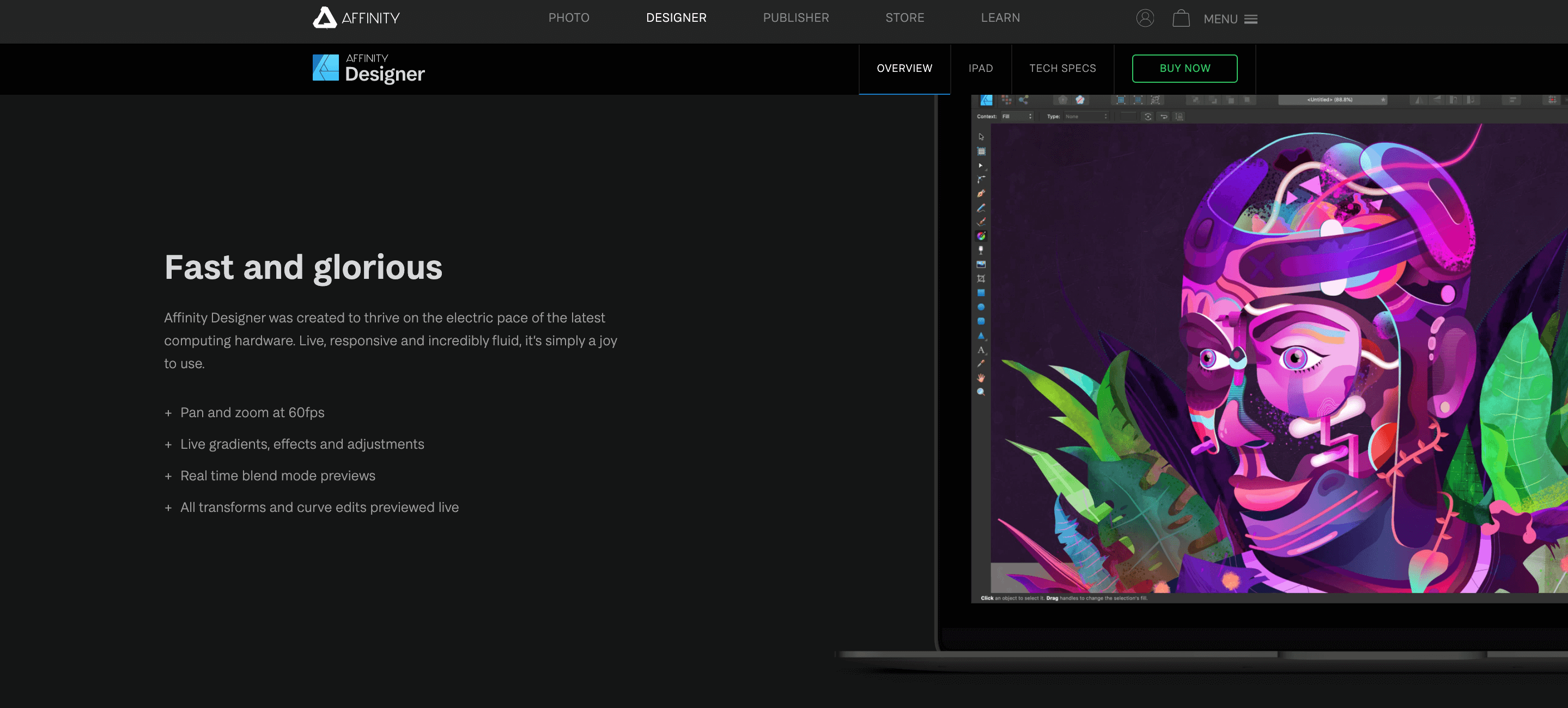 Affinity Designer, being a vector graphic editor, boasts a wide variety of useful functionalities that help to create mind-blowing graphics. It has all the basic features and supports sharing and backup. There are three reasons it's the best alternative to Adobe Illustrator for those who don't use Adobe Cloud:
It's faster,
It requires less space on your device, and
No additional packages are needed.
The year 2022 has been marked by a completely new version of Affinity, with redesigned UI, tons of performance upgrades, and a whole wealth of brand-new tools and integrations. No wonder that this pursuit for perfection has been awarded and recognized as App of the Year by Apple — and not just one time, but three times.
Platforms: macOS, iPadOS, Windows.
Pricing: One-off price: $19.99 for iPad, $69.99 for PC.
Axure RP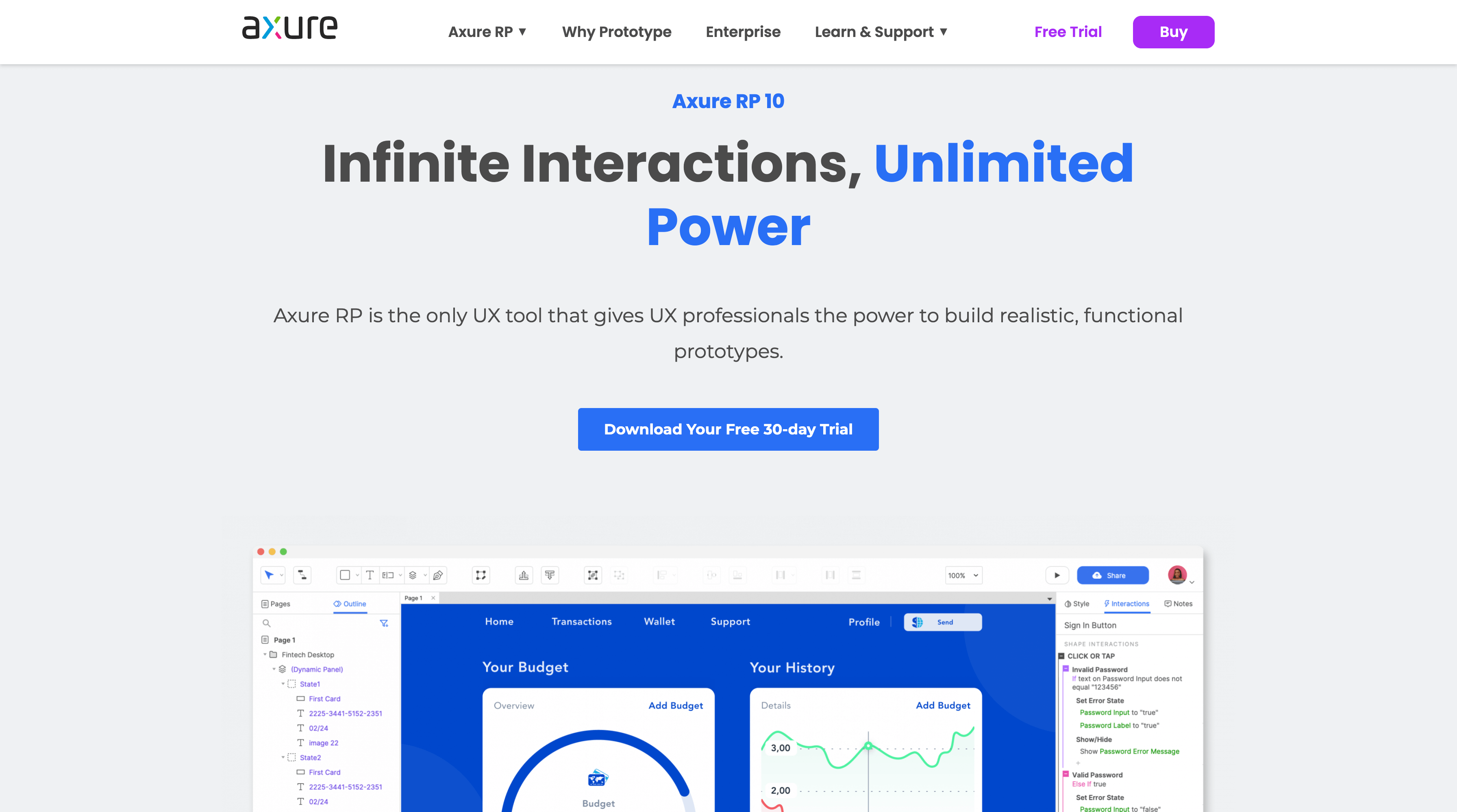 You can create prototypes and designs in Axure PR, as well as share your work with your team. This powerful tool is widely used by leading companies like BBC, Salesforce, Amazon, and others.
Axure PR's users enjoy a variety of tools. For example, the software allows testing prototypes to gain valuable insights and make the appropriate updates. Moreover, its latest version leverages Microsoft .Net Core and Apple Metal to add more flexibility in making advanced UX prototypes.
Platforms: Windows, macOS, iOS, Android.
Pricing: Plans start at $25 per user/month.
Free trial: 30 days.
Figma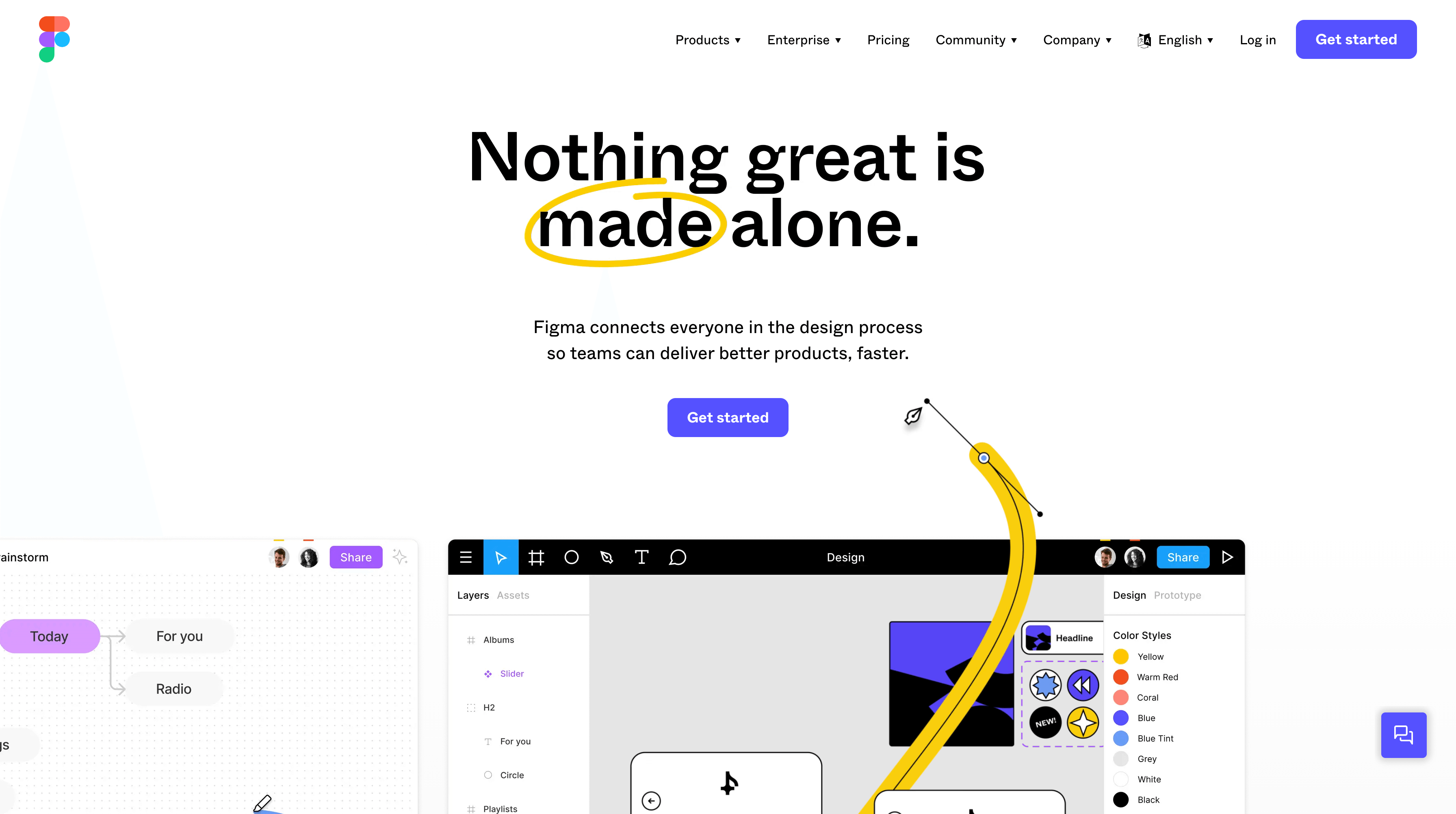 This mobile app UI design tool is defined by collaborative work. Thanks to the ability to make changes together with your team in real time, you have a chance to transform visuals into code more quickly. We at Orangesoft are fond of this feature. This is why Figma is our primary app design tool.
One can't mention Figma and not talk about the Figma Community. It is the GitHub for designers, where specialists can share their works, explore market trends, or merely seek inspiration. Therefore, since its advent in 2020, Figma has become more than just a useful tool for designing graphics — it has become a community of professionals.
Lately, Figma unveiled quite a significant number of both major and minor updates — from shortcuts to design features to better collaboration flows. For example, the tool has finally been brought to Google Calendar, allowing you to add a Figma or FigJam file directly to any Google Calendar event.
Platforms: Web, macOS, Windows, Linux, iOS, Android.
Pricing: Free. Paid plans start at $12 per editor/month.
Flinto
This application was created primarily as an app layout design tool. Besides adjusting the layout, you can design a screen with layers, add links and gestures, work with transitions, and much more. Flinto is user-friendly software. However, to help you get a deeper understanding and unleash the full potential of the tools, it offers numerous tutorials.
Platforms: macOS, iOS.
Pricing: One-year license for $99.00.
Free trial: 1 month.
FluidUI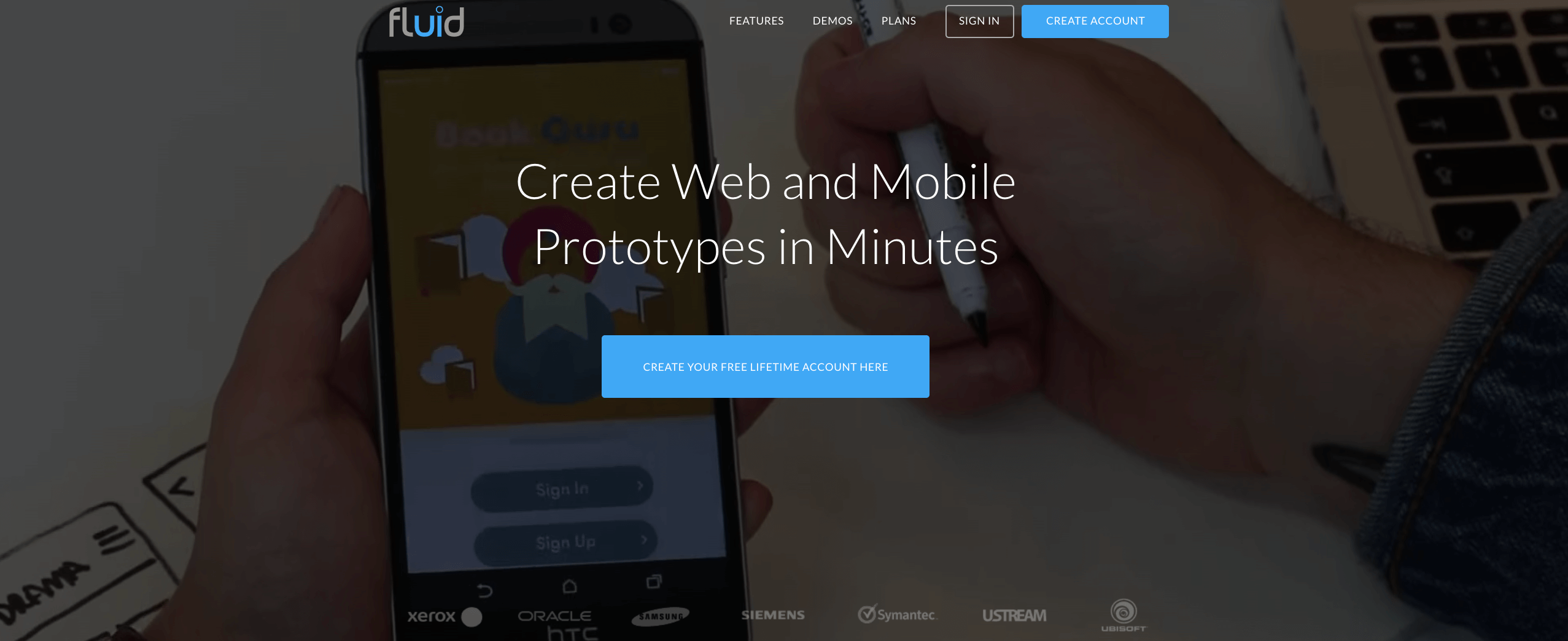 With this prototyping tool, you can create web and mobile prototypes quickly and easily, choosing from over 2,000 built-in components. FluidUI boasts an intuitive linking system.
Designers can also gain from its collaborative feature that enables your whole team to contribute in real time. Moreover, interactive previews make the process even faster.
Platforms: Web, macOS, Windows, Linux, Android, iOS.
Pricing: Free. Paid plans start at $8.25/month.
Framer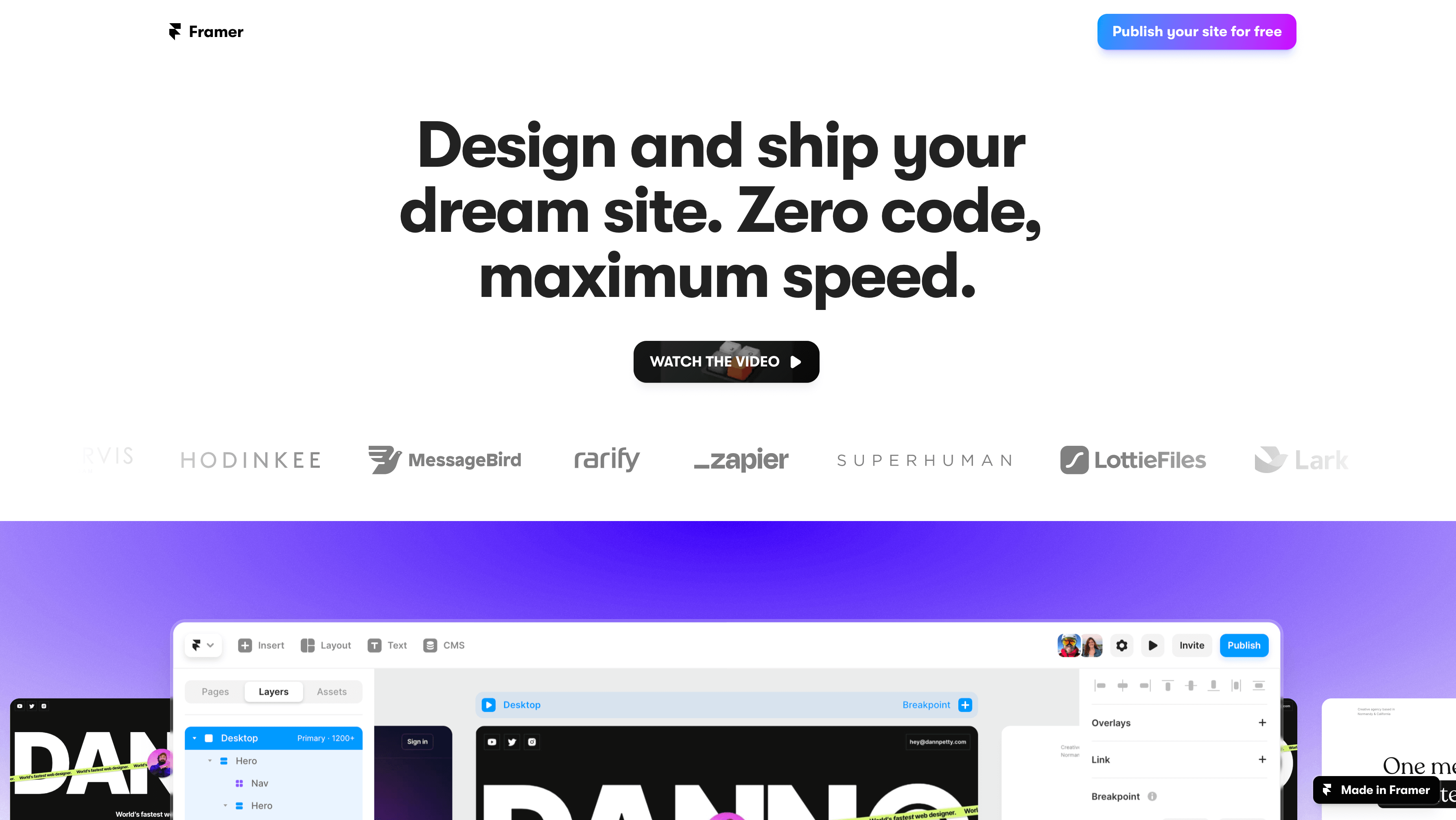 Framer is among the most outstanding app prototyping tools that are free to use. With a multiplayer editing feature, you can work together with your team and create the best prototypes. Additionally, the tool offers developer handoff and mobile preview.
Motion design can be pretty easy with Framer: you only need to link elements on the canvas with the connector. Moreover, its latest animation updates have taken the tool to another level of interactivity, ensuring that your site animations do great across different devices, including older ones.
Platforms: Web.
Pricing: Free. Paid plans start at $15 per site/month.
HotGloo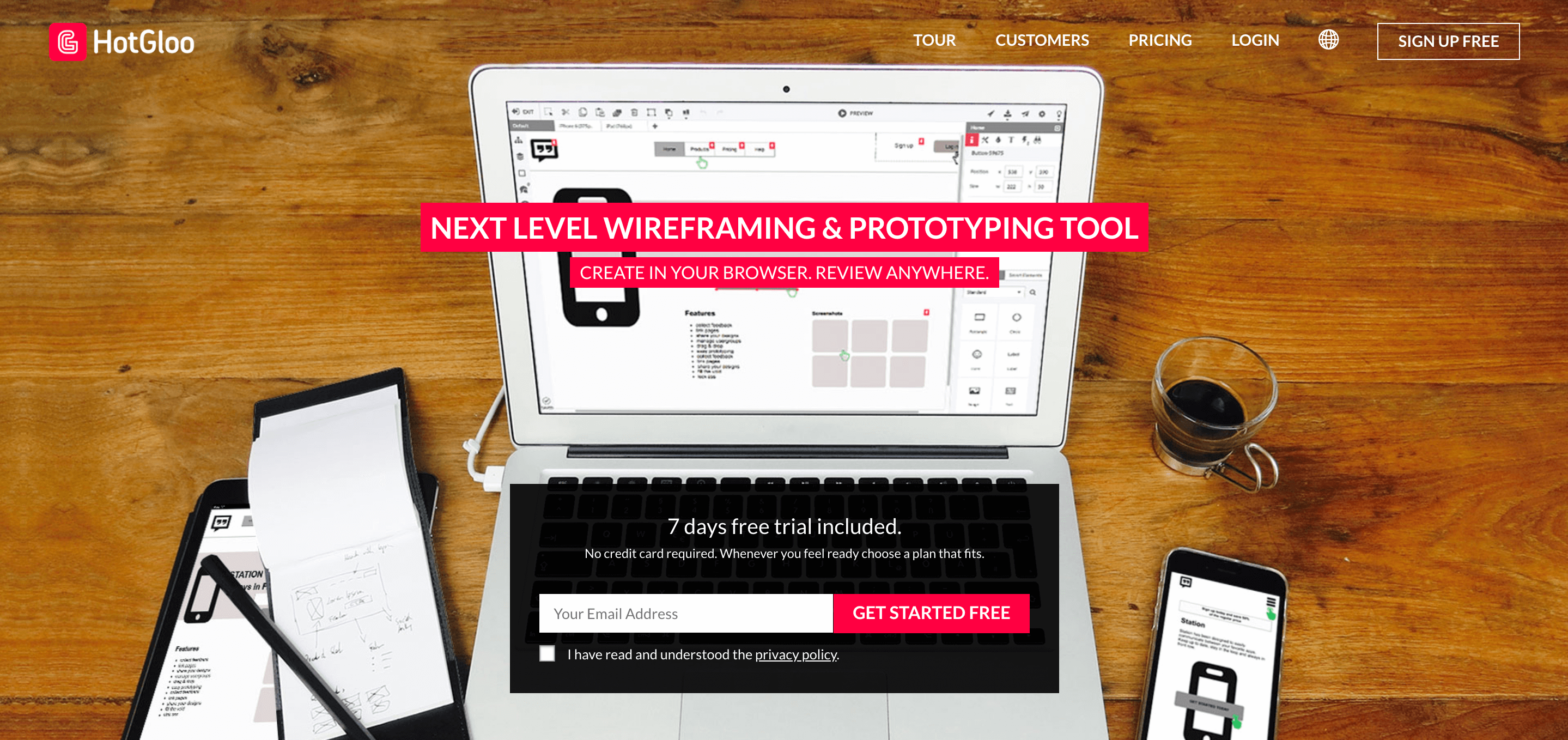 This prototyping and wireframing app offers everything a mobile app designer needs. With more than 2,000 elements, UI widgets, and icons, you can easily show the prototypes to clients and stakeholders. HotGloo also helps designers test the prototypes across devices and send mobile projects right to the mobile. With a feature set so wide, it's hardly surprising that Product Hunt featured HotGloo.
Platforms: Web.
Pricing: Plans start at $13/month.
Free trial: 7 days.
Related: How To Create An Amazing App Icon
IconJar
IconJar is primarily designed to help you keep your icons organized. It allows you to make your icons perfect and export them in any size and file type. What is really useful, however, are the presets that are available not only for Apple products but also for Android-powered devices.
Platforms: macOS.
Pricing: Annual license for €29.99, lifetime license for €74.99.
Free trial: 14 days.
Icons8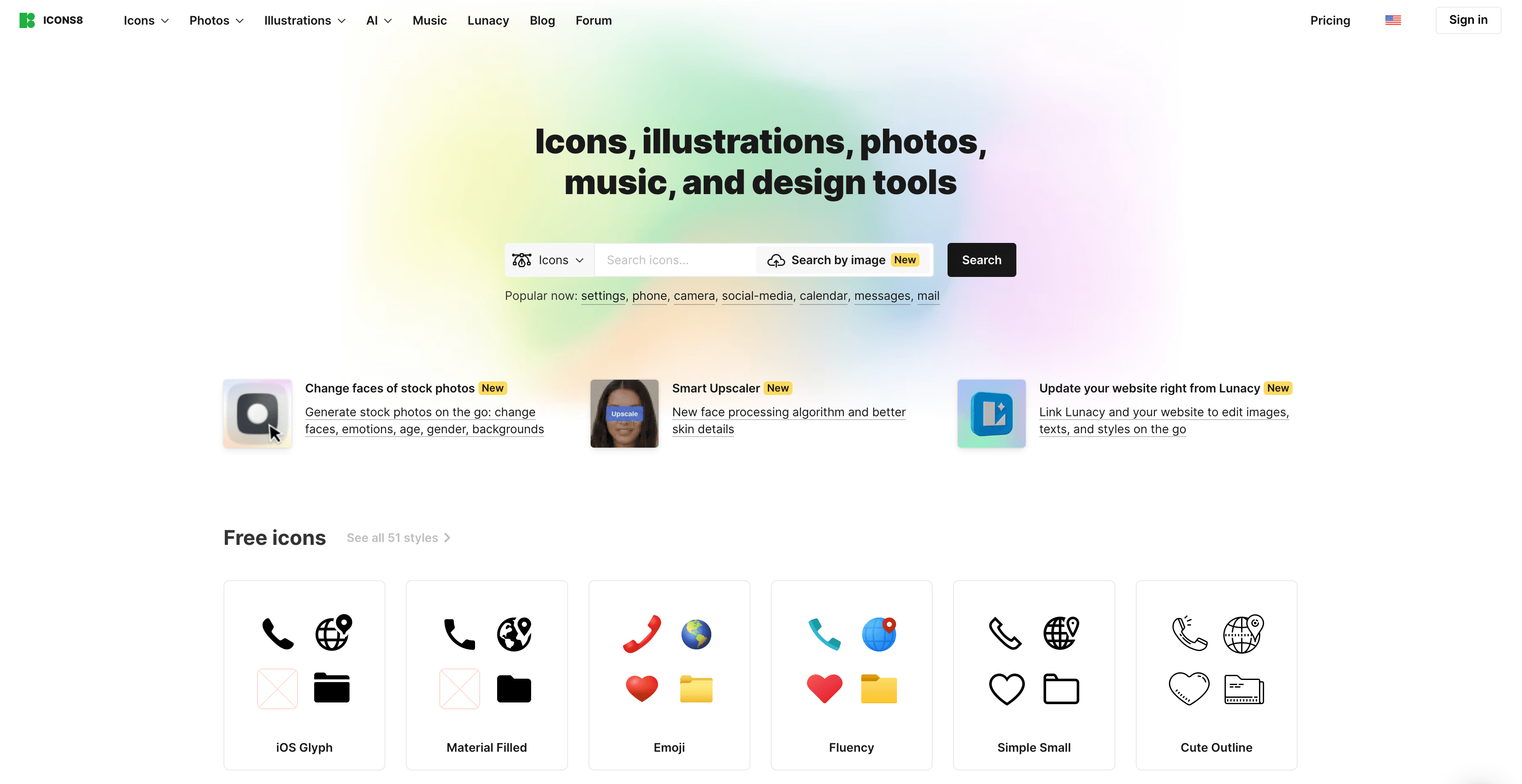 The name speaks volumes: Icons8 focuses on icons and allows you to recolor them within seconds, add overlays, work out fonts, and much more. The tool stands out as it also works offline. Also, the My images tab gives the tool an interesting twist. It helps designers set up single storage for all the graphics with AI-enabled tagging for more convenience.
In addition to those features, you can design graphics and make vector illustrations as well. The tool would be convenient for those who like to work in Sketch as it supports all Sketch files.
Platforms: Web, Windows, macOS, Linux.
Pricing: Free. Paid plans start at $13/month.
InVision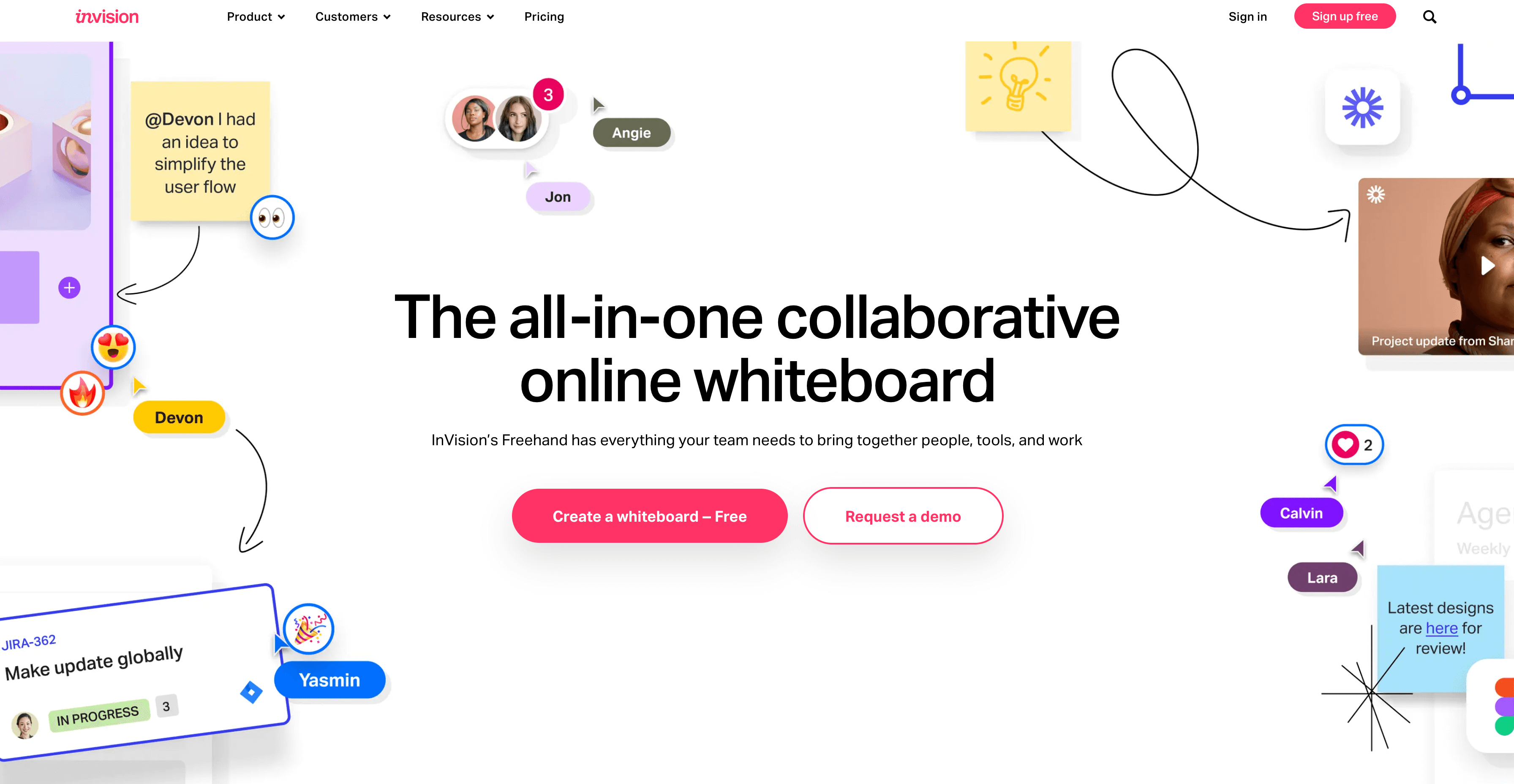 Billed as an all-in-one collaborative tool, InVision is a cloud-based design software that allows you to share designs and collaborate with your colleagues. InVision offers many functional features for enhanced animation and is one of the best app prototyping tools.
The app is mainly known for its collaborative whiteboard, Freehand, which helps design teams set up a centralized hub for projects.
Platforms: Web, macOS, Windows, iOS.
Pricing: Free. Paid plans start at $4 per user/month.
Justinmind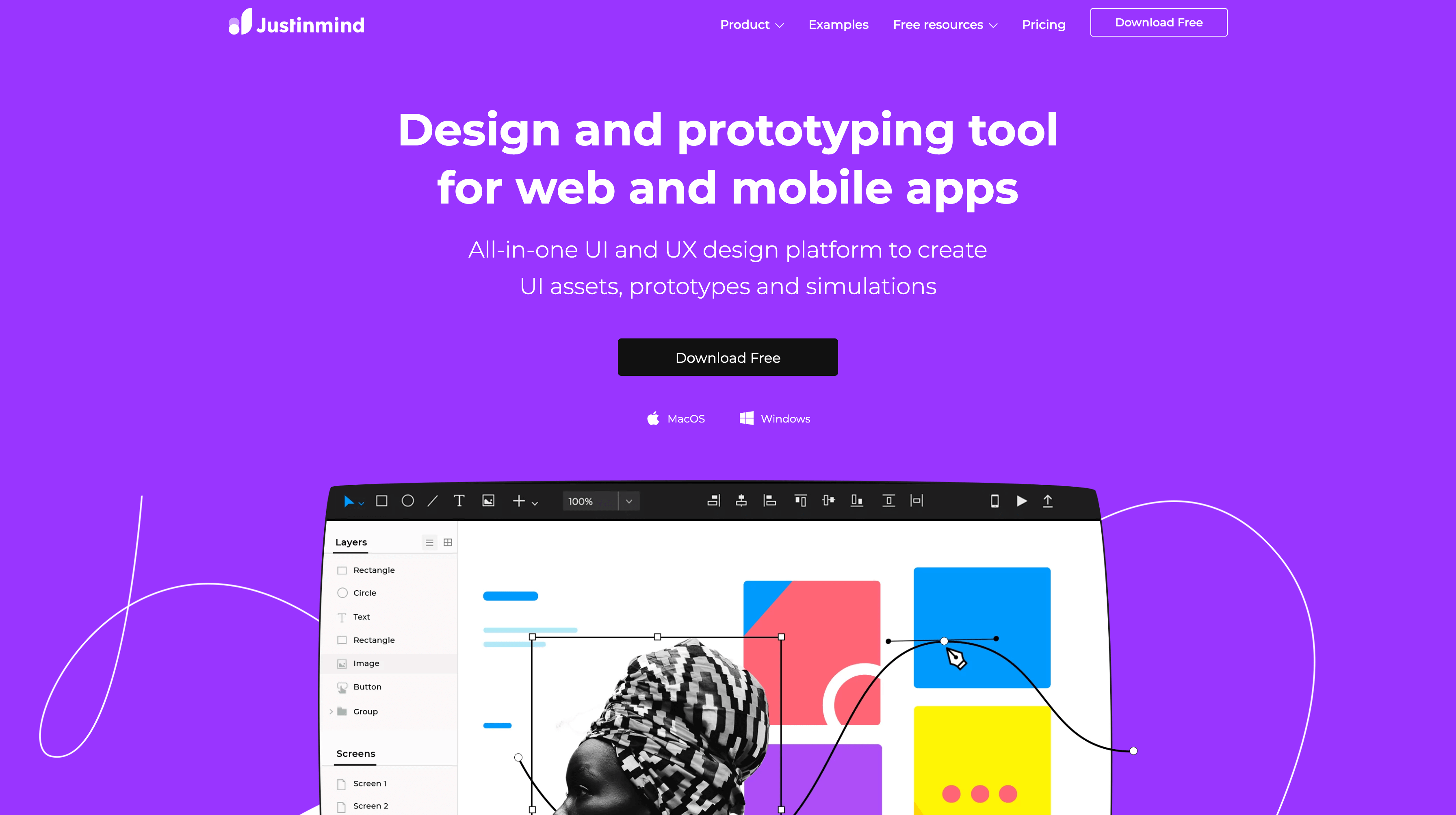 If you want to use an app prototyping tool for free, Justinmind can be your best option. The tool allows for creating fully interactive prototypes from scratch, UI assets, and simulations — without typing a single line of code. Generally, the functionality is rather rich, allowing you to create outstanding mobile gestures and web interactions.
The developers constantly work on updates to make the tool speedier and easier to use. For this very reason, new prototyping tools, collaboration options, and UX/UI add-ons are being constantly added to the ecosystem.
Platforms: macOS, Windows.
Pricing: Free. Pro plans start at $9 per user/month.
Marvel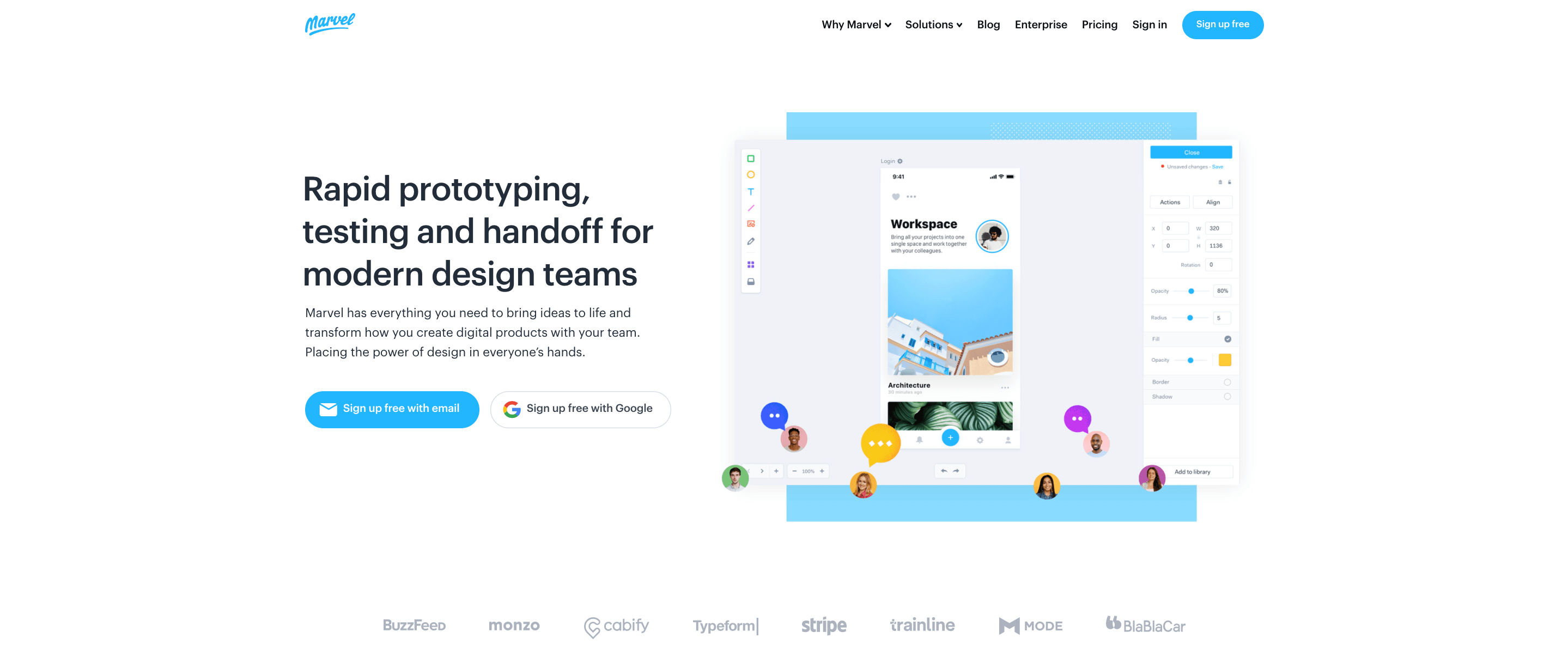 Marvel's ultimate advantages are best noticed at the initial stages when your team has just started testing the waters. However, the tool also provides functionality that allows sharing the outcome with all the stakeholders so that they can easily assess the design.
Moreover, with the user testing feature, you can observe the way users interact with the prototypes. If necessary, one can prerecord the testing and analyze it later to make the appropriate changes.
Platforms: Web, macOS, Android, iOS, Windows.
Pricing: Free. Paid plans start at $12/month.
Mockplus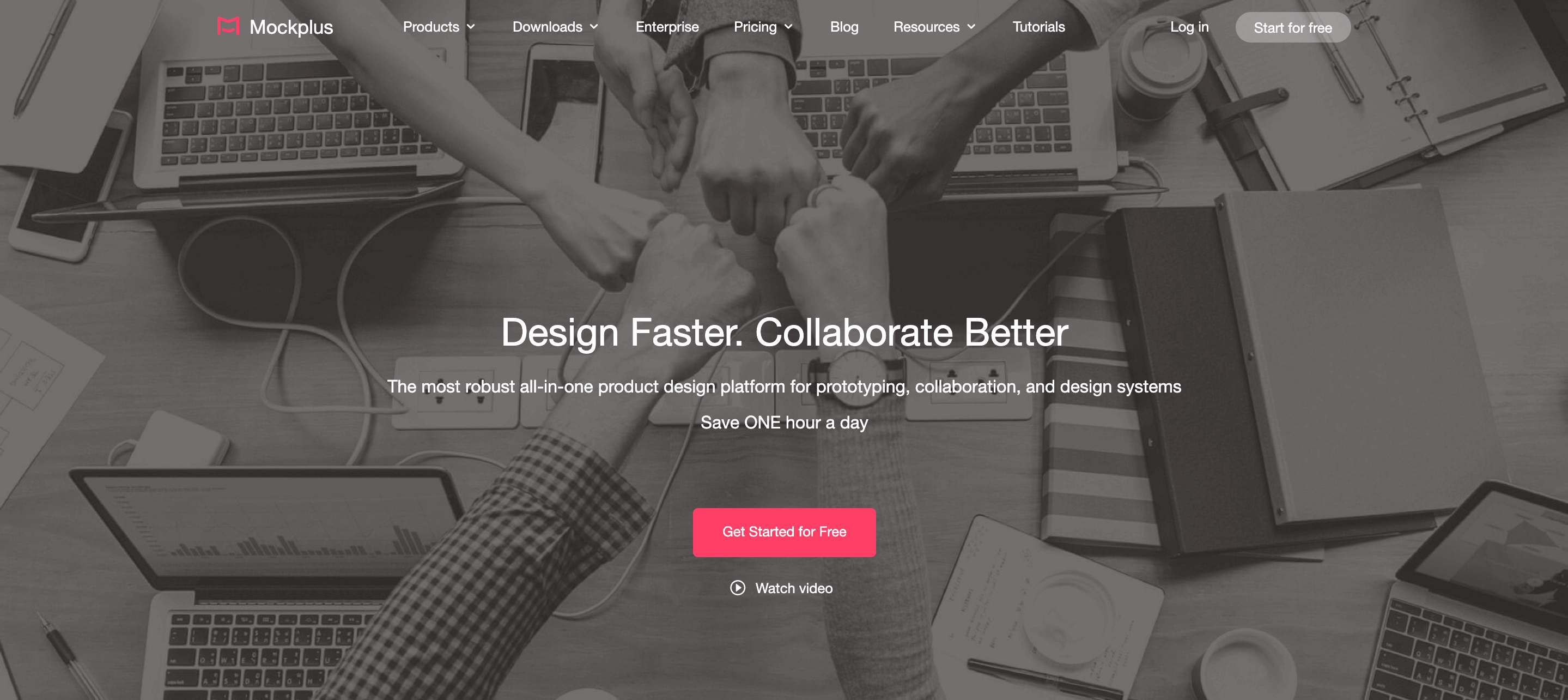 Mockplus offers four products, including an online collaboration tool, prototyping extension, free UI design tool, and design systems management tool. The company constantly upgrades its products. For example, recently, it has added a new UI style, components, and annotations.
Now, Mockplus Cloud has a more straightforward UI with annotations to link detailed design intentions to any layers, groups, or parts of your files.
Platforms: Web, macOS, iOS, Android, Windows.
Pricing: Free. Paid plans start at $4.95 per user/month.
Moqups

If you're looking for one-stop-shop UI design tools, Moqups is the right choice to go with. It's a comprehensive web app that includes a full ecosystem of design tools to help you streamline your mobile app development process and collaborate in real time on wireframes, mockups, diagrams, and prototypes. Moqups' simple drag-and-drop interface allows you to create a prototype design in no time, while its built-in library with thousands of popular icon sets supercharges your creativity and accelerates the time to release.
Platforms: Web.
Pricing: Free. Paid plans start at €13 per user/month.
OmniGraffle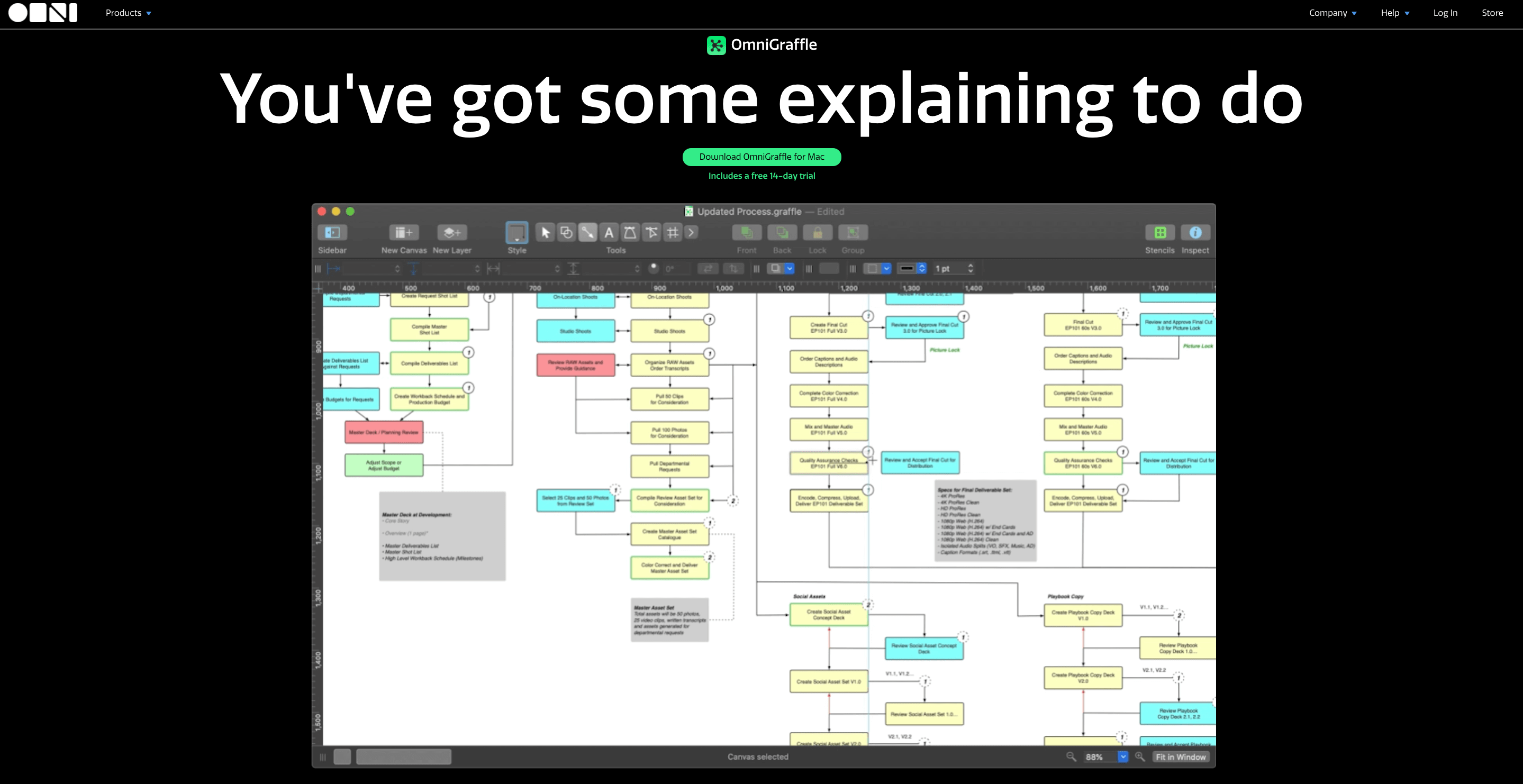 In OmniGraffle, you can create diagrams, quickly prototype, and create vector graphics. The designs are likely to be of high quality because of such features as snapping and intelligent grouping.
Some people use OmniGraffle not only as a feature-rich prototyping tool but as an easy-to-use design asset. For example, a chief technologist for VMWare, Frank Denneman, claims that the tool helps him communicate visual ideas in their simplest forms.
Platforms: macOS, iOS.
Pricing: Plans start at $12.49/month.
Free trial: 14 days.
Origami Studio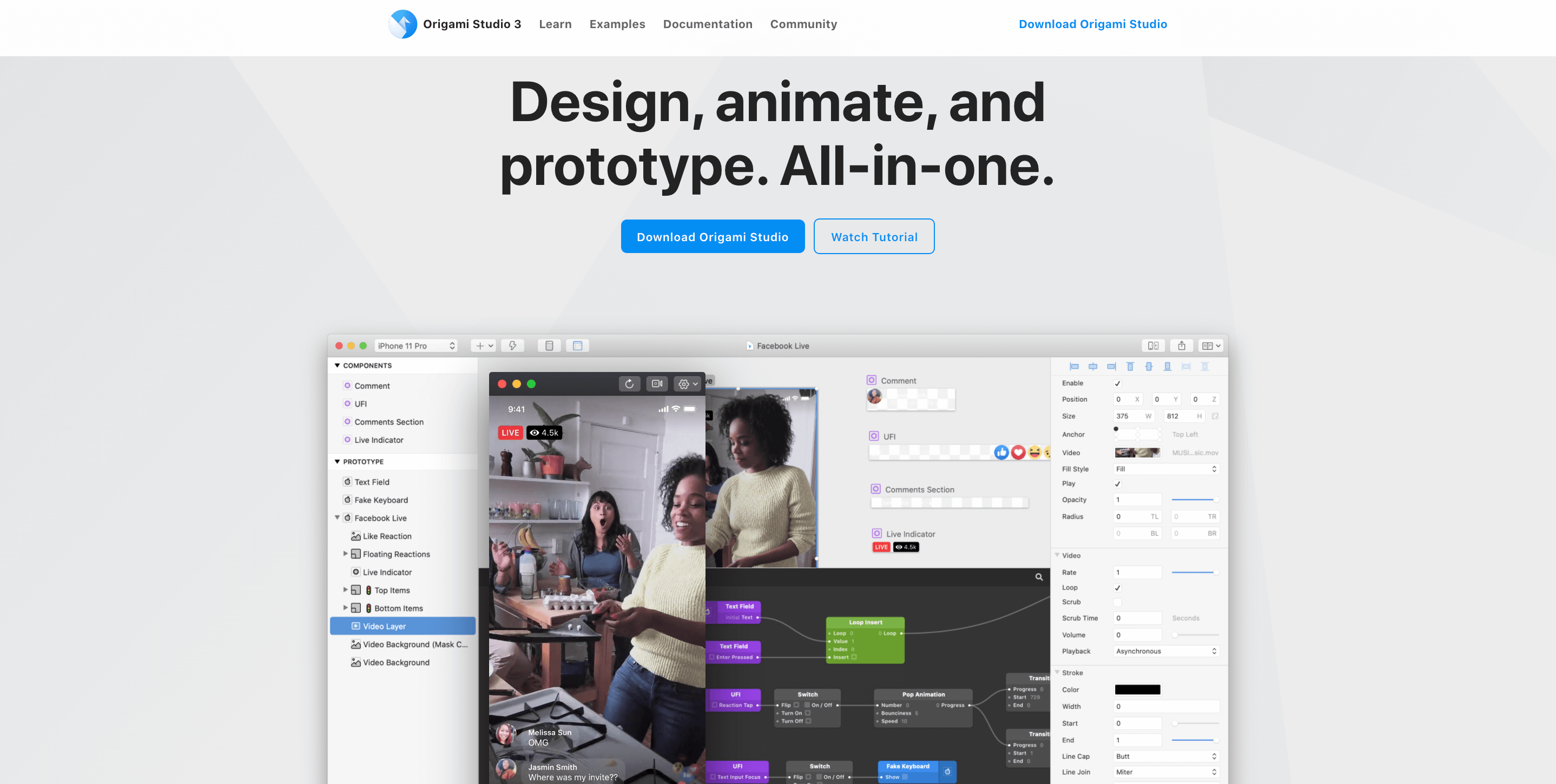 This free mobile app design tool created by Meta is widely used to design products that the famous social network launches. With Origami Studio, you can do everything in one place: design, prototype, and animate.
Recently, Origami Studio 3 has been released. It offers a new canvas interface and a dynamic layout. Moreover, the tool enables designers to tap into native hardware APIs to enrich their prototypes with hardware-specific capabilities such as GPS and audio recording.
Platforms: macOS.
Pricing: Free.
Principle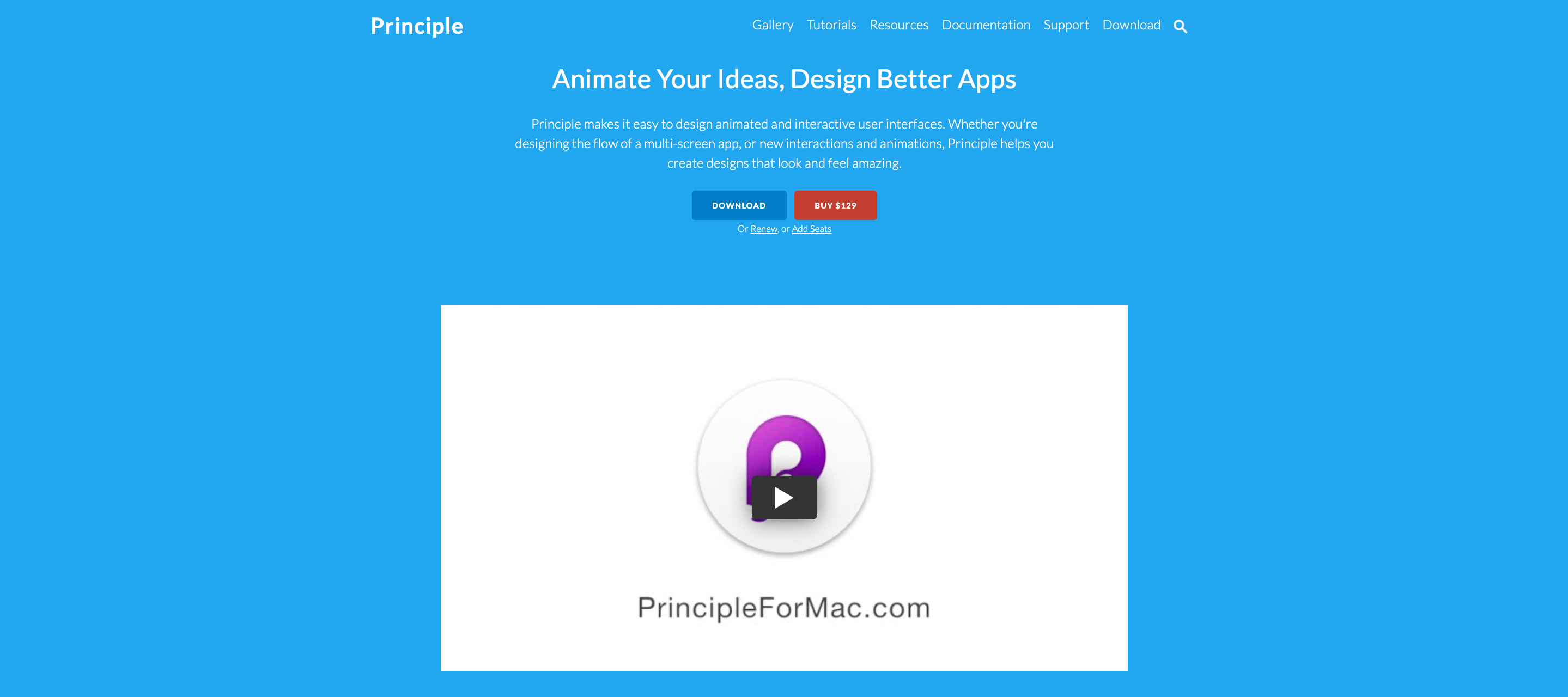 With Principle, you can easily create interactive UIs, which have been rapidly gaining popularity in recent years. What's more, you can create a 100% unique interaction, even for a multiple-screen app. If you prefer to use another app but want to add animation in Principle, you can easily import the files and start working.
The latest tool version, Principle 6, is now also available on the web, allowing design pros to create unique visuals for mobile, web, and desktop in an offline mode.
Platforms: macOS.
Pricing: License for $129 a year.
Free trial: 14 days.
Proto.io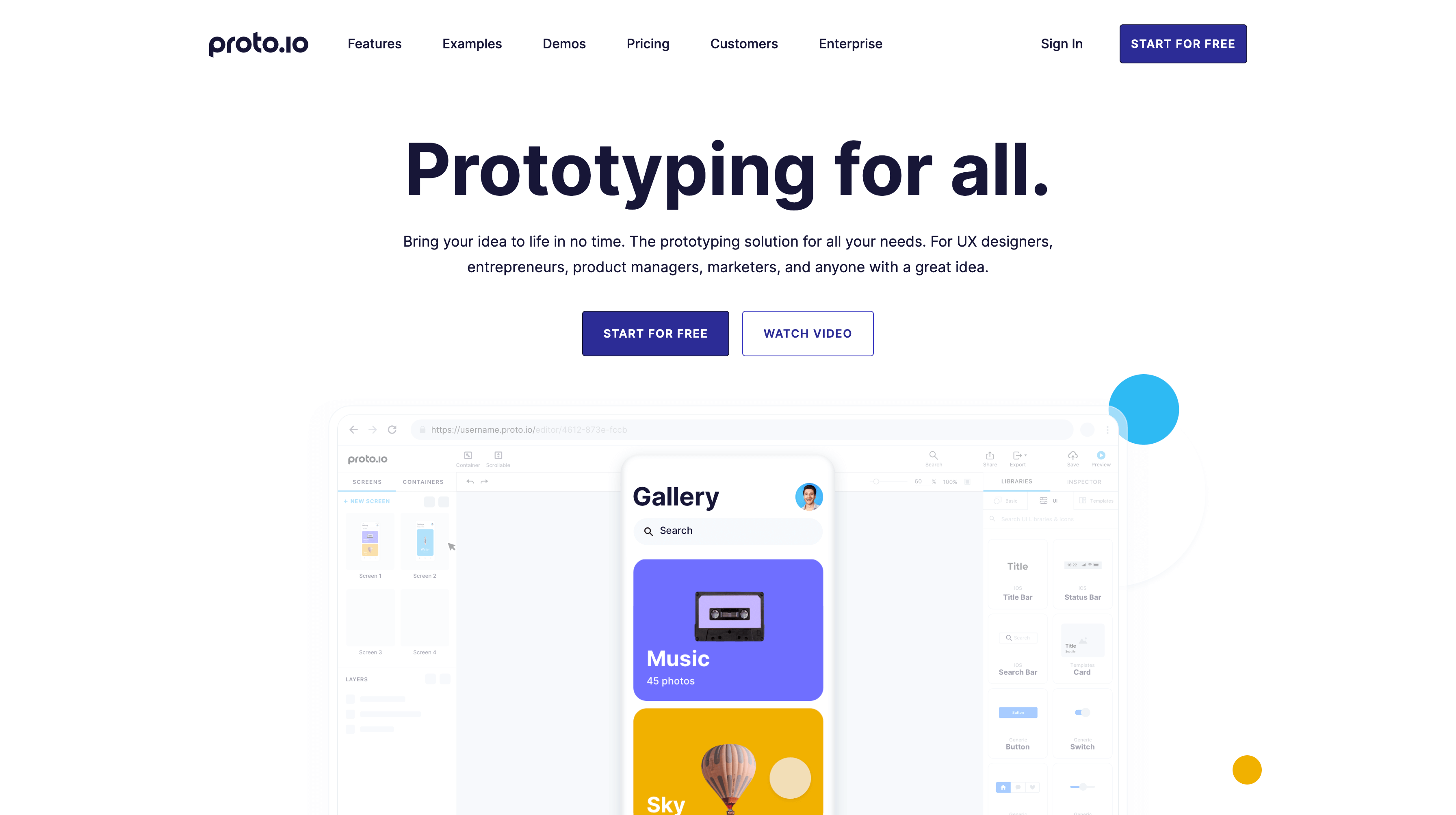 Proto.io is one of the best app prototyping tools the world has ever seen. First of all, no coding is required to create a prototype. Moreover, it's not limited to app prototypes only. You can design graphics for literally any gadget with a screen. In Proto.io 6.0 and later releases, the developers have rethought the UI of the platforms. Now, the core tools you work with are easy to access. Also, hundreds of customizable native UI items are available to users — from Material Design to Windows and more.
Platforms: Web.
Pricing: Plans start at $24/month.
Free trial: 15 days.
SF Symbols
SF Symbols is a useful tool crafted by Apple that provides designers with symbols to implement in various mobile apps. Currently, there are more than 4,400 highly configurable symbols. Apple constantly ships new updates to this iconography library, including localized symbol versions, variable colors, and more. The latest version, SF Symbols 4, features over 1,000 new symbols.
Platforms: macOS.
Pricing: Free.
Sketch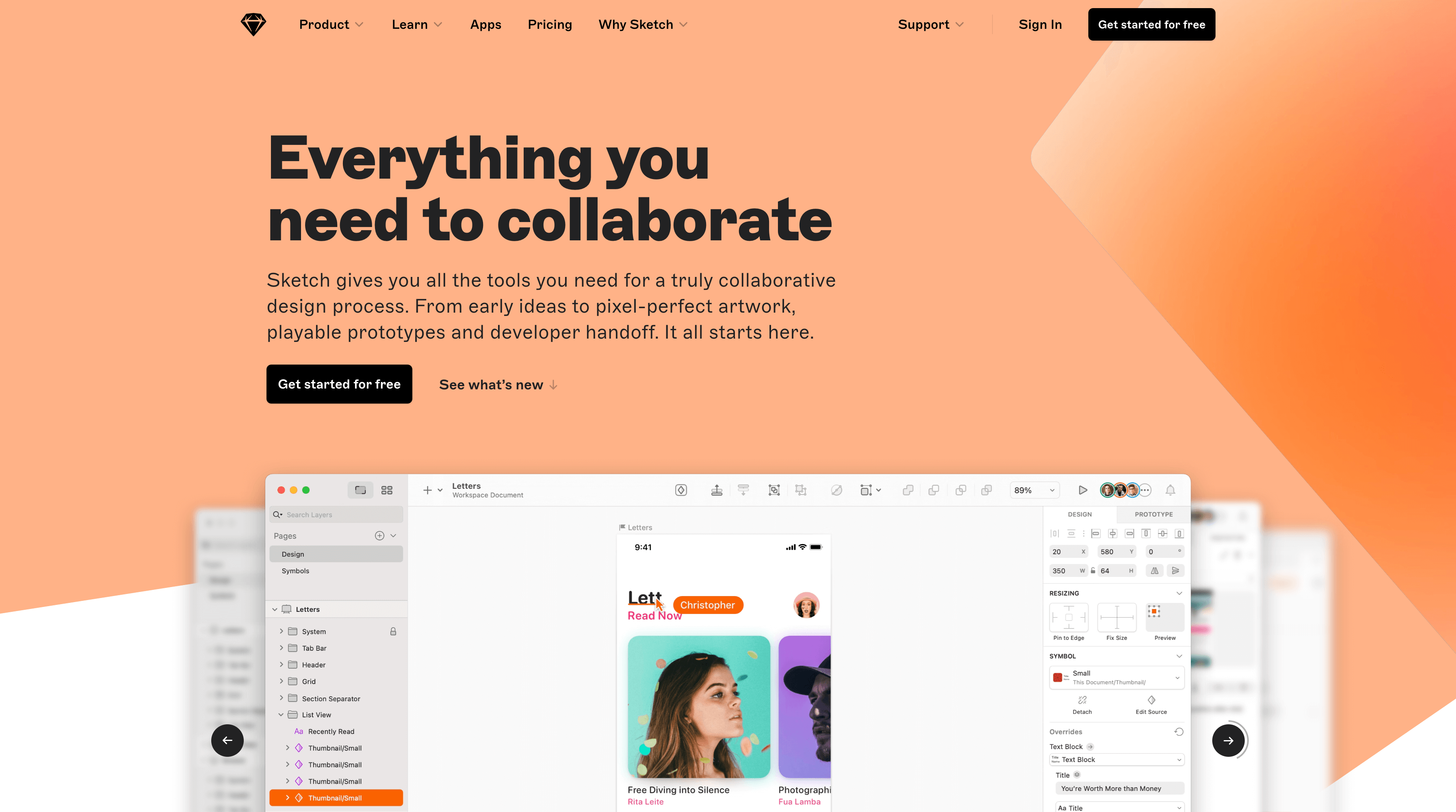 More than a million designers choose Sketch as their loyal companion in mobile app design. Sketch aims to engage a new generation of designers and offers discounts to academic institutions and students.
You can add animation and data to designs; all this is pretty easy as one of the tool's key features is simplicity. It also supports shared libraries, which allow for collaborative work.
Sketch has recently debuted its new prototyping feature, Overlay, which assists designers in creating rich and interactive experiences in all shapes and sizes.
Platforms: Web, macOS, iOS.
Pricing: Plans start at $9 per user/month.
Free trial: 30 days.
UXPin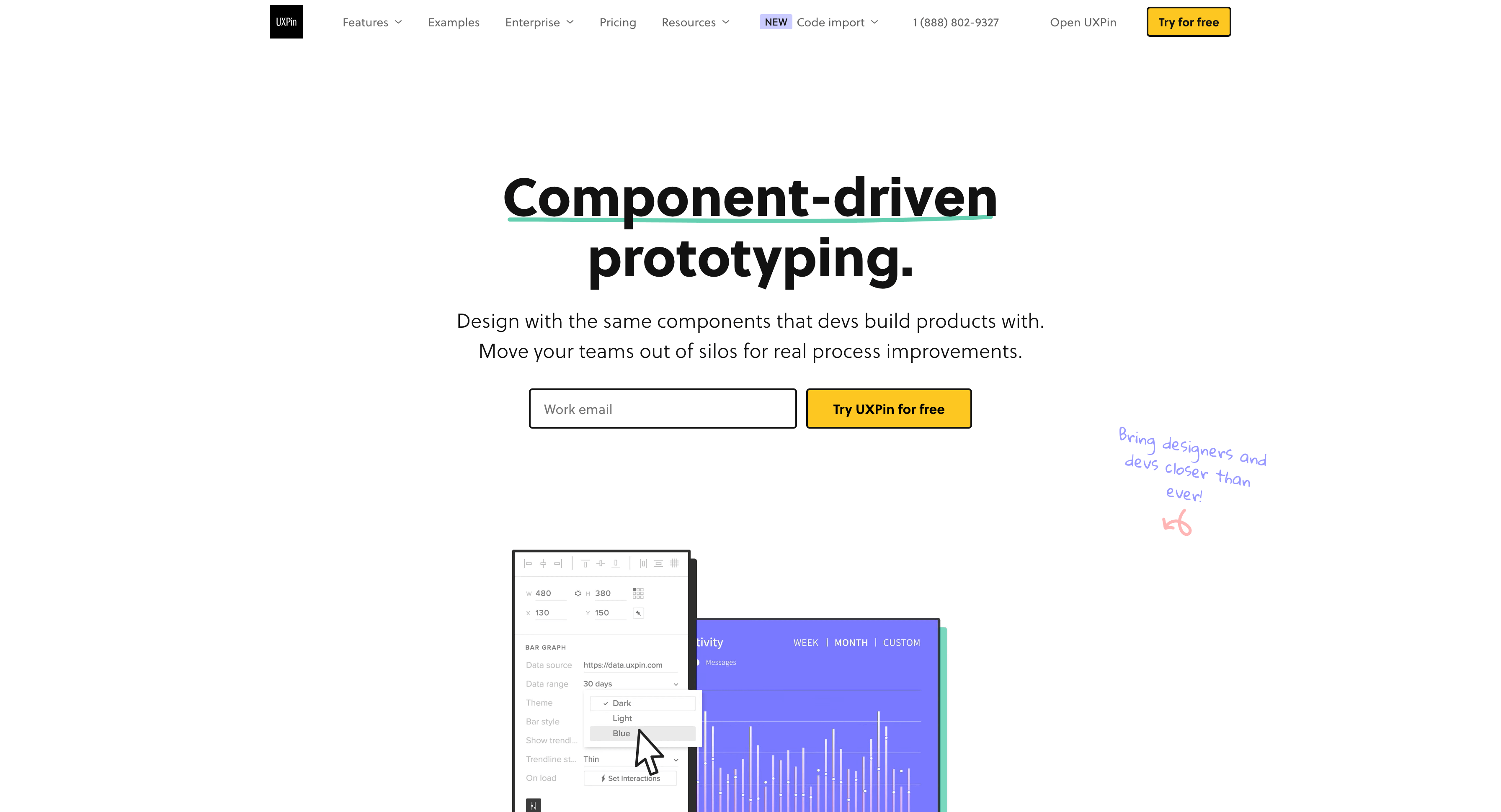 This mobile app prototyping tool saves a lot of time on repetitive moves by allowing you to update all components at once. Nonetheless, each one can also be edited separately. With this tool, interactive mobile app prototypes and wireframes are no longer hard to create.
Among the latest upgrades, UXPin has adopted Merge. This feature is designed to solve the DesignOps challenges of creating React components. Also, Git integration now helps create a unified vision in the team and facilitates the development process.
Platforms: Web, macOS, Windows, iOS, Android.
Pricing: Plans start at $29 per editor/month.
Free trial: 14 days.
Zeplin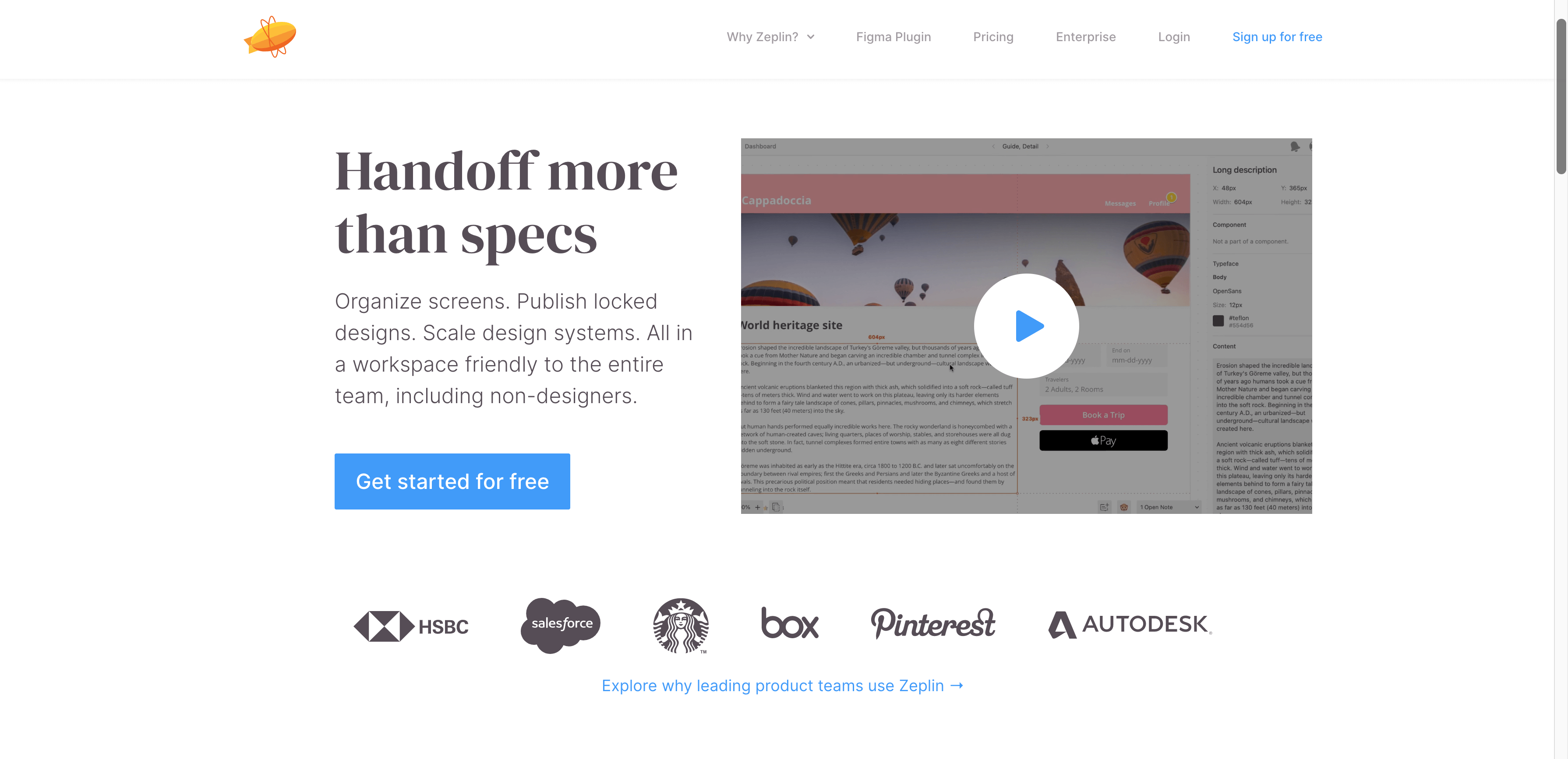 The ultimate distinctive feature of Zeplin is that it facilitates collaboration between engineers and designers. This key idea lies at the core of all the features. To begin with, designers can easily upload their work from other tools.
Zeplin also makes engineers' lives easier by creating guidelines and specs based on the UI, which allows easy generation of code snippets. The latest updates have contributed to more collaborative workflows within the tool and higher workplace flexibility.
Platforms: Web, macOS, Windows.
Pricing: Free. Paid plans start at $8 per seat/month.
Conclusion
There is no need to limit your choice to a single mobile app design tool. You can reap the benefits of the best features of several tools. After all, success is a cumulative notion that highly depends on synergy. In UI/UX design, it is about the synergy of talent and powerful design tools.