In a world where applications have become a part of daily routine, one aspect remains unsolved: making a profit with them. Building a paid app may seem like the most obvious solution; however, this solution isn't as viable as it may seem when considering that almost 97% of apps in Google Play and 94% of apps in Apple's App Store are free. So, do all these free app developers work for free, or are they making money with their free apps?
Of course, they're making money, and more importantly, their revenue increases every year. In 2021, total app spending is projected to rise by nearly 20% and hit $133 billion. While the figures don't indicate how much money free apps make on average, it is evident that they do make money. In this article, we will elaborate on key monetization strategies for free apps and share a guide on choosing the best one.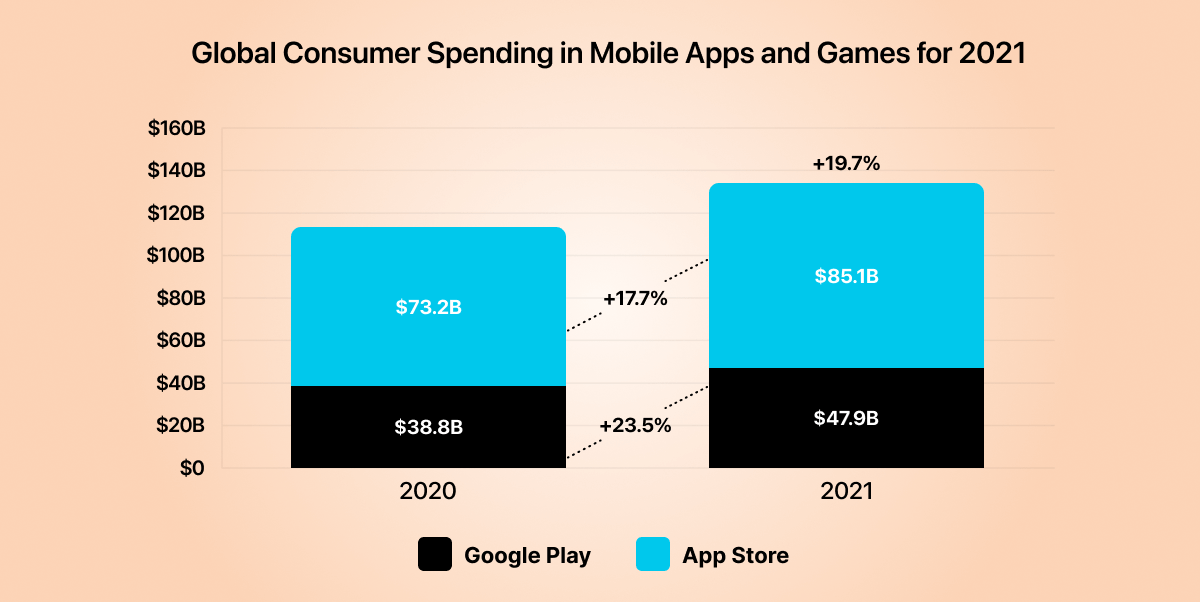 9 Ways to Make Money with Free Apps
There are many monetization strategies that allow free apps to generate revenue. Here are the nine most popular ones:
1. Advertising
In-app advertising is a primary source of app revenue, driven by increased smartphone penetration and engagement, especially in mature markets. In 2020, when the COVID-19 pandemic boosted digital demand, gadgets and mobile ads rose.
For example, global ad spending was $190 billion in 2019, and App Annie experts believe this figure reached $240 billion in 2020. As for 2021, global ad spending is expected to grow at a CAGR of 21% and surpass $290 billion.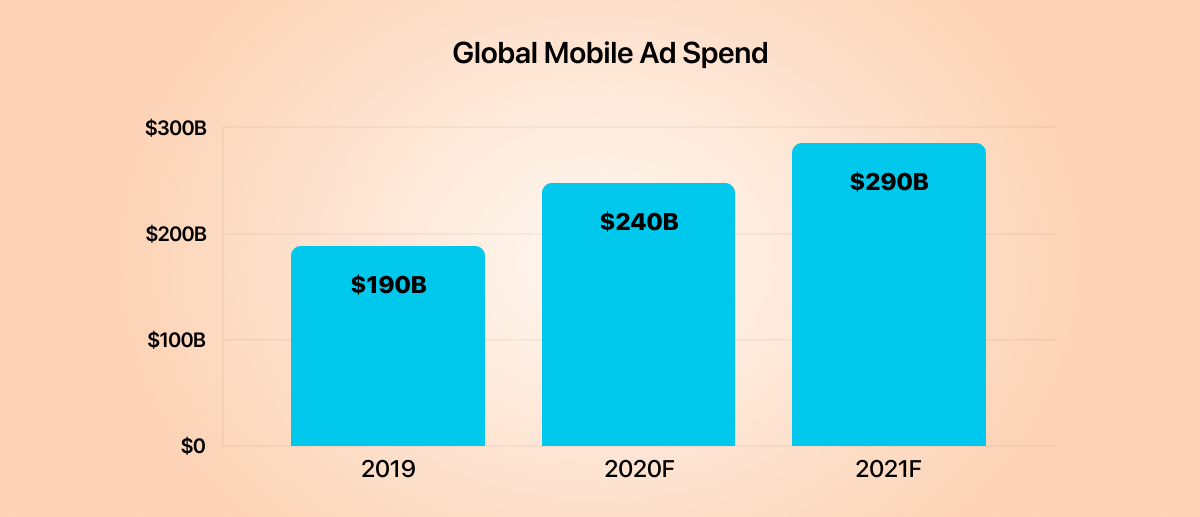 In-app advertisement has already become a distinct niche with several choices for marketers. Today, there are six main types of ads to choose from:
Static Banner Ads
These ads are placed at the top or bottom of the mobile screen. Although this is the most popular type of ad, mobile banners are easily ignored; their average click-through rate (CTR) is lower than other ad types. According to the Fat Finger Report, their CTR is 2%, while for rich media ads, it's 4%. Nonetheless, static banners can reach very targeted audiences and are low-cost.
Rich Media Ads
These ads' primary purpose is to engage users rather than solely to appear in front of them. Typically, this ad type engages a customer with a video, audio, or other type of content to unveil the ad's full message and gain more attention.
Interstitial Ads
These static full-screen ads appear during natural breaks in the app experience. Users can close these ads using an exit button at the upper left or right corner of the screen. This, however, is a pain point as some users may get irritated.
Video Ads
These ads appear during natural pauses of app usage and last 10-30 seconds. Video ads format has the highest CTR of all formats. However, on-screen text is vital with this ad approach, as many users turn their sound off.
Offer Wall or Incentivized Ads
These ads focus on exchanging users' time or engagement for bonuses. The ads encourage consumers to take action – like watching a video or completing a survey – in order to get a reward – like a respawn in their game.
Native Ads
These are advertisements that are integrated into the app layout, pretending to be the content that users are already consuming. They are almost indistinguishable and, therefore, show a high level of engagement.

Ad types
While you can stumble upon any of the mentioned mobile ad types, in 2020, the most used ads types in the US were video and interstitial ads.
Millions of apps, from giants like Facebook or LinkedIn to productivity and sports apps, use ads to generate income, which comes from clicks on advertisements, installs, and purchases. Some even get paid even for displaying ads in their apps.
2. Referral Marketing
Referral marketing can be considered as another type of in-app ad. The main principle here is that you share information about an affiliate product or service in your application and get paid for clicks, views, impressions, or downloads.
Here, you need to focus on attracting marketers interested in your audience to drive value. Moreover, the more engaged your users are, the more money you can make on your free apps.
If you don't want to look for affiliates yourself, you can turn to affiliate networks like AdMob or InMobi that will do the job. The following campaigns feature several ways of making income:
CPM (cost per mille). Here, payment is based on the number of impressions. The advertiser is usually charged for every 1,000 impressions.
CPC (cost per click). With this campaign, you receive payment when app users click on display ads.
CPV (cost per view). With CPV, payment is based on the number of video views or other ad interactions.
CPI (cost per install). Using CPI means that you will receive a payment every time the promoted app is installed via the ad shown in your application.
A prominent example of referral marketing is Amazon, which promotes various products. On Amazon's app, users can find various ads featuring other sellers' goods.
You can also encourage your audience to buy from Amazon by sharing advertisements. This e-commerce giant will pay you for every redirected purchase.
3. In-App Purchases
In-app purchases are among the top monetization strategies. According to Sensor Tower, global consumer in-app spending increased 30% YoY (year-over-year) in 2020 when compared to 2019. In-app purchases among the top non-game apps reached a median price of $5.99 in 2020, 1.5 times the median of $3.99 in 2017, showing that users are getting ready to pay more for premium content.
In-app purchases can be divided into two categories:
Consumable. These are items that can be purchased multiple times. It could be used up during the life of the application. Examples are in-game currency and extras.
Non-consumable. These are features used permanently like ad-blocking or new game levels.
Typically, single features or consumables boost the user experience at a low price; that's why the payment doesn't seem significant for a user who is eager to spend a couple of dollars to enjoy their time spent in the app even more. For example, a popular game, Two Dots, grants a gamer a power-up and extra five moves only for $0.99.
When using in-app purchases, app developers aren't responsible for managing their app's transactions; it's the app store's responsibility. The developers have to embed all the necessary functionality, think through marketing, and enjoy the money from each in-app purchase. However, a known disadvantage of this model is the high commission fee taken by app stores.
4. Subscriptions
A subscription is a way for a user to expand the functionality of the app or gain a new level of desired access for a specific period of time. This type of monetization is used by different app types, from productivity and graphic editors to cloud services and digital news providers.
Typically, with subscriptions, a user is first enticed by a free trial or limited functionality. For example, in a famous photo editor app, Lightroom, you can apply filters on your photos and see previews of premium tools' effects. To use them, however, users have to buy a subscription.
Developers often provide several subscription plans that differ in terms of:
Duration. Commonly, monthly, quarterly, or yearly subscriptions are offered. Here, the longer the subscription time is, the cheaper it is.
Features. Using this model, the package names will vary from app to app. Common names that you may see include: basic/advanced, personal/corporate, or bronze/silver/gold. However, while the names vary, they all have a structure where the cheapest plan offers basic functionality or access that expands when the user upgrades to a more expensive plan.
5. Sponsorship
If you find a company with a similar audience and a sufficient marketing budget, you can establish a mutually beneficial partnership. It will sponsor your app while you will promote its goods or services.
Promotions come in various forms, including in-app advertisement, content distribution, and branding the app design to the sponsor's brand. The main point of any promotion is to spread the word about the sponsor so that your users start using the promoted brand.
For example, PlayerUnknown's Battlegrounds (PUBG), a popular battle royal game, partnered with Tesla to add thematic locations and electric vehicles into the game.
In terms of generated revenue, it can be gained in several ways. You can either split the revenue with the sponsor or set a monthly sponsorship fee.
6. Crowdfunding
If you don't want to have users make payments or can't gather a sufficient audience to promote advertisements, crowdfunding is another solution to help generate money for app development. With crowdfunding, you can either find support on popular crowdfunding platforms like Indiegogo, Kickstarter, Fundable and GoFundMe or try to find funding among friends, relatives, or on social media.
Related: Complete Guide on How to Start a Mobile App Business
Although it's not an easy way to get millions and the majority of ideas find little to no support, you can still get lucky. For instance, the game Near-Mage collected five times their requested amount. The project's crowdfunding campaign aimed to earn $29,000 and has already received more than $141,000 from backers as of December 2021, and the amount pledged is still growing.
7. Email Marketing
This is an older strategy where you collect user emails and send corresponding marketing materials to raise the subscribers' interest in a product or a service. Email marketing strategy is suitable for those app developers who managed to build a rapport with their audience.
There are several ways to build an email list. The two most powerful ones are pop-up forms asking for an email and Facebook SDK for users to sign up where it collects email.
To encourage users to share their contact information, you may want to offer a gift in exchange for their email. Don't forget to adhere to the GDPR requirements and ask your users' permission to use personal data, as many users are protective of their email addresses, personal information, and privacy.
Those that manage to accomplish this task can start sending emails that provoke interest and make users want to read a full piece of content or purchase specific products.
8. App Merchandise
Although the digital world is dominating today, we all live in a physical one. That's why selling products and branded merchandise is always a good idea. To earn a profit, however, you need to increase your brand awareness and get a lot of brand ambassadors to tell the world about their love for your app.
One of the top app categories to implement a merchandize strategy is games. Players who can't stop admiring the adventure will eagerly spend money on branded t-shirts, stickers, cups, and other merch. For example, multiplayer online battle arena (MOBA) games like PUBG and DOTA sell their gear, while casual puzzle games like Angry Birds sell plush versions of their characters.
9. Transaction Fees
How do you make money from free apps if you don't have ads and don't sell merch, services, or features? Suppose you process online transactions by allowing users to buy products or even exchange money. Adding a couple of cents to the total sum won't hurt the consumer, but for you, it can become a way to make a fortune.
Such a non-obvious monetization strategy is a possible way to earn a living without excessive investments. Just make sure your fee is insignificant and you have at least several thousand users. Then, you can start making money without significant investments. This is how many FinTech apps work.
Free Apps that Make Money
Mobile games account for the majority of user spending, representing 60% of iOS revenue and 80% of revenue on Google Play. In 2021, mobile game spending has grown to reach $89.6 billion across both app stores, representing a near 13% rise since 2020.
While games are clearly on the rise, it doesn't mean that other types of applications don't have a chance to succeed financially. Let's take a look at 2021's three top-grossing non-game apps worldwide:
1. TikTok
In November 2021, the application passed $3 billion in lifetime revenue. By the end of 2021, TikTok is projected to see $2.3 billion in spending, bringing its lifetime total to $3.8 billion. This is primarily because of its combined use of in-app purchases and ads.
2. YouTube
YouTube has surpassed $3 billion in consumer spending worldwide in October 2021 from just their iOS revenue. The app gets revenue through video ads, various paid membership channels, and premium subscriptions that allow for uninterrupted viewing.
3. Piccoma
Launched in 2016, this webtoon app that is focused on original Korean comics has achieved great success by surpassing the $1 billion in consumer spending in October 2021. This is especially impressive since all of its revenue came from Japanese users.
Piccoma offers a "Wait, It's Free" model that allows users to read one story for free per day and "story sales," in which each story is sold separately rather than by the whole volume.
Related: What Types of Apps Make The Most Money
Finding the Best Monetization Strategy for Your Free App
Since we already know that free apps make money, let's explore how to choose the most profitable monetization strategy. Here are four pieces of advice from Orangesoft's consultants:
Analyze the Core Values of Your App
Think about the main idea and concept of your app and tie it with monetization strategies. Which one matches your values? Which one will find users' support? Which one will fit the features? For example, if you have rich functionality, consider using in-app purchases or subscription models. For those who aim for a large audience, advertisement is a good choice.
Assess Your Resources
Some monetization strategies require additional development. For example, some in-app purchases can't be implemented without building extra features. Therefore, this option might not be right for your app if you don't have a budget for additional development.
Study Your Users
Before deciding on an income-generating plan, you need to know the spending habits of your customers. What are they eager to buy? How much can they pay? Are there going to be "whales" that drive larger-than-average revenue? If so, how do you increase the share? Analyze your audience by categorizing them by sex, age, region, and preferences to develop custom offers for each segment.
Watch Your Competitors
It helps to learn from other developers' mistakes and make a better value proposition. Check out what the competitors offer, how they adapt, what changes they introduce, and how their changes affect their revenue.
Related: How Much Money Can You Earn With an App?
Still need some help to decide what monetization strategy can deliver the most profit for your app? Let us help you.
Our team can assist you throughout the whole development process using our vast experience in the app business. Don't dive into the ocean of mobile applications alone. Take an advisor from Orangesoft with you!