The pandemic has broken down the stigma around outsourcing. As companies accelerate digital adoption to ensure effective crisis response and business continuity, the IT outsourcing market has stepped in to meet the increased demand. As a result, the market for outsourced technology is projected to rise from over $526 billion in 2021 to over $682 billion by 2027.
A dedicated development team is one of the main outsourcing models that increases your potential with third-party talent and reduces overall costs, including hiring, administrative, and operational expenses. But is it the right fit for your outsourcing project? Let's find out.
What Is a Dedicated Team Model?
A dedicated development team model is an outsourcing collaboration option that covers the full-cycle development process of a long-term project. Within this model, a hired outsourcing team is entirely focused on planning, developing, and deploying your solution according to the project's business needs and requirements.
By hiring a full-time dedicated development team, you get a team of hand-picked professionals filling each project role needed for turnkey development. The team is allocated exclusively to your project, yet works from the service provider's office.
Specifically, the dedicated development team model is suitable for delivering large, long-term projects with evolving requirements. The model also allows for scope changes and flexible resource allocation.
Companies tend to make dedicated hires when they need additional talent to launch new projects or perform tech tasks where they lack experience. Running long-term projects with updates also matches the dedicated hiring model.
Although dedicated development resembles in-house hiring, you don't have to take over hiring, payrolls, and other administrative burdens. In this case, an outsourcing vendor does all the heavy lifting while you can focus on mission-critical business tasks.
The core differentiator of the dedicated team model is the team's level of concentration. With this model, the team focuses solely on your project development, accelerating development speed and enhancing the quality of deliverables.
Further, you don't have to worry about the staff being stretched to the limit or understaffing. In this case, your team is advancing towards pre-defined objectives.
Dedicated Development Team vs. In-House Model
Dedicated software development is one of the most popular engagement options. This outsourcing model means a company farms out its IT initiatives to third-party vendors.
An in-house hiring model is the opposite of dedicated hiring and refers to the recruitment option where a company hires an employee or a team on site. Internal hiring presupposes that a company takes over the whole employee lifecycle from hiring to up-skilling.
Using the in-house model, a company hires an employee on its payroll and also covers indirect costs like recruitment, benefits, hardware, and office rent. Additionally, the company may need to recruit HRs and CTOs to effectively screen and shortlist candidates. Further, an employer will need to define the exact skills required depending on the project.
Among the core advantages of in-house hiring is complete control over the project and team. An on-site team shares your vision, business goals, and company culture. Also, a team located in your corporate setting is easier to manage and share updates.
But due to the hiring and administrative complexities, in-house hiring is justified only for long-term projects. High overhead costs, talent gaps, and recruitment and scalability challenges plague in-house hiring and force companies to search for other options.
Unlike in-house hiring, the dedicated team approach ushers more flexibility and minimizes costs. A vendor takes care of all hiring, administrative, and staff training costs, while you pay only for the resources spent on building your solution.
In addition, you can ramp your team up or down on demand without extra paperwork. Talent gaps are also eliminated when using a dedicated team since third-party vendors have access to a vast talent pool. Simply, you can access what you need and when you need it without excess administrative concerns and costs.
When Should You Hire a Dedicated Software Development Team?
The dedicated team model is not a perfect fit for all projects. However, this model goes well with long-term initiatives that require a lot of shaping and collective effort from both the development team and stakeholders. Having dedicated software development teams proves effective in the following cases: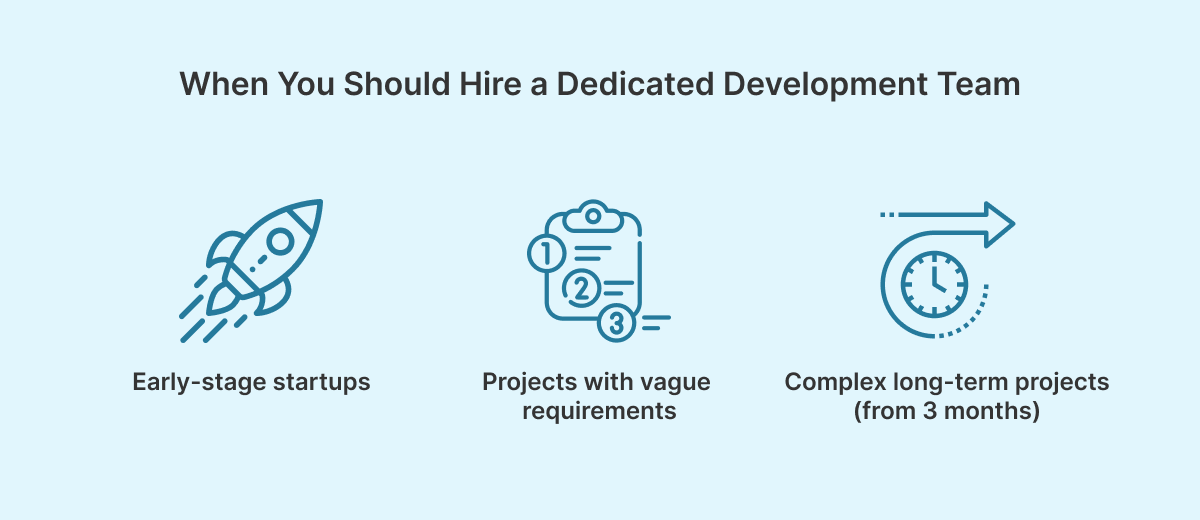 Early-stage startups
Dedicated development benefits emerging businesses that need a head start in their niche. A dedicated development team can transform a business idea into an invented product ready for the market and take over the entire software development process.
The discovery stage, MVP development and other development stages fall on the dedicated software development team, while startup owners can focus on fundraising, marketing, and other business processes. Also, hiring a dedicated development team helps startups secure a smooth-running team, minimize hiring costs, and roll out the product faster.
Projects with vague requirements
A lack of direction and vague project requirements are among the most common reasons a software development project fails. Dedicated development teams help deal with unclear requirements since they take over your project from ideation to delivery.
A dedicated software development team can cover the discovery stage, which includes thorough market research, audience and competitor analysis, and other deliverables that lead to accurate project requirements.
Long-term projects
The dedicated team model is also suitable for projects with no general concept or final vision that can expand into something different in the future. Since the development team manages the project throughout its whole lifecycle, it will be easier and quicker to change the vectors of the development. Deep project expertise also helps the dedicated team to introduce tactical shifts with little disruption to the application's infrastructure.
Advantages of the Dedicated Team Model
Like any engagement option, a dedicated development team brings both pros and cons to the table based on your priorities. So let's see the advantages of the dedicated team model first: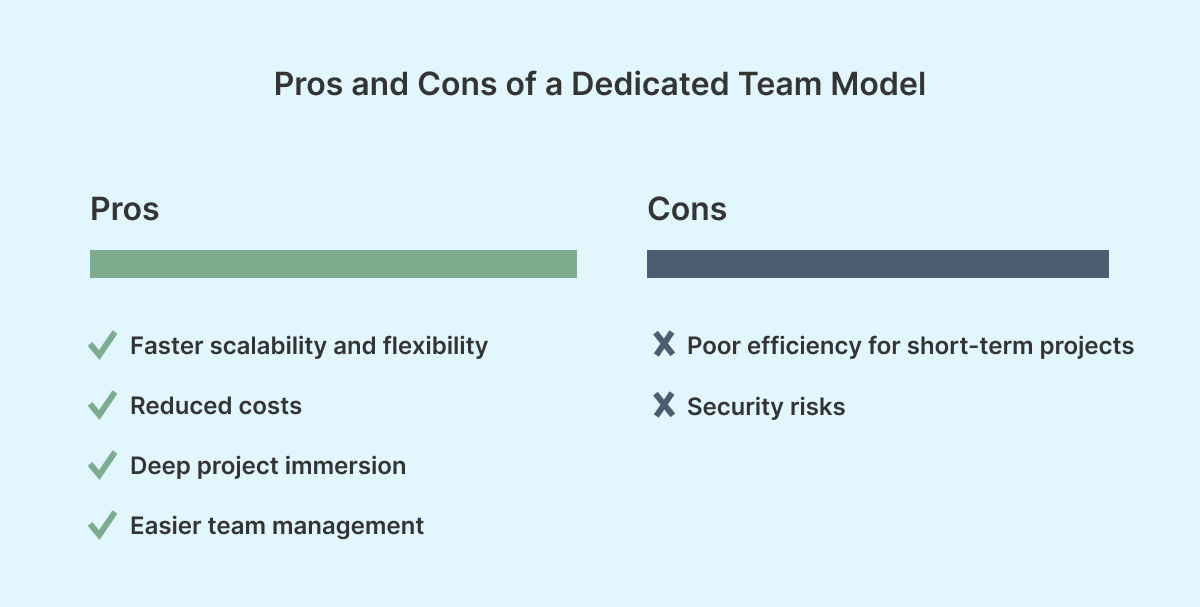 Faster scalability and flexibility
According to SHRM, it may take companies up to 45 days to fill a position. At the same time, over 30% of empty roles stay unfilled. As the talent shortage continues to dampen the tech hiring market, the prospects of finding the right candidate remain low.
Hiring a dedicated software development team increases the odds of landing experienced hires faster and with fewer hiring costs. Moreover, a dedicated development team comes as a cohesive pod, covering all the job roles you need for developing a digital product.
Reduced costs
According to Deloitte, outsourcing is a well-known cost reduction method for at least 88% of businesses. In addition, hiring a dedicated development team allows companies to control costs and eliminate major expenditure items.
Thus, you can pay for services as you go and avoid making costly investments in infrastructure, software, and office settings. Moreover, you eliminated hiring costs, which on average amount to $4,425 per hire. If you hire a dedicated development team in one of the offshore outsourcing destinations, you can also reduce costs due to lower developer rates.
Deep project immersion
Unlike developers who jump in and out of different projects, dedicated development teams have little turnover; all dedicated team members stick with the project until its completion. As a result, dedicated teams have more expertise and know the ins and outs of your application.
Easier team management
Within the model, team members are managed by the outsourcing company or project manager assigned to the project. This means that dedicated teams operate independently with no close supervision from your side.
At the same time, you always stay updated about the progress thanks to a regular rhythm of updates, meet-ups, and feature presentations. Moreover, as the client, you control the level of engagement you want – from minimal involvement to close participation.
Disadvantages of the Dedicated Team Model
Dedicated hiring comes with cons, as well. Below, we've listed the top two disadvantages that can be eliminated or minimized with the right approach:
Poor efficiency for short-term projects
As we mentioned earlier, the model isn't suitable for individual tasks or projects with a short duration. In this case, we recommend opting for the time and material (T&M) model since the T&M model allows you to only pay for completed work.
Security risks
Each outsourcing mode inherently introduces higher security risks compared to in-house hiring. To avoid breaches, your vendor should have robust security practices, including data security certifications like ISO 9001, ISO 27001, PCI compliance, and others. Moreover, your vendor should have sound privacy and intellectual property policy documented in the contract.
How to Hire a Dedicated Development Team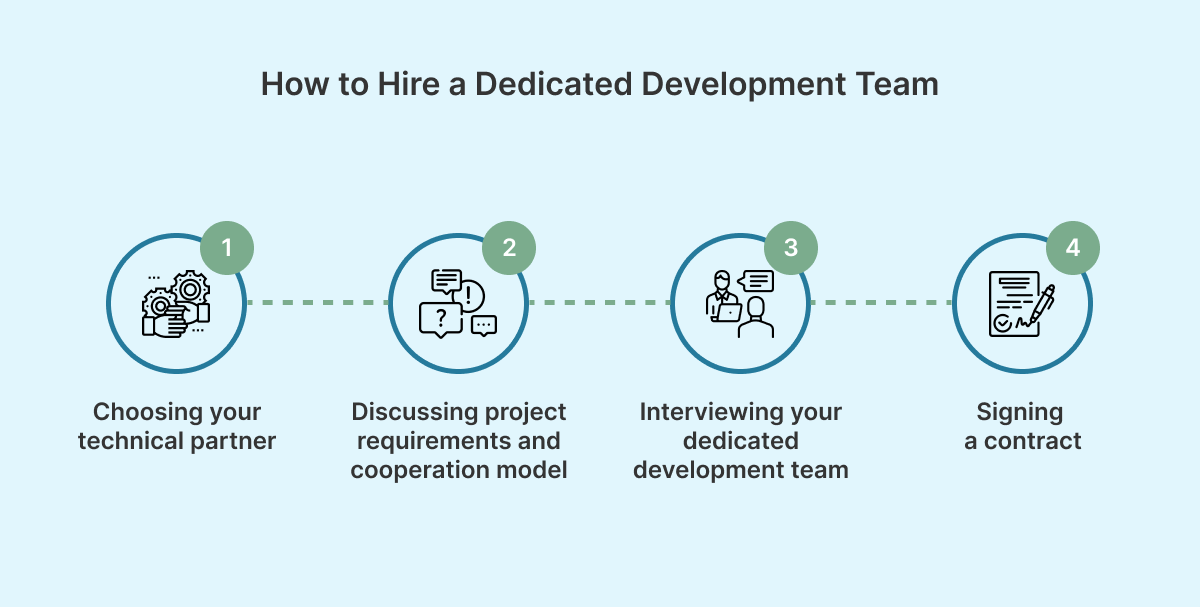 Hiring a dedicated team takes preparation, planning, and careful vendor selection. Below, you'll find key milestones of the hiring process, including:
Choosing your technical partner
The right technology vendor offers more than a solution and a team to build it. A mature provider offers a fruitful partnership where your dedicated development team is a natural extension of your in-house resources. Here's how you can secure this partnership.
Researching
Market research is the first step toward successful collaboration. Ratings, leader matrix, and review platforms like Clutch and Glassdoor are the leading destinations for finding your vendor.
Look for companies that have mobile app development as their flagship offering. Specifically, Clutch has a breakdown by industry focus, which allows you to choose a company with the right domain expertise.
Shortlisting and evaluating the candidates
Now that a few companies have caught your attention, it's time to pick the finalists. Decide on a few vendors and have a closer look at the companies. Scour the internet for reviews, testimonials, and previous projects.
Remember, a reputable company has all its essential information on its website; here, a diverse portfolio, testimonials, company bio, contacts, and additional information help you fully understand the company's experience and approaches. Ideally, your vendor's portfolio should click with your project or domain.
Related: 11 Tips on How to Choose the Best App Development Company
Discussing project requirements and cooperation model
The next step is contacting the chosen vendor to get a bid on your project and find out more about the collaboration terms. However, before disclosing your business idea, ensure the vendor signs a mutual non-disclosure agreement (NDA). The document safeguards your confidential data so that no sensitive information is leaked.
Interviewing your dedicated development team
Typically, a video call is the first point of contact between you and the vendor. During the first meeting, you share your business idea, project requirements, and candidate expectations. If the first meeting leaves a positive impression, you can move on to the interviewing stage.
Interviews are the best way to evaluate the skills of your dedicated team members. During the interview, you can validate the hard and soft skills of dedicated developers by asking a pre-planned list of interview questions. You can also invite a tech expert to the interview if you want to drill down into the tech expertise of your candidates.
Signing a contract
The final stage of the selection process is sealing the deal with a solid vendor agreement. The contract should list the scope of the services, contract length and duration, vendor's compensation, and other essential details. Usually, a contract is renewable and allows you to continue the collaboration for a longer period of time.
What Is the Typical Structure of a Dedicated Development Team?
The composition of a dedicated development team varies based on your project needs. However, all dedicated projects allow you to access talent with multiple skills that cover all of the project's stages. Below, you'll find the roles usually included in a ready-to-go dedicated team structure
| Role | Description |
| --- | --- |
| Business analyst | Performs deep analysis of your business domain, gathers solution requirements, and aligns them with your business needs. |
| Product manager | Responsible for shaping a product vision and creating an actionable strategy to turn this vision into product requirements. |
| Project manager | Leads your dedicated team and sets the project roadmap according to the time and budget constraints. Also acts as a mediator between you and the hired team. |
| UX/UI designer | Analyzes user needs and creates interactive interfaces that appropriately represent both the technical and business requirements of the platform. |
| Tech lead | Supervises a team of developers, validates the technical architecture, and defines the tech stack of your application. |
| Backend developer | Builds and maintains the technology needed for data storage, security, and other server-side functions. |
| Frontend developer | Converts designs of UX/UI developers into a graphical interface to let users interact with the product. |
| Mobile developer | Specializes in creating mobile solutions for Android and/or iOS platforms. |
| Quality assurance (QA) engineer | Checks the application for bugs and ensures that your application meets pre-defined quality standards and requirements. |
Keep in mind that this is not an exhaustive list of talents you may need for your project. Solution architects, DevOps engineers, and other specialists are hired individually based on your project requirements.
Dedicated Development Team: Top Hiring Mistakes
Building a remote development team is no easy feat. Let's review the common pitfalls of dedicated hiring and how you can avoid them.
Overestimated team qualification
An expertise match with the project is essential to deliver a high-quality product. On the contrary, a lack of hands-on experience, narrow skill sets, or outdated technologies may lead to project failure and mediocre results.
Make sure to validate the qualifications of all team members through the prism of project requirements and business needs. Tech certifications, prior experience, and vetted competence are the main precursors of project success.
Poor workflow organization
Inconsistent workflow and lack of clarity are also common reasons for disrupted software development processes. An undefined scope of work, inaccurate estimates, and unfinished deliverables lead to wasted effort and depletion of financial resources.
Chaotic workflows are typically signs of a vendor's immaturity. To avoid this pitfall, ensure your vendor prioritizes full transparency on all project requirements and milestones. Additionally, the project documentation should include clear expectations for deliverables, timelines, and assigned roles.
Poor team communication and engagement
Regular and stable communication is often hammered home in outsourcing. On average, companies lose $62.4 million annually to inadequate communication with and between employees. Remote collaboration also adds to teamwork misalignment.
To avoid communication lags, you and the vendor should agree on a single point of contact, expected update frequency, and a preferred communication channel. It would help if you also chose a team with a high English proficiency level and a time zone overlap.
Poor finance management
The financial mismanagement of your outsourcing provider is directly tied to your budget concerns. Miscalculated estimates, cost overruns, and hidden expenditure items are all examples of mismanaged finances.
Cheap services usually hint at the financial illiteracy of your vendor. Therefore, choose dedicated software developers whose pay expectations match your widely expected standards, and don't settle for the lowest bid.
Team isolation
Finally, a remote dedicated team model can impact your collaboration integrity due to the lack of mutual understanding and project vision. To avoid poor collaboration, set up regular meetings with your team and re-visit your project roadmap.
Also, make the most of the overlapping communication and team alignment hours. At the same time, don't over-communicate to allow for enough autonomy in the collaboration.
Dedicated Software Development Team: How Much Does it Cost?
The pricing model for dedicated software development is quite straightforward. The team usually works remotely from their office on a standard full-time schedule. Each member of your dedicated unit charges a specific hourly rate multiplied by the number of hours logged.
Also, the vendor typically charges a compensation fee for administrative, overhead, and infrastructure expenses. Opting for dedicated development team services, companies shuffle off employee expenses, office rent, electricity, and other expenditure items inherent in the in-house team model.
Inviting an offshore dedicated team to the development process, you also tame your indirect spending in terms of hiring, time-to-market, and software quality.
With that said, the exact cost of hiring a dedicated development team depends on many factors. These include the project scope and complexity, team size, technology expertise, location, and other contributing factors.
You can choose between hourly rates or the fixed price model and get your project delivered within an optimal budget. At Orangesoft, we stay flexible to your budget needs and help you adapt the engagement model to your unique requirements.
Why Orangesoft Is a Good Choice When Hiring a Dedicated Development Team
Orangesoft is a mobile and web app development company that provides dedicated team services to businesses of all sizes. Our vetted specialists are solely allocated to scale your delivery capacity with domain expertise and technical excellence.
When hiring an Orangesoft dedicated team, you get:
A ready-to-go dedicated development team fully integrated with your business processes and company culture;
Proven domain expertise across various industries;
Scaling velocity and bespoke hiring;
Transparent and adaptive communication;
No hiring, training, and administrative expenses;
Shared project management on demand.
Your particular need for a dedicated development team depends on different factors. Contact us today! We will help you select dedicated software specialists or recommend another engagement option to fit your project's unique needs.