When was the last time you shopped via a smartphone? I bet that not too long ago. And you're not alone. Global customers tend to opt for a mobile shopping experience over a website more often than they used to a couple of years ago. According to Insider Intelligence, mCommerce sales are slated to hit over $534 billion, or 40.4% of eCommerce sales, in 2024. By the same token, an increasing number of online retailers consider a mobile shopping experience a necessity for growing their business.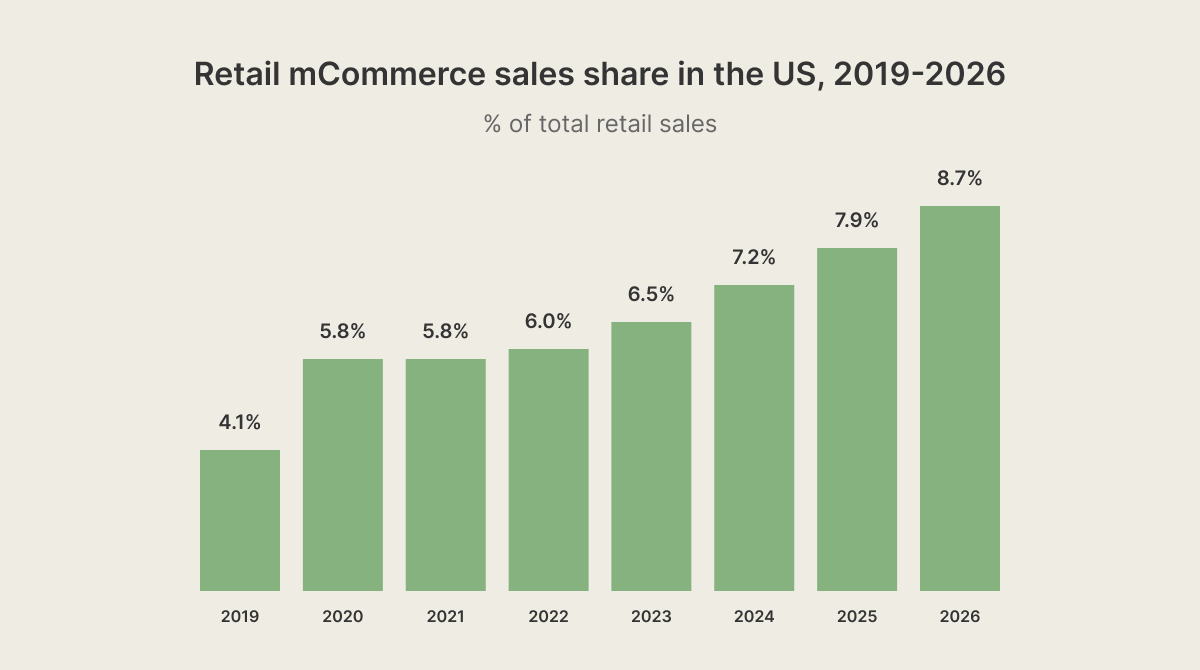 There are two ways you can reach mobile app users: either build a standalone mobile application for your e-commerce business or make your website mobile-friendly to get the best of two worlds within a single operating system.
Today, we'll address the debate between an e-commerce website and a mobile app and how to decide which one is a better investment for you.
Differences Between a Mobile Website and an App
According to StatCounter, the mobile share of global web traffic has peaked over the past decade. Today, over 51% of all web traffic comes from mobile phones. As a result, many retailers catch up with this trend by offering two mobile shopping experiences – mobile-friendly websites and mobile applications.
A mobile-friendly website is an adaptable website optimized for multiple devices. Whether it's a PC, smartphone, or tablet, the website provides the same experience. An adaptive mobile site allows the user to browse through the items without zooming in and doesn't include any additional steps needed to place an order than in the main version.
In simple words, mobile-friendly websites identify the screen resolutions and orientation of users' devices and adjust the layout accordingly to facilitate shopping. They are accessed via web browsers on a smartphone.
Mobile applications, on the contrary, don't use web browsers. These are standalone applications downloaded from app stores and installed on mobile devices. E-commerce native mobile solutions enable users to access the retailer quickly and can include extra features designed exclusively for mobile users.
Below, we added the main differences between mobile-friendly websites and e-commerce apps in the following table:
| | Mobile-friendly website | Mobile application |
| --- | --- | --- |
| Accessibility | Available on browsers | Available after being downloaded |
| Internet connection | Requires Internet connection | May be reachable offline |
| Functionality | Limited or the same as on the main website | Unique for mobile |
| Responsive design | Adaptive layouts for different devices | Platform-limited layout for mobile experience only |
| Push notifications | Not available | Available |
| App marketplace | Not available | Available on Google Play and/or App Store |
Along with the technical specs, both a mobile website and a mobile app deliver different pros and cons for retailers. So let's take a closer look at each of them.
E-commerce Mobile-First Website: Pros and Cons
Adaptable websites have become an industry standard for online presence, pushed for by Google in 2015. According to Google, mobile-friendly websites have three core differentiators that set them apart from mobile-avert online platforms:
Mobile-friendly websites yield convenience to customers through optimized user experience.
Web experience should be consistent and unified with the mobile experience.
Mobile websites have a responsive design with adjustable layouts for different devices.
Web development technologies are growing rapidly, allowing an online shop to be more attractive to potential customers and even making the website look like a native app.
Advantages of mobile-friendly websites
Next, let's dive into how mobile centricity benefits your e-commerce website:
Streamlined experience on web and mobile
Since mobile-friendly websites adapt to different screens, they cover your presence both on the web and mobile with one solution. Therefore, an adaptive online presence contributes to your omnichannel strategy by providing more channels for customer purchases without downloads or installs. In addition, a mobile website often ushers in a multi-device shopping experience, serving as an intermediary touch.
Broader reach
Adaptive e-commerce mobile websites also foster customer base growth by catering to both web and smartphone users. The same URL can easily be shared among users and search engines, thus boosting reach capacity more than a native application.
Other companies and publishers can forward users directly to your adaptive website, which is not as readily available on mobile apps. You can also include a QR code to merge your print and mobile marketing strategies, making it easier for customers to find your website.
Boosted sales with less investment
Mobile-friendly websites allow you to leverage the synergy of web and mobile experience, thus naturally increasing your sales with no additional development costs. Therefore, there is no need to extend the project and increase the time and budget for mobile development.
Higher customer satisfaction
These days, customers are accustomed to dynamic, seamless mobile experiences. A mobile-ready website improves company-customer relationships by making your online shop equally available on any mobile device. Moreover, an adaptive platform boasts a high loading speed since its code is compatible with multiple devices. This translates into shorter waiting times, better user experience, lower abandonment rates, and higher conversion rates.
Simplified maintenance
Responsive websites work across all operating systems and devices, meaning maintenance costs and efforts are only needed for a single product. Moreover, all updates display across all device types, where an app mandates separate changes for each platform.
Improved SEO
Unlike mobile apps, adaptive websites are easier to crawl and index by search engines. Moreover, websites allow for more SEO practices, while mobile apps have to settle for ASO optimization. This added search visibility makes it easier for visitors to find your website, resulting in brand awareness and broader reach.
Disadvantages of mobile-friendly websites
Mobile websites reach a wider audience, facilitate maintenance, and require less upfront investment than mobile applications. Still, the adaptability of mobile platforms is a trade-off between the native and unified experience that leads to the following disadvantages:
Unavailable offline
Users need their smartphones connected to the Internet to access even the simplest mobile website version. When offline, websites only offer static features and cached information. Mobile apps, on the contrary, can operate without an Internet connection.
Poorer user experience
Although mobile websites are optimized for viewing on different screens, they might deliver limited or averaged UX with little to no personalization. Moreover, responsive web design doesn't compare to a native experience due to the screen limitations and the disparity of content architecture between web and mobile.
No additional functionality
While mobile apps take advantage of built-in smartphone features, adaptive platforms tend to pass on add-ons like GPS, camera functionality, and other mobile features. This limits the company's engagement methods and customer insight collection.
E-commerce Mobile Apps: Pros and Cons
In 2020, up to 50% of retailers had plans to prioritize a mobile app experience, and those plans have come to fruition. Top-grossing retailers such as Amazon, Walmart, and Target have long-established their mobile app presence, while smaller retailers are making up ground. And in many cases, there's a strong rationale behind embracing mobile apps.
Advantages of mobile apps
Although mobile-friendly websites allow brands to reach their customers on mobile, native applications still offer a broader scope of unique benefits. We'll have a closer look at them below:
Brand awareness
Mobile applications are ever-present brand logos on customers' smartphones, which the average American checks 352 times daily. Once downloaded, an application never drops out of sight and serves as a constant reminder that the brand is only a tap away.
Reduced advertising and marketing costs
For users to navigate to your website, it should be loaded with the best SEO practices and massive marketing budgets. Conversely, a mobile application can directly interact with your customer by sending push notifications. Additionally, since the app itself is a constant presence on a customer's phone, these factors help companies save on advertising and marketing costs.
Offline accessibility
Unlike websites, native applications can provide core functionality without an Internet connection. For example, customers can browse items, use search and filtering, and check store hours or delivery options in offline mode. Having this option provides additional accessibility for shoppers.
Added personalization
Mobile applications extend your customization potential and help offer tailored communication to users based on their interests, location, usage behavior, and more. Thus, brands can fine-tune in-app visuals and messaging to retain shoppers' attention or re-engage hesitant customers, and this more granular interaction drives a 10-15% revenue increase.
Better user experience
Mobile applications are initially designed with a specific platform in mind. Therefore, native UI elements provide more convenience, simpler navigation, and dedicated functions that websites cannot offer.
Native features
Native mobile solutions tap directly into the device's features, setting additional interaction and selling channels in motion. Below, we've curated a list of popular mobile app features that deliver extra value for online stores:
Mobile app feature
Advantages for online businesses and their customers
Biometric

Quick access to the profile
Security for online payments and more discretion regarding users' data

Geolocation and GPS

Map view of the nearest shops
Route calculation
Customer geography

Mobile camera access

Ability to search using the image
Augmented reality to showcase the product

LidAR and ToF

Body scan for online fitting-rooms

Push notifications

Quick communication with the customers
User re-engagement

Speaker

Voice shopping
Voice search
Disadvantages of mobile apps
Just like mobile web, mobile applications are a two-sided coin. Here are the main cons you need to consider:
Cost of development
Native mobile app development requires a significant upfront investment. Cross-platform solutions are less expensive, yet they lag in terms of customization and functionality. Your upfront expenses may also include resources for developing two separate standalone applications for Android and iOS to target both markets. Finally, to keep your application successful, you'll have to shell out for publishing, maintaining, and marketing your app.
Less visibility
Without a main shop version and marketing, you may struggle to get casual users to find and download your application. Also, your application should have a unique selling proposition and functionality to stand out among others.
Mandatory download and installation
Unlike websites that are always reachable, mobile e-commerce applications have to be downloaded on the app marketplaces, and not every user will be inclined to spend time and effort adding the app to their phone.
Less compatibility
Device compatibility is another issue that can make your application unavailable for some devices or operating systems. Incompatibility issues are common for outdated devices or unsupported OS versions.
Related: eCommerce App Development: Step-by-Step Guide
When Does Using a Mobile App Make Sense?
Although a growing number of retailers are looking to ride the app wave, mobile shopping applications don't pan out well in some cases. So we've collected the top criteria for you to consider before investing in a standalone mobile application:
Brand maturity and positioning
While established brands like Amazon and eBay can boast an impressive digital awareness, young companies struggle to make their app visible and popular among users. Therefore, not every brand is suitable for m-commerce due to several reasons, including:
Newer brands. Since newer companies have a smaller user base, there is no need to spend resources on a separate mobile app. Instead, companies will be better off investing in marketing strategies to attract users to the existing website.
Superspecialty stores. If you are selling a highly segmented product line with a small percentage of repeat purchases, the mobile-friendly website will be enough to accommodate your needs.
Therefore, you should first decide on the viability and ROI of a future mobile application based on the current positioning of your business.
Audience's preferences
Your users' shopping behavior should also be among the deciding factors of app development. If a large user cohort tends to continue or finish their mobile shopping journey, a standalone mobile application will be a natural solution to support the user. By analyzing the device statistics, you can also assess the most popular platform to build your mobile app for.
Age-specific smartphone usage statistics are another clincher. For example, 95% of millennials and Gen Xers owned a smartphone in 2021, while only 83% of Baby Boomers and 61% of the Silent Generation had a smartphone.
Budget
Mobile app development requires a larger upfront investment than its web counterpart. If you're looking to target both platforms (Android and iOS), be prepared to spend more on native app development. Therefore, budget limitations should also be among your main criteria.
Related: How Much Does it Cost to Develop an App
Human resources
Developing and supporting the app for different platforms can cause an increase in your workforce needs. Thus, you'll need to hire additional talent, including contact center specialists, developers with relevant expertise, and business analytics for online shopping process improvement.
The developer talent is also crucial for post-prod maintenance and scalability updates. If your local talent pool is scarce, you can turn to outsourced teams to bridge the IT gaps.
Tech resources
If you decide to build a mobile application in-house, you will also have to shell out for hardware. Servers, devices for testing, and PCs are necessary for testing and process improvement. Alternatively, you can outsource both development and maintenance to a third party to eliminate hardware needs.
Website vs. App: The Showdown
When it comes to choosing between an e-commerce mobile web and a native mobile application, there's no clear answer. While a mobile-friendly website has long been the status quo for online retail, mobile apps fare better for personalized user experience and additional functionality.
But there's one crucial factor that should be hammered home – no state-of-art mobile application will generate sales if you have an outdated and clumsy website with no mobile compatibility. Both should complement each other and offer an uninterrupted shopping journey regardless of the device or platform.
Contact us to make the right choice and empower your online shop with a top-grade mobile application.