The global pandemic has had a particular toll on offline selling. As stores and retailers were ordered into lockdowns, customers flocked to online shopping. The pandemic-induced online shopping craze translated into an unprecedented number of online sales in 2020 and persisted with $871 billion in 2021.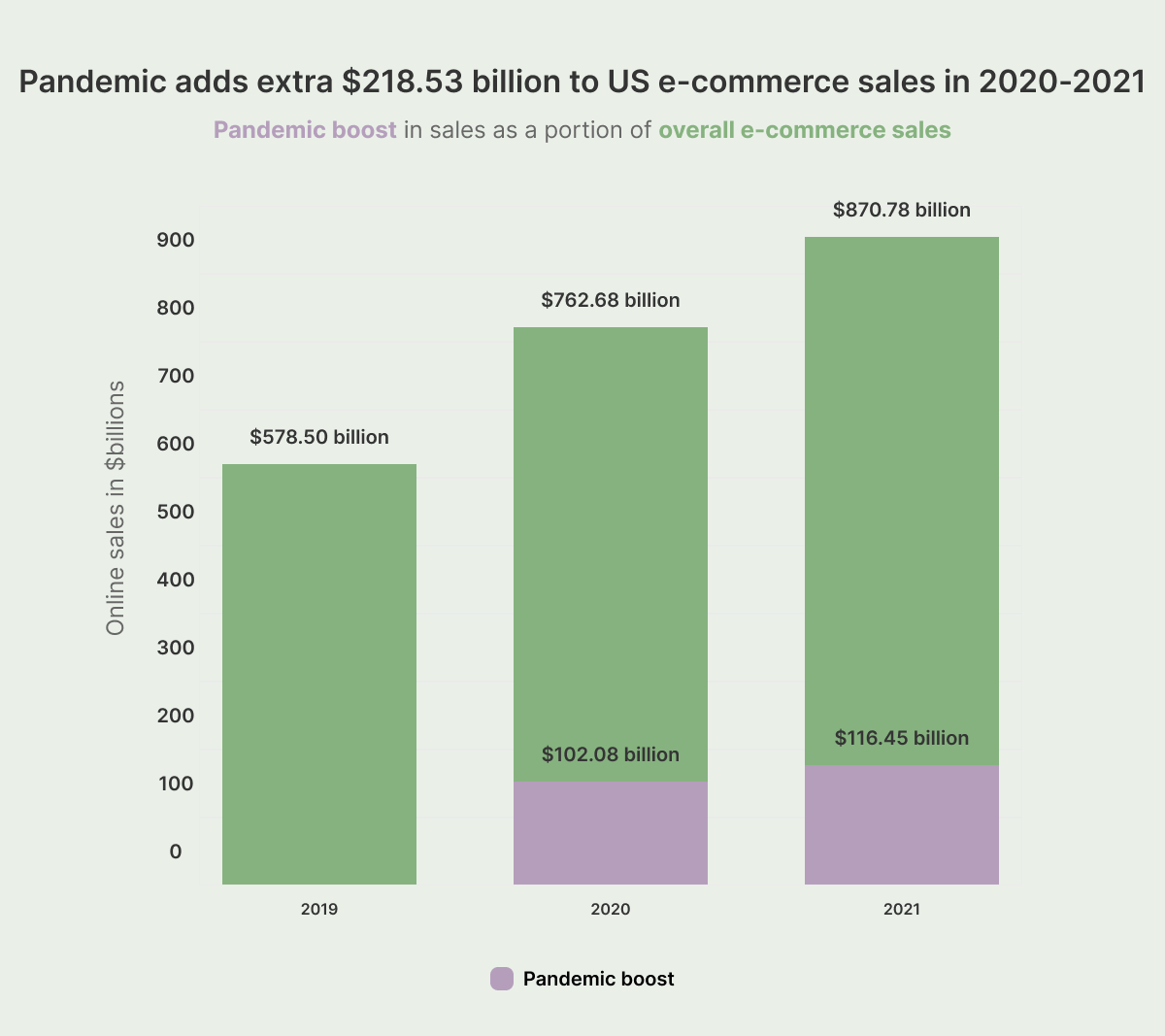 The online shopping wave and a boom of online viewers resulted in an emerging trend — livestream shopping apps. This concept embraces the dominance of online sales and brings it to another, more interactive and personal, level through live videos.
Today, we'll go over this next phase of digital retail and explain how you can build a livestream shopping platform on mobile.
What Is a Livestream Shopping App?
Livestream shopping emerged as a fusion of video, influence marketing, and e-commerce. Livestream retail refers to a business model where retailers, influencers, and brands promote and sell products through livestreams. These sessions can be run via a mobile app, platform, marketplace, or social media.
In simple terms, livestream shopping apps enable users to watch and shop in real time while still watching a live event. The event is interactive and allows consumers to react in real time using comments and emojis. In some sense, live commerce is similar to home shopping channels.
However, livestream shopping is not the same as video shopping. Video shopping allows purchasing from a prerecorded video that can be broadcast on a recurring schedule. Real-time commerce is a unique, one-time shoppable event that happens live.
Therefore, live commerce drums up user interest by merging real-time interaction and exclusiveness with engagement in a like-minded community.
The Origins of Livestream Shopping Apps
Live shopping, also known as live commerce, is an e-commerce revolution that came to us from China. This market-like online shopping experience takes its origins from Taobao Live, launched in 2016 on Alibaba's app. This initiative by Alibaba Group was the first in China to combine livestreaming and shopping. It all started as a channel where shoppers could watch, be entertained, and learn about new trends from key opinion leaders.
During Singles' Day 2017, Alibaba pushed livestream shopping in their first "See Now, Buy Now" fashion show. Viewers could see a link to the product as it appeared on the runway, and thus could purchase the items going down the runway via their mobile phones.
The phenomenon took off. The gross merchandise value generated by Taobao Live grew by over 150% each year from 2017 to 2019. And just like that, live commerce has evolved into the number one way of engaging consumers in China.
During the pandemic, Taobao Live became a lifeline for many businesses, with farmers, luxury brands, and other merchants bringing their products online. The app saw its number of daily active users grow 100% in 2020. The same year, Alibaba Group announced that Taobao Live generated over $59 billion in gross merchandise value.
In 2022, live commerce sales in China are projected to rake in a total of over $470 billion, which will account for 16.5% of all retail e-commerce sales in the country.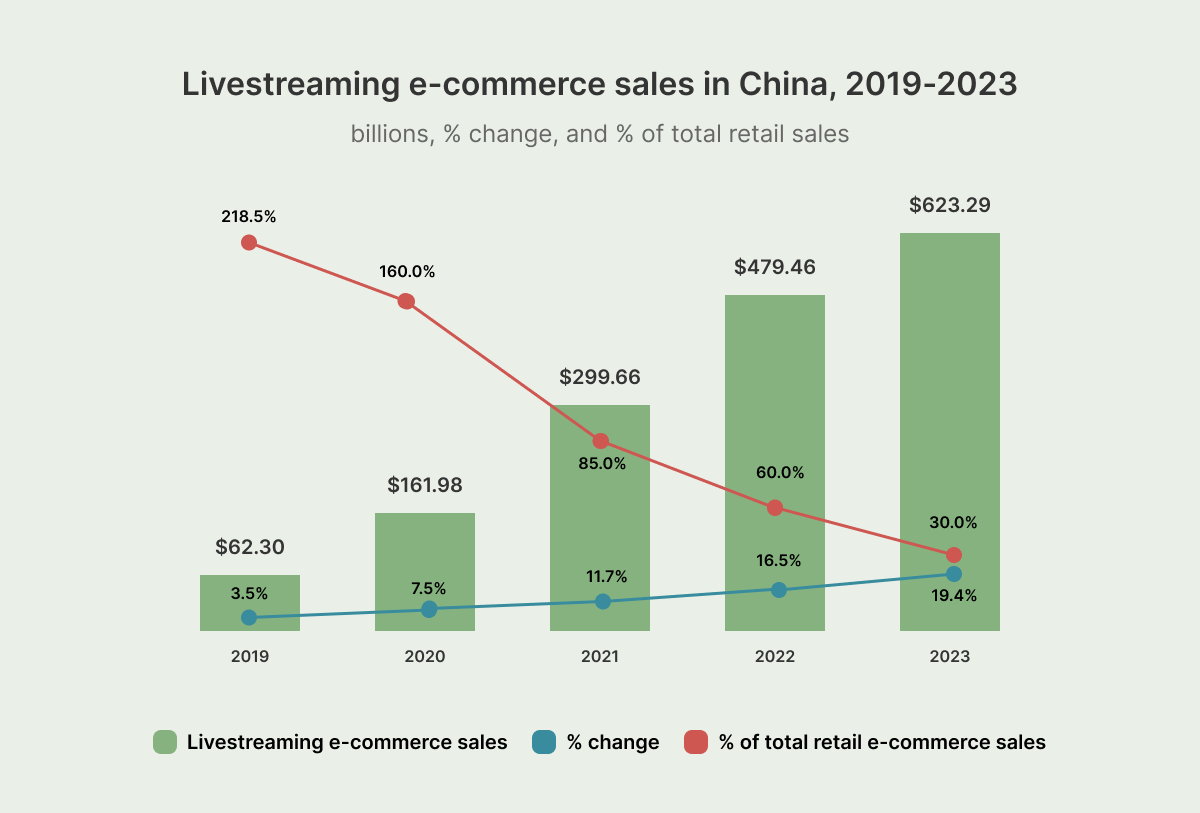 The Global Ascent of Live Shopping
Over the last few years, the fame of live-shopping platforms has transcended geographical boundaries and spread across the globe. Livestream shopping has gained a strong foothold amidst digital-first retail practices and growing competition among brands.
In 2022, the US live commerce market will rack up $17 billion, adding $6 billion to the previous figure. By 2024, it is projected to grow to $35 billion, representing a CAGR of around 47%. This novel phenomenon is largely favored by millennials and Gen X.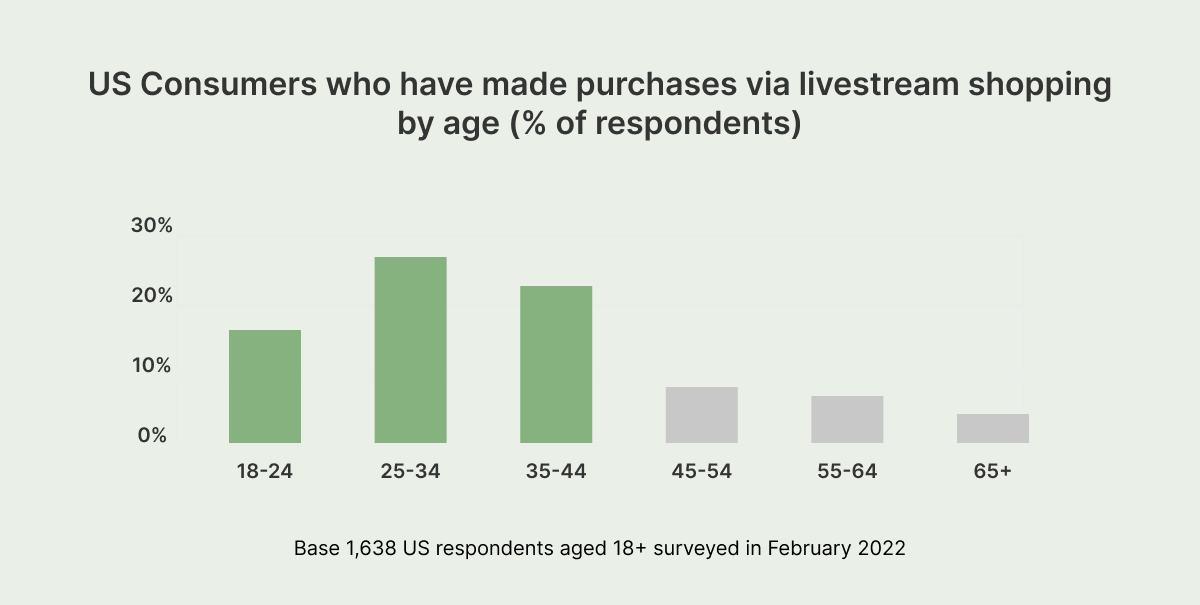 As for brands, many apparel and fashion giants have jumped on the livestreaming bandwagon. Jacquemus' shoppable runway show, Walmart's "shop-a-long" livestreams, and Amazon's Prime Day live sales are just a few examples of the latest live shopping events. Unsurprisingly, apparel and fashion are the leading product categories, with over 35% of live commerce events belonging to this domain.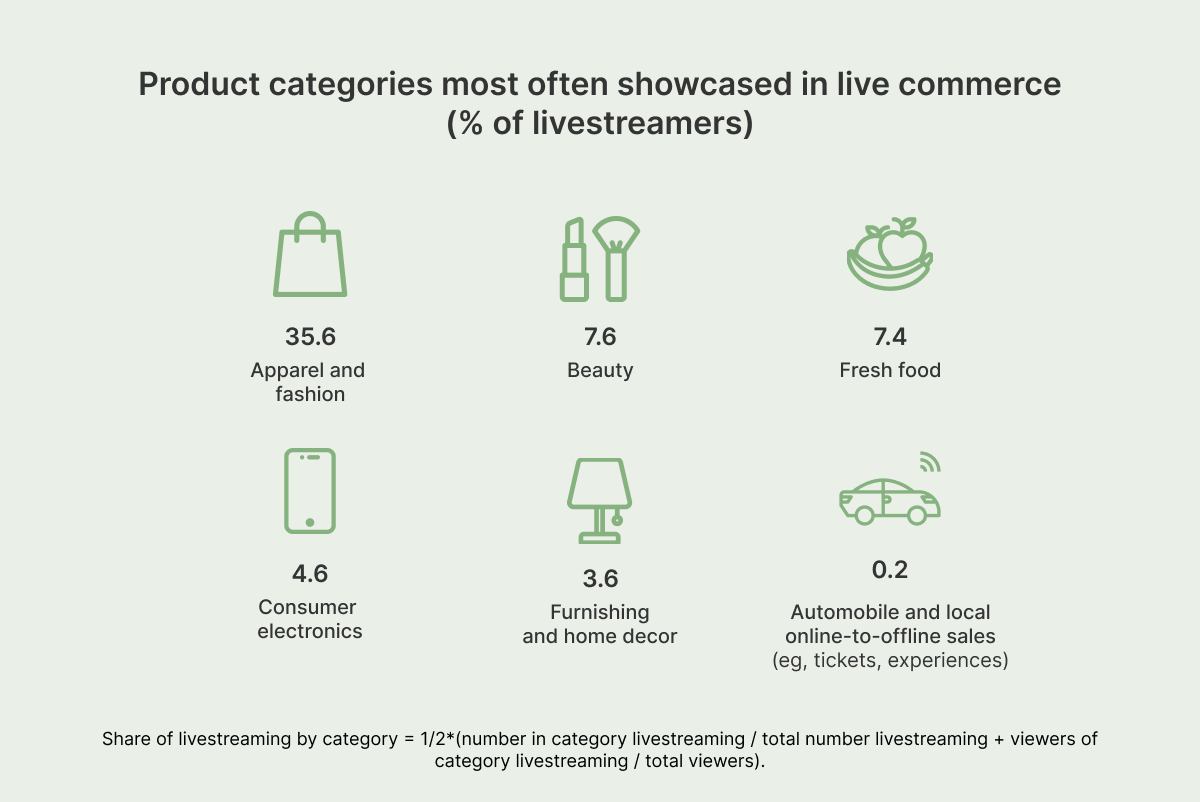 Source: Everbright Securities, iResearch, McKinsey analysis
The rising popularity of the metaverse further reinforces the great potential of live commerce as a core sales channel. As an early sign, Samsung launched their latest smartphone, the Samsung Galaxy S22, in a completely virtual setting.
While this all adds to the lucrative potential of live commerce, does the real-world potential shine through the upfront investment? Let's see.
Benefits of Livestream Shopping for Retailers and Brands
The last few years were quite eventful for the global live commerce ecosystem. Giants like Google, Pinterest, Twitter, and TikTok as well as fledgling companies have all dabbled with this new selling practice. But what benefits do all these companies reap from shoppable video streaming? Quite a few.
Accelerating conversion
The added convenience of real-time shopping promotes greater sales. According to McKinsey, companies report 30% conversion rates during live shopping events. Conventional e-commerce in the US barely landed at 2.8% in 2021.
This conversion superpower can be attributed to the phenomenon of impulsive buying triggered by live shopping. Limited deals, flash sales, social contagion, and vicarious experience all promote the impulsive buying urge.
One-click buying, in turn, allows customers to make easier purchases, thus shortening the user journey. Paired with built-in payments, livestream shopping platforms provide ultimate convenience for customers, and convenience nurtures conversions.
Improving brand appeal and differentiation
Brands also enter the livestreaming field to boost their brand image. The technology gives companies and retailers the ability to chat with consumers in real time, making brands feel more reachable to the audience.
Also, real-time interaction bridges the gap between the brand and the customer, thus offering unique and competitive experiences. Finally, this novel retail practice adds a tailwind among digital-savvy consumers keen on innovative shopping experiences.
Authenticity
Livestream commerce brings the brand directly to the customer's device with no video editing or photoshopping. It means that consumers have an unedited view of the real product, and their purchase looks exactly like it was on livestream. Therefore, live events present companies as authentic and human-centered. Since 90% of consumers see authenticity as the main brand selection criteria, this benefit is crucial for modern businesses.
Real-time engagement
A charm of live shopping lies in viewer interaction and the unpredictable nature of the stream. Since live shopping allows users to leave comments and ask questions in real time, viewers are more engaged in the shopping process.
Entertainment
Livestream shopping combines commerce with live video entertainment and makes shopping more enjoyable and diversified. This unique blend of authentic rapport, shopping, and an upbeat experience is more likely to cover the expectations of the 31% of US consumers who are willing to pay more for an unmatched shopping experience.
Quizzes, challenges, and unboxing sessions also promote gamification in live shopping and tap into the basic "play" instinct.
Immersive experience
Through live videos, companies can introduce multisensory interactions that establish a positive emotional connection with a customer. With a quality known as immersiveness, these interactions manifest as a combination of extended reality and traditional flat user interfaces. Immersive-first technologies such as augmented reality (AR) and virtual reality (VR) can provide even more immersion and present a product from every angle.
Common Myths About Livestream Shopping
Being a newcomer, live commerce is still shrouded in myths and misconceptions. As a result, lots of business owners are hesitant about developing a livestream shopping app. That's why we decided to debunk the most widespread myths suggested by Coresight Research.
Myth 1: Centralized live-shopping marketplaces dominate the livestreaming e-commerce space
Rumor has it that live commerce inhabits only well-known shared marketplaces like Amazon Live. However, why rent customers from Amazon's marketplace when you can own the customer and the customer journey?
Building a custom livestream shopping platform integrated with an official website eliminates the middleman between the company and their customers. This, in turn, reduces costs and establishes a direct link between the two with first-hand analytics and a branded audience.
Myth 2: Producing live video takes the same effort as TV commercials
Another popular misconception is that live commerce requires lots of upfront investment. However, professional lighting, top-notch production, and A-list celebrities are optional when it comes to live videos. All it takes is a smartphone, a live streaming platform, and a host that clicks with the audience. These days, viewers prioritize content and genuine emotions in livestreams over top-quality production value.
Myth 3: Social media livestreaming will drive conversions
Social media streams are a no-brainer for e-commerce with readily available software and a user base. However, social media conversions take far more effort than it seems. Ad spends, integrations, high-quality creatives, and other expenditure items push your break-even point farther out.
Conversely, custom livestreaming platforms have the highest buying intent, which inherently boosts conversion rates and lays the foundation of an omnichannel marketing approach. Seamless checkout functionality, smart analytics, and other features make selling more intelligent and data-driven. These three components bode well for more leads and sales.
Myth 4: Live shopping is a purely a tool to promote deals
While the main objective of live retail is record sales, shoppable livestreams can also become a competitive engagement technique. According to Coresight Research, 40% of users look for good deals on livestreams, while 30% of viewers hop onto streams to be entertained and discover more about new products.
Thereby, retailers can establish a positive rapport with customers by making product discovery as important as sales. This makes livestreams a valuable addition to a consumer-focused approach.
Myth 5: Celebrity-studded livestreams land more sales
Celebrity saturation isn't a surefire method to increase sales. Although star endorsement may cause some stir, a particular figure or their fan base might be poorly aligned with your brand. Instead, companies can invite product experts or brand representatives to provide a genuine opinion on the product.
Myth 6: Sales conversion is the only metric that matters
Sales might seem the only guiding star when assessing your live performance. But shoppable streams have other ample metrics to provide a better understanding of the overall campaign. Live viewer comments, session time, repeat viewers, and other user data are sourced during live events.
However, these metrics aren't usually accessible on centralized marketplaces. There, critical data about customers, their preferences, and their behaviors is the property of the third-party platform. Custom livestream solutions, on the contrary, provide valuable insights to their fullest.
Five Best Livestream Shopping Apps
While the host and products play a crucial role, the software is what channels your products directly to customers. To give you a better idea of what live-shopping software looks like, we have put together a list of the best picks for helping brands to sell their stock live.
TalkShopLive
This livestream app is branded as a powerful platform for livestreaming and home shopping. Being a popular marketplace with top celebs and companies, TalkShopLive allows anyone to sell live by creating a branded channel. In-platform buying, integration, and automated fulfillment turn viewers into purchases.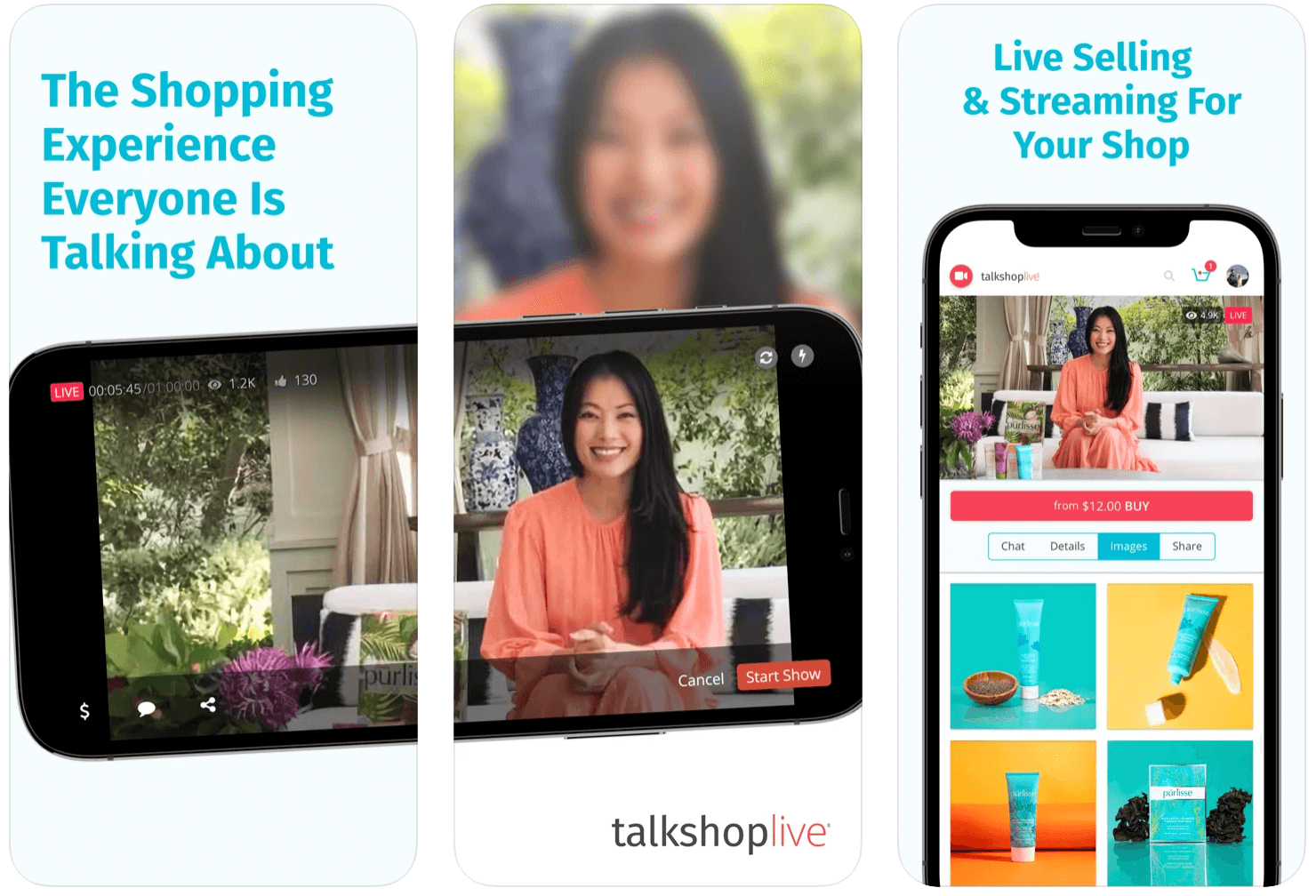 According to TalkShopLive, their average conversion amounts to 14%. The engagement rate is also impressive — up to 30% more than with social media. In 2021, Walmart's partnership became indicative of the platform's success and enriched its functionality with Walmart's commerce API.
Bambuser
This Sweden-based livestream app is another platform with rich potential for live shopping. Since 2007, Bambuser has been catering to retailers, world brands, and businesses, making selling easy, personal, and interactive.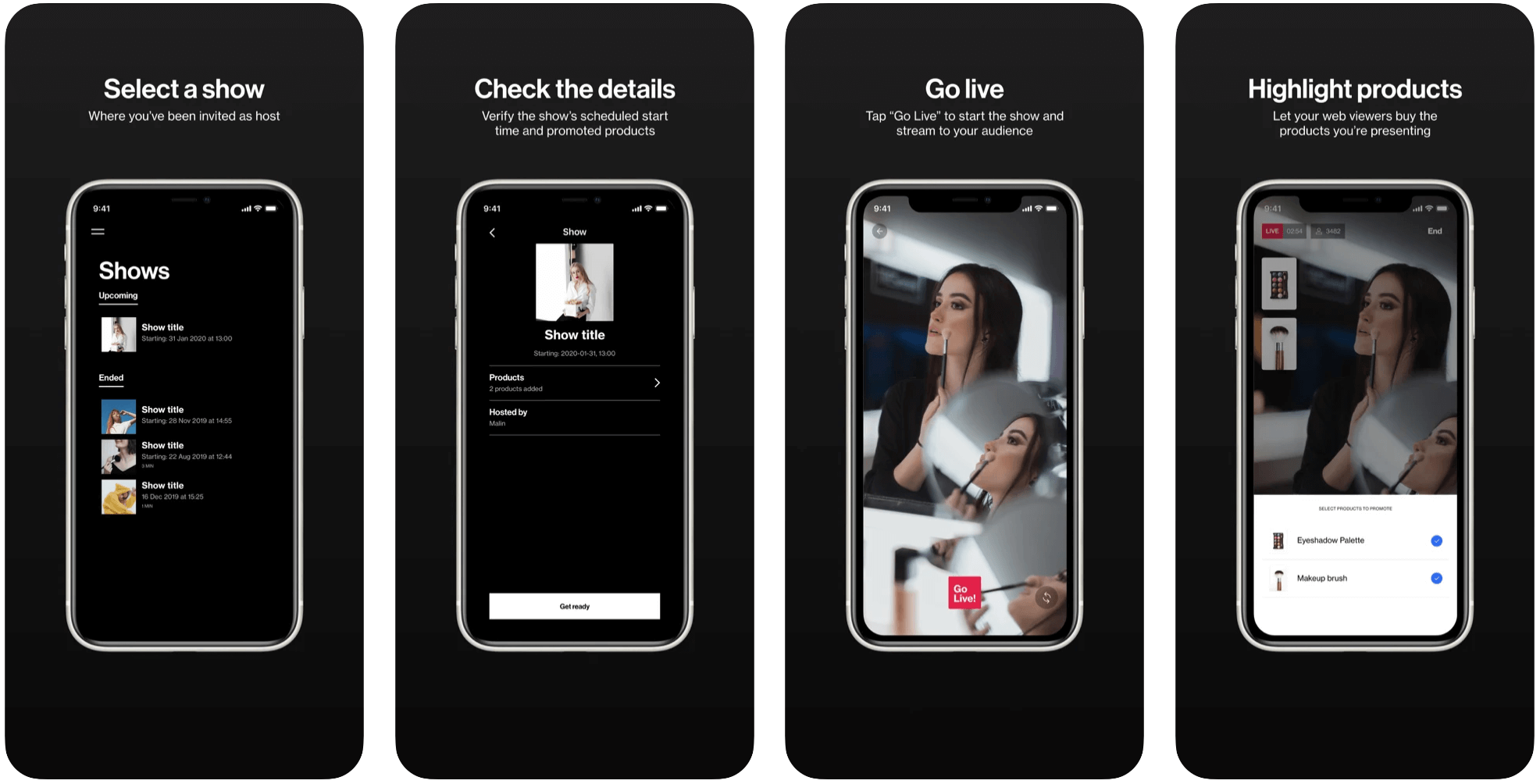 One-to-one consultations, CRM integration, data analytics, and ADA (Americans with Disabilities Act Standards for Accessible Design) compliance are what give Bambuser a unique placement among competitors. In 2021, the platform was in its prime with 174% year-over-year growth in monthly recurring revenue, climbing to over $743K.
Channelize
Another on our list of live shoppable platforms is Channelize, a solution with a full suite of selling functionality for direct-to-consumer brands. Channelize enables real-time engagement through seamless integration, scalable API, SDKs, and UI kits that reinforce a brand image for companies.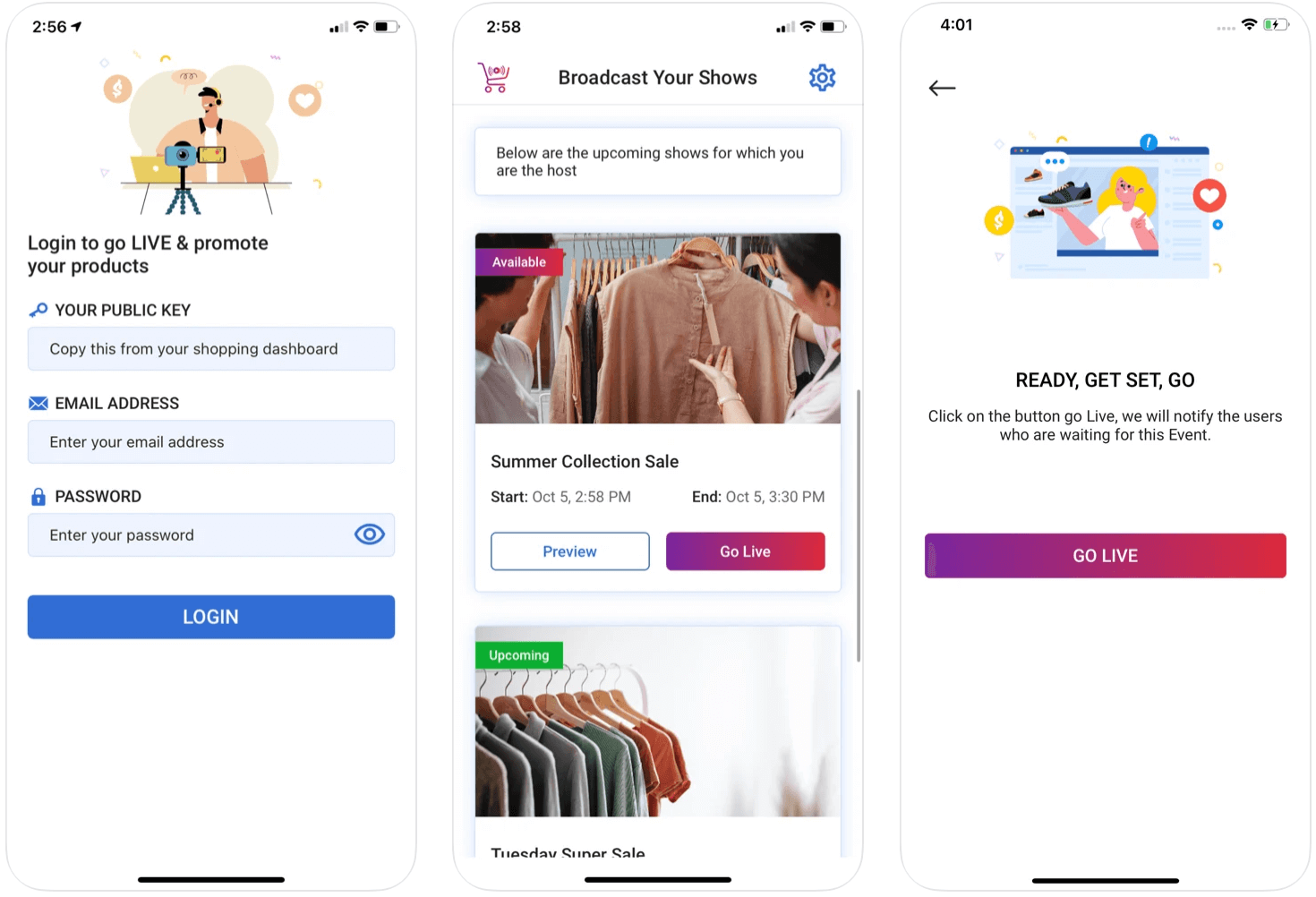 The platform also helps measure the value of digital engagement via analytics dashboards. Just like other solutions, businesses can use Channelize either as a stand-alone application or integrated into their existing website and apps.
Livescale
Livescale is a live commerce startup that enables brands to create awareness and sales through a granular and branded experience. Its hallmark set of features includes product feed syncing, integrated adoption, seamless checkout integration, and detailed first-party analytics.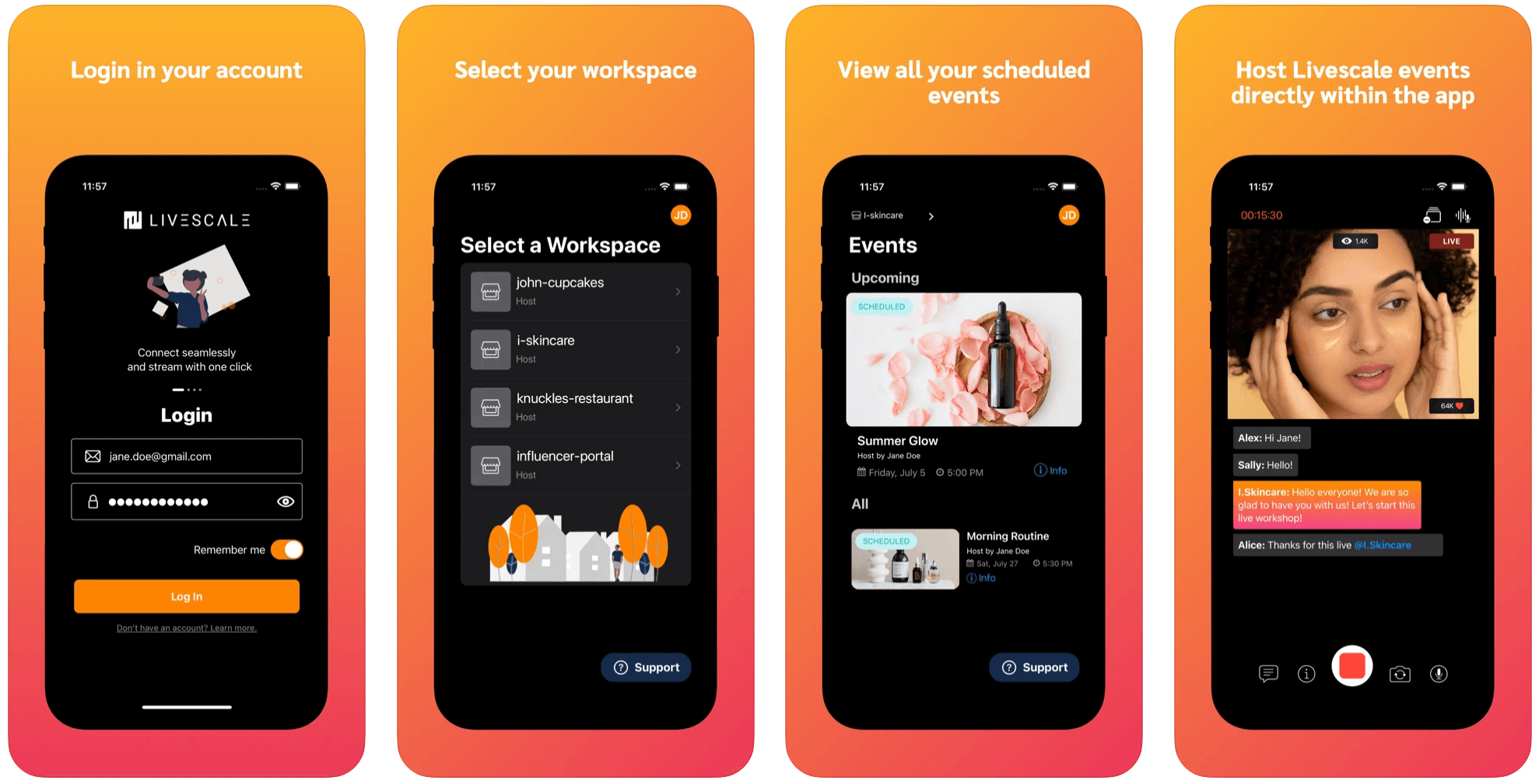 Lead generation, market testing, and product sentiment also make customer data approachable for intelligent use. The startup has enabled over 300 brands in 2021.
Amazon Live
Being at the pinnacle of retail, Amazon was among the first to spearhead the trend. Since 2016, Amazon Live has been helping brands highlight products and promote and engage with their audience in real time. Companies can get into livestreaming on Amazon using the Amazon Live Creator app. This tool helps create, capture, and manage livestreams.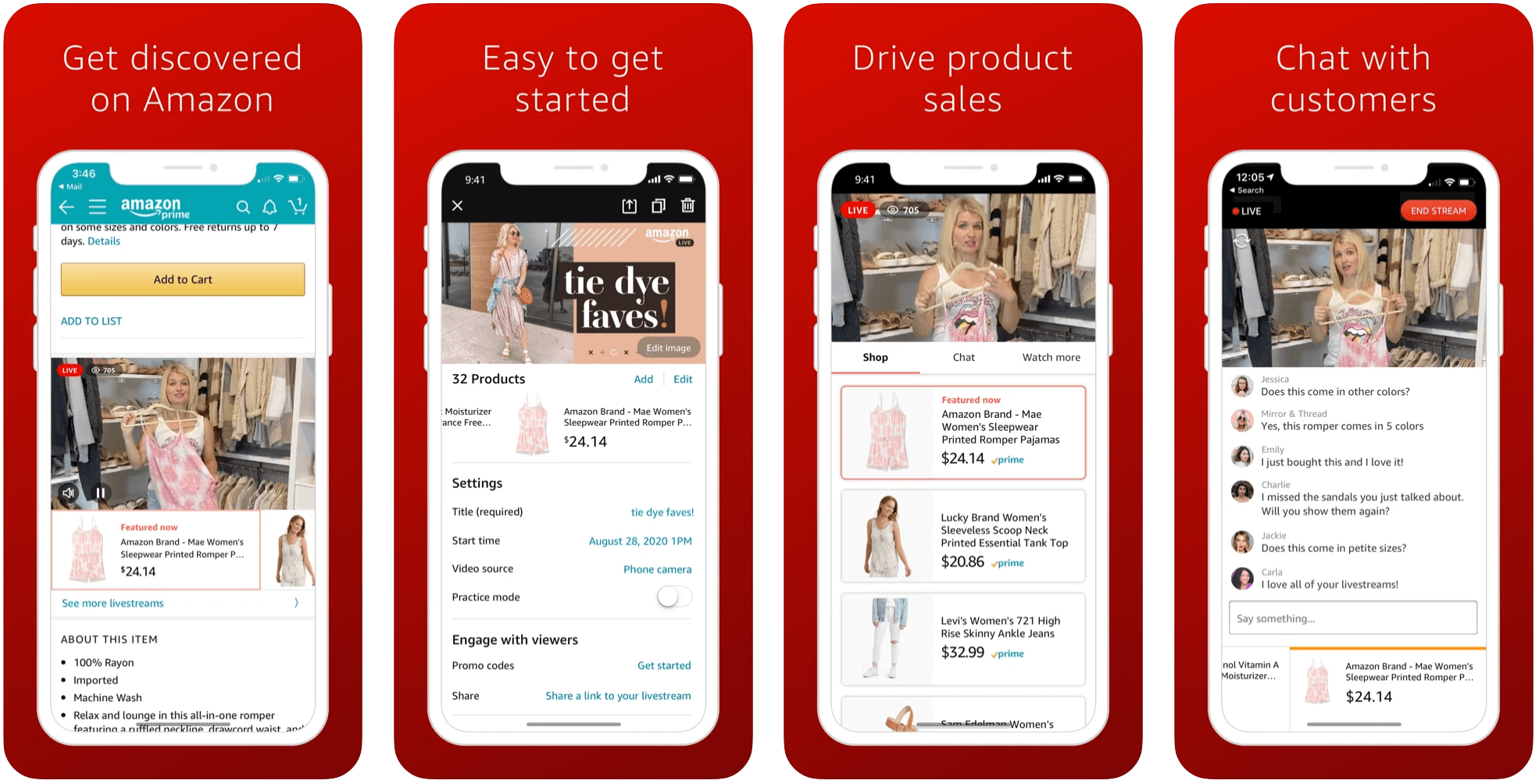 Brands can unlock more functionality with a higher Amazon Live level (Insider or A-List), including additional placements for livestreams on Amazon. However, the platform lacks detailed analytics, with the closest metric being click-throughs to products.
How to Build a Livestream Shopping App?
When you decide to embark on live shopping, you'll face a technological dilemma of which platform or marketplace to use for hosting the stream. Your choice should be based on your business's level of maturity with live shopping.
Companies familiar with live commerce tend to choose an off-the-shelf solution, like Livescale or Bambuser, that enables them to calibrate the live-shopping experience to fit their brand, sell to social media channels, and offer their customers seamless purchasing from the same page. For more customization, companies build a bespoke solution with branded functionality. Below, we've outlined the main steps of building a custom live commerce app for the market newcomers.
Step 1: Research and analyze
Although we've listed the top competitors, you'll still need to pay due diligence to the market study. In particular, you should understand the demand dynamics in the market and what features are at the core of similar products. To ensure that your product caters to the right consumer, you should know your customer persona, their needs, and their attention grabbers. Analytics tools can help you analyze historical data to understand the users who watched your content in the past. A well-defined persona will also serve as a foundation for relevant engagement features and business and technical requirements.
Step 2: Pick your team
Unless you're well-versed in turnkey app development, you'll have to farm out the process to an experienced team. Relevant experience, a robust tech stack, and overall credibility should be the main criteria when deciding on the vendor.
Step 3: Plan your marketing strategy
Making your product discoverable is what will ensure high performance in the future. Therefore, invest time and resources in defining a consistent marketing strategy from the very start. The strategy should cover every user interaction from the moment they first learn about the product to when they make repeat purchases.
To increase livestream viewers, it's important to weave your marketing initiatives into an omnichannel strategy. Cross-promoting should span a variety of channels, including emails, websites, social media, and others where you can alert your customers about an upcoming live event. Targeted ads should be also placed carefully to reach the target audience on a frequently visited website.
Step 4: Choose your hosting and storage platform
Online video hosting is another essential when building a live-shopping app. All of your video content will be stored on the hosting platform, while you'll simply need to embed its video players in your app. The choice depends on the specific app requirements and your budget. Bluehost, for example, is a beginner-friendly alternative and is the largest among hosting providers. Hostinger is another go-to option with an all-in-one hosting service.
As for storage options, cloud storage tends to fare well for livestreaming solutions since it allows for easier scalability and eliminates downtime. Also, you won't have to fork out for expensive hardware when using cloud servers.
Step 5: Choose your content delivery network
To improve the quality of the live streaming, you will need to distribute the content to streaming servers which are close to the end-user. Content delivery networks (CDNs) allow your streams to gain worldwide exposure, minimize latency and buffering time and optimize the load on the stream's source. The right CDN provider is also chosen individually. As for the regular picks, Cloudflare, Amazon CloudFront, and MaxCDN are leading CDN providers.
Step 6: Create the UX/UI design
Once all the planning is done, your team starts to shape your vision into an aesthetic and user-friendly design. Along with the exterior appeal, your design team should pay due diligence to make your solution convenient for the end-user. A seamless onboarding process, cross-platform UX, and customization options will add competitiveness to your live shopping application.
By integrating accessibility options such as color-contrast ratios, captions, and audio descriptions, you will further improve your app's usability.
Step 7: Build a minimum viable product
A minimum viable product (MVP) is an early version of your streaming commerce solution that includes a basic set of features. It's a simple and cost-effective way to test your app's viability with real users and get feedback to further improve your solution.
As for core functionality, we recommend implementing the following set of basic features:
User sign-up and login – to make the experience personalized for brands and retailers.
User profile management – to create branded live spaces.
Search options – to make content discoverable.
Home screen – to list featured and popular live events by brands and category.
Livestream features – to enable app shopping in real time.
Product pages with high-quality images and descriptions – to showcase the value of a suggested product.
Product reviews and ratings – to build trust and provide better insights into the item.
Notifications – to show reminders of upcoming live streams.
Cart management – to allow customers to edit the chosen items.
Payment gateways – to enable payments for online purchases.
Order history – to provide an organized record of the transactions.
Admin dashboard – to help brands manage the platform.
Comments and reactions to live streams – to make streams interactive.
Another key aspect to take care of is the speed while livestreaming. You cannot let your users wait while buffering. Therefore, pay special attention to speed and data loading for your livestreaming shopping.
The set of must-have features may differ based on your budget and unique requirements.
Related: eCommerce App Development: Step-by-Step Guide
Step 8: Launch and improve
Once your MVP is complete and tested against benchmarks, it's time to release the app to the public. When in the wild, an MVP should be integrated with effective tracking tools that measure the app performance and event impact by audience. When you collect enough feedback, the developers will polish the solution and add nice-to-have features to the final app version with the customer in mind.
Step 9: Maintain
Once it's published, every app has an ongoing maintenance cost to stay fault-tolerant and run to its peak abilities. Maintenance activities are also crucial to keep your live solution secure and scalable. During maintenance, companies can introduce new changes and features, thus staying competitive in the market.
Making Livestream Work for You
As the world becomes more and more digitized, people are changing the way they shop. No longer do they need or want to shop offline. Instead, online shopping is the new retail reality in the post-pandemic world.
The last few years also manifested the importance of emotion, interaction, and conversation for brands. Without these components, companies are vying for the best price only, and Amazon is already leading that game. Therefore, humanized experience is the only way to organic sales in the digital world.
Livestream shopping, on the contrary, adds a human touch to the brand by blending online, interactiveness, and social. All these make live shopping highly marketable with increased conversions and brand awareness.
Orangesoft will help you embrace the livestream future of retail. Get in touch, and we'll develop an edgy livestream shopping app together.