Did you know that the average smartphone user gets 60-80 notifications per day? Today, a phone alert can deliver important product updates, messages from family and friends, personalized offers, breaking news, work emails, etc.
As more and more companies adopt mobile app notifications, push notifications have become essential. To help, we've put together this easy guide to walk you through the world of push notifications.
What are Push Notifications?
Push notifications are messages that appear or "pop up" on a mobile device's screen. As a rule, these are short messages with a call to action. They look like SMS text messages and mobile alerts, but they are only sent to users that have downloaded and installed your app.
Push notifications were first introduced to the world by Apple with its APNs (Apple Push Notification service) in 2009. Today, all mobile operating platforms support push notifications. Further, these alerts can be displayed in three screen locations triggering a sound or vibration:
Notification center

Banner

Lock screen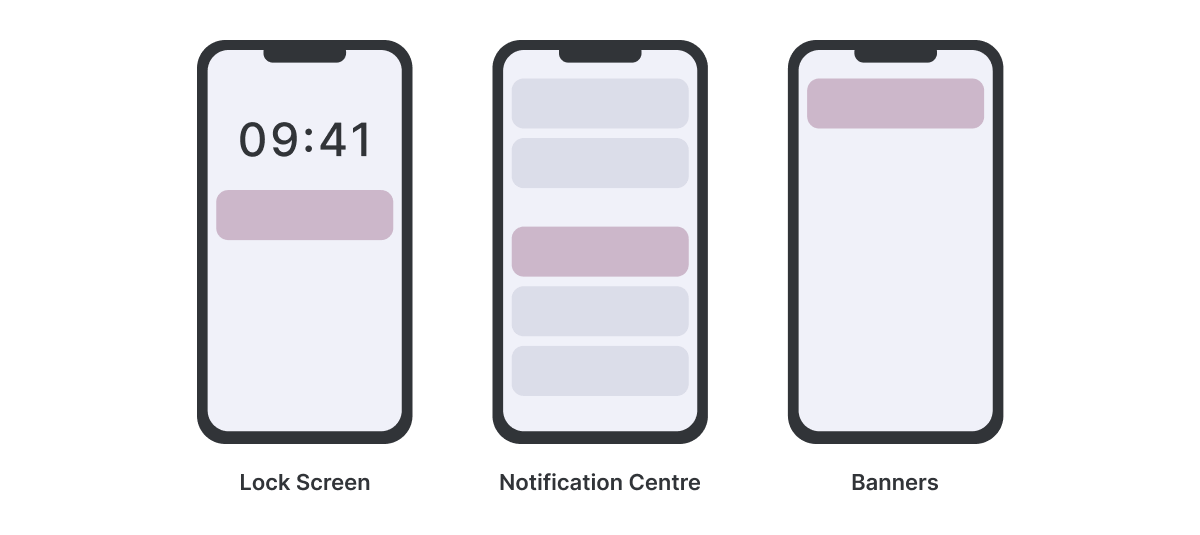 How Do Push Notifications Work on Android and iOS Devices?
Before diving into the tech behind push notifications, it's best first to understand the three components of push notifications:
Client app. It's an app that receives push notifications.

App server. This server sends notifications to the app.

Operating system push notification service. Every mobile OS has its own push notification service.
The two major mobile operating systems, Android and iOS, have different approaches to enabling push notifications. For instance, Android grants permission automatically after a user installs an app.
Alternatively, iOS users need to decide whether to permit or deny push notifications. Without users' decisions, iOS won't send any notifications. As a result, these varying approaches lead to a significant difference in opt-in rates:
Android opt-in rates for app push notifications are up to 91%

iOS opt-in rates for app push notifications are between 29% to 73%
Your app should demonstrate value to encourage users to enable notifications. Tell your users about the app's features and what they will get with notifications. Remember, an efficient opt-in strategy is based on timing, context, and engagement.
Why Do We Need Push Notifications?
The main goal of push notifications is to provide businesses with an opportunity to deliver helpful, timely content, provide additional value, and keep the customer engaged. For example, push notifications can share:
Flight information updates

Utility messages about weather or traffic

Sale updates or special offers

News or sports scores
Push notifications are vital for app publishers since they provide a direct communication channel with users. Further, these notifications cannot get lost in spam filters or remain unopened in an inbox, which is likely why open rates are higher for push notifications than emails.
Now that we have covered why we need push notifications, we should dive into how they can help you. Here's how these little popup messages can benefit your app:
Improve user retention
Though we're seeing an increase in app downloads, not all apps can turn a download into active users. However, push notifications can help activate your trial users. According to Airship, companies that leverage push notifications can achieve a 190% increase in their 90-day app retention.
Increase message visibility
Push notifications are displayed even on the lock screen when your users are inactive. You'll want to ensure that the messages you send provide value to your users and create a seamless experience; otherwise, these notifications can turn users away.
Increased user engagement
When done correctly, mobile push messages can greatly impact your users by driving them back into your app. They can open a powerful line for communication and allow you to become closer to your customers.
Boosted conversions
Push notifications get your users' direct attention and push them toward immediate actions. A push notification's success is based on delivering relevant content to the right audience at the right time – without bombarding or spamming the user.
Connected user experience
Push notifications are part of the UX. For instance, when creating a user's journey map, point out key pain points when users may need notifications to create an improved experience. Therefore, push notifications should be the extension of the core product, not a separate app's block.
With push notifications, you have more opportunities to engage users and build a seamless user experience. Further, you can use these notifications to guide users toward getting the most out of your app.
What are the Five Key Types of Push Notifications?
Push notifications can serve different purposes and help with various activities. Let's explore what types of push notifications exist and how they can enrich your communication with users:
1. Informative notifications
The primary goal of informative notifications is to inform users and keep them updated with events, reminders, and alerts. Informative notifications can be used for finance, e-commerce, fitness, travel, taxi, social, and messaging apps.
For example, Skyscanner sends notifications about price updates and helps users find the cheapest flights.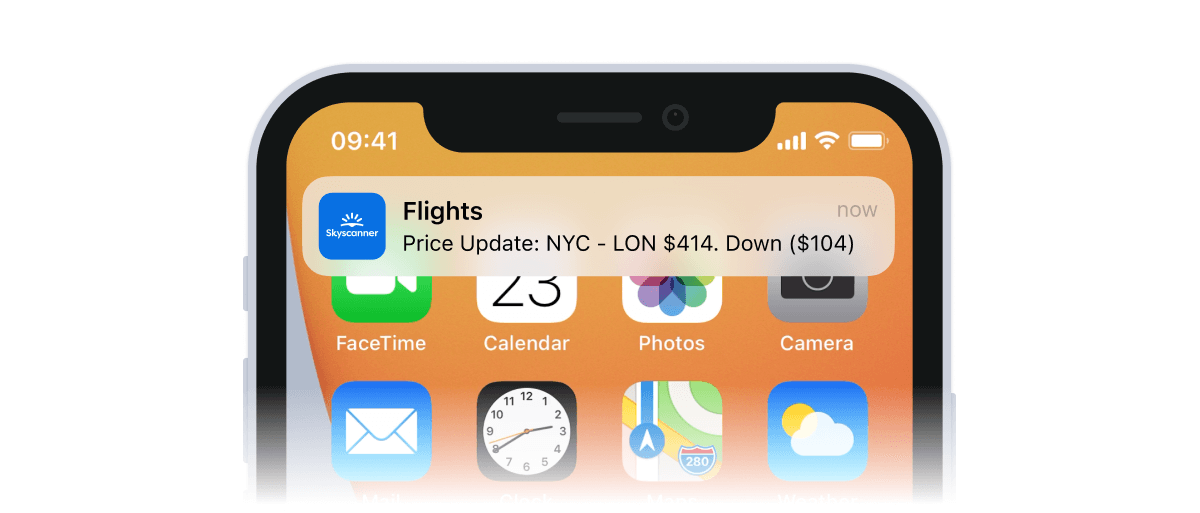 2. Geolocation notifications
Thanks to geolocation, you can notify your users about local events, weather updates, and finding available restaurants and other tourist attractions in a given area. Location-based notifications are sent when users enter or exit a specific area. They are great for weather, travel, and hotel apps.
For example, Apple's Weather app's push notifications can notify users about weather conditions in a given area, and Starbucks sends discounts when users are near one of their stores.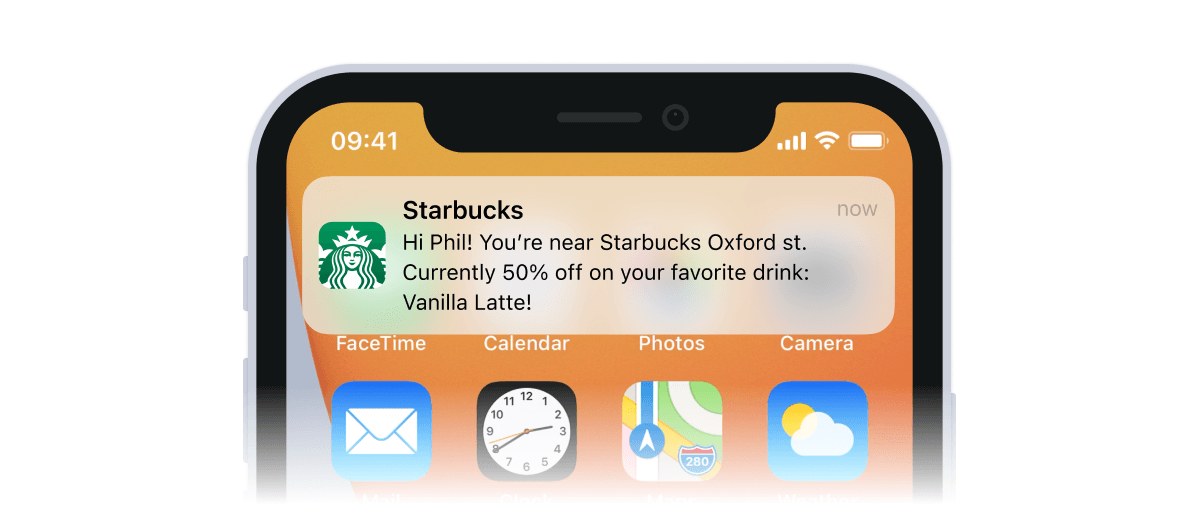 3. Catch-up notifications
When you want to re-engage your users, you can send catch-up notifications. The main goal of these messages is to motivate users to use your app. Personalizing your messaging by utilizing customer in-app activity and preferences can encourage users to re-visit your app. Catch-up notifications can be used with a broad spectrum of apps, including fitness, travel, e-commerce, and others.
For example, a fitness app can send kudos for running an extra mile or completing the user's 100th run, and this reinforcement can create a deeper bond between a user and an app. Airbnb also sends catch-up reminders to users to finish their booking or continue planning a trip.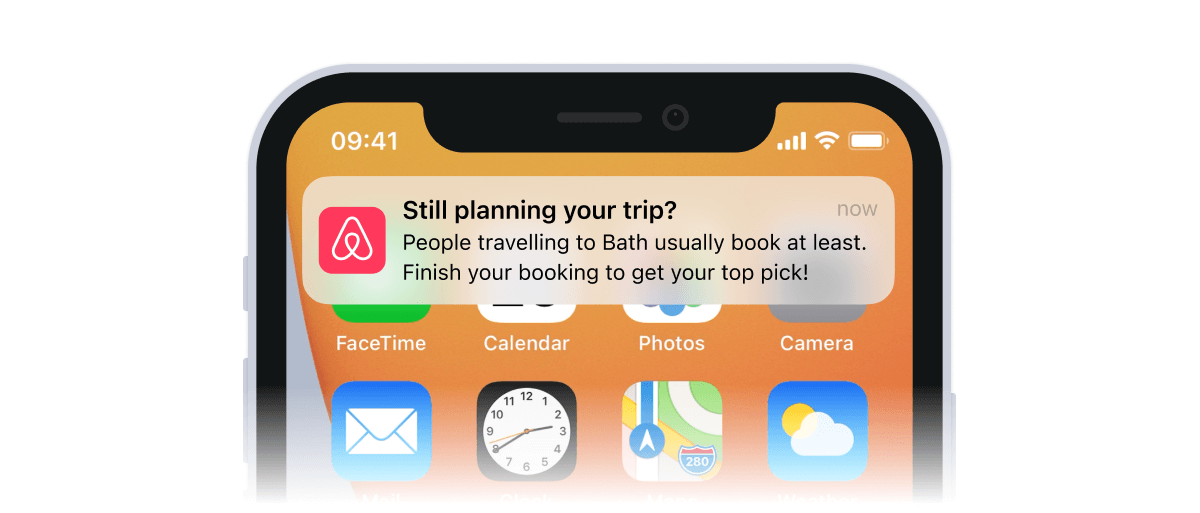 4. Promotional notifications
Promotional notifications alert users about price drops, exclusive offers, sales, or giveaways. These messages are to drive sales by encouraging users to make purchases. Promotional messages work best as a part of a multi-channel sales campaign, and they can work with e-commerce, entertainment, and subscription-based music apps.
For example, Netflix notifies users about exclusive offers and discounts. Amazon also uses these notifications to alert users when prices drop on items of interest.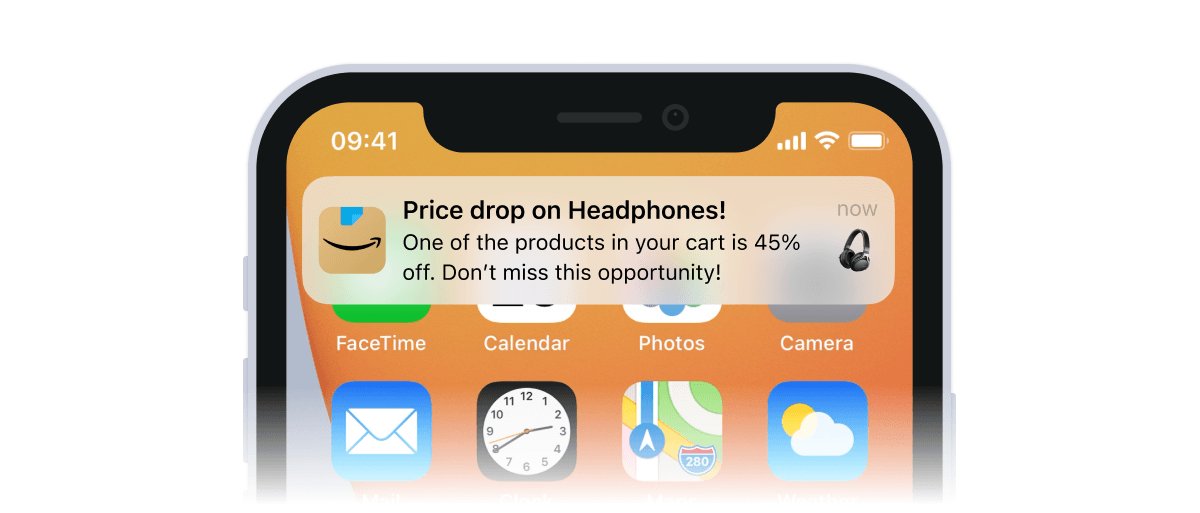 5. Survey or rating notifications
These notifications can collect user feedback and help you create a seamless user experience. In addition, conducting regular surveys can help you fine-tune your solution and drive more app downloads.
For example, ASOS sends notifications after each completed order to find out what users liked or disliked about the purchasing process; this user feedback helps ASOS find buggy user experiences so they can improve their product.
Next, let's look at how to unleash push notifications' power to get the most out of push alerts.
How Do You Create Winning Push Notifications?
Engaging and re-engaging your users is a daunting task. Creating simple, engaging, and effective push notifications requires both art and science.
Thanks to ten years in mobile app development, we've seen thousands of push notifications. And here's how to get the best out of mobile push notifications by:
Loading your notifications with engaging content
Just sending notifications isn't always enough to drive sales and engagement, but the right words have an immense impact on users. They can evoke emotion, prompt action, and achieve your desired result.
Though push notifications have word count limits of 100 characters for copy and 48 characters for a title, you can still create a compelling copy within the given character limits. Here, you must identify why users need your app and create content with a clear, related call to action.
Generating a level of trust
Users should be able to opt-in and out of notifications whenever they want, so you need to provide your users with this choice. This can also help you circle out uninterested users and target customers who are more likely to convert.
Remembering your existing customers
Sending offers to new or potential customers makes your loyal customers feel cheated. So though it's tempting to focus on potential customers, don't forget about the users you've already acquired; you'll also want to send them distinct push notifications.
Sending onboarding notifications
You need to welcome new users onboard, and onboarding notifications can welcome and educate them on how the app works. However, onboarding can either improve or ruin your users' first impression. According to the latest stats, 25% of users quit right after one use, and 77% are likely to drop the app in the next three days.
While taking advantage of push messages, you can leave breadcrumbs highlighting a different unique feature, also known as a unique selling point (USP). It's a great way to show what your app is capable of and encourage app usage.
Tracking the right metrics
Of course, click rates are important, but you shouldn't rely exclusively on them. There are more metrics to track while optimizing your push notification strategy, including conversion, opt-in, and clickthrough rates.
Sending the right number of notifications
"The more, the better" concept doesn't work with push notifications. According to eMarketer, 81% of smartphone users tend to switch off the notifications in cases where they are spammed with messages. Further, around 8% of smartphone users will delete the application if it sends too many push notifications.
Instead of concentrating on quantity, it's better to focus on quality. You need to study your customers, their priorities, and their needs. Make sure that your notifications reflect these factors.
There are lots of variables you need to consider while launching your campaign. There is no perfect formula for how many push notifications you should send your users. It might take you a few A/B testing rounds to understand this figure.
Personalizing notifications
Users highly appreciate personalized messages. Here, you'll want to fine-tune messages based on particular user groups' needs.
Sending personalized push notifications shows that you care about users and value them. According to Swrve, personalized push notifications have a 21% higher open rate when compared to messages sent without the use of segmentation criteria. Remember, personalization can increase open rates by up to four times.
Summing up
Mobile app success consists of many elements with a robust mobile app at the core. But without users, there is no app success regardless of how robust or unique an app is. Engaging and retaining users can be a daunting task, especially for newcomers.
In this guide, we discussed the importance and power of mobile push notifications. Here's what we learned about mobile push notifications:
Push notifications provide a direct channel for communication between users and app providers.

Mobile push notifications can give you superpowers to engage users and boost sales, but great power comes with its challenges.

Sending personalized notifications can show your users that they're thought-about and valued.
No fixed formula will help you create successful mobile push notifications, but there is one rule – mobile push notifications should be personal, actionable, and sent on time. Looking for someone to implement push notifications? Reach Orangesoft to get a cost-efficient mobile application.