Despite their popularity, mobile apps are still largely a mystery to consumers. While everyone knows what a mobile app is, many people don't know what goes into making an app. Sadly, this lack of customer awareness negatively affects both sides of app development.
For customers, it can be challenging to choose a development company because they don't understand the time and effort requirements. For app developers like us, it's challenging to explain why it is impossible to create a 30-screens Frankenstein-app that would work on all platforms and devices in a week.
That is why we'd like to "dot the i's and cross the t's" by detailing the factors that influence app development costs. In this article, we calculated the price of mobile app development based on factors like region, company type, the number of platforms, etc. to provide you with a crystal-clear picture on how much app development costs.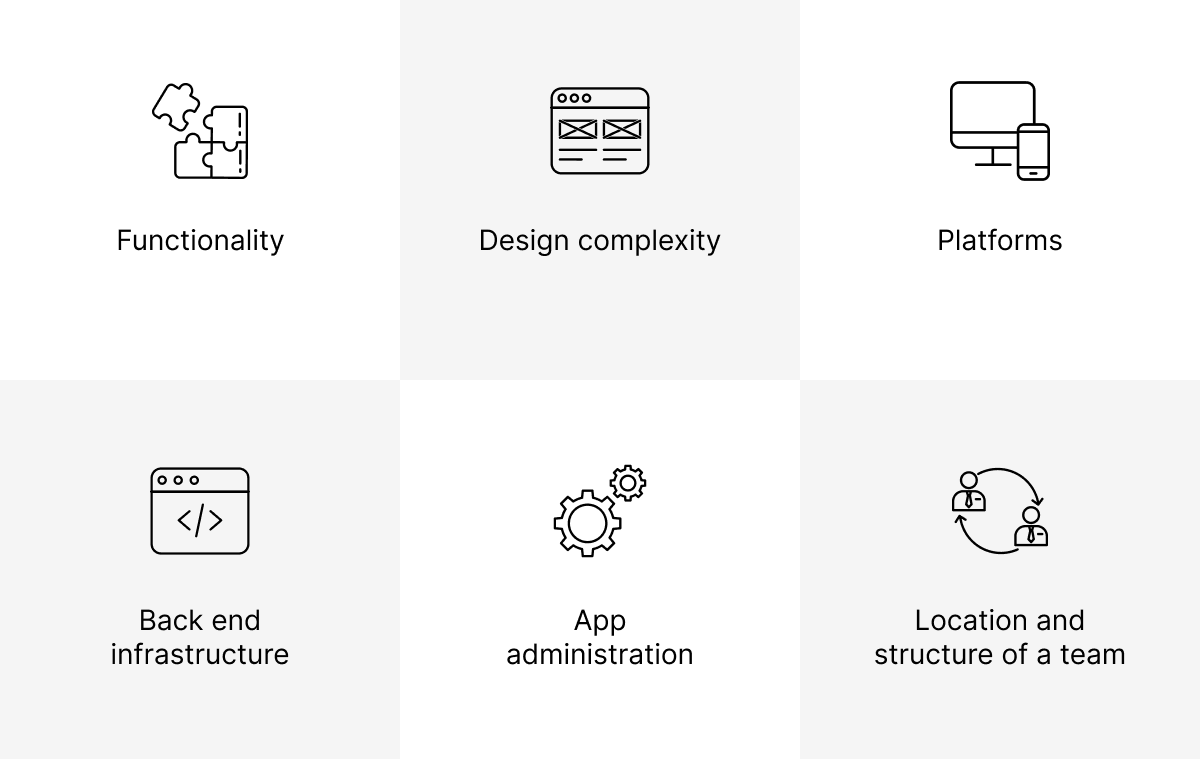 Factors that affect mobile app development cost
In-house, Outsourcing, or Freelance: Choosing an Approach
When you decide you want to build a mobile app, the first step you need to take is choosing "the right people." The ultimate success of your project depends on this very step, so it's crucial to make an educated and responsible decision.
There are three possible options for development: in-house development, outsourcing (local or foreign), and freelance. Since you are looking into how much creating an app costs, it is unlikely that you'd be considering in-house development, so we won't be covering this option in-depth in this article. Instead, let's have a closer look at the outsourcing and freelance options.
To meet your business needs, you need a team with expertise in the development and an understanding of your field. When your niche is too narrow, it's almost impossible to find a local company that would meet your requirements and expectations. In this case, the best option for you is outsourcing.
When you choose to outsource, you receive fair prices. Also, outsourcing provides you with an almost-endless talent pool, and due to high competition, most outsourcing companies offer you their best deals.
Sounds nice, doesn't it? What's the catch? Luckily, apart from being physically distant from your team, there aren't any.
Today, there are plenty of communication tools for video conferences and chats, which largely neutralize the differences between being together in one room and being in an online chat in Slack. As long as everyone is equally involved and interested in the process of product creation, the physical distance doesn't pose a problem. Even time differences aren't an obstacle when you all have the same goal.
Alternatively, you may say, "I can save a lot of money and hire a freelancer who will build me a top-notch app." To some extent, you are right, as you will pay less. However, are you positive that you will be getting the best quality?
Generally, when you decide to work with a company, they give you heaps of legal papers that you need to sign before getting the ball rolling. While this process can be overwhelming, these legal agreements cover your back in terms of deadlines, quality issues, and responsibilities. Not many freelancers can provide you with the same security.
However, we are not trying to convince you that freelancers are evil. Most freelancers cherish their name and rating, and they would do everything possible not to hurt their reputation.
Here, we want to make it clear that a freelancer and an outsourcing company differ in their level of responsibility. When you hire a freelancer, they are responsible for completing the specific tasks that you pay them for, but the freelancer isn't responsible for the overall project.
When you work with a freelancer, you usually choose one person with a certain technology stack. However, many clients don't take additional services/platforms/integrations into account. If you choose the freelancing route, then you will need to hire someone new for each of these facets. At this point, the direct communication and control that you once considered to be a benefit of working with a freelancer may turn into a nightmare.
With freelancers, you can assign tasks and directly work with your freelancers day and night, as freelance working hours are often flexible. Alternatively, professional app development provides you with a multi-functional team and a Project Manager that takes care of your app while you are busy with strategic planning.
| | Outsourced company | Local company | Freelancer |
| --- | --- | --- | --- |
| Expertise | + | - | - |
| Cost | - | - | + |
| Face-to-face meetings | - | + | - |
| Project management | + | + | - |
| Team formation | + | + | - |
| Bureaucracy | - | - | + |
So, how much does it cost to make an app for each development option? Frankly, for outsourcing, you are unlikely to find a trustworthy company that charges less than $25 per hour, and don't be surprised if you come across a rate of $250 per hour either. With outsourcing, the rate per hour doesn't only cover app development. It also includes office expenses, salaries, rental costs, etc.
In freelancing, the freelancer's rate is a sum of money that goes directly to said freelance without any deductions, and rates usually vary greatly. For example, you can find freelancers that charge $25 per hour like a company, and others are ready to make an app for a few bucks. It's up to you which way to go, just remember the benefits and drawbacks for each option.
Related: How To Outsource Mobile App Development
Location Matters
Currently, the mobile ecosystem is thriving across the globe, which creates a spectrum of hourly rates. It's not a secret that the rates in developed regions like North America, Australia, Singapore, and Western Europe dominate in the field. Developers in these regions usually ask for $70-200 per hour.
The USA and Australia are the only countries where mobile app development costs more than $100 per hour. If you have a shoestring budget, it's better to choose another location. For instance, there are countries like India and Indonesia that charge as little as $10 per hour, but keep in mind that you will probably face communication barriers and cultural gaps.
There are also "in-between" options like South America, where rates start around $45 per hour on average. Although, South America is mainly web-oriented because 4G Internet connection appeared in this region later than in Europe or the USA. You want to make sure you consider this caveat when choosing a South American company to develop your mobile app.
Development hourly rates worldwide
Alternatively, if you are looking for a perfect price/quality ratio, you should consider Eastern Europe. Here, mobile app development prices aren't as high, and the number of qualified experts is rather impressive. For example, in Poland, developers tend to charge $35-40 per hour on average.
Further, there is a slight difference in the rates charged by iOS and Android developers. However, recent research shows that these price differences aren't significant.
Mainly, the distinctions are due to the varying platforms. For example, in comparison to iOS, Android has more devices, and developers may take longer to test the apps.
Also, the rate differences can be attributed to the higher competition among platform developers in a region. India is a good example, as Android is more widespread there.
Now that you are aware of app development prices based on a company's location, we'd like to warn you that you should never choose a company only based on the price. Price is only one piece of this decision-making puzzle. You should pay attention to the developer's general experience, overall development time, and company rating, as well.
Related: 9 Tips on How to Choose the Best App Development Company
Team Size
The cost to build an app also depends on the number of people working on your development team. The more people that are involved in the process, the more money you spend.
Let's briefly analyze the roles involved in the app development process and see the value they can add to your project. Please note that the rates illustrated below are the average rates for Poland based on our experience.
Business Analyst ($40-50 per hour)
If everything you have at this point is just an idea, you need a Business Analyst. They help you write documentation that converts your ideas into technical requirements, advise which functions would be beneficial for your app, compare your app with the competitors, and detail future development costs.
UX/UI Designer ($35-60 per hour)
When the documentation is ready, the UX/UI designer comes into play. They visualize and animate everything written in your documentation. First, they make a wireframe and later transform it into a clickable prototype. If you want your app to look beautiful (and you do), you have to fill this position on your team.
Project Manager ($40-50 per hour)
A Project Manager is responsible for the coordination of the entire team's work and the overall success of your project. They are the main person that you will be communicating with during the development of your mobile app. The Project Manager steps in after documentation and design are complete and when the coding begins.
Developers ($40-70 per hour)
There are several different types of developers, including mobile app developers (iOS, Android, cross-platform), back-end developers, and front-end web developers. The individuals you hire will depend on your needs. Developers' primary responsibility is to translate documentation into code. A developer's rate will depend on their skill sets and work experience.
Quality Assurance Engineers ($25-50 per hour)
Quality Assurance Engineers test documentation, design, and everything connected to your app. They perform all possible tests to make sure the project components meet the requirements. You will not receive a final product until a Quality Assurance Engineer has carefully checked and approved your app. Similar to Developers, a Quality Assurance Engineer's rate will depend on their work experience.
Related: Mobile App Development Team: Structure, Roles and Hiring Models
Platforms
Now, you have the information that you need to decide on what roles you need to fill for your development team. However, this is just the beginning.
Have you defined the platform you want your future app to be on? Do you need an iOS app? Or maybe your target audience lives in India, where 90% of the population uses Android?
Or someone told you that the cheapest way to enter the mobile market is to develop a cross-platform app, and you are considering this option now? Too many questions?
Let's start from the beginning and talk through factors that can influence your decision. First, you need to know who your users are. This includes their age, geography, income, preferences, and behavioral models.
For example, to date, devices that support Android OS take almost 80% of the mobile market. This means that Android users are the majority of the overall population. Geographically, Android prevails in post-Soviet countries, Eastern Europe, some Western European countries, South America, and most Asian countries.
On the contrary, only 15% of the mobile market goes to iOS with its users from the USA, Canada, Australia, Japan, Great Britain, and Scandinavian countries. Generally, Android users have a lower income as Android smartphones are cheaper than iPhones, which leads to a lower purchasing power of Android users in comparison to iOS users. This disparity is why you will find more paid apps and apps with in-app purchases in Apple's App Store, and free apps with ad support in Google's Play Market.
After understanding your users' needs, it's time to compare them with your budget. If you have ambitious plans to have maximum market coverage, you need to develop apps for both platforms.
However, if your funds and time are limited, you might want to consider going for cross-platform development. This kind of development allows you to have an app on both operating systems as well as save time, costs, and efforts thanks to reusable code.
Seems like a perfect plan? Hold on. This approach has some serious drawbacks you should know about before making a decision.
Generally, cross-platform development is a good choice for small unscalable projects with simple functionality. If this is your project's description, go for it. In all other cases, you'd better not.
For example, at any moment, developers might not have a library that they need for the desired feature that will lead to creating it from scratch for each platform. If this happens, you will spend twice as much time on development, testing, and bug fixing.
Now, imagine hundreds of these roadblocks. The more features that you'd like to add, the clumsier your app will be. The maintenance of such a project will be a problem, and there could be incompatibilities with the next versions of iOS and Android.
Is there an alternative option? The answer is native app development. Native apps are mobile apps designed for a certain platform using original programming languages and instruments of the mobile operating system. The temptation to cover both platforms can be huge, but we'd recommend starting with one.
In terms of costs, there isn't a significant difference between native app development for iOS or Android. Plus, having one application allows you to quickly adjust to your early users' feedback, extend functionality using existing libraries, and save almost half on costs.
Backend Infrastructure and Administration Panel Costs
Unless you are looking to make a calculator, sticker pack, timer, or notes app, your app will require client-server interaction. This means that your application has to work with data, receive it from the user, send it to a server, and turn back.
When data is used, your app needs to be able to work with and store it. Additionally, the more calculations, integrations, and synchronizations there are, the more expensive backend is.
Another option that usually goes with the mobile app is the administration panel. If you'd like to manage app content, set up user permissions, keep track of the purchases and sign-ups, and send notifications, you will need one.
The cost of developing an admin panel depends greatly on your needs. For example:
Estimated dev time: User management (List of users, Delete/Edit/Create user) – 60-90 hours
Estimated dev time: Payments management (List of payments and operations, Refunding) – 20-40 hours
Estimated dev time: Sending customized push notifications – 8-16 hours
Design Complexity
Creating a customized user interface can influence the cost of the project. The more sophisticated the design is, the more time and effort developers will need to implement it. Conversely, the more OS-supplied elements and standard components are used, the quicker and cheaper your app will be.
The price of the design also depends on the number of screens, platforms, and device orientation (portrait and landscape). Let's look at the most common types of apps to make the picture clearer.
Simple apps
A simple app usually has a few screens, native UI, very limited functionality, portrait orientation, and one platform. Some examples of simple apps are simple weather forecasts, apps for notes, and reminders. In most cases, you don't need any tutorial on how to use these apps because they are so simple the average user can figure them out.
Estimated design time: up to 60 hours
Design cost: from $3,000
Contacter app
Average apps
Average applications include more complicated infrastructure, more screens, a combination of native and customized elements, and two platforms. Good examples of such applications are messengers, cinema and other bookings, and maps. At first, they seem simple, but when you look deeper, there are hidden facets, a variety of statuses, and a diversity of dynamic data.
Estimated design time: up to 120 hours
Design cost: from $7,000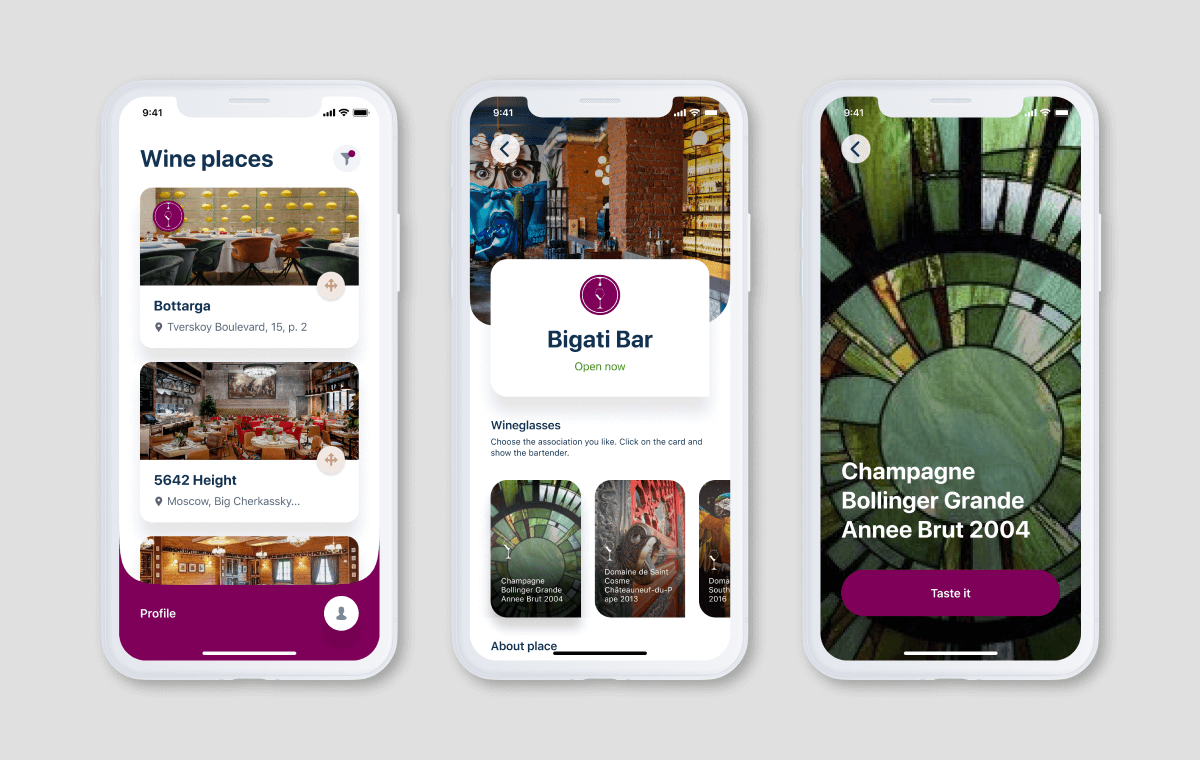 WineBeMine app
Complex apps
We usually attribute multi-featured apps with customized designs and animations to complex apps, and these apps are developed for several platforms in both orientations. They are complex because their functionality can include audio/video processing, real-time synchronization, integration with VR/AR platforms, etc. The more features that you'd like to have, the more expensive your app design will be.
Estimated design time: over 140 hours
Design cost: from $9,000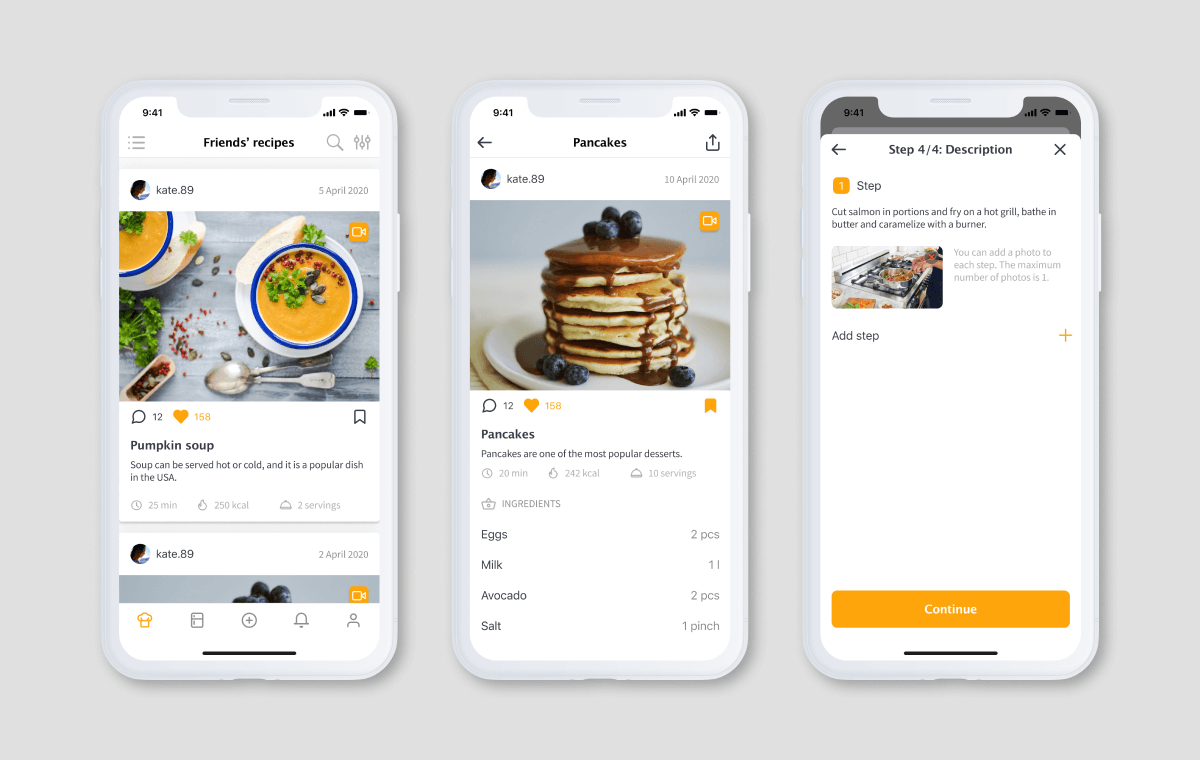 MerryKitchen app
Functionality
App creation costs directly depend on the number of features you'd like to include in your app. At the same time, you should understand that there are features that take less development time and others that require additional research or need to be built from scratch. Thus, implementing five simple features can cost less than developing one multi-faceted feature.
Let's have a look at the table below where you can find the most popular features and see what is required for each feature's development, including the time needed for its implementation and general costs based on the average rate of $35-40 per hour.
Feature

Description

Number of hours (one platform + backend)*

Onboarding

Basic onboarding with simple images and text change only

10 - 14

Animated onboarding

20 - 28

Registration/Log in

Log in with email - Forgot password option - Log out

24 - 36

Log in with 1 social media - Log out

10 - 16

Log in with phone number - Verification code receiving - Log out

20 - 26

User profile

Adding info - Uploading photo

18 - 28

Editing profile - Changing password - Additional settings

36 - 52

Search

Searching by 1 criterion

12 - 18

Push notifications

Basic push notifications with opening application

12 - 18

Customized push notifications with opening the exact app's screen

22 - 34

In-app purchases

Subscriptions/purchases via Google/Apple in-app purchases

44 - 62

Payments with credit cards

Adding/removing card from profile - Paying with it - Seeing balance/transactions

62 - 84
The features above are ones that you can find in almost every app. Next, let's have a look at the features that are less widespread because of their complexity and time-consuming processes.
| Feature | Description | Number of hours (one platform + backend)* |
| --- | --- | --- |
| Chat | List of chats - Sending text messages - Sending media files - Messages statuses | 60 - 88 |
| Integration with maps | Detecting user location - Searching - Setting pin on the map - Smooth zooming in/out - Route planning | 74 - 122 |
| Video/Audio streaming | Watching broadcast - Starting/Stopping broadcast - Switching between broadcasts | 90 - 150 |
| Use of device's hardware (Bluetooth, accelerometers, NFC, camera, etc.) | Working with sensors - Receiving data - Processing data - Communicating with external devices | 18 - 28 per each component |
| Calls | List of contacts - Audio calls - Video calls | 260 - 380 |
| Offline mode | Storing data on the device - Synchronization with the backend when online (depends on the amount of data stored) | up to 80 |
*The approximate time of the given features development doesn't include Quality Assurance and the Project Manager's hours. These estimates are subject to change in accordance with the final design.
Even if your future app has some of the listed features, summing up the figures doesn't mean you've found out the cost of your app. There are additional costs like architecture, project setup, environment setup, and database configuration that must be taken into account. You will only know the exact amount that it costs to build your app after discussing each feature aspect with your team.
App Maintenance Costs
The work isn't done when your app is launched. Finally, you need to plan out a budget for app maintenance. You are not planning to launch your app and wait until your revenue comes in, are you? To be able to stand out in an increasingly competitive market, you need to improve and scale your product constantly, which means that maintenance is inevitable. Usually, maintenance costs cover the following:
Support of the latest OS versions

New features development

Bug fixing

Code optimization

Performance improvement

Server maintenance

Cloud hosting

Third-party service upgrades

Marketing and promotions
Generally, maintenance costs are not included in the initial estimation. They are provided as an additional service by your software company.
Tips on How to Save Money on Mobile App Development
Now, let's see how the final price for an app is formed.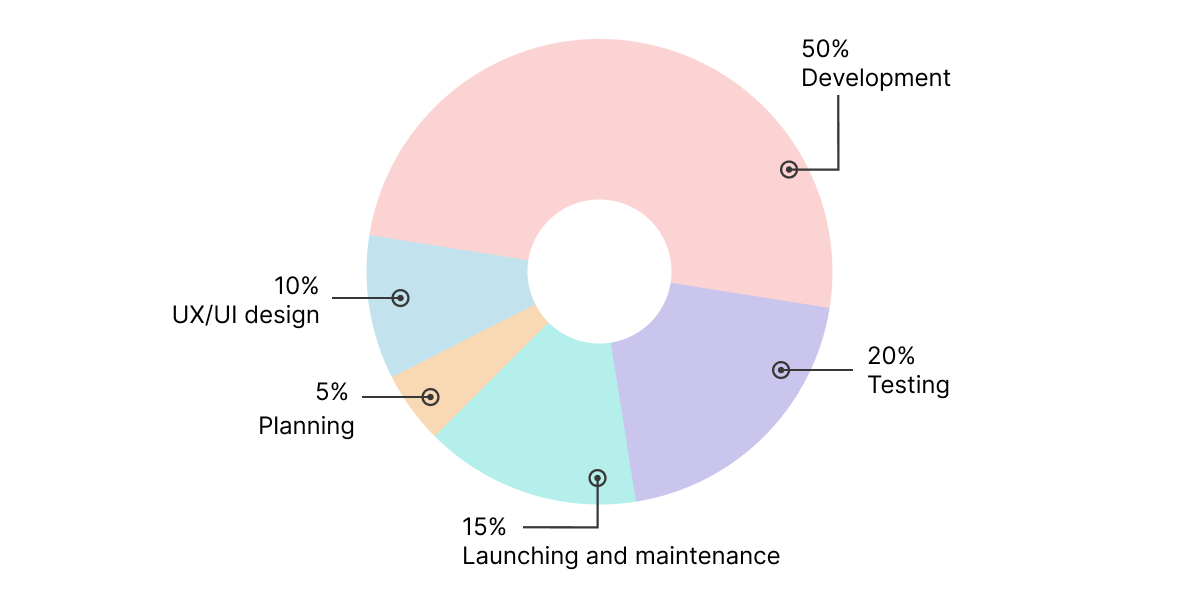 App development cost structure
Understanding your app's cost structure will help you to find ways to save money. Below, we share a few tips to help your budget.
Tip 1: Find a small trustworthy company
Potential savings: up to 40%
Potential problems: A limited amount of small, trustworthy companies exist.
This solution is a lottery where your chance to win is too low. 95% of these companies have only just heard of mobile development standards and code style, but they are ready to promise to build you a second Whatsapp or Facebook in three months just because they want a new order.
The remaining 5% of companies are highly coveted. If you are lucky enough to find one, you can save up to 40%. There are almost no risks, and the main problem is finding the company.
Tip 2: Use cross-platform development
Potential savings: 35-50%
Potential problems: See the section about cross-platform development in the article above.
As we have mentioned, native development allows developers to solve almost any tech issues, whereas a cross-platform solution is a good option for a simple, small-sized project. Initially, cross-platform development may save you 35-50%, but later down the road, your app may change so much that you will have to dump your code and switch to native development.
Tip 3: Split work into iterations
Potential savings: 20-30%
Potential problems: You must know the drill.
You can split work into four main iterations:
Technical documentation

Design

Development

Maintenance
If you come to us with a brief description of your idea and some mock-ups, we might tell you that your app costs between $5,000-15,000. However, if you come with technical documentation, we will tell you the exact price for the project; here, we can say with 99% confidence that your app will cost less than $15,000.
How? It's simple. When estimating projects without any documentation, development companies take potential risks into account. The more vagueness that exists in the beginning, the more risks are present.
The price for writing technical documentation ranges from $2,000-4,000. When considering general app development costs, this price seems to be a drop in the ocean. Usually, the documentation process takes about 2-4 weeks.
When documentation is ready, we make a final estimation, start planning sprints, and dedicate a team to your project. The technical document will save you money on each stage of app development. What's more, in the final stages, your documentation will serve as a guarantor that all your requirements are implemented.
So, what are the risks here? You need to understand what is written in the documentation. This means that you need to have some tech skills. Otherwise, in the end, you may not get what you expect.
Tip 4: Do only the necessary
Potential savings: 20-50%
Potential problems: End up with a simple product.
In apps development, the concept of Minimum Viable Products (MVPs) exists. An MVP is when you start development to create an app with a minimal number of features that would satisfy your initial objectives.
Related: Full Guide on How to Build an MVP
Later, functionality can be added and scaled, but for the first version, developers will only add the minimum amount of features that your app needs to keep it alive. Using this tip, you can save up to 50% and tailor your progress based on your users' early feedback rather than building a useless, multi-featured castle from your original plan.
For example, if you own a flower shop, your app must have a list of flowers you sell, a shopping cart, and a delivery option. When you only do the necessary, you stop here.
Of course, you have a lot more ideas on what to add. But stop! You don't need a social network for flower lovers, Apple Pay integration, or bouquets selection with the help of artificial intelligence.
Your goal is to sell flowers via the mobile app. The rest are expensive, nice-to-have-features that you can add at a later time. Remember to inform your users that this is just the first version and that there will be more extended functionality to come.
Tip 5: Invest in long-term cooperation
Potential savings: 10-15%
Potential problems: Limited time for other ventures outside of your commitment.
Mobile projects usually are short-term, and this drives up costs. The process includes the presale stage, expenses connected to the start of the project, project completion, project acceptance, and maintenance usually only lasts a few months.
At Orangesoft, we believe that sleek code and smooth cooperation work miracles in terms of trusted long-term relations and returns on your investments. If our services are what you have been looking for, give us a call at +1(424)-208-0209 or send us an email at hello@orangesoft.co, and we will gladly help you to bring your app idea to life.
To save some money, you want to try being honest and assure your developers that you plan to work with them on updated versions and added functionality. Then, see if you both can agree on a discounted price.