Despite their popularity, mobile apps are still largely a mystery to consumers. While everyone knows what a mobile app is, many people don't know what goes into making an app. Sadly, this lack of customer awareness negatively affects the app development process.
For customers, it can be challenging to choose an app development company because they might not understand the time and effort needed to build an app. For app developers like us, it's sometimes challenging to explain why it is impossible to create a 30-screens Frankenstein app that would work on all platforms and devices in a week.
That is why we'd like to "dot the i's and cross the t's" by detailing the factors that influence app development costs. In this article, we calculated the average cost of mobile app development based on factors like region, company type, the number of platforms, etc., to provide you with a crystal-clear picture of how much app development costs.
How Much Does It Cost to Build an App in 2023?
App development costs can vary from $40,000 to $350,000+. But why such a huge cleft? It turns out there's a lot that enters the equation when it comes to your app development budget.
The type of an app, its feature set, and the number of platforms are slivers of all cost drivers that impact the app development price. Below, we shed light on the main expenditure items and the average cost to make an app for different domains.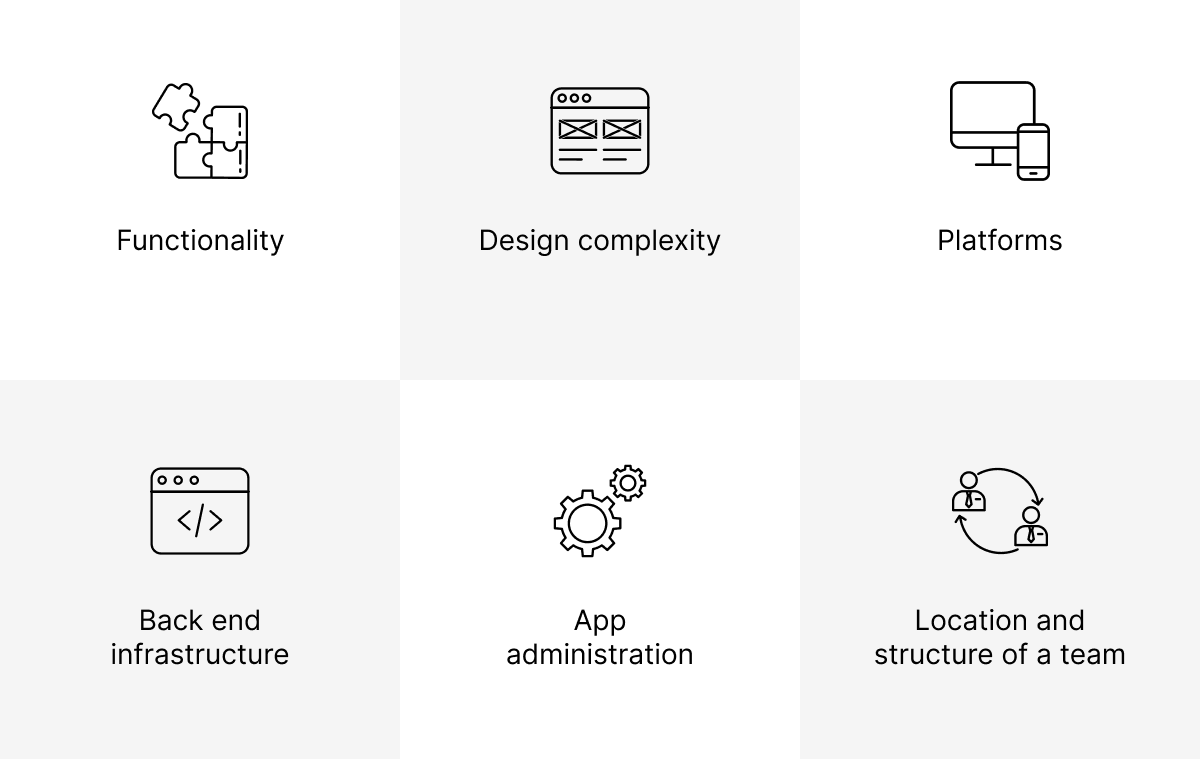 Factors that affect mobile app development cost
Outsourcing or Hiring Freelancers: Choosing an Approach
When you decide you want to develop an app, the first step you need to take is to hire the right people. The ultimate success of your project depends on this very step, so it's crucial to make an informed and responsible decision. Here, freelance talents and outsourcing app development companies are among the most popular options.
An outsourcing app development partner is a great option if software development is not the main focus of your business. By farming out your app project, you can maintain steady business growth while keeping the core of your team invested in internal tasks.
When you choose to outsource, you score the optimal cost-value ratio as you don't have to invest in the infrastructure and can access markets with cost-effective rates. Also, outsourcing provides you with an almost-endless talent pool, including niche skills and unique domain expertise required to create an app for specific business needs.
Alternatively, you may say, "I can save a lot of money and hire a freelance app developer who will build me a top-notch app." To some extent, you are right, as you will pay less. However, are you sure that you will be getting the best quality?
Generally, when you decide to work with a company, they provide heaps of legal papers you need to sign before getting the ball rolling. While this process can be overwhelming, these legal agreements cover your back in terms of deadlines, quality issues, and responsibilities. Not many freelancers can provide you with the same security.
However, we are not trying to convince you that freelancers aren't an option. Top-rated freelancers cherish their name and rating, and they would do everything possible not to hurt their reputation.
Here, we want to make it clear that a freelancer and an outsourcing company differ in their level of responsibility and compliance. When you hire a freelancer, you cannot expect them to handle a HIPAA-compliant app development project or adhere to the required security standards. Conversely, a professional app development company can meet your unique compliance requirements and provide you with guarantees and client protection measures.
When you work with a freelancer, you usually choose one person with a certain technology stack. However, many clients don't consider additional services, platforms, or integrations.
If you choose the freelancing route, you will need to hire someone new for each task. At this point, the direct communication and control that you once considered a benefit of working with a freelancer might turn into a nightmare.
With freelancers, you can assign tasks and directly work with your freelancers day and night, as freelancers' working hours are often flexible. Alternatively, professional app development companies provide you with a multi-functional team and a project manager that takes care of your app while you are busy with strategic planning.
So, how much does it cost to develop an app for each hiring option cost? As for outsourcing, the rates differ a lot based on the seniority level and expertise of the development team, its location, your application complexity, the number of platforms, and other factors.
In freelancing, the freelancer's rate is a sum that goes directly to the given freelancer minus the platform fees, and rates usually vary greatly. For example, you can find freelancers that charge $70 per hour like a company, and others are ready to make an app for a few bucks per hour. It's up to you which way to go; just remember the benefits and drawbacks of each option.
Related: How To Outsource Mobile App Development
Location Matters
Currently, the mobile ecosystem is thriving across the globe, which creates a spectrum of global hourly rates. Regions with a high cost of living or corporate taxes tend to put a hefty price tag on developers, meaning North America, Australia, and Singapore traditionally top the ratings of well-compensated locations for developers. Developers in these regions usually ask for $70-200 per hour.
Conversely, countries with lower living costs, such as India and Indonesia, offer more affordable rates of $20-30 per hour. But keep in mind that it might not be easy to set up a profitable relationship there due to the differences in culture, legal systems, and business outlooks.
There are also "in-between" options like South America, where average rates start around $45 per hour. However, South America is mainly web-oriented because 4G Internet connection appeared in this region later than in Europe or the US, so you want to consider this when choosing a South American company to develop an app.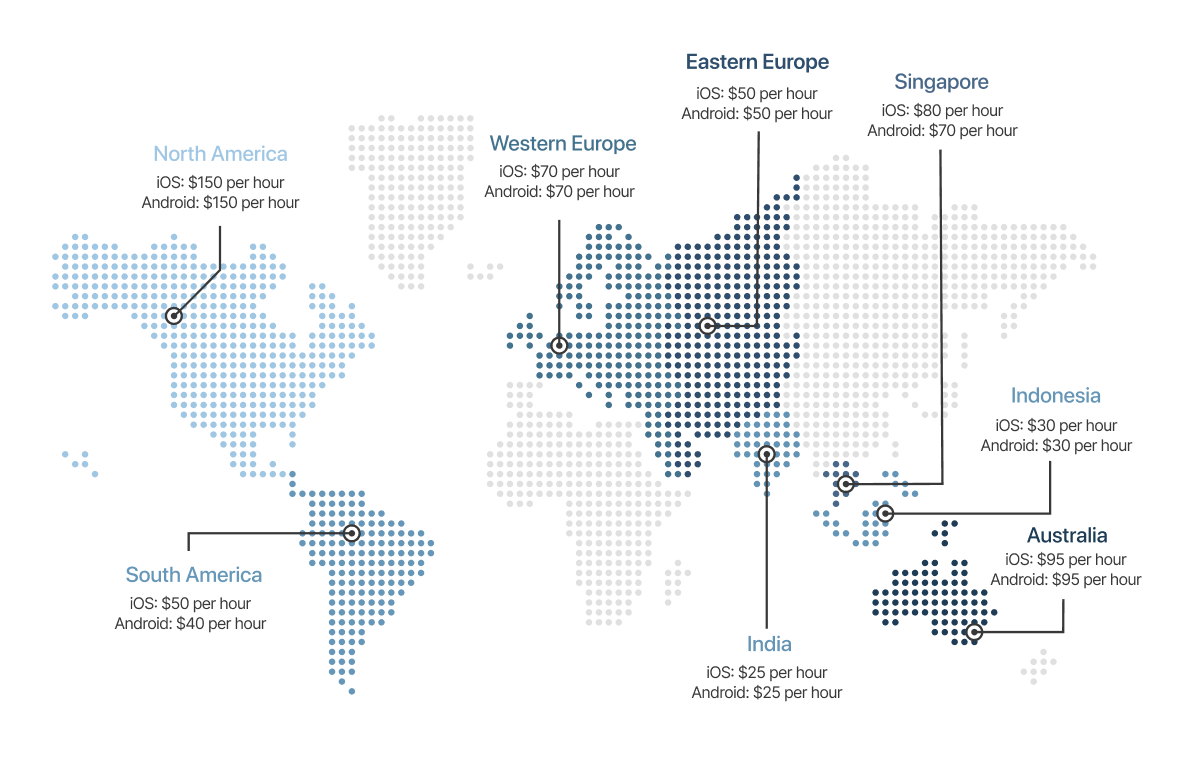 Development hourly rates worldwide
Alternatively, if you are looking for a perfect price/quality ratio, you can consider Eastern Europe. Here, the average app development cost isn't as high, and the number of qualified experts is rather impressive. For example, in Poland, developers tend to charge $40-60 per hour on average.
Further, there is a slight difference in the price tag put by iOS and Android developers. However, recent research shows that these price differences aren't significant, and the distinctions are mainly due to the differences in platforms. For example, in comparison to iOS, Android has more devices, and it may take longer to build an Android app and adjust it to different screens.
Also, the rate differences can be attributed to the higher competition among platform developers in a region. India is a good example, as Android is more widespread there.
Now that you are aware of the average cost of an app by location, we'd like to mention that you should never choose a company based solely on price. Price is only one piece of this decision-making puzzle. You should also pay attention to the developer's general experience, overall development time, and company rating.
Team Size
The average cost to make an app also depends on the number of people working on your development team. The more people are involved in the process, the more money you spend.
Let's briefly analyze the roles involved in the app development process and see the value they can add to your project.
Please note that the rates illustrated below are based on our rates at Orangesoft.
Business Analyst ($40-60 per hour)
If everything you have at this point is just an idea, you need a thorough business analysis to prove the viability of your idea. Business analysts help you write documentation that converts your ideas into technical requirements, recommend features based on market trends, compare your app with the competitors, and estimate a future app development cost.
UX/UI Designer ($40-50 per hour)
Just like a business analyst, a UI/UX designer is present at the early stages of the project. They visualize everything written in your documentation by first making a wireframe and then transforming it into a clickable prototype. If you want your mobile app's interface to be aesthetic (as you should), you have to include this position on your app development team.
Project Manager ($40-50 per hour)
A project manager is responsible for the alignment of the entire team's work and the overall success of your project. They are the main point of contact that you will be communicating with during mobile app development. The project manager usually steps in during the take-off of your project to set up your collaboration for success from day one.
Developers ($40-70 per hour)
There are different types of developers, including mobile app developers (iOS, Android, or cross-platform), backend developers, and frontend web developers, and the specialty of your developers will depend on your needs. Developers' primary responsibility is to translate documentation into code. A developer's rate will depend on their skill sets and work experience.
Quality Assurance Engineers ($35-50 per hour)
Quality assurance (QA) engineers test every aspect of your app, including documentation, design, app performance, and others. They run all possible tests to make sure the project components meet the requirements, and you will not receive a final product until a QA engineer has carefully checked and approved your app. Similar to developers, a QA engineer's rate will depend on their work experience.
Platform Choice
Now, you have the information about the team structure you need for your mobile app development. However, this is just the beginning.
Have you defined the platform you want your future app to be on? Do you need an iOS app development team? Or maybe your target audience lives in Asia, where locals prefer Android?
Or someone told you that the cheapest way to enter the mobile market is to develop a hybrid app, and you are considering this option now?
Too many questions?
Let's start from the beginning and talk through factors that can influence your decision. First, you need to know who your users are, including their age, geography, income, preferences, and behavioral models.
For example, devices that support Android OS hold 71% of the market share, while iOS accounts for the rest of the mobile market. This data means that Android users are the majority of the overall population. Geographically, Android prevails in Eastern Europe, some Western European countries, South America, and most Asian countries.
At the same time, iOS takes the lead in the US, North America, Australia, and northern Europe. Generally, Android users have a lower income as Android smartphones are cheaper than iPhones, which leads to a lower purchasing power for Android users than iOS users.
This disparity is why you will find more paid apps and apps with in-app purchases in Apple's App Store and free apps with ad support in Google Play.
After understanding your users' needs, it's time to compare them with your business objectives. If you need to enter the market fast to test your business hypothesis or get investor buy-in with a prototype, you might consider cross-platform development. This kind of development allows you to cover both operating systems with one codebase.
However, despite apparent gains, this approach has some severe drawbacks you should consider. For example, you won't be able to tap into device-specific potentials such as cameras, GPS, and other hardware functionality. Also, you might have a problem adapting your application's look and feel on different devices.
Generally, cross-platform development is a good choice for small unscalable projects with simple functionality. If this is your project's description, go for it. In all other cases, we recommend choosing native app development.
A native mobile app is an application designed in full compliance with the guidelines of a specific operating system. As a native app is powered with native programming languages and tools of the given mobile operating system, it offers higher performance and easier maintenance than a cross-platform solution.
Building for one platform also helps you provide a better user experience thanks to seamless device compatibility, consistency with the operating system design, and granular customization. Also, the architecture of a native application is designed for scalability, which helps you go from an MVP to a full-fledged application with the least disruption.
Backend Infrastructure and Administration Panel
Unless you are looking to make a calculator, sticker pack, timer, or notes app, your app will require client-server interaction. A backend infrastructure is what enables this interaction.
The backend is a core element of a mobile app as it does most of the heavy lifting related to data verification, authentication, processing business logic, data storage, and security. In other words, the backend refers to the activities that happen behind the scenes when you perform a task on an app. The more calculations, integrations, and synchronizations there are, the more expensive the backend is.
Another option that usually goes with the mobile app is the administration panel. It allows you to manage app content, set up user permissions, manage payments and send notifications. If you need a basic admin panel, we recommend going with ready-made solutions to reduce development costs. On the contrary, complex and custom administration panels are usually built from scratch.
So how much does it cost to develop an admin panel? It depends greatly on your needs. For example:
User management (list of users, delete/edit/create user) – $720-1,800
Payments management (list of payments and operations, refunding) – $900-1,800
Content management – $1,800-3,600
Sending customized push notifications – $360-720
Design Complexity
Creating a customized user interface can influence the cost of the project. The more sophisticated the app design is, the more time and effort developers will need to implement it. Conversely, the more OS-supplied elements and standard components are used, the quicker and cheaper your app will be.
The price of the app design also depends on the number of screens, platforms, and device orientation (portrait and landscape). So next, let's look at the most common app types.
Simple apps
A simple app usually has a few screens, native UI, very limited functionality, portrait orientation, one platform, and simple animations. Some examples of simple apps are simple weather forecasts, apps for notes, and reminders. In most cases, you don't need any tutorial on how to use these apps because they are so simple the average user can figure them out.
Estimated design time: 40-80 hours
App design cost: $1,800-3,600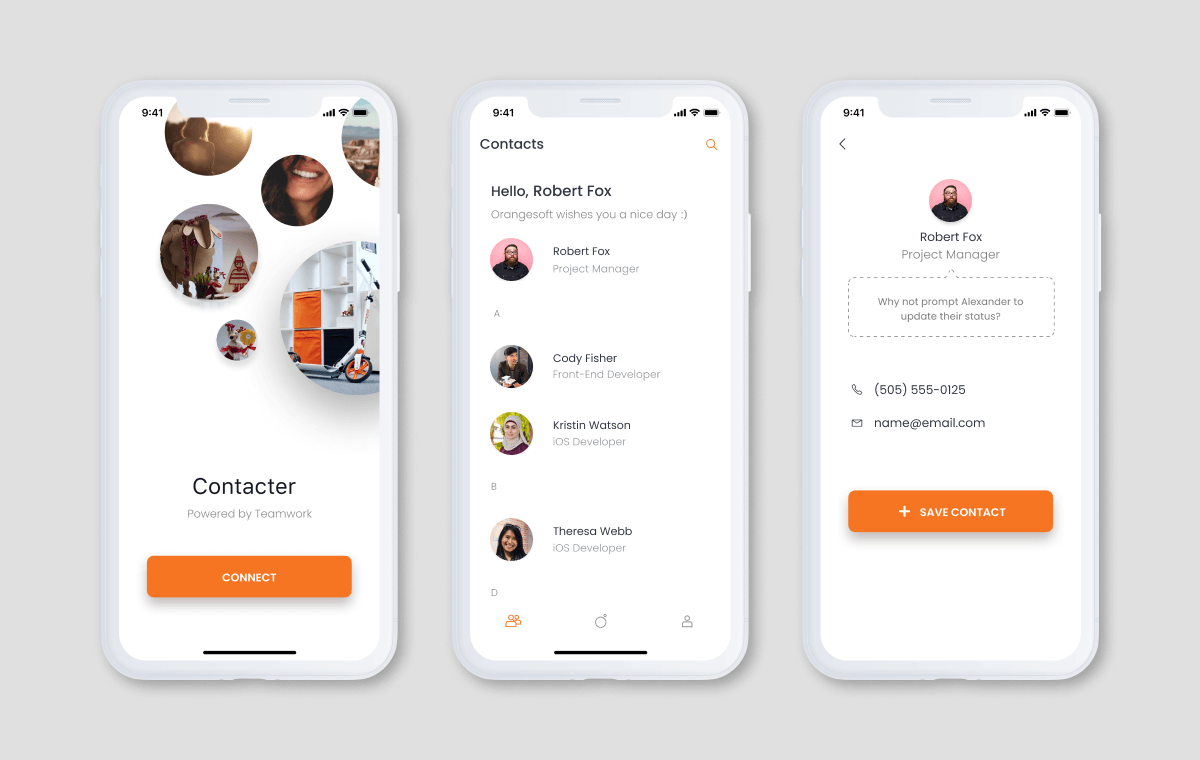 Contacter app from Orangesoft's portfolio
Average apps
Average applications include more complicated infrastructure, more screens, a combination of native and customized elements, and two platforms. Good examples of such applications are messengers, cinema and other bookings, and maps. At first, they seem simple, but when you look deeper, there are hidden facets, various statuses and diversity of dynamic data.
Estimated design time: 120-200 hours
App design cost: $5,500-9,000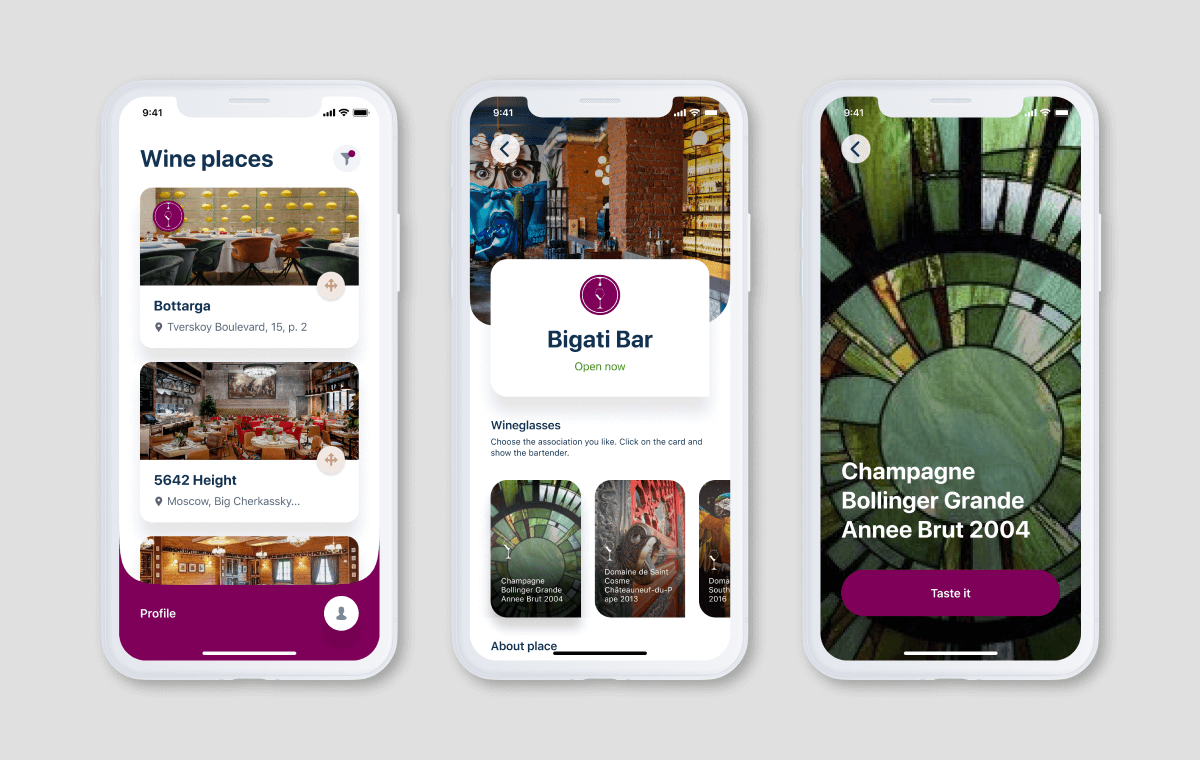 WineBeMine app from Orangesoft's portfolio
Complex apps
Complex mobile apps are typically associated with customized designs, animations, and a wide range of features. These apps are developed for several platforms in both orientations. Complex applications support broad, unstructured goals or nonlinear workflows that lead to a large number of design screens with complex transitions between them.
Estimated design time: 240-400 hours
App design cost: $10,000-18,000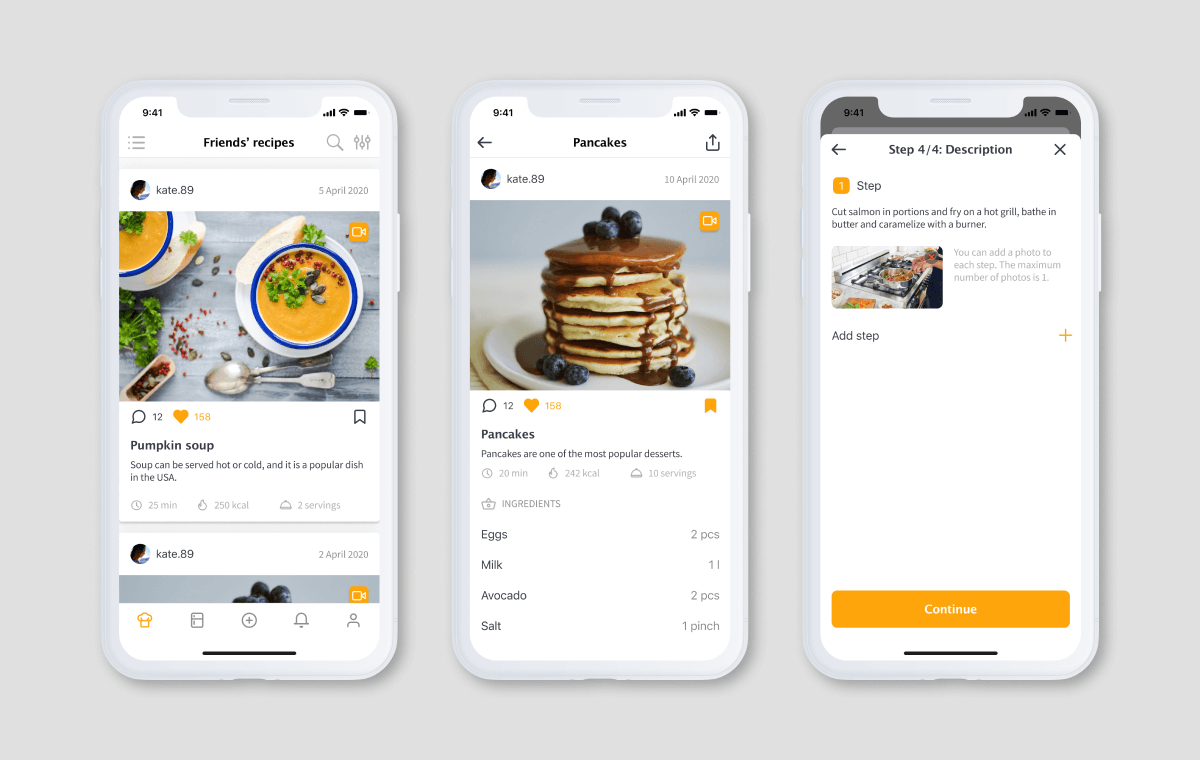 MerryKitchen app from Orangesoft's portfolio
Functionality
The mobile app development cost depends directly on the number of features you'd like to include. At the same time, you should understand that there are features that take less app development time and others that require additional research or need to be built from scratch. Thus, implementing five simple features can cost less than developing one multi-faceted feature.
Let's have a look at the app development cost breakdown below. There, you can find the most popular app features and see what is required for each feature's development, including the time needed for its implementation.
Feature
Description
Number of hours (one platform + backend)*
Onboarding
Basic onboarding with simple images and text change only
10 - 14
Animated onboarding
24 - 40
Sign in / Sign Up
Sign in / Sign Up with email, forgot password option, and log out
46 - 56
Sign in / Sign Up with AppleID / Google and log out
32 - 56
Sign in / Sign Up with phone number, verification code receiving, and log out
46 - 56
User profile
View personal info
16 - 32
Editing profile, changing password, and additional settings
36 - 52
Search
Search by name and description
32 - 56
Push notifications
Basic push notifications that redirect to a specific app screen
12 - 18
In-app purchases
Subscriptions/purchases via Google/Apple in-app purchases
44 - 62
Payments with credit cards
Adding/removing credit cards from profile, paying with credit cards, and seeing balance/transactions
56 - 96
The features above are ones that you can find in almost every app. Next, let's have a look at the features that are less widespread because of their complexity and time-consuming nature.
| Feature | Description | Number of hours (one platform + backend)* |
| --- | --- | --- |
| Chat (from scratch) | List of chats, sending text messages, sending media files, and message statuses | 160 - 320 |
| Chat (third-party integration) | All SDK features, including audio & video calls | 100 - 160 |
| Integration with maps | Detecting user location, searching, setting a pin on a map, smooth zooming in/out, and route planning | 120 - 160 |
| Video/audio streaming | Watching broadcasts, starting/stopping broadcasts, and switching between broadcasts | 100 - 160 |
| Use of device's hardware (Bluetooth, accelerometers, NFC, camera, etc.) | Working with sensors, receiving data, processing data, and communicating with external devices | 18 - 28 per each component |
| Offline mode | Storing data on the device and synchronization with the backend when online (depends on the amount of data stored) | from 40 |
*The approximate time of the development of the given feature doesn't include Quality Assurance and the Project Manager's hours. These estimates are subject to change per the final design.
Even if your future app has some of the listed features, you can't just sum up the costs of each feature. There are additional costs like architecture, project setup, environment setup, and database configuration that must be taken into account. You will only know the exact amount that it costs to build an app for your business after discussing each feature aspect with your app development team.
App Maintenance Costs
The work isn't done when your app is launched; you need to plan out a budget for app maintenance. You aren't planning to launch your app and wait until your revenue comes in, are you?
To stand out in an increasingly competitive market, you need to constantly improve and scale your product, which means that maintenance is inevitable. Usually, app maintenance costs cover the following:
Support of the latest OS versions
New features development
Bug fixing
Code optimization
Performance improvement
Server maintenance
Cloud hosting
Third-party service upgrades
Marketing and promotions
Generally, app maintenance costs are not included in the initial estimation. These estimates are provided as an additional service by your software company.
Hidden App Development Costs
At first, it may seem like development and maintenance expenses are all you need to pay to get your app off the ground. However, mobile app development also includes additional cost drivers that may burden your app development budget unless you account for them.
Here's what adds to the final answer of "How much does it cost to develop an app?:"
Fees for third-party integrations: To implement ready-made integrations like payment gateways, push notifications, or social login, you might need to subscribe to a service that provides a delivery mechanism.
Admin, marketing, and management costs: These are needed to manage users and update data in your application. Examples include content management tools and dashboard simulators.
Infrastructural costs: These are the costs associated with the backend of your application, such as the content delivery network, servers, and data storage.
App Store and Google Play charges: The App Store charges an annual fee of $99 for an Individual Developer Account, while the Google Play store's license is a $25 one-time cost.
Based on the above, let's do some math. Let's say your app development cost is around $100,000; thus:
Third-party integrations may add approximately $500 to $10,000 per year.
Application maintenance will cost you about 20% of the net development cost per year, i.e., $20,000.
Admin and marketing costs vary greatly on the company's size, stage of growth, domain, and chosen marketing channels. Many experts recommend spending 12-20% of your gross revenue on marketing. As your app becomes more established, you can lower this percentage to 6-12%.
The average cost of app development also depends on the specific application category. In the next section, we've provided the app development cost breakdown for each app group. Keep in mind that each project is unique, so your estimation will likely differ slightly.
Mobile App Development Cost Based on App Type
eLearning apps
Development cost: $120,000-280,000 per platform
Development timeline: 3-6+ months
App examples: DuoLingo, Coursera, and Memrise
The last few years have been a tipping point for educational apps due to the global shift to remote-first learning practices. The popularity of digital education resulted in $7 billion in revenue in 2022. By 2027, this market is set to grow at a 28.6% CAGR.
eLearning apps vary from exam preparation apps to full-fledged online course solutions. This app's features may include registration, user profile, search by category, live chats, analytics, gamification, and others.
Fitness apps
Development cost: $120,000-250,000 per platform
Development timeline: 3-6+ months
App examples: MyFitnessPal, Fitbit, and Calm
Fitness and wellness applications are another app category that got its boost during the pandemic and lockdowns. As a result, the revenue of the global fitness app market is projected to grow from $12.68 billion in 2023 to over $29.16 billion in 2027.
This application category includes fitness, health, meditation apps, diet, smart coach, and move-to-earn apps, each with its own set of features. A typical fitness application may include features like login and profile, geolocation, calorie tracking, water tracking, social sharing, and gamification.
E-commerce apps
Development cost: $120,000-300,000 per platform
Development timeline: 3-6+ months
App examples: SHEIN, Shopee, and Meesho
From 2018 to 2021, time spent on shopping apps grew from 48.7 billion hours to around 100 billion, making this category one of the top-grossing. By 2025, mobile commerce is poised to take up to 10.4% of total retail sales.
E-commerce apps include the basic features we've mentioned earlier, such as user sign-in, profile, and social sharing features. The differentiating features of these apps include detailed product catalogs, advanced search, product pages, and a user check-out system with payment gateways.
This application category is complex as it requires a robust back-end with an admin panel. For example, if you want to tap into livestream shopping, expect your mobile app development costs to increase.
Dating apps
Development cost: $120,000-300,000 per platform
Development timeline: 3-6+ months
App examples: Tinder, Badoo, and Bumble
The global dating app revenue neared $6 billion in 2022, while the time spent on dating apps reached $10 billion. The typical set of features for Tinder-like applications include login and profile, search, swipes and likes, geolocation, customizable search, and a payment gateway. Some dating applications may also be equipped with live streaming, video chats, personalized avatars, and speed video dating.
Telemedicine apps
Development cost: $150,000-350,000 per platform
Development timeline: 3-6+ months
App examples: Teladoc, MDLIVE, and Amwell
Telemedicine or doctor-on-demand applications are prominent examples of digital health applications that got their boost during the pandemic. As a result, the global telemedicine market is projected to grow from $90 billion in 2021 to over $636 billion in 2028 at a CAGR of 32.1%.
There are multiple types of systems for healthcare, including apps for meditation and fitness, telemedicine software, electronic health record (EHR) solutions, and much more. The cost of telemedicine applications varies based on their complexity, integration requirements, and the implementation of innovative technologies such as artificial intelligence and IoT.
Typically, telemedicine applications connect to the provider's existing ecosystem, which may include EHR/EMR systems, RPM solutions, and others. Also, telemedicine applications belong to the compliance-heavy category and must adhere to healthcare regulations such as HIPAA, GDPR, HITECH Act, and others.
Video streaming apps
Development cost: $150,000-350,000 per platform
Development timeline: 3-6+ months
App examples: YouTube, Netflix, and Disney+
As more users flock to on-demand video platforms, video streaming apps gain more traction. In 2021, global consumer spending surpassed $7.8 billion among the top 20 video streaming apps. By 2030, the global video streaming market is slated to grow from $375.1 billion in 2021 to over 1,700 billion by 2030.
The complex back-end architecture eats up the lion's share of the app development budget. Video streaming protocols, network connectivity, hosting, and storage also add to the total price of developing a video streaming app.
Fintech apps
Development cost: $160,000-350,000 per platform
Development timeline: 3-6+ months
App examples: PayPal, Coinbase, and Robinhood
The fintech market has emerged as a dominant market, with a total of 1.74 billion downloads at the beginning of 2022. This application category encompasses neobanks, cryptocurrency apps, budgeting applications, mobile payment services, etc.
This application group relies heavily on blockchain technology, microservices, and data analytics. Other features include QR code scanning, payment gateway integration, and AI-powered chatbots. Fintech applications are subject to stringent data security requirements and regulations.
Travel apps
Development cost: $150,000-300,000 per platform
Development timeline: 3-6+ months
App examples: Airbnb, Tripadvisor, and Waze
The online travel industry accounts for a market size of over $475 billion, with a projected value of $1 trillion by 2030. The subcategories of travel apps include transportation, accommodation, and geolocation applications.
The mobile app development cost for this category differs greatly based on the application complexity and the number of user groups. An online booking platform, for example, includes multiple interfaces for different types of users, such as traveler cabinet and host cabinet, along with advanced search, geolocation, and other features.
On-demand apps
Development cost: $150,000-350,000 per platform
Development timeline: 5-7+ months
App examples: Uber, UberEATS, and Instacart
On-demand apps are designed to connect customers with service providers, thus helping users book a service instantly.
Uber is one of the most famous on-demand solutions that has made a dent in the market. It is a complex, three-sided application for drivers, riders, and admins. Therefore, it provides a different experience for each user group.
Uber is also packed with numerous advanced features, from real-time tracking to in-app chat to multiple payment options. Besides ride-hailing, on-demand apps can have ordering and delivery features to purchase goods and services.
Social media apps
Development cost: $150,000-350,000 per platform
Development timeline: 3-6 months
App examples: Instagram, Facebook, and TikTok
Social media apps are the linchpin to connecting the mobile-first world with an ever-growing market size. Consumer spending on social apps surpassed $7 billion in 2022, while the total time spent hit over 2 trillion hours.
As the name implies, this application group is all about communication and social interaction. In-app live chats, media sharing, live streaming, communities, and other features are the typical insides of social media applications.
Marketplace apps
Development cost: $180,000-400,000 per platform
Development timeline: 9+ months
App examples: eBay, Fiverr, and Amazon
A marketplace app caters to sellers and buyers and combines e-commerce and on-demand services features into an all-in-one platform. Therefore, marketplace apps should include two sets of features that support the demand and supply logic. Product search and product page, shopping cart, multiple payment options, and even augmented reality are the go-to features for this app category.
IoT and hardware apps
Development cost: $120,000-350,000 per platform
Development timeline: 3-6 months
App examples: Samsung SmartThings and SmartFarmer
IoT applications serve as a bridge between equipment and technology and can be created to support almost every industry and vertical, including healthcare, manufacturing, agriculture, and others.
These apps run via Bluetooth or Wi-Fi technology and are usually augmented with machine learning to analyze sensor data. To build an IoT app, you need a unified device ecosystem.
Enterprise apps
Development cost: $200,000-350,000 per platform
Development timeline: 3-6 months
App examples: Salesforce, NetSuite, and Zoho Analytics
Enterprise apps are designed to operate in a corporate environment and facilitate business operations. Enterprise resource management software, customer relationship management, and business intelligence applications are among the most prominent examples of enterprise software.
Typically, these applications rely on automated and pre-defined pathways to streamline daily business tasks. They're also built to integrate natively into an existing business ecosystem.
Total App Development Cost Based on the Process
Below, we have provided a rundown of app development costs that take development stages and the scope of your project into account. Keep in mind that the following app development prices are based on our rates at Orangesoft.
| App development stage | Basic version (minimum feature set, 1 platform) | Full product (more features and design of larger complexity, 2 platforms) | Large app (complex app design, development, and support, 2 platforms) |
| --- | --- | --- | --- |
| UX/UI design | $1,800+ | $5,500+ | $10,000+ |
| Custom development | $90,000+ | $220,000+ | $350,000+ |
| Quality assurance | $18,000+ | $44,000+ | $70,000+ |
| Project management | $13,500+ | $33,000+ | $53,000+ |
| Business analysis | $2,000+ | $8,000+ | $12,000+ |
| Total setup | $125,300+ | $310,500+ | $495,000 |
| Time | 3-4 months | 4-9 months | 9+ months |
Please, remember that each app development cost estimate is calculated individually based on your project requirements. At Orangesoft, we dive deep into your business idea and provide a ballpark estimate to give you an understanding of the app development budget. The more detailed your vision is, the more accurate your upfront cost estimate will be.
Tips on How to Save Money on Mobile App Development
Now, let's see how the final app development cost is formed.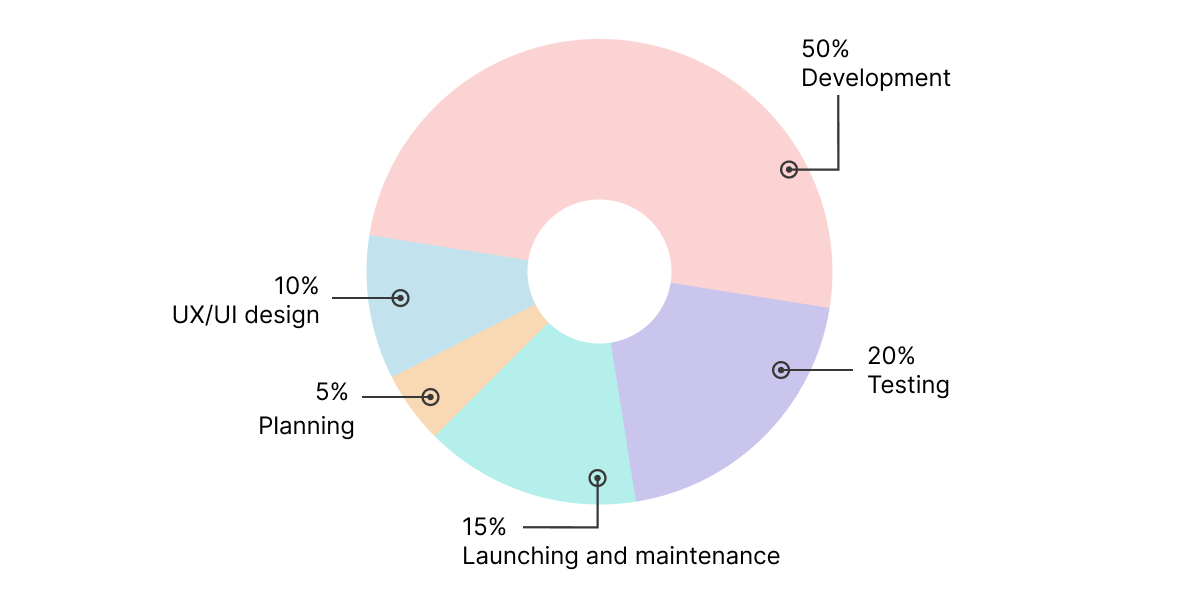 App development cost structure
Understanding your app's cost structure will help you to find ways to save money. Below, we share six tips to help your app development budget.
Tip 1: Find a vendor with end-to-end expertise
Potential savings: up to 40%
Potential problems: a limited number of small, trustworthy companies exist
Hiring a single team for design and development is usually cheaper than pulling in multiple teams for each project stage. Securing an end-to-end partnership also leads to minimal disruptions, better operational efficiency, and a consistent development process. All these increase the odds of delivering a high-quality product – faster and within your budget.
End-to-end app development can save you up to 40% of the total app development price, provided you land a trusted vendor with multi-disciplinary expertise and a cross-functional app development team.
Tip 2: Use cross-platform development as a pilot
Potential savings: 35-40%
Potential problems: See the section about cross-platform development in the article above
As we have mentioned, native app development allows developers to solve almost any tech issue, whereas a cross-platform solution is a good option for a simple, small-sized project. A cross-platform solution allows you to save app development costs at the beginning of your project when you're unsure of the product's viability in the market.
We recommend this cost-saving approach for a pilot solution that must be developed quickly. Later, you can iterate on a validated business vision and create a full-fledged solution based on native technologies to give it a long lifetime.
Tip 3: Split work into iterations
Potential savings: 20-30%
Potential problems: You must know the drill.
You can split work into four main iterations:
Technical documentation
Design
Development
Maintenance
If you come to us with a brief description of your idea and some mock-ups, we might tell you that your app costs between $80,000-400,000. However, if you come with technical documentation, we can tell you the exact price for the project.
When estimating projects without documentation, development companies take potential risks into account. The rule here is that vagueness means more risk.
The price for writing technical documentation ranges from $4,000-10,000. When considering general app development costs, this price seems to be a drop in the ocean. Usually, the documentation process takes about 2-4 weeks. However, more complex projects may take up to two months to document and plan.
When documentation is ready, we make a final estimation, start planning sprints, and assign a team to your project. The technical document will save you money at each stage of app development. In the final stages, your documentation will serve as a safety net, ensuring all your requirements are implemented.
So, what are the risks here? First, you need to understand what is written in the documentation, which requires some tech skills. Otherwise, in the end, you may not get what you expect.
Tip 4: Start with an MVP
Potential savings: 20-50%
Potential problems: End up with a simple product
In mobile app development, a minimum viable product (MVP) is when you create an app with a minimal number of features that would satisfy your initial objectives. Later, functionality can be added and scaled. Using this tip, you can save up to 50% and tailor your progress based on your users' early feedback rather than building a useless, multi-featured castle from your original plan.
For example, if you own a flower shop, your app must have a list of flowers you sell and a shopping cart – features that allow users to complete only the necessary actions.
Of course, you have more ideas on what to add. But in most cases, you don't need a social network for flower lovers, Apple Pay integration, or bouquet selection with the help of artificial intelligence.
Your primary goal is to sell flowers via the mobile app, and nice-to-have features can be added later. With this approach, remember to inform your users that this is just the first version and that more extended functionality will come.
Tip 5: Make use of open-source app development frameworks
Potential savings: 20-50%
Potential problems: Security limitations for compliance-heavy apps
Whether it's an on-demand app or an e-commerce solution, there's likely an open-source framework that caters to your needs. Using an open-source technology allows developers to reduce the time and effort required for app development thanks to various out-of-the-box modules present in open-source frameworks.
Open-source frameworks are highly customizable and can be tweaked according to your app's requirements. However, if you're developing an app for healthcare, insurance, or any other data-sensitive field, ensure that the implementation of open-source technology is allowed.
Tip 6: Utilize app design templates
Potential savings: 20-50%
Potential problems: Potential limitations in design ideas
The UI/UX design stage may take up a significant share of your mobile app development process. Free UI kits and templates can accelerate your development process and reduce app development costs.
You can find free design kits and ready-made templates for any type of mobile app, from e-commerce platforms to social networks. UI/UX developers can customize the design to match your app requirements. However, generic templates may not suffice your design needs if you're aiming for a unique and complex look.
The Cost of App Development in 2023: The Final Word
So how much does it cost to develop an app? Unfortunately, there is no definite answer to this question.
The app development process includes several variables that can increase your app cost. To avoid overspending, we recommend performing thorough market research and starting with an MVP to validate your app project idea first. An experienced app development team is also one of the main success factors of cost efficiency.
At Orangesoft, we believe that sleek code and smooth cooperation work miracles in terms of trusted long-term relations and returns on your investments. So, if our services are what you have been looking for, reach out to our team, and we will gladly help you to bring your app idea to life.