The global app market has already hit the $167 billion mark in revenue in 2022 and continues to grow. As the future of the mobile app industry is so bright and promising, it's no surprise that more and more startups have decided to take a share of this ever-rising market.
Along with market growth, active smartphone users have already reached 6.6 billion worldwide. Just imagine how many potential users your app can get right on the spot. There are hundreds, if not thousands, of enthusiasts trying to invent the next big tech app, but only 10% of startups survive the odds.
With over 5 million mobile apps available on the Apple App Store and Google Play Store, it may seem that every great app idea is already taken. However, there are still many niches waiting for a new app and problems waiting to be solved.
At Orangesoft, we've worked with dozens of startups, got familiar with exciting cases, and heard tons of stories about how startup owners entered the mobile app development market, so we decided to prepare this guide to help you find your mobile app idea.
How Do You Come up with a Good App Idea?
There are plenty of ways to generate new app ideas. If you want to found a tech company and revolutionize the world with a custom software solution, we recommend the following tips for generating app ideas to make money:
1. Find a Problem That You Can Solve with an App
The main reason we develop mobile apps is to make our lives simpler and get users. With this in mind, your future app should solve a specific problem or pain point for the users and do it better than other solutions on the market.
It is unlikely that a single app will solve all of humanity's problems. In most cases, one problem equals one app solution. When brainstorming, look around and analyze your daily routines. Soon, you'll notice dozens of issues that can be improved with a mobile app.
Further, think about your hobbies, skills, and work – something that you're good at. Analyze the strengths and weaknesses of apps that you're using daily in these fields; what would you change if you could make them better?
Remember, every app started as an idea. For example, Airbnb founders Brian Chesky and Joe Gebbia had trouble paying their rent when they moved from New York. Since they were unemployed, they were looking for ways to make extra cash.
Chesky and Gebbia noticed that all the hotels were booked because of the local design conference. They took advantage of the opportunity, bought air mattresses, and offered visitors a place to sleep and a hot breakfast in the morning. Following this idea, they started Airbnb.
There might be various problems you'd like to solve. Instead of giving up, think about how you can improve them and find a better solution using an app.
2. Get Inspired by the Current Top Apps
Browsing app stores can help you come up with really great app ideas. While studying the market and researching your competitors, you can identify problems with other app solutions and try to solve them or improve an existing app concept.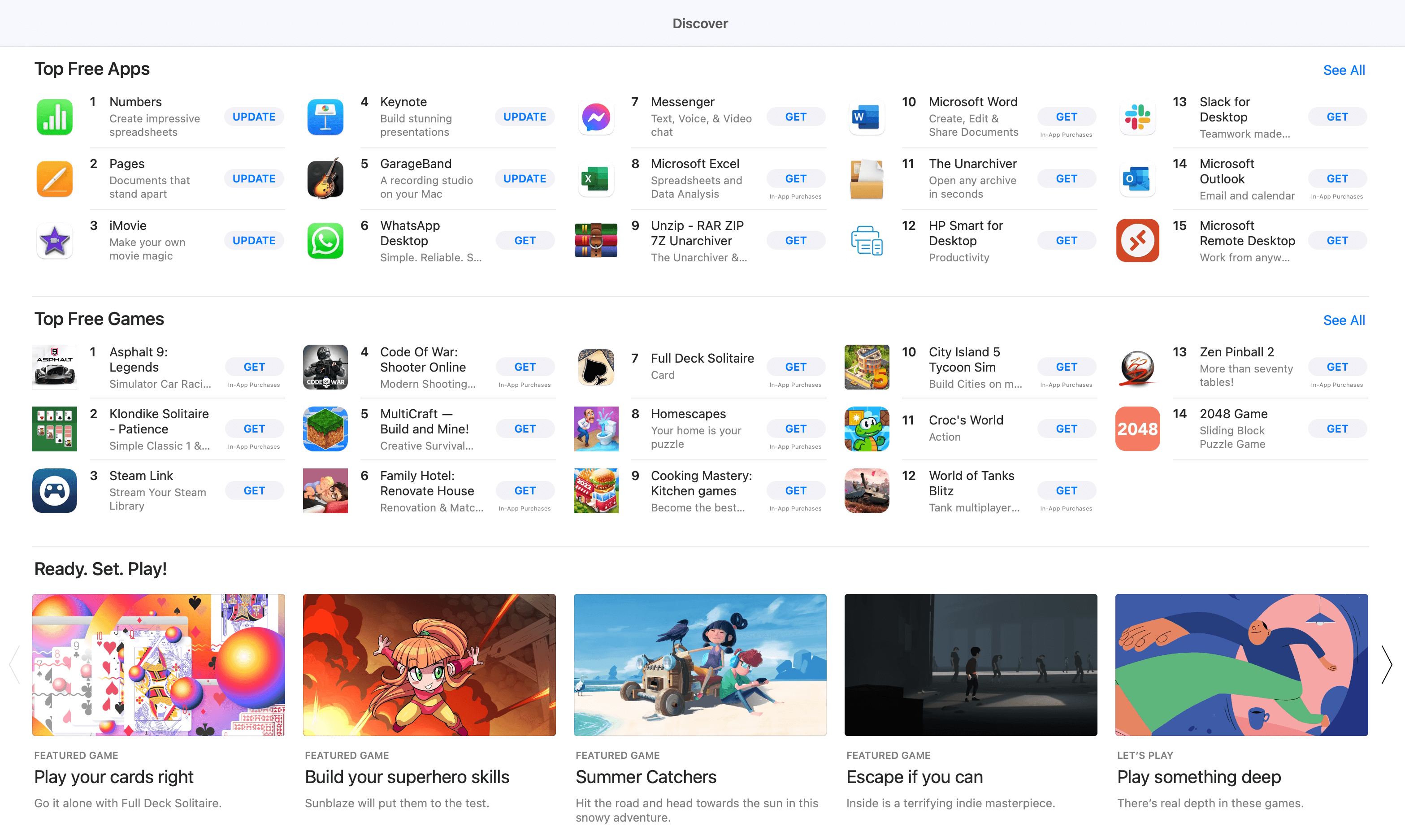 App Store's Discover Tab where customers find the best new releases and updates on the Mac App Store
Every app store has a section with the top-grossing apps where you can find trending apps and apps that people use the most. Reviewing the top apps can help you identify the direction you want to take in your app's development. While browsing the app stores, you can get valuable insights like a list of features, user comments and ratings, monetization model, and others.
Related: What Types of Apps Make The Most Money
3. Keep Track of News and Events in the Tech Industry
Nothing changes faster than the tech industry. You need to keep your finger on the pulse of the tech industry and try to be a step ahead. Here are three ways to get immersed in the tech world:
Visit conferences and meetups
These events provide significant insight into what is happening in the tech industry. Moreover, you're likely to hear about other creative app ideas at these events. Attending meetups and conferences may not directly result in a boom of app ideas, but you'll gain valuable information that you can leverage in the future.
Read also: 33 Mobile App Conferences to Attend in 2023
Regularly check Kickstarter or Product Hunt
Kickstarter can help you browse for new ideas and estimate your chances of success, as Kickstarter allows developers to raise funds for their idea development. Also, one of the best ways to find out what apps interest users is to get their feedback, which you can do on Product Hunt. Product Hunt is a site where you can see how users react to various software ideas.
Look at what's getting funded
Startups are shaping the future of the tech world. To keep up to date, check various business incubators, accelerators, and VC websites for further insights. For instance, you can visit YCombinator's Request for Startups page, where you can learn about startups that YCominator would like to fund. Also, on Crunchbase, you can learn more details about the companies' funding history. Finally, check out TechCrunch for news about the latest deals and events in the tech industry.
4. Try to Anticipate the Future Trends
Finding mobile app ideas isn't an easy task, especially for those who are new to the mobile app development world. In this industry, you need to be a businessperson and a fortune teller. Brainstorm the needs of your target customers and try to predict what they will need in the future and what tech stack will be in use.
Analyze what apps are trending and think about what kind of apps will take over the charts in five or ten years. It's hardly possible to predict what technologies will be used since they're rapidly evolving. However, you can base your predictions on today's trends, including the Internet of Things, AI, AR/VR, Blockchain, and other trending technologies.
If you have no idea what app to build, analyze current trends and define the most perspective app category. According to data.ai, entertainment and social media apps have experienced the largest year-over-year growth in terms of consumer spending.
How to Validate Your App Idea
Once you have come up with an idea for your app, it's time to check how viable it is. Before jumping on the software development bandwagon, you need to test your app idea, get more information, and determine the pros and cons.

In mobile app development, the discovery stage has more to do with business analysis and research. It comes before the actual idea implementation, allowing you and the team to take a fresh, critical look at your business concept. Discovery and validation are critical for startup founders who are going to launch a new product and have no idea how the market will react.
Validating app ideas can help you move forward with the right idea and become a successful app entrepreneur. Here's how to find out whether your app idea is viable or not.
Find Your Target Audience
Your app needs users, and the primary question you need to ask yourself is, "Who is the app's audience?" Try to segment your audience and narrow your customers. Consider that it is challenging to deliver an app that many customers will use if it's not a messenger or social media app.
For example, say you're going to develop an app for dog owners in the US. Here, we can presume that your target audience is US citizens who are dog lovers. But that is quite wide-ranging.
In this case, you would need to narrow your audience and dig deeper. Take advantage of similar apps' statistics related to users' gender and age. Then, draw your conclusions.
Research Your Competitors
Before stepping into the app development game, you need to understand the market, learn about its trends, and research your competitors, if any. Try to analyze your competitors from the customer's point of view. Find their apps' pros and cons and think about how your app can turn their weaknesses into your strengths.
The more you know about your competitors and your target market, the better app you can deliver. Browse ASO tools like AppTweak, data.ai, and Sensor Tower to find as much information as possible.
Take Advantage of Digital Prototypes
Developing a fully functioning app requires massive time and money investments. On average, the development costs of a simple mobile app range between $70,000 and $150,000 and can take up to six months.
There is a cheaper and safer way to test and validate your app idea: digital or even paper prototypes. They allow you to test your assumptions and virtually explore a product before it's developed.
Digital prototypes can help you save time and money and ensure that the product development is based on data rather than your thoughts and assumptions. There are different forms of prototyping, from a paper sample to a model or simulation of a digital product or service. Thanks to modern technologies and AI-enabled platforms, you can create a digital prototype in a few clicks to test your hypotheses and refine your ideas.
Digital prototyping comes in handy when you need to raise money for your startup. When your pitch is based on empirical evidence rather than assumptions, you're more likely to get your project funded.
Collect and Analyze Early User Feedback
Digital prototypes allow you to collect early user feedback. Based on the collected data, you can refine and improve your future product.
When interpreting the data, you'll discover what your customers really need and how your app can satisfy their needs. Remember, your target goal is to solve the users' problems.
Bring Your App Idea to Life or Pivot
There are two possible outcomes of app idea validation – your app idea can be worth developing or not. When an idea isn't feasible, you can re-think your concept and take another shot.
Ditching your original idea for a different route is one of the toughest decisions for an app entrepreneur. Unfortunately, it's the point where a vast majority of startup owners give up. However, being able to pivot quickly can help you get to the top of the app market.
For instance, did you know that Twitter started as Odeo, a social network to find and subscribe to podcasts and share audio content? But with the launch of iTunes, Odeo lost its business value.
However, Odeo's owners didn't give up, and they pivoted to developing a microblogging channel, giving rise to Twitter. Now, Twitter has over 368 million monthly active users, and even governments across the globe are using the platform to communicate.
Related: 27 Steps to a Successful Mobile App Launch
Turn Your Idea into an App with Orangesoft
Now, you know that your idea is viable and could become a success. Your next step is app development.
First, you need to pick a platform. When choosing a platform, you need to consider what platform your target audience prefers. For example, if a significant part of your audience uses Android devices, developing an iOS app won't lead to your desired results.
At Orangesoft, we can help you bring any app idea to life. We have everything required to create robust mobile app solutions from scratch. Reach out to us if you want to get started on your mobile app's development. We can help you at any stage of your app development process so that you can deliver the best product possible and meet all the needs of your target audience.