With over 6.5 billion active smartphone users across the globe, it's not a surprise that the mobile app market is growing at a blistering pace. Moreover, app usage and smartphone penetration show no signs of slowing down in the future.
Have you ever noticed how many times people check their phones? We bet you've seen that almost everyone's eyes are glued to their mobile devices. In fact, 74% of Americans don't feel comfortable leaving their phones at home.
Quick social check-ins, watching funny TikToks, and replying to work emails account for why Americans spend around 2 hours and 54 minutes on their phones daily; when this time is added up over a year, the total is approximately 44 days per year in 2022. And there are no signs of this scrolling lifestyle vanishing into thin air.
Quick Overview of the App Store in 2023
Though Apple wasn't the first to design mobile smartphones, the company popularized smartphones for public use. With the first iPhone presented in 2007, Apple changed the way we use phones and paved the way for users. Apple's worldwide market share is constantly rising and makes up 27.8% of the mobile operating system market.
Though Android has over 70% market share, App Store subscriptions generated $13.5 billion in revenue in 2021, which is about three times more than the $4.8 billion generated by Google Play. Seemingly, iOS users tend to spend more on subscriptions and in-app purchases.
These figures have lured small and emerging developers to want to find global success on the App Store, and luckily, they have found it. The App Store paints a picture of a thriving and dynamic app ecosystem with tons of business opportunities and innovations. According to Apple's research, the App Store continues to offer growth opportunities for small businesses, namely:
Earnings for small developers active in 2019 increased by 113% between 2019 and 2021, with growth significantly outpacing that of large developers.

45% of app creators who earned more than $1 million in 2021 were not on the App Store or had less than $10K in earnings five years ago
Apple has a closed ecosystem, meaning users cannot download and use apps outside the App Store. With 2.22 million available apps, Apple is the second-largest mobile app store offering unlimited opportunities for app entrepreneurs. But to get to the top charts, two things need to happen:
Users have to download your app

Users must use your app
Apps cannot succeed without users and downloads. Thus, your app should provide real value to get people to download and use it more than once. Let's analyze the most expensive apps on the App Store and try to find their success formula.
Top Five Most Expensive Apps on the App Store
CyberTuner
Price: $999.99, paid add-ons
Genre: Music, Productivity
Rating: 4.8 out of 5
Released: 2012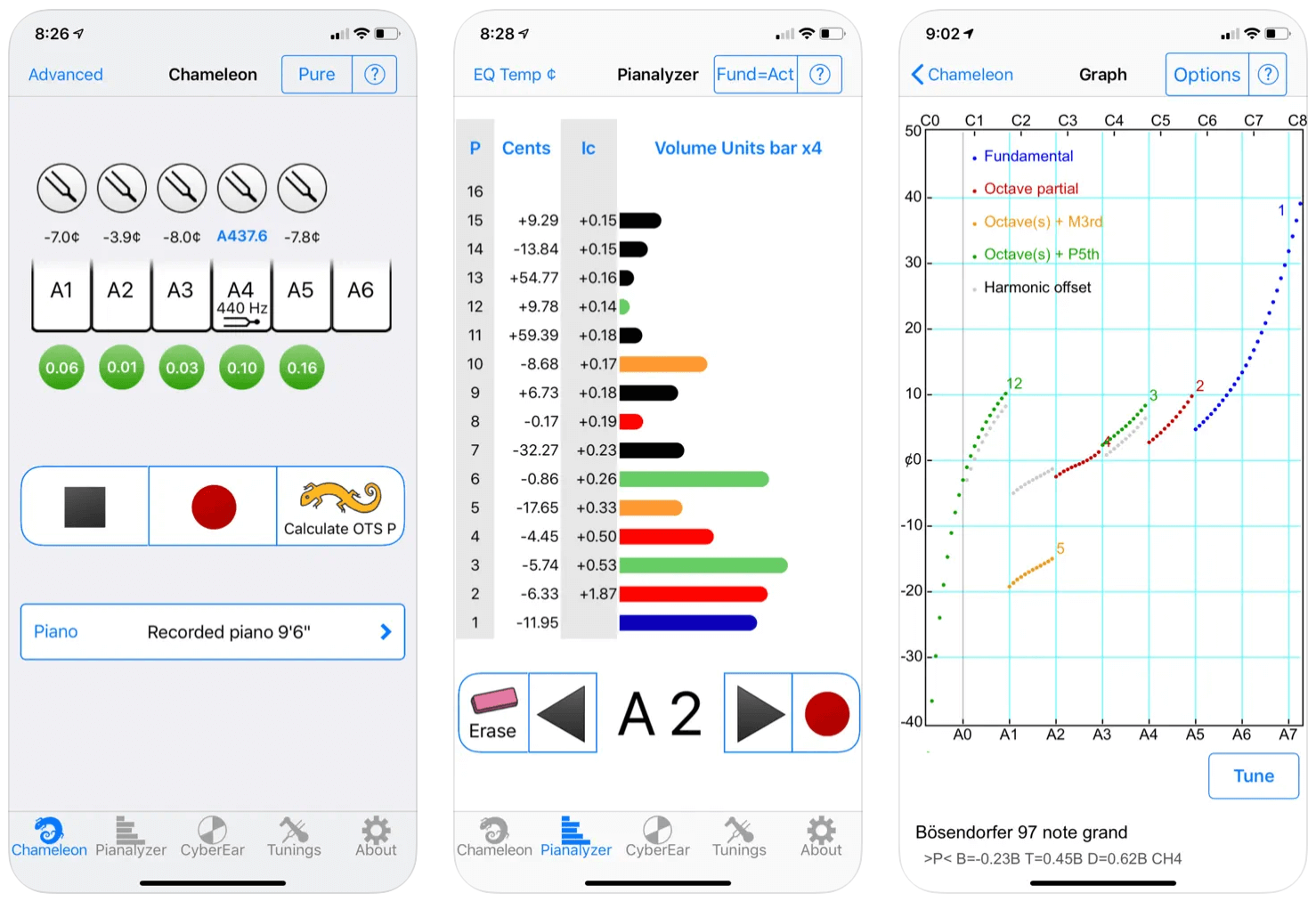 CyberTuner is a tuning software tool for piano lovers. This app was created by Dean Reyburn, who isn't a professional developer but still developed this program in 2012 to help tune pianos faster and with better precision. Dean Reyburn is a professional piano tuner who tuned countless pianos using his ears and a tuning hammer.
The app can store settings for each piano and eliminate the need to reinvent the wheel whenever you use the same instrument. CyberTuner is the top choice for many piano technicians because it is easy to use and provides accurate pitch correction with "Smart Tune" and "Pitch Raise" modes.
The app leverages a new "Octave Tuning Style 'S'" that calculates the best possible tuning for short pianos to 9-foot concert grands. Powered by AI, CyberTuner can run about 6,000 checks per second. With a yearly subscription, users also get superior multi-language support that can provide tech advice and help solve any issues.
Though the price is high, the app provides unique value to piano technicians and allows them to tune pianos faster and with greater accuracy than tuning by ear. Moreover, users have to pay a yearly subscription fee and cover extra upgrade costs, making CyberTuner the most expensive app in the world.
Verituner
Price: $599.99
Genre: Music, Productivity
Rating: 5.0 out of 5
Released: 2011

Verituner can be traced back to 2001, when the Verituner 100, a custom portable tuning device, was released. In 2011, Verituner brought this tuning technology to iPhones, iPods, and iPads.
Dave Carpenter is a skilled software designer who fell in love with the piano and subsequently achieved a "Registered Piano Technician" classification. While using existing electronic tuning devices, Dave found that they had too many limitations, and thanks to his technical background, he developed a new tuning device: Verituner.
This app can catch inharmonicity thanks to the following features: aural quality tunings, pitch raises, access to the best historical temperaments, AutoNote, and more. Verituner uses multi-partial technology that calculates tuning to perfectly match each piano's unique scaling and eliminates tiresome pre-tuning measurement steps.
DDS GP
Price: $399.99, in-app purchases
Genre: Medical
Rating: 4.0 out of 5
Released: 2011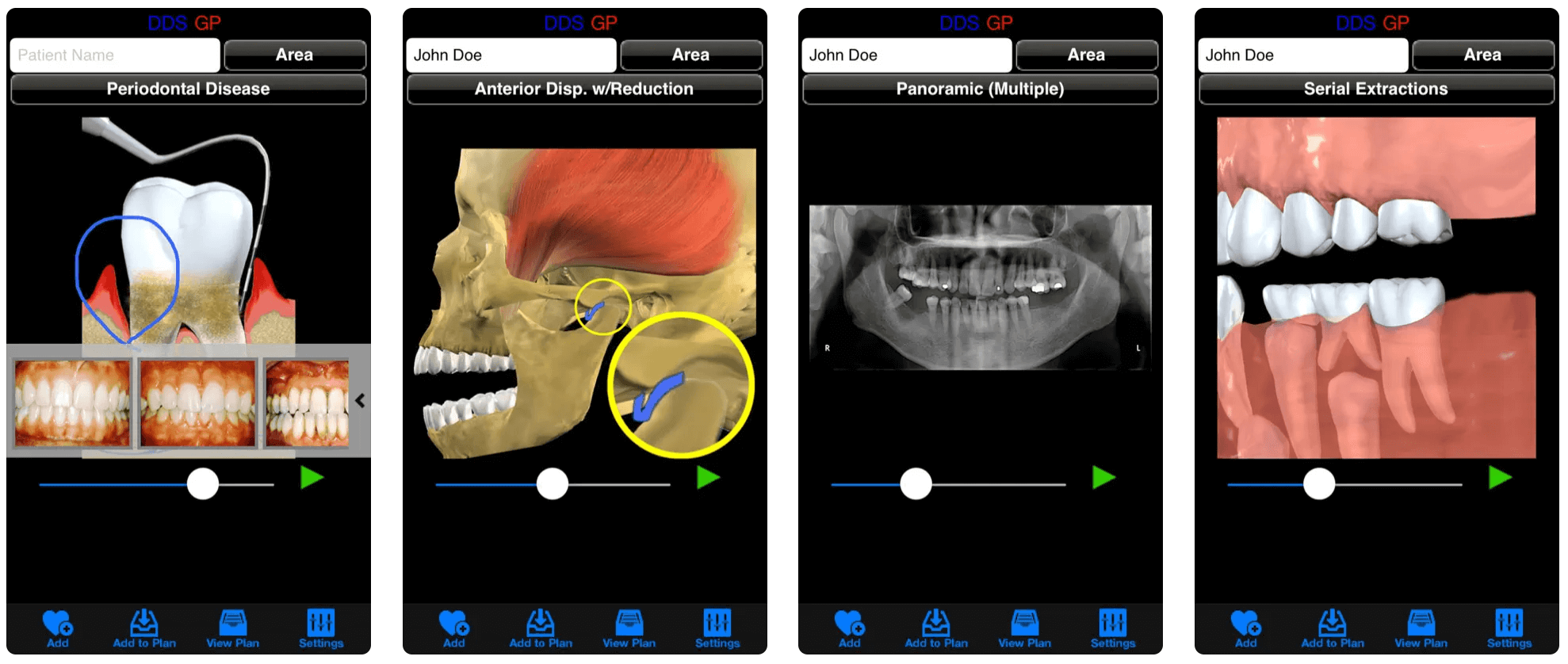 DDS GP is an app built for dental specialists to showcase dental conditions and explain treatments to their patients. The app was developed by a dentist, which supports DDS GP claims regarding its effectiveness when used with patients. It features over 200 illustrated demonstrations that can be used to show patients their dental conditions and the steps required for treatment.
DDS GP can be purchased for a one-time cost of $399.99 and includes lifetime updates. When purchased, doctors get access to the library of illustrated demonstrations and 37 audio tracks written and narrated by Dr. Paul Homoly, a world-class leader in dental education. Additionally, the app gets regular tech and content updates.
This app is a top-rated medical software and is used by dental professionals all over the world. The app tries to solve the biggest pain of dentists by helping them visually explain medical problems to their patients and justify the cost of treatment. With DDS GP, dentists can also add notes to the demonstrations and send or print custom treatment plans.
Classic TC with WordPower
Price: $299.99, in-app purchases
Genre: Education
Rating: 3.0 out of 5
Released: 2011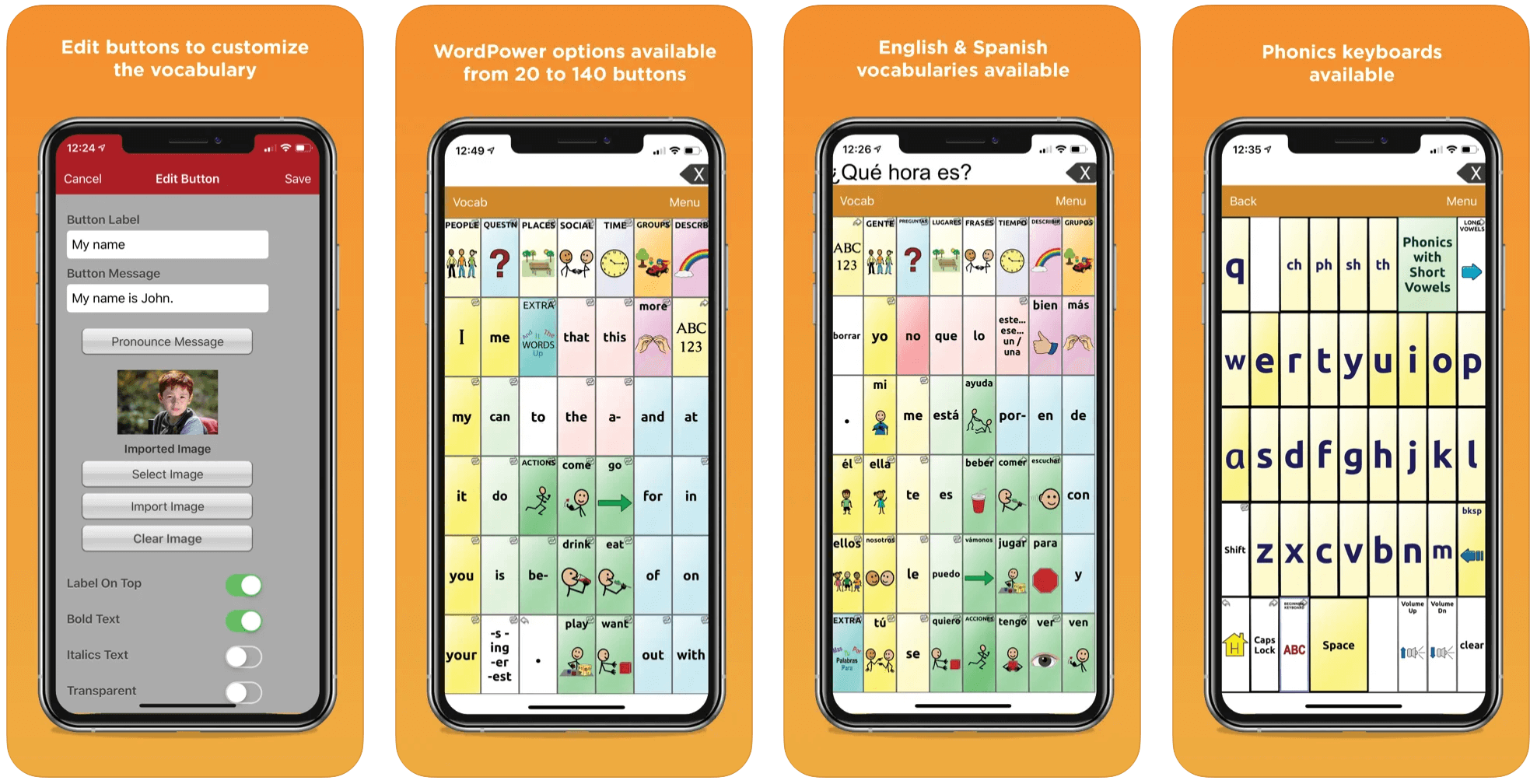 Touch Chat is a helpful communication app for those individuals who are not capable of verbal speech or who have thickened speech. Specifically, this app aims to help those with Down Syndrome, Autism, ALS, stroke, apraxia, or other conditions that affect their ability to speak.
The app is packed with powerful features like head tracking, built-in switch scanning, and touch access features that make Touch Chat easy to use for those with a spectrum of physical needs. The app's communication panel can be customized based on a user's specific requests and needs. For example, while the app is pre-loaded with preset icons, users can also customize these icons with their own images.
Thanks to natural language processing algorithms, the app allows users to speak using a built-in voice synthesizer. As a result, many users may find this more expensive app to be invaluable.
Pharmacotherapy Principles 6/E
Price: $189.99
Genre: Medical
Rating: No reviews
Released: 2022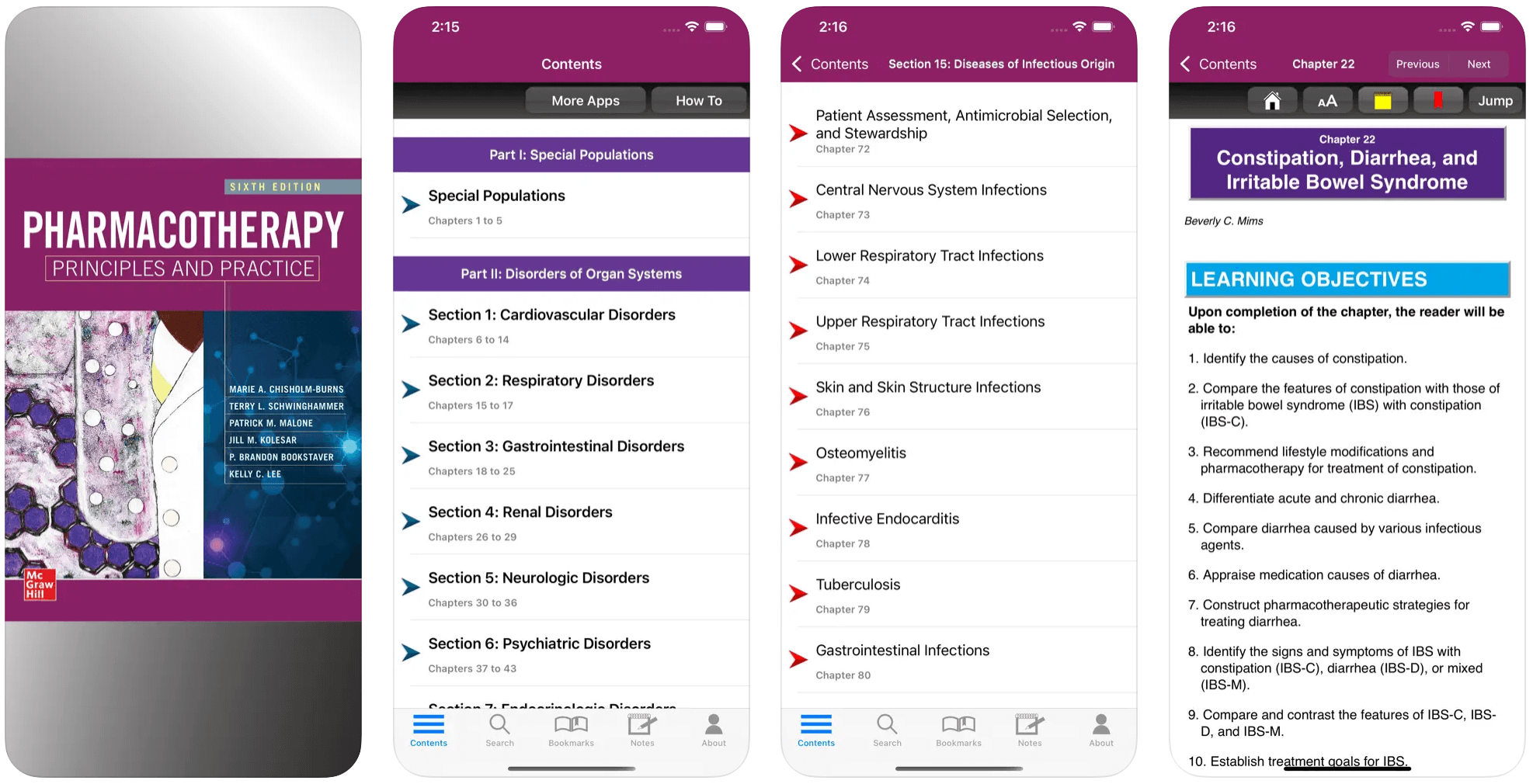 Pharmacotherapy Principles 6/E is a valuable app for medical students. With this app, users can get an in-depth understanding of pharmacotherapy principles. Further, this app features content written and reviewed by physicians, nurses, and pharmacists.
The app gets regular updates to provide relevant scientific information and covers 97 chapters, including topics like epidemiology, etiology, and pathophysiology. Users can find relevant and clear recommendations for topics like treatment plans, desired outcomes, dosages, and patient monitoring.
To make life easier, the app allows them to create notes and add bookmarks. Users can also adjust the font size for easier reading.
Finally, this app can also delivers a smooth cross-device user experience. Though the app costs a pretty penny, medical students likely appreciate this app because it eases their access to invaluable medical information.
Related: What Types of Apps Make The Most Money
Summing Up
You can find free and super expensive mobile applications in the App Store. Some of them get high ratings and millions of users, while others are far behind.
At Orangesoft, we know how to balance out your app idea based on market needs to help you get on top. Remember, every app is unique and has its own formula for success. For example, in 2023, one of the best ways to win over users is to create a freemium app.
The freemium approach means that users get basic functions for free but will need to pay for advanced features. This model allows users to explore the app and fall in love with it first, leading them to eventually pay for premium features.
Further, setting a high fixed price for an app is quite risky since not every user is ready to pay $999.99 for a product without trying it out. However, for some professional apps, the fixed pricing model may work really well, like with CyberTuner.
In any case, your app's pricing model will require significant research and business analysis. Team up with Orangesoft's team today, and we can help you not only find the best pricing model for your mobile app but also develop an app that users will be willing to pay for.