Over the last few years, extended reality has paved its way into multiple industries, valued at over $29 billion. The potential of augmented reality in retail shines especially brightly thanks to a wide application area for AR in the industry.
In a highly competitive environment, augmented and virtual reality technologies allow early adopters to present a new experience and revolutionize the traditional market. As a result, their potential is limitless, especially for the retail industry.
With AR, retailers can boost their sales and minimize returns by providing new, powerful features for their customers and supercharging customer engagement. So it won't be long before shoppers can walk into the Timberland showroom, sift through new apparel, and try everything they like from the comfort of their homes.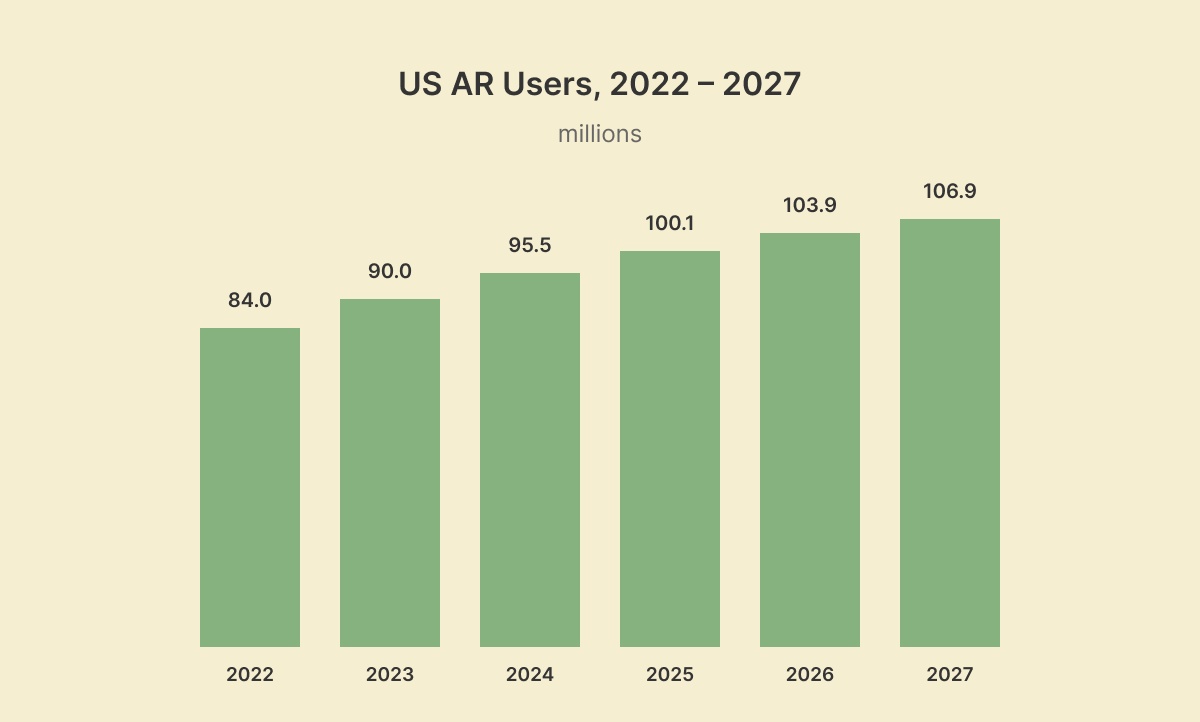 What Is Augmented Reality and How Does It Work?
Augmented reality isn't a brand-new technology. It has been around since 1968, when the first AR headset was developed and presented by Ivan Sutherland, a computer scientist at Harvard University.
However, the rise of AR technologies started in the mid-2000s following the mobile usage boom, with further adoption in the retail sector during the COVID-19 pandemic. As an alternative to brick-and-mortar retail stores, most e-commerce players are adopting and implementing immersive technologies as an indispensable part of their platforms, including Shopify, Alibaba, Sephora, and IKEA.
So, what does AR stand for? Augmented reality is a technology that augments one's real environment with images, text, animations, or other digital content.
The beauty of AR is that it can be used not only with wearable devices but even with a mobile phone. For example, pointing a phone's camera at a particular spot allows you to easily fit various digital elements into a real-life environment.
Now, augmented reality brings a new, full-fledged experience by allowing users to interact with digital products as they do in the real world. An everyday use case of this is furniture shopping, as 'try-before-buy' applications allow you to virtually place furniture in your home. Further, when using this feature, you can zoom in and out, rotate, evaluate the texture, and size items up or down.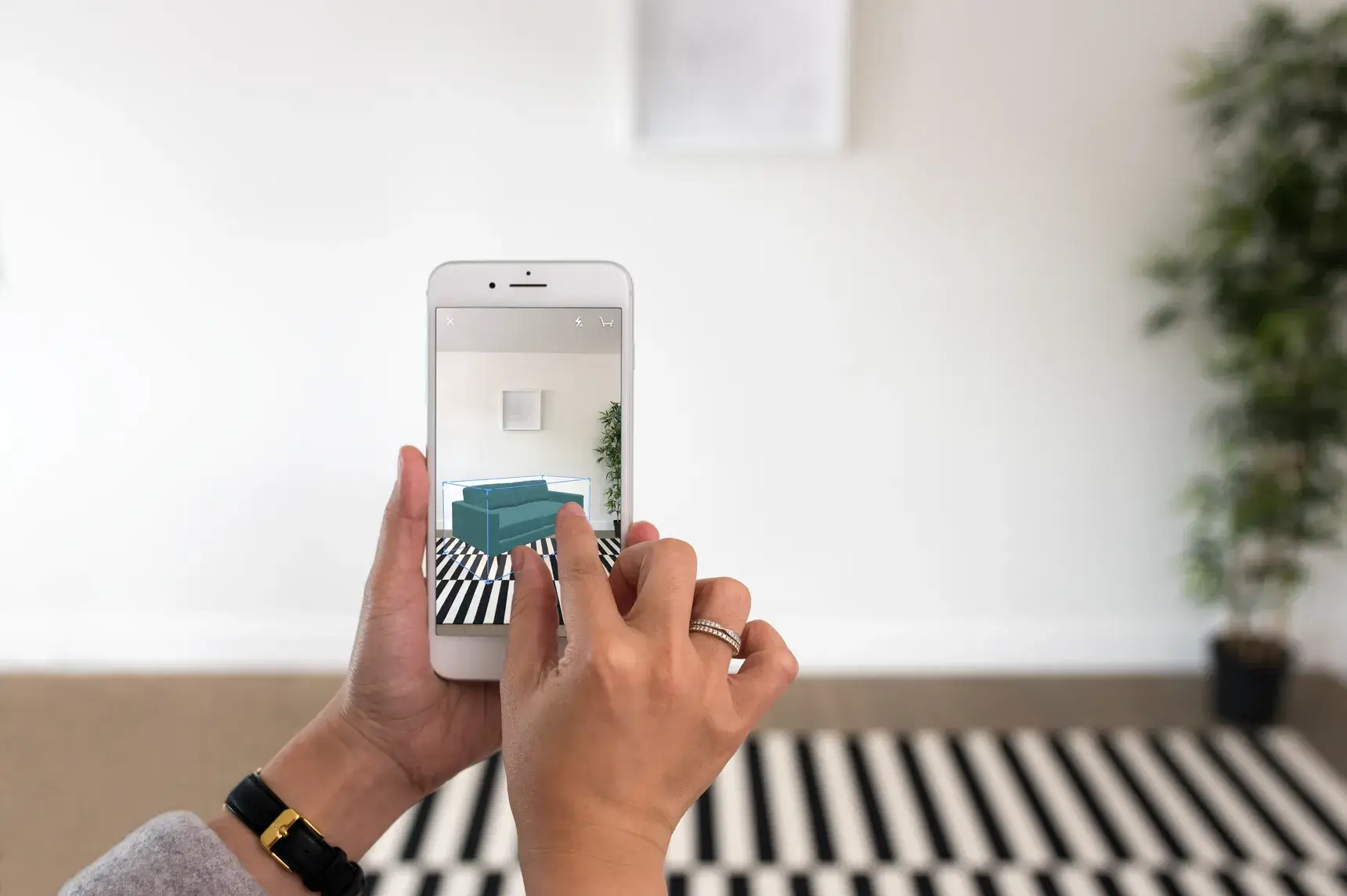 Though some people associate augmented reality with gimmicky applications, AR features have utilitarian use cases. According to a study, customers who used augmented reality while visiting an ecommerce site spent around 20% more time browsing and viewed 1.28 times more products compared to non-AR experiences. Also, the likelihood of making a purchase during the session increased by almost 20%.
No wonder more and more retailers are taking advantage of AR. Now, the next question becomes, how do you leverage immersive technologies in your shopping app?
Ultimate Benefits of Augmented Reality for Retailers
AR-powered apps greatly influence sales by transforming the everyday shopping experience with new opportunities. For example, since January 2021, over 250 million people have used Snapchat AR Shopping Lenses more than 5 billion times. The innovative experience of immersive shopping has redefined the way customers try on clothing, footwear, or beauty products.
Here's how your retail business can change once you make augmented reality technology a part of your stack.
Boost sales
One of the most significant challenges of online shopping is the inability to represent a 3D physical object in a virtual, 2D environment. AR is believed to bridge the gap between offline and online shopping by making it easier to represent products visually. Thus, the technology helps the user make the right choice and avoid disappointment while choosing the best products.
The virtual experience provided by augmented reality in retail can ignite customers' interest in products while providing additional details and a product-environment fit. AR allows customers to check how merchandise will look in their environment without purchasing it first. Also, according to Shopify, 3D content and AR experiences can boost conversions by up to 94%.
Minimize returned items
In 2022, the retail return volume reached over $613 billion. Lack of product information and poor descriptions account for the majority of these returns. With AR apps, buyers can see how the product looks, change its colors, and try different sizes.
For example, furniture and home decor apps use augmented reality to showcase how different products can change the look of their homes. Alternatively, beauty apps use the technology to help users find the right makeup products.
Know your customers better
Immersive technologies can gather extensive biometric data to identify individuals and infer extra information. For example, it visualizes how consumers react in specific scenarios via an AR store environment in shopper experience research.
Thanks to advanced dashboards and 3D benchmarking tools, you can track, measure, and optimize your campaigns in real time to improve customer interaction, reach, and ROI. By reviewing online metrics like traffic source, click-through rate, bounce rate, dwell time, and unique visitors, businesses can more easily win over customers.
Optimize retail expenses
With augmented reality, retailers don't need to spend millions on physical locations and warehouse capacities. Instead, they can combine virtual and traditional retail.
Businesses can offer customers a more extensive catalog of products via AR rather than using all of their shop's floor and warehouse space. Retailers can also save a pretty penny on square footage.
For example, leasing a square foot somewhere on Fifth Avenue could cost more than $3,000. But thanks to AR, you don't need to rent 100 square feet of storefronts to showcase all your products. Plus, augmented reality replaces the need for additional shop assistants since it can do all the heavy lifting.
More effective visual merchandising
With AR, retailers can make merchandising even more efficient by showcasing all of a product's features with visual context. As a result, customers can better visualize items, even when they aren't in stock. For instance, Timberland, a global footwear brand, uses augmented reality to help customers visualize what they would look like in new apparel.
Boost customer loyalty
Over 60% of customers prefer retailers that offer AR experiences. Augmented reality can optimize every customer touchpoint and drive unmatched customer adventure by putting customizable products in their real-life environment. In turn, this functionality leads to building more loyal relationships with brands by pushing customers to buy and return to your store again and again.
How to Use Augmented Reality in the Retail Industry
AR can be used in e-commerce and to power up traditional brick-and-mortar stores. Let's look at some ways this technology can enhance a customer's experience.
Virtual tours and space visualization
With AR, customers can get the feel of the place and visit virtually before paying an in-person visit. For example, Lowe's Vision Navigation simplifies the search for products in-store via indoor mapping and AR. With the app from Dent Reality, you will never get lost while shopping, as the app helps users find the quickest route to buy items from their shopping list.
Gamification
HBR predicts that the next AR shopping level will focus on gamification. For example, in 2021, IKEA Studio created a shoppable AR-powered "escape room" on Snapchat where users could click on items and shop while decluttering a virtual room to "escape." The Metaverse craze also highlighted the importance of augmented reality in creating a massive amalgamation of interoperable gaming spaces.
Virtual try-ons
Most clothes and shoe returns happen because online shoppers can't envision how these items will look in real life. Nike, Amazon, and ASOS are leveraging the power of AR to enable shoppers to see how their clothing looks in the real world. Warby Parker app uses AR to render the glasses in a live, 3D preview on users' faces.
AR-powered fitting rooms
Virtual fitting apps allow users to try on clothes without physically trying them on. To do this, all you need is to gather five personal measurements, and the app will create an accurate 3D model. With virtual fitting rooms, like Adidas or Superdry, customers can try on different clothes in a few mirror types.
In-store displays
These displays will look like any usual advertising video displays, but they can catch customers' attention thanks to their interactivity. Kate Spade's stores, for example, use AR displays to help shoppers create unique, customizable bags using decorations and accessories.
Brand engagement activities
AR can provide an in-person and immersive shopping experience that drives engagement. For example, Starbucks utilizes AR to share their coffee beans' journeys using an AR-powered animation of how newly roasted beans turn into the Starbucks coffee that visitors love.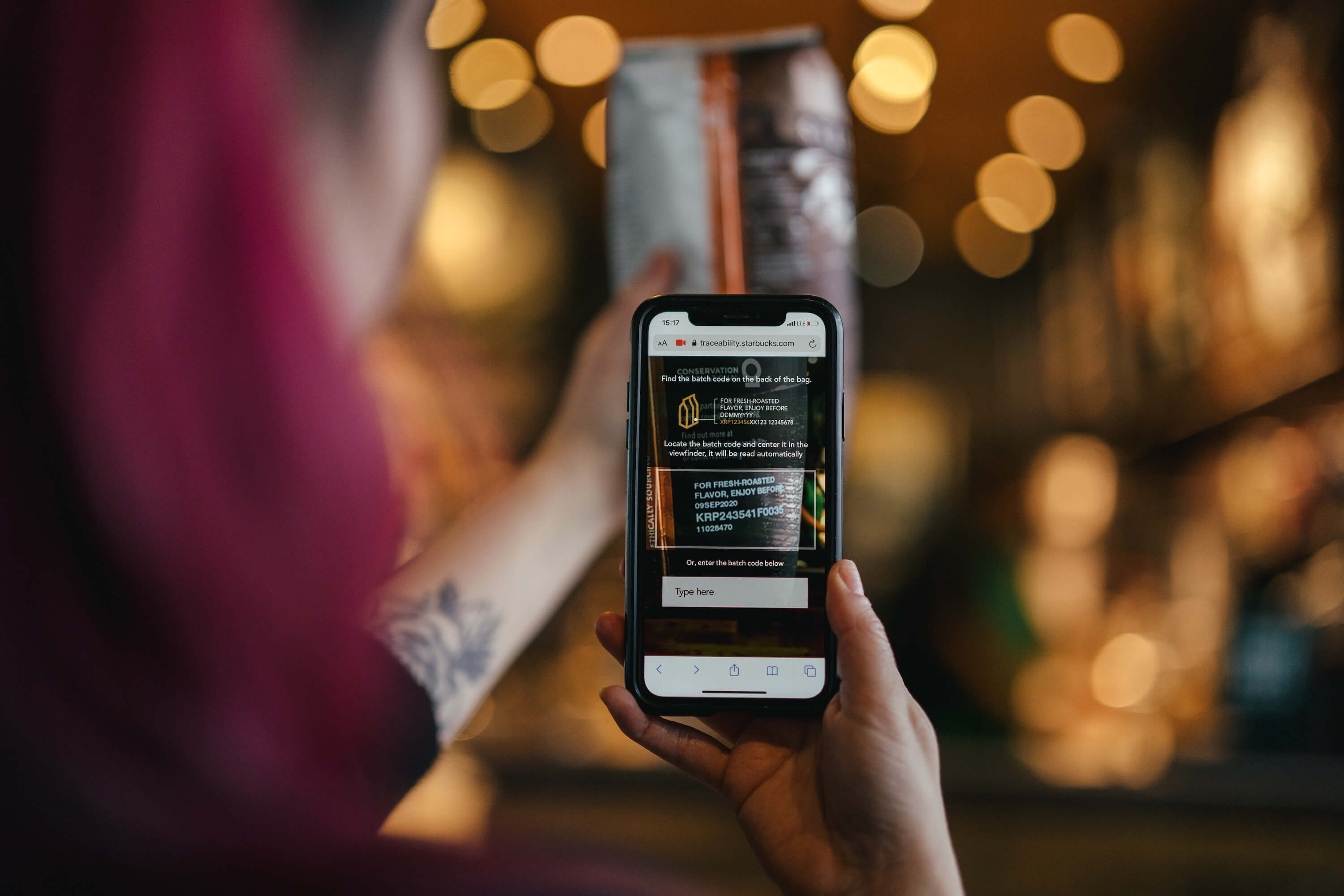 Product visualization
Augmented reality enables buyers to understand products better because they can see them from different angles and in different colors and sizes. Apps like AR View also help customers envision how products will complement their look or homes.
Types of AR Apps
There are two types of AR apps: marker-based AR and markerless AR. The main difference between them is the trigger that enables the technology. Next, let's look at each type further.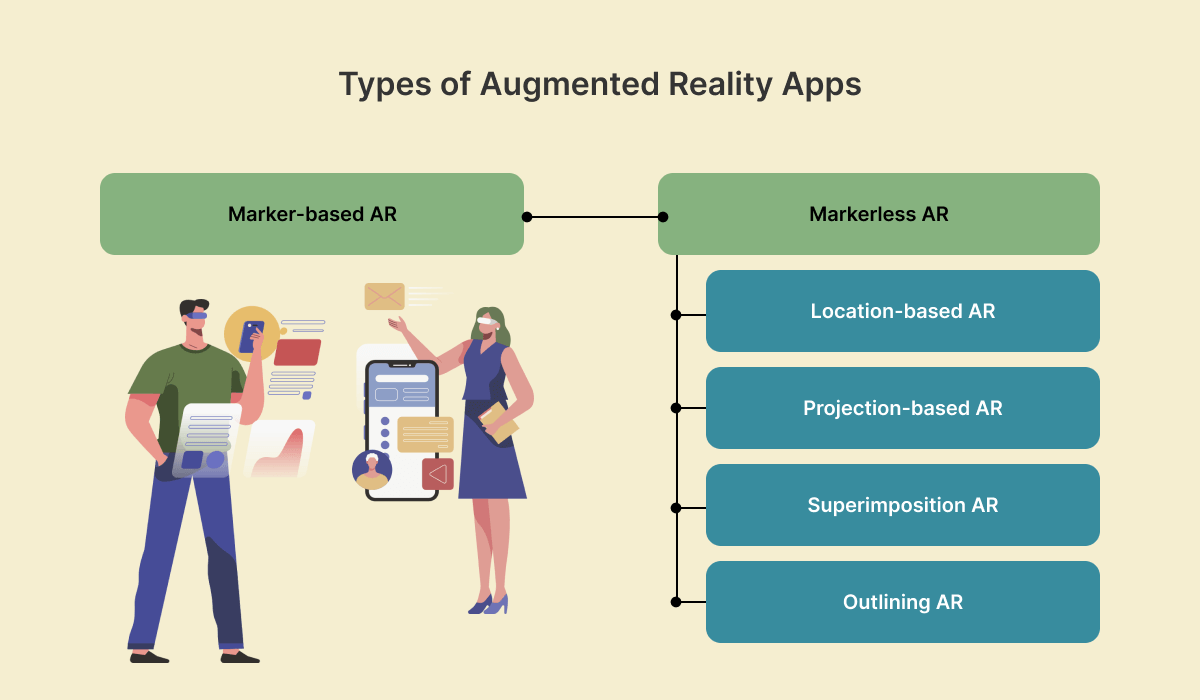 Marker-based AR
These apps are also called recognition-based AR. Users need to place a camera on a physical marker like QR codes, posters, AR tags, or a brand logo to immerse themselves in the virtual world.
When the mobile camera is not focused on the marker, the AR experience disappears. For example, Porsche uses QR codes to transform their marketing materials into an AR experience demonstrating the all-electric Porsche Taycan.
Markerless AR
Markerless AR solutions don't need any trigger to augment reality. Instead, using the capabilities of your smartphone, the app scans the environment and creates an accurate map in real-time to place a 3D object there; for markerless AR, GPS, a digital compass, and an accelerometer are required.
Further, markerless AR includes four categories of AR experience, such as:
Location-based AR
Location-based AR apps don't need a physical target to trigger the experience. They are the most widely implemented apps across the retail industry. Location-based AR uses GPS data and a phone's built-in compass to augment reality around the user's device.
These apps require high-performing AR and high data speed. These augmentations are attached to and appear at predefined geolocation like in Den Reality and Pokémon Go.
Superimposition AR
Superimposition AR is used either for partial or complete replacement of the original view of an object with an updated, augmented view of said object. For instance, this is how apps with virtual try-on features function.
Projection-based AR
Projection-based AR apps don't require mobile devices to display content; they project digital graphics onto a chosen surface or object. This means that users don't need to use or wear devices to augment reality.
Retailers can use projection-based AR to enhance the presentation of new products. For example, Moo-Young Concept Shop took advantage of AR-powered installations to ignite their customers' interest in their projected products.
Outlining AR
Outlining AR is used mainly for navigation. This AR technology utilizes object recognition to understand the current environment, like the road's lanes or the boundaries of cars parked nearby. In retail, outlining AR can be used for in-store navigation.
Top Three AR-powered Retail Apps on the Market
A vast majority of retailers are coming out with AR-powered shopping apps to make it easier for their customers to buy the perfect item. Here are the top three apps that you need to know about while building your own AR retail app:
IKEA
IKEA was a trailblazer in using immersive technologies for retail. In 2017, the company launched its IKEA Place app, which allows shoppers to virtually place furniture or decor elements without buying them. Since then, more and more retailers have followed the trend.
With the app, users point their cameras at the surroundings where they want to place an item. Then, they choose any item from the IKEA listings, which is then placed in the desired location. In addition, the app automatically measures the room and generates recommendations on furniture that fits in the space.
Sephora
Sephora Virtual Artist app is a mix of AR and face recognition technologies. This technology allows for a complete virtual makeover, as users can experiment with an extensive library of lip colors, eyeshadows, and false lashes via their front camera. To access this feature, users need to install and use the app, and the app will automatically configure a virtual lipstick or eyeshadow on the user's face.
As a result, shoppers can choose or purchase the products they like the best. Also, users can upload a photo of an outfit and check if their makeup matches the look. Moreover, the app features virtual tutorials to help beginners get the best makeup products without entering a Sephora store.
Nike
In 2019, Nike launched an AR-powered shopping app feature known as Nike Fit to help their customers choose the right size Nike shoes. The app harnesses the power of built-in algorithms to determine a perfect size based on shoe style, foot measurements, and fit feedback from other customers with similar measurements. Also, Nike Fit saves personal preferences and measurements into account for future assistance.
While shopping with the Nike app, users can choose a pair of shoes, select their size, and try them on. Then, the app needs to scan the user's feet, and if it still needs manual measurements, it can walk shoppers through said process. Finally, the app provides a recommended shoe size based on the measurements.
How to Build an AR Mobile App
Developing an AR mobile app for e-commerce is easier than you think since it is similar to developing any other mobile app solution. The main difference is that augmented reality is an advanced technology that requires particular skills and experience.
Regardless of the challenge, the process consists of the following steps:
Deciding on the market and target audience
Studying the market and identifying direct and indirect competitors
Determining the specifics and features of your product
Choosing the correct AR SDK
Designing an app prototype
Developing and testing your app
Releasing and acquiring your first users
To provide the best experience, it's better to implement ready-made solutions known as AR SDKs. The choice depends mainly on your functionality requirements, as some only require basic features, while others are more complex and require more time and effort. So, to get a feature-rich AR shopping app, you need to partner with developers who know how to make various AR SDKs work for you.
Augmented Reality Development with Orangesoft
Orangesoft's portfolio contains several applications, and this AR-powered shopping app for ASPORTUGUESAS shoe brand is among them.
For this AR-powered project, the client came to us wanting to create an in-store experience for their online shoppers. Due to the pandemic, customers were unable to try on footwear in stores, which resulted in lower sales. So, the company needed an app that allowed users to virtually try on apparel to support their retailers and boost sales.
Orangesoft is an official WANNA partner, so we harnessed the power of WANNA SDK to add virtual try-ons to the client's app. The app presents a new, engaging experience for customers powered by 3D geometry algorithms and AR tech.
Now, customers can try on and choose a favorite shoe model and color from the comfort of their homes. The app got 3,000+ try-ons during its first months and reduced returned item rates.
Our mobile experts will find a way to load your mobile app solution with AR and open new business opportunities. Leave the tech part to us – let's discuss your project today.